Pages 93-96
An Inventory of the Historical Monuments in the County of Northamptonshire, Volume 3, Archaeological Sites in North-West Northamptonshire. Originally published by Her Majesty's Stationery Office, London, 1981.
This free content was digitised by double rekeying and sponsored by English Heritage. All rights reserved.
32 GUILSBOROUGH
(OS 1: 10000 a SP 67 NE, b SP 67 SW, c SP 67 SE)
The parish, covering just over 900 hectares, was formerly much larger and in medieval times included the present parish of Hollowell, and probably the hamlet and land of Coton which is now in Ravensthorpe parish (Ravensthorpe (9)). The village of Guilsborough and most of the W. part of the parish lie on a N.W.–S.E. ridge of Northampton Sand overlaid by patches of Boulder Clay and glacial sands and gravels, between 150 m. and 180 m. above OD. To the E. and N.E. the land slopes across Upper Lias Clay to the valley of the Hollowell Brook, here flowing about 120 m. above OD. A second ridge, of Northampton Sand capped by Boulder Clay rising to about 140 m. above OD, separates this valley from the Cottesbrooke Stream which forms the N.E. boundary. The present village is roughly L-shaped and is made up of two distinct medieval settlements, each with its own land unit (Fig. 14) the boundaries of which are shown on the Tithe Map of 1848 (NRO). Guilsborough itself consisted of the main N.W.–S.E. street; the triangular green in the N.W. and the single street running N.E. with earthworks at its N.E. end was the hamlet of Nortoft (6), listed as a separate settlement in Domesday Book. This means that the earlier assumption that Nortoft was an unlocated deserted village is no longer valid (M. W. Beresford, The Lost Villages of England (1954), 370). A number of possible small Roman sites have been discovered by recent fieldwork in the parish. Of greater significance is the suggestion, first found in the works of early antiquarians in the county, that a Roman settlement of major importance lay immediately W. of the village, in Guilsborough Park (5). The possible existence of such a centre at this early date is of interest and could have some bearing both on the origins of the place-name and on the extent of the early medieval land unit containing the modern parishes of Guilsborough, Ravensthorpe and Hollowell.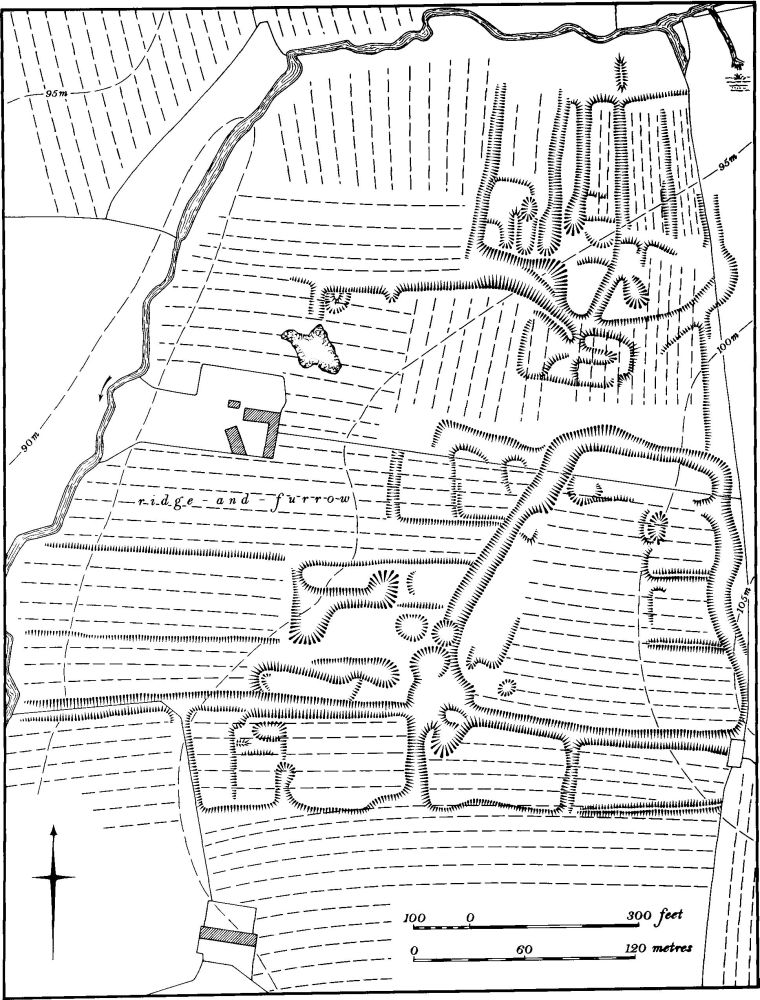 Prehistoric and Roman
Two large polished Neolithic flint axes were found in the parish before 1912 (OS Record Cards; NM). Other flint implements, described as spears, were found in 1949 (SP 673731; OS Record Cards).
c(1) Enclosure (?) (SP 690733), in the E. of the parish, on Northampton Sand at 122 m. above OD. Air photographs (not seen by RCHM) are said to show cropmarks of a rectangular feature (BNFAS, 5 (1971), 42).
c(2) Roman settlement (?) (SP 678740), N.E. of Nortoft Grange, on gravel at 122 m. above OD. Roman pottery has been found (Northants. Archaeol., 10 (1975), 154).
c(3) Roman settlement (?) (SP 662741), S.E. of Nortoft Lodge, on Northampton Sand at 180 m. above OD. Roman pottery has been found (Northants. Archaeol., 10 (1975), 154).
c(4) Roman settlement (?) (SP 660730), S. of Lindow Spinney, on sand and gravel at 155 m. above OD. Roman pottery has been found (Northants. Archaeol., 10 (1975), 154).
c(5) Enclosure and (?) Roman settlement (SP 673729; Fig. 75), lay immediately W. of the village of Guilsborough, on the summit of the hill, on Northampton Sand at 165 m. above OD. The site has been almost completely destroyed, but there seems to have been an enclosure of some kind bounded by a bank and ditch. This enclosure may relate to the 'borough' element of the place-name.
The earliest and most complete descriptions of the site were made in the early 18th century by the two county historians (J. Morton, Nat. Hist. of Northants. (1712), 524; J. Bridges, Hist. of Northants., I (1791), 566). It was then said to be 'the large remains of a Roman encampment . . . . The form of it, like the more common Roman Camps, is an oblong square, the shorter side running from N. to S. It seems to have been fenced with a broad, deep, single entrenchment. The agger of this fortification is still visible; and as far as could be judged . . . the longest parallel is between five and six hundred foot, the shortest about three hundred. The area included is about eight acres. It is called the Burrows or Burrow-Hill'.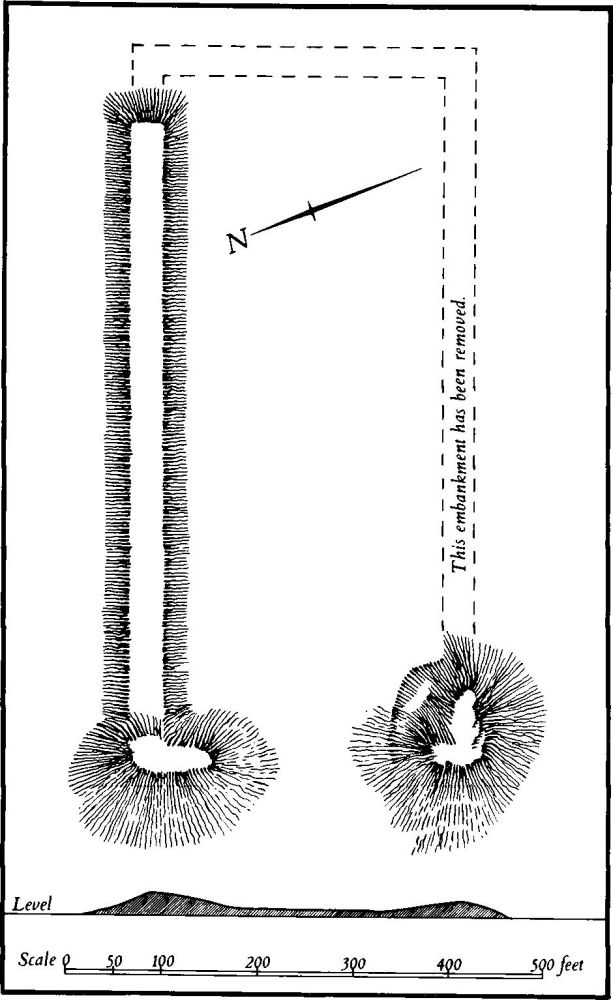 The S. bank and presumably the E. bank seem to have been partly removed in the early 19th century when skeletons were found as well as a large stone coffin 'in the north west corner'. A plan of the site (Fig. 75) was made soon afterwards and published in Wetton's Guide Book (1849). Further levelling of the S. side took place in 1870 and some pottery, then said to be Roman, was discovered. This is reputed to have been given to NM but there is no trace of it there. On air photographs taken before 1947 some possible remains are visible. The W. corner of the enclosure is recognizable as a mutilated rounded mound, apparently projecting forward N.W. beyond the line of the corner formed by the N.W. and S.W. sides which show as low scarps. A possible S. corner is also visible and this too seems to have had a projecting part. The N.E. side is marked by a natural scarp but there is no trace of the S.E. side. On this evidence the attribution of a Roman date seems unlikely though the ground had been so disturbed by later activity that the air photographic evidence is suspect. Since 1947 the whole area has been cleared and levelled. Only a mutilated mound 2 m. high, perhaps the W. corner (SP 67357286), and a short length of bank 1 m. high which might be part of the N.W. side (SP 67557288) remain. A large quantity of Roman pottery was discovered somewhere in the area in about 1910 during the digging of foundations for a bungalow (E. L. Renton, Records of Guilsborough, Nortoft and Hollowell (1929), 2). This pottery was given to NM (RAF VAP CPE/UK/1994, 1467–8).
Medieval and Later
c(6) Settlement remains (SP 676735), formerly part of the hamlet of Nortoft, lie to the E. of the existing houses, on Northampton Sand at 150 m. above OD. The remains consist of one well-defined close and an area of disturbed ground (RAF VAP CPE/UK/1994, 1466–7).
c(7) Dam (SP 666748), in the bottom of the valley of a N.E.-flowing brook, on the boundary between Thornby and Guilsborough parishes, on clay at 140 m. above OD. It consists of a low bank some 1.5 m. high partly spanning the stream. This dam presumably held back water for a small fishpond or mill-pond the edges of which are still visible as a low scarp to the W.
(8) Cultivation remains. The common fields of Guilsborough were enclosed by an Act of Parliament of 1764. The common fields of Nortoft were enclosed by agreement in 1588 (NRO, Fermor Hesketh Baker, 715a). Ridge-and-furrow of these fields exists on the ground or can be traced on air photographs over large parts of the parish though the pattern is far from complete. It appears to be arranged in end-on and interlocked furlongs carefully adapted to the natural topography (RAF VAP CPE/UK/1994, 1464–71; 540/474, 3151–6).