Pages 101-102
An Inventory of the Historical Monuments in the County of Northamptonshire, Volume 4, Archaeological Sites in South-West Northamptonshire. Originally published by Her Majesty's Stationery Office, London, 1982.
This free content was digitised by double rekeying and sponsored by English Heritage. All rights reserved.
40 MIDDLETON CHENEY
(OS 1:10000 a SP 44 SE, b SP 54 SW, c SP 43 NE, d SP 53 NW)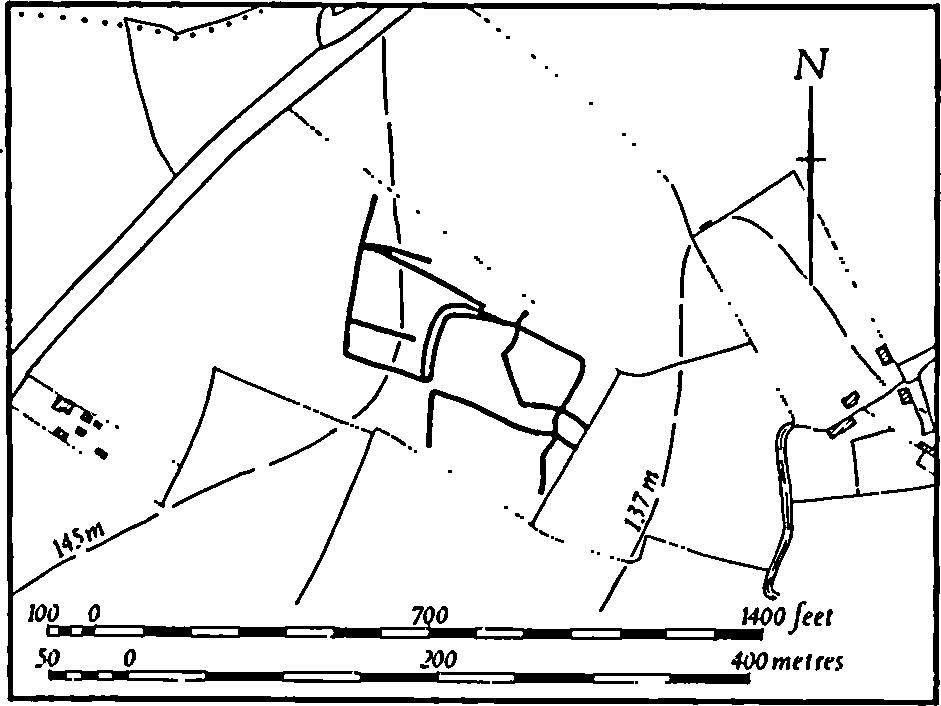 The parish, lying against the Oxfordshire county boundary, is of irregular shape and covers almost 1000 hectares. The rolling landscape, entirely on Lias clays and Marlstone Rock between 100 m. and 160 m. above OD, is made up of three ridges between the valleys of two small S.-flowing streams. The modern parish includes the village and lands of Overthorpe, formerly part of Warkworth parish, and the village of Middleton Cheney is in two distinct parts each lying at the head of a small valley. Apart from the prehistoric or Roman enclosures (1) little of archaeological importance has been recorded in the parish.
Prehistoric and Roman
a(1) Enclosures (SP 49454215; Fig. 86), W. of Middleton Cheney village, on Middle Lias clays and silts at 142 m. above OD. Air photographs (CUAP, ABW 87, 88) show cropmarks of a group of overlapping, sub-rectangular enclosures and ditches covering a total area of about 2 hectares.
b(2) Prehistoric Settlement (SP 522406), in the extreme S.E. of the parish, on limestone at 107 m. above OD. A dense scatter of worked flints of late Neolithic and Bronze Age type covers an area of about 5 hectares. Part of a polished flint axe and a flint arrowhead have also been found (inf. D. J. Barratt).
b(3) Roman Settlement (SP 517404), in the S.E. of the parish, on limestone at 122 m. above OD. Roman pottery has been found over an area of about 3 hectares (inf. D. J. Barratt).
Medieval and Later
(4) Cultivation Remains. The common fields of Middleton Cheney were enclosed by an Act of Parliament of 1769. On the Enclosure Map of about 1770 (NRO) most of the land attributable to the village of Middleton is shown as being under common fields. The furlongs and accessways depicted on it agree exactly with the ridge-and-fur-row which still exists or can be traced on air photographs. Large areas of ridge-and-furrow can be recovered, arranged in end-on and interlocked furlongs except along the steep-sided S.-draining valleys where it lies at right angles to the contours. There is a good example of two former end-on furlongs being ploughed as one, with the ridges riding over the earlier headland (SP 510417).
The common fields of the hamlet of Overthorpe, which occupied the W. part of the present parish, were enclosed together with those of Warkworth by an Act of Parliament of 1764 (G. Baker, Hist. of Northants., I (1822–30), 738). Ridge-and-furrow of these fields survives on the ground or can be traced on air photographs only on the low clay area around and N. of the hamlet where it is arranged in end-on and interlocked furlongs. (RAF VAP CPE/UK/1926, 1205–11, 3205–11, 5211; F21 58/RAF/1567, 0050–1, 0081–2; F22 58/RAF/1567, 0050–1)