Pages 131-132
An Inventory of the Historical Monuments in the County of Northamptonshire, Volume 4, Archaeological Sites in South-West Northamptonshire. Originally published by Her Majesty's Stationery Office, London, 1982.
This free content was digitised by double rekeying and sponsored by English Heritage. All rights reserved.
52 SHUTLANGER
(OS 1:10000 a SP 75 SW, b SP 74 NW)
The modern parish, which was formerly part of Stoke Bruerne, is some 500 hectares in area. The R. Tove, here flowing at about 78 m. above OD in a wide alluvial valley, defines the S. boundary. The ground rises to the N. across Upper Lias Clay and Oolitic limestones to an area of Boulder Clay with a maximum height of 128 m. above OD on the N. boundary. Little archaeological material has been noted in the parish, though the gardens (3), thought to be a 17th-century, are of some interest.
Roman
b(1) Roman Settlement (SP 717492), in the W. of the parish, on Upper Lias Clay at 91 m. above OD. A scatter of Roman coarse wares and tile was discovered here in 1967 (BNFAS, 3 (1969), 2).
Medieval and Later
For the medieval deer park in the E. of the parish, see Stoke Bruerne (8).
a(2) Settlement Remains (centred SP 728501), formerly part of Shutlanger, lay on the N.E. edge of the village, on limestone at 94 m. above OD. The earthworks have now been partly destroyed by modern housing, but an area of disturbed ground still remains on the E. side of a small S.-flowing stream separated from the adjacent ridge-and-furrow by a low bank and ditch. It is not clear whether these were the sites of former houses but if they were they suggest that Shutlanger once had a 'double-loop' plan of which only the S. loop now remains complete. The earthworks were already devoid of buildings in 1727 (map in NRO). (RAF VAP CPE/UK/1926, 1239–40; air photographs in NMR)
b(3) Garden Remains and Enclosures (SP 729498; Fig. 103), lie around the isolated house known as The Monastery, on the S.E. side of the village, on Upper Lias Clay at 95 m. above OD. The house itself is of medieval origin and has much 14th-century work in it, including its original roof, porch and windows, and was probably rebuilt in the 16th or 17th century. Although usually said to be a chapel, it is almost certainly a domestic building, perhaps a manor house (Ass. Arch. Soc Rep., 22 (1894), 223–6; N. Pevsner, Northamptonshire (1973), 403).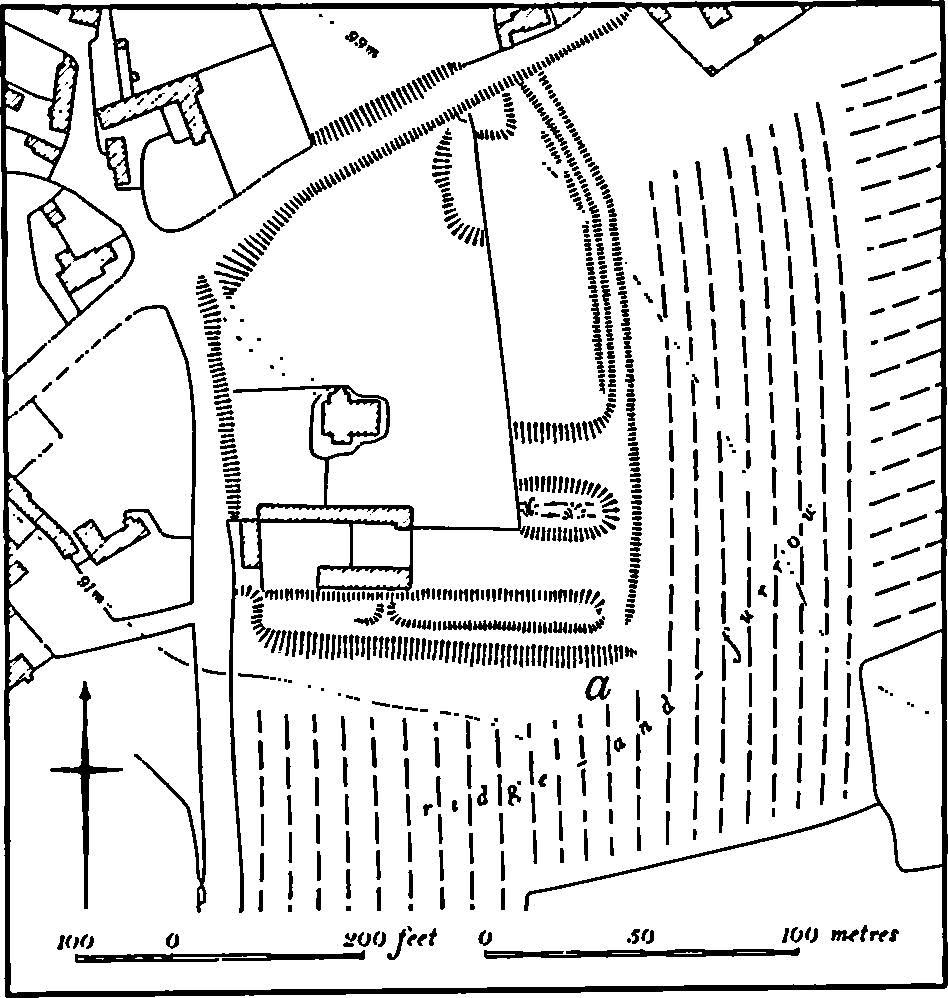 The surviving earthworks may be a manorial enclosure though those on the S. appear to be the remains of a garden associated with the house and perhaps of the 17th century. The house and its present gardens lie on the W. end of a low ridge, and the N. and W. sides are bounded by a steep scarp. On the E., beyond the present gardens, is a ditch 1 m. deep, apparently an earlier boundary. At its S. end this opens out into a broad depression, perhaps a former pond. On the S. side are two parallel scarps 1.5 m. high with, between them to the E., a shallow rectangular depression, also possibly a pond. These garden remains lie below the main front of the house. They appear to overlie earlier ridge-and-furrow especially in the S.E. corner ('a' on plan) for the existing ridges are too short to have been ploughed. (RAF VAP CPE/UK/1926, 1239–40; air photographs in NMR)
(4) Cultivation Remains. The common fields of Shutlanger, together with those of Stoke Bruerne, were enclosed by an Act of Parliament of 1840. Before that date there were three fields. Wood Field to the W. and N. of the village, Rowslade to the S.W. and Alderton in the S. of the parish. Within all three fields lay areas of old enclosures which appear to have been former furlongs. To the N.E. of the village, and extending across the modern parish boundary with Stoke Bruerne, was a large area of open grassland known as Stoke Plain or Shutlanger Plain. Part of Stoke Park occupied the S.E. of the parish (NRO: maps of 1727 and 1768; Tithe Map, 1842; Enclosure Map, 1844). Ridge-and-furrow survives on the ground or can be traced from air photographs in relatively few places in the parish. There are two groups of small, rectangular, interlocked furlongs in Wood Field (SP 730504 and 722498) and some end-on and interlocked furlongs in Rowslade Field (sp 718490) and in Alderton Field (SP 730481). There is no evidence that there was ever any ridge-and-furrow on Shutlanger Plain but end-on furlongs occupy much of that part of Stoke Park which lies in this parish. The latter may be associated with the fields of a medieval settlement in Stoke Bruerne (7), for the modern parish boundary across the Park is certainly not the medieval division between Stoke Bruerne and Shutlanger. Most of the best surviving ridge-and-furrow in the parish lies around the village, within fields which were already old enclosures in 1727, although some of it (e.g. SP 730498) appears to be of open-field form. (RAF VAP CPE/UK/1926, 1029–32, 1237–42; FSL6565, 1997–9)