Pages 74-80
An Inventory of the Historical Monuments in the County of Northamptonshire, Volume 4, Archaeological Sites in South-West Northamptonshire. Originally published by Her Majesty's Stationery Office, London, 1982.
This free content was digitised by double rekeying and sponsored by English Heritage. All rights reserved.
30 HARTWELL
(OS 1:10000 a SP 75 SE, b SP 74 NE, c SP 85 SW, d SP 84 NW)
The parish covers nearly 600 hectares and extends from the R. Tove in the S.W., at 74 m. above OD, into Salcey Forest, still largely woodland, in the N.E. at around 126 m. above OD. Boulder Clay covers most of the parish, apart from small outcrops of Oolite Limestone S. and E. of the village. The enclosure (1) within Salcey Forest, which is probably of late prehistoric date, is a rare survival in the Midlands. The settlement remains (3)–(7) are part of an unusual pattern of medieval settlement which is not fully understood.
Prehistoric and Roman
A Neolithic polished flint axe was found in 1972 close to Gordon's Lodge in the S.W. of the parish (SP 77394862; Northants. Archaeol., 10 (1975), 151; OS Record Cards).
c(1) Enclosure (SP 801502; Fig. 68), probably an Iron Age settlement, lies in the S.W. corner of Salcey Forest, within Prentice Copse, on level ground, on Boulder Clay at 122 m. above OD. Few such sites have survived as earthworks, and this one has presumably been saved from destruction because it is situated in an area of medieval and modern woodland. The enclosure is roughly oval, bounded by a continuous bank and external ditch with a single plain inturned entrance in the centre of the E. side. The bank is nowhere much above 0.5 m. high above the interior; the ditch varies between 1.5 m. and 1.75 m. deep. Apart from a later disturbance on the E. side, the bank is complete and undamaged. The surrounding ditch has modern drainage channels in it, and at its S. end and in places along the E. side it has been destroyed by other channels cut across it. The interior is featureless apart from modern drains. Its traditional name is Egg Rings. The site may be compared with similar enclosures in Wessex (e.g. RCHM, Dorset, IV (1972), Tarrant Gunville (34)).
b(2) Roman Settlement (SP 768483), lies in the extreme S.W. of the parish on Boulder Clay at 72 m. above OD. and on the same site as a medieval settlement (6). Roman coarse wares and part of a quern thought to be of the same period have been found (OS Record Cards).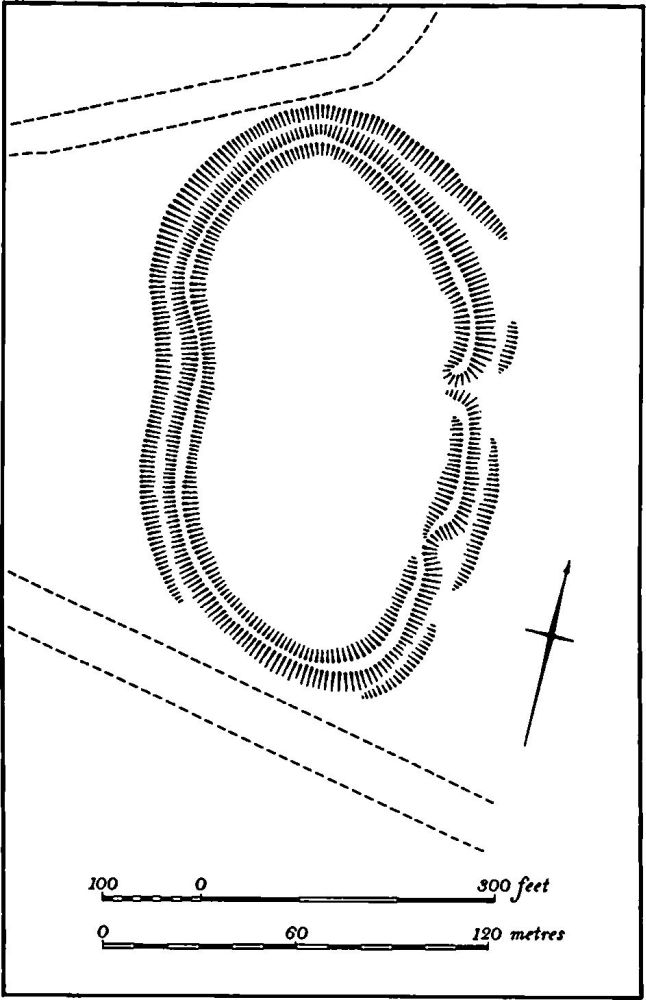 Medieval and Later
(3–7) Medieval Settlements (Fig. 69). The modern village of Hartwell, formerly known as Hartwell Green, is a large nucleated settlement lying against the N. boundary of the parish. However there is much evidence to suggest that this situation is relatively recent. Before extensive building in the 19th and 20th centuries this village was little more than a single street, on the S. side of a large rectangular green part of which lay in Roade parish. There was already some encroachment on the green by the mid 18th century (NRO, map of 1768). The village at that time had the appearance of a secondary forest-edge settlement. A parish church was erected in this village on a new site in 1851. Before that there was only a chapel, located in the S. of the parish in the now deserted settlement at Chapel Farm (3) which was known as Hartwell up to 1835 (OS 1st ed. 1 in. map). The modern parish was formerly a chapelry of Roade, though in Domesday Book a priest is listed under Hartwell. It seems likely that the medieval settlement pattern consisted of a group of hamlets, Bozenham (6), Hartwell (Chapel Farm (3)), Hartwell Green and at least three others at Park Farm (7), Elms Farm (4) and S.E. of Hartwell (5), as well as at Stonepit Farm which lay within an area of old enclosures in 1768. The lost settlement of Wyk Juxta Hertwell (PN Northants., 100) may have been any one of these places.
b(3) Deserted Village of Hartwell (centred SP 784489; Figs. 69 and 70, known as Hartwell in the 19th century (OS 1st ed. 1 in. map, 1835), lies around Chapel Farm on the S. side of a shallow valley, on Boulder Clay and limestone between 90 m. and 105 m. above OD. This village must once have been the main settlement in the parish, but all the population records presumably include the other medieval settlements. Hartwell is first mentioned in Domesday Book where it is listed as a single manor with a total recorded population of 26 including a priest (VCH Northants., I (1902), 308, 374). In 1301 49 people paid the Lay Subsidy (PRO, E179/155/31) and for the Lay Subsidy of 1334 Hartwell cum membris paid £7–0–13d (sic) (PRO, E179/155/3). This sum was one of the largest paid in the S.W. of the county. In 1377 81 people over the age of 14 paid Poll Tax (PRO, E179/155/27). In 1525 30 taxpayers paid the Lay Subsidy (PRO, E179/155/130) and in 1673 102 people paid the Hearth Tax (PRO, E179/155/130). In 1801 the population of the parish was 357.
The earthworks of this village remained largely intact until 1976 when some of them were destroyed by ploughing. The surviving parts lie N. and N.E. of the farm. In the bottom of the valley ('a' on plan) are the remains of at least two fishponds. The smaller is a simple rectangular depression cut into the lower part of the valley side. Below this and separated from it by a broad ditch is a long rectangular sunken pond with an earthen dam 1.75 m. high at its S.W. end and with a later bank across it. This may be an adaptation from an earlier and much larger pond which may have occupied the whole of the flat valley bottom. On the steep valley side to the S.E. ('b' on plan) is a series of sub-rectangular platforms bounded by scarps of 1 m. high with a broad ditch on their N.W. side. Immediately E. of the ditch is a large rectangular area ('c' on plan), bounded on the S. and E. by a low bank and on the N. by various scarps and ditches and covered with narrow ridge-and-furrow. The footings of a two-cell building abutting on the E. bank appear to be relatively recent and are probably the remains of two cottages which are said to have stood there.
From the S.E. corner of the enclosure a broad hollowway ('d' on plan) 1 m. deep, extends S.S.E. for 130 m. and then forks. The E. branch runs for 140 m. before fading out. The S.W. branch extends beyond the county boundary into Buckinghamshire. On the E. side of the main hollow-way, as well as in the area between its N. end and the farm itself, are ploughed-down scarps and banks of a series of closes and house platforms. These are associated with dense spreads of limestone rubble and medieval pottery of the 12th to the 14th century and smaller quantities of post-medieval sherds. Immediately W. of the N. end of the main hollow-way a dry stone-lined well 0.75 m. in diam. and about 10 m. deep has been discovered.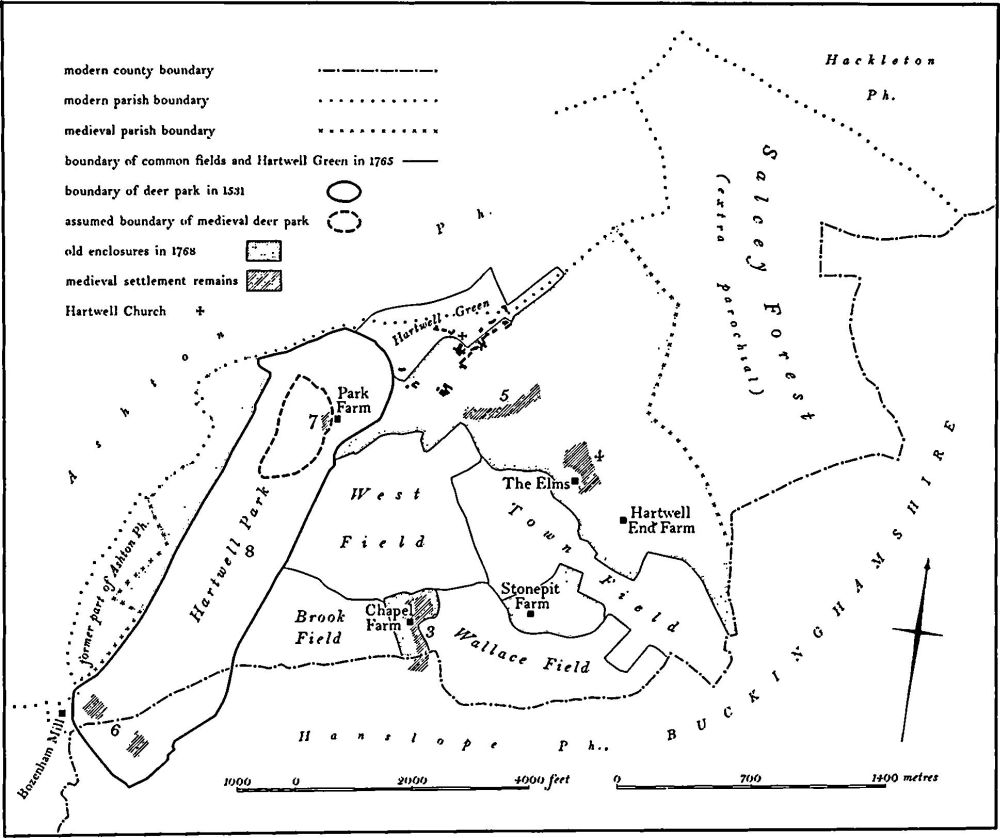 The fragmentary foundations of the chapel which gives the farm its name survive in the S.E. corner of the farmyard. It was of late 12th-century date and part of an arcade of that period is incorporated in the existing parish church at Hartwell Green built in 1851. Bridges described the chapel in 1720 (Hist. of Northants., I (1791), 304) as consisting of a nave and a chancel with a north aisle, and later alterations were noted by Baker (Hist. of Northants., II (1836–41), 186).
At the extreme S. of the site, in Buckinghamshire, on either side of the hollow-way there are large areas of stone rubble and medieval and post-medieval pottery, associated with several ponds and depressions ('e' on plan). This is the site of a building called Chantry House which still stood in the 19th century (OS 1st ed. 1 in. map, 1835). (CBA Group 9, Newsletter, 5 (1975), 7; RAF VAP CPE/UK/ 1926, 1247–8; air photographs in NMR)
b(4) Settlement Remains (SP 791497; Figs. 69 and 71), lie around Elms Farm and Hartwell End Farm on a S.E.-facing slope, on Boulder Clay at about 110 m. above OD. Nothing is known of the history or name of the site; Elms Farm was formerly known as Tythe Farm (OS 1st ed. 1 in. map, 1835) and the adjacent Hartwell End Farm is recorded by that name in 1538 (PN Northants., 100).
The main feature of the site is a system of hollow-ways and tracks, presumably of medieval date. The main track ran E. from the E. end of the village of Hartwell Green and then turned S. to a point just N. of Elms Farm. This part ('a'-'b' on plan) has now been destroyed but it is shown as a road in 1768 (map in NRO) and indeed is still marked as a track on modern OS maps. To the S.E. of Elms Farm ('c' on plan) this road survives as a hollow-way up to 1.5 m. deep running S.E. in a broad curve. It can be traced to the S. of Hartwell End Farm at which point it forks ('d' on plan), one branch continuing E., the other running S. into the area of the former common fields.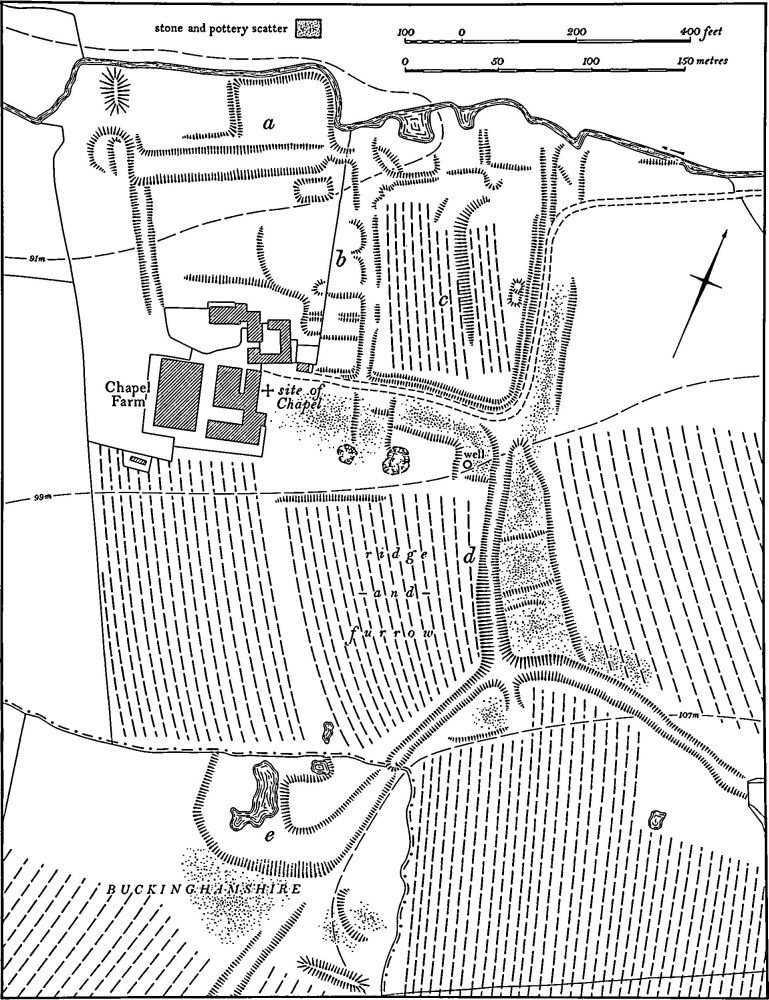 A wide L-shaped ditch immediately S.E. of Elms Farm with part of a ditched enclosure on its S.W. side may be the remains of a moated site, though later activity has so damaged the E. side that it is no longer possible to be sure ('e' on plan). In the present arable land to the N. of the farm, large quantities of medieval pottery have been found. Most of it is of 13th or 14th-century date, and much is of a form similar to that produced at Olney Hyde, Buckinghamshire. However the occurrence of several fragments of kiln debris on this site suggests that at least some of the pottery was made here. (CBA Group 9, Newsletter, 5 (1975), 7; Northants. Archaeol., 12 (1977), 226; RAF VAP CPE/ UK/1926, 1248–9)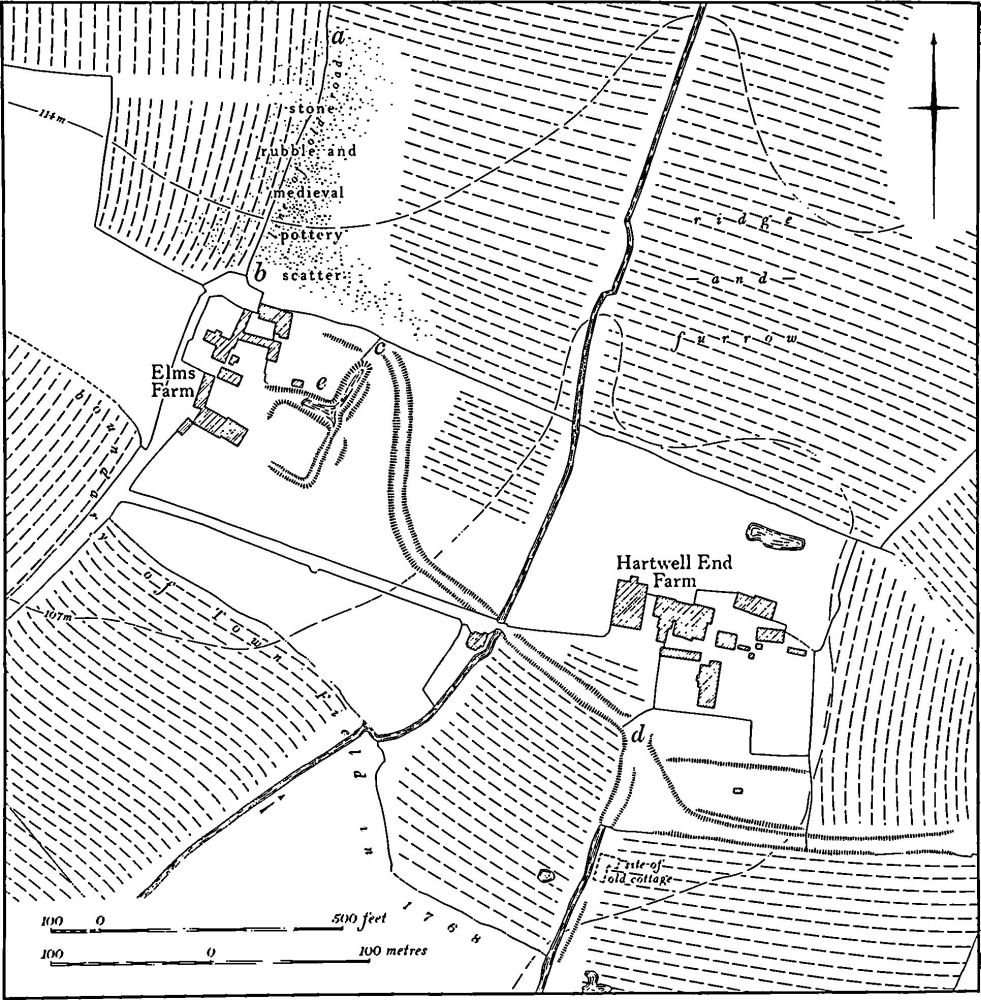 a(5) Settlement Remains (centred SP 788501; Figs. 69 and 72), lie along the valley of a small S.W.-flowing stream immediately S.E. of the present Hartwell village, on Boulder Clay between 110m. and 120 m. above OD. The earthworks remained until 1976 when all but a small fragment were destroyed by ploughing. The main feature of the site was a long hollow-way up to 1.5 m. deep, running N.E.-S.W. At its S.W. end it used to meet the road from Hartwell Green to Hanslope (Buckinghamshire) but it has now been blocked by modern buildings. At its N.E. end it joined another road which formerly ran S.E. from Hartwell to Elms Farm (4). The hollow-way is marked as a through road on the map of the parish of 1768 (NRO) and the map also shows at least six buildings along the hollow-way, probably two farm-houses and two cottages. By 1835 (1st ed. I in. OS map), although the hollow-way is still shown as a road, only one of the farmsteads and a single house or cottage remained ('a' and 'b' on plan). The cottage survived until recently. On the N.W. side of the hollow-way the sites and closes of the cottages and one of the farmsteads ('a' and 'b') were defined by low banks and scarps until recent destruction. In addition the sites of at least two other buildings removed before 1768 were identifiable ('c' and 'd'). Since ploughing, large areas of stone-rubble, brick, tiles and pottery ranging from the 13th century to the 18th century have been noted along much of the N.W. side of the hollow-way, suggesting that there was an almost continuous line of houses here. To the S.E. of the hollow-way is a larger area of earthworks. Most appear to be relatively modern drainage ditches, though there is at least one house-site ('e') in addition to the site of the farmstead which was there in 1768 ('f'). The arrangement of some of these house-sites, especially those on the N.W. side of the hollow-way, indicates that they may have been inserted into pre-existing fields or furlongs. (CBA Group 9, Newsletter, 5 (1975), 7; (RAF VAP CPE/UK/ 1926. 1248–9; air photographs in NMR)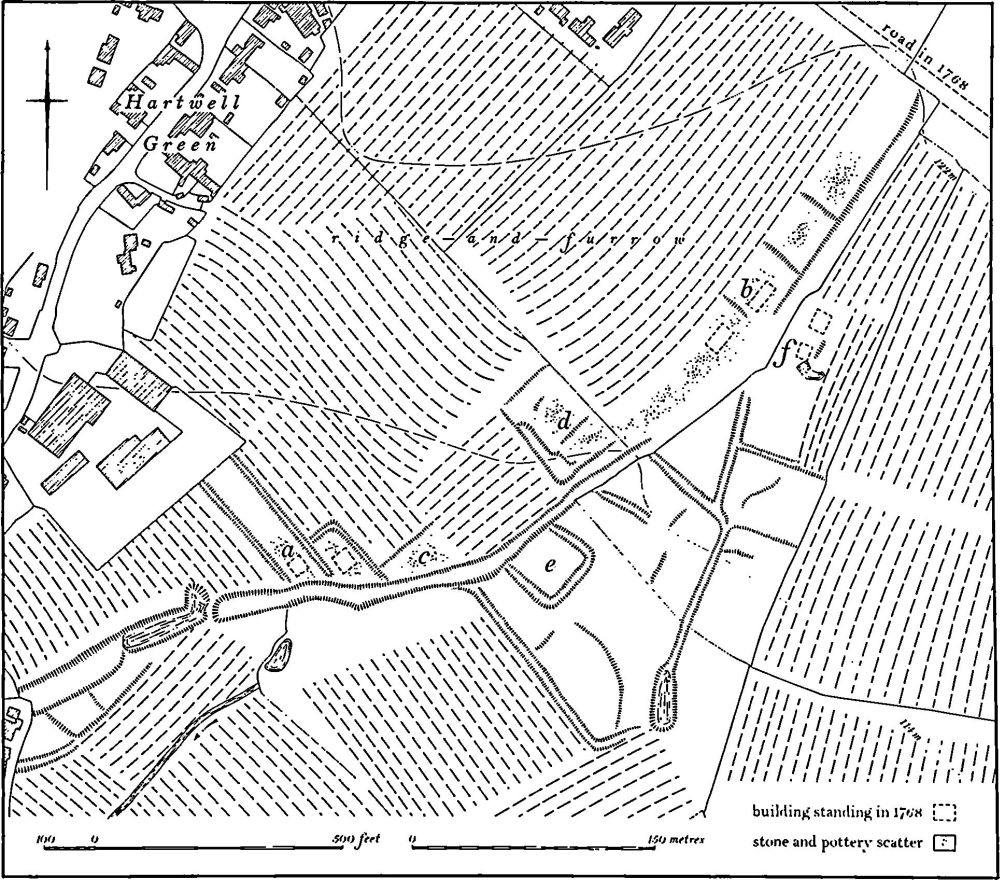 b(6) Deserted Hamlet of Bozenham (SP 768483; Fig. 69), lies immediately N.E. of Bozenham Mill, in an area of permanent arable, on Boulder Clay at 72 m. above OD. Large quantities of 13th-century pottery and limestone-rubble associated with slight depressions which are perhaps former house platforms have been recorded (BNFAS, 3 (1969), 19; CBA Group 9, Newsletter, 5 (1975), 7). Further S.E., in Buckinghamshire (SP 771481), another area of 13th-century sherds and rubble has been noted. These remains probably represent part of the former hamlet of Bozenham which is first recorded by name in the mid 12th century (PN Northants., 100). Both of these scatters of medieval material lie within the deer park (8) and the site in Buckinghamshire appears to have been overlaid by ridge-and-furrow. (RAF VAP CPE/UK/1926, 1244–5)
b(7) Settlement Remains (SP 778499; Fig. 69), lie immediately N.W. of Park Farm, on Boulder Clay at 100 m. above OD. No earthworks survive, but air photographs (RAF VAP CPE/UK/1926, 1246–7) show that there was once a disturbed area of some 0.75 hectares. Large quantities of medieval and later pottery have been found in the plough-soil. The status of the site is not clear. The present Park Farm is on the site of the 16th-century park lodge and the remains may represent both this and the medieval lodge, but it is also possible that there may have been a small medieval settlement here.
b(8) Deer Park (centred SP 773492; Fig. 69), occupies a long narrow strip of land covering 130 hectares in the W. of the parish, mainly on Boulder Clay between 70 m. and 107 m. above OD. A small park of only 25 acres (about 10 hectares) certainly existed in the medieval period (P. A. J. Pettit, The Royal Forests of Northants. (1968), 14). In 1531 Henry VIII enlarged this park, enclosing a further 232 acres (about 100 hectares), and built a new lodge which may have replaced an earlier one (see (7)). In 1699 the park was officially disparked (Pettit, op. cit., 192; Northants. P. and P., 5 (1975), 226).
It is not possible to identify the medieval park with certainty though it may have lain on the S.E. side of a shallow valley immediately S.W. of Park Farm. A hollow-way, visible on air photographs but now destroyed, ran from the S. corner of Park Farm curving gently S.W. and crossing the stream in the valley bottom at SP 77554966. It then ran N.W. towards Ashton. The part of the hollow-way E. of the stream may have formed the S. boundary of the early park and the stream the W. boundary. The N. edge is impossible to determine but it may be represented by the hedge which runs S.E. from the head of the stream towards Park Farm. Within this area there were three furlongs of ridge-and-furrow of medieval type.
The extent of the later park is well known as it is shown in detail on a map of Hartwell of 1768 (NRO). Much of the area was covered by ridge-and-furrow. No substantial boundaries survive apart from normal hedge-banks. The S.E. corner of this park extended into Hanslope parish, Buckinghamshire, (RAF VAP CPE/UK/1926, 1245–7)
(9) Cultivation Remains (Fig. 69). The common fields of the parish were enclosed by Act of Parliament in 1828. The medieval arrangement of the common fields must have been markedly altered when a formerly cultivated area was enclosed in the 16th century to become a deer park (8). By 1768 (map in NRO) there were four open fields. Town, West, Brook and Wallace Fields, between Hartwell Green and the Buckinghamshire boundary. To the W. of the fields lay the 16th-century deer park with a small area of old enclosures beyond, against the Ashton boundary, and to the E. lay further large areas of old enclosures which extended as far as the edge of Salcey Forest. Within the common fields there were two small areas of old enclosures, one around Chapel Farm (3) and the other around Stonepit Farm to the E.
Very little ridge-and-furrow survives on the ground within the parish although much more can be traced from air photographs. None is visible in the former Town Field and only small fragments are recoverable in West, Brook and Wallace Fields. However, extensive areas of interlocked and end-on furlongs can be traced within both the 16th-century and the assumed medieval deer parks, as well as within the old enclosures along the edge of Saicey Forest, S.E. of Hartwell Green and around Stonepit Farm and Chapel Farm. (RAF VAP CPE/UK/1926, 1018–24, 1245–9; 106G/UK/1562, 3084–9, 4083–7; FLS6565, 1005)