Pages 116-119
An Inventory of the Historical Monuments in the County of Northamptonshire, Volume 6, Architectural Monuments in North Northamptonshire. Originally published by Her Majesty's Stationery Office, London, 1984.
This free content was digitised by double rekeying and sponsored by English Heritage. All rights reserved.
16 LUTTON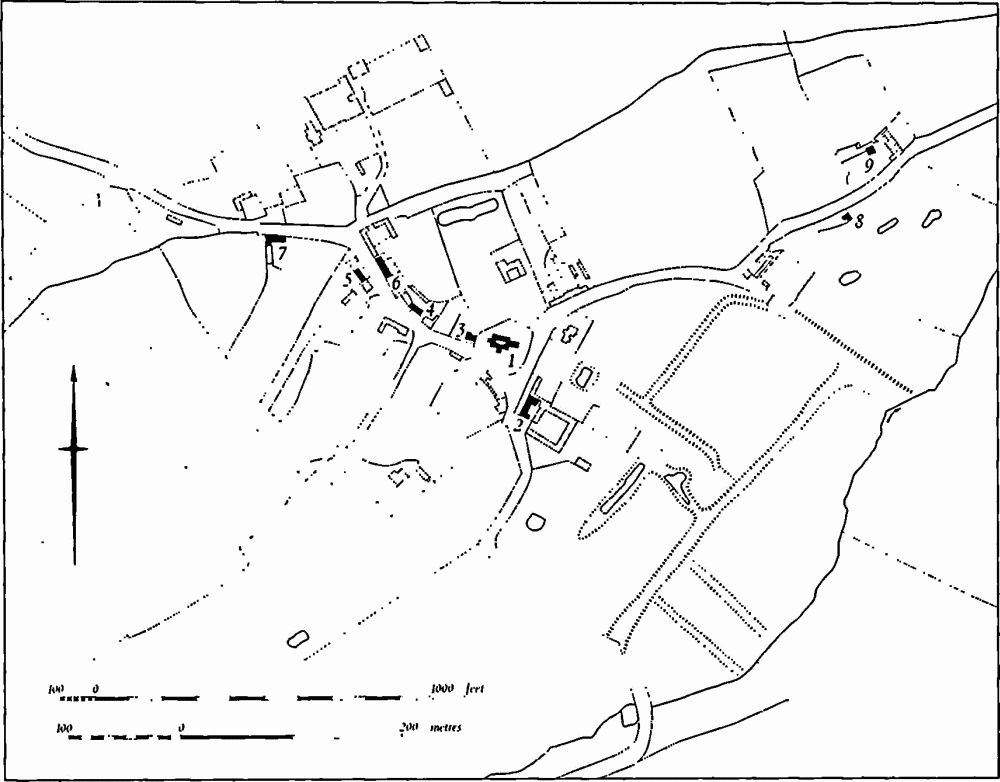 (Fig. 155)
Lutton is a parish of 580 hectares, lying on Oxford Clay which is here largely overlain by Boulder Clay. The manor was owned by non-residents except for the years between 1561 and 1657 when the Loftus family owned it and built the manor house (2).
In 1673 there were 22 families, and 30 in 1801. The small population of the village was given in 1447 as a reason for uniting the parish with Washingley in Huntingdonshire, which seems to have been even smaller, having only four or five houses in 1719. Because of this union, Lutton church contains a series of 17th-century monuments to the Apreece family of Washingley and a miscellaneous collection of 13th-century features. In 1673 Lutton had only two houses with more than two hearths, but the small proportion of people exempted from Hearth Tax on account of poverty reflects the situation elsewhere on these claylands. Building materials include both brick and timber-framing.
Ecclesiastical
(1) The Parish Church of St. Peter (Fig. 156; Plate 22) stands in the centre of its churchyard and consists of a Chancel, Nave with Aisles, West Tower and South Porch. The walls are of coursed rubble with freestone dressings, and the roofs are flat-pitched. The chancel and nave have an early 13th-century origin but only the N. arcade of this date remains unaltered. At the end of the century or early in the 14th century the church was considerably rebuilt: the chancel arch, the S. arcade, the N. and S. aisles and the S. porch can be assigned to this period. In the 15th century the clearstorey and the W. tower were added. It is possible that this work was consequent on the uniting of the livings of Lutton and Washingley the advowsons of which were both held by Richard, duke of York. In 1447 he requested the unification whereby Lutton church was to receive for its use materials from the abandoned church at Washingley (Bridges II, 463, quoting from register of William Alnwick). Various carved stones of the Saxon and Norman periods are set in the 14th-century walling, but it is not known to which church they originally belonged.
The re-use in the mid 15th century of earlier materials from an adjacent parish church gives an interesting insight into the medieval attitude towards outmoded architectural detail.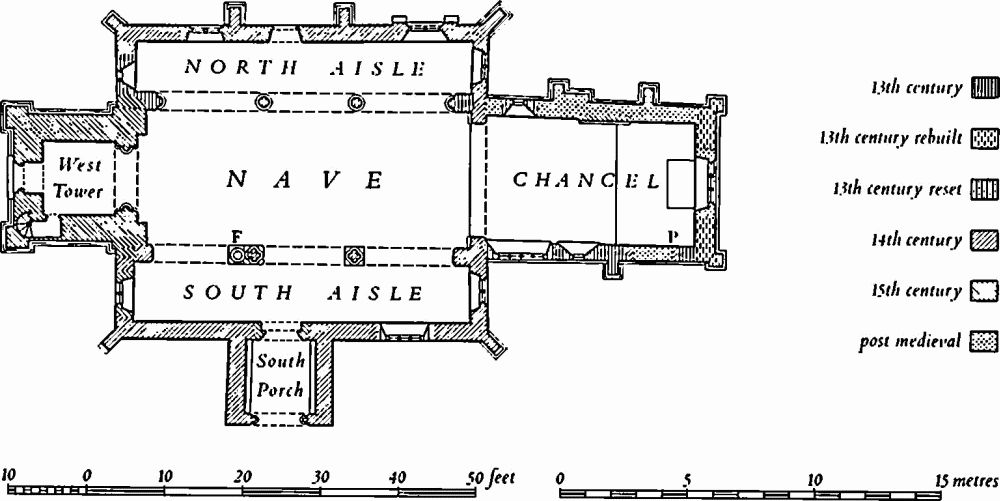 Architectural Description – The Chancel has N.E. and S.E. two-stage clasping buttresses of the 13th century, probably rebuilt together with the E. wall; the 19th-century E. window has lancets. The N. wall has been entirely rebuilt probably in the 19th century, but includes a low-side window with pointed head and splayed jambs, which may be 13th-century. The S. wall is mostly early 13th-century. The first window, blocked in the 17th century to receive monument (2), is medieval. The second, an original lancet, has a keel-moulded rear arch and attached shafts with caps enriched with nail-head. The third window is a clumsy amalgamation of two two-light 13th-century windows, one with a quatrefoil in the head, the other with a trefoil; the two E. lights have rebated jambs. In the spandrel is a triangular light with concave sides and cusping, and overall is a label with mask stops. This window was probably formed from materials originally at Washingley. Below it is the lower part of a blocked low-side window. The chancel arch of the 14th century has a wide arch of two chamfered orders carried on roll-and-hollow moulded imposts incorporating cone-shaped brackets.
The Nave has an early 13th-century N. arcade with pointed arches of two chamfered orders, round piers, water-holding bases, and capitals with octagonal abaci and nail-head decoration. The early 14th-century S. arcade has arches of two chamfered orders, quatrefoil piers, circular moulded caps, roll-moulded bases, and square responds with head corbels carrying the inner order (Plate 29); labels on the N. have large head stops, three being female with varying head-dresses and one a grotesque male. The clearstorey is 15th-century, and is lit by simple two-light windows with four-centred heads which have pierced spandrels and casement mouldings.
The North Aisle is mostly 14th-century except for the W. wall which is 13th-century and contains a lancet, the off-centre position of which suggests a former narrower aisle. The aisle has side and diagonal buttresses, and a plain parapet. The E. window is rectangular and the lights have ogee trefoiled heads. The first window in the N. wall is 14th-century and set in a projecting area of masonry having a weathered top, side pilasters and small buttresses. The window has a segmental head, ogee-headed lights with trefoil sub-cusping, and pierced spandrels. This unusual setting, beyond the main wall-face, may suggest that it is one of the reset features from Washingley. The 15th-century N. doorway has a four-centred head and is continuously moulded, and the second window is of the same date.
The South Aisle of the 14th century has plain parapets and diagonal buttresses. The E. window has a square head and trefoil-headed lights. The window in the S. wall is formed from parts of two 13th-century windows; former roundels in the head have been cut down to fit the low aisle wall. These fragments may also have come from Washingley. The S. doorway, with continuous double-ogee moulded jambs and four-centred head, and a simple W. window are 15th-century.
The West Tower of the 15th century is of three stages with clasping buttresses of ashlar which are sub-divided by chamfered strings. The parapet is battlemented and has gargoyles at the angles. The tower-arch has a head of two chamfered orders, the outer continuous, the inner carried on half-round responds with moulded caps, bases and semi-octagonal sub-bases. The W. doorway has a four-centred head and continuously moulded jambs, and above is a simple two-light window. In the second stage are slit windows. The large belfry windows, of four trefoil-headed lights, continuous mullions and transoms, are of crude workmanship.
The South Porch has a gable parapet and plain eaves. The archway has a head of two chamfered orders, the inner carried on shafts, and a label with male and female head-stops, perhaps reset.
The Roofs. The chancel roof has king posts and is probably 19th-century. The nave roof has moulded, cambered tie beams, ridge-piece and side purlins, in three bays sub-divided by heavily moulded rafters having bosses at the ridge and carved figures at the feet; the figures hold a book, a chalice and host, crown of thorns, a cross, a shield and a crown. This roof may be late medieval.
Fittings – Bells: four; 1st, 3rd and 4th with Latin inscriptions and dated 1610, 1604 and 1619 respectively, said to be from the Norris foundry at Stamford (VCH, Northants. II, 586); 2nd inscribed with churchwardens' names and 'Tobie Norris cast me 1682' (North).
Brass: in chancel on S. wall of John Loftus, 1657, small rectangular plate with arms of Loftus. Communion rails: oak, turned balusters, terminals in clusters of four, early 18th-century. Easter Sepulchre: in N. wall of chancel, is composed of cinque-foiled panelling in a four-centred head, with a central rectangular blocking occupying the lower part of two panels; the 'chest' projects slightly from the wall and has a weathered top and chamfered plinth (Plate 40). It is perhaps 15th-century. Font: standing in its original position against the W. pier of the S. arcade with which it is contemporary, octagonal bowl, ogee-moulded lower edge, bell-shaped neck and quatrefoil stem with roll-moulded base and rectangular plinth, following the mouldings of the S. arcade piers; early 14th-century (Plate 39). Locker: in chancel, rectangular with rebated jambs, medieval.
Monuments and Floor slabs. Monuments: in chancel – on N. wall (1), elaborate composition installed in 1633 by Hieronimus Apreece to commemorate Robert his father, 1622, and his grandfather and great grandfather; it consists of three kneeling figures en face, in civilian clothes, about life-size, in architectural surround embellished with a shield of arms of Apreece with others impaling Otter, Latimer, Wilford and two unidentified and further shields with these arms separately, but these may be later (Plate 64). Robert's wife was Johanna Wilford, his father married Johanna Latimer, his grandfather Elizabeth Otter and his great grandfather Johanna Bray. On the S. wall (2), of Adlard Apreece, 1608, architectural composition with kneeling figure in Greenwich armour, inscription tablet with rhyming verse in Latin, five shields of arms of Apreece impaling a. a garb, b. Otter, c. Wilford, d. Bray, e. Latimer (Plate 64). Floor slabs: in chancel – (1), of Mary, daughter of Robert Apreece, 1711, grey marble slab with arms of Apreece quarterly; (2), of. Nicholas Pedly, February 1699, black marble slab with arms of Pedly impaling Apreece; (3), of Ann Apreece, aged two days, February 1660; (4), of Frances Apreece (Bexwell), February 1699, black marble slab with arms of Apreece impaling Bexwell; (5), of Ursula Bexwell, 1688. In nave – (6), of Elizabeth Rowles, 1805; (7), of William Rowles, 1835; (8), of Jane Rowles, 1811; (9), of Stephen Rowles, 1846; (10), of Wildbore Wilkinson, 1811; (11), of John Pack, 1722, Elizabeth his wife, 1710, and infants; (12), of Susannah Botton, 1766. Piscina: in chancel, with one quatrefoil sinking and credence shelves beneath twin arches, 13th-century (Plate 41). Miscellaneous: set in S. respond of chancel arch and in S. aisle, two lengths of carving with star decoration, 12th-century; in N. wall of tower, length of stonework carved with interlace, pre-Conquest.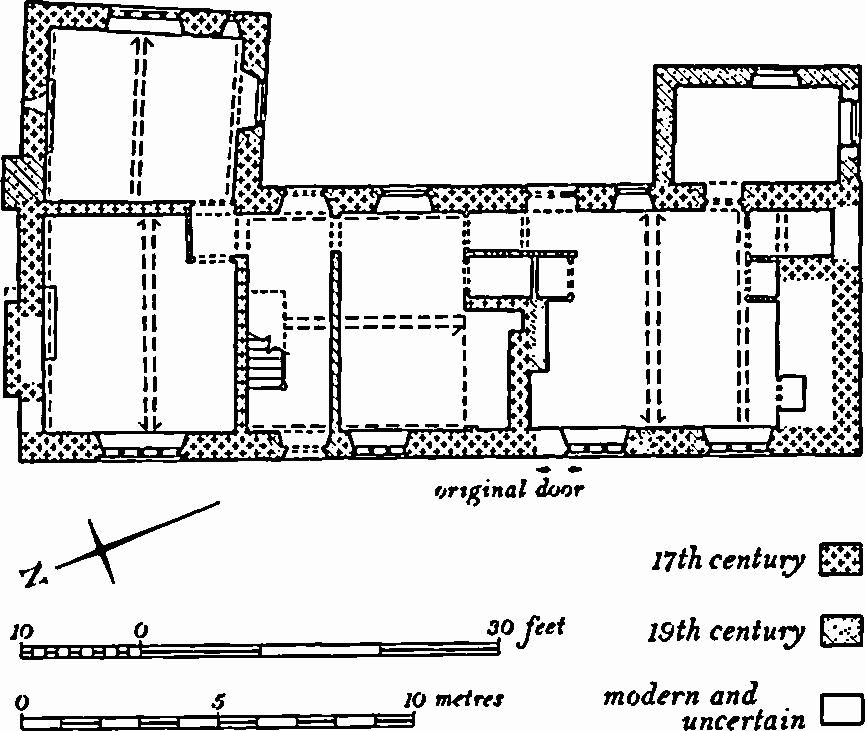 Secular
(2) Manor House (Fig. 157; Plate 101), of two storeys, was built in the late 16th or early 17th century by John Loftus who held the manor from 1572 to 1615. The manor was bought in 1561 by John's father Robert Loftus of Ashton, whose father, described as a yeoman, died owning four houses (Bridges II, 411). It is an L-shaped building with a main range originally of class 1a plan; the wing next to the parlour contained a dairy or similar service room. The door has been moved and the fenestration altered, but some hollow-moulded mullioned windows of two, three and four lights, some with ogee frames, remain. The S. gable is parapeted and the roof is hipped at the N. end to cover the wing. Inside there are deeply chamfered beams with cavetto stops, wall-beams in the central and N. rooms, and chamfered joists in the S. room. The stair was originally against the E. face of the internal stack. In the 17th century fireplaces were added on both floors at the S. end; the floor of the upper room was formerly of plaster.
(3) One storey and attics, thatched roof, two-room plan, 18th or early 19th-century.
(4) The Forge, one storey and attics, a class 2 house of 17th-century date, originally timber-framed; the walls are now of brick or rubble. Thatched roof. The N. room has been demolished. (Not entered)
(5) One storey and attics, brick with thatched roof, class 6b plan, early 19th-century. Parapeted gables, dentilled eaves course, openings with rubbed brick flat arches and semicircular relieving arch to door.
(6) Brook Farm (Figs. 158, 159), one storey and attics, thatched roof, built in the late 16th century to class 1a plan with two rooms in each end compartment; extended to the S. by an additional room in 1698. The N. room has an axial beam with pyramid stops and mortice holes for a former partition; a swell-headed post in the timber-framed S. wall carries the beam and was ornamented in the 17th century with a painted design in black, red and white (Plate 126) when the axial partition was removed. The former central room has an axial beam with bar stops, and a large internal fireplace. To the S. the compartment originally contained a cross passage and two service rooms, as indicated by stops, of pyramid form, and redundant mortice holes in the axial beam. This arrangement was altered in the 17th century when a stack was added on the S. The S. room has a datestone inscribed 'AP 1698'.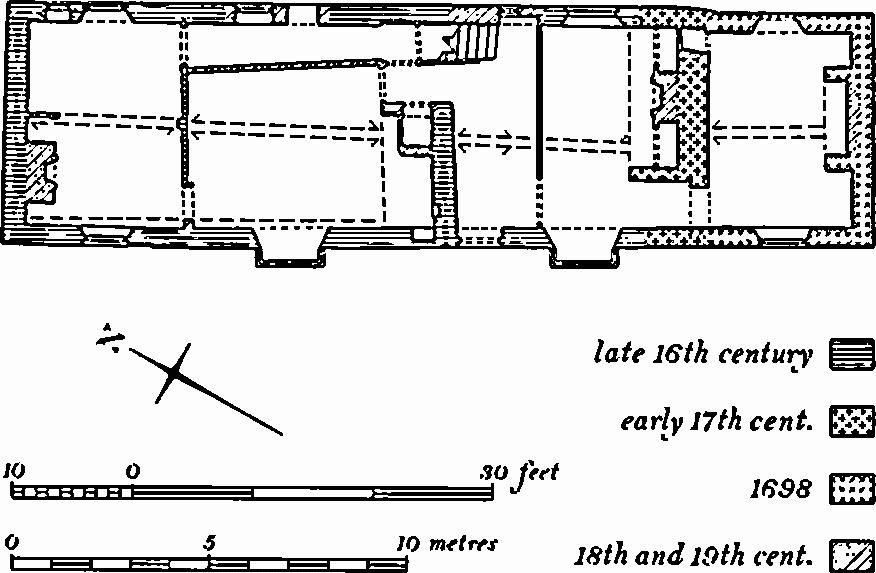 (7) Ducks Nest, one storey and attics, a timber-framed house of 17th or 18th-century date with internal stack, later encased in stone; thatched, half-hipped roof. The cross wing at the W. end is early 19th-century. (Not entered)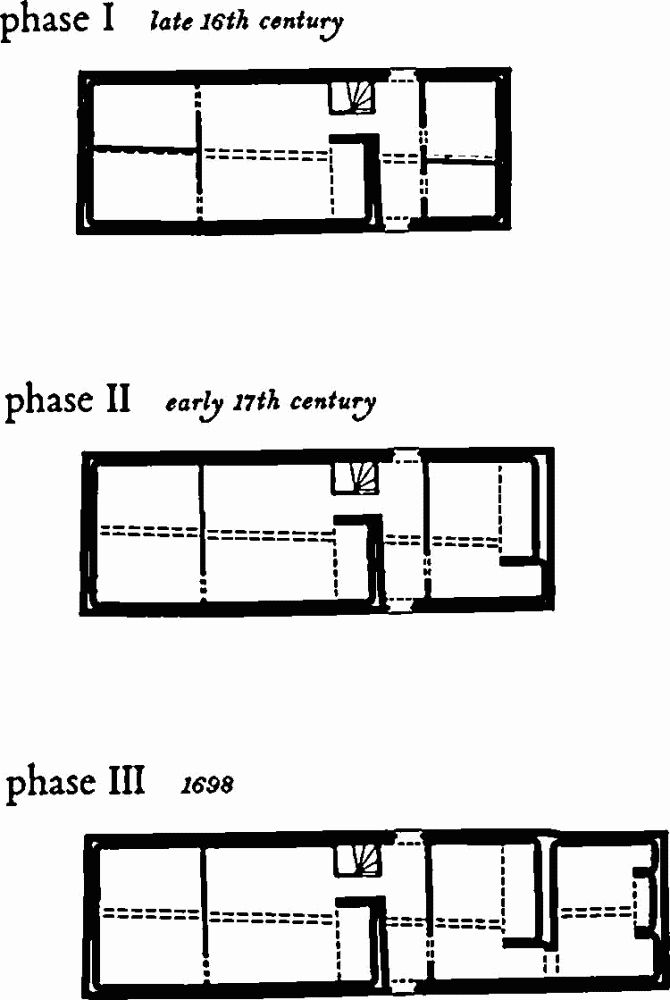 (8) Two storeys, of red brick in Flemish bond, Welsh-slated roof, class 6b with entry away from the road, second quarter 19th-century.
(9) Similar to (8) but with entrance at the front.