Pages 16-18
An Inventory of the Historical Monuments in the County of Northamptonshire, Volume 6, Architectural Monuments in North Northamptonshire. Originally published by Her Majesty's Stationery Office, London, 1984.
This free content was digitised by double rekeying and sponsored by English Heritage. All rights reserved.
2 ASHTON
(Fig. 27)
Ashton, a parish of 748 hectares on the E. bank of the R. Nene, was created in 1885 by uniting Elmington and Ashton, two former townships in Oundle parish. Elmington was never large, and was reduced to a single house by the Abbots of Crowland in the late 15th century when they created sheep pastures on their land. It is now only represented by a 19th-century farm-house at Elmington Lodge.
Ashton itself contained 32 households in 1673 and only 22 families in 1801. A chapel is recorded in 1189 but it went out of use shortly before 1548 (Cal. Chart. IV, 274; Cal. Pat. (1550–3), 23). Its site is unknown but fragments of a large masonry building reused in the present chapel may have belonged to it. The chapel was built in 1706 and incorporated a school. The entire parish was bought in 1860 by Baron Rothschild, and in c. 1900 his son Charles transformed the village into a notable essay in the picturesque. Ashton Wold Farm, an early 19th-century house in the E. of the parish, was rebuilt as a model farm, and a large house, Ashton Wold, was built nearby. The village was replanned, a rectangular green created and the cottages rebuilt. These cottages are generally of one storey and attics, with local stone walls and thatched roofs; of the few early houses which were retained most were remodelled. The architect is said to be Hackvale (Pevsner).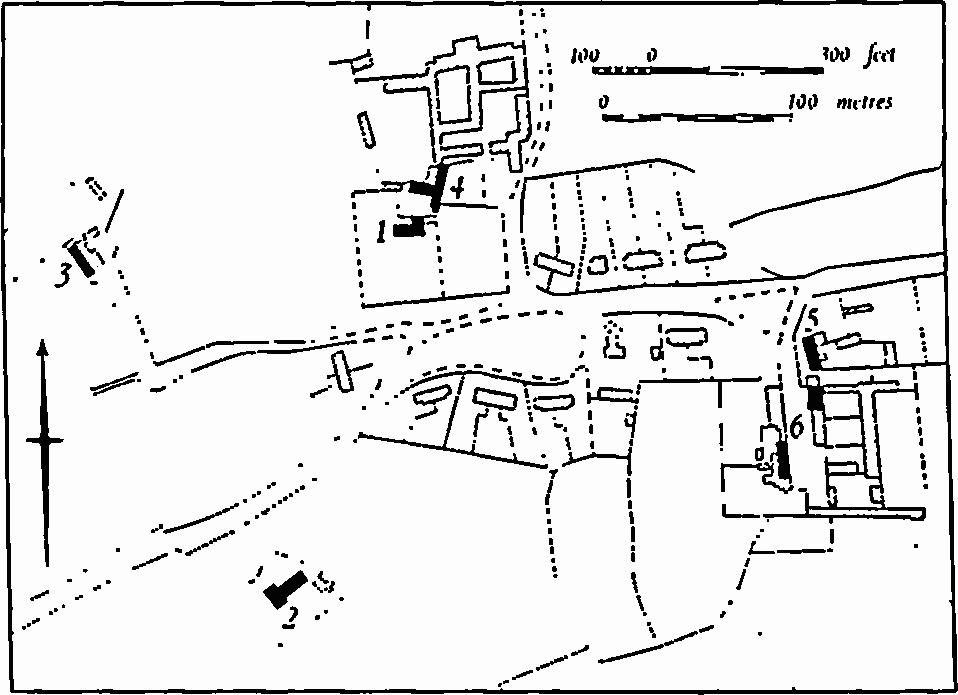 (1) The Chapel, School and Schoolhouse (Fig. 28; Plates 57, 73) was built in 1706 under the aegis of the Creed family of Oundle. Nothing remains standing of the former chapel, first recorded in 1189 (Cal. Chart. (1327–41), 274); the chapel and cemetery were sold in 1548 by the crown to Francis Samwell (Cal. Pat. (1547– 8). 311). In 1678 John Creed of Oundle (d. 1701) bought a 20 acre (8.3 hectare) meadow called Laws Holm in Ashton parish which he bequeathed for some charitable use. The meadow passed first to his son Richard, who was killed at the Battle of Blenheim in 1704, and then to Richard's sister Jemima. In February 1705/6 Jemina bequeathed it to her mother Elizabeth as an endowment preferably 'for bringing up and instructing the poor of Ashton, to read and write, and for a school master to read prayers and some good books to the poor children when the badness of the weather would not permit them to go to Oundle church' (NRO, YZ1407). The chapel and school were built on a plot of land called Play Close which was given by John Creed, another brother of Jemima; in 1709 Elizabeth released the land and buildings to trustees.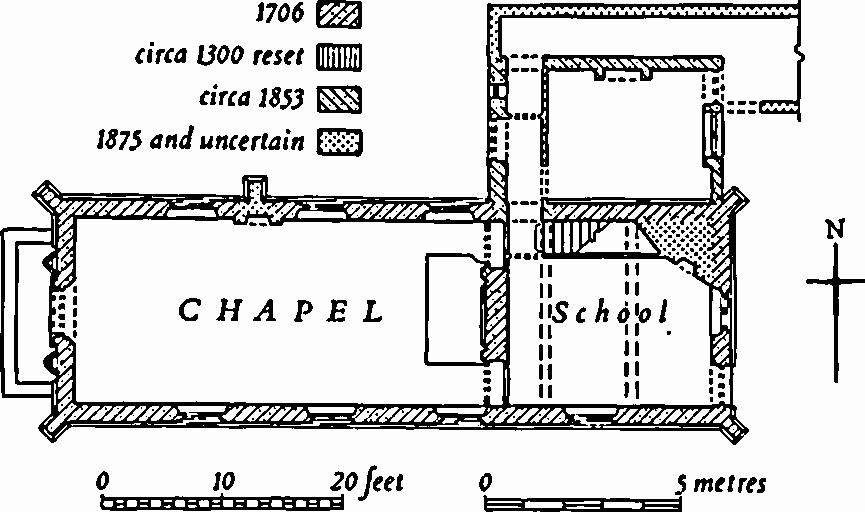 The building was originally arranged with a chapel on the W. and a schoolroom on the E. as described in 1719 (Bridges, II, 412). The schoolhouse was above the schoolroom. Benefactors' tables show that by the early 18th century the chapel was equipped with prayer books, catechisms for the children, and other suitable works. Elizabeth Creed painted the altarpiece for the chapel; in 1727 she bequeathed land and stock to the school, suggesting kneeling mats as one use for the money (NRO, YZ1417). It is not clear what services were performed in the chapel; in 1829 it was alleged that divine service was not said and that the building was not consecrated (Creed Charity Papers, Oundle Vicarage). The chapel was licensed for divine service in 1840 in terms which suggest that it had gone out of use. In 1853 the trustees proposed adding a schoolroom for which purpose a small plot of ground behind the existing building was offered by G. P. Smith; this probably refers to the two-storey annexe on the N., although an insurance valuation in 1830, speaking of an adjoining lean-to worth £30, suggests that it was a replacement. It was later extended.
The building has a Gothic appearance which results from the use of diagonal buttresses and traceried windows. The re-use of medieval piers as a square surround for the doorway is a curiosity.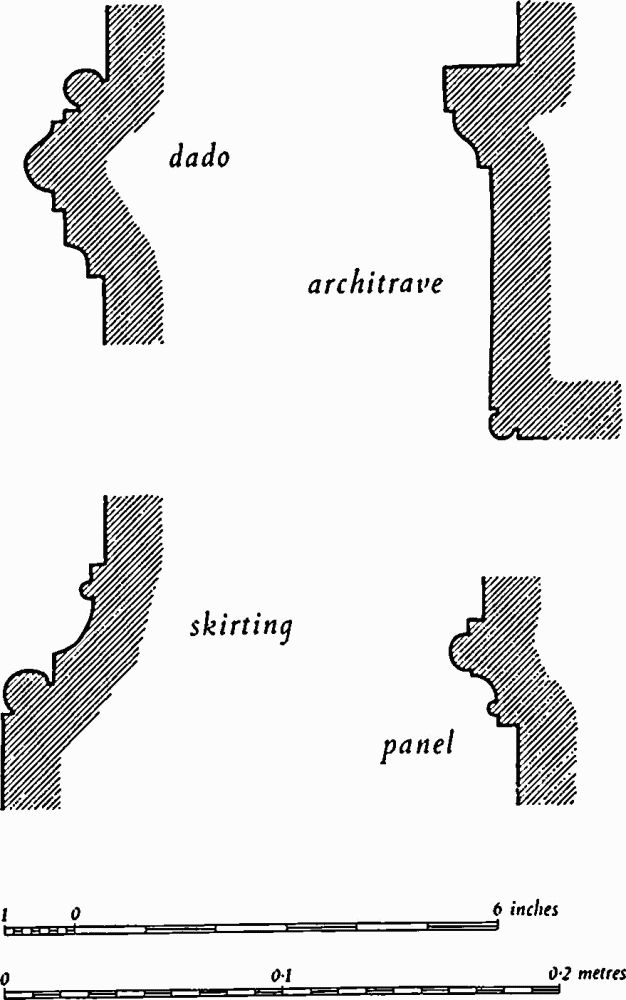 Architectural Description – The building is rectangular and in four bays. The uniformity of the windows on the S. does not reflect the internal arrangement: three windows relate to the full-height chapel and one to the school with schoolhouse above. The gables have parapets, shaped in two shallow curves. The W. bell-cote and the E. finial are modern, and the Welsh-slated roof has plain eaves. A large timber bell-cote was formerly over the dividing wall between the chapel and school (Clarke, Churches; Plate 73). At the corners are two-stage diagonal buttresses. The Chapel has tall side windows with round heads and round-headed lights. In the W. wall is a round-headed doorway in a square surround composed of half sections of quatrefoil piers with fillets, and roll-moulded bases, of c. 1300. These fragments may have come from the former chapel at Ashton, some being reused here and others at the Manor House (2). Above the surround is a coved cornice and a three-light window with tracery in character with that of the side windows. It has a classical architrave and scroll decoration at the sides (Plate 57). Inside, the ceiling is a barrel vault. Incorporated in the reredos are two doorways, one leading to the schoolroom, the other to the schoolhouse stair.
The School, occupying the E. bay of the building, has a floor cutting across the S. window; there appears to have been no N. window. In the E. wall is a two-light window serving the first floor and attic; it has a pointed head, round-headed lights, continuous mullion and cusped spandrels. The doorway has a round head with solid tympanum and the adjacent window has a hollow-chamfered mullion and jambs. Inside, the moulded ceiling beams have stops indicating that the stair position is original but the upper flight has been altered. The chimney stack in the N.E. corner may have been square. The attic floor is of plaster.
West of the building a breach in the enclosure wall forms a clairvoyée. This is filled with four bays of square and twisted iron rods with three scroll-work standards and scroll finials; partly repaired, early 18th-century.
Fittings – Bell: one in bell-cote. Benefactors' tables: two on W. wall, shaped at top and bottom, (1), recording gift of chapel, school and meadow by Mrs Jemima Creed (d. Feb. 1705/6), with portrait in roundel; (2), recording gift by Major John Creed of ground on which the building stands, ground and a cottage by Viscountess Hatton, and a variety of books by several donors, with Royal Arms of George I at top. Paintings: (1), incorporated in reredos, on canvas, two tables of Commandments with an open Bible, cloud background and red curtains; painted by Elizabeth Creed as recorded by Bridges in 1719 (Bridges II, 412); (2), on canvas, portrait of Jemima Creed, and in separate frame inscription on paper giving account of her virtuous life, with backing board inscribed 'Ashton Chapell, 1706'. Reredos (Fig. 29; Plate 57): panelling in three bays with side doors beneath cornices and oval panels, with central pediment, fluted pilasters and bolection-moulded frame of painting (1); c. 1706. Seating: three benches, early 18th-century. Weather-vane: set on bell-cote, wrought iron, silhouette of cock, with date 1706.
Secular
(2) The Manor House (Fig. 5) of two storeys, consists of a main range of the 17th century and an earlier cross wing. The date of the latter is not clear although it incorporates several reset medieval fragments. The main range conforms to class 3a. The cross wing was formerly lower, the scars of gable-lines being visible on both the present parapeted gables. In the N. gable is the head of a 13th-century two-light window reset over later jambs. Inside, there is a 17th-century ceiling beam. The central room of the main range, separated from the E. room by a timber-framed partition, has a stop-chamfered mantel beam and an ogee-stopped cross beam.
(3) The Cottage, a two-storey, three-room house, apparently of 17th or 18th-century origin, extensively modernized in c. 1900. Some early reused features include a moulded and cambered mantel beam, a doorway with a four-centred head, double-ogee moulded, perhaps 15th-century and an ovolo-moulded mullioned window, early 17th-century. An internal stack was probably replaced by a smaller one in c. 1900.
(4) Ashton Estate Office, formerly Chapel Farm House, two storeys, parapeted gables, long main range with wing at rear, has a datestone inscribed '1627' but a mullioned window is the only visible feature of this date. No early fittings survive.
(5) Vine Cottage and Thatchers Cottage, one storey and attics, thatched, parapeted gables, originally one house, perhaps class 1a, 17th-century but altered to match other estate cottages in c. 1900. A rear wing was added behind Vine Cottage in the early 19th-century. Inside, axial beams have ogee or bar stops. Reset in the front wall of Vine Cottage are datestones inscribed '1659' and 'S G 1730', and a fire insurance plaque.
(6) Green Farm, two-storeys and attics, parapeted gables, red brick stacks, class 6b with a lower, probably slightly later, extension at the N. end, was built in c. 1800. Inside, the cross partitions are timber-framed.
Barn, three bays, thatched, early 19th-century incorporating two reused cruck trusses with saddles at the apex, and modern tie beams and collars.
(7) Oundle Railway Station (TL 046890; Plate 122), of one storey with attics and a roof covered with lozenge-shaped Welsh slates, was designed by W. Livock and built in 1845 (Pevsner). The appearance is of a hall-and-cross wings house in the revivalist Tudor style with parapeted gables and dominating chimney stacks with octagonal flues. The station master's house occupied one cross wing and the main entrance the central section. (Not entered; disused)
(8) The Riverside (TL 046889), formerly the Railway Hotel, one storey and attics, two parallel ranges with parapeted gables approximating to class 8, built between 1845 and 1851 (Census Enumerator's Books). The design in the Tudor style complements that of the station opposite.