Pages 115-116
Ancient and Historical Monuments in the City of Salisbury. Originally published by Her Majesty's Stationery Office, London, 1977.
This free content was digitised by double rekeying and sponsored by English Heritage. All rights reserved.
Barnard's Cross Chequer
(247) House, No. 53 Payne's Hill, is of two principal storeys with a basement and dormer-windowed attics and has brick walls with ashlar plinths and quoins and a tile-covered roof (Plate 74). It appears to date from the last quarter of the 17th century. Inconsistencies in the N. part of the W. elevation suggest that the building may originally have extended further N., or perhaps that it incorporated an earlier adjacent house, now gone. Inside, several rooms are lined with pine panelling in two heights and have original wooden chimneypieces and moulded cornices. The stairs are of the 19th century. The house was restored in 1972.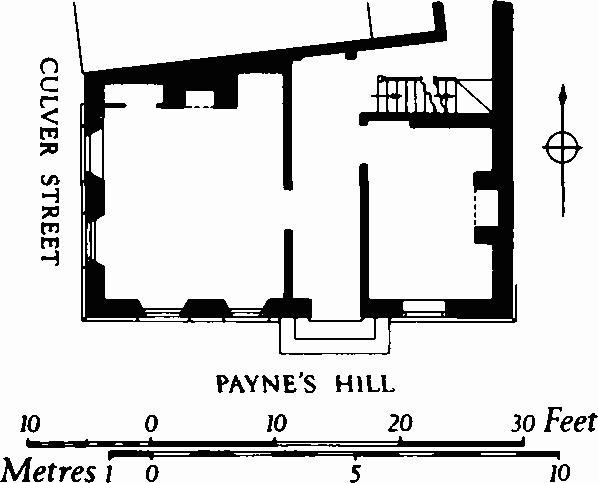 (248) Invicta Terrace, row of thirteen cottages, Nos. 83–107 Culver Street, demolished in 1976, were two-storeyed with rendered brick walls and slate-covered roofs. They were built during the first half of the 19th century. Demolition of buildings N. of Invicta Terrace in 1972 revealed traces of an early bell-foundry. Associated pottery was of 14th–16th century date; fragments of moulds were perhaps of the 17th or 18th century. (fn. 1)
(249) Houses, pair, Nos. 80–82 Milford Street, built early in the 19th century and demolished in 1971, were two-storeyed with cellars and attics and had brick walls and tiled roofs. A house called Halstedsplace on this site was acquired by 1417 by Walter Halstede, butcher, from Thomas Bystone who had owned it since 1405. (fn. 2) In 1464 it was sold by Richard Walker to the major and commonalty, who exchanged it in 1482 for a house in Castle Street belonging to Henry Penkere. (fn. 3)
For location of monument (250) see map on p. 94.
(250) House, No. 88 Milford Street, demolished in 1972, was of two storeys and had timber-framed walls and tiled roofs. Although somewhat altered in 1914 when extensions were built to S. and E., the N. range was of the 15th century and retained interesting features.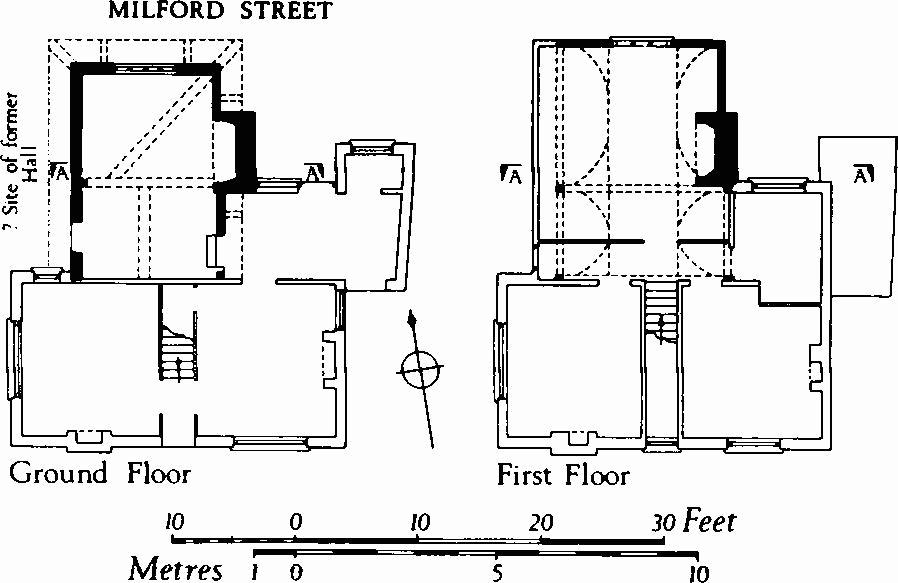 In 1396 a tenement next to Milford Bars and the city rampart, with a street frontage of 42 ft. 2 ins., was acquired from Alice Buterlegh by Wm. Isaac, baker. (fn. 4) Isaac occupied it in 1405 and in 1417 and his name was still associated with it in 1464. (fn. 5) In 1479 the tenement belonged to Wm. Marchy, tailor. (fn. 6) The house which survived until 1972 was probably built by Marchy.
O.S. 1880 shows No. 88 as one of a group of buildings called Derby Court. In 1914 the buildings to the W. were demolished, leaving No. 88 isolated. The form of No. 88 suggests the cross-wing of a hall house and it is possible that the demolished buildings contained remains of a former hall.
In the N. front (Plate 65) the windows and the brick nogging were modern, as also were the N.W. corner post, bracket, upper post and the whole western panel in the upper storey. Presumably this panel was added in 1914 to correct the visual imbalance caused by the removal of the adjoining buildings. The other timbers in the N. front, including the N.E. corner post and bracket and intermediate brackets for the jettied first floor, were original. The E. side of the 15th-century range included an original brick chimney-stack with ashlar quoins; to N. and S. the jettied first floor rested on timber brackets. The W. side was rendered externally in the lower storey; the jettied upper storey was of 1914.
Inside, the ground-floor room contained a stone chimneypiece with a moulded square-headed fireplace opening; a moulded cornice was returned at the N. end and had a carved head-stop on the south. The ceiling had a hollow-chamfered beam supported by a shafted W. wall post with a moulded capital. The dragon beam was chamfered. The first-floor room had a similar but smaller stone fireplace, with no head-stop. The buttpurlin roof had a collared truss with hollow-chamfered cruck-shaped principals, the chamfer continuing on the collar; below the purlins were curved wind-braces. A mediaeval glazed terracotta ball finial and two crested ridge tiles from the tiled roof are now in Salisbury Museum.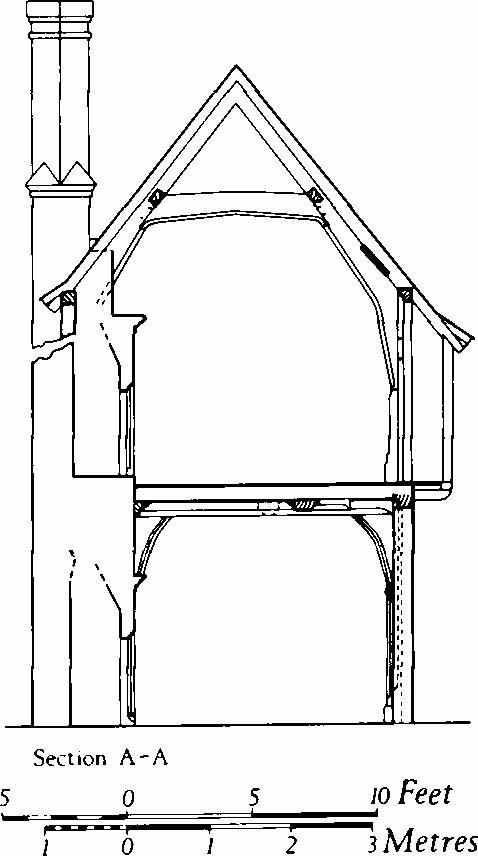 After demolition in 1972 the timber framework was removed to Lockeridge, near Marlborough, for reerection.