Pages 132-134
Ancient and Historical Monuments in the City of Salisbury. Originally published by Her Majesty's Stationery Office, London, 1977.
This free content was digitised by double rekeying and sponsored by English Heritage. All rights reserved.
Blue Boar Chequer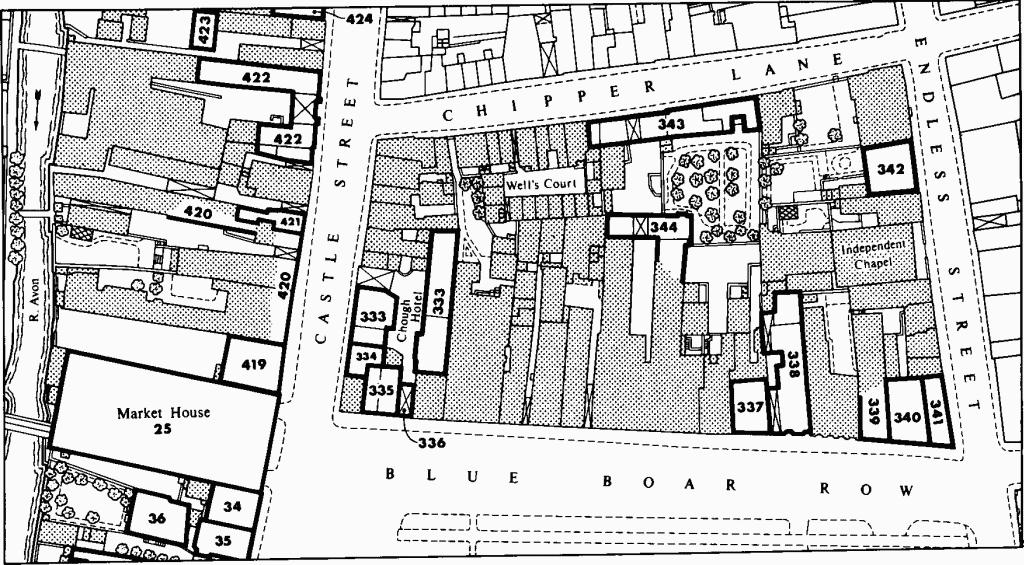 ST. EDMUND WARD
The monuments in this ward (333–475) are grouped, as in St. Martin Ward, under the names of chequers and streets (see p. 59).
(333) Chough Hotel, comprising E. and W. ranges flanking a courtyard, has timber-framed walls extensively cased with brickwork, and tiled roofs. The buildings are of 16th-century origin but have been greatly altered. The E. range, of three storeys with attics and cellars, has an 18th-century W. front of rendered brickwork. Inside, winding stairs with turned balusters and square newels with turned pendants appear to be of the late 17th century. The two-storeyed W. range is faced with modern imitation timber framework, but 16th-century chamfered beams and a little original framework are seen internally.
(334) House, No. 2 Castle Street, of three storeys with brick walls and slate-covered roofs, was built c. 1820. In the symmetrical three-bay W. front the lower storey contains modern shops; the upper storeys have plain sashed windows and, on the first floor, a projecting window.
(335) Houses, Nos. 34–5 Blue Boar Row, are three-storeyed with attics and have brick walls and slate-covered mansard roofs; they were built early in the 19th century. A photograph of 1856 is in Salisbury Museum.
(336) House, No. 36 Blue Boar Row, of three storeys with rendered walls and a slate-covered roof, is probably of the early 19th century. The lower storey comprises a through-way leading to the yard of the Chough Hotel (333); above is a projecting sashed window.
(337) House, No. 45 Blue Boar Row, of three storeys with an attic, with brick walls and slate-covered roofs, dates from the first half of the 19th century. The symmetrical three-bay S. front was built after 1857 in replacement of the original facade seen in old photographs (Lov. Cn., 142; also Plate 14). Inside, a plain staircase survives above first-floor level.
(338) House with Shop, No. 47 Blue Boar Row, is of two and three storeys with rendered brick walls and tiled roofs. The main building, of three storeys, dates from the second quarter of the 18th century; Thomas Cooper obtained the lease in 1724 and a terrier of 1740 mentions 'Mr. Cooper's new-built house'. (fn. 1) The present front is of the late 19th century, but the original four-bay facade with plain sashed windows appears in early photographs (Plate 14). (fn. 2) On a drawing of c. 1790 the same facade is labelled 'Parade Coffee Tavern' (Plate 8).
Inside, the ground floor has been extensively altered to make a modern shop, but the first-floor rooms have moulded plaster cornices and 18th-century joinery. The oak staircase has three turned balusters to each tread, a stout moulded handrail and a dado with fielded panelling. A plan of 1852 is preserved. (fn. 3)
The N. part of the plot is occupied by a mid 17th-century two-storeyed building. In the terrier mentioned above, its ground and first-floor rooms are named under the heading 'old building'. They are also named in a survey of 1716 where one first-floor room is called a 'parlour wainscotted all round up' and another 'a large dining-room wainscotted'. (fn. 4) The two panelled rooms still exist.
(339) House, No. 49 Blue Boar Row, is of three storeys and has an early 19th-century S. front of brickwork with stone quoins and a moulded stone cornice. The lower storey has a modern shop window; above, each storey has three plain sashed windows. Inside, the rooms have been much changed in the construction of a shop.
(340) House, No. 50 Blue Boar Row, of three storeys with brick walls and a tiled roof, is of the second half of the 18th century. Above modern shop windows the fivebay S. front has plain sashed windows in each storey, a rendered plat-band and a moulded cornice. Inside, the pine staircase has turned balusters, moulded handrails and a panelled dado. A first-floor room is lined with fielded panelling in two heights and has a moulded wood cornice. A round-headed niche has shaped shelves and fluted pilasters.
(341) House, at the S.E. corner of the chequer, is of two storeys with an attic and has tile-hung timber-framed walls and a tiled roof; it appears to be of 14th-century origin. A document of 1268 records that this corner site was the property of Hugh Nugg (fn. 5) and it was still called Nuggscorner in the 15th century. (fn. 6) In 1649 the lessee was Thomas Hooper. (fn. 7)
In the upper storey of the E. elevation, formerly jettied, but now under-built with modern shop windows, an original two-light oak window with hollow-chamfered jambs and cusped ogee heads is blocked internally, but exposed externally behind glass. The gabled S. front has no noteworthy features. Inside, the first-floor rooms have defaced roll-moulded and ogee-moulded longitudinal beams morticed centrally to the plain tie-beams of the roof trusses. The four-bay roof has collared tie-beam trusses in which there are mortices to indicate lower angle-braces and lower king-struts, now gone.
(342) House, No. 13 Endless Street, of three storeys with brick walls and tiled roofs, if of c. 1800. The interior has been made into modern offices and of the original building only the roof and the symmetrical fivebay E. front remain. The central doorway is flanked by wooden three-quarter columns supporting a hood, elliptical on plan, with a moulded neo-classical entablature and a delicate gothic cornice (Plate 99). Elsewhere there are plain sashed windows. The roofs have collared tie-beam trusses with queen-struts and butt-purlins.
(343) Houses, five adjoining, Nos. 26–34 Chipper Lane, are of three storeys with brick walls and tiled roofs and date from late in the 18th century; a lead rainwater-head in No. 32 bears the date 1788. The N. fronts are asymmetrical and have plain doorways and sashed windows; a carriage through-way between Nos. 28 and 30 leads to the yard of the former Boar Inn (344). Inside, the houses have simple 18th-century joinery. Two of these houses probably correspond with those advertised in 1790 as 'new-built, fit for small families' (S.J., 25 Oct.).
(344) Building, once a wing of the Boar Inn and now part of a shop, is of two storeys and has walls partly of flint with ashlar dressings, but mainly of timber framework extensively replaced by or cased in modern brickwork, and an original timber roof covered with modern tiles. A written contract of 1444 between William Ludlow and John Fayrbowe, carpenter, (fn. 8) almost certainly relates to the construction of this range. (fn. 9) In 1404 a tenement with shops, cottages and gardens on this site, extending from the Market Place to Chipper Lane, was given by Thomas Burford to William Toyl on Toyl's marriage to Burford's daughter Joanna. (fn. 10) Deeds dated between 1424 and 1662, among the Eyre papers at Newhouse, Redlynch, show that the messuage called Burfordesplace (1424) belonged to the Ludlow family by 1448 and was called the Blue Boar by 1451. In 1455 William Ludlow paid rent pro hospitio suo vocato Boore prius Thome Burford. (fn. 11) In 1595, when the inn belonged to Anthony Parry of the Close, and George Story was innkeeper, the buildings comprised a hall, two parlours, kitchen, buttery, cellar, seventeen chambers, eight shops or warehouses, other small rooms, and a garden on the N. By 1662 the property belonged to the Eyres. The inn continued to exist under its original name until early in the 19th century. (fn. 12)
In the lower storey (obliterated c. 1970) the few original wall-posts formerly seen had chamfered corners with run-out stops; they rose from a timber sill on an ashlar plinth. Chamfered beams supported the first floor. In the two E. bays of the N. side a flint wall with ashlar dressings replaced or masked the timber framework; against it was a chimneybreast with a chamfered plinth and weathered offsets; the fireplace was blocked. In the upper storey (now a restaurant) the two E. bays of the range appear at one time to have comprised a separate room, the second tie-beam from the E. having mortices for the studs of a partition. The 1st and 3rd roof trusses are false hammerbeam collar trusses; the 5th, now hidden, is probably the same; the 2nd and 4th trusses have braced and cambered tie-beams, cambered collars and queen-struts.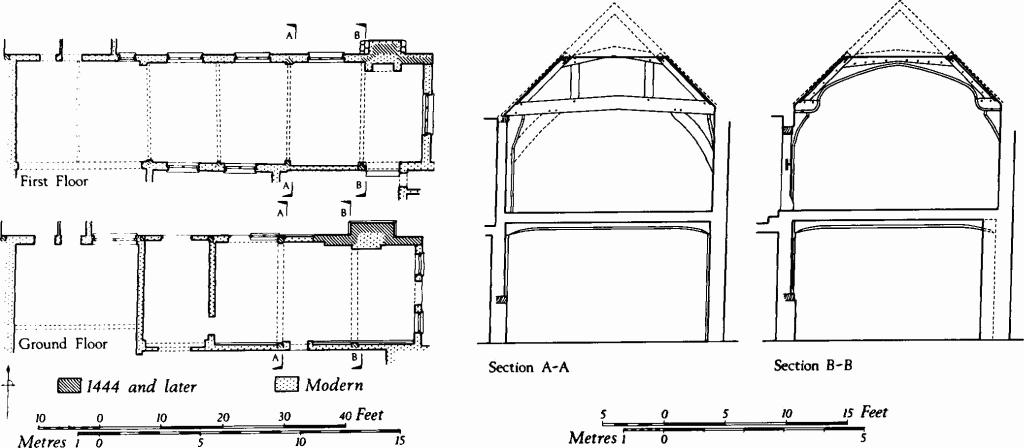 To the S., a building at right-angles to the range of 1444 has a brick E. wall with two stone windows, perhaps of the late 17th century.
Three round stones, each about 11 ins. in diameter, set close together in a triangle in the pavement of the yard on the N. of the 15th-century range, two with iron studs set centrally, are said to mark the place of the execution of the Duke of Buckingham in 1483. (fn. 13)