Pages 63-64
Ancient and Historical Monuments in the City of Salisbury. Originally published by Her Majesty's Stationery Office, London, 1977.
This free content was digitised by double rekeying and sponsored by English Heritage. All rights reserved.
Minster Street
Monuments on the E. side are described above (40)– (44).
(51) Houses, four adjoining, now combined to make bank offices, are of three storeys with brick walls and slated roofs. The two E. houses in Minster Street are of the early 19th century; those on the W., fronting Cheesemarket, are somewhat earlier. All retain original sashed windows in the upper storeys. Inside, there is some contemporary joinery.
(52) House, No. 15, of three storeys with attics, with timber-framed walls and a tiled roof, dates from late in the 15th century. By removal of the first floor the two lower storeys have been combined to make a modern shop. The upper part of the E. front is masked by a tile-hung facade. The W. elevation is jettied at second-floor level and retains a moulded sill and original corner posts with curved brackets. Inside, the three-bay roof has two tie-beam trusses with chamfered arch-braced collars, curved wind-braces and butt purlins.
(53) House, No. 11, of four storeys with brick walls and a slate-covered roof, is largely of the late 18th century. The two-bay E. front has plain sashed windows. The tile-hung top storey is modern.
(54) House, No. 9, of two storeys and an attic, with timber-framed walls on a stone plinth and with a slate-covered roof, is of the early 16th century. A first-floor room has intersecting beams. The two-bay roof is ridged N.–S. and has a yoked and collared tie-beam truss with lower angle braces and clasped purlins.
(55) House, Nos. 3 and 5, originally one, divided in 1680 into two tenements but now in part reunited, is of three storeys with attics and has timber-framed walls and tiled roofs. The house appears to date from late in the 15th century and comprises two parallel ranges with roofs ridged E.–W. and with a two-gabled E. front. In 1611, when Robert Jole leased the house from Robert Holmes, (fn. 1) a schedule of rooms and fittings mentions a cellar, a shop, a hall, various chambers and two cocklofts. In 1632 Holmes sold the property to Richard Mason, shoemaker. In 1680 Henry Mason divided it into two parts, settling the S. range on Thomas Cooper; in 1687 Cooper also acquired some rooms in the N. range. In 1741 both parts were bought by Samuel Fawconer, hosier, who owned the adjoining Haunch of Venison Inn (56). There are plans of c. 1850 by Peniston. (fn. 2)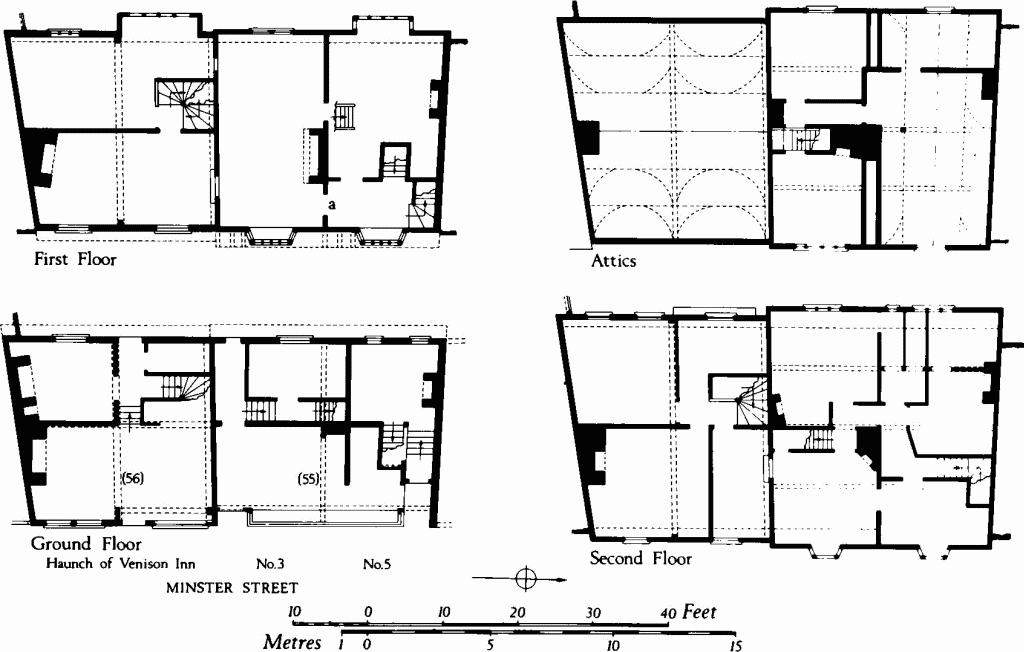 In the E. elevation the lower storey has a modern shop-front, but above first-floor level many original features remain (Plate 100). In the N. range the first-floor room has a projecting window with a moulded sill and shafted wood mullions; the corresponding window in the S. range is modern. The walls on either side of the projecting windows were originally pierced by continuous rows of segmental-headed windows, now blocked. Moulded posts at the centre and corners of the facade have brackets for the jettied second floor. The third storey has projecting windows as described, but smaller. The cusped barge-boards are of the 19th century. In the W. elevation both ranges are jettied at the first and second floors, but the framework is masked by tilehanging and all windows are modern.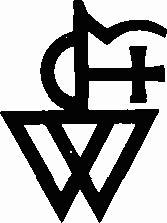 Inside, jowl-headed posts and heavy beams are exposed. The ground-floor rooms have no notable features. On the first floor, a doorway (a) has a hollow-chamfered four-centred head and foliate spandrels enclosing a shield with a merchant mark as shown. The adjacent fireplace has moulded stone jambs and an overhanging oak bressumer (Plate 90). The second-floor rooms retain some original doorways and partitions. In the attic storey the roof of the N. range has three collared tie-beam trusses with mortices for former arch-braces; the roof of the S. range is concealed.
(56) Haunch of Venison Inn, (see plan with (55)), of three storeys with rendered and tile-hung timber-framed walls, and with a tiled roof ridged N.–S., is of the mid 15th century. The E. front has 18th-century windows and is jettied at the second floor (Plate 100); the W. front retains no early features. Inside, original timber framework is exposed. In the E. ground-floor room the former first-floor jetty, now under-built, is shown by cuttings in the first-floor joists. The S.W. ground-floor room has an open fireplace with an original cambered and chamfered timber bressummer. The two-bay roof has double-collared tie-beam trusses with purlins at two levels and curved wind-braces.