Pages 94-95
Ancient and Historical Monuments in the City of Salisbury. Originally published by Her Majesty's Stationery Office, London, 1977.
This free content was digitised by double rekeying and sponsored by English Heritage. All rights reserved.
Chequer on E. of Guilder Lane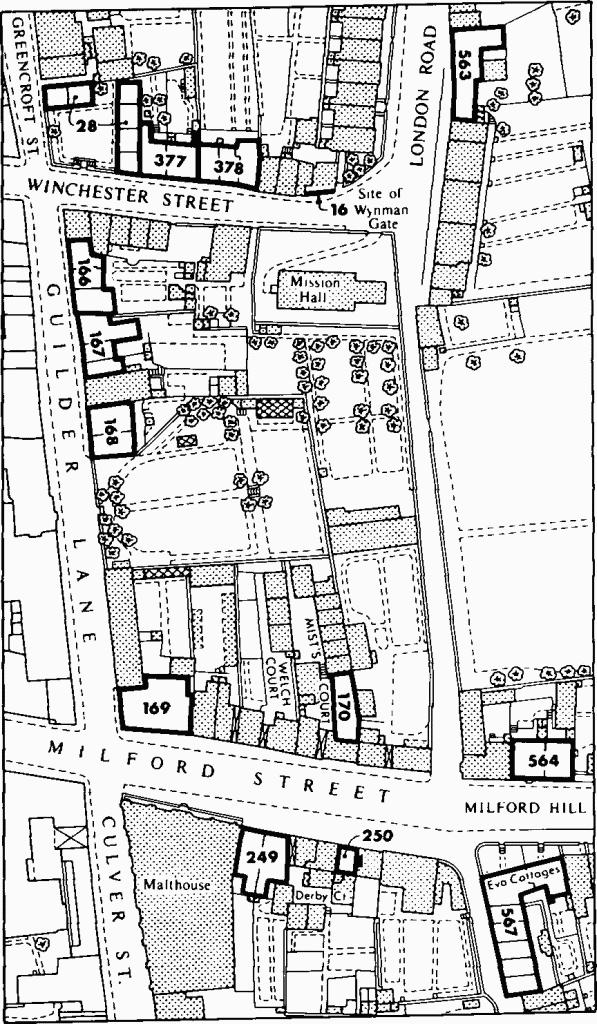 (166) Cottages, three adjacent, Nos. 1–5 Guilder Lane, of two storeys with brick-faced walls and tiled roofs, contain some stout timber framework and probably are of 16th-century origin.
(167) Cottages, pair, Nos. 7–9 Guilder Lane and one adjacent, No. 11, are two-storeyed with brick walls and tiled roofs and date from the middle of the 18th century. In plan each dwelling has a front and a back room in each storey. No. 11, later than the other two and with higher rooms and superior joinery, has recently been combined with No. 9.
(168) Cottages, two adjoining, Nos. 15–17 Guilder Lane, are two-storeyed with attics and have timber-framed walls set on brick plinths, and tiled roofs; they are of the 15th century. The timber framework is masked externally, but the N.W. corner-post of No. 15 and the bracket of a former first-floor jetty are seen inside an adjacent workshop. No. 15 is one bay wide (N.–S.) and No. 17 has two bays. Inside, stout posts and chamfered beams with curved brackets are seen. The roofs have collared tie-beam trusses with lower kingstruts and curved angle-braces, upper scissor-braces, chamfered clasped purlins and curved chamfered wind-braces.
(169) House with Shop, No. 65 Milford Street, of two storeys with brick walls and a tiled roof, is of 18th-century origin, but was extensively rebuilt in 1975.
Early in the 15th century, houses on or near this site, including workshops and a gateway, belonged to the bell-founder John Barbor and his wife Alice. (fn. 1) The remains of mediaeval foundries have recently been uncovered. (fn. 2)
(170) Warehouse, formerly in Mist's Court, demolished in 1972, was two-storeyed with brick walls and a tiled roof and was built in the second half of the 18th century. The mansard roof had collared tie-beam upper trusses with queen-struts resting on lower purlins supported by curved upright members.