Pages 1-6
An Inventory of the Historical Monuments in the Town of Stamford. Originally published by Her Majesty's Stationery Office, London, 1977.
This free content was digitised by double rekeying and sponsored by English Heritage. All rights reserved.
AN INVENTORY OF THE ANCIENT AND HISTORICAL MONUMENTS IN THE TOWN OF STAMFORD: EARTHWORKS AND ALLIED STRUCTURES
Roman
At least two Roman coins have been found within the town, one of the 4th century, at TF 03260735 in 1874, the other unlocated (OS Record Cards).
(1) Roman Buildings (?) (possibly about TF 031069). In or just before 1839 a large piece of Roman tessellated pavement was found in digging a cellar, near the bridge. It was broken up and moved. (Gent's Mag., (1839) pt.2, 527; Arch. J., XC (1935), 182; fragment in Spalding Museum).
(2) Roman (?) Finds (about TF 027072). The following were found in the garden of 9 Barnhill (97), at that time the home of William Stukeley: in June 1743, a possible Roman urn in a stone cist, 7 ft. below the surface, and a few days later a Roman coin in the same area; early in 1744, another 'whiteish' urn, also said to be Roman (Surtees Soc., LXXVI (1883), 330).
(3) Roman (?) Crematorium (about TF 030071), found in 1744 in the High Street, included an empty urn covered with a slate, possibly Roman, a barrel-shaped urn which William Stukeley thought was pre-Roman, and other urns. These urns were said to be associated with two 'perpendicular hewn arches made without mortar against the side of the rock'. The arches were filled with 'black mould' and adjoining ground was paved with stone and blackened by burning (Surtees Soc., LXXVI (1883), 326).
(4) Roman Pottery (TF 03230754) all of 4th-century Nene Valley types, and a worn coin, possibly of Severus Alexander, were found in a drainage trench on the W. edge of Stamford School playing fields in 1957–8. No definite building is recorded, though a few large stones were seen in the trench (OS Records; Stamford Museum).
(5) Settlement (TF 020063) in the S.W. corner of the borough, on land sloping S.E. towards the R. Welland on limestone at 100 ft. above OD. Air photographs (in NMR) show crop-marks of a small settlement covering some 2 hectares, and comprising a markedly rectangular ditched enclosure. There are traces of an internal ditch, dividing it into two unequal parts, and further ditches in the surrounding area.
(6) Roman Road, Ermine Street (Margary 2c; TF 027064–002086) ran diagonally across the W. part of the borough from S.E.-N.W. No trace of it exists on its presumed alignment on the S. side of the Welland, although in the 18th century William Stukeley recorded it just outside the borough as being 20 ft. wide with a 3 ft. high agger made up of stony soil on a foundation of 2 ins. of pebbles and black material (W. Stukeley, Itinerarium Curiosum (1776), 84). The Roman road crossed the river (at TF 027063) where it flows in a wide alluvial flood-plain. Immediately W. of the modern footpath is a much mutilated low bank, 10 m. wide and 0.5 m. high on the presumed alignment, traceable for about 35 m. This lies outside the 'walled garden' which Margary assumed to be on the line of the road (Margary, 225).
Beyond and to the N.W. the line of the road is taken by a rough track known as Water Furlong and, after crossing the Tinwell Road, by a modern street called Roman Bank. This street is still slightly raised above the surrounding land. N.W. of the Empingham Road (TF 018672) the remains of Ermine Street have been completely destroyed by modern housing estates for a distance of 1 km. Before this destruction (Plate 2) a well-preserved agger existed up to 1.5 m. high and 12 m. wide, and traces of side ditches were visible on air photographs (Margary, pl. VII). A section across the road was excavated in 1956 before destruction (at TF 015075) and the S.W. side ditch was discovered but that on the N.E. had already been destroyed. The road itself consisted of a 7 m. wide and 0.25 m. thick layer of limestone, overlaid by a compact mass of lime-cement, up to nearly 1 m. thick. Above this was the road surface 4 m. wide, composed of small limestone pebbles or chippings (Antiquaries Journal, 39 (1959), 77).
On the N.W. side of the borough Ermine Street meets and runs parallel with the Great North Road (TF 010079–002087). Along this section, where it is undamaged, the agger is a massive bank up to 18 m. across and 1 m. high with a flat top 6 m. wide. However, owing to the proximity of the Great North Road it has been dug into for road material in many places and the result is that the agger is either 'filleted' with a trench along its summit, or completely dug away by a number of pits and quarries. At the extreme N.W. corner of the borough the Ermine Street turns slightly N. on to the line of the present road, to cross the R. Gwash and enter the town of Casterton (Margary, 225–7).
Medieval
(7) Saxon Cemetery (TF 04096768), found in 1854 when the Essendine-Stamford Railway was cut. It lay just N. of the Uffington Road bridge between the Rivers Welland and Gwash. A complete urn and fragments of at least three other vessels, an iron spearhead, a human skull and some animal bones were discovered. Further human remains later came to light in the adjacent limeworks. The present location of the pottery from the site is in doubt. There is a mid 6th-century urn, with stamped ornament and incised lines at Burghley House, which may be the one discovered in 1854. There is also a small plain urn from 'Stamford' in Cambridge University Museum of Archaeology and Ethnology and an early 6th-century Anglo-Frankish urn with vertical and horizontal linear decoration, said to have been found in 1848 in Stamford, in Lincoln Museum. There may in fact be more than one cemetery site from which this pottery has come. (A. Meaney, Gazetteer of Early Anglo-Saxon Burial Sites (1964), 163–4)
(8) Danish Burh (Fig. 4) occupied much of the area covered by the central part of the later medieval town. It was established in 877 by the Danish army which built a fortified stronghold at Stamford. Nothing now remains on the ground of the defences of this burh, though topographical evidence suggests the approximate area (see also Plate l).
The W. boundary may have been on the E. crest of the shallow valley, now occupied by Red Lion Square and Castle Dyke. The actual defences perhaps lay along the E. side of the Square and St. John's Street. The N. boundary is probably marked by the curving line of Broad Street, which may have been developed immedi ately outside the Danish defences. At the E. end of Broad Street the right-angled corner into Star Lane is perhaps the N.E. corner of the defences which ran S., then E. of St. George's Street, to a point at or near St. George's church. The boundary then probably turned W. and ran along the main crest of the Welland valley, approximately where St. Mary's Street now lies. These defences enclosed an area of approximately 15 acres (6.2 hectares) and have a total length of about 940 yards (860 m.); although not fully proven, their existence on this assumed line would account for some of the otherwise unexplained changes of alignment in the existing street plan, such as the Broad Street-Star Lane corner and St. George's Street-High Street-St Paul's Street junction. On this hypothesis High Street would then have been the original axial road through the burgh.
Excavations E. of St. George's Street on the presumed line of these defences (TF 032072) revealed a large Saxo-Norman quarry which had obscured any earlier ditch. The quarry had cut through an iron smelting hearth which had in turn cut through earlier, presumably Saxon or Danish, structures. These consisted of a linear arrangement of slots and post-holes along the line of the supposed defences, and were associated with a series of dark laminated layers, perhaps turf and brushwood, and interpreted as a possible rampart (Med. Arch., XV (1971), 127).
(9) Saxon Burh (Fig. 4) occupies the greater part of Stamford S. of the R.Welland, now St. Martin's parish. The burh was erected by King Edward in 918 when the town was again brought under English rule (see p. xxxviii).
Nothing of any major significance now remains on the ground but the bounds of the burh are perhaps reflected in the rectangular layout of the existing streets in the area. The boundary on the E. may therefore have been along the line of Park Lane with a N. extension towards Lumby's Terrace. There is a low bank on the E. side of the disused St. Martin's graveyard but this may be a later feature. The S. boundary may be reflected by the present borough boundary which turns S.W. at the S. end of Park Lane and runs to High Street St. Martins. This line is continued W. of the High Street by Pinfold Lane which then turns N.W. parallel to High Street. At this point, a broad low bank, much damaged by modern development, lies along the W. side of the lane. It is now 8 m. across and nowhere above 0.5 m. high. To the N. of Kettering Road there are no significant alignments; the defences may have extended in that direction but there is no clear N. boundary. The burh could have extended as far as the river, but a more likely line would have been immediately N. of St. Martin's church, where there is a marked break in the slope down to the Welland flood-plain. Such an explanation would also account for the alignment of High Street St. Martins. S. of the church the road is almost straight and as such could have originated as the main axial road of the burh; on the N. it deflects slightly to cross the river by the town bridge. The marked double bend of the Old North Road, S. of High Street St. Martins, can also be explained as the result of diverting into the burh the older route which ran northwards along Wothorpe Road to the river.
Excavations to find the E. side of these presumed defences were carried out in the yard at the rear of Stamford High School (TF 032067). A Saxo-Norman quarry was found which had been cut through an earlier N.-S. ditch some 4 ft. deep (Med. Arch., XV (1971), 127).
(10) Castle (Fig. 16) occupied a large area to the S. of Sheepmarket, on the crest and slope of the Welland valley. It was built soon after the Norman Conquest for Domesday Book records that five houses were destroyed to make way for it. It was twice besieged and finally captured during the civil wars of the mid 12th century. It was in use throughout the 13th century, but by 1340 had clearly outlasted its usefulness, a survey of that year describing it as 'old, and the walls decayed; within are an old tower, a great hall, a chamber with a solar, a chapel, a turret, and a house for a prison, all of no value beyond outgoings; the site of the castle contains two acres and is called the manor' (Cal. Inq. Misc. 2, no. 1703). The buildings continued to deteriorate and none remained by 1600 (Speed's map). A small room used for the Court Leet (Designs, 15) had been formed at the E. end of the former hall, and is still marked as such in 1833 (Knipe's map). By that time the site was used mainly as gardens; part was levelled for an omnibus station in 1936. A length of the ditch on the N. side was filled and levelled for a sheepmarket in 1781.
Before 1936 the castle consisted of two parts, usually described as the motte and the bailey. On the crest of the valley-side was a large circular bank with an overall diameter of about 50 m. This was drawn by Stukeley in 1735 (Plate 2, Designs, 4). When the bank was levelled in 1936, a circular structure of rubble about 60 ft. in diameter and standing 7 ft. high was revealed (PRO, Works 14/515); photographs show it to have had a slightly battered profile. This may be interpreted as a circular keep, the 'old tower' of 1340, standing within a ringwork. A short distance away stood a length of 12th-century ashlar wall; this is presumably related to the massive ashlar wall running N.-S. found in the 19th century on the W. side of the ringwork (Mercury, 30 May 1879). Limited excavations on the site in 1933 by H. F. Traylen produced little information (Antiquary 16 (1936) 410–11) and a well of 12th to 13th-century date was excavated in 1962. The ditch to the S. of the ringwork was located in 1972; it had been filled in and paved over by the 13th century.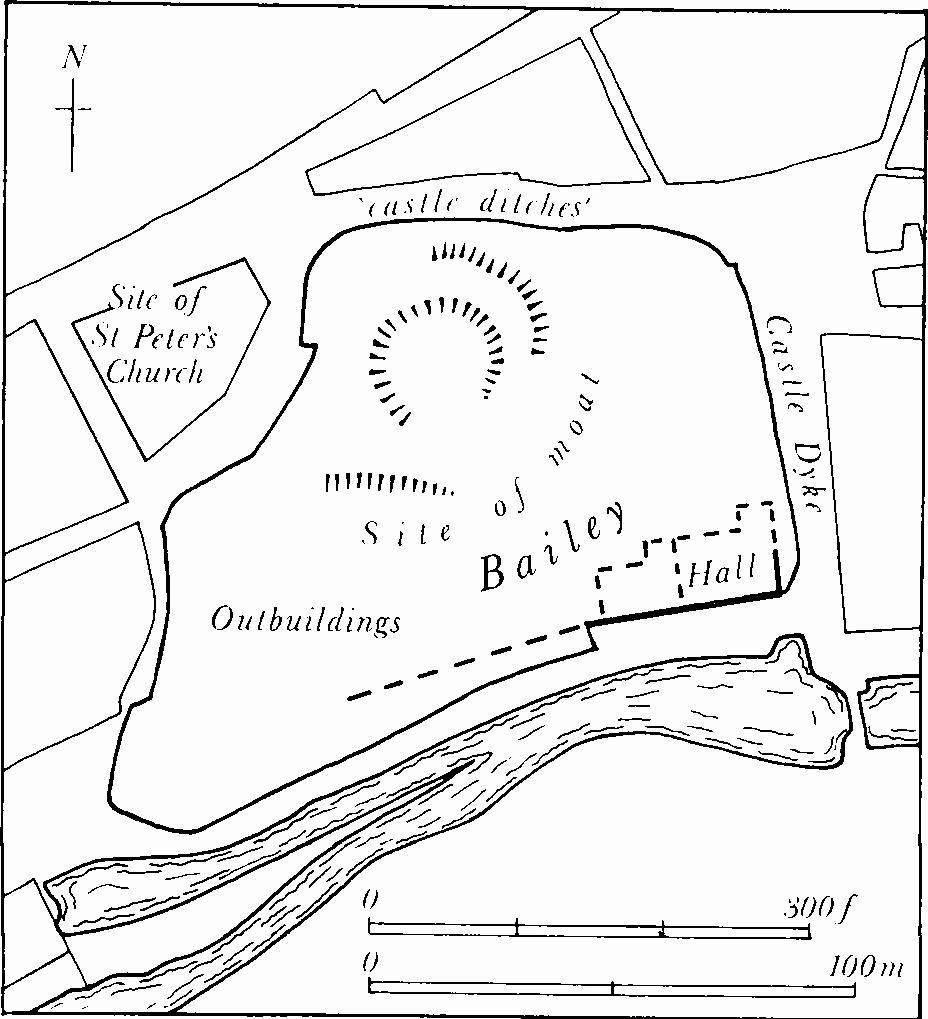 The S. part of the castle site is a broad area sloping to the S., and has been terraced for gardens. Stukeley shows it bounded by stone walls (Plate 2) but these have been largely replaced, especially on the E., where he shows a gateway. The present W. wall does not appear to be ancient. Of the four buttresses shown by Stukeley at the E. end of the S. wall, one may survive, of 'Barnack' stone, now set in 19th-century masonry. A reset doorway (109) is of no significance.
Excavations in 1972–5 showed that the W. part of the area had been extensively quarried for stone in the Saxo-Norman period; these quarries were filled in and by the 13th century the area had been covered by a number of buildings partly terraced into the slope, including grain-drying kilns and a complex garderobe. The principal domestic buildings were discovered built against the E. end of the S. boundary wall. This wall was very thick and was clearly the original curtain wall. Against its N. face was built a long range with a hall at its E. end and a solar to the W.; this range conformed in width to the row of three doorways surviving at the S.E. corner of the site, but the floor level was considerably lower. Later, the hall was widened to the N. and remodelled with a nave and two four-bay aisles with timber posts. This hall was later remodelled to have a single N. aisle of three bays, the nave again conforming to the width and floor level of the surviving doorways.
The only part of this building standing above ground is the E. wall of the hall, formerly the E. wall of the small Court Leet building and now incorporated in a modern shed (Plate 64). There are three door openings, doubtless the service doorways at the lower end of the hall, of 13th-century date but showing signs of being reset. These doorways have two-centred heads of two chamfered orders resting on clustered attached shafts with moulded capitals and bases, and a hood mould resting uncomfortably on moulded stops. Within the central doorway is a later, medieval, wooden door-frame with ogee head and nail-studded door; the side openings are blocked. The restored rear arches on the E. face have pointed segmental heads.
In 1936 the W. wall of the rear wing of 62 High Street was rebuilt in a much-altered form on the N.E. corner of the Castle site as a public convenience. Originally there was a canted N. and a square S. bay window, each three storeys high and gabled, one dated 1664.
(11) Town Walls. Of the medieval walls almost nothing remains but the line can be traced for almost the entire circuit in the present road pattern (Fig. 17; Plate 56). The walls enclosed an area of about 75 acres (30 hectares). The date of the establishment of the town defences on their final lines is not known, but murage grants dating between 1261 and 1352 presumably refer to the walls now traceable (H. Turner, Town Defences in England and Wales (1971), 238). The line is broadly preserved by West Street, North Street, Elm Street, part of Brazenose Lane, and Wharf Road. Several gates are recorded but all have been demolished: Bridge Gate, St. Peter's Gate, Scot Gate, New Gate, St. Paul's Gate, St. George's Gate and Water Gate. Butcher ((1646), p. 2) refers to a postern near Bridge Gate, but this is probably the doorway of the 12th-century house in St. Mary's Hill (336). He also lists five towers (Beesfort, Holme, Carpe and White towers, and North Bulwarke), but only one tower which stands near the former St. Peter's Gate now remains. Butcher further states that most tenements adjoining the town wall had a postern by his time, a fact borne out by the Hall Books, which record that in 1574 and 1614 general walling-up ordinances were passed (Hall Books, 1,206, 309). Licences for posterns were given, for example, in 1472 to William Hykeham (Hikham) and as late as 1694 to Mr. Fryerye. The only surviving postern gate is probably that to 9 Barn Hill (97; Plate 90).
The principal features of the walls are located on Fig. 17.
(a) Site of Bridge Gate. The gate stood at the N. end of the bridge, housing the Town Hall in its upper room, and was demolished in c.1778 in order to improve access to the town (64).
Site of St. Peter's Gate. The gate was demolished in c. 1770 in connection with the building of Hopkins' Hospital which stands on the S. side of the road. The gable of the hospital is reflected by a similar gothic gable on the other side of the street (51).
(c) Bastion (Plate 57), of two stages with weathered external set-backs, and parapet which is pierced by a single loop of uncertain antiquity. The coursed rubble walls are heavily repaired including internal thickening and partial filling with concrete. The tower was originally open at the back. Flanking walls are post-medieval and modern but follow the old line.
(d) Garden Wall, 38 St. Peter's Street, built in about 1840 on the line of the town wall, incorporates a terrace with a 17th-century doorway, perhaps as a postern (417).
(e) Site of Scot Gate, also known as Clement's Gate. The gate was partly demolished in 1767 when the lower arch was removed, and finally in 1780 when the Turnpike Trustees bought it for road materials at a cost of £20. They replaced it by an embattled and turreted structure on either side of the road to the design of Henry Tatam (Hall Books), but this is now only represented by a modern buttress with a reset panel inscribed '1780', and a length of classical dentilled cornice.
(f) Wall, in school playground, West Street. The wall is 19th-century and follows the line of the town wall.
(g) Gateway, in garden of Stukeley House, 9 Barn Hill, large early 17th-century postern, built into the town walls and altered by William Stukeley in 1744 (97).
(h) Wall, 14 Barn Hill, is early 19th-century and forms a terrace and loggia (101).
(i) Wall, in former garden of 3 Broad Street, is of welldressed and coursed stonework and of early date. Against its inner face is a garden terrace, and on its outer side are five raking buttresses. Above three stone spouts which drain the terraces is a string course of simple profile. The coping is inscribed 'GD 1721', possibly for George Denshire.
(j) Site of New Gate. The gate was in existence in the late 16th century (NRO, Fitzwilliam Misc. 433).
(k) Walling, behind 15–16 Broad Street and giving onto Elm Street, several lengths, mostly of post-medieval date, perhaps 17th-century. The line of the wall continues E. behind Nos. 18–19 (136), and behind 15 St. Paul's Street (378) where, for a short distance, the wall is thicker and possibly medieval.
(l) Between 24 and 25 St. Paul's Street (381, 382), the garden wall is tall and thick, and may be medieval.
(m) Site of St. Paul's Gate; demolished c.1780.
(n) Scarp, now the S.E. boundary of mon. (383), is 12 ft. high and has a rubble retaining wall of post-medieval date. On the S.E. side of wall a strip of land approximately 8–10 yds. wide, and now occupied by cottages and garden, probably indicates the ditch.
(O) Site of St. George's Gate; the gate, also known as Cornstall Gate until c.1727, was demolished c.1805 (Chamberlains' Accounts. Illustrated in c.1789 in Torrington Diaries by Hon. J. Byng (1954), 153).
(P) Site of Water Gate; a postern at S. end of Gas Lane, mentioned between 1570 and 1689 (Ex. MS, 201/27; Hall Books; Blore (1813), 285–9).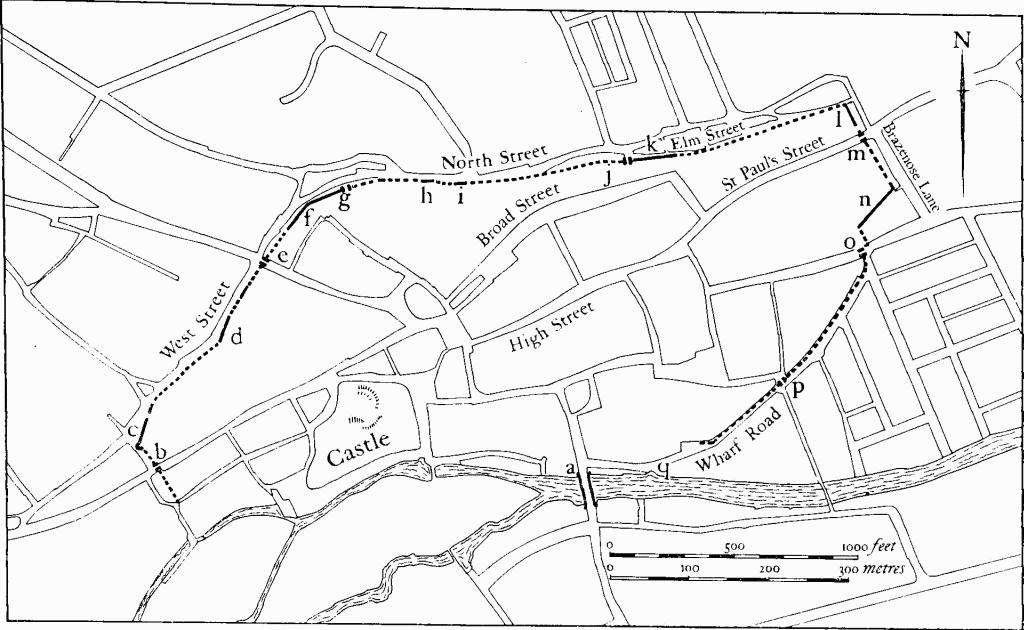 (q) Reputed site of Tower; marked on OS map of 1886 but not now traceable; probably outside the line of the medieval walls.
(12) Medieval Occupation Site (?) (TF 027073) found in the gardens of shops between North Street and Scotgate. Quantities of Saxo-Norman pottery, mostly Stamford Ware, were discovered (Med. Arch., IX (1965), 195).
(13) Medieval Occupation Site (TF 032068) found E. of High Street St. Martins. Excavations have led to the discovery of pits and occupation levels, containing Saxo-Norman and later pottery (Med. Arch., IX (1965), 195).
(14) Medieval Occupation Site (TF 032073) discovered during the excavations at Nos. 46–47 High Street. Late Saxon occupation, represented by traces of slight timber buildings or fences, was recorded. Subsequent occupation in the 11th century included industrial workings shown by iron slag and hearths. A 12th-century timber building followed on this site, and was in turn superseded by a substantial stone building. Near by a stone-built malt-drying kiln, probably of 14th-century date, was found overlying earlier material including iron slag. An underground stone barrel-vaulted chamber of unknown date was also discovered (Med. Arch., XI (1967), 267, 293).
(15) Medieval Occupation Site (?) (TF 030070) found during the renovation of 5 St. Mary's Street (345). A well, a drain and large stone foundations were recovered (Med. Arch., XI (1967), 283). The suggestion by the excavators that the remains belong to an early phase of the adjoining St. John's church is unlikely.
(16) Medieval Occupation Site (TF 031069) was excavated in Water Street. Traces of late Saxon timber buildings were recovered as well as quarry and rubbishpits. These remains had been disturbed by a line of four 13th and 14th-century tenements. Two were substantial stone buildings with deep garderobe pits (Fig. 8). One contained a cellar (Med. Arch., XIII (1969), 234, 265).
(17) Pottery Kiln (TF 033074) was excavated in Elm Street in 1963. It was oval, of up-draught type, producing mostly 'developed' Stamford Ware of the late 12th or 13th centuries (Med. Arch., VIII (1964), 294–6; E. Midland Arch. Bulletin, (1962), 18–19).
(18) Pottery Kiln (TF 033071) in Wharf Road. A single flue up-draught kiln producing Stamford Ware was excavated (Med. Arch., XIII (1969), 234 and Fig. 70).
(19) Pottery kiln (TF 032073), found 1874. No significant details (Mercury, 2 October 1874).
(20) Pottery kiln (?) (unlocated) found in 'the carpark'. Pottery, including wasters, all apparently Stamford Ware, is recorded (OS Record Cards).
(21) Quarry pit (TF 035074) found in St. Leonard's Street was partly excavated. Large quantities of glazed Stamford Ware, including many wasters, were recovered (Med. Arch., XIII (1969), 234).
(22) Iron-smelting workings (TF 031072) found N. of High Street. A slag heap associated with a clay-built shaft furnace and two hearths were discovered. Pottery was almost all Stamford Ware, some of late 11th or early 12th-century date (Med. Arch., VIII (1964), 294).
(23) Iron-smelting workings (?) (TF 034073) found during road works on the site of St. Paul's Gate. A slag heap, similar to (22), was noted (Med. Arch., VIII (1964), 294).
(24) Iron-smelting workings (?) (TF 033073) found during building works. An area of iron slag and late Saxon to 13th-century pottery were discovered (Med. Arch., IX (1965), 195).
(25) Iron-smelting works and quarry (TF 032072) found during excavations on the line of the presumed Danish burh defences (8). A large Saxo-Norman quarry had been cut through an iron-smelting hearth (Med. Arch., XV (1971), 127).
Discoveries referred to in (20)–(25) were made in the 1960s.
(26) Cultivation remains. The medieval open fields of Stamford were not finally enclosed until 1875, following an Act of Parliament of 1870. Before that time there had been four large open fields, covering some 1,300 acres and occupying most of the borough area. These were Ketton Dale, Pingle, New Close and Low Fields, though a three-field system was operated (S. Elliot, 'The Enclosure of Stamford Open Fields', unpublished M.A. thesis, University of Nottingham, 1965; Agrarian History Review, 20 (1972), 155–69).
Ridge-and-furrow of these fields can be traced over wide areas, especially to the N. and W. of the town (TF 025084 and TF 016070). It is arranged in rectangular or C-shaped furlongs. In the far W. of the borough (around TF 015080) air photographs also show further traces of ridge-and-furrow, here associated with broad low ridges which still exist, up to 300 m. long. These latter are headlands between the former furlongs.
Post Medieval
(27) Canal (TF 041073–048076; Plate 87) runs roughly parallel to the R. Welland, from near Hudd's Mill to the borough boundary on the R. Gwash.
The proposal to construct a canal from Stamford to Market Deeping, and so improve the navigation of the Welland, was first made shortly before 1570. In that year an act for making a navigable canal was obtained by the Corporation of Stamford, though nothing was done apart from some construction work at the W. end. In 1620 further authorization was obtained and work resumed. Owing to severe financial difficulties construction ceased in 1621 and in spite of numerous attempts to complete it no progress was made. In 1664 Royal approval was obtained and a contractor appointed. By 1673 it was completed and carried considerable traffic. It was abandoned in 1863 (A. Rogers, 90–2; N. Birch, Stamford, An Industrial History (1972)).
The finished canal ran for some 9½ miles (15.5 km.) from Stamford to a point just W. of Market Deeping. There were twelve locks, each of 17 ft. beam. It started just above the weir at Hudd's Mill (TF 041073) where there are still traces of the original entrance below the old railway bridge. For the next 170 m. the remains have been obliterated by sewage works, and the following stretch has been filled with quarry spoil. Further E. (from TF 043074–046074) it survives as a shallow depression 12–15 m. wide with a well-marked S. bank 1 m. high, running due E. The canal then turned N.E. and ran for 300 m. in an almost exactly straight line until it met the R. Gwash and passed outside the borough. Along this section the canal survives as a dry ditch 10–12 m. wide and 1–1.5 m. deep with a flat bottom, 5 m. across. On both sides are low banks 3–4 m. wide and 0.5–1 m. high. Beyond the borough boundary the remains are much more massive, with a large retaining bank up to 3 m. high in places along the S. side. The stone abutments of a number of bridges also remain outside the borough.