Pages 151-152
An Inventory of the Historical Monuments in the Town of Stamford. Originally published by Her Majesty's Stationery Office, London, 1977.
This free content was digitised by double rekeying and sponsored by English Heritage. All rights reserved.
St. Peter's Hill (Fig. 201)
This area derives its character from the open space formerly occupied by St. Peter's Church (41). Being nearer to the centre of the town its social status was marginally higher than that of St. Peter's Street.
(391) House, No. 3, two storeys, cellar and attic, mansard roof, is 17th-century although much rebuilt in the 19th century. The street front has a wide singlestorey mullioned bay window with later pentice roof and ovolo-moulded doorway. The interior, of singleroom plan, class 15, has been gutted.
(392) House, No. 4, two storeys, basement and attics, rubble and ashlar walls, is early 19th-century. Until recently it had a bay window to the street. The interior is gutted but a stair probably existed against the back wall.
(393) House, No. 5, is ostensibly a 17th-century single-room building of two low storeys with stone walls, class 15, but the steeply pitched roof perhaps indicates an earlier structure. Of the 17th century is a two-storey mullioned bay window with canted sides, gable towards the street, and a two-light mullioned window in the party wall on the S.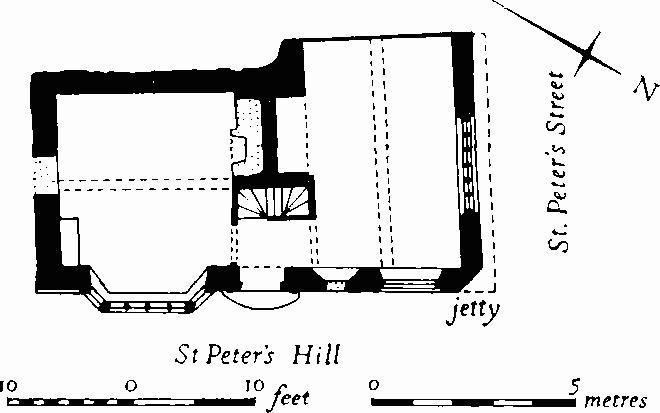 (394) House, No. 6 (Fig. 199, Plate 79), two storeys, attics, originally timber-framed, slate roof, was built in c. 1600 to a class 3 plan. Early in the 17th century the E. elevation was cased in stone and the jettied N. end under-built in reused masonry, the overhang being retained. The house comprises two rooms at right angles with a chimney stack between. The S. room has a twostorey bay window with canted sides and chamfered mullions. The doorway, opposite the stack, has a moulded stone architrave and pulvinated frieze; to the N. is a blocked window. The N. room has an E. window with ovolo-moulded surround, now with sashes but originally with mullions in uniformity with the upper windows. In the stone underbuilding of the N. wall is a window composed of miscellaneous fragments including part of a 14th-century string-course. Above, in the timber-framed wall which extends W. beyond the gabled roof is a blocked four-light window. The present roof is a replacement, in heavy squared timbers, of the 17th or early 18th century; the N. room was originally roofed as a cross wing. A short section of the earlier roof survives on the W.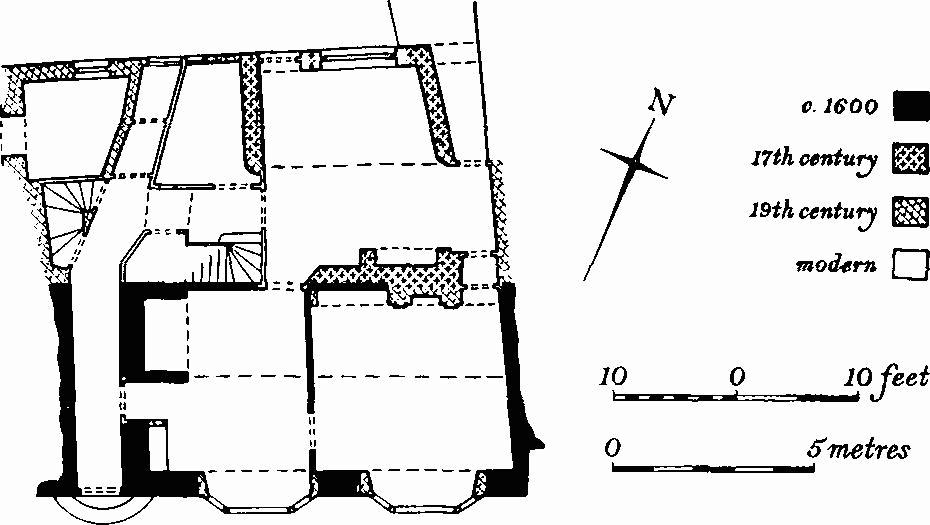 (395) House, No. 7 (Fig. 200), two storeys, rendered stone walls, ashlar plinth, was probably built c. 1600 with a plan comprising two rooms and an end-passage, all in line (class 7). Early in the 17th century a rear wing was built, and in c. 1800 extensive alterations were made including the addition of a second wing at the rear and two canted bay windows on the street front, which was also increased in height. The main doorway, of c. 1600, has depressed four-centred head in rectangular frame, and continuous moulded jambs with shaped stops. The earlier rear wing is of two storeys with coursed rubble walls, ashlar quoins, and hipped roof; the walling may be partly a rebuilding in c. 1800. The later rear wing, also of two storeys with mansard roof, has ashlar walls; in its N. wall is a round-headed doorway with triple keystone. Inside, fittings of c. 1600 and the early 17th century include a stop-chamfered fireplace bressummer, and panelling with reeded pilasters. Other fittings are of c. 1800: white marble fireplace with fluted sides, paterae, and quarter-columns at sides; arch with fluted columns and elliptical head; simple curving staircase, recently altered; first-floor fireplace with wooden surround having fluted pilasters, central panel carved with paterae and swags, and shelf enriched with dentils and leaves.