Pages 159-162
An Inventory of the Historical Monuments in the Town of Stamford. Originally published by Her Majesty's Stationery Office, London, 1977.
This free content was digitised by double rekeying and sponsored by English Heritage. All rights reserved.
Water Street (Fig. 209)
Known in the 14th century as Estebythewater (Peck, XII. 2, 30), the street ran eastwards by the river to Hudd's Mill. During the Middle Ages the street included several high-quality stone houses, one of which, dating from the 13th century, survived until the 19th century (Plate 61; Twopeny, 290/b.2, pp. 42, 43). By the 18th century the street had a very mixed population; at the W. end Bucks Farm Yard was sub-divided and later became the present Maltings Yard. At enclosure in 1796 the rural part of the road was abandoned.
The river frontage was in part used as a wharf, and in 1740 James Bellaers was unloading coal and loading grain and malt opposite his house (deeds, 16 Water Street). This use of river transport led to the establishment of several maltings along Water Street, and by the end of the 18th century there was also a brewery. The street is now almost depopulated.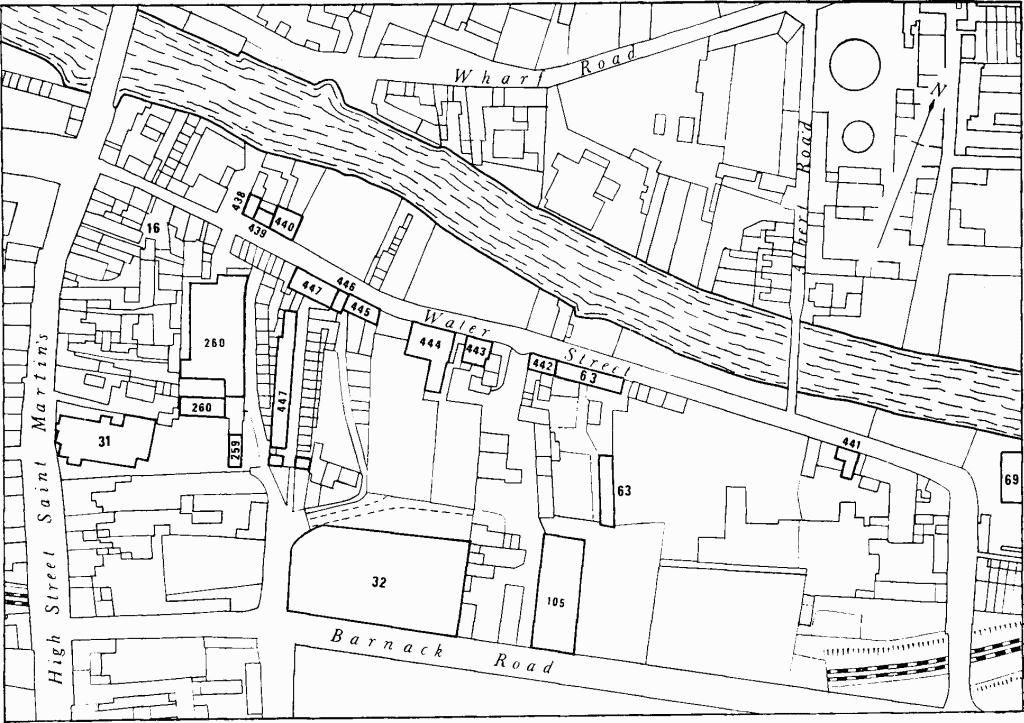 (438) House, No. 2, two storeys, attics, coursed rubble walls, flush quoins, mansard roof, narrow street front, class 14; early 19th-century.
(439) House, No. 3, three storeys, coursed rubble walls, casement windows with wooden lintels, originally two class 15 dwellings each with a single window on each floor, slated roof; early 19th-century.
(440) Former Fox and Hounds Inn, No. 4, two storeys, attics, coursed rubble walls, flush quoins, brick chimney stacks, class 10 plan; early 19th-century.
(441) House, No. 9, two storeys and attics, coursed rubble walls, class 11a plan, was probably built in the second half of the 18th century. The rear wing has a mansard roof. The three-bay street front has timber lintels, absence of quoins, and a small central upper window with leaded lights. The plain 18th-century stair has closed string, square newels and balusters.
(442) House, No. 12 (Fig. 210; Plate 107), of two storeys with coursed rubble side wall and ashlar front wall, was probably built in the early 17th century to a class 2 plan. Shortly before 1745 it was refronted, encased and partly remodelled by Thomas Lindsey, joiner. He had inherited the property in 1721, mortgaged it in 1745 for £60, when it was described as 'newly built', and sold it to his son William in 1757. William's widow sold it in 1771 to William Clarke, mason, of 13 St. Paul's Street (deeds).

The main front on the N., of three bays, has a plain chamfered plinth, possibly of the 17th century, a central pedimented stone door-case with side pilasters and windows with plain projecting architraves and single keystones. The lower windows have sashes and the upper have modern casements below transoms, possibly reproducing the original arrangement. Inside, a cross beam indicating the position of a former partition, and an axial beam defining the length of the original main room, are both features of the early 17th century. In c. 1745 a hallway was made by adding a second cross partition; a rear wing with staircase, added at the same time, has since been removed. On the first floor, the W. room, made larger in the 18th century, has fielded panelling in three heights with chair-rail, and a fireplace surround composed of full-height fluted Doric columns and entablature with triglyphs, all of c. 1745; a fielded panel with scroll-shaped top enriches the overmantel. In the E. room is a smaller fireplace with panelled overmantel having side consoles and formerly a pediment, also of c. 1745.
(443) House, No. 15, main building of two storeys and attics, front elevation with alternate thick and thin courses of ashlar, remainder rubble, class 10 plan, was built in the first half of the 18th century. A rear range with mansard roof and a wing on the E., both of one storey and attics, were added in the early 19th century. The street front, rebuilt in the late 18th century, of three bays with central doorway, all placed off-centre in the wall, has sash windows with keystones, and moulded wooden eaves cornice. The E. wing formerly contained two cottages.
The main building may be that occupied in c. 1740 by James Bellaers, saddler and coal-merchant (deeds at Messrs. Pope, Evans and Dalton). (Inside not seen.)
(444) Welland House, No. 16 (Fig. 211; Plate 143), main range of two storeys, attics in mansard roof, has coursed rubble walls with flush dressings. It was built by Joseph Phillips, brewer, in 1834 on land partly bought in that year and partly acquired by his father between 1790 and 1796 (deeds). The street front, of five uneven but symmetrical bays with central doorway, has windows with triple keystones and continuous sills. A rear range of three storeys also parallel to the street has single and triple sashes; windows of the latter type also follow the curve of the wall at the S.E. corner of the range. A two-storey wing on the E. side of the garden has a W. elevation, partly with blind windows and partly with screen in the form of a two-storey timber trellis. Both have slate roofs and are of c. 1835–45. Interior fittings of c. 1834–45 survive throughout and include pilasters with incised Greek key pattern, enriched plaster cornices, one with roundels linked by rinceaux, fireplace surrounds, one reeded another with Doric half-columns, beaded-panel shutters, and a staircase in the rear range with cantilevered wooden treads and turned balusters. At the head of the stairs is a screen formed by two Doric columns and pilasters ornamented with a Greek fret.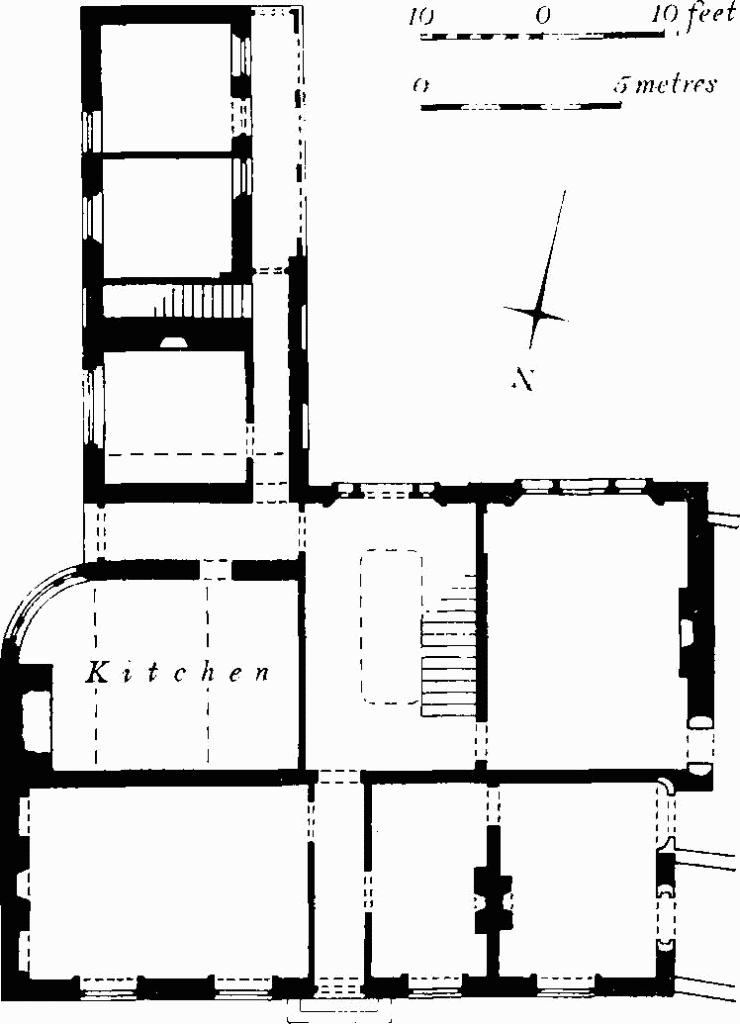 Reset in the wall of the adjacent brewery is a panel inscribed 'J P J 1791' for Joseph and Judith Phillips, parents of the builder of the house (Plate 129).
(445) House, No. 17, one storey and attics, coursed rubble, originated as a malting and was so described in 1835 (deeds of adjacent property). It consists of a street range with wide entry on the W., and a rear wing. Internal partitions date from the conversion to a house, but heavy floor beams of the malting survive.
(446) House, No. 18, two storeys, rubble walls, flush quoins, early 19th-century, has on front wall reset panel inscribed 'IL 1674' in relief within a sunken lozenge.
(447) Lumby's Terrace (Plate 155), consisted of two rows of dwellings of which only the W. row (Terrace Nos. 1–13) remains; at right angles is a group of four incorporating an entrance passage (Nos. 19–22 Water Street), and at the S. end is a pair of freestanding houses. The group was built piecemeal as the land was gradually acquired by Moses Lumby, a butcher of St. Martin's parish, who died in 1838, and by his son (deeds). Date-panels which include the initials 'M.L.' show that the W. house of the freestanding pair was built in 1826 and the E. house in the following year. By 1839 the four houses facing Water Street (Nos. 19–22) had been completed but not the terrace (map by Dewhurst and Nichols, 1839); the census of 1851 shows that all were by then occupied.
The main row on the W., of c. 1840, of two storeys, coursed rubble walls, has dwellings with class 14a plans. Openings have cambered heads without dressings. Nos. 19–22, of two storeys, coursed rubble walls with flush dressings, and slate roofs, also have class 14a plans; in the centre is a wide access passage. The upper windows are sash, the lower altered or enlarged. The freestanding pair, three storeys with semi-basements in the sloping ground, sash windows, hipped roofs on the S., gables on the N., has class 15 single-room plans.