Pages 59-60
An Inventory of the Historical Monuments in the Town of Stamford. Originally published by Her Majesty's Stationery Office, London, 1977.
This free content was digitised by double rekeying and sponsored by English Heritage. All rights reserved.
Austin Street (Fig. 201)
Forming a back lane to St. Peter's Street, this narrow street runs along the top of the scarp above the Welland Valley.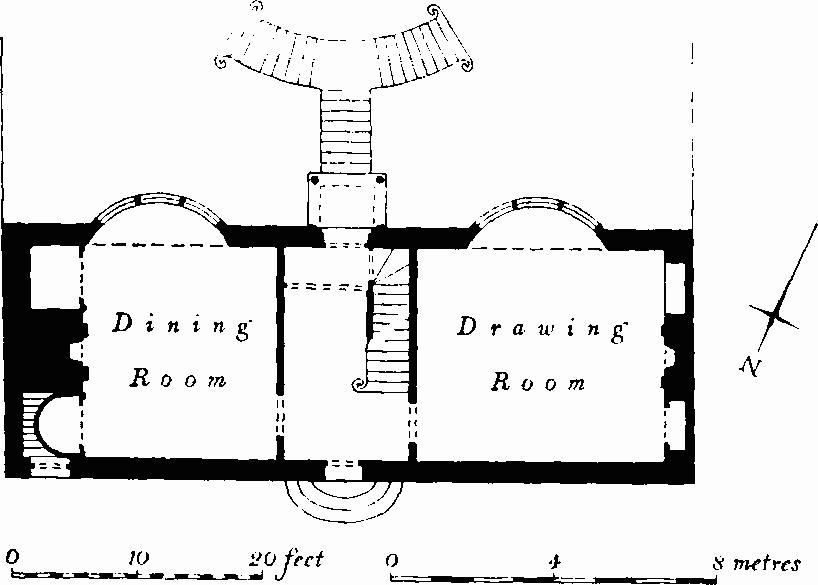 (85) Austin House, No. 4 (Fig. 69; Plates 146, 149), three storeys, attics, ashlar S. wall, otherwise coursed rubble with plain quoins, mansard roof, was built in c.1800. The house is an elegant example of Regency architecture. In plan it conforms to class 10, the entrance at street level being a storey higher than the garden level. On the street front a central door, and above it a shallow bow window of two stages rising to the attics, are the only openings. The main rooms are lit by tall bow windows on the garden side. The stair-hall was originally lit from the bow on the street side, but marginally later partitions enclosing closets now block this source of lighting. The shallow bow windows on the S. rise the full height of the house, the upper two stages having Venetian-type sash windows with Gothic glazing, but the ground stage, containing service rooms, has casement windows. Between these bays, a central round-headed door, with porch having fluted pilasters and columns, leads to a single flight of steps which divides into two side flights, all with iron railings. Above the door is a round-headed window with heavy architrave set in an incised surround with a pedimented hood; this incongruous feature is an insertion which may have been introduced to light the stair-hall. The interior fittings are refined. The stair has slender hollowmoulded balusters set diagonally and shaped brackets to the treads. Other fittings include moulded plaster cornices, round-headed cupboards and recesses, and moulded panelled doors.
(86) House, No. 11, two storeys, stone walls, consists of two parallel gabled ranges on a sloping site, the main room on the garden side being therefore above ground level. This room has an original verandah. In 1801 the owner of the site, Browne's Hospital, granted a lease to Joseph Robinson conditional on his demolishing three tenements and rebuilding a 'good and more substantial messuage' (Browne's Hospital leases). However Robinson only carried out repairs at a cost of £90, which proved ineffective and the structure began to collapse (deeds). The present house was built in 1808 and was described as 'newly erected' in October of that year. The house remained unoccupied and in October 1809 Robinson exchanged five acres of land for the freehold. He immediately enlarged the house by adding the two-storey S. range above a basement. (Inside not seen.)
(87) House, No. 12, three storeys, coursed rubble walls with freestone dressings and quoins, class 10 plan with kitchen wing at side, stands on sloping ground and so has a street-entrance at a higher level than the main ground-floor rooms. It was built in the very early years of the 19th century. The garden front has sash windows with continuous sills, on both floors. The staircase has shaped tread-brackets and turned newels.
(88) Former Houses, No. 14, two storey, attics, coursed rubble walls, mansard roof, hipped on the W., were built as a pair of class 15 dwellings in the early 19th century.
(89) House, No. 15, two storeys, coursed rubble walls, class 15, early 19th-century.
(90) Terrace, Nos. 16, 16A, 16B, two storeys, coursed rubble walls, ashlar dressings, projecting keystones to doors and windows, comprises a class 10 house of c. 1840 and a pair of slightly later class 15 houses. In the centre is a communal passage.
(91) House, No. 26, two storeys and attics, coursed rubble walls, approximating to class 10 plan, bears a panel inscribed 'IDM 1706'. The windows have wooden lintels. On the S. elevation are two small blocked lights, probably for closets beside the stack in the gable wall. Originally there were two main rooms each entered from a central lobby, but the cross wall has since been removed.
(92) Houses, Nos. 27–28, a pair, two storeys and attics, coursed rubble walls, mansard roof, probably late 18th-century. Each has a class 15 plan but the W. house has a side passage to a yard. Inside, the upper floor is of plaster.