Pages 93-95
An Inventory of the Historical Monuments in Westmorland. Originally published by His Majesty's Stationery Office, London, 1936.
This free content was digitised by double rekeying and sponsored by English Heritage. All rights reserved.
28 DUFTON (E.b.)
(O.S. 6 in. (a)IX, N.E., (b)IX, S.E.)
Dufton is a parish, largely moorland, and a small village 3 m. N. of Appleby. Castle Hill is the principal monument.
Ecclesiastical
a(1). Parish Church of St. Cuthbert, stands on the W. border of the parish. The walls are of sandstone rubble and ashlar with dressings of the same material; the roofs are slate-covered. The re-used round window-heads and cheveron-ornament, re-set in the N. and S. walls, indicate the existence of a 12th-century church. The church was re-built in 1784 according to a tablet in the chancel, but this seems to apply mainly to the N. wall, the W. tower and perhaps the upper parts of the other walls. There is little or no evidence of the date of the structure earlier than this rebuilding. The church was restored in 1853.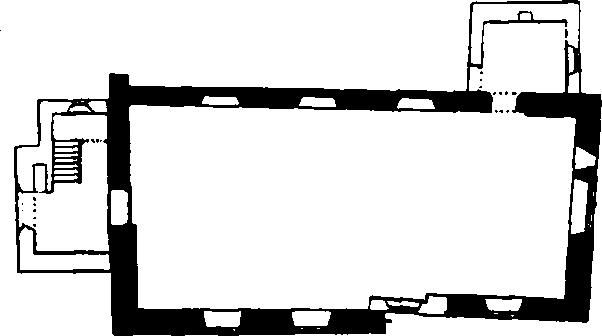 Architectural Description—The Chancel (25 ft. by 23 ft.) has a modern E. window, with traces of earlier openings on each side of it. The S. wall has two modern windows and between them are traces of a destroyed doorway; the W. part of the wall is modern. There is no chancel-arch.
The Nave (30 ft. by 25¼ ft.) has, re-set in the N. wall, two round heads, probably of former windows and perhaps of the 12th century. In the S. wall are two modern windows and partly below the western are the jambs of a destroyed doorway.
Fittings—Bells: two; 1st 1673 with the initials I.L. (?) Coffin Lid: Re-set in W. wall—tapering slab (Plate 32) with ornamental cross on stepped base, a sword, arrow and bow, probably late 13th-century. Plate: includes a pewter flagon and paten perhaps early 18th-century. Miscellanea: Re-set in S. wall of chancel— small Roman stone carved with a figure in a shallow round-headed panel. Re-set in blocked S. doorway of nave—two voussoirs with 12th-century cheveronornament.
Condition—Good, largely re-built.
Secular
Monuments (2–7)
The following monuments, unless otherwise described, are of the 17th century and of two storeys; the walls are of rubble and the roofs are slate-covered. Some of the buildings have exposed ceiling-beams.
Condition—Good or fairly good, unless noted.
a(2). Dufton Hall, on the N.E. side of the villagegreen, about ¾ m. S.S.E. of the church, is mainly an 18th-century building but has a late 17th-century wing on the N.W. It has some original windows with mullions and transoms. Inside the building is an early 18th-century staircase with turned balusters and a panelled dado.
a(3). Cottage, 100 yards E. of (2), has a roof of slender crutch-type, now covered with corrugated iron.
Condition—Poor.
a(4). Cottage, 60 yards S.E. of (2), retains some original windows with labels, but lacking their mullions; the doorway has a triangular arch in the square head.
a(5). Cottage, 60 yards S.S.E. of (2), is now roofed with corrugated iron.
a(6). House, 120 yards S. of (2), has an original door-head with the initials and date R.D., A.A.D. 1632. A fireplace, inside the building, has the initials I.R. on the lintel.
a(7). House, now barn, 160 yards W.N.W. of (2), has an original doorway with a triangular arch in a square head and a moulded label; above it is an oval opening with the date 1655 and worn initials on the same stone. A fireplace has a head similar to that of the doorway.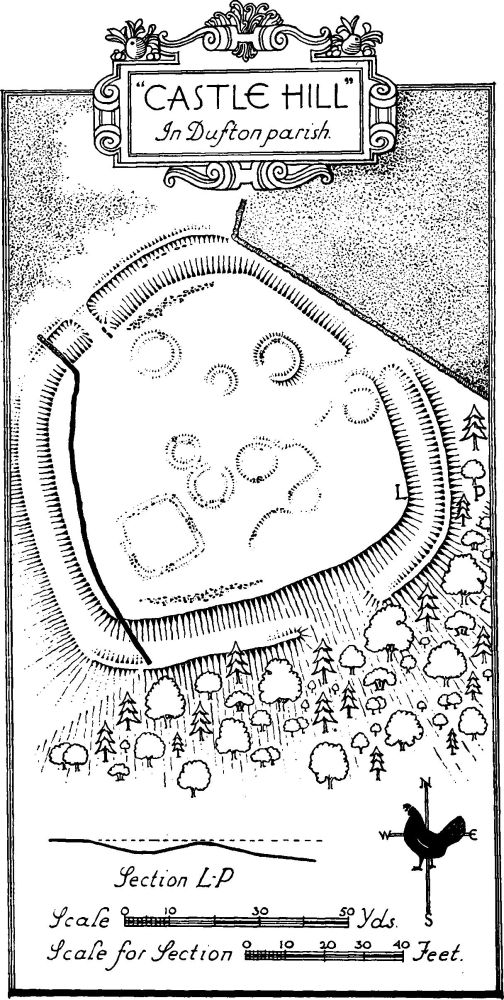 Unclassified
b(8). Castle Hill, earthwork and settlement on the S. edge of the parish, 2¼ m. S.E. of the church. This work is situated on the flat top of a bluff above Burthwaite Beck. It consists of a roughly circular enclosure (nearly 1 acre) surrounded by a ditch with an outer rampart. The enclosure is entered by a causeway on the N.W. There is another causeway on the N.E. which is perhaps modern. Part of the ditch and outer bank has been destroyed. Within the enclosure are foundations of seven circular huts. In addition to these there is a foundation of a roughly square enclosure with rounded angles approximately 40 ft. by 41 ft. The huts vary in diameter from 11 ft. to 20 ft. internally. A quern, probably of late pre-Roman date, has been found on the site and is now in the possession of Miss Graham of Dufton.
The defences of this work are so slight that it can scarcely be classed as a fort, and hence must be classed as a small village settlement.
Condition—Poor.