Pages 15-19
An Inventory of the Historical Monuments in City of York, Volume 5, Central. Originally published by Her Majesty's Stationery Office, London, 1981.
This free content was digitised by double rekeying and sponsored by English Heritage. All rights reserved.
Parish Church of St. Denys
(6) Parish Church of St. Denys (Plate 11; Fig. 17) stands on the S.W. side of Walmgate on a site which was incorporated into the city after the Conquest. The recovery of two Anglo-Danish tomb slabs from the site suggests that there may have been a pre-Conquest church here. The earliest part of the fabric is the reset mid 12th-century S. doorway. Between 1154 and 1170 Alexander, priest of St. Denys, gave the advowson of the church 'quae fundata est in meo patrimonio' to St. Leonard's Hospital (EYC, I, 240/1, 314; G.W.O. Addleshaw, Rectors, Vicars and Patrons (1956), 8). The original form of the 12th-century church is now a matter of conjecture, but the former nave, which stood W. of the present nave and was demolished in 1797–8, may have been of this period and may have been the church of Alexander. To the E., at the W. end of the present nave, a tower was built perhaps soon after 1200 and the surviving jamb of a window of this period in the N. wall of the N. aisle suggests that the church was then given a cruciform shape with the addition of tower, chancel and transepts. Stained glass from an early 13th-century lancet is preserved in window nV.
The very wide N. aisle presents problems. Its E. part may have been remodelled as a chapel for the Percy family, who acquired property in the area in 1340 and 1344 (SS, cxvii (1909), 194–5) and some of whom are said to have been buried in the N. aisle (Johnston, Bodleian, MS. Top. Yorks. C14, f. 107). The existence of a plinth and string-course in the three E. bays of the N. wall and a slight difference in thickness between the upper and lower parts of the same wall, and the absence of these features, except the difference in thickness, in the E. wall, suggest the partial rebuilding of an earlier structure by stages: the upper part of the N. wall c. 1330 (the date of the two eastern windows) and the E. wall c. 1350 (judging from the tracery of the E. window). This would mean the building of a N. aisle or N. chapel with a minimum width of 22 ft. some time before 1330. At the S.E. corner of the N. aisle there is a S. buttress, taller than the other buttresses and with a gabled top. This is now embedded in the E. wall of the chancel and is only visible above the E. buttress, which has been rebuilt and widened in such a way as to obscure the lower part of the junction between the aisle and the chancel. It must be presumed that the S. buttress to the aisle does not continue down to the ground but was built up above the wall of an earlier, lower chancel. If this is correct, then there was a 13th-century chancel extending to the present E. wall. The E. wall of the chancel was mostly rebuilt and heightened, with a new window, in the 15th century before 1452–5, which is the date of the glass. The S. aisle was also built in the 15th century and included St. Catherine's chapel. The bequests by John Boydon in 1416 of £20 for work on the church (SS, cxxv for 1914 (1915), 48–9) and by William Muston in 1418 for the 'new chapel of St. Catherine' (Raine, 104), and the further bequest by Alice Hawkesworth in 1429/30 to the fabric of the new chapel (Wills, iii, f. 373), all refer to the S. aisle. In 1458/9 John Bell left money to enlarge St. Catherine's choir to the length of the church (Raine, 104). This could refer to the incorporation into St. Catherine's chapel of the former S. transept or to an extension further westward. There is a suggestion of a ragged joint at the S.W. corner in the drawings by Nicholson (1825) and Monkhouse and Bedford (c. 1843–5) which may indicate that some further building to the W. had been pulled down. The S. windows of the S. aisle are of the second quarter of the 14th century, reset. Besides St. Catherine there were altars dedicated to the Virgin Mary, St. John the Baptist, St. James and St. Nicholas or St. Michael. At some date unknown, the old tower was crowned by a spire which was damaged by a cannon-ball during the siege of 1644, though damage to the body of the church was slight. Further damage was done by lightning in 1700 but repairs had been completed when Drake wrote in 1736. Collapse of the W. wall followed the digging of a drain in 1797 and the whole of the nave was taken down the following year, the elaborate 12th-century doorway reset in its present position in the S. aisle, and a new steeper roof built over the N. aisle.
Major alterations took place in 1846–7. The tower was demolished and the space it occupied was thrown into the nave with new N. and S. arcades. The present tower was built, W. of the site of the former tower. The W. wall of the S. aisle was also rebuilt. The architect was Thomas Pickersgill. Repairs in 1926 included the rebuilding of N. and E. buttresses. More recently, decay of stonework in the E. window has caused the glass to be taken out and the window closed up.
The church has been very much rebuilt but the reset S. doorway and the window tracery are of interest.
Architectural Description. The Chancel and Nave are structurally undivided. The E. wall is built of large ashlar of the 15th century with smaller stones in the gable. There is a moulded plinth and a string-course under the window. To the N. a modern buttress hides the junction with the N. aisle; the buttress to the S. has been rebuilt. The E. window (Plate 25) had five lights and vertical tracery in a four-centred head with a label. Internally there is an offset below the window. N. and S. arcades are each of two pointed arches springing from octagonal piers and matching responds, without capitals, all of 1846. At the W. a tall pointed arch of 1846 opens into the tower.
The North Aisle has walls of irregularly-coursed ashlar, and shows signs of having been heightened, probably in the 17th century. The E. wall has no plinth or string-course but has a buttress at the S. end above the modern buttress, and there is a small offset internally. The window has five lights with curvilinear tracery in a two-centred head with a label (Plate 24). S. of it is a blocked doorway with a rounded head, probably 17th-century. The N. wall shows a slight change of alignment at the E. side of the western window. There are three windows flanked by rebuilt 14th-century buttresses; these buttresses and the wall between have a continuous plinth and there is a moulded string below the windows. W. of the fourth buttress the wall has been largely rebuilt, with the outer face set back for a length of nearly 4 ft. The two eastern windows each have three lights with reticulated tracery in a two-centred head with a label; the third window is generally similar but simpler in design. Further W. and behind the fourth buttress there appears internally one jamb of a window blocked in c. 1340. The W. wall was largely rebuilt in 1846 with a new window of three lights. A small square-headed window towards the N. and a fireplace across the N.W. corner, shown in earlier drawings, have completely disappeared.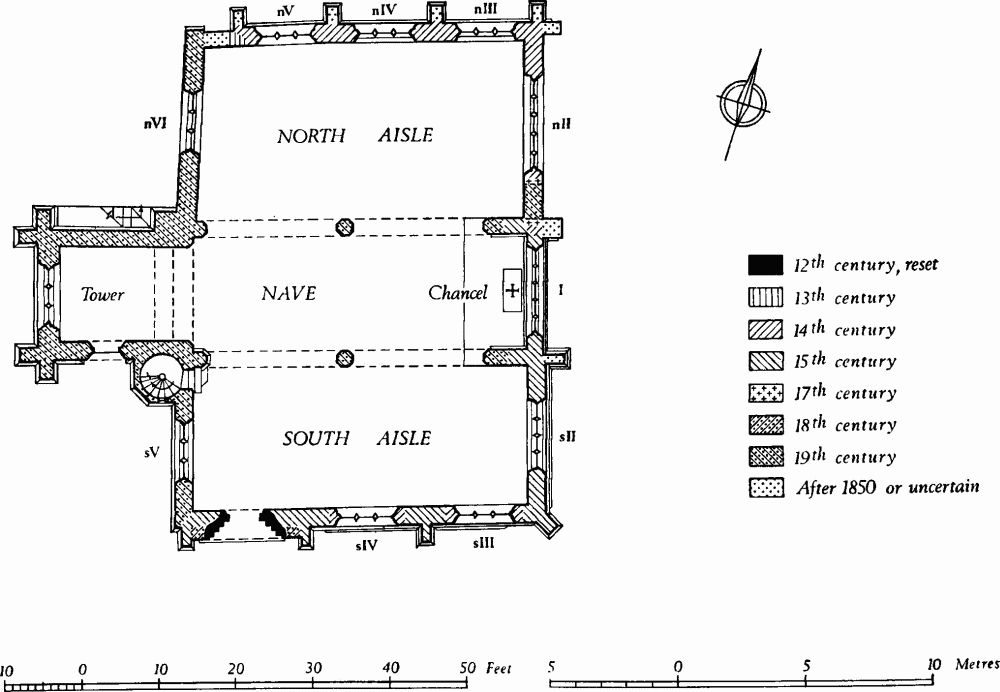 The South Aisle is built of ashlar with moulded plinth and with a string-course under the E. window only. This window has four lights with vertical tracery in a two-centred head with a label (Plate 24). In the S. wall, each of the two E. bays has a reset 14th-century three-light window with reticulated tracery in a two-centred head. In the W. bay, a similar window was blocked in 1798 and the 12th-century doorway reset in the blocking. The doorway (Plate 26) has a semicircular head of five orders on shafted jambs from which the shafts are missing. The outer order of the arch is decorated with foliage and formerly had masks as well. The second order has beak-heads, the third chevron ornament and the fourth flower and leaves with a figure-of-eight motif; the innermost order is decorated with lozenges containing quatrefoil flowers. Below are moulded imposts. The capitals include volutes, grotesque masks, and scallops. A lion has disappeared. The full range of decoration, less decayed, is shown by Halfpenny in Fragmenta Vetusta (1807). The W. wall was rebuilt with a new three-light window in 1846.
The West Tower, which has a projecting stair-vice adjoining the S.E. corner, is in three stages marked externally by stringcourses. The lower stage contains the vestry and, above it, the organ-chamber lit by a three-light W. window with traceried head. The second stage contains the ringing-chamber, lit by lancet windows to E., N. and S. The third stage houses the bells and is lit by louvred windows, each of two lights, with tracery in an ogee head.
Pre-Conquest Stones: in Yorkshire Museum, (1) lower portion of grave-slab (Plate 21), presumably of cross-form, 2 ft. 11 in. by 1 ft. 2¾ in., tapering to 1 ft. 2 in., by 5 in. deep, gritstone, main surface carved with two panels of single-ribbon interlace ending in the bodies of two confronted animals apparently with arrow-headed tongues, central cross-staff with stepped or animal-mask base; probably lid of one of two small stone coffins found 'on the site of the old chancel' while digging graves (YC, 18 Oct. 1838), 10th or 11th-century (YMH (1891), No. 7, 75); (2) coped stone (Plate 21), 3 ft. 7¾ in. by 1 ft. 9½ in., tapering to 1 ft. 8½ in., 10 in. thick at ridge tapering to 6½ in. at sides, millstone grit, cable moulding enclosing the two sculptured sides, and plain border to the individual scenes; two panels of intertwined beasts incorporating a man with a bow; 'found buried close to the south wall of what had been the nave of the church of St. Denis, Walmgate, . . . 1848', 10th or 11th-century (W. G. Collingwood, YAJ, xx (1909), 162, 165, 169; I. R. Pattison, 'The Nunburnholme Cross and Anglo-Danish Sculpture in York', in Arch., civ (1973), passim).
Fittings—Bells (Plate 39): three, with corroded inscriptions; readings follow Benson, with damaged words etc. given in brackets, (1) part of rim broken, in black-letter, '[Fili Dei] Miserere Mei [1621]'; (2) 'Gloria [in] altissimis [Deo 1718,] Joshua [Greenbury,] Michael Benington[, Churchwardens, E. Seller, Ebor.]'; (3) '[Soli] Deo gloria, pax hominibvs 1658 [Mr. Thomas Buckle, Christopher Hardy, Edward Hutchinson, Churchwardens'. Shield bearing cross with bell on either side and initials of founder above.] Bell-frame: 19th-century, re-using timbers from earlier structure. Brackets: high up on S. side of S. nave arcade, four grotesque corbel-heads (Plate 28), 12th-century, reset. A muzzled bear's head corbel, acquired by the Yorkshire Museum in 1913 from excavations in Piccadilly, may have been from the same group (York IV, Plate 26e). Brasses and Indents. Brass: in S. aisle, to William Holmes, 1558, signed Robart Holme, now covered over but described by Mill Stephenson (YAJ, xviii (1905), 51), rectangular plate with inscription in capitals. Indents: in nave, (1) in black marble slab, for rectangular plate and four shields. In N. aisle, (2) similar to (1). In S. aisle, (3) for small rectangular plate and two quatrefoils, see Floor-slab (5). Chest: in S. aisle, against E. wall, of wood, bound with iron straps crossing at right angles, and fastened by rivets or large-headed nails, with two hasps and staples for padlocks (Morrell, Woodwork, 131, Fig. 139), 16th-century. Communion Table: in N. aisle, of oak, with heavy turned legs, 17th-century. Door: in S. doorway, plank door of c. 1798 with modern boarded facing, on plain iron strap-hinges. Font: octagonal, on moulded base, probably 15th-century. Gallery: in tower, forming organ-loft, of oak, possibly of 1846.
Glass: Chancel, E. window, I, now removed to York Glaziers' Trust workshop; dated to 1452–55 by figures, now gone, of Henry Percy, 2nd Earl of Northumberland, and his family, recorded by Dugdale in 1641. The surviving glass, much mutilated, comprises ten tracery panels, five main figures, in whole or in part, and one intruded panel. The following numbering of the glass is provisional (Fig. 18). Tracery: (C2) figure with doctor's cap; (C3) fragment of St. Christopher; (C4) nimbed figure; (C5) angel; (B2) nimbed demi-figure; (B3) nimbed demi-figure; (B6) nimbed demi-figure; (B7) St. John the Baptist with Lamb on a book; (A5) angel holding shield with arms of Scrope of Masham (probably for John, 4th Lord Scrope); (A6) angel holding shield with differenced arms of Scrope of Masham (probably for William le Scrope, master of St. Leonard's Hospital, York, d. 1463). Shields in (A5) and (A6) painted from a reversed cartoon, making the bends 'sinister'. Main lights: the figures set within niches having cinque-foiled heads under architectural canopies and side-shaftings; canopies (7a–7e) have plain backgrounds, alternately red and blue; side-shaftings contain figures of prophets holding books. The main figures are set against seaweed-diapered grounds, divided horizontally by decorated bands, (6a) St. Leonard(?), nimbed and tonsured figure with crozier; blue diaper divided by three bands; only the upper half of figure survives; (5b–6b) the Virgin Mary, her robe decorated with lilies(?); green diaper cut by seven bands (Plate 47); (6c) Crucifixion (Plate 47), Christ on a Tau cross with plaque above inscribed 'INrI', flanked by two angels, one holding a chalice into which flows blood from His sinister hand; blue diaper, but no horizontal bands; lower half of figure lost and its place taken by an intruded panel of similar date; this (5c) shows sainted bishop or archbishop kneeling before a seated pope(?), with lay figure and two tonsured clerics in attendance, possibly St. Thomas Becket or St. William being received by the pope; (6d) St. John the Evangelist with book, his robe decorated with lilies(?); ruby diaper broken by three bands; lower half of figure missing; (5e–6e) St. Denys carrying his mitred head in front of him; ruby diaper with six bands.
In N. aisle, E. window, nII, in tracery, fragments, possibly originally a Doom; in main lights, a Tree of Jesse, very heavily mutilated and with no identifiable figures; all of mid 14th-century. N. wall, 1st window, nIII, glass of mid 14th century, restored in 19th century (Plate 50); in tracery, main quatrefoils contain heads of (B2) Our Lord, (A3) St. Paul, both 19th-century, and (A2) St. Peter, all set against kidney or leaf diapers; the spandrel-pieces, (A1, A4, B1 and B3) have roundels with leaf diaper; in main lights, (2a–3a) St. Thomas kneeling to right (Plate 60), and below him, (1a) panel of quarries with letter 'T' in roundel, mostly 19th-century; (2b–3b) Our Lord, with short cloak and cross-staff, looking to left, His dexter hand positioned to take hand of St. Thomas, His head 19th-century; below Him, (1b) on a mostly modern quarry ground, kneeling civilian donor with scroll 'Domine miserere mei', head and possibly scroll 19th-century; (2c–3c) St. John the Evangelist holding eagle and palm branch (Plate 60); panel below, (1c), similar to that under St. Thomas; the three figures, set against foliate diapers in cinquefoil-headed niches with architectural side-shaftings in perspective, seem to have been painted from haphazardly-reused cartoons, as St. Thomas is too wide and St. John too tall for the niches; borders of covered cups and castles in outer lights, and of lions and fleurs-de-lys in central light.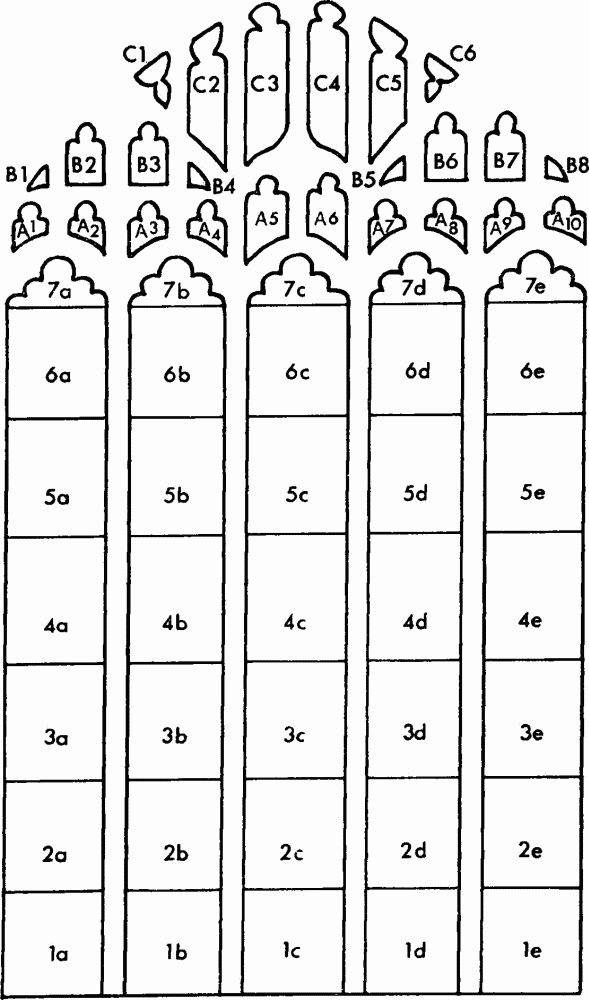 N. wall, 2nd window, nIV, by the same hand and of the same date as window nIII; in tracery, (B2) Our Lord crucified, upper half modern; in lower quatrefoils, (A2) Virgin Mary with hands outstretched, and (A3) St. John with one hand to his face, the other holding a book; in spandrel-pieces, (A1, A4, B1 and B3) roundels on leaf diaper; in upper panels of main lights, (2a–3a) St. Margaret killing dragon; (2b–3b) Virgin and Child, Virgin's head modern; (2c–3c) modern quarries, possibly replacing St. Katherine; the two figures set against diapered grounds and niches as in window nIII. The lower panels contain kneeling figures of the donor and his family set against quarries, (1a) male figure, hands clasped in prayer, with model of his window in front of him; quarries each painted with a hornet(?); (1b) female figure at prayer, wearing veil and hairnets, each quarry painted with a barbed and seeded rose; (1c) young male figure at prayer, having a purse and a dagger at his waist, quarries as in (1a). Below the three figures, a mutilated Lombardic inscription '+ORATE P ANIMABZ ROBT VN ET O LT ET IO NNIS FI LII'; in 1669, Johnston read 'ORATE P AIA ROBti LTVN JOHE UXORIS JOHIS FILII SUI'; the donor was possibly Robert de Skelton (Chamberlain 1335, 1353). The borders of outer lights contain leopards, those of central light crowns.
N. wall, 3rd window, nV. The tracery and outer lights mid 14th-century, restored in 19th century, and the central light early 13th-century. In tracery, top quatrefoil (B3) modern; lower two (A2 and A3) each contain a mutilated nimbed figure. In upper half of each outer main light, above a modern quarry panel, a St. John the Baptist scene: on left, (2a and 3a) under mutilated canopied niche with ogee trefoiled head, jumbled Martyrdom, painted from same cartoon as scene in St. John's, Micklegate (York III, Plate 31; now in York Minster); on right, (2c and 3c) the Baptist stands in ogee trefoiled niche with architectural canopy and side-shaftings, dressed in a camel's skin and holding a roundel containing the Agnus Dei (Plate 60). Central light (1b–3b) contains glass reset from a wider and taller lancet, consisting of two circular medallions between grisaille lozenges (Plate 55); medallions depict scenes from story of Theophilus, upper one (2b) the bond being given to the devil(?), lower one (1b) the bond returned to the Virgin. W. window, nVI, filled with decorated greenish quarries by Powell, c. 1845 (The Ecclesiologist, N.S., v (1847–8), 259–60).
In S. aisle, E. window, sII, contains jumbled mid 15th-century panels; the painting of high quality but no complete scene or overall design has survived. Fragments, some of which belong to a St. Katherine cycle (ex inf. Dr. P. Newton), include three trumpeters blowing a fanfare, St. John's chalice with dragon (Plate 47), head of a pope, other heads and border figures in side-shaftings.
S. wall, 1st window, sIII, of the same date as window sII. The tracery is jumbled and contains in quatrefoils (A3) and (B2) reset figures from an angelic orchestra, one angel blowing organ, another playing symphony (Plate 55), and third plucking psaltery; in quatrefoil (A2) part of a glory with top of a cross-staff is the only original tracery-glass remaining; in spandrel-pieces (A1, A4, B1 and B3) four angels, two censing and two playing citterns. In upper half of main lights, (2a) female saint with sword, probably St. Katherine: (2b and 3b) Assumption of the Virgin Mary, wearing a papal crown in a rayed mandorla with supporting angels, with rays descending on her from the Holy Spirit as a dove; (2c) figure, possibly St. Barbara, but very mutilated; (2a) and (2c) set under intruded canopies (3a, 3c); all three figures have been shortened by about one third.
W. window, sV. Quarries similar to those in window nVI, said to be by Powell, c. 1845.
In Victoria and Albert Museum, stained-glass panel (C41962) from S. aisle, S. wall, 2nd window from E., with half-figure of saint holding Creed scroll inscribed 'Et in ihm xpm filiu~ eius unicum dn[m nostrum]' identified by J. A. Knowles as St. James Major (J. Br. Soc. M. G–P., vi (1936), 110) but probably St. Andrew, early-mid 15th century.
Inscriptions: in vestry, (1) shaped board, 'The West End of this CHURCH & Spire was taken down & New Pew'd Anno Domini 1798, James Melrose, R. W. Hotham, Churchwardens'; (2) rectangular board, 'The Tower of this Church was taken down & rebuilt, the Church repewed & the whole Fabric substantially repaired, by private subscription aided by a Grant from the Church Building Society, during the Years 1846 and 1847. Samuel Lucas, William Coates, Builders. Thomas Pickersgill Architect. James Sabben, Rector. Timothy Bell, John Walker, Churchwardens'. Monuments and Floor-slabs. Monuments: in chancel, on N. wall, (1) Dorothy, wife of Robert Hughes, daughter of John Redman, early 17th-century (Plate 42), Latin inscription in round-headed tablet surmounted by skull and cherubs with down-turned torches, and flanked by shields of Hughes and Redman within oval frames; below, kneeling female figure in round-headed niche beneath shield of Hughes impaling Redman, flanked by four round-headed niches containing figures of three Virtues; beneath shelf, two lions' heads flanking winged cherub holding crown and palm leaf; on S. wall, (2) Robert Welborn Hotham, sheriff 1801, 1806, his wife Betty, 1797, two infant sons, Robert and William, his second wife, Sarah, 1806, tablet with black obelisk-shaped superstructure forming background to mourning female figure at urn surmounting pedestal with shield-of-arms and descending dove at apex, military accoutrements on slab below, by Fisher. In N. aisle, on N. wall, (3) James Melrose, churchwarden, 1837, white plaque surmounted by urn on triangular-headed black marble slab, signed Plows; (4) tomb recess, pointed arched head with filleted roll between two hollows, possibly for founder's tomb, 14th-century; (5) the Rev. John Walker, '17 Years Rector of this Parish cum Naburn and perpetual Curate of Acaster', 1813, his wife Ann, 1811, white oval plaque on black marble. In S. aisle, on E. wall, (6) Eliza Maria, fourth child of James Sabben, B.A., Rector of this Parish, his wife Mary Caroline, 1848, white plaque on brackets, on triangular-headed black slab; above S. door, (7) Dorothy Wilson, 1717, tablet flanked by Corinthian columns supporting segmental arched pediment. In churchyard, head-stones: (8) Robert Ellison, 1778; (9) Ann, daughter of Benjamin and Ellen Linton, 1785; (10) Matthew Graves, 1771, sons Matthew, 1772, and William, 1773, Ann Hessey, 1801; (11) William, son of George and Ann Winsor, 1769; (12) Sarah, wife of William Battridge, 1784, William Battridge, 1788, Frances, wife of William Battridge Junior, 1808, her daughter Sarah Molyneaux, 1841; (13) John Duckett, builder, 1833, daughter Mary Duckett, 1797, Grace Duckett, 1816, James Duckett, 1820, his wife Hannah, 1847; (14) Matthew Horsley, innkeeper, 1810, Mary his first wife, 1799, four children who died in infancy, Mary his second wife, 1811, their son Christopher, 181.; and others of later date. In Yorkshire Museum, (15) grave-slab of bell-founder, found in churchyard 1848, carved with foliated cross flanked by three-legged cauldron and bell (G. Benson, 'York Bell Founders', YPSR (1898), 2; YPS, Handbook, 90, item (32)); the association of the cross and trade symbols is typical of York 14th-century coffin lids; the incomplete slab is 3 ft. 8½ in. long. Floor-slabs: in N. aisle, (1) Walter Melrose, 178., Margaret, daughter of James Melrose, son of Walter. In nave, (2) Robert Ward, 1405 (alternative readings in Henry Keep, Monumenta Eboracensia, Trinity College, Cambridge, MS. 0.4.33, p. 138, and Bodleian, MS. Top. Yorks. C14, f. 107). In S. aisle, (3) Mrs. Eliz. Shipton, 1757; (4) Bernard Aikroyd, brewer, 1761, two daughters Ann and Mary; (5) William Barrett, Rector of this Parish, 1706, black marble slab with indents, reused; (6) Mary Shipton, 1800. In churchyard, (7) Leonard Dixon of Castleford, 1780.
Plate: includes (1) cup and cover paten by Marmaduke Best, 1678; (2) paten, London 1838; (3) pewter paten, inscribed 'Donum Geo Tiplin Rectoris 1669' (George Tiplin was Rector of St. Denys' from 1667 to 1679), punched with crowned rose, LONDON, and ELLWOOD; (4) two similar pewter patens, marked 'Made in London—John Donne'; (5) two pewter flagons, inscribed 'This Flaggon was bought at ye charge of ye Parish of St. Dyonis in Walmgate. Tho. Shipton, Michaell Bennington Churchwardens 1718'; (6) pewter basin, inscribed 'St. Denis, 1741' (Fallow and McCall, 1, 11). Poor-box: of cast iron, mid 19th-century. Pulpit: of oak, 17th-century, restored, sounding-board removed since 1949 (Morrell, Woodwork, 165, 166). Recesses, see Monument (4). Royal Arms: in N. aisle, of cast iron, of Queen Victoria. Seating: in Yorkshire Museum, bench-end (Plate 38), with poppy-head finial, blind tracery, and shield-of-arms of Henry Percy, 4th Earl of Northumberland, 1461–89.