Pages 297-319
The History and Topographical Survey of the County of Kent: Volume 7. Originally published by W Bristow, Canterbury, 1798.
This free content was digitised by double rekeying. All rights reserved.
CHARTHAM,
CALLED in Domesday, Certeham, lies the next parish eastward from Chilham. The greatest part of it is in the hundred of Felborough, and some small part of it, viz. the manor of Horton, in the hundred of Bridge and Petham.
THE PARISH of Chartham is pleasantly situated, a great part of it in the sertile vale of pastures through which the river Stour takes its course, between a continued series or range of losty hills, over which this parish extends; the high road from Canterbury to Ashford leads through it, mostly on high ground, from which there is a most pleasing view of the vale and river beneath, as well as of the oppo site hills, whose summits are cloathed with the rich foliage of the contiguous woods. Though the soil in the valley is rich pasture, yet the hills are poor and barren, those rising from the vale are chalk, further on they are a cludgy red earth, mixed with slints, much covered with coppice woods, and a great deal of rough land, with broom and heath among it, bordering on a dreary country. The parish is large, and is supposed to be about twelve miles in circumterence. It contains about ninety-seven houses, and five hundred inhabitants. The village of Chartham is situated close on the side of the river Stour, the houses of it are mostly built round a green, called Charthamgreen, having the church and parsonage on the south side of it. On this green was till within these few years, a large mansion house most of which being burnt down, the remains have since been known by the name of Burnt house. It was formerly the residence of the Kingsfords, several of whom lie buried in this church, whose arms were, Two bends, ermine. At length William Kingsford, esq. in 1768, sold it to William Waller, who alienated it in 1786 to Mr. Robert Turner, as he did again to Allen Grebell, esq. who sold it in 1795 to Mr. John Gold, the present owner of it. Near it is a handsome modern-built house, formerly the property and residence of Dr. John-Maximilian Delangle, rector of this parish and prebendary of Canterbury, and from him usually named the Delangle house. He died possessed of it in 1729. It was late the property of John Wotton, esq. who died in August, 1798, and devised it to Mary, the wife of Benjamin Andrews, gent. of Stouting, for her life; and after her decease to Thomas Wotton, gent. of the Tile-lodge farm, in Sturry, and his heirs for ever. On the river Stour here, is a paper-mill, belonging to the dean and chapter of Canterbury. In 1763, William Pearson, the lessee by will, gave this leasehold estate to his wife Sarah for life, remainder to his son Thomas Pearson, his executors, &c. Sarah Pearson renewed the lease in her own name in 1765. In 1766 Thomas Pearson sold the lease to his brother James Pearson absolutely, after the death of their mother, and of the said Thomas pearson, and Elizabeth his wife, or any after-taken wife, without issue of the said Thomas. In 1767 the said Thomas Pearson and Elizabeth, sold all their interest in the premises to David Ogilvy. In the same year the said Thomas and James assigned the premises to the said Ogilvy, by way of mortgage, redeemable by James if Thomas died without issue. In 1768 James became a bankrupt. In 1789, Sarah and James being both dead, Ogilvy renewed the lease in his name. In 1792 Ogilvy, Thomas Pearson, and the surviving assigness, under James Pearson's commission, assigned the premises absolutely, to Edward Pain, paper-maker, of Chartham, (son of Leeds Pain, deceased) who now holds the lease, and occupies the estate.
That part of this village on the opposite side of the river Stour, is called Rattington, being in the borough of that name. The northern part of this parish is mostly high ground, and covered with woods, extending almost up to the high Boughton road to London, through which the boundaries of it are very uncertain, from the different growths of the high wood in them; and there have been several contests relating to the bounds in this part of the parish, on account of the payment of tithes to the rector of Chartham; the lands without the bounds of it on the north side being exempt from all tithes whatever, as being within the king's antient forest of Blean, now usually called the ville of Dunkirk. Among them are the two hamlets, called Chartham hatch and Bovehatch, vulgarly Bowhatch; and near the former a large hoath, the soil of which is sand and gravel, and, from the poorness of it, but of little value. This hoath, as well as the lands near it, called Highwood, both claim, as I am informed, an exemption from paying tithes, as part of the manor of Densted.
Among the woods at the north-west boundaries of the parish, is a house and grounds called the Fishponds, which, though now gone to ruin, were formerly made and kept at a large expence, by Samuel Parker, gent. the grandson of Dr. Parker, bishop of Oxford, and rector of this church, who resided here. It is now in the joint possession of Mrs. Bridges, of Canterbury, and William Hammond, esq. of St. Alban's, in this county.
About a mile west from Densted, in the northwest part of this parish, is a stream of water, called the Cranburne, which is a strong chalybeate. It rises among the woods on the south side of the high London road, running through the fifth-ponds beforementioned, and thence into the river Stour, near Whitehall, a little below Tonford.
On the opposite side of the valley, close to the river Stour, is the hamlet of Shalmsford-street, built on the Ashford high road, and the bridge of the same name, of stone, with five arches, repaired at the expence of the hundred of Felborough, over which the abovementioned road leads; and at a small distance above it is a very antient corn-mill, called Shalmsford-mill, formerly belonging to the prior and convent of Christchurch, and now to the dean and chapter of Canterbury. There are two more hamlets on the hills of the southern parts of this parish, one at Mystole, and the other at Upperdowne, near it, behing which this parish reaches some distance among the woods, till it joins Godmersham and Petham.
There is a fair annually held at Chartham on St. Peter's day, June 29.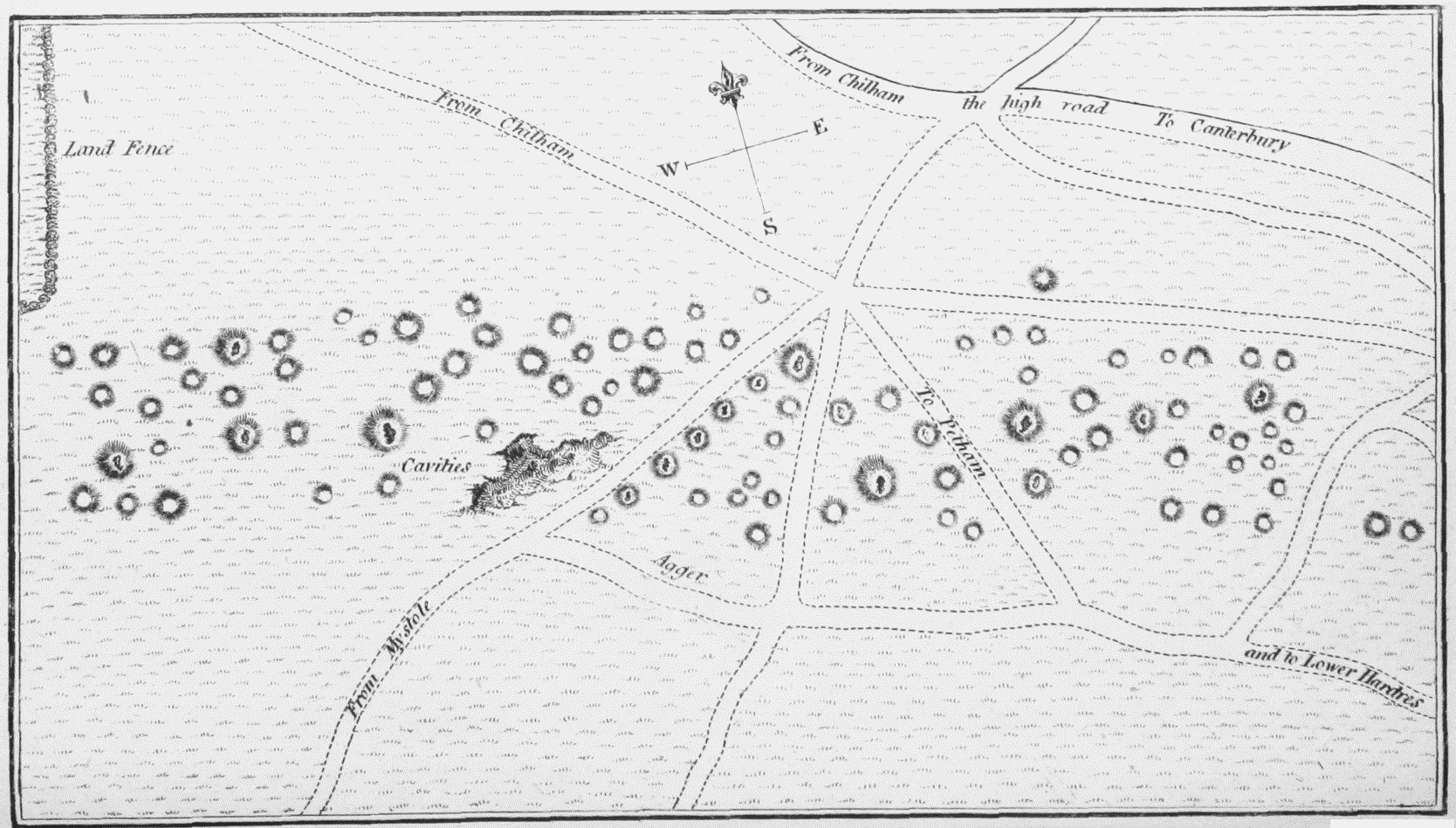 On the chalky downs, called Chartham Downs, adjoining the south side of the Ashford road, about four miles from Canterbury, being high and dry ground, with a declivity towards the river Stour; there are a great number of tumuli, or barrows near, one hundred perhaps of different sizes near each other, this spot being described in the antient deeds of the adjoining estates by the name of Danes banks. Several of them have at times been opened, and the remains of bodies, both male and female, with various articles of trainkets, &c. have been found in them. Beyond these, on the contiguous plain, called Swadling downs, still more southward, there are three or four lines of intrenchments which cross the whole downs from east to west, at different places, and there is a little intrenchment in the road, under Denge wood, a little eastward above Julliberies grave.
Various have been the conjectures of the origin of these barrows, some have supposed them to have been those of the Britons, slain in the decisive battle with Cæsar, under Cassivelawn, others that this place was the spot appropriated for the burial of the Roman garrison at Canterbury, whilst others suppose them to have belonged to the Danes, who might be opposed here in their attempts to pass the river Stour, in their further progress into this island.
In the year 1668, in the sinking of a new well at Chartham, there was found, about seventeen feet deep, a parcel of strange and monstrous bones, together with four teeth, perfect and sound, but in a manner petrified and turned into stone, each as big as the first of a man. These are supposed by learned and judicious persons, who have seen and considered them to be the bones of some large marine animal, which had perished there; and it has been by some conjectured, (fn. 1) that the long vale, of twenty miles or more, through which the river Stour runs, was formerly an arm of the sea (the river, as they conceive, being named Stour from astuarium); and lastly, that the sea having by degrees filled up this vale with earth, sand, and coze, and other matter, ceased to discharge itself this way when it broke through the isthmus between Dover and Calais. Others have an opinion, that they were the bones of elephants, abundance of which were brought over into Britain by the emperor Claudius, who landed near Sandwich, who therefore might probably come this way in his march to the Thames, the shape of these teeth agreeing with a late description of the grinders of an elephant, and their depth under ground being probably accounted for by the continual washing down of the earth from the hills.
IN THE YEAR 871, duke Elfred gave to archbishop Ethelred, and the monks of Christ-church, the parish of Chartham, towards their cloathing, as appears by his charter then made, or rather codicil; and this gift of it was confirmed to them in the year 1052, by king Edward the Confessor; and it continued in their possession at the time of taking the general survey of Domesday, in the year 1084, in which it is thus entered, under the title of Terra Monachorum Archiepi, i. e. lands of the monks of the archbishop, as all lands belonging to that monastery were.
In Feleberg hundred, the archbishop himself holds Certeham. It was taxed at four sulings. The arable land is fourteen carucates. In demesne there are two, and sixty villeins, with fifteen cottagers, having fifteen carucates and an half. There is a church and one servant, and five mills and an half of seventy shillings, and thirty acres of meadow, and wood for the pannage of twenty-five bogs. In the time of king Edward the Confessor, and when he received it, it was worth twelve pounds, now twenty pounds, and yet it pays thirty pounds.
The possessions of the priory here were after this augmented by Wibert, who became prior in 1153, who restored to it the great wood of Chartham, con taining forty acres, which the tenants had long withheld. After which, in the reign of king Edward I. THIS MANOR OF CHARTHAM, with its appurtenances, was valued at thirty-four pounds, (fn. 2) at which time there appears to have been a vincyard here, plentifully furnished with vines, belonging to the priory, as there were at several of their other manors; and in the 25th year of the same reign Robert Winchelsea, archbishop of Canterbury, having fallen under the king's displeasure, dismissed most of his family, and lived privately here at Chartham with one or two priests, and went almost every Sunday and holiday to preach in several of the adjoining churches.
King Edward II. by his charter in his 10th year, granted and confirmed to the prior of Christ-church, free-warren in all his demesne lands in this manor among others, which he or any of his predecessors had acquired since the time of his grandfather, so that the same were not within the bounds of his forest.
The buildings on this manor were much augmented and repaired both by prior Chillenden, about the year 1400, and by prior Goldston, who about the year 1500 rebuilt the prior's stables here and his other apartments with brick. This manor continued part of the possessions of the priory till its dissolution in the 31st year of Henry VIII. when it was surrendered into the king's hands, with whom this manor did not continue long, for the king settled it, among other premises, in his 33d year, on his new-erected dean and chapter of Canterbury, part of whose inheritance it still continues.
A court leet and court baron are regularly held for this manor by the dean and chapter, but the courtlodge and demesnes of the manor are demised by them on a beneficial lease. At the time of the dissolution, anno 30 Henry VIII. Thomas Thwayts was lessee of it. John Baker, esq. of St. Stephen's, near Canterbury, is the present lessee.
THE DEANRY is a large antient seat, situated adjoining to the court-lodge, being part of those possessions belonging to the late priory of Christ-church, in Canterbury, and was formerly the capital mansion of their manor here, being made use of most probably as a place of residence and retirement for the prior himself; and it was most probably to this house that archbishop Winchelsea retired, as has been mentioned before, in king Edward the 1st.'s reign, whilst under that king's displeasure. In which state it remained till the dissolution, when it came, with the adjoining meadows belonging to it, among the rest of the possessions of the priory in this parish, into the hands of the crown, and was next year settled by the king on his new-erected dean and chapter of Canterbury; after which it seems to have been allotted to and made use of in like manner as it was by the priors before, by the deans of Canterbury, for their country residence; in particular dean Bargrave resided much at this mansion, in the windows of which his arms, with the quarterings of his family alliances, in several shields, remained till within these few years. The consusion of the times which immediately followed his death, preventing the residence of any dean here, this mansion seems to have fallen into the hands of the chapter, who soon afterwards leased it out, with a reservation of a part of the yearly rent to the dean and his successors; and it has continued under the like demises to the present time, though there have been several attempts made by succeeding deans to recover the possession of it to themselves. The Whitfields were for some length of time lessees of it, afterwards the Lefroys, then Mr. Lance, and after him Mr. Coast, who greatly augmented and improved this mansion, and resided in it till he sold his interest in it to John Thomson, esq. and he conveyed it in 1797 to William Gilbee, esq. the present lessee of it.
There was a large chapel belonging to this mansion, which was taken down in 1572.
DENSTED is a manor, situated among the woods in the northern part of this parish, next to Harbledown, in the ville of its own name, part of which extends into that parish likewise. It was antiently part of the estate of the family of Crevequer, and was given in the 47th year of Henry III. by Hamo de Crevequer, to the priory of Leeds, founded by one of his ancestors, which gift was confirmed, together with the tithes of Densted, to the priory at several different times, by the several archbishops, and by the priors and convent of Christ-church, (fn. 3) and the revenue of it was increased here in the 8th year of king Richard II. when Robert Bovehatch being convicted of felony, was found to have held some lands at Densted, which upon forfeiture, were granted by the king to it. The prior and convent continued owners of this manor, with those other lands here, and in king Henry the VIIIth.'s reign, demised it for ninety-nine years to Paul Sidnor, (fn. 4) in which state it remained till their dissolution in the 32d year of that reign, when it came, with the rest of their possessions, into the king's hands, who granted it in his 37th year, with all the tenements called Densted, belonging to this manor, to John Tufton, esq. to hold in capite by knight's service, who, about the 3d year of king Edward VI. alienated his interest in it to Richard Argall, whose descendant John Argall sold it, about the beginning of king James I.'s reign, to Sir John Collimore, of Canterbury, who in 1620, conveyed it to trustees, to be sold for the payment of his debts; and they conveyed it to Thomas Steed, esq. who in the reign of king Charles I. passed it away to Sir Thomas Swan, of Southfleet; in whose descendants it continued, till at length the widow of Sir William Swan, at her death, devised it, among his other estates, alike between his and her own relations, one of whom marrying John Comyns, esq. afterwards knighted, and chief baron of the exchequer, he became in her right possessed of this manor, being descended from the Comyns's, of Dagenham, in Essex, in which county he resided, and bore for his arms, Azure, a chevron, ermine, between three garbs, or. On his death in 1740, he devised it to his eldest nephew and heir John Comyns, esq. of Highlands, in Essex, (son of his brother Richard, serjeant-at law) who died possessed of it in 1760, leaving by his second wife, an only son, Richard-John Comyns, esq. whose heirs conveyed it by sale to Thomas Lane, esq. one of the masters of chancery, who died possessed of it in 1773, on which it descended to his two sons Thomas and William, and the former having purchased the latter's interest in it, died, leaving his widow surviving, who is now in the possession of this estate for her life; but the reversion of it in see, after her death, is vested in the younger brother above-mentioned, Mr. William Lane, gent. of London.
A court baron is held for this manor.
The lands belonging to this manor consist of about four hundred acres; the whole of which, excepting seven acres in Highwood which are titheable, is subject only to a composition yearly to the rector of Chartham, in lieu of all tithes whatever.
HOWFIELD is a manor in this parish, lying in the north-east part of it, adjoining to Toniford. It was formerly spelt in antient records both Haghefelde and Hugeveld, and was part of the possessions of the priory of St. Gregory, most probably at its foundation in 1084. However that be, this manor was confirmed to it, among the rest of its possessions, by the name of Haghefelde, together with the mill of Toniford, by archbishop Hubert, who died in 1206; (fn. 5) and in this state it remained till the reign of Henry VIII. when, by the act passed in the 27th year of it, this priory was suppressed among other religious houses, whose revenues did not amount to the clear yearly value of two hundred pounds, Christopher Hales, esq. afterwards knighted, and attorney-general, being then lessee of this manor, under a lease for ninety-nine years, from the prior and convent; and he had that year a grant from the king of it in see, with all privileges and immunities belonging to it, to hold by fealty only. Sir Christopher Hales was likewise master of the rolls, being the son of Thomas Hales, A.M. second son of Henry Hales, of Hales-place, whose eldest son John was ancestor of the Hales's, of the Dungeon, in Canterbury, Tenterden, and other parts of this county. He left three daughters his coheirs, who became jointly entitled to this manor, with a tenement called Bovehoth, and other lands in Chartham. At length the whole interest of it, on a division of their estates, was assigned to the youngest daughter Mary, who entitled her husband Alexander Colepeper, esq. to it. He left an only daughter by her, Anne, who carried it in marriage to Sir John Culpeper, of Wigsell, and he alienated it to the family of Vane, or Fane, in which it was in the year 1638, and in the year following Mary, countess dowager of Westmoreland, widow of Sir Francis Fane, earl of Westmoreland, joined with her son Mildmay, earl of Westmoreland, in the sale of it to William Man, esq. of Canterbury, afterwards knighted, whose ancestors had been settled there from the beginning of king Henry VIII.'s reign. They bore for their arms, Or, a chevron, ermines, between three lions, rampant guardant, sable; and there were of this name of Man, who were aldermen of the ward of Westgate in that city, as early as king Edward III.'s reign. (fn. 6) He in 1688, with his son William Man, esq. conveyed it to John Denew, gent. of Canterbury, whose ancestors were antiently written De New, and bore for their arms, Or, five chevronels, azure; whose grandson John Denew, esq. dying in 1750, s.p. devised it by will to his wife Elizabeth, and she at her death in 1761, gave it to one of her late husband's sisters and coheirs, Elizabeth, married to Mr. Edward Roberts, of Christ's hospital, London; their eldest son Mr. Edward Roberts died possessed of it in 1779, leaving three sons, Edward, George, and William, when it devolved to his eldest son Edward-William Roberts, who sold it in 1796 to George Gipps, esq. of Harbledown, M.P. for Canterbury, who is the present owner of it.
The demesne lands of this manor claimed and enjoyed an exemption from all manner of tithes till almost within memory; but by degrees tithes have been taken from most of them, and at present there are not more than twenty acres from which none are taken.
SHALMSFORD-STREET is a hamlet in this parish, built on each side of the Ashford road, near the river Stour, and the bridge which takes its name from it, at the western boundary of this parish. It was antiently called Essamelesford, and in the time of the Saxons was the estate of one Alret, who seems to have lost the possession of it after the battle of Hastings; for the Conqueror gave it, among many other possessions, to Odo, bishop of Baieux, his half brother, under the general title of whose lands it is thus entered in the record of Domesday:
In Ferleberg hundred, Herfrid holds of the see of the bishop, Essamelesford. It was taxed at half a suling. The arable land is one carucate. In demesne there is one carucate, and three villeins, with one borderer having one carucate. There are three servants, and eight acres of meadow. In the time of king Edward the Confessor it was valued at sixty shillings, and afterwards forty shillings, now sixty shillings. Alret held it of king Edward.
Four years after the taking of the above survey, the bishop of Baieux was disgraced, and all his lands and possessions were confiscated to the king's use. Soon after which this estate seems to have been separated into two manors, one of which was called from its situation.
THE MANOR OF SHALMSFORD-STREET, and afterwards, from its possessors, the mansion of Bolles, a family who had large possessions at Chilham and the adjoining parishes. At length, after they were become extinct here, which was not till about the beginning of the reign of queen Elizabeth, this manor came into the name of Cracknal, and from that in the reign of king James I. to Michel, one of whose descendants leaving two daughters and coheirs, one of them married Nicholas Page, and the other Thomas George; and they made a division of this estate, in which some houses and part of the lands were allotted to Thomas George, whose son Edward dying s.p. they came to Mr. John George, of Canterbury, who sold them to Mr. Wm. Baldock, of Canterbury, and he now owns them; but the manor, manor-house, and the rest of the demesne lands were allotted to Mr. Nicholas Page, and devolved to his son Mr. Thomas Page. He died in 1796, and devised them to Mr. Ralph Fox, who now owns them and resides here. The court baron for this manor has been long disused.
ON THE OPPOSITE SIDE of the road, about twenty rods from the bridge, stood an antient seat, which was taken down about thirty-five years ago, though there is a malt house remaining on the scite of it, which has evident marks of antiquity, and of its having been once made use of as part of the offices belonging to it. In the windows of the old house were several coats of arms, that most frequent being the coat and crest of Filmer, with a crescent for difference. This seat, with the lands belonging to it, was for a great length of time owned by the Mantles, and continued so till Mary Mantle carried it in marriage to Mr. Stephen Church, of Goodnestone, the present owner of it.
THE MANOR OF SHALMSFORD BRIDGE was the other part of the bishop of Baieux's estate here, described as above in Domesday, and was that part of it which was by far of the most eminent account, and was so called not only to distinguish it from that lastmentioned, but from its situation near the bridge of this name over the river Stour, on the opposite or west side of it next to Chilham, in which parish much of the lands belonging to it lie. It was antiently accounted a member of the manor of Throwley in this county, as appears by the inquisition taken after the death of Hamo de Gatton, owner of that manor in the 20th year of king Edward I. when Roger de Shamelesford was found to hold it as such of him by knight's service. His descendant William de Shalmelesford, who possessed it in the beginning of the reign of Edward II. leaving an only daughter and heir Anne, she carried it in marriage to John Petit, who resided here, and died before the 20th year of the next reign of king Edward III. bearing for his arms, Gules, a chevron, between three leopards faces, argent. In his descendants, who resided at Shalmesford, this manor continued down to Thomas Petit, esq. of Canterbury, who died possessed of it in 1625, (fn. 7) leaving his three sisters his coheirs, who became entitled to this manor in undivided thirds. They were married afterwards, Catherine to Michael Belke; Elizabeth to Giles Master, of Woodchurch; and Dorothy first to William Master, secondly to John Merryweather, and thirdly to Parker, of Northfleet. Michael Belke above-mentioned, whose ancestors were originally of Coperham-Sole, in Sheldwich, having purchased another third of this manor, became entitled to two thirds of it, which continued in his descendants down to Dr. Thomas Belke, prebendary of Canterbury, who died in 1712, and his heirs sold them to Mr. Hatch, of that city, who was befor possessed of the other third part of this manor, which he had under his father Mr. John Hatch's will, who had purchased it of one of the descendants of Mr. Thomas Petyt, before-mentioned, and thus became entitled to the whole property of it. He died in 1761, and by will devised it to his great nephew, Mr. John Garling Hatch, of Chartham, who sold it to Mr. Joseph Saddleton. He died in 1795 intestate, leaving Elizabeth his widow, and Joseph their only son, who are the present owners of it.
Mystole is a handsome well-built seat, situated on the green of that name, in the south-west part of this parish, about a mile and an half from the church of Chartham. It was built by John Bungey, prebendary of Canterbury, who was rector of this church, and married Margaret Parker, the archbishop's niece, by whom he had several sons and daughters. He bore for his arms, Azure, a lion, passant-guardant, or, between three bezants, (fn. 8) and dying here possessed of it in 1596, was buried in this church. His eldest son Jonas Bungey succeeded him here, and in his descendants it continued till it was at length sold to Sir John Fagge, of Wiston, in Sussex, who was created a baronet on Dec. 11, 1660. But before this purchase, there were those of this name settled in this parish, as appears by their wills, and the marriage register-book in the Prerogative-office, Canterbury, as early as the year 1534, in both which they are stiled gentlemen. He left a numerous family, of whom only three sons survived; Sir Robert, his successor in title; Charles, who will be mentioned hereaster; and Thomas, ancestor of John Meres Fagge, esq. late of Brenset. Sir John Fagge died in 1700, and by will devised this seat of Mystole, with his other estates in this and the adjoining parishes, to his second son Charles Fagge, esq. of Canterbury, before-mentioned, who continued to bear the family arms, being Gules, two bends, vaire. His only surviving son Charles Fagge, esq. resided here, and married Elizabeth, youngest daughter of William Turner, esq. of the White Friars, Canterbury. His son Sir William Fagge, bart. resided at Mystole, and married Elizabeth, daughter of Abraham Le Grand, gent. of Canterbury, who died in 1785. He died in 1791, having had one son John, and two daughters, Helen, married to the Rev. Mr. Williams, prebendary of Canterbury, but since removed to Winchester; and Sarah to Edwin Humphry Sandys, gent. of Canterbury. He was succeeded by his only son the Rev. Sir John Fagge, bart. who married in 1789 Anne, only daughter and heir of Daniel Newman, esq. of Canterbury, barrister-at law, and recorder of Maidstone. He now resides at Mystole, of which he is the present possessor.
HORTON MANOR, sometime written Horton Parva, to distinguish it from others of the same name in this county, is a manor in that part of this parish which lies within the hundred of Bridge and Petham. It has by some been supposed to have been once a parish of itself, but without any reason; for it was from the earliest times always esteemed as a part of the parish of Chartham.
At the time of taking the survey of Domesday, about the year 1080, this manor was part of the possessions of Odo, bishop of Baieux, the Conqueror's half-brother, under the general title of whose lands it is thus entered in it, being then accounted within the bounds of the adjoining hundred of Felborough:
In Ferleberge hundred, Ansfrid holds of the bishop, Hortone. It was taxed at half a suling. The arable land is one carucote. There is in demesne . . . . and thirteen villeins having half a carucate. There is one servant, and two mills of one marc of silver, and eight acres of mea dow, and one hundred acres of coppice wood. In the time of king Edward the Confessor it was worth forty shillings, afterwards thirty shillings, now one hundred shillings, Godric held it of king Edward.
On the bishop's disgrace, about four years afterwards, this manor, among the rest of his possessions, was confiscated to the crown, and was granted thence to the family of Crevequer, of whom it was held by that of Northwood, of Northwood, in this county. John de Northwood died possessed of it in the 14th year of Edward II. In whose descendants it continued down to Roger de Northwood, whose widow Agnes entitled her second husband Christopher Shuckborough, esq. of Warwickshire, to the possession of it, and they afterwards resided here. He bore for his arms, A chevron, between three mullets, pierced. She died in the 6th year of king Henry IV. anno 1404, and he alienated it three years afterwards to Gregory Ballard, whose descendant Thomas Ballard, kept his shrievalty here anno 31 Henry VI. and dying in 1465, lies buried in St. Catherine's church, near the Tower. Robert Ballard was found by inquisition anno 14 king Henry VII. to hold at his death this manor of the king, as of his honor of the castle of Dover, by the service of one sparrow-hawk yearly. They bore for their arms, Sable, a griffin rampant segreant, ermine, armed and membered, or. At length it descended down to Nicholas Ballard, who in the 4th year of Philip and Mary, passed it away to Roger Trollop, esq. and he sold it, in the 2d year of queen Elizabeth, to Sir Edward Warner, then lieutenant of the tower, who died possessed of it in the 8th year of that reign, holding it of the king in capite by knight's service. Robert Warner, esq. was his brother and next heir, and sold it, in the 16th year of that reign, to Sir Roger Manwood, (fn. 9) chief baron of the exchequer, whose son Sir Peter Manwood, K.B. in the reign of king James I. alienated it to Christopher Toldervye, esq. who resided here, and dying in 1618, s.p. was buried in Ash church, near Sandwich, bearing for his arms, Azure, a fess, or, in chief, two cross croslets of the second. By his will he devised it to his brother John Toldervye, gent. of London; on whose death likewise s.p. it devolved by the limitations in the above will to Jane his eldest sister, then married to Sir Robert Darell, of Calehill, who in her right became entitled to it, and from him it has at length descended down to Henry Darell, esq. of Calehill, the present owner of this manor.
The chapel belonging to this manor is still standing, at a small distance south-west from the house. It had more than ordinary privileges belonging to it, having every one the same as the mother church, excepting that of burial, and its offices. It consists of one isle and a chancel, with a thick wall at the west end, rising above the roof, and shaped like a pointed turret, in which are two apertures for the hanging of two bells. It has been many years disused as a chapel, and made use of as a barn.
This chapel, like many others of the same sort, was built for the use of the family residing in the mansion of the manor, which being, as well as the ceremonies of the religion of those times, very numerous, rendered it most inconvenient for them to attend at the parish church, at so great a distance, in all kind of seasons and weather. But after the reformation, when great part of such ceremonies ceased, and the alteration of the times not only lessened the number of domestics, but even the residence of families, by degrees, at these mansions; these chapels became of little use, and being maintained at the sole charge of the owners of the estates on which they were built, they chose rather to relinquish the privilege of them, than continue at the expence of repairs, and finding a priest to officiate in them.
In the reign of king Richard II. there was a great contest between John Beckford, rector of Chartham, and Christopher Shuckborough, lord of this manor, concerning the celebration of divine offices in this chapel; which was heard and determined in 1380, before the archbishop's official, that all divine offices might be celebrated in it, exceptis tantum defunctorum sepulturis et exequiis. These were more than ordinary privileges; it being usual, even in chapels which had the right of sepulture granted to them, to oblige the inhabitants to baptize and marry, and the women to have their purifications at the mother church.
There is a composition of 6l. 14s. paid by the occupier of this manor, to the rector of Chartham, in lieu of all tithes whatever arising from it.
Charities.
THERE are no charitiesor alms houses belonging to this parish, excepting the legacy by the will of Thomas Petit, esq. of Canterbury, in 1626. to this parish, Chilham, and St. George's, Canterbury, jointly for the benefit of young married people for ever; a full account of which has been given before, under Chilham, p. 141.
There is a school lately set up in this parish, for the teaching of children reading, writing, and arithmetic.
The poor constantly relieved are about forty-five, casually 60.
CHARTHAM is within the ECCLESIASTICAL JURISDICTION of the diocese of Canterbury, and deanry of Bridge.
The church, which is dedicated to St. Mary, is a large, handsome building, of one isle and a chancel, with a cross isle or transept. It has a tower steeple at the west end, in which are five bells and a clock. Besides other monuments and memorials in this church, there are in the chancel memorials for the Kingsfords; for Margaret, daughter of Sir Samuel Peyton, knight and baronet, wife of Thomas Osbern, esq. obt. 1655; for Jane, daughter of Arthur Barham, esq. wife of Thomas Osbern, esq. obt. 1657; several for the dis ferent rectors, and a monument for Dr. Delangle, 1724; a large grave-stone with the figure of a man in his armour, cross-legged, with his sword and spurs, in full proportion, inlaid in brass, with his surcoat of arms, viz. Three wheat-skreens, or fans, being for one of the Septvans family; and on the north side is an antient tomb, under an arch hollowed in the wall. In the north cross isle is a grave-stone, which has been very lately robbed of its brasses, excepting the impalements of one coat, being the arms of Clifford. It had on it the figure of a woman, with an inscription for Jane Eveas, daughter of Lewys Clifforht Squyre, obt. 1530. The chancel is very handsome, and there has been some good painted glass in the windows of it, of which there are yet some small remains. In the south chancel the family of Fagge lie buried; in it there is a monument for the late Sir William and his lady, and a most superb monument of excellent sculpture and imagery, having the figures, in full proportion of Sir William Young, bart. and his lady; Sarah, sister of Sir William Fagge before-mentioned, who died in 1746, æt. 18, in the same year in which she was married. He died in the West-Indies in 1788, and was brought over and buried beside her, and the above-mentioned monument which had laid by in the church ever since her death was repaired and placed here.
The church of Chartham was part of the antient possessions of the see of Canterbury, and continues so at this time, his grace the archbishop being the present patron of it.
In a terrier of 1615, it appears there was then here a parsonage-house, barn, gardens, and meadow, in all about two acres; certain closes containing thirty-eight acres, and a little piece of wood-land adjoining to it; some of which glebe-land has since that time been lost, the rector now enjoying nor more than thirty acres of it.
Part of the parsonage-house seems very antient, being built of flint, with ashlar-stone windows and door cases, of antient gothic form. It was formerly much larger, part of it having been pulled down, by a faculty, a few years ago.
An account of the lands in this parish, which claim an exemption of tithes, has already been given before, under the description of the respective lands, as well as of the chapel of Horton, and the composition for tithes from that manor.
This rectory is valued in the king's books at 41l. 5s. 10d. and the yearly tenths at 4l. 2s. 7d. In 1640 it was valued at one hundred and twenty pounds. Communicants three hundred. It is now worth about three hundred and fifty pounds per annum.
Church of Chartham.
PATRONS,
RECTORS.
Or by whom presented.
The Archbishop . . . .
John Millys, alias Warham, admitted April 18, 1554, obt. Jan. 16, 1561. (fn. 10)
John Fungey, A.M. collated Jan. 10, 1505, obt. Nov. 20, 1596. (fn. 11)
The Queen, by latse
Martin Fetherbye, S.T.B. collated June 10, 1596, vacated 1618. (fn. 12)
The King, jure prig
James Cleland, S.T.P. admitted Oct. 7, 1618, obt. 1627. (fn. 13)
The Archbishop
Isaac Bargrave, S.T.P. admitted June 5, 1628, obt. 1642. (fn. 14)
Edward Corbett, A.M. June 13, 1643, resigned 1646. (fn. 15)
The King, sede vac.
Thomas Woodruff, A.M. instituted Oct. 3, 1646, ejected 1660. (fn. 16)
John Reading, S.T.P. July 28, 1660, obt. Oct. 26, 1667. (fn. 17)
The Archbishop.
Samuel Parker, S.T.P. collated Nov. 6, 1667, vacat. 1686. (fn. 18)
The King, jure preg.
James Jeffreys, S.T.P. admitted Nov. 12, 1686, obt. Sept. 4, 1689. (fn. 19)
The Archbishop.
Henry Wharton, A.M. collated Sept. 19, 1689, obt. March 5, 1694. (fn. 20)
John M. Delangle, S.T.P. collated June 28, 1695, obt. 1724. (fn. 21)
George Fawler Tillesley, LL.B. instituted Dec. 26, 1724, ob. 1759. (fn. 22)
Thomas Forster, A.M. instituted June 15, 1759, obt. Sept. 13, 1764. (fn. 23)
John Fowell, S.T.P. Oct. 10, 1764, the present rector. (fn. 24)