Pages 498-499
The History and Topographical Survey of the County of Kent: Volume 8. Originally published by W Bristow, Canterbury, 1799.
This free content was digitised by double rekeying. All rights reserved.
THE LATH OF ST. AUGUSTINE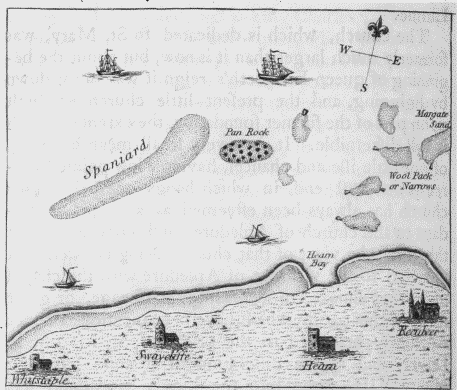 Is the next north-eastward from that of Shipway, being the last remaining to be described in this history. It is not mentioned by the above name in the survey of Domesday, most of the hundreds in it being mentioned there as within the laths of Borowart and Estrei, names met with no where else, and long since forgotten. In some antient records it is called the lath of Hedelinth, and in others Helding; when it gained the name of St. Augustine, I have no where found, but it was some time before the reign of king Edward I. It is wholly within the division of East Kent, and contains within its bounds the following HUNDREDS:
1. WHITSTAPLE.
2. WESTGATE.
3. BLENGATE.
4. PRESTON.
5. WINGHAM.
6. DOWNHAMFORD.
7. KINGHAMFORD.
8. BEUSBOROUGH.
9. CORNILOE.
10. EASTRY, and
11. RINGSLOW.
And likewise
THE CORPORATIONS of DEAL, SANDWICH, Dover, and FORDWICH; the LIBERTY of SEASALTER, the LIBERTY of the VILLE of CHRIST-CHURCH, and of the BOROUGH of LONGPORT, in Canterbury; and the PARISH of BEAKSBORNE, which is a manor of the town and port of Hasting, in Sussex; and it had formerly within its bounds the city of Canterbury, which has been long since separated from it, and made a county of itself, by the name of the COUNTY of the CITY of CANTERBURY.