Pages 167-179
The History and Topographical Survey of the County of Kent: Volume 9. Originally published by W Bristow, Canterbury, 1800.
This free content was digitised by double rekeying. All rights reserved.
ICKHAM
LIES the next adjoining parish to Wickham eastward, being called in the survey of Domesday both Hickham and Gecham, and in other antient records Yeckham, taking its name from the Saxon word yeok, a yoke of arable land, and ham, a village. The whole parish consisting for the most part of arable land. There are three boroughs in this parish, viz. of Cottenham, Seaton, and Bramling.
Ickham lies about five miles eastward from Canterbury. The high road from which to Deal and Sandwich leads through it, across the Lesser Stour, usually called the Littleborne river, its western boundary, just below the ford of which is Ickham, usually called Littleborne mill, though belonging to this manor. The trout bred in this river are esteemed the best coloured, and the finest flavoured of any in either of the river Stours. On the right side of the road, on a very gentle rise from the river, is the house and park grounds of Lee, which form a beautiful picturesque appearance; adjoining to these grounds is Hazeling wood, the only one in the parish, and on still higher ground, more southward, the two estates of Garwinton, which adjoin to Adisham downs, a wholesome pleasant country.—About a mile further on from Lee, the above road passes through the hamlet of Bramling, in which is the court-lodge of that manor, and a modern neat house, built by John Paramore, esq. whose daughter Catherine carried it in marriage to admiral Charles Knowler, who resided in it, and died s. p. in 1788, leaving his widow surviving, who afterwards resided in it, and died in 1792, the year after which it was sold to Henry Rice, esq. who died in 1797, and his widow at present resides in it.
The village of Ickham, in which is the church and court-lodge, stands in a low flat country, very wet and unpleasant, the road through it being but little frequented. Further northward is the borough and hamlet of Seaton, beyond which is a level of marsh-land, containing about one hundred acres within this parish, which is here bounded by the Lesser Stour and the Wingham river. The soil throughout it is in general fertile, especially those two large extensive fields between the village and the Canterbury road, called Ickham and Treasury fields. A fair is held in the village on Whit-Monday, for pedlary and toys.
Offa, king of Mercia, in the year 791, gave to Christ-church, in Canterbury, fifteen plough-lands in Ickham, Perhamsted, and Roching; and in several dens in the sorest of Andred, the pannage of hogs, which he granted free from all secular service and regal tribute, which was afterwards increased by one Athelward, who in the year 958, gave more lands here to that church. (fn. 1) After which this manor continued part of that church's possessions, and on the division made by archbishop Lanfranc between himself and the priory, it was allotted to the share of the latter; accordingly, in the survey of Domesday, it is thus entered:
In Dunebafort hundred, the archbishop himself holds Gecham. It was taxed at four sulings. The arable land is twelve carucates. In demesne there are three, and twenty-nine villeins, with sixty cottagers having sixteen carucates and an half. There is a church, and four mills of one hundred shillings, and thirty five acres of meadow, and wood for the pannage of thirty hogs. The whole manor was worth, in the time of king Edward the Confessor and afterwards, twenty-two pounds, now thirtytwo pounds. Of the land of this manor, William his tenant holds as much as is worth seven pounds.
This manor was assigned by the convent ad cibum, that is, to the use of their refectory. In the 10th year of king Edward II. the prior of Christ-church ob. tained a grant of free warren in all his demesne lands in this manor among others, about which time it was, with its appurtenances, valued at seventy-two pounds. The buildings here were much improved by prior Chillenden, about the year 1400, who new erected all of them, excepting the dove-cote and one chamber; and prior Sellinge, about 1480, not only made the prior's chamber more pleasant, but built a dormitory likewise for the brethren resorting hither. At which time this manor was let to serme, at the yearly rent of 661. 13s. 4d. In which state it continued till the dissolution of the priory in the 31st year of Henry VIII. when it came into the king's hands, where it did not continue long, for the settled it, among other premises, in his 33d year, on his new-erected dean and chapter of Canterbury, part of whose inheritance it still continues. A court baron is regularly held for this manor, which extends over part of the parishes of Rucking and Snave, and Ivechurch, in Romney Marsh.
The dean and chapter retain to themselves the court baron and all royalties, rents of assise, &c. and a certain fishing, called Grypping, with all commodities belonging to it. BUT THE COURT-LODGE, with the watermill and demesnes of the manor, with all waters, rivers and ways, together with all customs of sowings, harvesting, &c. and carriages of the manor due from the tenants, are demised by them on a beneficial lease for three lives, the interest of which is now vested in Thomas Barrett, esq. of Lee.
The Bay farm, antiently called the manor of Baa, though now it has lost even the name of having been one, and is reputed as part of the paramount manor of Ickham, was in former times accounted as such. It is situated about a quarter of a mile from the village, and had antiently possessors of the same surname, as appeared by an old fragment of glass in this church, of which were left only the words Hic . . . . de Ba . . . . and under a coat of arms, viz. Or, a lion rampant, sable, crowned, argent, was written in old French capitals, Thomas de Ba, of which there are now no remains left. He is supposed to have resided at this mansion, and to lie buried in the south chancel of this church, which is still called by his name, where, under an arch in the wall, his essigies, habited in armour, still remains lying on a tomb at full length, almost entire, but without any inscription. After this family was extinct here, the Wendertons, of Wenderton, in Wingham, became owners of it, and continued so till John Wenderton, in the 1st year of king Henry VIII. passed it away to archbishop Warham, who at his death in 1533 gave it to his youngest brother Hugh Warham, esq. of Croydon, and he gave it in marriage with Agnes his daughter to Sir Anthony St. Leger, lord deputy of Ireland, whose son Sir Warham St. Leger, of Ulcombe, sold it to Stephen Hougham, of Ash, who, as appears by his will, anno 1556, had the year before enseoffed John Gayson in this estate, called Baa, otherwise the Bay, with the Baa-field, in Ickham. He seems to have sold it to Denne, of Denne-hill, in Kingston, and his son Thomas Denne, esq. recorder of Canterbury, about the middle of queen Elizabeth's reign, alienated it to Curling, who passed it away by sale to Valentine Austen, who resided at it, and in the 14th year of James I. conveyed it to his son Richard Austen, gent. in whose descendants it continued till it was sold to Gillow, in which it remained till Richard Gillow, of Woodnesborough, alienated it, in the year 1704, to John Gibbs, of Adisham, whose direct descendant Mr. Richard Gibbs, of Ickham-court, is the present owner of it.
Bramling is a manor, in the south-east part of this parish, which, about the year 784, was given by one Wullaf to the monks of Christ-church, in Canterbury, who had it of the gift of king Edwlf, confirming the same. After which, though this place is not particularly mentioned in the survey of Domesday, yet it appears to have continued part of the possessions of the priory, for king Edward II. in his 10th year, granted to the prior free-warren within this manor. (fn. 2) At the dissolution of the priory, in the 31st year of king Henry VIII. it came into the king's hands, where it did not remain long, for he settled it, in his 33d year, by his dotation charter, on his new-founded dean and chapter of Canterbury, where the inheritance of it remains at this time.
It is demised on a beneficial lease, by the dean and chapter, to Mr. Richard and John Holness, of Littleborne, whose ancestors have been lessees of it for many years past.
Apulton, or Appleton, as it is now called, lies at a small distance southward from Bramling, in the southeast part of this parish, extending into Wingham likewise. It was once esteemed a manor, though it has long since lost all reputation of ever having been one, paying now a quit-rent to the paramount manor of Ickham, part of which it is at this time accounted. It is written in old deeds, Apylton, from its being the inheritance of a family of that name, for in one of them, made by Reginald de Cornhill, owner of Lukedale and the adjoining precinct of Welle, one William de Apylton, of Ickham, is a witness to it, but whether they were related to the Apyltons, of Essex and Suffolk, is uncertain. After this family was extinct here, the Denis's were become possessed of it, one of whom, John Denis, of Apulton, who was sheriff of London in the year 1360, anno 35 Edward III. founded a chantry here in that reign, which was called Denis's chantry, and the lands with which it was endowed, are still called Denis's lands. After this family, one Adam Oldmeade appears by the private deeds to have been owner of it in the reigns of king Henry V. and VI. from whom, before the latter end of the reign of the latter, it had passed by sale to Bemboe, who alienated it to Hunt, in which name it did not remain long, for about the latter end of king Henry VII's reign, it was become the property of Dormer, descended from the family of that name in Buckinghamshire; from which name, not many years after, it was sold to Gason, a name very antient in this parish, from which it was afterwards conveyed to Hodgekin, whose ancestors were formerly possessed of Uffington, in Goodnestone, near Wingham, in whose descendants the property of it did not remain long before it was sold to Francis Rutland, gent. and he alienated it to John Winter, clerk, prebendary of Canterbury, who in 1605 devised it to John his son, his lands and tenements in Ickham, called Appington, (fn. 3) and by him it passed by sale to Denne, of this parish, from which name, in king Charles I.'s reign, it went by sale to Forster, in whose family it continued till the year 1680, when one half of it was purchased by Sir James Oxenden, of Dean, in whose family it continued down to Sir George Oxenden, bart. of Dean, who purchased a further part of this estate, being three eighths of it, of which, and the moiety above-mentioned, he died possessed in 1775, and his son Sir Henry Oxenden, bart. of Brome, is the present owner of them; but the remaining eighth part continued in separate owners, and continued so till Mr. Simon Durrant, of London, lately passed away that part of it likewise to Sir Henry Oxenden, bart. who is now possessed of the whole of it.
Lee is a seat, situated in the south-west part of this parish, at a small distance from the river. It was formerly spelt Legh, and belonged to a family who took their surname from their residence at it, one of whom, Richard de la Legh, was owner of it in Edward I.'s reign, as appears by a deed of the 13th year of it, and it is probable that the tomb in the wall of the Lee chancel in this church, on which is the figure of an antient man, lying at full length, belonged to him. How long it continued in his descendants, I have not found; but at the latter end of king Edward IV.'s reign, the family of Stoks, or Stokys, as they were sometimes written, were become owners of it. After this name was become extinct here, it came by sale in James I.'s reign into the possession of Sir William Southland, who bore for his arms, Or, a dragon rampant, with wings inverted, vert, on a chief, gules, three spears heads, argent; assigned to him in 1604, by William Camden, clarencieux. (fn. 4) He resided at this seat, which at length descended to his grandson Thomas Southland, esq. who in 1676 alienated it to Paul Barrett, esq. afterwards knighted, who was a sergeant-at-law and recorder of Canterbury, who bore for his arms, Or, on a chevron, sable, three lions passant of the field, between three mullets, pierced of the second. His grandson Thomas Barrett, esq. was of Lee, where he died in 1757, and was buried in the Lee chancel, in Ickham church, as were his four wives, the first being Anne, daughter and coheir of Sir William Boys, M.D. by whom he had three sons, who died insants; the second, Elizabeth, daughter and heir of Peter Peters, M. D. of Canterbury, by whom he had an only daughter Elizabeth, married to the Rev. William Dejovas Byrch, of Canterbury; the third, Sarah, daughter and heir of Hercules Baker, esq. by whom he had no issue; and the fourth, Katherine, daughter and at length heir of Humphry Pudner, esq who surviving him, died in 1785, by whom he left an only son and heir Thomas Barrett, esq. who is now of Lee, and the present possessor of this seat.
The house of Lee, which was but indifferent before, has been, by the skill and art of Mr. Wyatt, admirably improved in the disposition of the apartments, among them is a most beautiful library, finished in the most perfect stile of gothic taste. The three fronts of the house convey an idea of a small convent, never attempted to be demolished, but partly modernized, and adapted to the habitation of a gentleman's family; and the gently rising ground, antient spreading trees, and the adjoining rivulet, seem to correspond with it, and to form a scite selected by monks, with a view to retirement and meditation, while at the same time no distant prospects tantalized them with views of opulence and busy society. In the house is a small but curious collection of pictures.
Well is a district on the west side of the river, next to Littleborne, which, so late as the beginning of king James I.'s reign, was esteemed as part of that parish, but it has been for a number of years past annexed to the parish of Ickham. Though the chief part of it is situated as above-mentioned, yet there are some small parts, separated by other parishes intervening. THE MANOR of it, usually called WELL-COURT, stands close to the bank of the river, and was in very early time the property of the family of Clifford, from whom it passed into the possession of those who took their surname from it, the trustee of one of whom, John at Welle, in the 44th year of king Henry III. sold it to Reginald de Cornhill, who lest by Matilda de Lukedale his wife, an only daughter and heir, who carried this manor in marriage to one of the family of Garwinton, whose descendant Thomas de Garwinton obtained the king's licence in the 30th year of king Edward III. to suppress the chantry held here, and to grant that part of its revenues which lay at the Wike to St. John's hospital; in Northgate, and to keep possession of the scite of the chantry, and the lands belonging to it at Lukedale, to him and his heirs; in which name it descended down to Mr. William Garwynton, who dying s. p. it came to his next heir Joane, married to Richard Haut, of a younger branch of those of Bishopsborne, in whose descendants it continued down to Richard Haut, who leaving an only daughter and heir Margery, she carried this manor in marriage to William Isaak, esq. of Patrixborne, whose son Edward Isaak leaving by his first wife, an only daughter and heir Jane, she carried it in marriage to Martin Sidley, esq. of Great Chart, and their son Sir Isaac Sidley sold it to Sir Henry Palmer, of Bekesborne, who had married his mother Jane before-mentioned. Sir Henry Palmer died possessed of it in 1611, and by will devised it to his old servant, as he stiles him in his will, John White, in tail general, remainder to his son inlaw Sir Isaac Sidley, above-mentioned. How it passed afterwards, I have not found; but in the year 1680 it was become the property of Mr. Francis Jeoffery, whose only daughter and heir Elizabeth entitled her husband John Knowler to it, and they afterwards joined in the conveyance of it to Robert Daines, who left it by will in 1733 to Daines Balderston, and he in 1750 passed it away to his father Captain George Balderston, of Dover, who died in 1751, leaving his wife Sarah surviving, whose trustees in 1775 sold it to Sir Philip Hales, bart. and he in 1787 alienated it, with other adjoining estates, to Isaac Baugh, esq. the present owner of it, who has since built a seat for his residence, on the rise of the hill, within this precinct, about a quarter of a mile distant from the courtlodge of it.
The ruins of the chapel or church of Well, adjoining to the court-lodge, are still remaining. It was entire in 1535, in which year Thomas Franklyn, parson of Ickham, devised a legacy to the repair of it. On the next page is a view of the ruins of it.
Charities.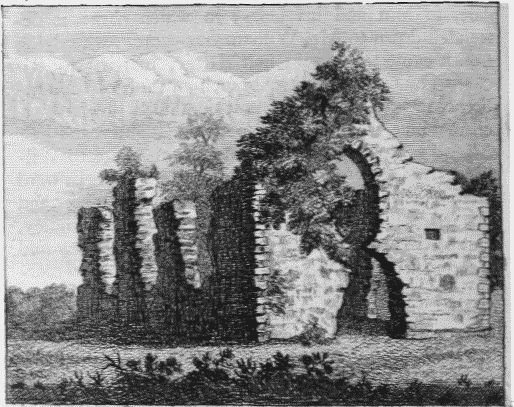 RICHARD TOWNLY, of Ickham, by will in 1525, devised his house and garden to this church, for the ringing of the curfew, to be continued for ever, whoever should ring the same to have the yearly profit of it, to ease the parishioners of the cost.
A PERSON UNKNOWN gave for the repair of the church, half an acre of land, near Nayland's gate, now let at seven shillings per annum.
SIR HENRY PALMER, of Bekesborne, by will in 1611, gave the yearly sum of 10s. to be yearly paid out of his manor of Well-court, to the minsiter and churchwardens, toward the relief of the poor.
SAMUEL HURLESTONE, A. M. rector of Ickham, gave by will in 1616, to the use of the poorest people in Ickham, 20l. the yearly profits of which should be 20s. which should be paid at Lent and Twelsth-tide yearly.
RICHARD DENN, of this parish, by will in 1616, gave his house and lands, beside Ickham mill, now let at 61. per annum; that out of the profits 10s. should be paid for the preaching of each of two sermons yearly, the rest of the rent to be distributed at the end of each sermon, to the poor of this parish dwelling in it.
JOHN DENNE, of Ickham, by will in 1635, gave to the poor 10s. to be paid to them yearly on the Sunday next after Christmas-day, out of a piece of land, called Woodleze, in Ickham.
RICHARD AUSTEN, by his will in 1645, charged his farm, called the Bay, with 10s. per annum, to be applied to the purchase of cloth for the poor of this parish. Which land is now vested in Mr. Richard Gibbs.
The poor constantly relieved are about thirty, casually the same.
THIS PARISH is within the ECCLESIASTICAL JURISDICTION of the diocese of Canterbury, and deanry of Bridge.
The church, which is exempt from the jurisdiction of the archdeacon, is dedicated to St. John. It consists of three isles, a cross sept, and high chancel, having a slim spire steeple at the west end, in which hang four bells. It is handsome, and kept neat. In the high chancel is a stone, with a cross flory, and old French capitals round the edge, obliterated. A memorial for Sir Richard Head, bart.obt. 1721. Underneath is a large vault, in which several of this family lie buried, among them the late Sir John Head, bart. archdeacon of Canterbury, his two wives, and his children, who all died infants. A memorial for admiral Charles Knowler, obt. 1788. The transept, or south chancel, called the Bay chancel, belongs to that estate. On a tomb, under an arch in the south wall, is the figure of a man in armour, with his hands joined together and uplisted, lying at full length, pretty entire, probably for Thomas de Baa, owner of that manor. On the pavement are several stones, with old French capitals round the edges, all obliterated, excepting one for Martin de Hampton, rector of this parish and prebendary of Wingham, obt. 1306. Several memorials of the Austens, owners of Bay farm. The north transept or chancel is called the Lee chancel, belonging to that seat, under which is a large vault, in which lie several of the Barrett family. On the pavement is a memorial for dame Sarah Barrett, daughter of Sir George Ent, widow of Francis Head, esq. of Rochester, and married secondly to Sir Paul Barrett, of Canterbury, obt. 1711, arms, Barrett, impaling Ent, azure, a chevron, between three falcons belled, or. Under an arch in the north wall is the figure of an old man, lying at full length on a tomb, his hair cut short, with a cap on his head, and his hands joined and uplifted, most probably for Richard de la Legh, owner of this seat. Against the east wall is a monument for the right hon. Sir William Southland, of Lee, obt. 1638. About seventy years ago there were eighteen stalls in the chancel of this church, which were used by the prior and monks of Christchurch when they resorted hither, as well as for others of the clergy who should be present here at divine service. In the church-yard, near the porch, is a tomb for the Paramors, of Ickham; several tombstones and memorials for the family of Gibbs, of the court-lodge; and one for Margaret, wife of Valentine Austen, obt. 1615. At the west end of the steeple is an antient circular arch, with indented ornaments. In the windows of this church there were formerly the arms of Fitzalan, and of the priory of Christ-church; both long since destroyed. There was a chapel in it, dedicated to St. Thomas, which had a light perpetually burning in it.
The church of Ickham was antiently appendant to the manor, and continued so at the dissolution of the priory of Christ-church in the 31st year of Henry VIII. when it came into the king's hands, who afterwards, in his 33d year, settled the manor on his new-founded dean and chapter of Canterbury, but he granted the advowson of the rectory of this church in exchange to the archbishop, in which state it now continues, his grace the archbishop being the present patron of it.
It is valued in the king's books at 29l. 13s. 4d. and the yearly tenths at 2l. 19s. 4d. In 1588 it was valued at 150l. communicants two hundred and five. In 1640 it was valued at 250l. the like number of com municants. It is now of the value of about 450l. per annum. There are twenty acres of glebe.
The rector is collated to the rectory of Ickham, with the chapel of Well annexed.
Church of Ickham, with the Chapel of Well annexed.
PATRONS,
RECTORS.
Or by whom presented.
The Archbishop.
Meric Casaubon, S. T. P. Oct. 1662, obt.July 14, 1671. (fn. 5)
Samuel Parker, S. T. P. July 1671, obt. March 20, 1687. (fn. 6)
George Thorpe, S. T. P. April, 1687, obt. Nov. 1719. (fn. 7)
Charles Bean, A. M. Feb. 1721, obt March 30, 1731. (fn. 8)
John Lynch, S. T. P. May 20, 1731, obt. 1760. (fn. 9)
John Head, bart. S. T. P. June 1760, obt. December, 1769. (fn. 10)
Hon. James Cornwallis, A. M. Dec. 1769, resigned June, 1771. (fn. 11)
William Backhouse, S. T. P. July, 1771, obt. August 29, 1788. (fn. 12)
Houstonne Radcliffe, S. T. P. Dec. 1788, the present rector. (fn. 13)