Pages 12-15
Survey of London Monograph 15, St Bride's Church, Fleet Street. Originally published by Guild & School of Handicraft, London, 1944.
This free content was digitised by double rekeying and sponsored by English Heritage. All rights reserved.
4. CLERGY AND PARISHIONERS, FIFTEENTH AND SIXTEENTH CENTURIES
The building of the fine Church that St Bride's came to be in the fifteenth century was the work of an active and zealous parish, which through its guilds and the numerous bequests of its parishioners has left us a record of the eager interest taken in the parish Church. The rectors, though often men of wider activities and holding other benefices as well as St Bride's, seem to have joined with vigour in the good work. William Denys, rector from 1403 to 1407, left to St Bride's by his will, dated 1412, two vestments, one black and the other red, embroidered with lions, as well as legacies to its chaplains. (fn. 1) He had held office in York Minster and was at one time rector of Beddington, Surrey. While rector of St Bride's he held the prebend of North Alton in the diocese of Sarum. In 1407 Henry Harburgh was instituted to the rectory before he was ordained deacon and priest. (fn. 2) He held the prebend of Slape in Sarum and became treasurer to Salisbury Cathedral. In 1422 Thomas Vaux (Fawkys), 'of noble birth', was granted a dispensation to hold the rectory of 'St Brigide without the walls of London', together with a canonry at Bangor and yet another benefice. (fn. 3) A subsequent grant of 1431 permitted him to enjoy also the canonry of Heytesbury and the prebend of Swalecliffe. (fn. 4) He remained at St Bride's for thirty-seven years, and during this time several notable bequests were made to the Church, including John Hill's augmentation of Wygan's chantry (1437) and the foundation of John Ulsthorpe's chantry (1432) and further legacies of the same benefactor. Thomas Vaux died in 1459, when his will, dated the year before, was proved. (fn. 5) In it he desired to be buried in the nave before the great cross, under the marble stone which he had prepared, and provided for masses for his own soul and those of Mary his mother and Robert, Bishop of Sarum, at the altar of St Anne. He left costly legacies of plate and vestments of cloth of gold to his parish Church. He was succeeded by John Vaux (Fawkys), no doubt a relative, who became Dean of Windsor and died in 1471. (fn. 6)
In February, the same year, Dr Henry Sharpe was instituted, (fn. 7) but after six months he exchanged with Thomas Ardern (fn. 8) (from Little Haddenham, Herts), who died a month later. He made his will in August (proved in September), directing his burial in the Church. (fn. 9)
On the latter's death Dr Alexander Legh (Lyeghe) succeeded (fn. 10) and remained fourteen years, during which time he was frequently employed by the King on embassies to Scotland. He was apparently born in Scotland, but was educated at Eton and King's College, Cambridge. From 1468 to 1473 he was rector of Fen Ditton, Cambs, and in 1469 was a Canon of Windsor. In September 1470 he and Alexander Carlisle, Sergeant of the minstrels, gave Edward IV information of the treason of John Neville, Marquis of Montagu, and probably saved the King's life. This service led to many preferments. He was given a prebend in York Minster the same year that he came to St Bride's (1471) and was appointed King's Almoner. Beside his Scottish embassies, he became a Councillor for Berwick-on-Tweed and was chosen one of the Commissioners to survey the walls and bridge of Newcastle-on-Tyne, and in 1484 was a Commissioner to carry out the truce with Scotland. The next year he resigned the living of St Bride's, became temporal Chancellor of Durham Cathedral in 1490, and died in 1501. (fn. 11) It was during Legh's incumbency that Edward IV granted the Guild of St Mary its charter of incorporation, a privilege doubtless obtained more easily through the royal favour shown to the rector.
In 1485 Richard Baldry was instituted but was followed in the same year by Thomas Jane, or Janyn. The new rector had been educated at Winchester and New College, Oxford, of which he was Fellow 1454–72. He had held livings in Essex and Middlesex before St Bride's and had a prebend in St Paul's from 1471 to 1499 as well as being Archdeacon of Middlesex. In 1497 he was made a Canon of Windsor and Dean of the Chapel Royal and resigned St Bride's on becoming Bishop of Norwich (1499), the year before his death. (fn. 12) The name of his successor, the last of the rectors, is at present unknown.
The appropriation of the rectory by the Abbot and Convent of Westminster in 1505 was the first of the changes that were to follow each other in rapid succession during the sixteenth and seventeenth centuries. Vicars were henceforth to be appointed by the Abbey at a stipend of £16 a year, and the first name we meet is Nicholas Myles, who, as already noticed, may have been the Dr Miles whose murder is related by Stow. His death occurred in 1529 and his successor was William Mott or Mote. (fn. 13) He is known to have held the livings of Willingdale Doe, Essex, St Margaret, Westminster, St Gabriel Fenchurch, Hadley ad Castrum and Thaxted, both in Essex. He resigned the next year in favour of William Saxey (fn. 14) who was vicar until 1543.
In 1534 the pioneer printer and pupil of Caxton, Wynkyn de Worde, was buried in the nave of the Church. In June 1537 a Carmelite friar named Robert Austin preached at St Bride's and was challenged for his authority which he gave as that of the Bishop of London. In the sequel a complaint was made against him to the Council of State, but the result is not recorded. (fn. 15)
In Saxey's time Westminster Abbey was dissolved (1540) and William Benson, the Abbot, became Dean of the new Cathedral. The patronage of St Bride's thereupon devolved upon the Dean and Chapter, and their first presentation was John Cardmaker alias Taylor, the Protestant martyr, who succeeded to the vicarage on Saxey's retirement in 1543. (fn. 16) He had been an observant friar at Cambridge, and at his presentation to St Bride's 'renounced the presumed jurisdiction and power of the Bishop of Rome'. He became a Canon and (in 1547) Chancellor of Wells Cathedral and was a reader in St Paul's, where his sermons won public attention by his denunciation of Rome. In Mary's reign he was convicted of heresy and burnt at Smithfield on 30 May 1555. (fn. 17) John Cardmaker had resigned the living in 1551, while Edward VI was on the throne, but it was in his time that St Mary's Guild and the five chantries were dissolved and the Church stripped of its ornaments by the King's Visitors. An account of the guilds and chantries is given elsewhere, and the inventory of the Church plate and vestments, a notable treasure bequeathed by former rectors and wealthy parishioners, is extant and has been printed in full by Mr H. B. Walter. (fn. 1a) It is difficult to realise the complete revolution that these changes must have made in so finely appointed a Church as St Bride's, and the loss in sheer beauty that must have resulted. Cardmaker seems to have found the work of spoliation a congenial task, and he was among the purchasers of some of the vestments. From this time Puritan views gained strength in the congregation and controversy became more popular than ceremonial. We learn that from the proceeds of the sale of the ornaments of the Church a fair Communion cup of silver was purchased, and it seems that a Communion table was obtained at the same time. Some of the money went to the repair of the Church, and some to charity, as to the nursing and bringing up of a foundling child, 'laid in the street', and pensions and loans to sundry folk in need. (fn. 18)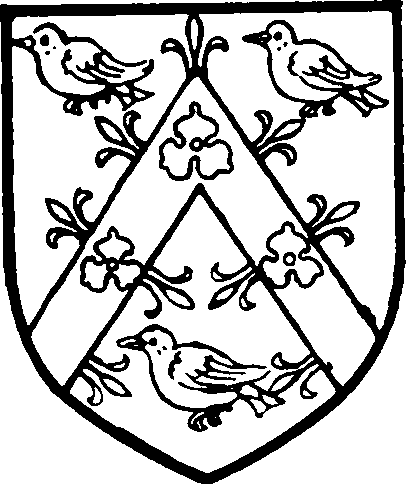 Christopher Whitton, who succeeded Cardmaker as vicar in 1551, (fn. 19) died the following year, and John Hurlestone, a former Carmelite of Cologne, was appointed in his stead. (fn. 20) He exchanged, in 1554, with Thomas Marshall, (fn. 21) a Fellow of Magdalen College, Oxford, who held prebends at Southwell and Lincoln, and was at St Bride's throughout Mary's reign, when the Abbot and Convent of Westminster were for a short while revived. In 1555 Thomas Berthelet, the King's Printer and a noted bookbinder and bookseller whose shop was at the Lucretia Romana in Fleet Street, was buried in St Mary's Chapel. Machyn relates: 'The same afternoon was buried Master Berthelet, Esquire and printer until King Henry; and was buried with pennon and with cote-armour and four dozen of escutcheons and two white branches and four gilt candlesticks, and many priests and clerks and many mourners and all the crafts of printers, booksellers and all stationers.' (fn. 22)
In Mary's reign it seems that some effort was made to refurnish the Church, for the following extract from John Stow must refer to a new rood screen: 'The partition betwixt the olde worke and the new, sometime prepared as a screne to be set up in the hall of the Duke of Somerset's house at Strand, was bought for eight score pound and set up in the yeare 1557.' (fn. 23) He adds: 'One wilfull bodie began to spoyle and breake the same in the yeare 1596, but was by the high Commissioners forced to make it up againe, and so it resteth.'
Thomas Marshall was followed in 1559 by William Living (fn. 24) who also held the rectory of St Swithin, Cannon Street. Two funerals during his time are described by Machyn, the first reminding us of the important Hospital of Bridewell, hard by the Church. 'The first day of September (1562) was bered in the parryche of Sant Brydes in Fletstrett, Master Hulsun, screvener of London and Master Heywood's depute, and on of the masturs of Brydwell; and ther wher all the masturs of Brydwell with gren stayffes in their handes, and the children of the hospetell at ys berehyng; and ther was mony mornars in blake, and Master Crowley dyd pryche; and ther was grett ryngyng as ever was hard.' (fn. 25)
Next year (1563) there was a more stately funeral. 'The XX of Feybruary was bered at Sant Brydes in Fletestrett Master Denham Sqwyre, and the chyrche ther was mad rayled and hanged with blake and armes, and he was cared to the chyrche, afor him a mornar bayryng a pennon of armes and after cam a harold of armes bayryng ys cott armur, and then cam the corse with a palle of blake velvett with armes on yt and iiij of ys men bare hym; and then the mornars, the cheyffe was Ser Rechard Sakfeld (Sir Richard Sackville) and a XX mo mornars; and the dene of Westmynster and the sermon.' (fn. 26)
William Living resigned in 1565 and was afterwards rector of St Mary Abchurch and died in 1582. Nothing is known of his immediate successors. John Price (fn. 27) (1567), Richard Matthew (fn. 28) (1568), Hugh Evans (fn. 29) (1569) and Nicholas Clark (fn. 30) (1570–1) appear in the Westminster Abbey documents as in receipt of salary for these years. In 1573 Queen Elizabeth presented Thomas Knell, (fn. 31) sometime vicar of Acton and of Hackney. He resigned before December of the same year and was succeeded in 1574 by Roger Foster, (fn. 32) Fellow of St John's College, Cambridge, who enjoyed the benefice for eighteen years and on his death in 1592 was buried at St Bride's. The next vicar, Richard Lloyd, (fn. 33) lived for little over a year and was buried in the parish church on 19 October 1593. On his death the Dean and Chapter intended to present Dr Gabriel Grant (fn. 34) (a later Canon of Westminster), but the presentation was actually made to Henry Holland (fn. 35) in February 1594. He was educated at Magdalene College, Cambridge, and was vicar of Orwell, Cambs, before coming to St Bride's. He published several books, among them: A Treatise against Witchcraft (1590), Spiritual Preservatives against the Pestilence (1593), The Christian Exercise of Fasting (1596), An Admonition concerning the use of Physic in the Pestilence, and Lectures upon the Epistle of Paul to the Colossians (1603). (fn. 36) Three of his children were baptised at St Bride's, and Mary his widow was buried here on 24 June 1641. Holland died in 1603.