Pages 209-219
Survey of London Monograph 16, College of Arms, Queen Victoria Street. Originally published by Guild & School of Handicraft, London, 1963.
This free content was digitised by double rekeying and sponsored by English Heritage. All rights reserved.
ROUGE CROIX PURSUIVANT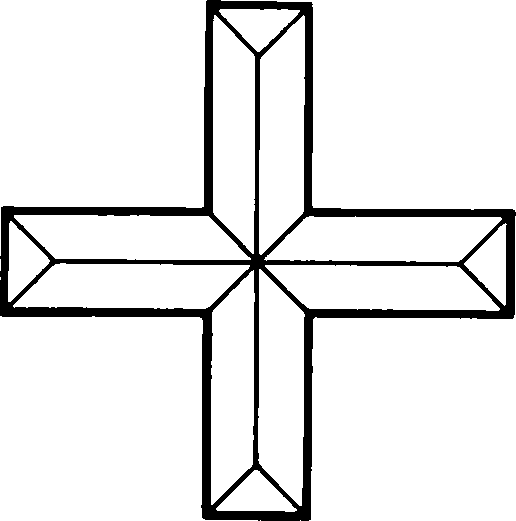 Rouge Croix or Red Cross took his name from the red cross of St George, badge of the Order of the Garter and sometime national flag of England. He is said to be the oldest of the four pursuivants in ordinary, but the earliest known mention of the title is in 6 Hen. V, 1418–19, when Rouge Croix was at Caudebec.
Badge: A red cross, either couped or in a white roundel.
1. NICHOLAS SERBY (temp. Hen. IV). See Leopard (2).
2. WILLIAM BOYS (temp. Hen. IV). See Norroy (8).
3. GILES WASTER (temp. Hen. V). See Mowbray (3).
4. ROGER LEGH or LYGH (temp. Hen. V). See Clarenceux (5).
5. JOHN WRYTHE (temp. Hen. V). See Garter (3).
6. JOHN MOWBRAY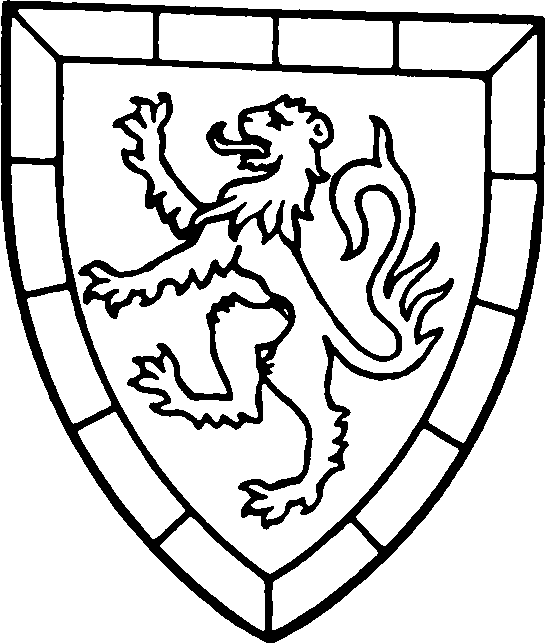 Cadran, temp. Hen. V.
Rouge Croix, 9 Hen. V.
Exeter, temp. Hen. VI.
Clarenceux, temp. Ed. IV.
Arms: Gules, a lion argent in a border gobony or & azure. Probably meant for John Cosoun. See Clarenceux (4).
7. ROBERT ASHWELL (temp. Hen. VI). See Windsor (4).
8. JAMES BILLETT (temp. Hen. VI). See Chester (3).
9. JOHN MALLETT (temp. Hen. VI). See Clarence (3).
10. ROBERT DUNHAM (temp. Hen. VI). See Exeter (2).
11. RICHARD ASHWELL (temp. Hen. VI). See Ireland (6).
12. JOHN BALLARD (temp. Hen. VI). See Windsor (6).
13. THOMAS HOLME (temp. Hen. VI). See Clarenceux (7).
14. JOHN MORE (temp. Hen. VI). See Norroy (12).
15. WILLIAM CARLILL (temp. Ed. IV). See Richmond (4a).
16. ROGER STAMFORD (temp. Ed. IV). See Chester (9).
17. RICHARD SLACKE (temp. Ed. IV). See Windsor (9).
18. JOHN WATER or WALTER (temp. Ed. IV). See York (3).
19. THOMAS BENOLT (temp. Ed. IV). See Clarenceux (10).
20. THOMAS WATERS (temp. Ed. IV). See Carlisle (3).
21. ROBERT BROWNE (temp. Ed. IV). See Richmond (6).
22. WILLIAM JENYNS (temp. Ed. IV). See Chester (12).
23. THOMAS TONGE (temp. Ed. IV (sic)). See Clarenceux (11).
24. GEORGE BERRY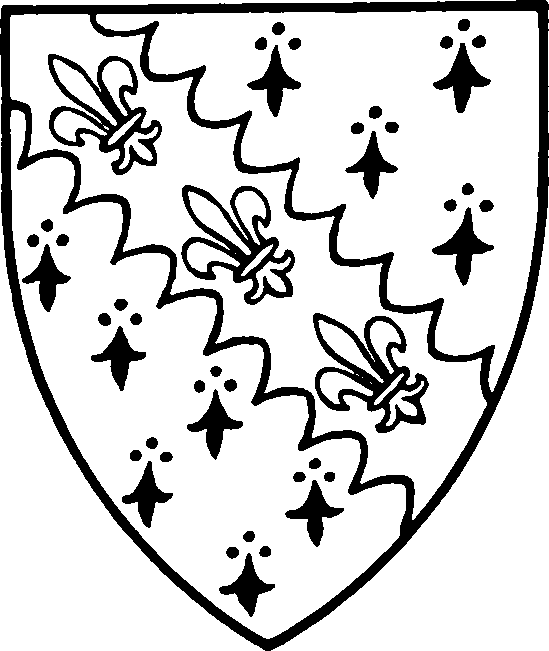 Comfort, temp. Ric. III.
Rouge Croix, 1484.
Said to have been previously Comfort.
Arms: Ermine, on a bend azure 3 fleurs de lis or. Guillim (1724), p. 128, engrails the bend.
25. RICHARD GREENWOOD
Rouge Croix, c. 23 September 1485.
Probably Henry VII's servant before Bosworth Field and appd Rouge Croix on Henry's accession, for pat. 26 September 1485 (p. s. 23 September), calls him Richard Grenewode... Rougecroix pursuivant and appoints him bailiff of 'Richmond Fee', co. Norfolk, for services as well overseas as in England. In 4 Hen. VII attended Lord Brooke in Brittany.
A pat. 12 March 1492 granted Rouge Croix annuity of £10 which the lately deceased Rouge Dragon had. Uncertain whether that refers to Greenwood or marks the appointment of his successor; in former case was still living 10 Hen. VII.
26. NAME UNKNOWN (1492). 12 March 1492 patent granting salary to an unnamed Rouge Croix, perhaps newly appointed.
27. WILLIAM WRIOTHESLEY (c. 1505). See York (6).
28. THOMAS HAWLEY (1509). See Clarenceux (12).
29. LAURENCE DE LA GATTA or DE LA YATE
Rouge Croix, pat. 2 February 1515.
Sent to Scotland 1515 and 1516; attended Field of Cloth of Gold 1520, but d. later that year or early 1521.
30. THOMAS WALL (1521). See Garter (5).
31. CHARLES WRIOTHESLEY (1524). See Windsor (13).
32. BARTHOLOMEW BUTLER (1535). See Ulster (1).
33. THOMAS STEVENSON
Berwick, c. 1536.
Rouge Croix, p.s. 18, pat. 20 September 1538.
Was Berwick vice Leonard Warcop, who was promoted to Carlisle 2 August 1534; 1536 sent to Preston and captured by northern rebels; 1537 in Scotland; August 1538 sent with despatches to the English ambassador with the Emperor; Rouge Croix soon after; d. 1540.
34. GILBERT DETHICK (1540). See Garter (7).
35. JUSTINIAN BARKER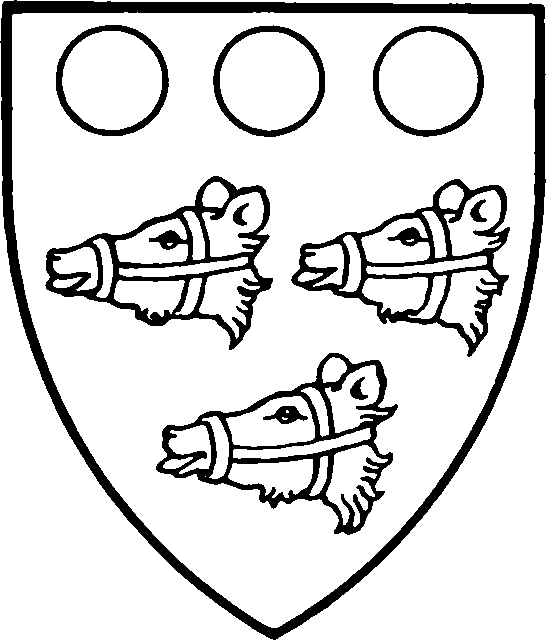 Risebank, temp. Hen. VIII.
Rouge Croix, p.s. 5, pat. 24 February 1541.
B. 30 September 1522, elder s. of Sir Christopher Barker, Garter. Said to have been previously Risebank. D. on duty in Spain 1543.
Arms: As his father.
36. WILLIAM FLOWER (1543). See Norroy (26).
37. LAURENCE DALTON (1546). See Norroy (25).
38. SIMON NEWBOLD or NEWBALD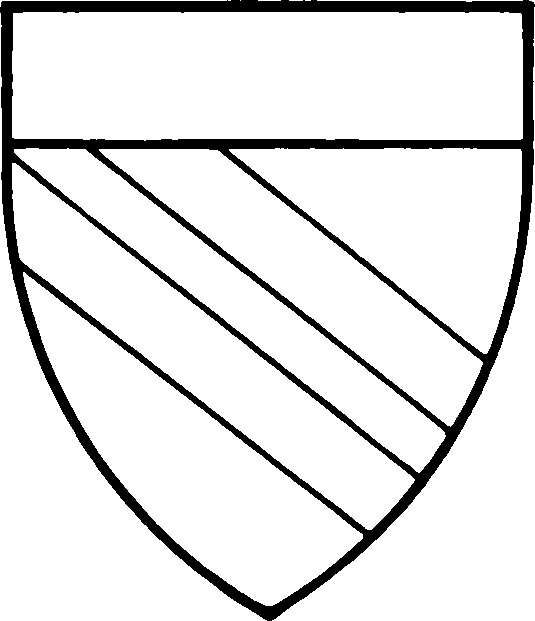 Boulogne, ? 1544.
Rouge Croix, p.s. 23, pat. 27 March 1547.
Probably the anonymous Boulogne who carried despatches from and to Boulogne July 1546; perhaps cr. 30 September 1544, when Henry VIII knighted some officers who had taken part in capture of Boulogne; Rouge Croix 1547; in Scotland c. October 1547 till after Twelfth Day 1548; d. between June 1549 and January 1550.
Arms: Azure, 2 bends and a chief argent.
39. NICHOLAS TUBMAN (1550). See Lancaster (18).
40. HUGH COTGRAVE (1553). See Richmond (13).
41. WILLIAM DETHICK (1567). See Garter (8).
42. THOMAS DAWES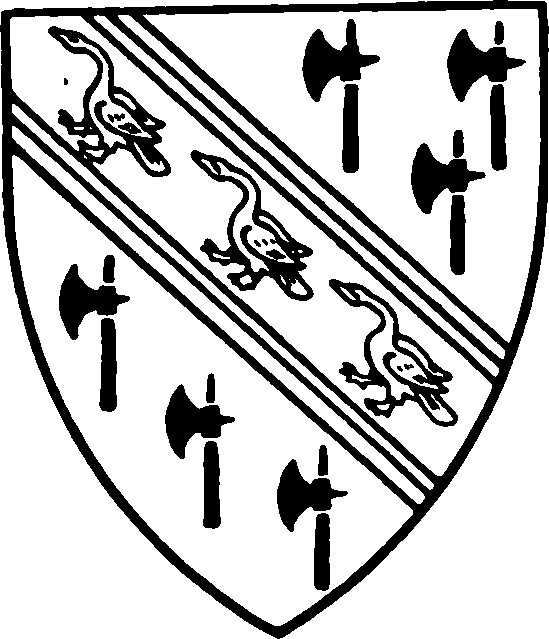 Rouge Croix, pat. 24, cr. 25 March 1570.
S. of Thomas Dawes of Staffordshire. In 1576 was censured for wearing his tabard as a herald, i.e. in the normal way instead of with the sleeves fore and aft as was then the rule for pursuivants. 1578 published an engraving of the Garter procession on St George's Day, 1576. D. c. 1580.
Arms: Argent, on a bend azure cotised gules between 6 battleaxes sable 3 swans or. Crest: A halbert erect or with a flying serpent with knotted tail sable bezanty transfixed on the point.
43. RALPH BROOKE (BROOKSMOUTH) (1580). See York (17).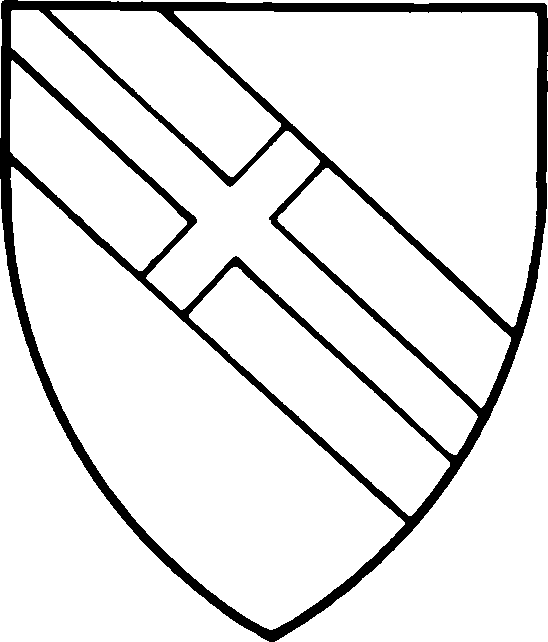 44. THOMAS KNIGHT (1592). See Chester (19).
45. WILLIAM WYRLEY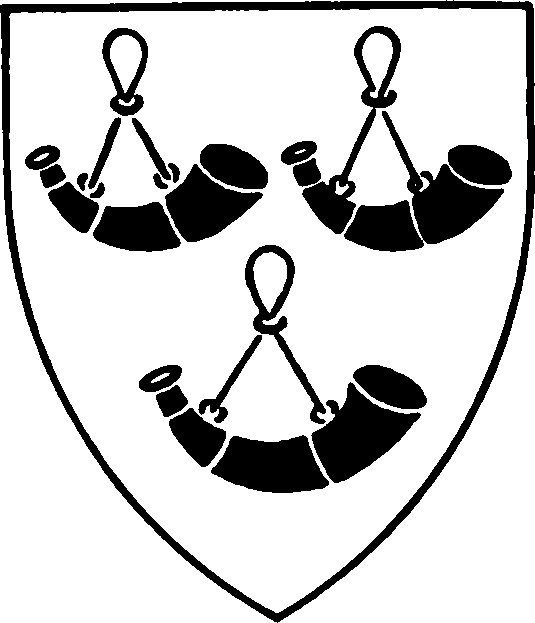 ? Rose Rouge, c. 1603.
Rouge Croix, docquet 8, pat. 15 May 1604.
B. 1565 in Staffordshire; s. of Augustine Wyrley of Netherseale, Leicestershire; educ. locally; amanuensis to Sampson Erdeswicke, the Staffordshire historian; 1592 published The True Use of Armorie; November 1594 matric. Balliol College, Oxford, aged 29; may have served in army for Mundy calls him Captain.
Said to have been Rose Rouge; if so c. 1603; not so listed in 1613 copy of Lant's Roll nor by Weever or Dallaway, but so named by Anstis (Coll. of Arms MS. O.A. III, 96) and Mundy.
Rouge Croix by pat. 1604 vice T. Knight, nom. Chester; succeeded by Guillim 1613; named as Rouge Croix 1605 and 1607 (Coll. of Arms MS. I, 16, 207, 275), at funeral of Henry, Prince of Wales, 1612 (Nichols, Progresses of James I, iii, 494), and in 1663 Vis'n of Staffordshire (Coll. of Arms MS. C. 36, 80 b; Wm. Salt Soc., 1885, p. 335). Not mentioned in Partition Book where there is gap 1603–9, and where Knight shares as Rouge Croix 1610–13, place of Chester being in dispute between him and Penson 1604–13.
According to Wood's information d. in College and burd St Benet's, Paul's Wharf, February 1618; if so must have resd 1613 before Guillim's appointment, but more likely he d. 1613, later date being inferred from date of Guillim's patent.
Reputed at College knowing and useful in his profession.
True Use of Armorie pleads for return to simpler fashion of earlier heraldry with few or no quarterings and clearly visible differences instead of the fashionable and almost invisible cadency stigmata. Reprinted 1853. Large extracts embodied in Dugdale's Ancient Usage of Bearing Arms. Said with no apparent justification to have been written by Erdeswicke. Original edition included dreary biographical poems on Sir John Chandos and Captal de Buch.
While at Oxford made useful collections of church notes and from monastic ledger books, etc.; also made collections in Leicestershire, etc., and near London.
(See Athen. Oxon. ed. Bliss, ii, 217–19; D.N.B.; Hearne, Collections, v, 198, 261–2; pedigree in R. Mundy's copy of 1618 Vis'n of Staffordshire, MS. Harl. 1553, ed. W. C. Metcalfe, 1887, p. 206.)
Arms: Argent, 3 buglehorns sable stringed vert. Crest: Out of a crown or 2 falcon's wings addorsed proper. Motto: A Plesance.
46. JOHN GUILLIM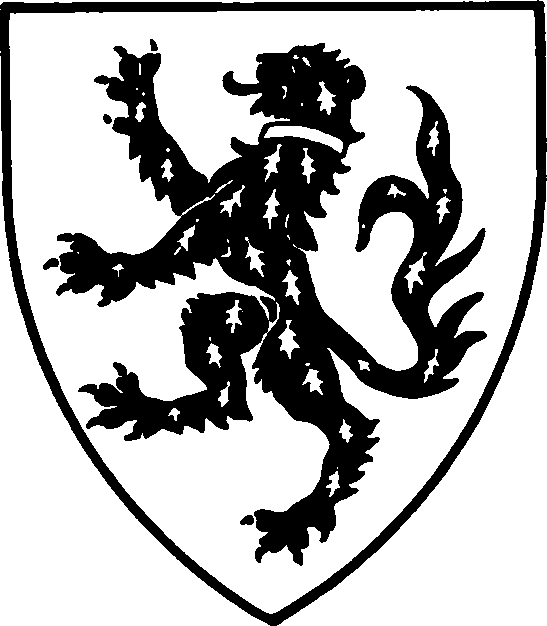 Portsmouth, E.M. wt. for tabard 23 February 1604.
Rouge Croix, signet 1613, cr. 10 December 1613, pat. 26 February 1618, salary from Michaelmas 1613.
B. c. 1551 in co. Hereford, s. of John Guillim of Westbury-on-Severn, Gloucestershire; lived at Minsterworth, Gloucestershire. Said to have been educ. at Oxford, but College uncertain. Portsmouth pursuivant extraordinary 1604; d. 7 May 1621.
Author of A Display of Heraldry (1610 and six posthumous editions, 1632–1724). This was said by Sir Wm. Dugdale, on the authority of Barkham's brother, to be the work of John Barkham, rector of Bocking, see Geo. Barkham, Lancaster (25 A), but modern opinion discounts that assertion.
(D.N.B.; Athen. Oxon., ed. Bliss, ii, 298, etc.; Alum. Oxon.; Llyfr Baglan, ed. J. A. Bradney, 1914, p. 129.)
Arms: Argent, a lion sable ermined argent collared or. Crest: An arm in armour holding a broken sword.
47. AUGUSTINE VINCENT (1621). See Windsor (19).
48. JOHN BRADSHAW (1624). See Windsor (20).
49. GEORGE OWEN (1626). See Clarenceux (18C).
50. ROBERT BROWNE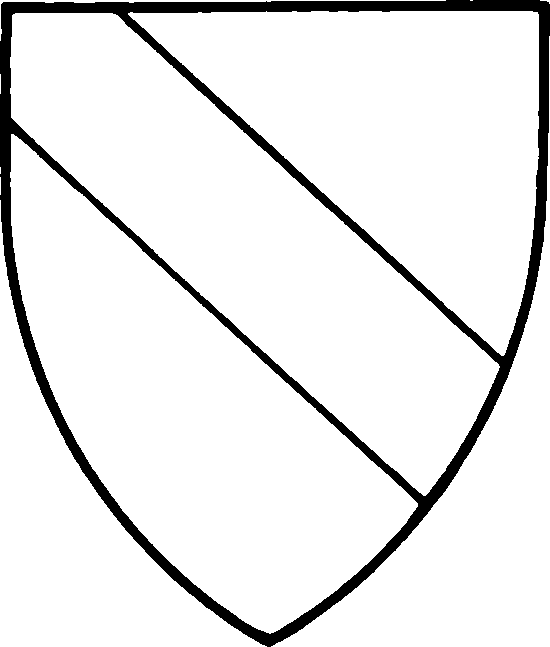 Rouge Croix, signet December 1633, cr. 4, pat. 13 January 1634.
S. and heir of Robert Browne of Wacton, Norfolk, yeoman; baptized there 15 April 1594; probably owed appointment as Rouge Croix to Sir William Le Neve, Clarenceux, his near neighbour at Aslacton; d. Sheffield, Yorkshire, burd there 18 October 1639.
Arms: Vert, a bend or.
('The Brownes of Wacton', in Norfolk Archaeology (1946), p. 99, etc.)
51. WILLIAM DUGDALE (1640). See Garter (13).
51 A. ROBERT BROWNE
? Rouge Croix, c. 1644.
Not certain that this Robert Browne was an officer of arms, but one of the name was working in the College both before and after the death of Robert Browne, Bluemantle. Moreover, records of the Committee for the Advance of Money 1642–56 name a Robert Browne as 'of the Heralds' Office and of Croscomb' (Somerset). Was perhaps Rouge Croix between Dugdale's removal to Chester in 1644 and 1658 when the title was in Henry Dethick.
('The Brownes of Wacton', pp. 105–7.)
52. HENRY DETHICK (1658 and 1660). See Richmond (20).
53. HENRY BALL (1677). See Windsor (24).
54. CHARLES MAWSON (1686). See Chester (26).
55. PETER LE NEVE (1690). See Norroy (39).
56. JOHN BOUND
Rouge Croix, signet March, pat. 5 April 1704, salary from Christmas 1703.
Probably secretary to Peter Le Neve, whom he succeeded as Rouge Croix; d. 26 or 30 March 1721; burd in St Benet's, Paul's Wharf.
57. RICHARD GRAHAM
Rouge Croix, pat. 2 August 1722, resd 10 July 1725.
58. RICHARD POMFRET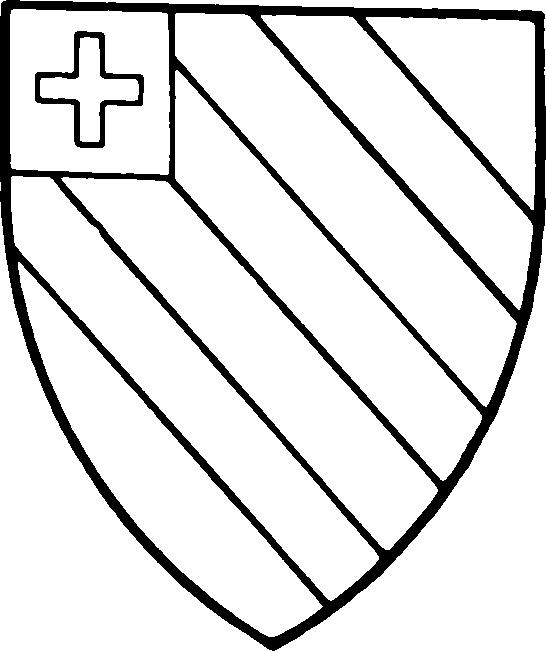 Rouge Croix, pat. 22 July 1725, cr. 9 October 1727.
Of Cardington, Bedfordshire; b. 1702, baptized at Maulden, Bedfordshire, 21 August; s. and heir of Rev. John Pomfret, rector of Maulden; Rouge Croix 1725; accompanied elder Anstis on Garter mission to The Hague 1733; d. unmarried at College 24 March 1751; burd at Harrowden, Northamptonshire.
According to Martin Leake a man of good understanding, some learning and knowledge in his profession, but stammered; lived mainly on his estate near Bedford; generally esteemed till falling under a scandalous imputation he was discarded by his friends, lost his promotion to herald, and d. 'a martyr to gin' (Coll. of Arms MS. SML. 65, p. 182).
Some heraldic collections by him are in B.M. MSS. Lans. 584, 864, 887–8.
Arms granted to him 1 September 1748, but not entered in Grant Book: Or, 3 bends azure & on a canton argent a cross couped gules. Crest: Between 2 dragon wings displayed sable a triangular shield argent charged with a cross couped gules. (Coll. of Arms MS. SML. 33, p. 81.)
58 A. ALEXANDER COZENS
Rouge Croix, nom. 1751.
Alexander Cozens, the landscape-painter, nom. Rouge Croix 1751, but did not pass patent. D. 1768.
(A. G. B. Russell in The Burlington Magazine, xxx, 1917.)
59. GEORGE FLETCHER (1751). See York (26).
60. HENRY HASTINGS (1752). See Somerset (18).
61. JOHN CHARLES BROOKE (1773). See Somerset (19).
62. FRANCIS TOWNSEND (1778). See Windsor (33).
63. JOHN ATKINSON (1785). See Somerset (20).
64. JOSEPH HAWKER (1794). See Clarenceux (34).
65. WILLIAM RADCLYFFE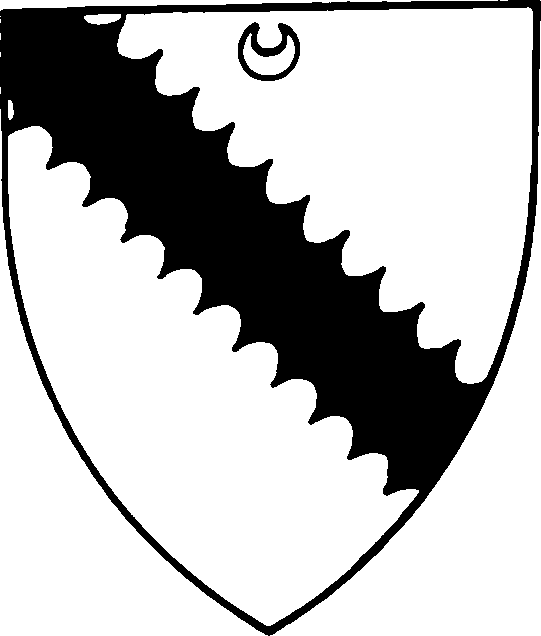 Rouge Croix, pat. 18 May, salary from 12 May 1803, resd 4 June 1823.
Of Darley Hall, Worsborough, Yorkshire; b. 10 January 1770 at Wath, s. and heir of Edward Radclyffe of Wath and later of Doncaster and London by his second wife Elizabeth Adamson; Rouge Croix 1803.
1814 entered at College pedigree claiming descent from the Earls of Derwentwater (Coll. of Arms MS. 8 D. 14, 146–8); 1816 suspicions aroused and on investigation found this was based on faked evidence, he having altered an entry in Parish Register, Ravensfield; earlier generations therefore expunged and Radclyffe prosecuted for forgery, tried at York Assizes March 1820, fined £50 and sentenced to three months' imprisonment (2 vols. Rex v. Radclyffe; Coll. of Arms MSS. CGY 'Radclyffe', BP. 10, JP. 68, 7–461; Gent. Mag., xc (1820), i, 268–9).
Resd 4 June 1823 (Coll. of Arms MS. CGY. 417 towards end); d. 22 June 1828.
Very active genealogist; eight volumes of his collections bought by College 1833; others in Sheffield Public Library (Genealogist, N.S. xxix, 198) and penes Yorkshire Archaeological Society. Both Joseph Hunter in Familiae Minorum Gentium and J. W. Walker in Hunter's Pedigrees and Yorkshire Pedigrees (Harl. Soc. vols. 36, etc., 88, 94, etc.) quote him freely.
Compiled large illuminated 'Genealogy... of Stanley, earls of Derby...', sold 1935 among Phillipps MSS.
Arms on his bookplate: Quarterly with a scocheon in pretence; (1) argent, a bend engrailed sable with a crescent in chief for difference (Radclyffe); (2) argent, 2 bars gules & on a canton gules a cinquefoil argent (Derwentwater); (3) gules, a fess or between 3 Catherine wheels; (4) sable, a fret argent & a label gules bezanty (Harington); In pretence: Argent, a fess azure between a double eagle issuant sable in chief & a fleur de lis azure in base (? Maréchale). Crest: Out of a crown or a bull's head sable, horns or. Motto: Sperare Timere Est. Mantling: Gules semy of cinquefoils argent & lined argent. Badges: (1) a cinquefoil; (2) an estoile; (3) a closed fetterlock; (4) a cross couped gules.
66. ROBERT LAURIE (1823). See Clarenceux (37).
67. WILLIAM COURTHOPE (1839). See Somerset (22).
68. JAMES ROBINSON PLANCHÉ (1854). See Somerset (23).
69. JOHN VON SONNENTAG HAVILAND, afterwards DE HAVILLAND (1866). See York (32).
70. STEPHEN ISAACSON TUCKER (1872). See Somerset (24).
71. HENRY FARNHAM BURKE (1880). See Garter (29).
72. GEORGE WILLIAM MARSHALL (1887). See York (34).
73. ARTHUR WILLIAM STEUART COCHRANE (1904). See Clarenceux (44).
74. ARCHIBALD GEORGE BLOMEFIELD RUSSELL (1915). See Clarenceux (45).
75. HENRY ROBERT CHARLES MARTIN (1922). See Richmond (37).
76. PHILIP WALTER KERR, M.V.O., F.S.A.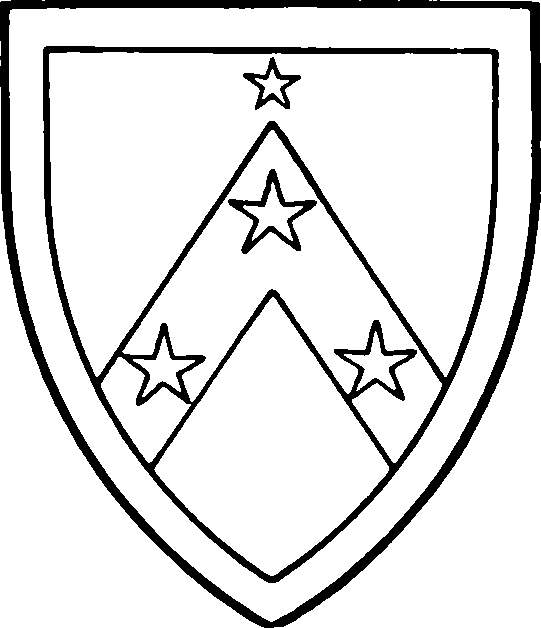 Rouge Croix, pat. 4 August, salary from 2 August 1928.
Of Knebworth, Hertfordshire; b. 19 October 1866, fourth s. of Lord Walter Kerr, G.C.B., and grandson of 7th Marquess of Lothian; educ. Oratory School, Edgbaston, and Pembroke College, Cambridge; 1914–19 Imperial Light Horse, and R.F.A., Captain; Egyptian Civil Service 1919–24; F.S.A. 1927; Knight of Honour and Devotion Order of Malta, 1935; M.V.O. 1937; Pilot-Officer (Intelligence) R.A.F. December 1940; d. on service at Shaluffa, Egypt, 10 February 1941.
Secretary of the College Committee on Indian Arms; Hon. Heraldic Adviser to Monumental Brass Society; contributed to their Transactions; bequeathed to College books on brasses and monumental inscriptions. An expert photographer; supervised micro-filming of College records 1938 and helped with production of plates for Heralds' Commemorative Exhibition Catalogue.
Arms: Gules, on a chevron argent 3 molets gules, a molet argent for difference, all in a border argent. Crest: A stag's head erased proper. Motto: Forward in the Name of God.
77. JOHN RIDDELL BROMHEAD WALKER (1947). See Lancaster (43).
78. WALTER JOHN GEORGE VERCO (1954). See Chester (38).
79. RODNEY ONSLOW DENNYS, O.B.E., F.S.A.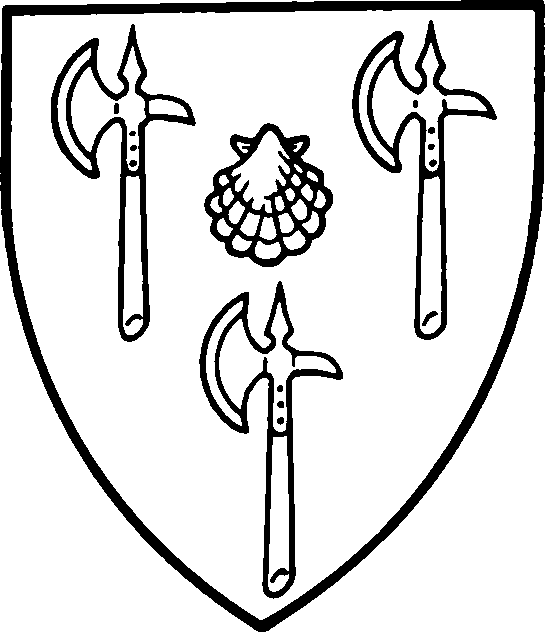 Rouge Croix, pat. 8 August 1961, salary from 1 November 1960.
Of Heaslands in parish of Rotherfield, Sussex; b. 16 July 1911 at Ipoh, Perak, British Malaya; only son of Frederick Onslow Brooke Dennys of Richmond, Surrey, Malayan Civil Service; educated Canford School. 1937 appointed to Foreign Office and posted to H.M. Legation, The Hague, until the German defeat of Holland in May 1940, thereafter in Foreign Office; commissioned 1941 into Intelligence Corps; promoted Captain and posted G.H.Q. Middle East Forces 1942; promoted Major 1943; O.B.E. (Military) 1943; promoted Lieut.-Colonel 1944 and posted to Main H.Q. 21 Army Group, Brussels, subsequently to Control Commission, Germany, and War Office; demobilized 1946; transferred as Major (honorary Lieut.-Colonel) to Regular Army Reserve of Officers. 1947 reappointed to Foreign Service, and served in Foreign Office and also in British Middle East Office, Egypt; Embassy, Turkey (First Secretary), and Embassy, Paris (First Secretary); resd 1957. Assistant to A.R. Wagner, then Richmond Herald, 1958–61; F.S.A. 1962.
Arms: Azure between three battleaxes an escallop or. Crest: A Bengal tiger couchant proper. Badge: A dragon's head erased quarterly or and azure on the neck an escallop argent. Motto: Be Ware, Ward Well.