Pages 38-74
Survey of London Monograph 16, College of Arms, Queen Victoria Street. Originally published by Guild & School of Handicraft, London, 1963.
This free content was digitised by double rekeying and sponsored by English Heritage. All rights reserved.
GARTER KING OF ARMS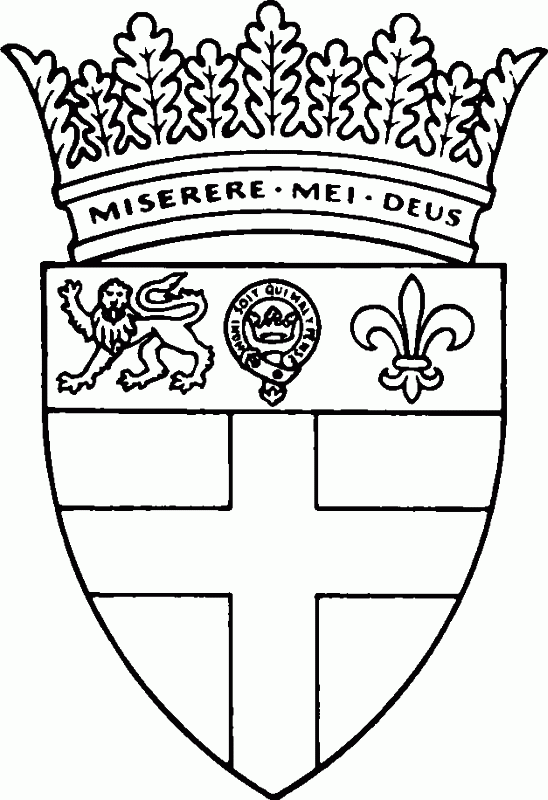 By instituting the office of Garter in 1415 just before sailing for France, Henry V created two precedents. It was the first time a king of arms was specially appointed for the service of an order of chivalry, and it was the first time that the holder of a particular title was designated as ex officio doyen of the office of arms. Previously now one, now another officer was 'roy d'armes d'Angleterre', though it is not clear whether this primacy was acquired by seniority or by royal favour. Six doyens have been identified: Andrew Windsor (Norroy), c. 1339; William Vaillant, c. 1358; Chandos, 1377; John Lake (March and Norroy), c. 1394; John Faucon, c. 1395; and Richard Bruges (Lancaster), c. 1412.
Official arms in use by c. 1520: Argent, a cross gules & on a chief azure a crown enclosed in a Garter between a lion passant guardant and a fleur de lis, all or.
For a time under Henry VII the Garter enclosed a Tudor rose instead of the crown, and under Barker and the two Dethicks a dove azure, with one wing open, was added in the dexter canton.
1. WILLIAM BRUGES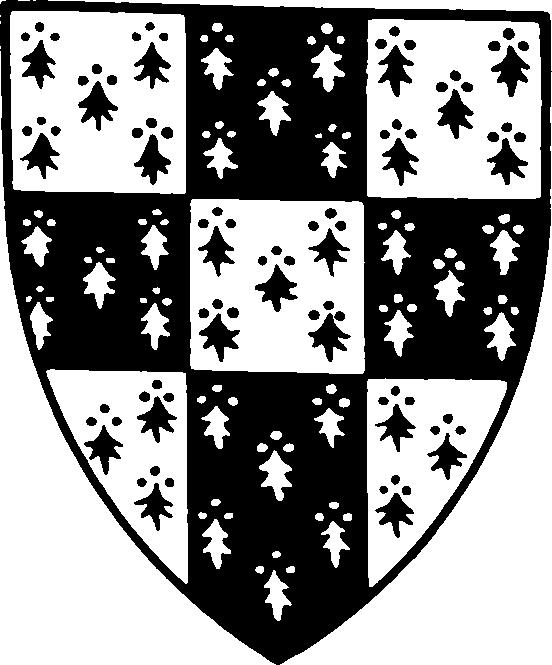 Chester, pat. 7 June 1398.
Guyenne, king, probably appd between 21 March and 9 April 1413.
Garter, c. 30 June 1415.
S. of Richard Bruges, Lancaster; b. c. 1375. Appd Chester 1398 and as such from 1399 was attached to Henry, Prince of Wales. Guyenne king on Henry V's accession; Garter shortly before 4 July 1415. As Garter was at once king of arms of the Order and ex officio head of the officers of arms in England. Unfortunately, his rights in the latter capacity were not clearly defined and the consequent uncertainty was at the back of the long drawn out troubles between later Garters and the provincial kings. See H. & H., p. 63 etc.
The first or almost the first herald to specialize in diplomatic work; mainly so employed alike as Chester, Guyenne and Garter; under Henry VI hardly a year in which he was not sent on at least one foreign mission.
D. 9 March 1450; lived at Kentish Town, but burd in St George's, Stamford, to which he was a great benefactor, giving large sums for its rebuilding and bequeathing vestments and other valuable ornaments; also provided for glazing the windows with figures of Edward III and the Founder K.G.s.
Granted arms to Drapers' Co. 1439; commissioned 'Bruges's Book' containing coloured drawings of King Edward and the original K.G.s with St George and Bruges himself (C.E.M.R.A., p. 83); painted c. 1430, this may have had some connection with the founding of the Order of the Golden Fleece.
His dau. and heir Katherine married John Smert. See below Garter (2). (Rees-Jones, The Order of St George, etc.)
Arms: Nine pieces of ermine & ermines. Crest: A woman's head in a hood or cowl. Badge: A circular towel or torse of twisted cloth with knotted ends. (Seal & signets.)
2. JOHN SMERT
Guyenne, herald, 1444 (?).
Garter, cr. 28 March, pat. 3 April 1450.
Son-in-law of William Bruges, Garter; parentage unknown, but owned land in Mitcheldean, Gloucestershire, and family may have been of that county; said to have been a lawyer; probably the 'Guyan pursevant' sent to Burgundy 1444, and the Guyenne herald sent on various missions 1449; named Guyenne in pat. as Garter 1450; much employed as diplomat especially in Scotland and Burgundy; attended marriage of Princess Margaret to Charles the Bold 1468; 1469 Garter mission to Duke of Burgundy; 1475 sent to defy King Louis before King Edward embarked for France, and took back overtures resulting in Treaty of Picquigny (Commines' account of this mission confuses him with Bellengier, q.v.); d. 1478 shortly before 6 July when Wrythe appd Garter.
Granted arms to Girdlers', Tallow Chandlers' and Glovers' Companies and to two individuals.
Arms: Quarterly, (1 & 4) argent, a chevron between 3 pheons sable (Smert); (2 & 3) checky of 9 pieces ermine & sable ermined argent (Bruges). Crest (of Bruges): A woman's (or friar's?) head in a cowl. Badge: A pheon sable ermined argent.
3. JOHN WRYTHE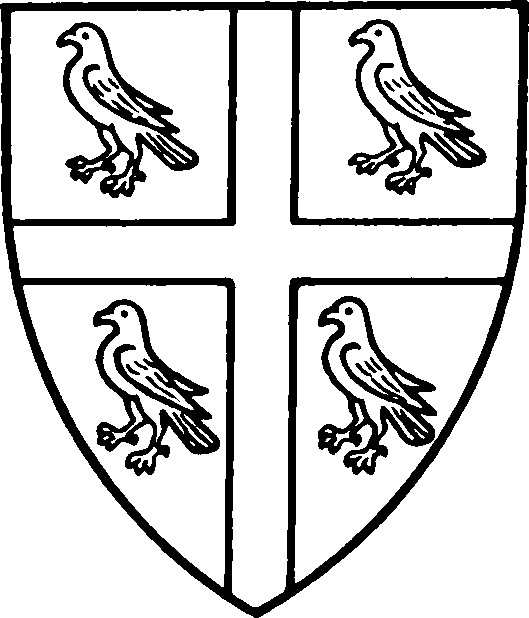 Antelope, temp. Henry V (sic).
Rouge Croix, temp. Hen. V (sic).
Falcon, herald, c. 1473.
Norroy, p.s. 23, pat. 25 January, cr. 2 February 1477.
Garter, pat. 6 July 1478, resd 4 January, resumed office 22 August 1485.
Father of Sir Thomas Wriothesley, Garter, and William Wriothesley, York; grandfather of Thomas, Earl of Southampton and of Charles Wriothesley, Windsor; father-in-law of John Minne (? York).
Origin of this, one of most prominent families in history of College, uncertain; Elizabethan pedigrees deriving them from an early family of Wriothesley are dismissed by serious students (see, e.g. J. H. Round, Peerage and Family History, p. 141). Garter probably s. of William Wrythe, M.P. for Cricklade and Receiver to John, Duke of Somerset (father of Lady Margaret Beaufort).
Said to have been Antelope and Rouge Croix under Henry V (sic), and Leopard temp. Henry VI, but no evidence for pursuivantships and was Faucon, not Leopard herald. As 'John Wrethe otherwise called Fauken herod' witnessed 1476 will of Christian (Hall), w. of T. Holme, Clarenceux; also called Faucon in pat. of Norroy; without doubt the Faucon who occurs February 1474 (Sandford, p. 234 n.; etc.) and was later sent to Burgundy; Norroy from January 1477 and Garter 18 months later; sent to Scotland 1479, 1480 and (accompanied by Northumberland) 1482, and to France 1483; appointment confirmed pat. 30 November 1483; resd 4 January 1485 (reason unknown), but resumed place on Henry VII's accession; appointment again confirmed pat. 13 February 1486, with back pay from preceding 22 August; additional £40 a year pat. 10 July 1486; in Act of Resumption 1 Hen. VII his salary expressly exempted; missions to Maximilian 1486, Ireland 1488 and Brittany 1489; Garter mission to Maximilian 1491 (H.C.E.C., pl. xi; Brit. Arch. Assoc. J., xxvi (1870), 121 etc.), 1491–4 missions to Brittany, Burgundy, Calais, France, etc.; d. 1504 (will dat. 25 March, pr. 30 April); burd St Giles', Cripplegate (Stow, Survey (1633), p. 313).
Sir Thomas calls him Knight, but not so styled in any contemporary document, nor in his will.
Said by Spelman to have invented and 'propagated' temp. Ed. IV system of cadency stigmata (Aspilogia, ed. Bysshe, p. 140; 'Medieval Treatises on English Heraldry', Antiquaries J., xxxiii, 172).
Citizen and Draper of London 1484.
Garter at Richard III's incorporation of the heralds and grant of Coldharbour 2 March 1484, confiscation of which by Henry VII led indirectly to disputes as to the disposal of the office books.
Machado (Norroy and Clarenceux) found it convenient to arrange with Wrythe that the latter should undertake his heraldic duties at home and thus laid seeds of the later Garter v. provincials controversy. In 1499 they obtained joint licence to make visitations, but are not known to have made any.
Among MSS. compiled wholly or in part by him are 'Wrythe's Book', 'Wrythe's Book of Knights' and 'Wrythe's Garter Book' (C.E.M.R.A., pp. 108, 120, 122), but several other MSS. in College and British Museum appear to contain entries in his hand, and some of the additions in 'Ballard's Book' (ibid. p. 111), which he bought from Ballard's widow in 1490, may also be his.
Though his will refers to his father's lands in Cricklade, etc., foundation of his fortune was probably his marriage to Barbara (d. 1480), dau. and heiress of January de Dunstanville or de Castlecombe (Wiltshire), by which marriage their descendants quartered: (2) argent fretty gules, a border engrailed sable & over all on a canton gules a lion passant or (Castlecombe); (3) argent, a pale of fusils gules in a border azure bezanty (Lusthill, for Barbara's great-grandmother).
(See also Anstis, Reg. Garter, 1, 355 etc.; D.N.B.; Introduction to Charles Wriothesley's Chronicle, ed. Wm. D. Hamilton, Camden Soc., N.S. xi; H. & H. and R. & C., passim.)
Arms: Had no paternal arms & tried (1) azure, a fess between 3 doves argent in a border or (Coll. of Arms MS. L. 1, fo. 674), and (2) azure, 3 doves argent in a royal tressure or (Wall's Book, fo. ccxxii).
As Garter used: Azure, a cross or between 4 doves close argent, beaks & legs gules (seal, etc.). Crest: On a torse or & azure a dove close argent, beak & legs gules, crowned or (seal; Wall's Book, 16b). Badge: (sometimes used as crest): A 'bugle' (buffalo) head erased sable goutty, horned, ringed & crowned or.
Originally the birds were doves, chosen in reference to the fourteenthcentury theory that heralds should relinquish their paternal arms and take doves or other bearings alluding to their office (see 'Grants of Arms to Heralds', Misc. Gen. & Her., 5 s, x, 57). It has been suggested that the College based their coat on Wrythe's but the converse is more likely. In two of Sir Thomas Wriothesley's MSS., however, the birds are eagles; in Coll. of Arms, Vinc. MS. 152, p. 61 ('Wriothesley's Crosses', no. 17) they are expressly tricked 'close eagles' and in Coll. of Arms MS. L. 10, p. 103 the coat is included in an ordinary of eagles. The earls of Southampton on the other hand, descended from William Wriothesley, at least from the first half of the seventeenth century were credited with falcons (e.g. Yorke, Union of Honour, 1641) in supposed allusion to Wrythe's heraldship.
4. SIR THOMAS WRYTHE alias WRIOTHESLEY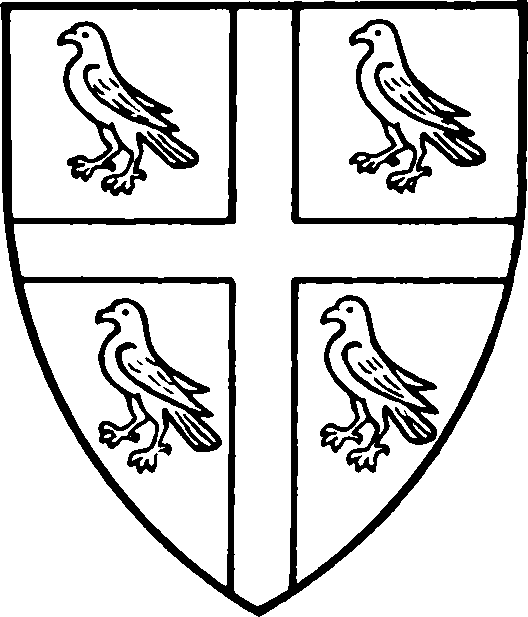 Wallingford, cr. 1 October 1489.
Garter, pat. 26 January 1505.
Of Cricklade and of Colatford, near Castlecombe, Wiltshire; b. Colatford; eldest s. of John Wrythe, Garter, by Barbara de Castlecombe or de Dunstanville, and godson of Thomas Holme, Clarenceux; after becoming Garter he and his brother William adopted name of Wriothesley which was retained by their descendants; in 1509 in pat. to Richard Weynman called himself 'Thomas Wry the alias Wryothesley', but by 1519 (pat. to John Wylkynson alias Harlyn) he had dropped the Wry the and called himself simply 'Thomas Wryotesley'.
1489 Wallingford, pursuivant to Prince Arthur and later Prince Henry; 1491 accompanied his father to Brittany. On Wrythe's death 1504 Machado declined the Gartership on the score of age and weakness and in consideration of 20 mks a year deducted from Garter's salary moved the King to appoint Wriothesley over the heads of all the officers in ordinary. Appd Garter as Thomas Wrythe, but 9 October 1509 obtained new pat. as 'Thomas Wriotesley alias Writh filius Johannis Wriotesley alias Writhe'.
Attended Henry VIII on Thérouanne expedition 1513, Field of Cloth of Gold 1520 and meeting with Francis I at Calais 1532; attended Princess Mary to France on her marriage to Louis XII 1514.
Garter missions to Guido Ubaldi, Duke of Urbino, and Philip of Castile 1503, Ferdinand of Austria 1523 (H.C.E.C., pl. xi; Brit. Arch. Assoc. J., xxvi (1870), 121 etc.) and Francis of France 1527.
May 1534 was 'worn out with age & grievous decay'; d. 24 November following; burd St Giles', Cripplegate.
Citizen and Draper of London by patrimony 1504. Knighted 5 December 1523, by Archduke Ferdinand at Nuremberg.
Portrait in Westminster Tournament roll (Dallaway, Inquiries, pl. 9).
On becoming Garter built a great house, 'Garter House', in Red Cross St, Cripplegate (Stow, Survey, 1, 302–3).
His s. Charles, Windsor herald.
His second wife, Agnes née Ingleby, was widow of Robert Warcop who was probably related to Leonard Warcop, Carlisle.
Machado and Benolt being mainly occupied on diplomatic work Wriothesley was free to concentrate on home affairs. He renewed his father's arrangement with Machado and made similar agreements with Benolt, 5 July 1511, and with Norroys Yonge, 4 February 1511, Wall and Hawley, 2 August 1534. Benolt's foreign duties having diminished or ceased towards 1530 he found Wriothesley's virtual monopoly of grants and visitations irksome and an encroachment on his own rights; hence the Visitation Commission of 1530 and the long controversy between them and their respective successors—see H. & H., chs. viii–x. Benolt also complained that after the heralds were ejected from Coldharbour, Wriothesley and his father retained books belonging to the whole office (ibid. p. 94, etc.).
Unlike his predecessors and some other heralds he does not seem to have been sent on any foreign missions except the essentially ceremonial Garter missions. This may be due to no more than the availability of such accomplished diplomats as Machado and Benolt. In the other branches of a herald's duties 'there is no question of his competence.... Numerous painted books & rolls of arms, & books of precedents & pedigrees compiled by [or for] him, show a comprehensive love & knowledge of the subject' (H. & H., p. 86). Among the products of his workshop are 'Prince Arthur's Book' (Coll. of Arms, Vinc. MS. 15; H.C.E.C., no. 108), 'The Book of Standards' (I. 2, De Walden Library, Banners, Standards and Badges), L. 8, 9, 10 and 12 and M. 7, 10 and 14 and 1st M. 17 in the College; MSS. 476 and 443, 'Wriothesley's Roll of Grants' (H. & H., pp. 90–1) at the Society of Antiquaries; and at the British Museum, Add. 5530, Harl. 1074 and 1417, three ex-Clumber MSS. Add. 45131–2–3 and Egerton 1713 'Willement's Roll' (Coat of Arms, iv, 153). These include inter alia armorials of the letters E, H, P, R and S, ordinaries of chevrons, crosses, fesses, lions and other charges as well as of crests and beasts (supporters). Other MSS. from his workshop are in the Bodleian and various private collections. On their dispersal see R. & C., p. 10 etc.
(See also Anstis, Reg. Garter, 1, 367–73; Camden Soc. edit. of Charles Wriothesley's Chronicle; D.N.B.; H. & H. and R. & C., passim; J. H. Round, Peerage and Pedigree, 1, 38, and Peerage and Family History, p. 141.)
Arms: His father's cross & birds quartering Castlecombe & Lusthill.
Crest: the bull's head (H.C.E.C., pl. xxi). In two of his MSS. the birds are identified as eagles. Motto: Humble et Serviceable.
It is said that he placed a demi-garter about his arms in memory of his descent from Sir Robert Dunstanville who is supposed to have been a K.G. (Anstis, Reg. Garter, 1, 155). No example of this has been found.
5. THOMAS WALL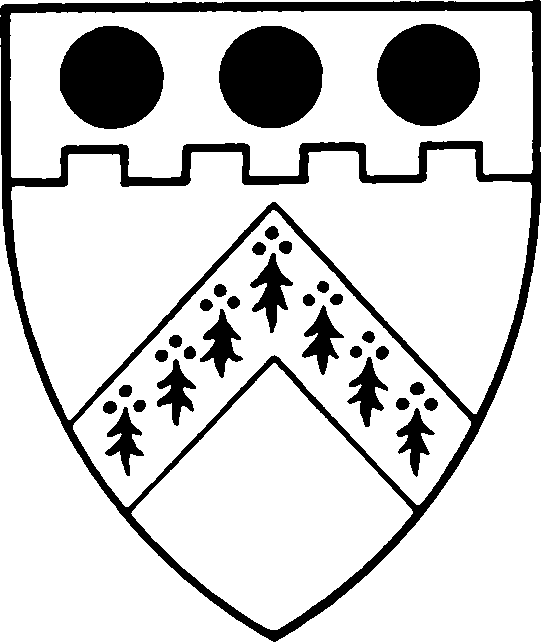 Rouge Croix, p.s. 4, cr. 5, pat. 11 May 1521.
Windsor, p.s. 25 November 1524, pat. 24 October 1525.
Garter, p.s. 8, pat. 9, cr. 25 December 1534, acting Garter from preceding Michaelmas.
S. of Thomas Wall, Norroy; said to have been Berwick but not so named in pat. of Rouge Croix, 1521; later Windsor and Garter, both promotions per saltum; 1521 in France; 1523 summoned city of Orleans to surrender; 1527 sent to Margaret of Savoy about threats of war with Emperor; 1529 attached to embassy to the Emperor and November in Italy; 1535 Garter mission to James V of Scotland; sometimes miscalled Knight; d. 27 June 1536.
Compiled two valuable armorials; (1) 'Wall's Book of Arms' (Coll. of Arms, Anstis MS. B. 1, now Anstis MS. 679) compiled in 1530, but with a few later additions by Wall and others, is in blazon only and includes some crests (printed The Ancestor, xi, xii); (2) 'The Great Alphabet', Coll. of Arms MS. L. 1, has blazon and painted shields but no crests.
Compiled and signed the catalogue of Benolt's bequest (H. & H., pp. 150–7). Translated 'The Order of Knyghthode' from the French (Hare's MS. I. 197 in Coll. of Arms). Owned Coll. of Arms MS. M. 16.
His report on the 1528 mission is in Cotton MS. Galba B. ix, fos. 58–9, and on the 1529 embassy in Add. 35838, fos. 24–30. He owned B.M. MS. Arundel 59, a copy of Hoccleve's 'De Regimine Principum', etc.
Arms: See Thomas Wall Norroy (17).
6. SIR CHRISTOPHER BARKER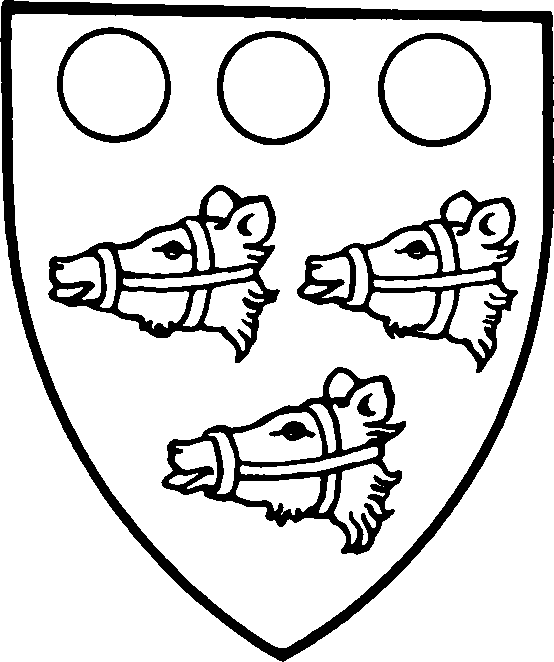 Lisle, pursuivant to Sir Charles Brandon, cr. 1513.
Suffolk, herald to Sir Charles Brandon, cr. 1 February 1517.
Richmond, cr. 1 November 1522.
Norroy, cr. June 1536.
Garter, cr. 9, p. s. 11, pat. 15 July 1536.
S. of William Barker, of Stokesley, Yorkshire, by Joan, sister of Norroy Carlill. His second wife, Ellen, aunt of Norroy Dalton. Lant's statement that he was Calais and Rouge Dragon belied by Barker's own summary of his career: 'Lysley pourcevant to Duke of Suffolk, after Suffolk heraulde, after Richemond harould, after that Norroy kyng of Armes, after that Gartier principall King of armes' (Coll. of Arms MS. M. 9, 118b). Presumably appd Lisle and Suffolk respectively soon after Brandon's creation as Viscount Lisle, May 1513, and as Duke of Suffolk, February 1514. 1522 transferred to royal service as Richmond; later Norroy and Garter. Attached to several foreign missions 1515–44. Said to have been knighted 23 September 1545; certainly made K. B. at Edward VI's coronation 1547. Master of Vintners' Co. D. at his house in Paternoster Row, 2 January 1550.
As Garter tried to restore peace to the College and refrained from interfering with the provincial kings. His collections in College, British Museum and Bodleian.
(D. N. B., etc.)
Arms: Argent, 3 bear's heads erased gules muzzled or with three roundels gules in chief. Crest: From a torse or & azure a bear's head erased or muzzled azure, the neck per pale or & azure, all between 2 wings respectively azure & or. Badge: A bear's head erased gules muzzled or. (Seal: Col. Topog. & Gen., 111, 75.)
7. SIR GILBERT DETHICK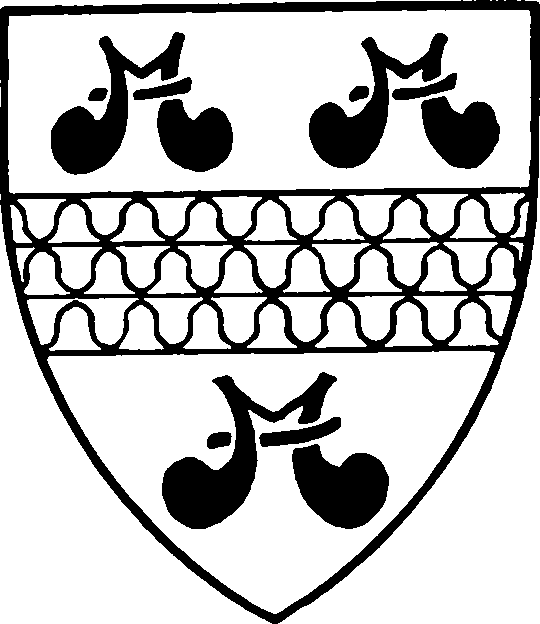 Hampnes, p. s. 14, cr. 16, pat. 18 June 1536.
Rouge Croix, appd December 1540.
Richmond, cr. 25 December 1540, p. s. 5 February, pat. 8 March 1541.
Norroy, p. ss. January, March and 11 August, pat. 16 August 1547.
Garter, cr. 20, p. s. 21, pat. 29 April 1550.
The Dethicks are one of the most prominent families in the history of the College. Not only were Sir Gilbert, his sons Nicholas and William, and his great-grandson Henry all heralds, but the Commonwealth pursuivants Watson and Exton married Dethicks, and Laurence Cromp's aunt Elizabeth was wife of a Dethick.
Sir Gilbert, probably born c. 1500, claimed descent from and used arms of Dethick of Dethick Hall, Derbyshire, but was s. of Robert Derrick, a yeoman armourer, of Dutch or German birth, employed in the Greenwich armoury. Gilbert and his brothers Derick and Matthew were made denizens by Act of Parliament, 34 Hen. VIII (1542–3).
Apparently in the King's service as courier even before he became Hampnes in 1536; afterwards Rouge Croix, Richmond and Norroy and finally Garter. Kt. 31 March 1551; d. 3 October 1584; burd in St Benet's, Paul's Wharf, aged 84 according to Sir William's M. I. in Old St Paul's.
Throughout his 48 years as herald (34½ as Garter) was frequently employed abroad, usually on the Continent, but sometimes in Scotland. At siege of Musselburgh 1547 was nearly shot by the Scots.
A member of the original Society of Antiquaries and reputed a good scholar. Remains of his collections in British Museum and Caius College, Cambridge, suggest he was sound armorist and genealogist; certainly skilled diplomat. His services were rewarded by Henry VIII by the gift of a house and an acre of ground at Poplar, where his descendants lived for some 200 years. Under Elizabeth he and the Queen regularly exchanged New Year gifts. During his Gartership he is said to have made over 140 grants of arms alone and forty more jointly with the provincial kings.
(D.N.B.; B. M. MSS.; etc.)
Arms: Quarterly, (1 & 4) argent, a fess vairy gules & or between 3 bougets sable, with a molet on a crescent for difference (Dethick); (2) argent, a chief gules & on a bend over all azure 3 scocheons argent each charged with a chief gules (Allestree); (3) or, a bend gules & a canton argent goutty sable. Crest: A nag's head argent differenced as the arms. Motto: Mors Aut Victoria Laeta.
These arms & quarterings belong to Dethick of Dethick Hall. Sir Gilbert sealed with the first coat only. The gravestone of Sir Gilbert's brother Matthew in York Minster is said to bear 3 bougets, sans fess (Noble).
1584. 18 months' vacancy. See below (8). Robert Cooke, see Clarenceux (14), acted as Garter.
8. SIR WILLIAM DETHICK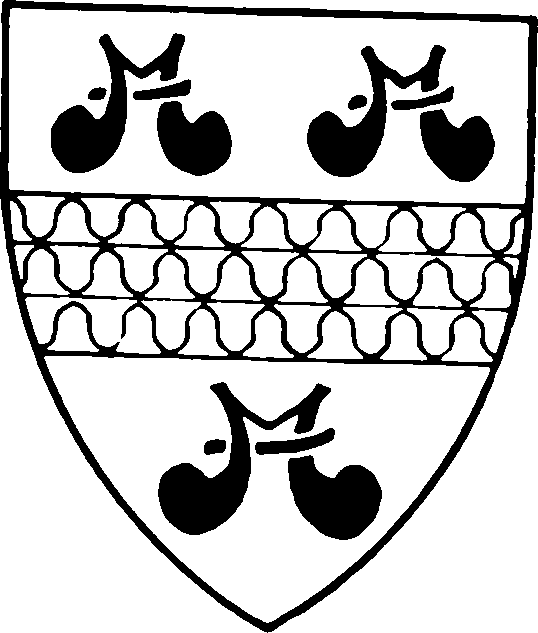 Rouge Croix, cr. 9, pat. 11 February 1567.
York, pat. 24, cr. 25 March 1570.
Garter, pat. 21 April 1586, sworn 22 April 1587.
B. c. 1542, second s. and eventually heir of Sir Gilbert; educ. St John's College, Cambridge; later member of Gray's Inn; 1564, three years before he became Rouge Croix, accompanied his father on Garter mission to France, and went on several later Garter missions.
On Sir Gilbert's death, in spite of opposition and after interregnum of 18 months during which Cooke acted, was appointed Garter. As York he had transgressed by granting or confirming arms under his own seal, and now he fraudulently procured the insertion in his patent of a clause unprecedented for Garter, empowering him to make visitations.
Member of the original Society of Antiquaries, which used to meet in his chambers in the College. His professional qualifications were high and at the time of his promotion he was esteemed the most skilful herald of his day. Unfortunately, was arrogant and passionate and constantly in trouble both with his colleagues and with others. In the result his deposition was inevitable and in January 1604 a bill passed the Signet Office for appointing Segar Garter. Dethick, however, resisted and it was not until 10 December 1606, on the grant of £200 a year with total exemption from taxation, that he surrendered his office. D. 1612; burd St Paul's Cathedral (M. I.); Kt. 13 May 1603.
Owned many Wriothesley manuscripts, some of which with some of his own and his father's collections were later acquired by the College, while others are in the British Museum, Caius College, Cambridge, and elsewhere.
Among his descendants were Henry Dethick, Richmond, Anne wife of John Watson, Bluemantle, and Elizabeth wife of Everard Exton, Rouge Dragon.
(D.N.B.; Anstis, Reg. Garter, 1, 386 sqq.; H. & H., pp. 93, 109, and R. & C., pp. 10, etc.; etc.)
Arms: Quarterly with a crescent over all; (1) Dethick; (2) Allestree, both as Sir Gilbert; (3) or, a chevron gules & canton ermine (Stafford); (4) ermine, a chevron engrailed azure between 3 pinks gules slipped vert (Peterson, for his mother).
9. SIR WILLIAM SEGAR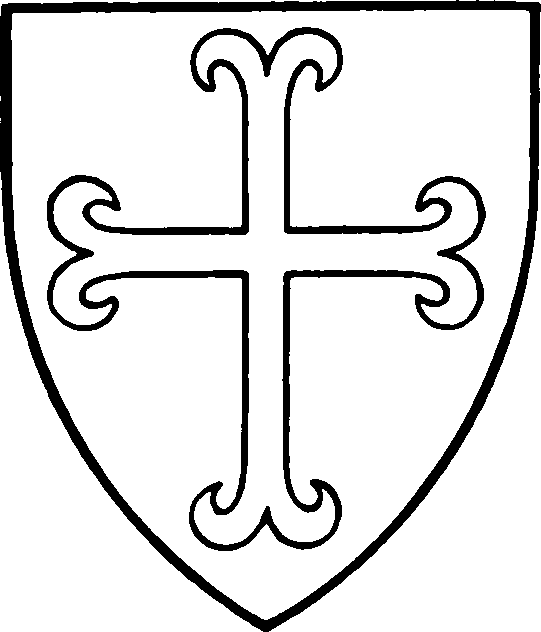 Portcullis, signet 26 May, pat. 4, cr. 10 June 1585.
Somerset, bill 25 December 1588, signet 4, pat. 8 January, cr. 4 February 1589.
Norroy, cr. 23 October 1597, pat. 2 July 1602.
Garter, signet January 1604, new signet and pat. 17 January 1607.
Of High Holborn, London, parish of St Giles Cripplegate, and later of Richmond, Surrey; descended from a Dutchman of Arnhem who settled in England temp. Hen. VII; s. of Francis Segar and Anne Sherard; bred a scrivener; servant to Sir Thomas Heneage; Portcullis 1585; 1586 attended Earl of Leicester in United Provinces; 1588 Somerset; 1596 attached to Garter mission to France; 1597 Norroy, place having been vacant four years; June 1603 deputy Garter on mission to Denmark; 1604 nom. Garter on decision, 26 January, to deprive Sir Wm. Dethick; thereafter acted as Garter but appointment not effective until after Dethick resd 10 December 1606; Kt. 5 November 1616; 30 December 1616, sent to Marshalsea for allowing himself to be trapped by Ralph Brooke into certifying arms of Aragon with a canton of Brabant as those of Gregory Brandon, London hangman; soon released; 1 March 1617, admitted Gray's Inn; Garter missions to two princes of Orange, Maurice 1612 and Henry 1627; represented by H. St George on mission to Gustavus Adolphus 1627 and by Philipot on that to Elector Charles 1633; d. Richmond 13 (? 10) December 1633; burd in chancel, Richmond church.
Father of Thomas Segar, Bluemantle, and of Penelope, wife of N. Charles; great-grandfather of Simon Segar, author of Honores Anglicani, etc.
Published works and MS. collections testify to his skill and industry.
Published: The Booke of Honor and Armes (anon. 1590); Honor, Military and Civil (1602), partly copied from preceding.
B.M. MS. Harl. 6085 is a beautifully written and illuminated MS. of the arms and badges of the kings of England dedicated to James I, 1604, probably his own work; a similar list in Coll. of Arms MS. L. 14 'Misc. Curiosa' looks like a draft for Harl. 6085. Add. 8933, also in B. M., is a Treatise on Heraldry and Arms. For other MSS. see D.N.B.
Segar's Roll so called because original was in his custody 1605 (C.E.M.R.A., p. 18).
For Round's strictures on his pedigree of Weston see Family Origins, p. 103.
Arms: Quarterly, (1 & 4) azure, a millrind cross argent (Segar); (2 & 3) or, a chevron between 3 molets azure (Crakenthorpe). Crest: A caduceus crowned & erect or entwined with 3 serpents vert & between 2 wings respectively or & argent. Motto: Arte et Ingenio.
10. SIR JOHN BOROUGH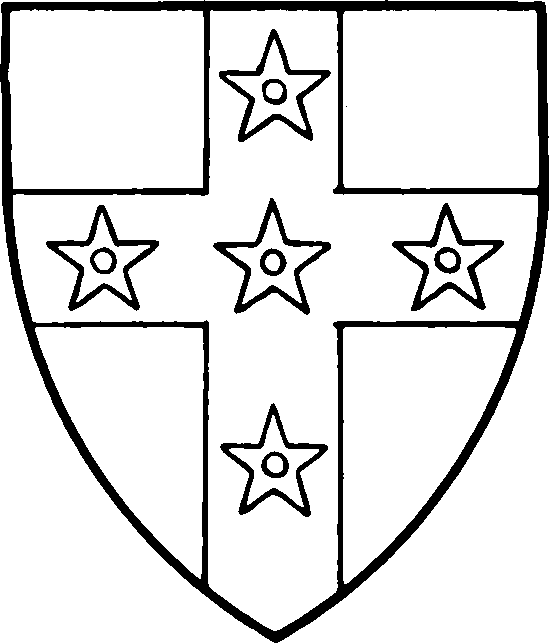 Mowbray, sworn June 1623.
Norroy, pat. 18, cr. 23 December 1623.
Garter, pat. 27 December 1633, cr. 4 January 1634.
Said to be s. of a 'Dutchman' (Athen. Oxon. iv, Fasti c. 62), but not so though his grandmother was a Brabanter. S. of John Borough, of Sandwich, by dau. of Robert Denne of Dennehill, Kent; admitted to Gray's Inn and entered Tower Record Office c. 1612; Keeper 1623; much employed by the Earl of Arundel who sent him to Venice in 1621 to bring Lady Arundel home (Mary Hervey, Life of Thomas Earl of Arundel, p. 200, etc.).
Mowbray in June and Norroy December 1623; Garter 1633; Kt. 17 July 1624. Secretary of the embassy to the Emperor 1636 and Clerk of the Council on 1640 expedition against the Covenanters. Followed the King to Oxford; d. there 21 October 1643; burd in Christ Church Cathedral.
Author of The Soveraignty of the British Seas (1651, etc.) and many important letters and memoranda among the State Papers and in the British Museum, etc.
(D.N.B., etc.)
The controversy between Garter and the provincial kings, dormant under Segar, was revived by Borough, who as Norroy induced Sir Richard St George to join him in taking out a joint commission to visit all England, with a clause reserving Garter's rights; the pat. bore date 25 December 1633; when Borough was already Garter designate. Borough's rights as Norroy under this commission should have lapsed on his becoming Garter, but he obtained a confirmation of it by sign manual and in fact he and St George visited, by deputies, no less than thirteen southern counties and one northern before St George's death in 1635 (R. & C., pp. 73, etc.).
Arms: Or, on a cross gules 5 pierced molets gold. Crest: A dove standing on a serpent nowed, all proper.
(Confirmed by Segar to Garter's father.)
11. SIR HENRY ST GEORGE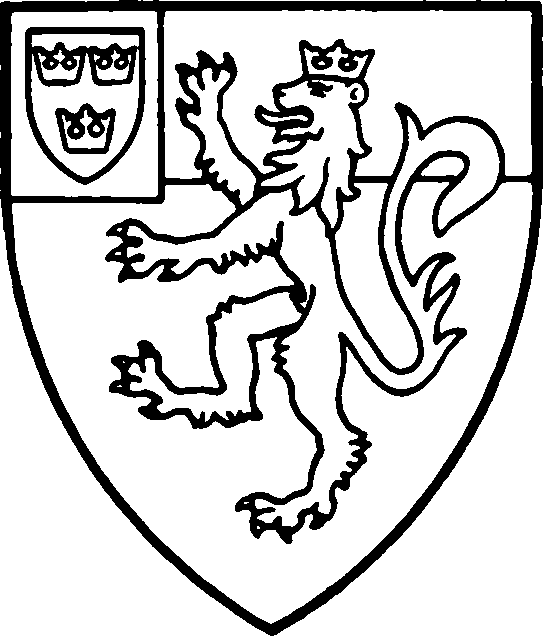 Rose, wt. for tabard 11 December 1609, cr. May 1610.
Bluemantle, docquet 10, pat. 18, cr. 23 December 1611.
Richmond, signet February, pat. 11, cr. 23 March 1616.
Norroy, docquet 19, pat. 24, R. wt. 28 June 1635.
Garter, appd late 1643, pat. 6 April 1644.
Third but eldest surviving s. of Sir Richard St George, Clarenceux; b. Hatley St George 27 January 1581; employed in College c. March 1609; Rose, alias Rose Rouge, December 1609; 1611 bought out Patten, Bluemantle; 1616 Richmond; 3 March 1618 admitted Gray's Inn; 1625 to France with Wm. Le Neve to conduct Queen Henrietta Maria to England; 1627 deputy for Segar on Garter mission to Gustavus Adolphus of Sweden, who knighted him in camp at Darsau, Prussia, 23 September 1627 and gave him augmentation of arms; Norroy 1635; suspended and fined by E. M. April 1639 for forging father's signature on a faked grant of arms, but restored with pardon under Great Seal 6 April 1640, the King expressly approving the E. M's action (Cal. S. P. Dom. 1639, pp. 2, 9; cf. Philipot, Somerset); attended King to Oxford in Civil War; D. Med., Oxford, 9 May 1643; Garter late 1643; d. Brasenose College, Oxford, 5 November 1644; burd Christ Church Cathedral.
Attended his father 1611 Vis'n of Derbyshire and 1613 of Cheshire; 1619–23 Vis'n of Cambridgeshire, Devonshire and Cornwall, Wiltshire, Dorset and Somerset for Camden and 1633–5 London for his father. No Vis'n as Norroy.
Compiled 'Catalogue of the Nobility of England, 1628'.
His collections passed to his s. Sir Henry St George q. v.
Married Mary Dayrell, of Lillingston Dayrell, whose sister Rebecca was wife of George Owen, York. Two of his sons, Thomas and Henry, became Garter, and another, Richard, was Ulster 1660–83. His dau. Frances was mother of Elizabeth Tucker, wife of Devenish, Norroy, 1700–4.
Arms: As his father with an augmentation of the arms of Sweden granted by King Gustavus Adolphus by pat. 26 September 1627, viz. On a canton or, a scocheon azure charged with 3 crowns or. Crest and Motto: As his father.
12. SIR EDWARD WALKER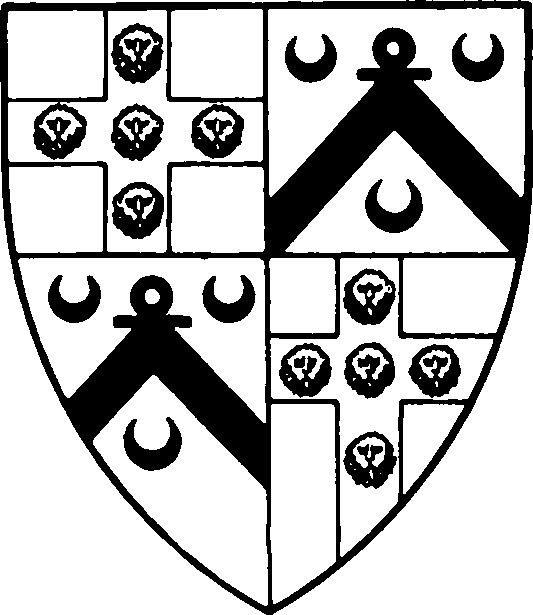 Blanch Lyon, R. wt. 24 May 1635.
Rouge Dragon, pat. 19 May, cr. 5 June 1637.
Chester, pat. 31 January, cr. 8 February 1638.
Norroy, appd late 1643, signet April, pat. 14 June 1644.
Garter, sworn 17 January, pat. 26 February, cr. 25 March 1645.
B. 24 January 1611, at Roobers, in Nether Stowey, Somerset; second s. of Edward Walker of Roobers; employed first in Office of Purveyance; 1633 entered service of Earl of Arundel, E. M.; 1635 Blanch Lyon; thence Rouge Dragon and Chester; 1636 attended Arundel on mission to Ratisbon (account written by Crowne); 1639 Secretary for War on Arundel's expedition against the Scots; 1640 Paymaster of Carlisle garrison.
During Civil War in almost constant attendance on Charles I and later on Charles II in exile. Clerk Extraordinary of Privy Council, Secretary to Council of War, Receiver-General of the King's moneys and Secretary for War; 1643 Norroy; 1 November 1644, Hon. M. A., Oxford; 1645 Garter, and Kt. 2 February; 1657 proposed amalgamation of offices of Clarenceux and Norroy with Garter (Coll. of Arms MS. SML. 64, p. 83); 1649–60 several Garter missions for Charles II in exile.
1660 resumed place at College (Bysshe ejected), Clerk of the Council, member of Gray's Inn; 1660–1 acting Clarenceux owing to Le Neve's lunacy (R. wt. 20 July 1660); petitioned unsuccessfully for patent constituting him and succeeding Garters kings of arms for all H. M. plantations in America; 1663 Garter mission to Brandenburg (represented by H. and T. St George respectively on missions to Sweden and Saxony in 1668); 1675 bought Shakespeare's house, New Place, Stratford-on-Avon; d. Whitehall 20 February 1677; burd Lady (or Clopton) Chapel, Stratford, M.I.
Only child, Barbara, married Sir John Clopton, of Clopton, near Stratford; their third s. Hugh became Rouge Dragon.
Faithful and valuable servant to Charles I and II, and able herald, but in 1653 Sir Edward Nicholas found him importunate, ambitious and foolish, studying only his own ends; Lord Clarendon's opinion similar (D. N. B. citing Nicholas Papers, ii, 11, and Cal. Clarendon Papers, ii, 222, 346). In latter years arrogant and truculent, presuming on his services to the King and often at odds with the E. M. and the provincial kings.
Besides historical works (see D. N. B.) wrote An Account of the Coronation of Charles II (printed 1820).
Many of his collections now in College, including 48 original patents of arms (given 1673), 25 great volumes, WA to W&, containing W. Le Neve's copies of a wide range of documents of heraldic interest (given 1677), two docquet books of his grants, and 'Walker's Arms of Nobility', paintings of the arms of peers. To successors as Garter bequeathed two books on the Order, two volumes of arms of the nobility and a Book of the Coronation.
Portraits in the College (by Wm. Dobson) and at Shakespeare's birthplace.
Arms: (1) As Blanch Lyon, etc.; argent, a chevron anchored (i.e. tipped with a short cross-bar & ring) between 3 crescents sable, a crescent for difference on the chevron. (2) Quartering of augmentation & crest granted by Charles I 1 November 1648; argent, on a cross gules a greyhound courant argent collared or. Crest: A greyhound courant argent, its collar gules charged with 3 gold crowns. (3) Quartering of augmentation granted by Charles II 8 February 1650; Argent, on a cross gules 5 leopard faces or.
The leopard faces and greyhounds are royal badges.
Bookstamp shows a shield of the 1650 augmentation quartering Walker (sans difference) supported in front of a greyhound sejant erect & affronté, collared, the whole in a riband inscribed Loyauté Mon Honneur.
Badge epitomizing his career: Out of a king of arms' crown a garb or supported by a blanch lyon & a rouge dragon.
12A. SIR EDWARD BYSSHE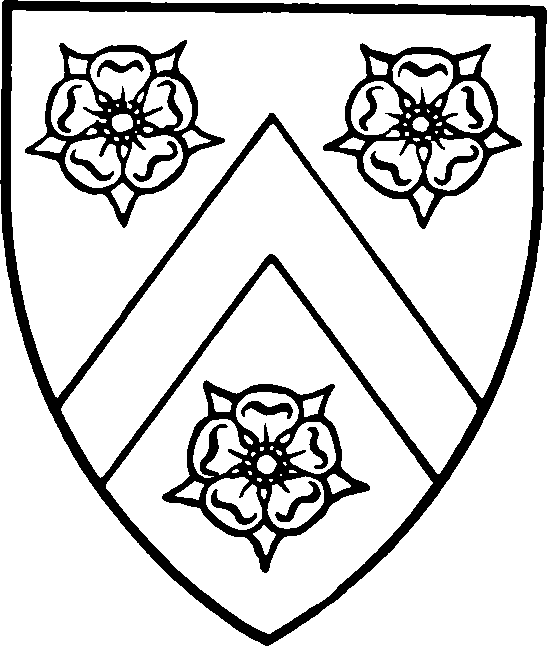 Garter, intruded c. 1643, confirmed by Parliament 20 October 1646, deposed 1660.
Clarenceux, appd by Parliament 12 June 1650, resd 1658. Appd pat. 10 March 1661.
Eldest s. of Edward Bysshe, of Smallfield Place, Burstow, Surrey; b. there 1615; M. P. for different Surrey constituencies 1640–68. Although a member of the committee which in 1640 declared the court martial illegal, became 1645 a commissioner for executing offices of Constable and Marshal. Took covenant 1643 and invaded office of Garter; confirmed therein by Parliament 20 October 1646; 1650 also Clarenceux, but relinquished that place to Ryley 1658. At Restoration was ejected from Gartership, but soon after appd Clarenceux in place of Le Neve; Kt. 20 April 1661; d. 15 December 1679; burd in St Olave's Jewry. In latter years was frequently at odds both with E. M. and with his colleagues, especially Walker.
A good antiquary, friend of Dugdale and Dodsworth; took little interest in genealogies and the Vis'ns he made 1662–77 (18 counties) were bitterly criticized by his colleagues; was however a keen and skilled armorist as shown by his annotated edition (1654) of the treatises of Upton, Johannes de Bado Aureo and Spelman.
(Commons' and Lords' Journals; Dallaway, Inquiries; Thomas Moule, Bibliotheca Heraldica, and Sarcastic Notices of the Long Parliament; R. & C.; etc.)
Arms: Or, a chevron between 3 roses gules; with many quarterings. Crest: A hind (biche) tripping argent. Motto: Prudens Simpliciter. (Seal, Bookplate, 1634 Vis'n of Sussex.)
This was adopted by Sir Edward's father in 1623 in lieu of arms confirmed by Camden 1 October 1617: Quarterly, (1 & 4) per fess embattled argent & ermine with 3 leopard faces in chief gules (Bysshe); (2 & 3) per saltire or & azure, 2 roses gules and 2 fleurs de lis or (Burstow). Crest: In a mural crown or, a sword erect argent, hilted or, piercing a leopard's face gules. (Harl. Soc. vol. 76, p. 29.)
13. SIR WILLIAM DUGDALE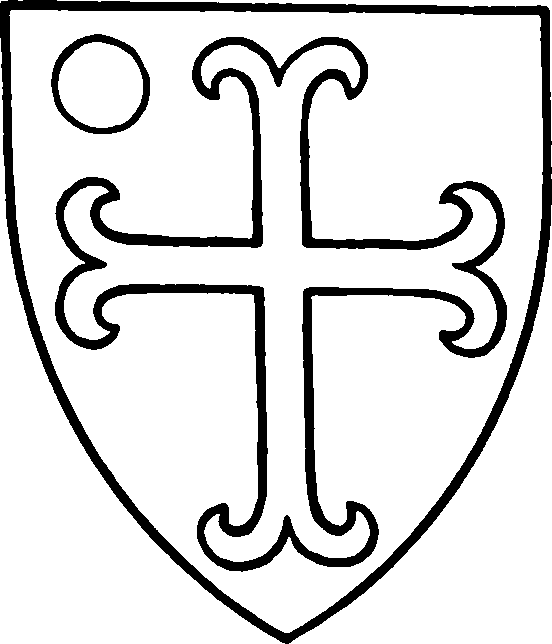 Blanch Lyon, cr. 24 September 1638.
Rouge Croix, signet 14, pat. 16, cr. 18 March 1640.
Chester, pat. 16 April 1644, cr. 25 March 1645.
Norroy, pat. 18 June, sworn 10 August 1660.
Garter, pat. 26 April, cr. 24 May, sworn 1 June 1677.
Of Blythe Hall, Warwickshire; perhaps the most famous of all the members of the College; born 12 September 1605, at Shustoke, Warwickshire, s. and heir of John Dugdale, whilom bursar of St John's College, Oxford. From boyhood devoted himself to antiquarian studies, encouraged first by his father, later by Sir Symon Archer and other antiquaries of the day and still later by his friend and patron Sir Christopher Hatton through whose influence he was appd Blanch Lyon in 1638. About the same time, foreseeing the coming troubles, he, Hatton, Sir Edward Dering and Sir Thomas Shirley formed a new society 'Antiquitas rediviva'. How far their ambitious programme was carried out we know not, but among its fruits were (1) 'The Book of Drafts', paintings of monuments, etc. collected by Dugdale in 1640–1 at Hatton's expense, (2) 'The Book of Seals', published 1950 as 'Sir Christopher Hatton's Book of Seals', and (3) a most valuable series of facsimiles of rolls of arms, now Soc. Antiq. MS. 664 (C. E. M. R. A., p. xxi, etc.; Arch. Cant., 1, 50, etc.).
At the Civil War Dugdale accompanied the King to Oxford (M. A. 1642). His estate was thereupon sequestered by Parliament, but he was allowed to compound for it in 1646. Later he was able to visit London from time to time and although not acting as a herald had chambers in the College at least from 1653.
This enforced respite from official duties enabled him to concentrate on the Monasticon Anglicanum (1655, 1661, 1673, in collaboration with Roger Dodsworth) and The Antiquities of Warwickshire (1656). Those and The Baronage of England (1675–6), though probably the best known, are by no means his only works, see Sir William Dugdale, 1605–86; A List of his Printed Works (Warwick, 1953), which also lists his manuscript remains.
At the Restoration appd Norroy and 1677 Garter; admitted to Gray's Inn 1660; Kt. 25 May 1677; d. at Blythe Hall 10 February 1686; burd at Shustoke (M.I.).
As Norroy 1662–6 visited personally all ten English counties in his province, usually with Gregory King as clerk and painter; also visited Shropshire 1662 as Bysshe's deputy and 1670 deputed Chaloner and Sandford to visit Flintshire.
A great benefactor to the College; besides presenting copies of his own works and some important MSS. he was instrumental in persuading several collectors to give it many books and manuscripts.
His only surviving s. John, afterwards Norroy, was appointed deputy Garter 1684, and his dau. Elizabeth married Elias Ashmole. His last descendant in the direct male line was John Dugdale, Mowbray.
For further particulars see D. N. B.; Hamper's Life... of Sir Wm. Dugdale (1827); R. & C., and other sources listed in the pamphlet cited above.
Arms: Argent, a millrind cross gules with a roundel gules in the dexter canton. Crest: A griffin's head & wings or. Motto: Pestis Patriae Pigrities.
14. SIR THOMAS ST GEORGE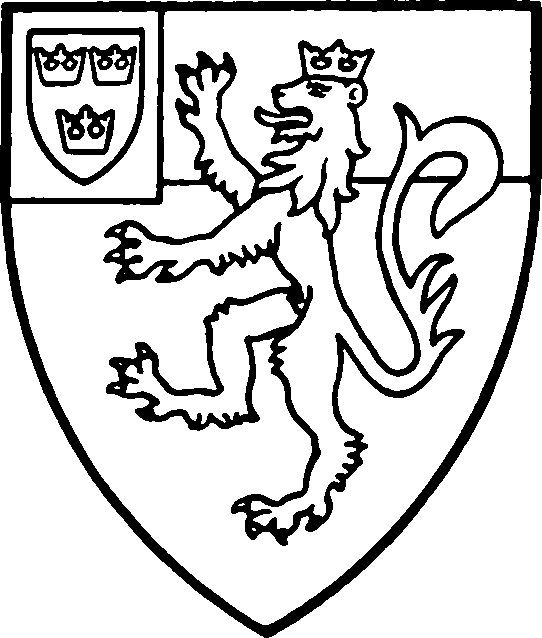 Somerset, pat. 12 July, sworn 10 August 1660.
Norroy, signet January 1680.
Garter, signet February, pat. 11 March, R. wt. 22, cr. 24, sworn 26 April 1686.
Of Woodford, Essex; b. 1615, eldest s. of Sir Henry St George; Somerset 1660, thence Norroy and Garter; 1669 deputy for Walker on Garter mission to Dresden; Kt. 1 June 1669; 1691 attended King William when he invested Duke of Zell at the Hague, but deputed Gregory King on Garter missions to Berlin 1690, Dresden 1693 and Hanover 1701; 1693 a commissioner for rebuilding St Paul's Cathedral; d. in College 6 March 1703, aged 87; burd in churchyard, Woodford, Essex (altar tomb). His dau. Eleanor was mother of Thomas Coote, Rose Rouge, 1702.
At his death his very valuable MS. collections were bought by Peter Le Neve and with Le Neve's additions were sold 1731. A few have since come to the College; others are in the British Museum and other collections.
Anstis says he was 'a person of many gentlemanlike qualities' (Reg. Garter, 1, 421), but Gibbon, Bluemantle, says that having given £1000 to be made Garter he proved himself very ignorant and much a knave (Coll. of Arms M.S. O.A. I, 298 b).
Arms: As his father Garter (11).
15. SIR HENRY ST GEORGE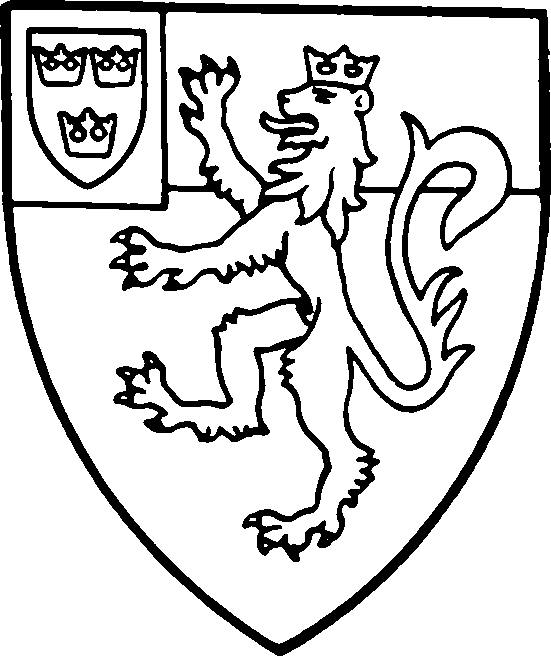 Richmond, pat. 18 June, sworn 10 August 1660.
Norroy, pat. 27 April, cr. 24 May 1677.
Clarenceux, pat. 28 January 1680, salary from Michaelmas 1679.
Garter, pat. 16, R. wt. 18, cr. 25 June, salary from Easter 1703.
The last of the St Georges to hold office in the College; b. July 1625 in St Andrew's parish, Hertford; third but second surviving s. of Sir Henry St George; Richmond at Restoration, thence Norroy, Clarenceux and Garter; deputy for Walker on Garter mission to Stockholm 1669; deputy Garter between Walker's death and Dugdale's appointment; Kt. 25 May 1677; 1693 a commissioner for rebuilding St Paul's Cathedral; d. at College 1715 aged 91; burd 18 Aug. in St Benet's, Paul's Wharf.
Anstis (according to Noble, p. 354, but not in Coll. of Arms, MS. O.A. or Reg. Garter) called him 'a timorous animal, governed by every creature, minding only his iron chest & the contents of it'; while Hearne says he was incommunicative, sordid and of little learning (Collections, v, 98). Nevertheless, whatever his shortcomings, as Clarenceux he was active in Vis'ns, twelve counties being visited between 1681 and 1700; four of these he visited in person assisted by King and Dale; the others were visited by deputies, King being one in each case; the profits of six of these, amounting to £530, he presented as a contribution towards rebuilding the College.
On his death the College recovered with difficulty from his executors certain books belonging to it. The rest were sold by the executors to Lord Percival, later Earl of Egmont, and in 1738 more than 200 MS. volumes from his collections were sold by auction. Of these fourteen volumes were given to the College by J. G. Teed in 1846; others are among the Lansdowne MSS. in the British Museum and in the Knight collection at Caius College, Cambridge; yet others were bought by Sir Anthony Wagner from the Phillipps collection (R. & C., pp. 38–9).
Lady St George, née Elizabeth Wingfield, was second cousin of John Wingfield, York.
Arms: As his father Garter (11).
16. JOHN ANSTIS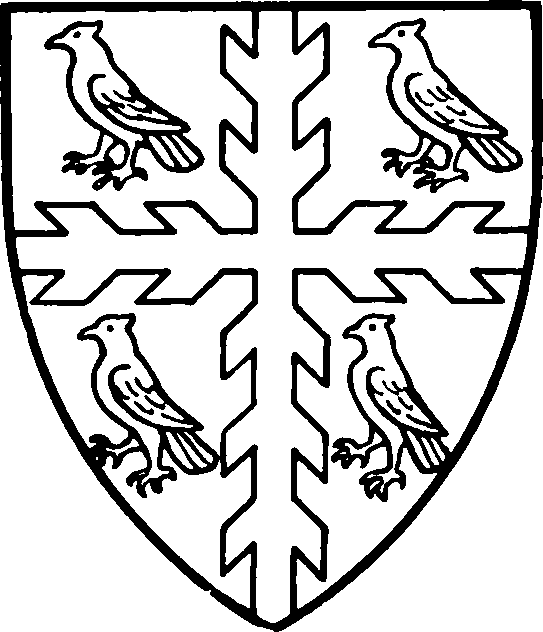 Carlisle, nom. 17 May 1707, title changed to Norfolk next day.
Norfolk, nom. 18 May 1707, but not created.
Garter, reversionary pat. 2 April 1714 (p. s. 7 February, renewed 25 March 1714), sworn 29 April 1719.
One of the most learned members of the College. Born in Cornwall 1669, s. of John Anstis of Duloe and Lunna, in St Neots; educ. Exeter College, Oxford; M.P. for different Cornish constituencies 1702–22; Bencher Middle Temple 1722. In 1700 the E.M. ordered him to be given access to the library and records of the College. 1707 nom. first Carlisle, then Norfolk, but not created by either title. In 1714 obtained a reversionary pat. of the Gartership, but when this fell vacant in 1715 Vanbrugh was nominated. Although in prison as a suspected Jacobite Anstis claimed the office under the 1714 pat. Decision at length given in his favour (20 April 1718) and he took the oath as Garter April 1719. In 1727 obtained a new pat. appointing him and his s. joint Garters. D. at Mortlake, Surrey, 4 March 1744; burd at Duloe.
Mainly at his instigation that Order of the Bath was instituted in 1725, in which year he published Observations... on the Knighthood of the Bath. Previously published on The Curia Militaris, The Honor of Earl Marshal and The Form of the Installation of the Garter, but his most important work is The Register of the Order of the Garter (2 vols., 1724), which in addition to the register itself contains much valuable information on heralds and heraldry. His large MS. collections now dispersed in British Museum, Coll. of Arms, etc.
(D.N.B.; Maclean, Trigg Minor, 1, 67; etc.)
Arms: Argent, a cross raguly gules between 4 doves azure, beaks and legs gules. Crest: 5 ostrich feathers argent in a king of arms' coronet or. Motto: arma nobilitant genus.
These were granted by Ward, Clarenceux, 31 January 1741, to the elder Anstis and his posterity on the motion of the younger Anstis and without the elder's knowledge. Neither father nor son used personal arms on their official seals as Garter.
(Misc. Gen. & Her., 5 s, x, 3.)
17. JOHN ANSTIS, LL.D., F.S.A.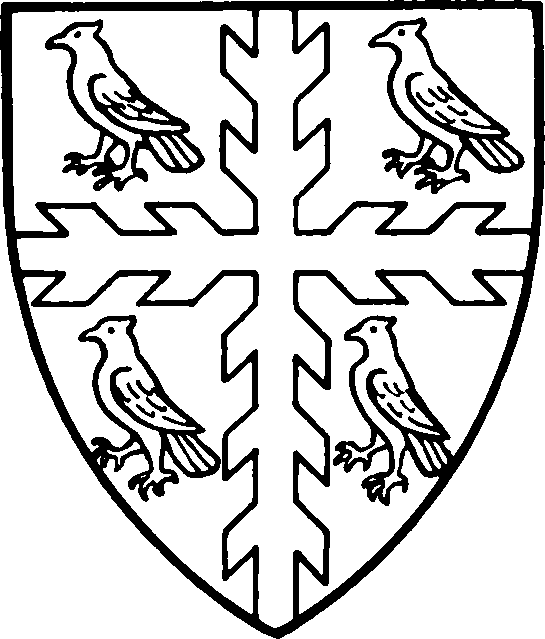 Blanc Coursier, 14 January 1726.
Garter, concurrent pat. with his father 9 June 1727; sworn 18 June 1730; sole Garter from 4 March 1744.
B. in London 1708, eldest s. of John Anstis Garter (16); educ. Corpus Christi College, Oxford; Genealogist of the Order of the Bath May 1725, and 14 January 1726, Blanc Coursier Herald, an office annexed to that of Genealogist; F.S.A. 1736; LL.D., Oxford 1749; Bencher Middle Temple 1749. Sole Garter 1744. D. 5 December 1754, at Mortlake; burd at Duloe.
Generally considered a man of ability, but Warburton (London and Middlesex Illustrated), perhaps out of spite, said he was 'only remarkable for knowing nothing whatever of the matter' (heraldry).
His tabard and other insignia as Blanc Coursier and Garter are in the Victoria and Albert Museum. Blanc Coursier's tabard is emblazoned with the arms of the Duke of Cumberland, then First and Principal Companion of the Order of the Bath.
Arms: As his father. 10 March 1744, he was granted quarterings for Smith and Cudlip, and in the Grant Book the coronet in the crest of Anstis is charged with 3 blue roundels.
(D.N.B.; Nicolas, Orders of Knighthood, iii, lxxi; Misc. Gen. & Her., 5 s, x, 3.)
18. STEPHEN MARTIN LEAKE, F.R.S. and F.S.A.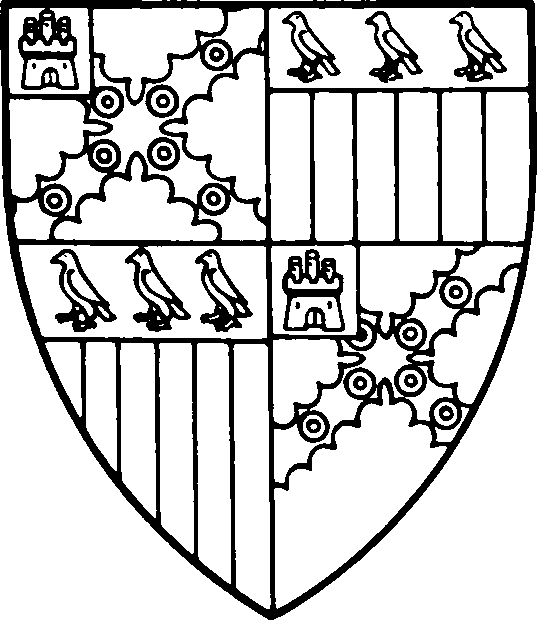 Lancaster, pat. 1 June, cr. 9 October 1727.
Norroy, pat. 17, R. wt. 21 December 1729, cr. 28 January 1730.
Clarenceux, pat. 30 November, R. wt. 21, cr. 22 December, salary from 1 October 1741.
Garter, pat. 19 December 1754.
'An ornament to the College, a most able and well informed man upon most subjects, but especially upon the science of heraldry and the various duties of his office; in private life a most worthy and excellent person', so wrote Garter Young in 1841.
Of Thorpe Hall, Essex, b. 5 April 1702, s. of Capt. Stephen Martin, R.N., adopted heir of Rear-Admiral Sir John Leake, whose name and arms he assumed. Barrister Middle Temple; Younger Brother of Trinity House 1723; Deputy-Lieutenant of Tower Hamlets 1724; F.S.A. 1726; F.R.S. 1727; Lancaster 1727 on Heskett's resignation for which he paid 350 guineas; thence Norroy, Clarenceux and Garter; E.M's Secretary 1731–2.
Throughout career fought for heralds' rights and privileges; 1732 played leading part in the abortive revival of the Court of Chivalry; 1733 successfully opposed grant to Bath king of arms of heraldic jurisdiction in Wales; 1738 drew up unsuccessful petition for a charter granting heralds exclusive right to paint arms, etc.; 1747 opened at College birth registers specially for Dissenters and Jews; Joint Plenipotentiary on Garter missions to Ferdinand of Brunswick-Bevern 1759 and Adolphus Frederick of MecklenburgStrelitz 1764; d. at Mile End, Middlesex, 24 March 1773; burd Thorpe-leSoken Church, Essex (M.I.).
Author of Nummi Britannici Historia (1726); Reasons for granting Commissions to the Provincial Kings at Arms for visiting their Provinces (1744); Life of Sir John Leake (1750); Remarks on the Origin & Usage of Arms (1834); The Sovereign Arms ... at the Accession of King James I, 1603, with Remarks on the Order of the Thistle (1855); 'Account of the Heralds' Office' (1767) (printed in Genealogist, N.S. xiii, 138).
His MS. collections were bequeathed to his second s. John, Chester, on the death of whose youngest brother George, in 1834, 75 volumes, mostly in Garter's own hand, were bought by the College (see R. & C., p. 41). Some few, of a more private nature, remained in the possession of John's descendants at Marshall's, High Cross, Hertfordshire, but were given to the British Museum in 1953 on the death of Col. Arthur Martin Leake, V.C.
Some papers in Garter's hand are in a volume of 'Heralds' College Papers' bequeathed to the College by G. W. Marshall, York.
Nine volumes of Leake's books and MSS. relating to Essex are penes Essex Archaeological Society.
Garter was not particularly interested in genealogy and his collections concern the history and rights of the heralds (14 volumes); the Court of Chivalry, the Order of the Garter, ceremonies and the like.
His younger sons John and George were successively Chester and his eldest s. Stephen was Norfolk. For 107 years from his own appointment as Lancaster in 1727 to George's death in 1834 at least one of the family was a member of the College.
Arms: exemplified 1721: Quarterly, (1 & 4) or, on a saltire engrailed azure 8 annulets argent & in a canton gules a castle triple-towered argent (Leake); (2 & 3) Paly of 6 pieces or & azure, on a chief gules 3 marleons (merlins) or. Crest: A ship gun-carriage with a piece of ordnance mounted thereon proper. Motto: pari animo.
19. SIR CHARLES TOWNLEY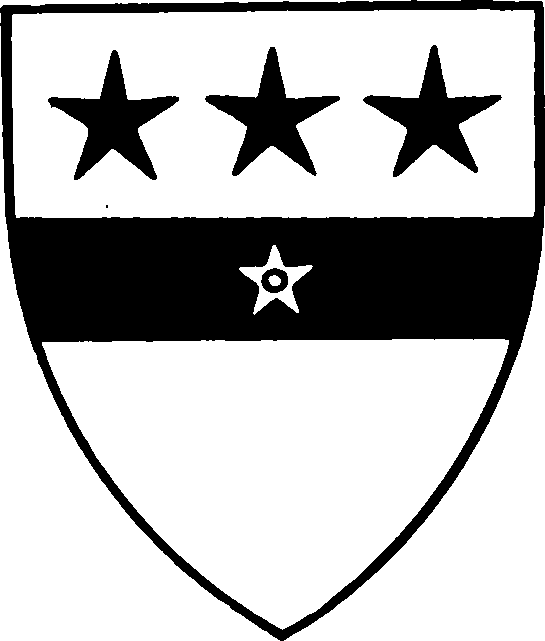 York, pat. 26 August, R. wt. 11 November, cr. 13 December 1735.
Norroy, pat. 19 November 1751.
Clarenceux, pat. 11 January 1755, salary from 19 December 1754.
Garter, pat. 27 April 1773.
Of Long Whatton, Leicestershire; a cadet of Townley of Townley; b. 7 May 1713, on Tower Hill, London; s. of Charles Townley, merchant, of Tower Hill and of Clapham, Surrey; educ. Merchant Taylors' School; 1735 bought place of York from Philip Jones for £400; ceremonial creation dispensed with by D.E.M. 3 September 1735, but actually cr. by E.M. 13 December; his pat. the first English pat. for an officer of arms; 1749 secretary Garter mission to Anspach; later Norroy and Clarenceux and 1773 Garter; Kt. 26 September 1761; d. Camden St, Islington, 7 June 1774; burd family vault St Dunstan's in the East.
His collection of M.I.s and his 'Attendance Book' in College; latter contains outspoken comments on some fellow-heralds. B.M. MS. Add. 14834 contains heraldic collections including a draft of arms (unused) for the Society of Antiquaries, fo. 33.
His portrait in College.
Coming into a considerable fortune c. 1755 Leake complains that thereafter he neglected his official duties and became overbearing and difficult (Coll. of Arms MS. SML. 65, p. 215).
Arms: Quarterly, (1 & 4) argent, a fess & in chief 3 molets sable, with an annulet on a molet or for difference (Townley); (2 & 3) argent, a chevron engrailed sable ermined argent & on a chief sable 3 martlets argent (Wilde, granted 4 July 1743). Crest: On a perch or a hawk close proper, beak & bells or, a riband gules twined about the perch. Motto: tenez la vraye.
20. THOMAS BROWNE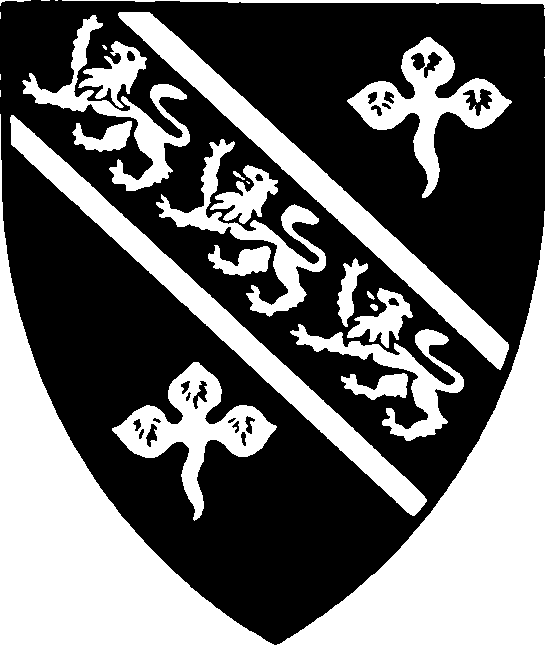 Blanch Lyon, cr. 9 October 1727.
Bluemantle, pat. 16 December, salary from Lady Day 1737.
Lancaster, pat. 5 May 1744.
Norroy, pat. 6 May 1761.
Clarenceux, pat. 13 May, salary from 27 April 1773.
Garter, pat. 15 August, salary from 7 June 1774.
Called 'Sense' Browne to distinguish him from 'Capability' Brown; an eminent land surveyor; said to have owed his appointments in the College to his services to the Duke of Norfolk in that capacity. According to J. C. Brooke, Somerset, knew nothing of heraldry and neglected his heraldic duties.
B. Ashbourne, Derbyshire, 13 March 1702, third s. of John Brown of Compton in Ashbourne; worked for a time as surveyor under John Warburton, Somerset; successively Blanch Lyon, Bluemantle, Lancaster, Norroy, Clarenceux and Garter; d. at his house in James St, Bedford Row, 22 February 1780; burd at Essendon, Hertfordshire, where he had a country house; left nearly £25,000 besides houses at Essendon and James St; married Martha, dau. and coheiress of George Nedham of Wymondley Priory, Hertfordshire. Eldest s. George was Bluemantle.
(Genealogist, preface to N.S. xxxvi.)
Arms granted 1761: Sable, 3 lions passant between 2 bendlets argent all between 2 trefoils ermine. Crests: (1) from a crown palisado (vallary) or a buck's head sable attired or (Nedham); (2) a griffin's head erased sable, beak & ears or, charged on the neck with a bar gemel argent & a trefoil ermine (Browne). Motto: si sit prudentia.
21. RALPH BIGLAND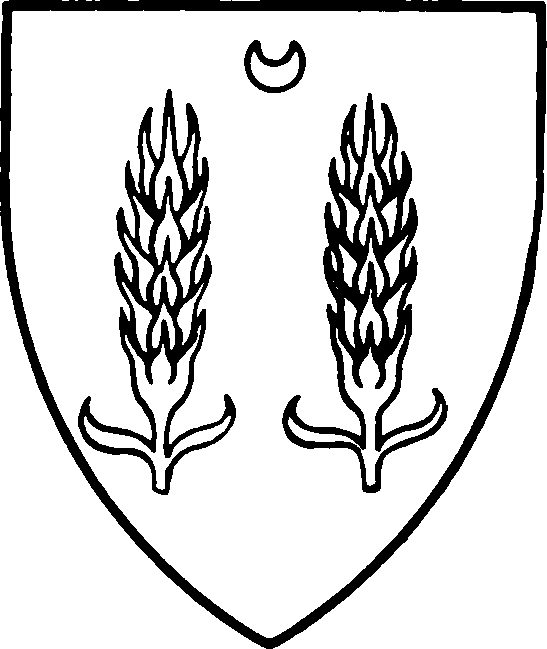 Bluemantle, pat. 23 February 1757, salary from 5 May 1756.
Somerset, pat. 15 June, salary from 12 May 1759.
Norroy, E.M. wt. 13, pat. 27 May, salary from 13 May 1773.
Clarenceux, pat. 12 September, salary from 15 August 1774.
Garter, appd 26 February, pat. 2 March, salary from 22 February 1780.
B. 1711, s. of Richard Bigland of Gray's Inn and Stepney, a cadet of Bigland of Bigland Hall, Lancashire; married Anne dau. and heiress of John Wilkins of Frocester, Gloucestershire, by whom one child, Richard of Frocester.
Successively Bluemantle, Somerset, Norroy, Clarenceux and Garter; d. in College 27 March 1784; burd Gloucester Cathedral.
Very active professionally; reputed a good genealogist; published Observations on Marriages...in Parochial Registers (1764); also made collections for history of Gloucestershire, partly published by his son as Historical, Monumental and Genealogical Collections relative to the County of Gloucester (1792).
(D.N.B.; etc.; see also 'Ralph Bigland and his Family', by Irvine Gray in Trans. Bristol and Glos. Arch. Soc., lxxv (1958), 116–33.)
Arms exemplified 1760: Quarterly with a crescent for difference; (1) azure, 2 ears of big (wheat) or (Bigland); (2) argent, 2 bars with 3 scallops in chief gules (Errington); (3) argent, 10 roundels gules (Babington); (4) or, a fret sable (Ward). Crest: On a torse or & azure a lion passant looking backwards gules & holding in the dexter paw an ear of big or. Motto: gratitudo (over crest).
22. SIR ISAAC HEARD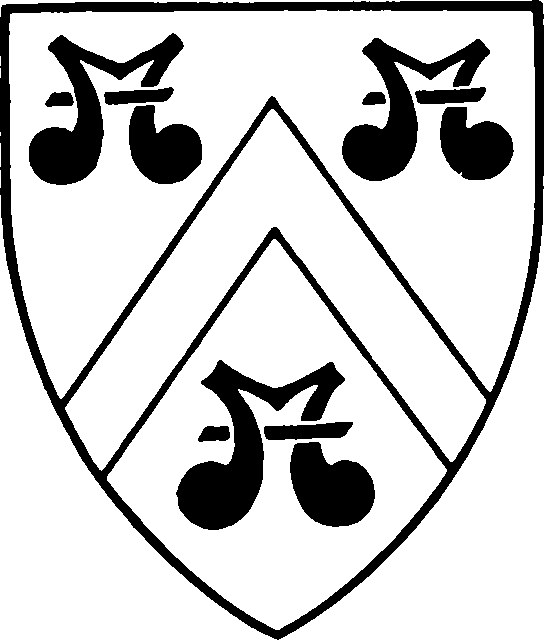 Bluemantle, pat. 5 December, salary from 15 June 1759.
Lancaster, nom. 29 May, pat. 3 July, salary from 6 May 1761.
Norroy, pat. 18 October, salary from 12 September 1774.
Brunswick, 31 December 1774, resd 1814.
Clarenceux, pat. 16 March, salary from 2 March 1780.
Garter, E.M. wt. 9, cr. 27 April, pat. 1 May, salary from 27 March 1784; invested 2 June 1786.
B. Ottery St Mary, Devonshire, 10 December 1730, elder s. of John Heard of Bridgwater and later of London; educ. Honiton Grammar School; Royal Navy 1745–51; August 1750 when midshipman H.M.S. Blandford off Guinea Coast was washed overboard and nearly drowned; 1751–7 merchant in Bilbao, Spain; 1757–9 employed in London; 1759 Bluemantle, whence Lancaster, Norroy, Clarenceux and Garter; 1774 Gentleman Usher of the Scarlet Rod (18 November) and Brunswick Herald (31 December), resd 1814; E.M's Secretary 1782–4; Kt. 2 June 1786; d. in College 29 April 1822, aged 92; burd in St George's Chapel, Windsor Castle (M.I.).
On Garter missions to William, Landgrave of Hesse-Cassel, 1786, Ernest Lewis, Duke of Saxe-Gotha, 1791, and William, King of the Netherlands, 1814. On missions to Alexander I of Russia, 1813, and Ferdinand VII of Spain, 1815, was represented respectively by Townsend and Pulman.
As a herald he was largely responsible for the 'landscape' and similar coats and augmentations conspicuous in the grants to Lord Nelson and other heroes of the Napoleonic wars. As a genealogist he was prominent in the eighteenth-century revival; one of the first to interest himself in American genealogy (Wagner, 'An 18th century King of Arms' Collection of American Pedigrees', New England Hist. Geneal. Reg., xcv, pp. 20–8), having visited America several times from Bilbao, and his first wife being a Boston lady (see A. Ochterlony, Blanch Lyon). Left a large proportion of his MSS. to his friends and assistants Beltz and Pulman, of whom the latter left them to the College, including 8 volumes of peers', one of American and 26 of other pedigrees, also a few Wriothesley MSS. Others of his books and MSS. were sold June 1822 (Gent. Mag., xcii (1822), 1, p. 625), some being bought for the College, others by Beltz and Pulman and yet others by Sir Thomas Phillipps, who printed his Glamorganshire pedigrees in 1845.
(D.N.B.; Gent. Mag., xcii (1822), 1, pp. 466 sqq.; Misc. Gen. & Her., 2s, iv, 209 sqq.; Nicolas, Orders of Knighthood (Order of the Bath); Beltz, Memorials of the Garter, cxxxii, etc.; J. H. Round, Peerage and Family History, pp. 300, 302, 308; etc.)
Arms (1) alleged ancestral: Argent, a chevron gules between 3 bougets sable. Crest: A demi-goat proper, horns, hooves & tufts or with a crown or about its neck. Motto: toujours fidèle.
(2) Granted 22 November 1762: Argent, in base a Neptune with an Eastern crown or, his trident sable headed or, issuing from a stormy ocean, the left hand grasping the head of a ship's mast appearing above the waves as part of a wreck proper, on a chief azure the Arctic Polar Star of the first between two water bougets of the second. Motto: naufragus in portum. Crest: 'in honour of the royal House of Lancaster Institutor of his office' (of Lancaster Herald): A swan, the wings elevated argent, beaked & membred sable charged on the breast with a rose gules barbed & seeded proper, ducally crowned & chained or.
(3) Granted 21 November 1774: As 1762 grant omitting the two bougets on the chief.
23. SIR GEORGE NAYLER, K.H., F.S.A.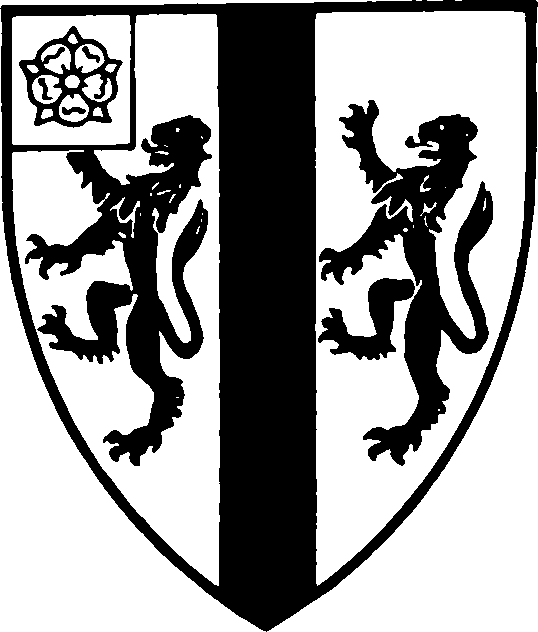 Blanc Coursier, 15 June 1792.
Bluemantle, pat. 29 November, salary from 11 July 1793.
York, pat. 13 March, salary from 3 February 1794.
Clarenceux, Gazette 23, pat. 30 May, salary from 13 May 1820.
Garter, pat. 11 May, cr. 22 July, salary from 29 April 1822.
B. c. 1764, fifth s. of George Nayler, surgeon, of Stroud, Gloucestershire; career the more surprising as only 14 at father's death. Ambitious and energetic, a determined pluralist with a flair for making influential friends; as a boy befriended by the elder Bigland, to whom he probably owed his interest in heraldry; later Duke of Norfolk obtained him commission in West Yorks Militia; still later a wealthy clergyman named Feilding lent him £1300 to buy J. S. Brown's resignation as Genealogist of the Order of the Bath and Blanc Coursier herald, posts to which he was appd 15 June 1792 (J. C. Brooke, Letter Book, 5, p. 1); next year having induced the younger Townley to resign his tabard on (according to Brooke, ibid. p. 67) very advantageous terms, was appd Bluemantle vice Lodge promoted; two months later Brooke and Pingo were accidentally killed and 13 March 1794 he was appd York over heads of Forth and Phillips; F.S.A. fortnight later; Inspector of Regimental Colours 4 June 1806; 1813 sought commission as Heard's deputy on Garter mission to Czar Alexander, and complained that Townsend's appointment was £1000 taken out of his pocket; perhaps as consolation was knighted 28 November 1813, at request of Duke of York who remarked that Heard owed half his practice to his title; 2 January 1815, on extension of Order of the Bath, confirmed as Genealogist and Blanc Coursier and named officer of arms attendant on K.C.B.s and C.B.s; August 1815 king of arms of Royal Hanoverian Guelphic Order with founding of which he was deeply concerned; as such variously called Hanover and Blanc Coursier; 1816 K.H.; 17 April 1818, king of arms of newly instituted Order of St Michael and St George; May 1820 Clarenceux over head of Bigland, Norroy; deputy Garter at coronation of George IV 19 July 1821, and Garter 1822; 1823–7 Garter missions to Denmark, Portugal, France and Russia; d. at residence, Hanover Square, London, 28 October 1831; burd in family vault, St John's Church, Gloucester.
Claimed descent from Nayler of Offord Darcy, Huntingdonshire, but in 1808 their arms were differenced by engrailing the pale and adding a canton charged with the white rose of York; later, 1822, the pale was again made plain and other members of the family were allowed to drop the canton and bear the original Offord Darcy coat.
As Genealogist of the Bath he claimed exclusive right to record pedigrees and arms of the Knights and their esquires; the College argued this encroached on their privilege and were supported by the law officers, but dispute not formally settled till 1847. Meanwhile Nayler recorded many pedigrees and arms in 47 handsome volumes which were deposited in the College in 1861 by order of the Prince Consort, Great Master of the Order. College also acquired 50 folio volumes of Nayler's rough notes.
The College also possesses 'A History of the Sovereigns of the Most Honourable Military Order of the Bath', alias 'The Bath Book', a most sumptuous manuscript executed under Nayler's direction in 1803 for George III and costing over £2000; the King refusing to pay and Queen Victoria declining to buy, Nayler's surviving dau. Frances gave it in 1864 to her brother-in-law Robert Laurie, Clarenceux, who presented it to the College.
His MS. armorial of the princes of Wales was given by George VI to the National Library of Wales in 1937.
1833 College bought from Lady Nayler for £600 over 70 volumes of his collections including the three volumes of Anstis' 'Officers of Arms' and some Wriothesleyana.
His collections also included 45 volumes of cases before the House of Lords and 36 volumes of private acts; these were acquired for the Guildhall Library which still possesses the 45 volumes of cases, but the 36 volumes of acts were destroyed by fire in December 1940 when the Guildhall was bombed. Also among his collections were 14 volumes of coffin-plates inscriptions, now B.M. MSS. Add. 22292–305; and at least three Wriothesley MSS., now Add. 45131–2–3 in British Museum.
Undertook a 'History of the Coronation of King George IV', for which £3000 granted 1823; only lived to publish, 1824, two parts. Parts 3 and 4 made up by Bohn, using drawings prepared in one volume 1839 (Connoisseur, June 1937; H. & G. vii, 77).
Married Charlotte Wilkes Williams, illegitimate dau. of Sir John Guise, Bt., of Highnam Court, Gloucestershire, and sister of Frances Williams, mother of Robert Laurie, Clarenceux, whose brother George married Nayler's dau. Charlotte (Coll. of Arms MS. 14 D. 14, 191).
Large private practice both before and after he became Garter.
(See also D.N.B.; Gent. Mag., xc, 162, etc., ci, 567, etc., cii, 190, 443; H. & G. vii, 72–80.)
Arms: (1) As Bluemantle (Naylor of Offord Darcy): Or, a pale between 2 lions rampant sable. Crest: A lion's head erased sable with a saltire or on the neck.
(2) As York, granted 22 October 1808: Or, a pale engrailed between 2 lions sable & on a canton gules a white rose barbed & seeded proper 'in allusion to the institution of the office of York herald by King Edward the Fourth, a white rose barbed & seeded proper being the Badge of the Royal House of York'; with quarterings for Park & Osman. Crests: (1) On a mount vert a white courser in full speed 'in allusion to the office of Blanc Coursier Herald' charged with a pale gules & thereon a rose argent; (2) A lion's head erased sable transfixed with a spear bendways point downwards or & charged on the neck with a saltire or.
(3) As Garter, granted 11 June 1822: As in 1808 but the pale plain instead of engrailed.
24. SIR RALPH BIGLAND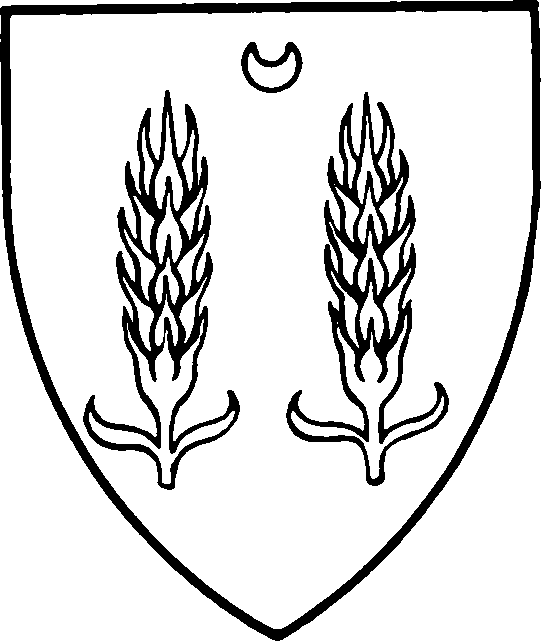 Rouge Dragon, pat. 3 December, salary from 10 November 1774.
Richmond, pat. 20 April, salary from 3 April 1780.
Norroy, pat. 5 April, salary from 19 March 1803.
Clarenceux, 4 June, salary from 29 April 1822.
Garter, E.M. wt. 9, cr. 15, pat. 26 November, salary from 28 October 1831.
Nephew of Ralph Bigland Garter (21), being s. of his sister Elizabeth Maria by Joseph Owen of Salford, Lancashire; b. 1 May 1757; d. 14 July 1838. At uncle's desire took name and arms of Bigland by R.L. 21 October 1774. Successively Rouge Dragon, Richmond, Norroy, Clarenceux and Garter; the last to hold all three kingships in succession. Kt. 7 December 1831.
Arms exemplified 1774: Bigland, Errington & Babington quarterly with the crest of Bigland, as his uncle. Motto: spe labor levis.
25. SIR WILLIAM WOODS, K.H., F.S.A.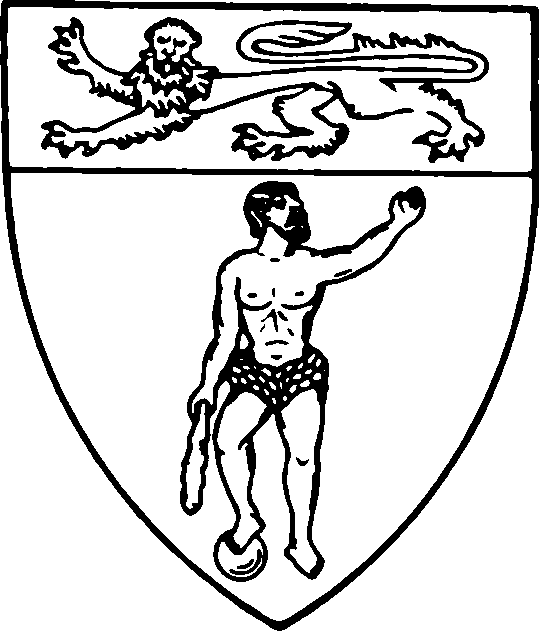 Bluemantle, pat. 24 April, salary from 30 March 1819.
Norfolk, E.M. wt. 23, R. wt. 25 March 1825; title held concurrently with that of Bluemantle.
Clarenceux, pat. 26 November, salary from 9 November 1831.
Garter, pat. 23 July, salary from 14 July 1838.
B. 17 August 1785; Secretary to K.C.B.s and C.B.s 2 January 1815; Registrar of Guelphic Order August 1815; nom. Ross Herald (Scotland) April 1816, then described as 'of the College of Arms', appointment not completed; Bluemantle 1819 and Norfolk 1825, thence Clarenceux per saltum and later Garter; Deputy Garter c. 1836; F.S.A. 1822; officer of arms attendant on K.C.B.s and C.B.s 7 April, and Kt. 12 April 1832; Inspector of Regimental Colours 11 November 1831; Deputy Secretary of Order of the Thistle 1833; K.H. 1834; d. 25 July 1842, at Lauriestone Lodge, West End, Hampstead; burd in incumbent's vault, Hampstead, M.I.; the last person burd in the church.
Paternity not determined; according to tradition in Ulster's office and College was natural s. of Charles, Duke of Norfolk (d. 1815), but used arms of George Woods, tailor of London, who was probably brother of William Woods (d. 1802), comedian of Theatre Royal, Edinburgh.
According to tradition among descendants of his son, General W. G. Woods, Garter was 'an old rip', and boon companion of the Prince Regent. Appears to have brought up two illegitimate families, one by Elizabeth Blake and one by Mary Ann Young, named in his will as having 'long resided in my family', his residuary legatee and sole executrix.
Arms matriculated in Lyon Register 6 June 1812, to George Woods of London Esq., brother and heir of William Woods of Edinburgh decd; recorded at College 1814 (Scotland, 1, 106–7): Azure, a woodman proper wreathed temples & middle with laurel vert, in his dexter hand a club head downwards in pale or, his sinister arm extended & pointing upwards & his right foot resting on a bezant, on a chief or a lion passant gardant gules. 1st Crest: Out of an open crown or a demi-woodman proper with a club or over his shoulder. 2nd Crest: Out of an open crown or a mount vert thereon a lion statant gardant or in front of an oak-tree proper fructed or. Motto: Deus Robur.
Motto on his bookplate: Deus Robur Meum.
26. SIR CHARLES GEORGE YOUNG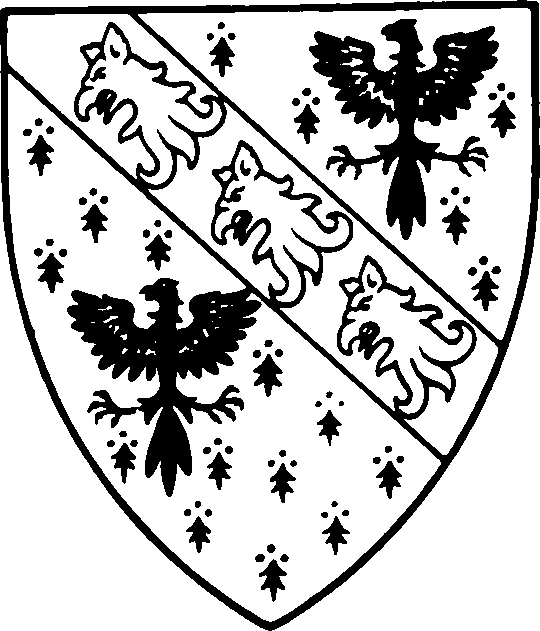 Rouge Dragon, E.M. wt. 14 August, pat. 23 September, salary from 13 August 1813.
York, pat. 30 May, salary from 15 May 1820.
Garter, pat. 6, invested 27 August, salary from 25 July 1842.
B. Lambeth 6 April 1795; s. of Jonathan Young, surgeon (d. 1826; descended from Scotby, co. Cumberland), by Mary Waring, a natural dau. of Charles, Duke of Norfolk (d. 1815); educ. at Charterhouse; Rouge Dragon 1813 aged 18; York 1820 and Garter per saltum 1842. F.S.A. 1822; Kt. 27 August 1842; Hon. D.C.L., Oxford, 28 June 1854; d. 31 August 1869 s. p. at residence, Prince's Terrace, Hyde Park; burd Kensal Green Cemetery.
Secretary to Garter missions to Denmark 1822, Portugal 1823 and Paris 1825; Joint-Plenipotentiary on missions to Saxony 1842, Turkey 1853, Portugal 1858, Denmark 1865, Belgium 1866 and Austria 1867.
Highly competent man of business; rendered valuable service to College as Registrar 1822–42 and otherwise, and to Society of Antiquaries as member of Council and yet more as Chairman of Finance Committee 1846–52.
Had large private practice as York; less so as Garter. At 1869 inquiry Rogers-Harrison complained that as Garter he made unnecessary alterations in almost every sketch submitted to him and that he gave better coats to his own clients than to those of other officers.
Sir Anthony Wagner, as Richmond Herald, says of him:
In 1869 the heralds received a still more important legacy than Pulman's... Young was probably the most scholarly Garter since Leake but the range of his active interest in heraldic studies is better attested by the prefaces of the friends whom he helped, from Sir Harris Nicolas to J. R. Planché, than by the few though valuable articles and pamphlets from his own pen. His collection, however, is a great one both in size and range. It comprises 922 volumes, many written in Young's own hand, but many more acquired by or compiled for him. It is particularly rich in the records (printed as well as manuscript) of the peerage claims which bulked so large in Young's day and in evidences gathered in connection with them, which fill 250 volumes. Pedigrees account for 114, lists and abstracts of wills for 87, of other records for 14, ceremonials for 36, precedency for 10, local history for 9, and orders of Knighthood for 45. They are kept in a special press as a memorial of so great a benefactor (R. & C., pp. 43–4).
Among individual items in his collections were the 1613 copy of Lant's Roll, Glover's essay on Differences of Arms, and Withie's copy of Glover's Ordinary.
(See also H. & G., vi, 465, etc.; D.N.B.; etc.)
Arms: (1) As Rouge Dragon; granted to his father 14 May 1804; ermine, on a bend between 2 eagles displayed sable an anchor argent between 2 griffin heads erased or, a label for difference. Crest: On a wreath of the colours in water representing the sea an anchor erect sable, ring & stock or, the shank entwined by a serpent proper. Motto: Nil Humani a me Alienum Puto. 2nd crest, granted to Rouge Dragon 15 December 1817; on a wreath argent & sable a dragon couchant, wings elevated gules collared & chained or, in the mouth a rose per pale gules & argent seeded or & slipped proper.
(2) As York & Garter; granted to his father 26 June 1822: As before but the anchor on the bend replaced by a (3rd) griffin head, 2 Crests as above. Motto: Nullius in Verba.
Garter quartered for his mother: Per fess gules & argent, a pale counterchanged & 3 crosses crosslet, 2 & 1, argent, all in a border gobony or & azure (granted 15 December 1825).
27. SIR ALBERT WILLIAM WOODS, G.C.V.O., K.C.B., K.C.M.G., K.G. ST J., F.S.A.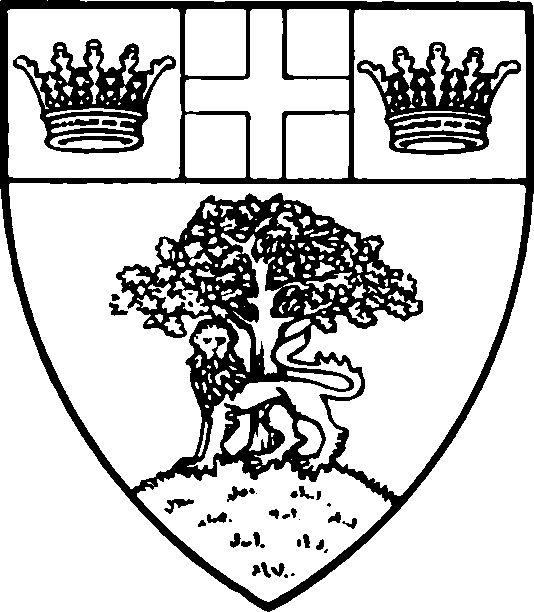 Fitzalan, E.M. wt. 26, R. wt. 27 June 1837.
Portcullis, E.M. wt. 20 July, pat. 2 August, salary from 19 July 1838.
Norfolk, E.M. wt. 26, R. wt. 28 October 1841.
Lancaster, pat. 9 November, salary from 23 October 1841.
Brunswick, 24 November 1841.
Garter, pat. 2, invested 11 November, salary from 31 August 1869.
B. Hampstead 16 April 1816, natural s. of Sir Wm Woods, Garter, q.v.; educ. privately; worked under father at College; Fitzalan 1837, thence Portcullis, Norfolk and Lancaster; Garter per saltum 1869, other candidates being Sir Bernard Burke, Ulster, and Serjeant Bellasis (father of Edward Bellasis, Lancaster).
24 November 1841, Gentleman Usher of the Red Rod and Brunswick Herald, and 1857 on abolition of those offices Registrar and Secretary of the Order of the Bath; 28 July 1842 Inspector of Regimental Colours; 1861 Registrar of Order of Star of India; 1869 King of Arms of Order of St Michael and St George; 1878 Registrar Order of Indian Empire; Registrar of Orders of Crown of India and Victoria and Albert.
F.S.A. 1847; Kt. 11 November 1869; C.B. 1887; K.G. St J. 1888 and Director-General of Ceremonies; K.C.M.G. 1890; K.C.B. 1897; G.C.V.O. 1903; a prominent Freemason.
Attached to Garter missions to Copenhagen, Brussels and Vienna 1865–6–7 and Joint-Plenipotentiary missions to Rome 1878, Madrid 1881 and Dresden 1882.
D. 7 January 1904 at residence, 69 St George's Road, Pimlico, in 88th year; burd Norwood Cemetery; heir grandson Sir G. W. Wollaston (Garter), q.v.
Owing to age and infirmity Weldon Deputy Garter at funeral of Queen Victoria and coronation of Edward VII, but H. F. Burke did almost all the work for latter ceremony.
Only s. William Francis, d. 1870 leaving one s. Albert William Woods, sometime Rouge Dragon, and one dau.
His only dau. Caroline Marianne, mother of G. W. Wollaston, Garter, q.v.
Having made heraldry his profession he practised it assiduously and with much business ability; had unrivalled knowledge of ceremonial and precedence and marvellous memory for precedents. As an armorist influence deplorable (see, e.g. Memoir, by A. C. Fox-Davies in Genealogical Mag., vii (1904), 477, etc.); often said he was determined his grants should mark a period in heraldry, that Victorian grants must be Victorian, and that no nineteenth-century grantee could expect a simple coat.
Portrait in Genealogist, N.S. ix.
(See also D.N.B.; Genealogical Mag., loc. cit.; The Times, 8 January 1904; Illustrated London News, 13 February 1904; Morning Post, 14 January 1926; Crisp, Visitation of England and Wales, xii, 148.)
Arms: (1) Shield & 2 crests as Sir W. Woods, q.v. Bookplate as Brunswick Herald c. 1842. But his first official seal as Garter omitted personal arms.
(2) Granted 22 December 1891: Or, on a mount vert a lion statant gardant in front of an oak-tree proper fructed or; on a chief azure between 2 circlets of a king of arms' crown or a pale argent charged with the red cross of St George. Crest: Out of a crown vallary or a mount vert & thereon in front of an oak-tree as in the arms a demi-man affronté resting the dexter hand on a terrestial globe proper. Motto: Deus Robur Meum.
It will be noticed that this grant reshuffles the elements of his father's achievement, but the patent makes no reference to Sir William.
28. SIR ALFRED SCOTT GATTY, later Scott-Gatty, K.C.V.O., K.J. ST J., F.S.A.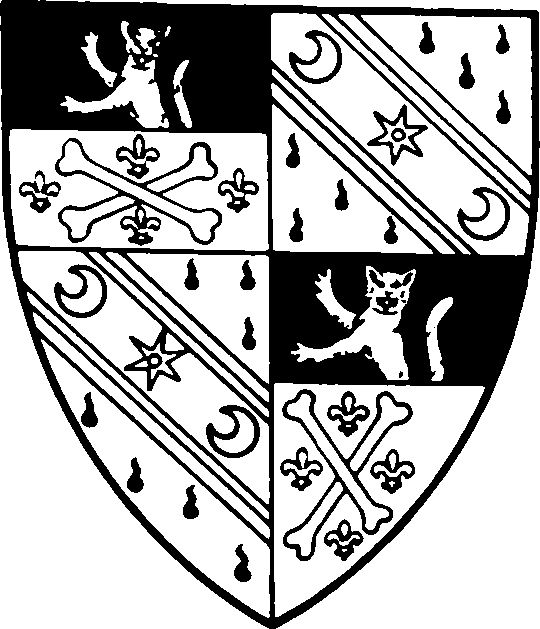 Rouge Dragon, pat. 4 May, salary from 29 March 1880.
York, pat. 12 October, salary from 18 September 1886.
Garter, pat. 8 January, invested 15 July, salary from 7 January 1904.
B. Ecclesfield, Yorkshire, 28 April 1847, second s. of Rev. Alfred Gatty, D.D., by Margaret dau. and coheiress of Nelson's Chaplain Dr Alex. John Scott; educ. Marlborough and Christ's College, Cambridge; before becoming Rouge Dragon was for a time secretary to Stephen Tucker, Rouge Croix. Assumed additional name and arms of Scott by R.L. 23 November 1892. F.S.A. 1884; Kt. 1904; C.V.O. 1906; K.C.V.O. 1911; d. London 18 December 1918; burd Welwyn where he lived.
As herald and genealogist both skilled and energetic with a flair for ceremonial. Genealogist (1905) and Director of Ceremonies of the Order of St John; part-owner of the Genealogist; an accomplished musician and composed many popular songs and lyrics. After his death his s. presented 132 volumes of his collections to the College. 1904 revived practice of granting badges and instituted College Register of Badges.
(Genealogist, N.S. xxxv, 241–2; Genealogical Mag., viii, 55; Crisp, Visitation of England and Wales, ii, 153–4; Coll. of Arms MSS.; R. & C., pp. 50–1; etc.)
Arms (1) granted 1876: Per fess sable & azure, in chief a demi-cat gardant argent & in base 2 shin-bones in saltire between 4 fleurs de lis or. Crest: On an embattled gateway a pheasant rising proper. (2) Exemplified 1893. Quarterly, (1 & 4) Gatty as above; (2 & 3) argent goutty sable, on a bend cotised azure a spur-rowel between 2 crescents argent (Scott). Crests (1) For Gatty: A fern-brake with a cock pheasant rising therefrom proper. (2) For Scott: On a mount vert a stag tripping proper, collared gemel argent & supporting with the dexter fore-leg a gold trident in bend sinister. Motto: Non Cate Sed Caute. 1 Gatti Sempre in Piedi. Badge: granted 1906: A cat's face argent crowned with the circlet of a king of arms' crown.
29. SIR HENRY FARNHAM BURKE, K.C.V.O., C.B., F.S.A.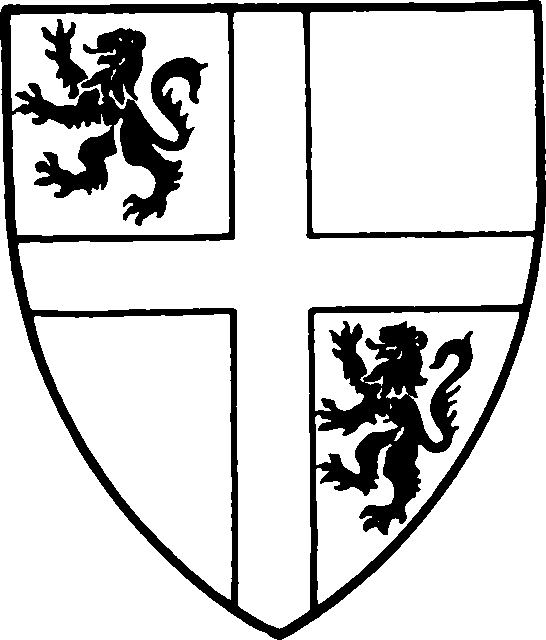 Rouge Croix, pat. 3 September, salary from 20 August 1880.
Somerset, pat. 31 January, salary from 6 January 1887.
Norroy, pat. 9 October, salary from 15 September 1911.
Garter, pat. 22 January, invested 23 April 1919, salary from 18 December 1918.
B. Dublin 12 June 1859, eldest s. of Sir Bernard Burke, Ulster 1853–92, and grandson of John Burke, founder of Burke's Peerage, etc.; d. in London 21 August 1930.
Successively Rouge Croix, Somerset, Norroy and Garter; Deputy Ulster and Genealogist of the Order of St Patrick 1889–93; Genealogist of the Orders of the Bath and St John of Jerusalem in England and Inspector of Regimental Colours from 1904 (resd 2 June 1929); F.S.A. 1882; C.V.O. 1902; C.B. 1911; K.C.V.O. 1919.
An able genealogist and master of the science and art of heraldry; an authority on armour and armorial china and a highly competent man of business.
While Norroy prepared The Historical Record of the Coronation of Their Majesties King George V and Queen Mary, 1911.
His father sought appointment as Garter in 1869.
(The Times, 22 August 1930; Landed Gentry (1937); Morning Post, 20 January 1926; Athenaeum, 6 January 1912.)
Arms: Or, a cross gules with a lion sable in the first and fourth quarters. Crest: A cat-a-mountain sejant gardant proper, collar & chain or, on the breast a cross or. Motto: ung roy, ung foy, ung loy.
30. SIR GERALD WOODS WOLLASTON, K.C.B., K.C.V.O.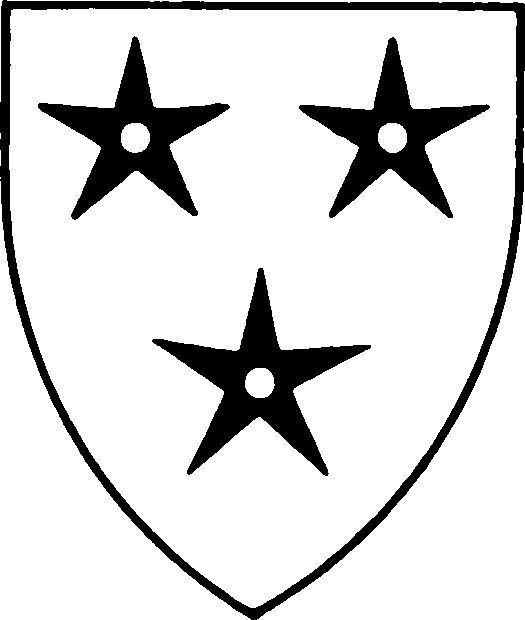 Fitzalan, E.M. wt. 21, R. wt. 28 May 1902.
Bluemantle, pat. 10 January 1906, salary from 12 September 1905.
Richmond, pat. 24 February, salary from 23 January 1919.
Norroy, pat. 31 July, salary from 26 July 1928.
Deputy Garter, 17 June 1930.
Garter, pat. 27 September, invested 27 October 1930; retired 2 June 1944.
Norroy and Ulster, pat. 2 June 1944.
Of Glen Hill, Walmer, Kent; b. 2 June 1874, at house of his grandfather, Sir A. Woods, 69 St George's Rd, Warwick Sq., only child of Sir Arthur Naylor Wollaston, K.C.I.E., by Caroline Marianne, only dau. of Sir A. Woods; eventually heir to his grandfather; educ. Harrow and Trinity College, Cambridge; M.A. and LL.M. 1900; Barrister Inner Temple 1899; Extra Secretary of Embassy, Madrid, 1918–19; Fitzalan 1902, thence Bluemantle, Richmond and Norroy; Deputy Garter June 1930 and Garter following September; Kt. 27 October 1930; retired at age of 70 and appd Norroy and Ulster 1944; d. at Walmer 4 March 1957, aged 82; burd Walmer.
Genealogist of Order of St John of Jerusalem in England; Inspector of Regimental Colours 1929; Knight Principal Imperial Society of Knights Bachelor; member of Royal Mint Advisory Committee on Seals, etc. 1939; sometime master of Haberdashers' Co.; prominent Freemason. Practised as counsel in Peerage Cases.
1904 gave to College 11 volumes known as 'Garter's Ordinaries' and compiled under direction of Sir W. and Sir A. Woods.
His MS. collections, pedigrees, peerage cases, etc., including many of Sir A. Woods', bought by College from his executors.
M.V.O. 1904; K.J. St J. 1931; K.C.V.O. 1935; K.C.B. 1937; F.S.A. 1932.
Published The Court of Claims (1902 and 1910), supplement 1936.
A most painstaking and skilled herald with special bent to ceremonial.
Arms recorded 1610: Argent, 3 pierced molets sable. Crest: On a wreath of the colours out of a mural crown or a demi-griffin argent holding a pierced molet sable. Motto: ne quid falsi.
31. SIR ALGAR HENRY STAFFORD HOWARD, K.C.V.O., C.B.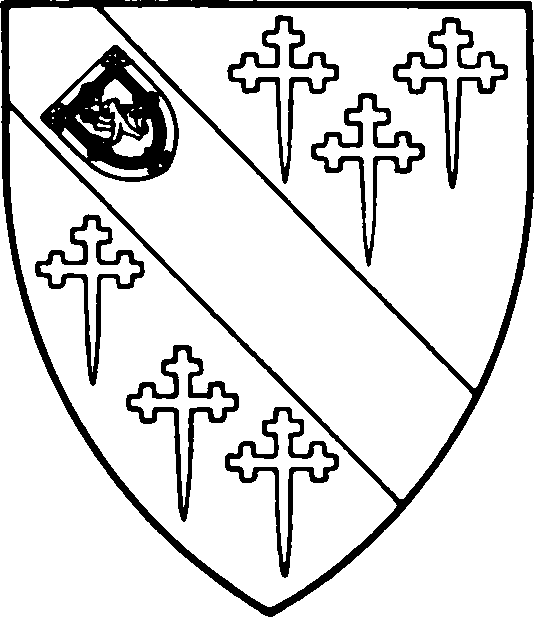 Fitzalan, E.M. wt. 20, R. wt. 23 May 1911.
Rouge Dragon, pat. 17 October, salary from 11 October 1911.
Windsor, pat. 8 October, salary from 26 September 1919.
Norroy, pat. 29 January 1931, salary from 27 September 1930.
Norroy and Ulster, pat. 1 April 1943.
Garter, pat. 2, invested 9 June 1944, resd 6 December 1950.
Of Thornbury Castle, Gloucestershire, where most of the heralds' records and more valuable collections were stored during the Second World War. B. 7 August 1880, elder s. of Sir Edward Stafford Howard, K.C.B., of Thornbury Castle; educ. Harrow and King's College, London; Barrister Inner Temple 1905; Captain in Carmarthen R.G.A. Militia and later Major in Royal Gloucestershire Hussars Yeomanry; Fitzalan 1911, attended Edward Prince of Wales at his investiture 13 July; later Rouge Dragon, Windsor and Norroy 1943, Eire having become a republic, was appd also Ulster king of Arms, thus ensuring the continuance of that office, vacant since the death of Sir Neville Wilkinson in December 1940; Garter 1944; resd 6 December 1950. M.C. 1918; T.D. 1923; C.V.O. 1935; C.B. 1937; K.C.V.O. 9 June 1944; Extra Gentleman Usher to H.M. December 1950.
Arms: Gules, on a bend between 6 crosses crosslet fitchy argent a scocheon or charged with a demi-lion rampant pierced through the mouth with an arrow in a royal tressure gules, a crescent for difference on the bend; quartering Brotherton, Mowbray, Warren, Dacre & Greystoke. Crest: On a chapeau gules turned up ermine & differenced with a crescent sable a lion statant gardant, tail extended, or with a crown argent about its neck. Motto: sola virtus invicta. Badge, granted 1913: A slip of oak vert fructed or charged on the stem with a crescent sable.
(Burke's Peerage, sub Norfolk; Who's Who; etc.)
32. HON. SIR GEORGE ROTHE BELLEW, K.C.B., K.C.V.O., K.J. ST J., F.S.A.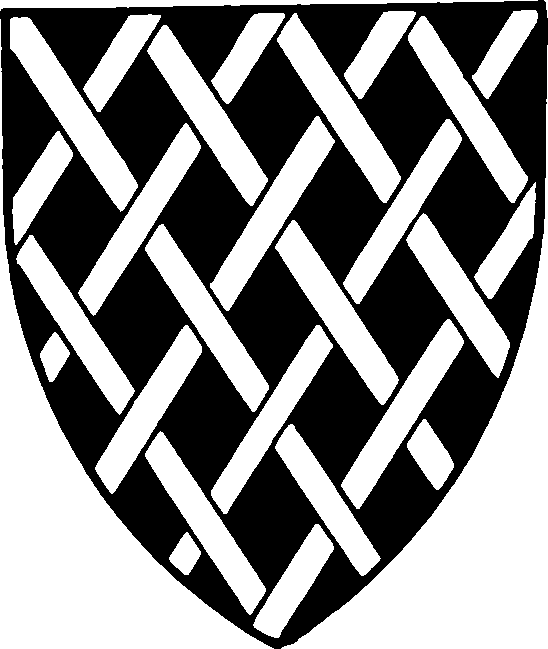 Portcullis, pat. 1 March, salary from 11 January 1922.
Somerset, pat. 16 July, salary from 21 June 1926.
Garter, pat. 6, invested 7 December 1950, resd 5 July 1961.
B. 13 December 1899, s. of Hon. Richard Bellew; Portcullis and Somerset before becoming Garter; Genealogist of the Royal Victorian Order 1946, of the Order of the Bath 1950, and of the Order of St John 1951; M.V.O. 1935; C.V.O. 1950; Kt. 1950; K.C.V.O. 1953; K.C.B. on resignation 1961; Inspector of Regimental Colours, and Knight Principal of the Imperial Society of Knights Bachelor 1957. Served R.A.F.V.R. 1939–45. Married Ursula Cull, a descendant of J. R. Planché, Somerset.
(Who's Who; Burke's Peerage; etc.)
Arms: Sable fretty or. Crest: An arm in armour embowed & holding a sword proper. Motto: tout d'en haut.
33. SIR ANTHONY RICHARD WAGNER, K.C.V.O., D.Litt., F.S.A.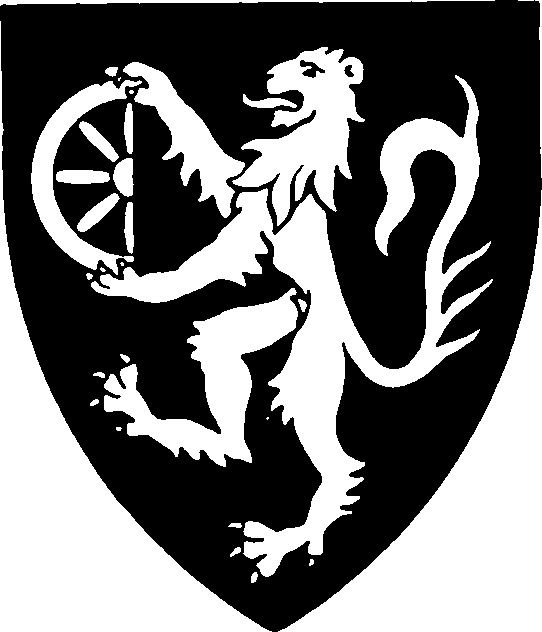 Portcullis, pat. 10 June, salary from 6 February 1931.
Richmond, pat. 1 January 1943, salary from 23 July 1942.
Garter, pat. 6, invested 7 July 1961.
Of 68 Chelsea Square, S.W. 3; descended from Melchior Wagner of Coburg in Germany, naturalized in Great Britain 13 July 1709, by his wife Mary Anne, sister of John Teulon, Ross herald in Scotland, 1746–65; s. of Orlando Henry Wagner, schoolmaster, of 90 Queen's Gate, Kensington; scholar of Eton and Balliol College, Oxford; D.Litt. 1957; Portcullis 1931; Richmond 1943; Secretary of the Order of the Garter 1952; C.V.O. 1953; Garter, Kt. and K.C.V.O. 7 July 1961; Genealogist of the Order of The Bath and St John of Jerusalem in England and Inspector of Regimental Colours 1961.
F.S.A. 1933; F.R.Hist.Soc. 1948; Corresponding Member of French and Swiss Heraldic Societies; Member of Académie Internationale Héraldique; edited catalogue of Heralds' Commemorative Exhibition, 1934; designed heraldry, British Pavilion, New York World's Fair 1939; Member of Croft Lyons (heraldry) Committee of the Society of Antiquaries and editor of the projected New Dictionary of British Arms (1940).
Publications: Historic Heraldry of Britain (1939); Heralds and Heraldry in the Middle Ages (1939 and 1956); Heraldry in England (1946); Catalogue of English Mediaeval Rolls of Arms (Aspilogia, 1) (1950); The Records and Collections of the College of Arms (1952); English Genealogy (1960); English Ancestry (1961); articles on heraldry, etc. in Chambers's Encyclopaedia; Proc. Soc. Antiq. and other periodicals.
Married Gillian M. M. Graham, fourteenth in descent from William Wriothesley, York, and fifteenth from John Wrythe, Garter.
Arms: (1) As Portcullis, granted 1932: Sable, a lion rampant guardant double-queued or holding between the paws a demi-wheel argent. Crest: From a torse of the colours a demi-lion as in the arms. Motto: wachsam und glücklich.
(2) Ancestral arms confirmed 1950: Sable, a lion rampant or holding between the paws the dexter half of a wheel argent. Crest: Out of a gold coronet a demi-lion or holding the dexter half of a wheel as in the arms. Motto: wachsam und glücklich. Badge granted 1950: Within a collar of SS, the riband gules lettered argent, a wheel or.