Pages 20-39
Survey of London Monograph 6, St Dunstan's Church, Stepney. Originally published by Guild & School of Handicraft, London, 1905.
This free content was digitised by double rekeying and sponsored by English Heritage. All rights reserved.
CHAPTER III. MONUMENTS IN THE CHURCH.
Notwithstanding the fact that St. Dunstan's Church appears to have suffered more, to judge by various records, than many of its neighbours in matters of spoliation or neglect of its monuments, there are still many preserved on the walls inside the Church: some are of considerable artistic merit, and not a few commemorate persons who became famous in the history of their times. In one, the monument to Dame Rebecca Berry, there is a wealth of local tradition owing to the fact that the arms on the sinister side of the shield bear, among other charges, a fish and ring (annulet); the monument has therefore been connected with the picturesque "fish and ring" legend, which appears, with slight variations, in many parts of the country.
The interior Church was formerly much richer in memorials than now; two are given from Weever (Fun. Mon.) on pp. 35-36; Norden (Speculum Brittaniæ, 1593) mentions William Chaldnam and Ioan his wife, 1484, "in the north ile," and Lady Anne Wentworth, 1571. Twenty-three monuments, which no longer exist, are also mentioned in Strype's edition of Stow (1720).
The following extract from Gough's Sepulchral Monuments, 1786, Vol. II. Part II. Page cccxxiv. accounts for a great deal of this destruction both in Church and Churchyard:—
"How laudably attentive the Church Wardens of parish Churches among us are, will appear from the following Advertisement:—
'Whereas there are many monuments, tombs and vaults in the Church and Chancel of St. Dunstan's Stepney, in a ruinous state, and many flat and headstones broken and sunk, or buried in the sd Churchyard, and the sd Churchyard from the great number of burials therein has become uneven, and in great need of a reform: The Church Wardens of the sd Parish hereby give notice that all and every person or persons interested in any monument, vault, or flatstone in the sd Church, or monument, tomb with flat or headstone in the sd Churchyard, & who wish to preserve & perpetuate the same, that unless they apply to the Church Wardens, or any of them, on or before the first of January next, & agree to perform or pay for such repairs and replacing as are respectively necessary to such monuments, tombs, vaults, head and flatstones—that the same shall be removed without further notice, and that no grave in the sd Churchyard will for the future be suffered to be raised above the surface of the ground.
Thomas Taylor Ch. Warden Radcliffe.
John Williams " " Poplar & Blackwall.
Matthias Kitchen " " M. E. Old Town.
William Cox " " M. E. New Town.'"
The Vestry Minutes from 1777 to 1821 having been lost, the exact date of the above advertisement cannot be ascertained through the names of the Churchwardens, but probably it was about the time of the publication by Gough, viz., 1786.
The inscriptions on the monuments, together with the heraldry, have been carefully copied, and are given below: the order in which they have been taken is beginning at the west end of the south aisle and proceeding eastward, returning from the chancel along the north aisle. It will be observed that the present position of some of the monuments does not agree with that given by the older authorities, because many of them were removed to their present places at the last restoration. Reference will also be found, on page 17 to the "beautifying" of the monuments during the restoration of the church, and it is to be feared that the original tinctures have in many cases been varied in the repainting of the shields. In an extra-illustrated copy of Lyson's Environs of London preserved in the Guildhall Library, many of these shields are described or illustrated, and when any reference to "Lysons" is made in the case of variations, it is this particular copy that is referred to.
NO. 1. EMMA RIVINGTON, 1852.
A white marble tablet, with an inscription only, in memory of Emma Rivington, her husband Michael R. junior, of Bombay, and her father Edward Thornhill of Upper Clapton.
NO. 2. DAME REBECCA BERRY, 1606.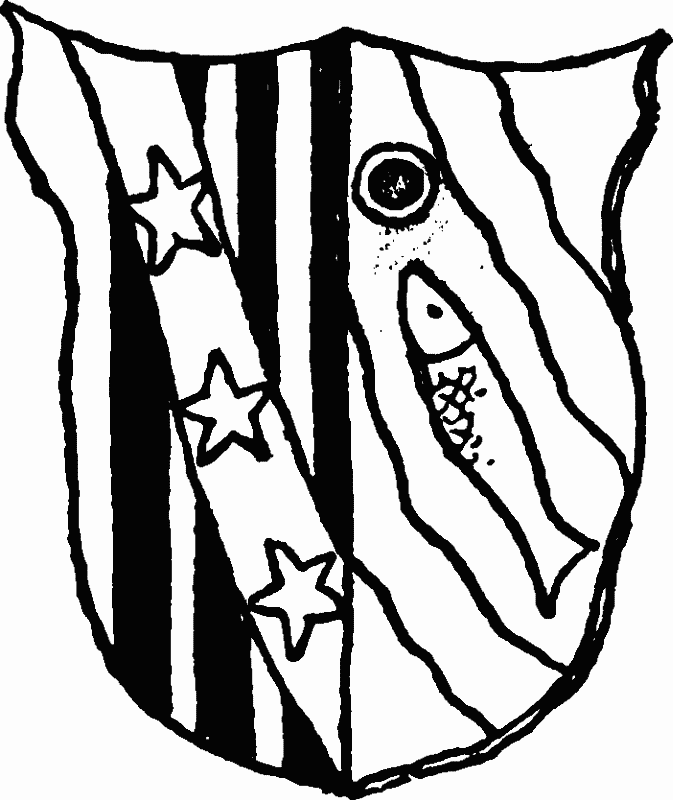 This monument is in the form of a large shield, of stone, supported on a small bracket bearing a cherub's head. Above, it is surmounted by a coat of arms: Paly of 6 or and gu., on a bend az. 3 mullets or—Elton, impaling az. a fish or, and in the dexter chief point an annulet, between two bends wavy, of the last. Over all is an urn and a gilded lamp with the oil burning. The shield is in its heraldic colours, and the urn and shield are slightly gilt. Otherwise the stone (or unpolished marble) is left untouched, the black sunk lettering of the inscription filling the whole centre.
HERE LIETH INTERR'D THE BODY OF
DAME REBECCA BERRY, WIFE OF
THOMAS ELTON OF STRATFORD BOW, GENT.
WHO DEPARTED THIS LIFE, APRIL 26 1606
AGED 52
Come, Ladies, you that would appear
Like angels fair, come dress you here.
Come dress you at this marble stone,
And make that humble grace your own
Which once adorn'd as fair a mind
As e'er yet lodg'd in womankind.
So she was dress'd whose humble life
Was free from pride, was free from strife,
Free from all envious brauls and jarrs
Of human life, the cival wars,
These ne'er disturbed her peaceful mind.
Which still was gentle, still was kind.
Her very looks, her garb, her mein
Disclosed the humble soul within.
Trace her through every scene of life,
View her as Widow, Virgin, Wife,
Still the same humble She appears
The same in youth, the same in years,
The same in low and high estate
Ne'er vext with this, ne'er mov'd with that
So Ladies now, and if you'd be
As fair, as great, as good as she
Go learn of her humility.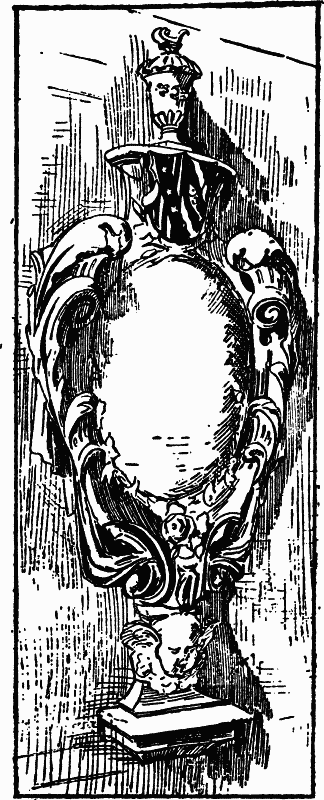 This tablet was originally upon the exterior of the East Wall, and there appears in a print in "Lysons" date 1809. When it was removed to its present position is uncertain. It is known as "The Fish and the Ring" monument and has received perhaps more notice than it deserves, from the idea that the lady, whose virtues are recorded upon it, was the heroine of the common legend describing the loss of a ring, & its marvellous recovery from the inside of a fish. The legend appears in many places and many forms, and probably was only connected with Dame Berry from the Coat of Arms on the monument, which contains a fish and a ring.
Her first husband was the distinguished Admiral Sir J. Berry, whose monument is in the N. Aisle.
NO. 3. ALEX. WELLER, 1734.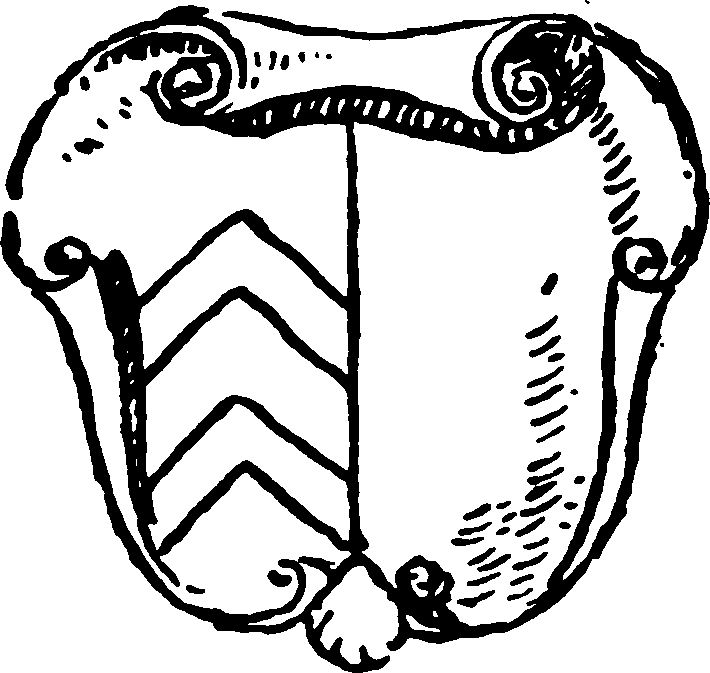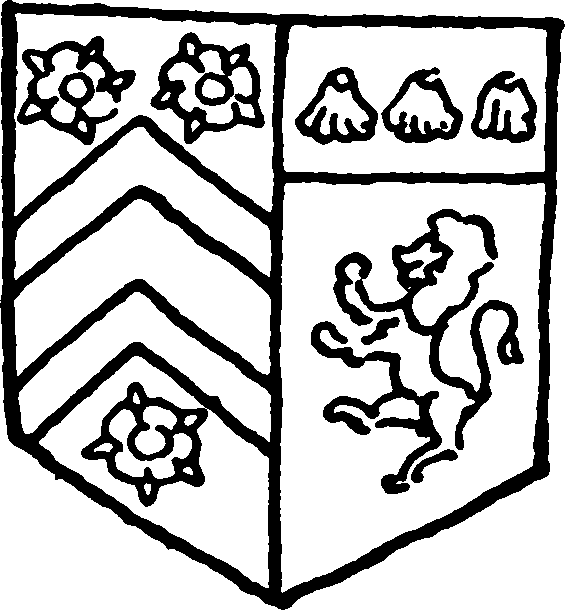 The next, a white marble shield of similar size, around which carved drapery is shown. Below are crossed palm branches and above a coat of arms of which the bearings are almost obscured. According to Lysons they are as follows: Sa., 2 chevronels between 3 roses arg., impaling arg., a lion rampant gu., on a chief sa. 3 escallops arg. The inscription states that the body is interred "near the enterance of the western porch of this church."
Burial register.—Nov. 18, 1734. Alexander Weller of Old Artillery Ground.
NO. 4. JANE NEVILL, LADY DETHICK. 1606.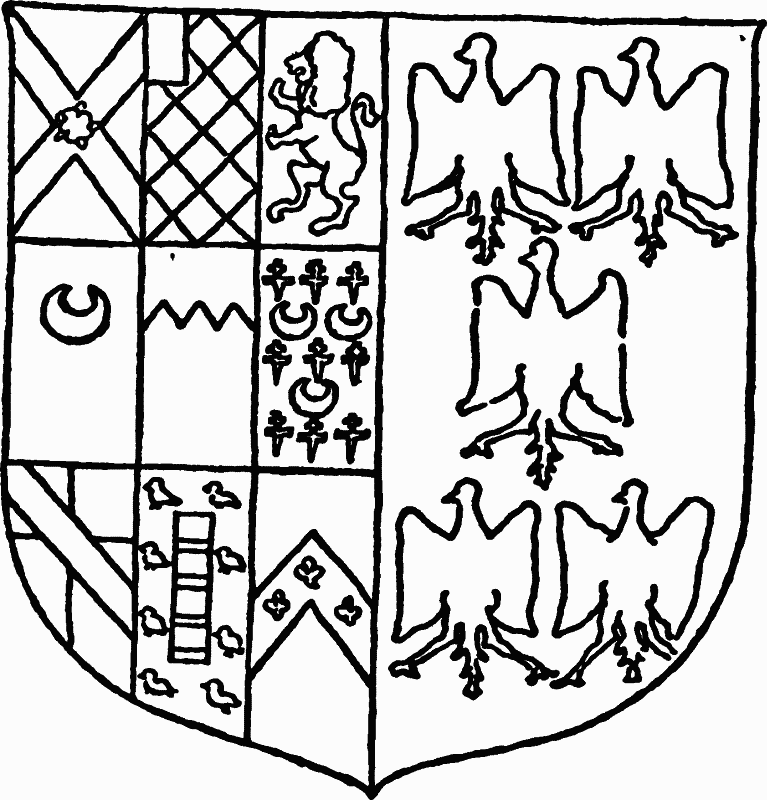 An elaborate wall-monument to Jane Nevill, Lady Dethick, occupies the central position on the south wall. It is of marble, the mouldings gilded, and consists of a central arch over the inscription, on each side of which two detached columns of black marble support a small projecting cornice, which overshadows the whole. Two gilded brackets are placed under the columns, & between them is a small panel with the name of the executor who erected the monument. The central inscription is in bold capitals and is given below. Above the caps of the columns, which are gilded and ornamented with egg-and-dart carving, is a gilt rose.
A coat of arms stands in a circle over the cornice, but (according to Lysons) they are not the arms of Lady Dethick, for she was a Duncomb of Buckinghamshire. She married as her second husband Alex. Nevill, Esq. The arms, according to Lysons, are: Quarterly of nine—
1. gu., on a saltire arg., a rose of the field. Nevill.
2. Fretty or and gu., on a canton erm. a ship sa. Nevill (ancient).
3. Gu. billety or, a lion rampant of the last. Bulmer.
4. Ermine (a crescent gu). (fn. 1) Eudo, Earl of Brittany.
5. Or, a chief indented az. Middleham.
6. Az. 3 crescents and semée of cross crosslets arg. Glanville.
7. Quarterly or and gu., a bend sa. Clavering.
8. Az. an escutcheon (barry of 4 arg. & gu.), (fn. 1) within an orle of martlets arg. Walcot.
9. Arg., on a chevron gu., 3 fleur-de-lys or. Pever.
Impaling Or, 5 eagles displayed in saltire, sa.
The inscription is as follows:
sacræ memoriæ ianæ nevillæ dominæ detheck matronæ religiosissimæ modestissimæ: omnibus qua corporis, qua animi (dum vixit) dotibvs orna tissimæ: jesu christi servæ devotissimæ: conivgi svæ fidelissimæ: amantissimæ qua cum viginti fere dvos annos felicissime transegerat; alexander nevillus armiger, hoc nunquam inter moritvri amoris sui monvmentvm fieri testamento curavit. postquam annos fere sexaginta novem vixerat, vicesimo nono novembris 1606 placidissime in domino obdormivit
Tobiah worthington, alexandro nevillo ex testamento solus executor; ipsius mandato hoc monumentum posuit
Burial Register.—Dec. 1606. Jane Lady Detheck, als Garter, wife to the Worshipful Alexander Neville of Poplar, Esquire, buryed the first day of December.
NO. 5. REV. HENRY LECHE, 1742.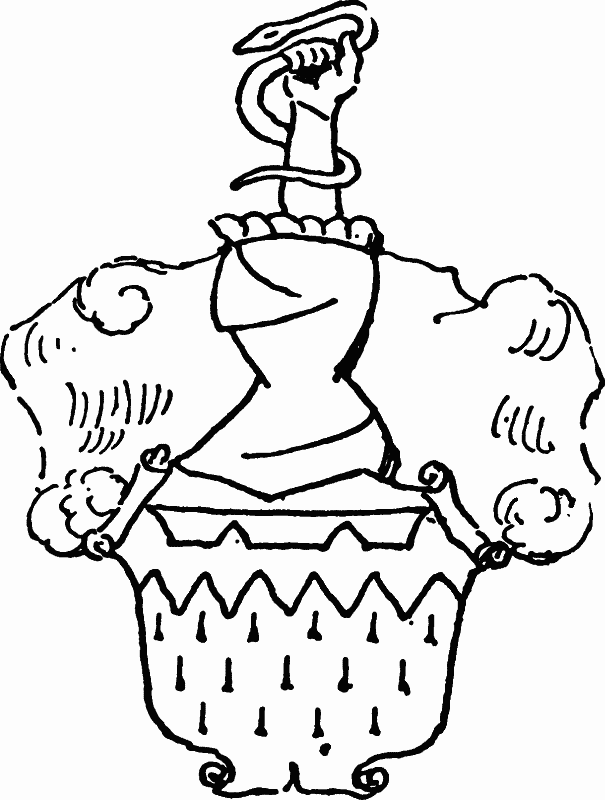 A plain white marble slab projecting slightly beyond two fluted pilasters which support it on each side, bears the inscription: "In memory of Henry Leche, clerk, late Rector of this Parish, who died June ye 15th, 1742." Below, two entwined branches are carved beneath a skull, & over the slab is the coat of arms and crest, coloured and gilt. Arms:—Erm., on a chief indented gu. three crowns or.
Burial Register.—June 18, 1742. Rev. Mr. Henry Leche, Rector of this Parish—buried in the Chancel.
NO. 6. THE "CARTHAGE STONE."
Beneath the last is a plain rectangular stone slab, containing the following inscription:
OF CARTHAGE WALL I WAS A STONE
OH MORTALS VIEW WITH PITY
TIME CONSUMES ALL, IT SPARETH NONE
MAN, MOUNTAIN, TOWN, NOR CITY
THEREFORE, OH MORTALS NOW BETHINK
YOU WHEREUNTO YOU MUST
SINCE NOW SUCH STATELY BUILDINGS
LIE BURIED IN THE DUST
THOMAS HUGHES. 1663.
This stone was, until the last restoration of the Church, fixed upon the inside of the north wall of the tower and is mentioned as being there in "Gough's Topography" 1843.
NO. 7. CAPT. NATHANIEL OWEN, 1708.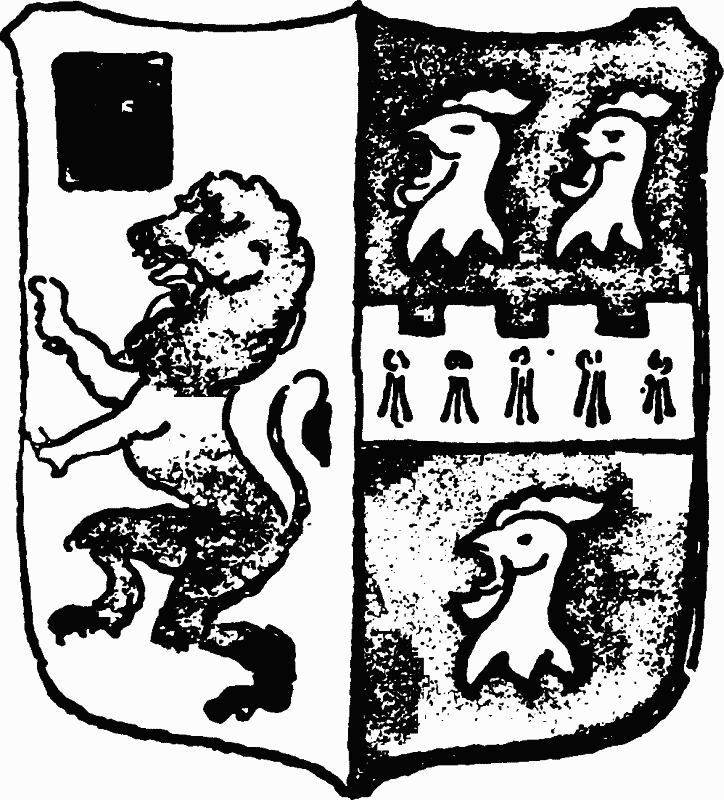 A marble shield, draped, with two cherubs' heads at the top corners and a skull below, in memory of Capt. Nathaniel Owen, ob. Feb. 2, 1708, his first wife Mary, ob. Aug. 6, 1685, & second wife Bridget, ob. 16 March, 1709. Above is carved the coat of arms, uncoloured, but according to Lysons—Arg., a lion rampant sa. a canton of the second, impaling az., a fesse embattled erm. between 3 cockatrices' heads erased.
Burial Register.—1685. Aug 6. Mary wife of Capt Nathaniel Owen of Mileend mariner
1707 Feb 9. Nathaniel Owen, Mileend, Gent.
1709 Mar 23. Bridget Owen of Mileend, Widdow.
NO. 8. NICHOLAS GIBSON, OB. 1510.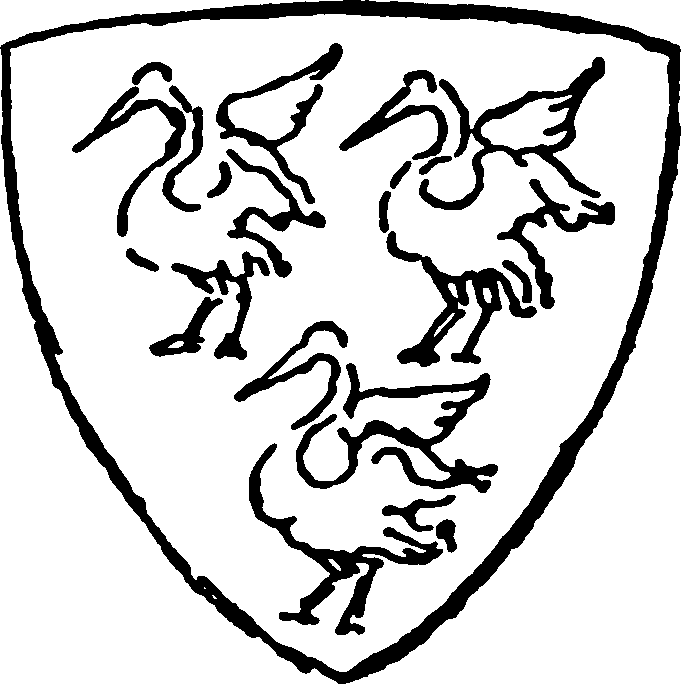 A Brass Tablet dated 1900, bearing a shield with the arms Az. 3 cranes, and inscribed To the memory of Nicholas Gibson, Sheriff of London, and Avis his wife, who founded A.D. 1538 The Coopers' Company's Grammar School at Ratcliffe, this brass was erected A.D. 1900 in grateful appreciation by the Association of Old Coopers' School Boys. They lie buried in the Chancel of this Church.
"Now mercifull Iesu, which hast assysted owre intent
Have mercy on owre sowles, and as for the residew
If it be thy will, thou mayst owre act continew"
In Strype's Stow, 1720, is the following account of a monument to N. Gibson, which is stated to have stood on the S. side of the Chancel.
HEREUNDER LIETH BURIED NICHOLAS
GIBSON, CITIZEN AND GROCER OF
LONDON, AND AVIS HIS WIFE
WHO WERE FOUNDERS OF THE FREE
SCHOOLS AT RATCLIFFE, AND AFTER SHE
MARRIED WITH SIR ANTHONY KNEVIT
KNIGHT, WHICH LIETH HERE BURIED ALSO
WHICH NICHOLAS DIED THE XXIIJ OF
SEPTEMBER 1510. AND THE SAID LADY AVIS
ALSO DIED THE THIRD DAY OF OCTOBER 1514
WHOSE SOULS JESU PARDON.
"Weever" has the following inscriptions upon this monument:
Here was I borne, and here I make myne end
Though I was Citizen and Grocer of London,
And to that office of Schrevalty did ascend;
But things transitorie passe and vanische sone,
To God be geeuen thanks if that I have ought done.
That to his honowre, and to the bringing vp of youth,
And to the succoure of the age; for sewerly this is soth.
By Avise my wyff children were left me non
Which we both did take as God had it sent;
And fixed our myndes that ioyntly in on,
To releeue the poore by mutual consent.
Now mercifull Iesu which hast assysted owre intent,
Have mercy on owre sowles, and as for the residew,
If it be thy will thou mayst owre act continew.
Upon the same marble these verses following:
The five and twentyth day of this monyth of Septembyr,
And of owre Lord God the fifteenth hundred and fowrty yeere,
Master Nicholas Gibson dyde as this tombe doth remembyr,
Whose wyff aftyr married the worschyful esquier,
Master William Kneuet, one of the Kings privy chamber,
Much for his time also did he endeuer
To make this act to continew for euer.
"This pious act here mentioned in this epitaph, is a free school founded at Radcliff in this parish, by the said Nicholas and Avise for the instruction of threescore poor men's children, by a schoolmaster and an usher, with an almshouse, for fourteen poor aged persons; and this foundation continues to this day" (Weever). Both the almshouses and school were demolished about eight years since, and the inscribed tablets and stones from the buildings were obtained by the Survey Committee and presented to the London County Council, to be preserved in the Council's museum of London antiquities.
NO. 9. REV. GEO. HARPER, D.D., 1815.
The next memorial is a stone sarcophagus represented with pilasters each side and natural foliage. Above, a pediment in which a gilt shield shows no arms visible. It is surrounded by a carved wreath of flowers.
Burial register.—June 2, 1815. Revd. George Harper, D.D., Rector, age 54. N.B. Obiit 26th ½ 10p.m. Vale, oh Amice, Vale.
NO. 10. DR. BLONDEL, 1734.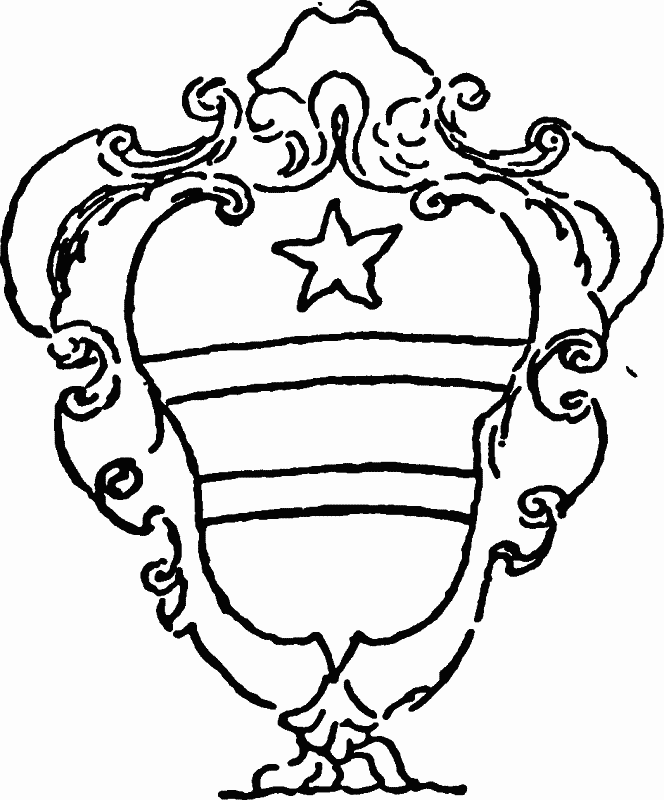 Beneath the last is a plain marble slab bearing the name of Jacobi Augusti Blondel, M.D., and a long inscription. Two flat fluted pilasters stand each side, and over a small cornice is the coat of arms with a lamp each side, the flames of which are gilt. Arms: az., 2 bars and in chief a mullet or.
Burial Register.—Oct. 10, 1734. Dr. James Augustus Blondel, of Rat: Physician.
NO. 11. LIEUTENANT HAROLD CHARRINGTON, R.N., 1882.
"To the Glory of God and in Memory of Lieutenant Harold Charrington, R.N., second son of Spencer Charrington, Esq., of this Parish, who was killed by Arabs in the Desert of Mount Sinai on August 11th 1882 —This and the adjoining windows (fn. 2) are dedicated by Friends of the Family."
Monuments in the chancel.
NO. 12. THOMASINE BREWSTER, 1596.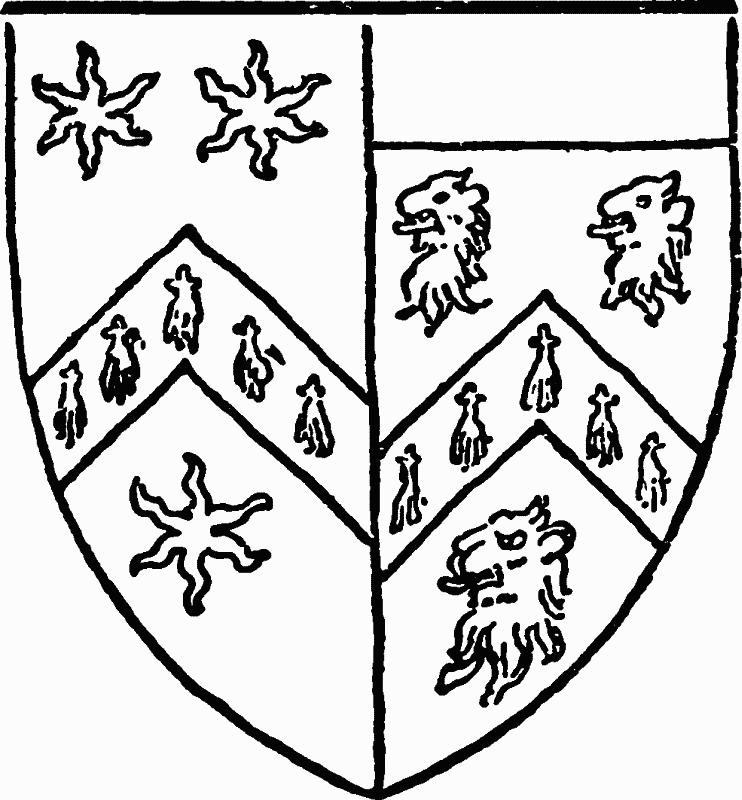 On the South wall is a dark marble slab into which are let two brasses, the one below bearing an inscription to the wife of John Brewster, Esq. 1596. The one above bears the coat of arms a chevron erm. between 3 estoiles, impaling a chevron erm. between 3 lion's heads erased, and a chief bearing no charges. The inscription is as follows:
HERE LYETH THE WIFE OF JOHN BREWSTER ESQ WHOS HEAVENLIE DEATH DECLARS HER HAPPY LYFE
FAME SAYE THY WORSTE OF HER 1 THE DESIRE
AND THOV MUST BLASE HER FOR A GODLY WYFE
OF RICH & POORE THOV KNOWEST, BELOVED WAS SHE
SPEAKE THOV THERFORE, THE REST OF HER FOR ME
I SAYE NOE MOORE, HER NAME WAS THOMASINE
TO WHOM NO DOUBPT THE LORD FORGAVE HER SINE
NOW BLESSED IS ALMIGHTIE GOD THEREFORE
AND PRAYSED BE HIS NAME FOR EVERMORE
OBIIT ANNOS ETATIS SUE 46.
ANNOQ DNI 1596
John Brewster was Secondary of the Fines Office, and appears in the Vestry Minutes as Auditor for Poplar 1589-91. He sat on the Vestries of 1589 and 1594, but then is entered as "gone." He married first, Thomasine, d. of John Piers, and second Elizth. d. of R. Thornhill, and widow of Sir James Deane—his pedigree, and an account of the funeral of his second wife are to be seen (Brit. Mus. Add. MS. 14417. f. 5).
Burial Register—September 1596. Tomazin, wife of Mr John Brewster of Popler Esquier buryed the XIX day. a monument is set in the Chancell.
NO. 13. BENJAMIN KENTON, 1820.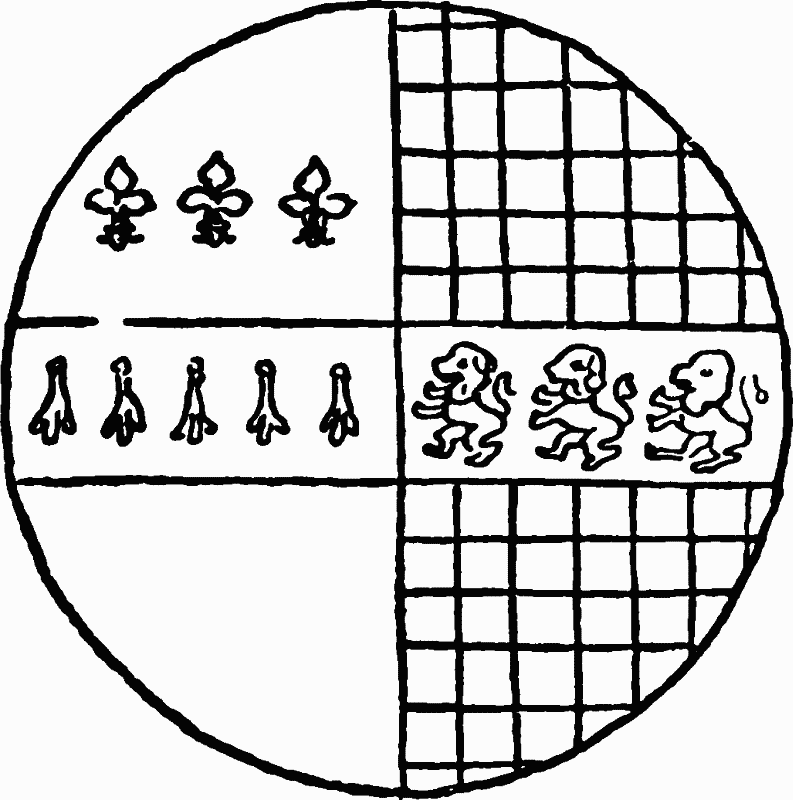 Below is another brass to Benjamen Kenton Esq. ob. 25 May 1800. Above the name are the words "mortui resurgent," and a shield of circular form bearing the arms (the colours are hatched only):— az., a fesse erm., in chief 3 fleur-de-lys, impaling chequée or and gu., on a fesse gu. 3 lions rampant.
NO. 14. SIR THOS. SPERT, 1541.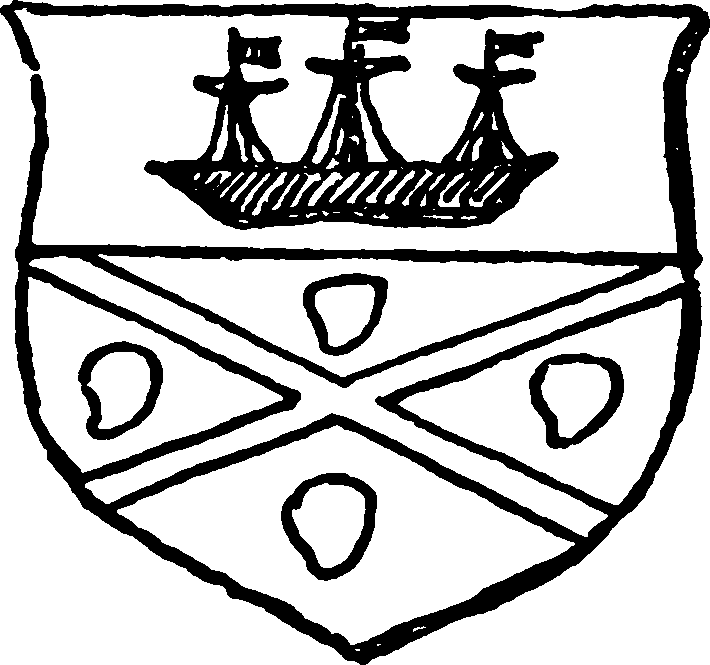 A marble monument to Sir Thos. Spert in the South wall of the Chancel is of the same general design as that to Anne Nevill. Two black detached Corinthian columns with gilt capitals and bases support the cornice. The arch over the inscription (which is in gilt on black) is surrounded by a gilt moulding with egg-and-dart carving. A cherub's head, copper colour, with gilded hair forms the key & is flanked by two similar heads. Three or four large gilded roses and two smaller ones add to the ornamentation. Over the cornice are the arms gu., a saltire between 4 body hearts or, on a chief of the second a ship; (this according to Lysons, but the shield now shows an azure field) and on each side a marble obelisk. Between the brackets that support the columns is the date of erection of the monument by the Company of the Trinity House in 1723. A similar inscription further down commemorates its reparation in 1806, and between these two is a sunk panel with a carved representation of a three-masted boat. The inscription is as follows:
D. O. M.
Herevnder was laid up ye bodie of Sir Thomas Spert Kt, some tyme Comptrowller of the Navy to King Henry the 8th & both the first Founder and Master of the worthie Society or Corporation called the Trinity Hovse. He lived enobled by his owne Worth, and dyed ye 8th of September in ye yeare 1541, to whose pious Memorie the said Corporation hath gratefvlly erected this Memoriall.
Not that he needed Monument of Stone
For his well gotten Fame to rest upon:
But this was rear'd to testifie that he
Lives in their Loves that yet surviving be
For unto Virtue, who first raisd his Name
He left the preservation of the same
And to Posterity remaine it shall
When Brasse and Marble Monuments do fall.
Learn for to dye while thow hast breath
So shalt thow live after thy Death.
An: Dom. 1622, by the Company of the Trinitye Howse, this Monument was erected 81 years after ye Decease of theyr Founder. 1725. This monument was again repaired and Beautified by the Corporation of the Trinity House, in Commemoration of their Founder in the year 1806. Earl Spencer, Master. Capt. Ios. Cotton, Dep. Mastr.
"Norden" mentions this burial thus—
Also Sir Thomas Spert Knight, sometime Controller of the Shippes to H. 8. Dame Margary, Dame Anne and Dame Mary his wives lie in the Chauncell there—he deceased Anno 1541.
NO. 15. MARY LEYBOURNE, 1731.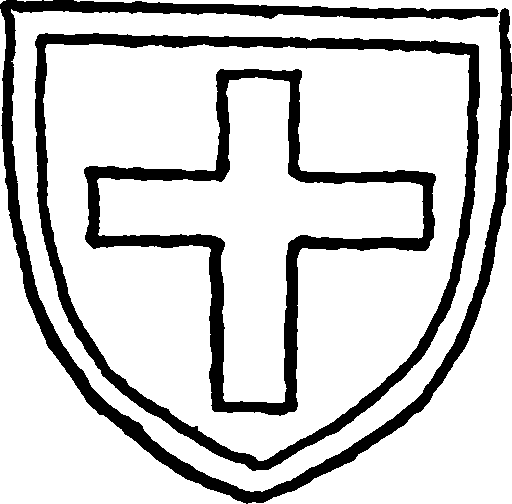 A white stone tablet to Mary Leybourne with brownish-grey marble cornice and architrave, and pilasters each side, is placed high up in the South wall of the Chancel, at the extreme East end. Two lamps are carved above and stand beside the coat of arms: az. 6 lions rampant, 3, 2, and 1. or.; impaling gu. 3 lilies arg. A shaped sunk panel below is carved with a representation of a winged skull.
Burial Register.—Dec 12 1731. Mary, wife of Dr Robert Leybourne, Rector.
NO. 16. BENJAMIN KENTON, 1800.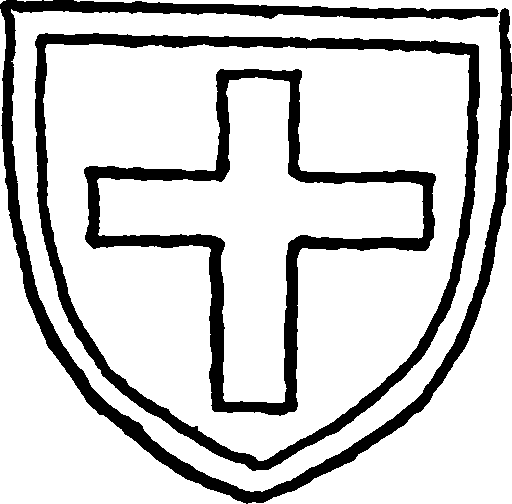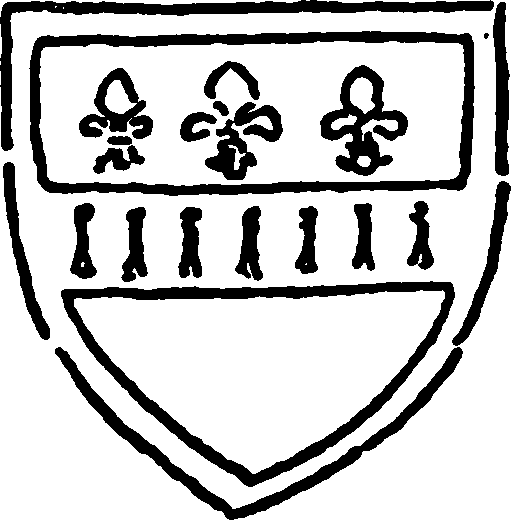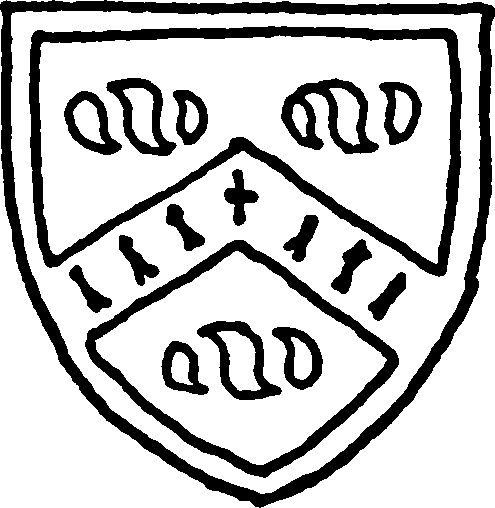 Below the memorial to Mrs. Leybourne is a monument of white marble to Benjamin Kenton Esq. (1800). It consists of two fluted Doric columns supporting a curved frieze upon which are placed three shields, and between these, two ringed serpents. Behind the columns is a relief representing a scene from the parable of the good Samaritan. The base projects with a wider curve and has in its centre a panel with the inscription & some indifferent carving. The shields bear the following charges—
1. sa., a cross couped or, within a bordure of the last.
2. sa., a fesse erm., in chief 3 fleur-de-lys or, within a bordure of the last.
3. sa., a chevron erm., between 3 tuns or, banded sa., within a bordure or.
The 3 tuns are undecipherable, owing possibly to a careless repainting at a later period.
Burial Register.—May 31. 1800. Benjamin Kenton, of Gower St. Westminster.
NO. 17. WILLIAM DAWTREY, 1589.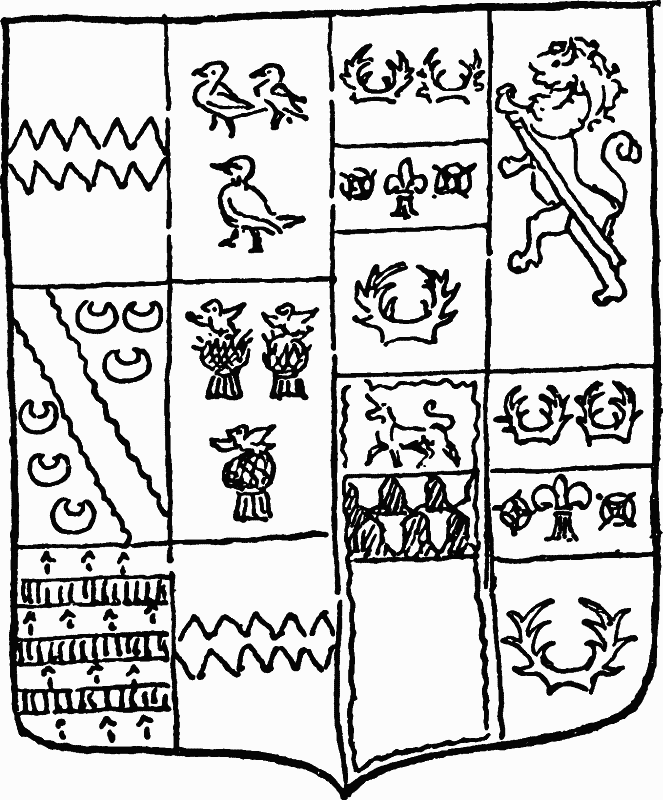 A little wall tablet of reddish marble to William Dawtrey contains an inscription in black letters in a square panel, on each side of which are two slight pilasters having two sunk panels of black marble in each. The whole is surmounted by a cornice on which is a shield, of which the charges are almost invisible. The lower portion has two small shields in relief and a black medallion in the centre. The arms, according to Lysons, are as follows:—Quarterly of 6,
| | |
| --- | --- |
| 1 & 6. Az., 5 fusils in fesse, arg. | Dawtrey. |
| 2. Az. 3 doves or. | Wood. |
| 3. Gu. a bend engrailed arg. between 6 crescents or. | Rivers. |
| 4. Sa., 3 garbs or, from each a dove rising arg. | Skarfield. |
| 5. Erm. 3 bars gu. | Hussey. |
| Impaling quarterly 1 & 4 Az. on a fesse between 3 stag's attires or, a fleur-de-lis of the field between 2 demi-roses gu. | Stoneley. |
| 2. A lion rampant bebruised with a baton. | |
| 3. A fesse vaire within a bordure engrailed, in chief an unicorn. | |
Wm. Dawtrey married Dorothy, daughter and co-heir of Rich. Stonely, of Warwickshire.
Inscription on Marble Tablet—
Genero suo. Gvlielmo Dawtrey Quondam Lincolniensis Hospitii socio: Wilhelmi Dawtrei sus sexiæ. Armigeri filio et Hæredi, Viro ingenii acumine Mentis acie, et non Vulgari Municipalium Angliæ legum Scientia, Præcellenti: Richardus Stonley Armiger Hoc amoris et Pietatis simbolum posvit
Obiit XVI Octobris 1589
NO. 18. REV. THOS. DOD, 1727.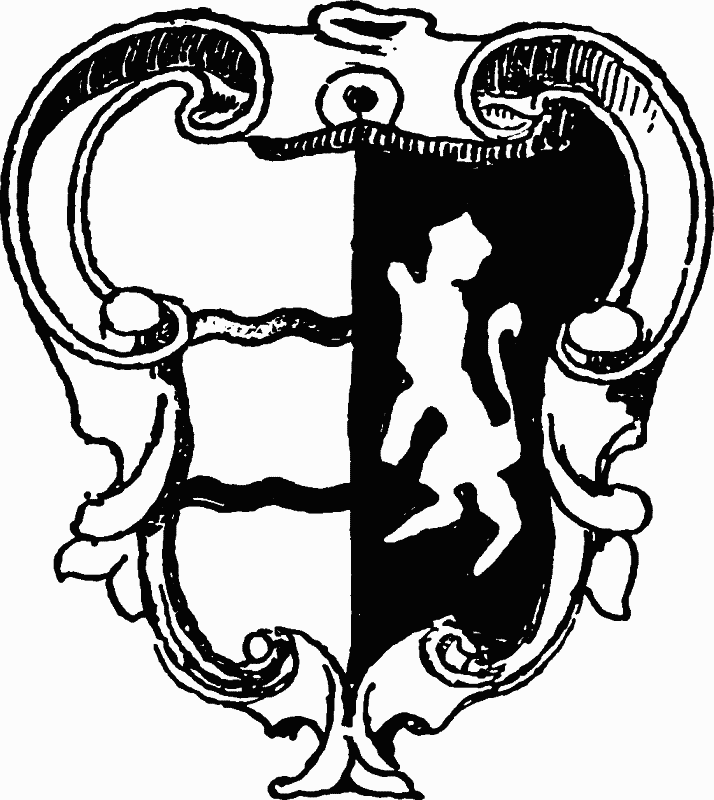 A shield of excellent design surmounts a tablet of white and black veined marble, to the memory of the Rev. Thos. Dod, Rector of Stepney, his sons Thomas, d. 1726, John, d. 1730, his daughters Ellin, d. 1727, and Mary Colvill d. 1795, and his wife Mary, d. 1773. The inscription is on a white slab that occupies the whole centre. A winged skull is carved below. The arms upon the shield are thus described by Lysons: Arg., on a fesse gu. between 2 bars wavy sa. 3 crescents or, impaling gu. a lion rampant regard. or. The whole of the bearings do not, however, now appear, and the sable bars and red field are all that are coloured.
Burial Register.—Aug. 3, 1727. The Rev. Mr. Thos. Dod, Rector of this Parish.
Feb. 13, 1795. Mary Colvill of Westminster.
NO. 19. ROBERT CLARKE, 1610.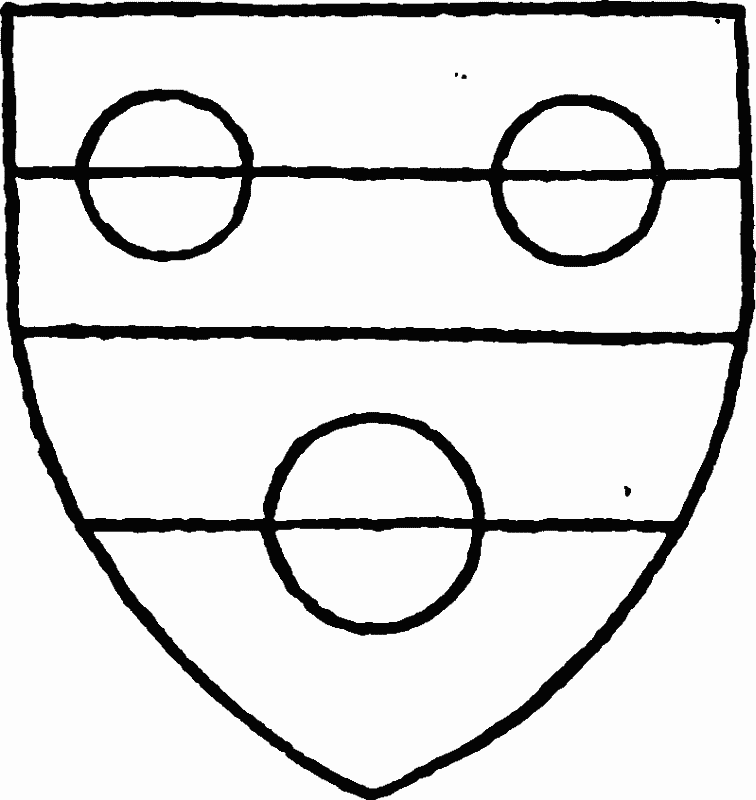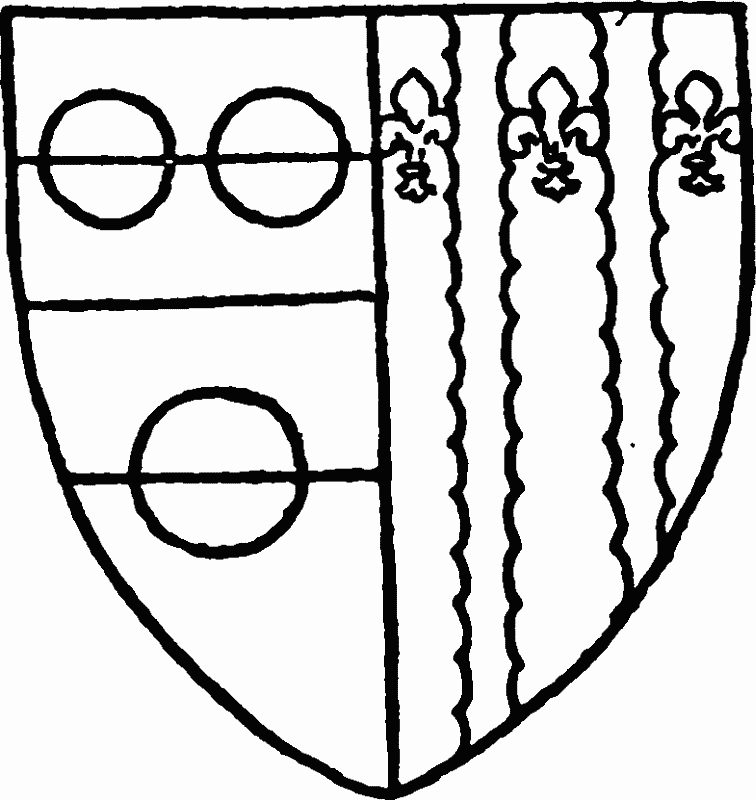 The monument to Robert Clarke and his daughter, is some height above the Chancel floor in the North Wall. A cornice of marble and two large pilasters enclose a recess in which are the figures of Robert Clarke and his wife kneeling facing one another on either side of an altar. The back is freely embellished with the usual strap ornament, fruit & flowers, all round a central panel which bears the inscription given below. The pilasters contain panels of black marble. Below is the English inscription which is divided into two parts by small pilasters, and beneath this the marble is of various colours. Two heads, floral ornament and a central boss complete the memorial. The arms are placed upon a corbel under the cornice and their description in Lysons runs thus—they are his own parentheses: Barry of 4 gu. & vert, 3 pellets (they should be plates), impaling sa. (it should be az.) 2 pales engrailed between 3 fleur-de-lis in chief or—Langton." The former is repeated above upon a shield surmounted by a cherub and on each side an urn. The monument is heavily gilt in parts, and the inner faces of the pilasters are ornamented with a gilt network of lines.
Inscription:—
IN OBITUM ROBERTE CLARKE GENEROSI
QUI EX VITA HAC MIGRAVIT
DIE MENSIS
IN CLERICI TUMULO SPECTRUM VIDE FRAGILITATIS
VANA VIRI EST VIRTUS VITA CADUCA CARO
FLOS SICUT EST FUERIS SPIRANS FUIT HIC SICUT IPSE
AST CELERI RAPUIT MORS VIOLENTA PEDE
VTQ CADAT FLORES IN GERMINE MESSIS IN HERBA
TURBINE COMOTUS SIC CLERICUS PERIIT
VITA LICET BREVIS EST CŒLIS ÆTERNE MORATUR
QUEM COLIT OMNIPOTENS TOLLITER HUIC CITIUS
LAUDIBUS EXIGUIS DECORANS MAJORE MERENTEM
DIMINUO LAUDES PIUS SIBI FAMA REFERT
SI PIETAS CHARITAS BONITASQ IN MENTE REFULGENT
HÆC UBI CORDE VIRENT OMNIA RECTA PUTES
Here resteth the bodie of Robert Clarke Esq.
Sonne of Roger Clarke Esquire, late Alderman of the Citty
of London, A man humble in prosperity, a liberall distribu
ter to the poore, curteous & affable to all—an upright
And a just dealer in this worlde and a devoute and most
relligious seeker for the worlde to come.
He had to wife Margaretta daughter to Iohn Langton Esq.
Sometyme Governor of the English Company in Sprucia un
der the Kinge of Polonia: whoe lived together in great love
And integritie almost six yeeres
He had by her one onely daughter named Frances
Who lived one yeere and three quarters and here
lyeth interred with her most deere and loving father.
Whose memory the said Margaretta to express
her true love and affeccon hath cavsed this
Monument to be erected
He dyed the xxxth day of May Ano Dni 1610
Having lived xxxv yeeres
Burial register.—June 12, 1610. Robert Clarke of Bednal greene, Gent. sonne to Alderman Clarke of London, deceased. he gave 36 mourninge gownes beside cloakes, and was buried the 12 of June.
NO. 20. SIR HENRY COLLET, 1510.
A large canopied altar tomb about seven feet wide, stands in a recess on the N. side of the Chancel. The tomb itself projects from the recess; it is of polished Purbeck marble, and has three square and four narrower panels of tracery on the face. The back and sides of the recess above are panelled, with two rows of arched and cusped heads, and the soffit of the canopy is carved to represent vaulting and pendants. The face of the canopy has arched and cusped heads, surmounted by a frieze of cusped quatrefoils. All the stone-work over the tomb itself is whitened. One of the shields in the tracery on the face of the tomb bears a small brass shield inscribed as under:
Here lyeth sir Henry Collet knight twice mayor of London
who died in the year of our Redemption 1510.
The arms of Collet, as given by Lysons, are—The Deanery of St. Paul's, impaling Sa., on a chevron engrailed between 3 hinds arg. as many annulets of the field—Colet.
"Weever" adds a note to this inscription: "This Henry was son to Robert Collet of Wendover in Bucks, and father to John Collet, Dean of St. Pauls, in the first time of his mayoralty the Crosse in Cheapside was new builded in that beautiful manner as it now standeth."
This monument is kept in repair by the Mercers' Company.
"Sir H. Colet wills to be buried at Stepney, at the sepulchre before St. Dunstan—and his monument is still to be seen on the N. side of the Church."—Gough's "Sepulchral Monuments" 1786. Vol. I. Part I, p. 11.
The three following brasses, all of triangular shape, with inscriptions in Latin, are on the floor of the Chancel:
NO. 21. CHARLOTTE LEE, 1862.
Wife of the Rev. R. Lee, M.A., Rector of Stepney 1847-1869.
NO. 22. EVAN JAMES, 1842 AND SARA ANNE JAMES, 1840.
NO. 23. BENJAMIN KENTON, 1800.
See No. 16.
Weever (Fun. Mon.) also gives the two following monuments as being in the Church in his time:
JO. KITT, OR KITE, BISHOP OF CARLISLE, 1537.
Vndyr this ston closyde and marmorate
Lyeth IOHN KITTE Londoner natyffe.
Encreasyng in vertues rose to high estate,
In the fourth EDWARDS chappel by his yong lyffe,
Sith whych the sevinth HENRYES servyce primatyffe
Proceeding stil in vertuous efficase
To be in fauour with this our king's grase.
With witt endewyd chosen to be legate
Sent into Spayne, where he ryght ioyfully
Combyned both prynces, in pease most amate:
In Grece archbyshop elected worthely,
And last of Carlyel rulying pastorally
Kepyng nobyl houshold wyth grete hospitality:
On thowsand fyve hundred thirty and sevyn,
Invyterate wyth pastoral carys, consumyd with age,
The nintenth of Iun reckonyd ful evyn,
Passyd to hevyn from wordly pylgramage:
Of whos soul good pepul of cherite
Prey, as ye wold be preyd for; for thus must ye lie.
JESU mercy lady help.
RICHARD PACE, DEAN OF ST. PAUL'S, 1532.
Richardus iacet hic venerabilis ille decauus
Qui fuit etatis doctus Apollo sue;
Eloquio, forma, ingenio, virtutibus, arte
Nobilis, eternum viuere dignus erat.
Consilio bonus, ingenio fuit vtilis acri,
Facunda eloquij deteritate potens.
Non rigidus, non ore minax, affabilis omni
Tempore; seu puero seu loquerere seni.
Nulli vnquam nocuit, multos adiuvit, & omnes
Officij studuit demeruisse bonos.
Tantus hic et talis, ne non deleatur ademptus
Flent muse, et laceris mesta minerua comis.
Obijt anno 1532. etat circiter 40.
"This PACE succeeded COLLET in the Deanry of Paul's, a man highly in favor with K. HENRY VIII. by whom he was employed as ambassador to MAXIMILIAN the German emperor; as also to Rome in the behalf of cardinal WOLSEY, who stood in election for the popedom. He wrote divers learned treatises yet extant. Nam vir erat (saith BALE) vtriusque literaturæ peritia praæditus. Nemo ingenio candidior, aut humanitate amicitior: he was a right worthy man, and one who gave in counsel faithful advice; learned he was also, & indowed with many excellent gifts of nature, courteous, pleasant, and delighting in music, highly in the king's favor, & well heard in matters of weight." (Weever).
Monuments in the north aisle.
NO. 24. Stone panel, with sculpture of the Crucifixion, enclosed in an ornamented border (see illustration, plate 8). From the character of the figures and the detail of the border, the date of the work is generally assigned to the 12th century—probably the latter portion; and so, unless we accept the statement that the font still retains some of its original stonework, although restored, this panel is the oldest work now remaining in the Church. Until the 1899 restoration it was outside over the south door of the nave, but was then brought to its present position for better preservation.
NO. 25. Stone coffin lid, with moulded edges, bearing on its face a cross botonée, with a solid circle at the intersection of the arms, and surmounting a slender stem which stands on a base of 3 steps. The carving is in very low relief.
NO. 26. ANN MOOR, 1804.
A plain white marble slab, to Ann Moor, wife of Capt. John Moor, died at "Demarary, South America."
NO. 27. ANN ELDER, 1811.
A plain white marble slab, on a simple base, recording also a bequest of five pounds a year to the Rector of Stepney for the time being," to keep her family tomb (in the churchyard) in substantial and decent repair."
NO. 28. A stone tablet, bearing no date, records that "Ann Elder
Gave by her Will the interest of £315 to three Daughters of Master Mariners under these conditions, that their respective fathers shall have been wrecked on the Coast of Cornwall, that they have attended the services and sacraments of the Church of England, and be of deserving character. And that their respective ages be not under 20 years. Preference to be given to the Hamlet of Ratcliff, where they shall be resident at the time of their Fathers' misfortune. The above shall be given at the Vestry of the Church on the 4th Jany. in every year by the Rector."
NO. 29. SIR JOHN BERRY, 1689.
A severely classical memorial to D. Joannes. Berry, who died in 1689: comprises a bust of himself in front of a black marble niche which is itself surmounted by architrave and pediment of white marble. The bust stands upon a curved pediment covering the inscription, which is in Latin, and forms a panel in a round frieze which with its architrave, completes the tablet. Lysons gives his arms: Or, 3 bars gu., but they are not on the monument.
Inscription.
NE ID NESCIAS LECTOR, D JOANNES BERRY
DEVONIENSIS, DIGNITATE, EQUESTRI. CLARUS, MARIS
TANTUM NON IMPERATOR, DE REGE ET PATRIA,
QUOD ET BARBARR NORUNT, BENE MERITUS.
MAGNAM OB RES FORTITER GESTAS ADEPTUS
GLORIAM FAMÆ SATUR, POST MULTAS
REPORTATAS VICTORIAS, CUM AB ALIIS
VINCI NON POTUIT, FATIS CESSIT 14 FEBR 1689
BAPTIZATUS 7 JAN 1635
Burial register, Feb. 21, 1689—Sr John Berry of Mileend, Knight.
NO. 30. HUGO JAMES, 1728.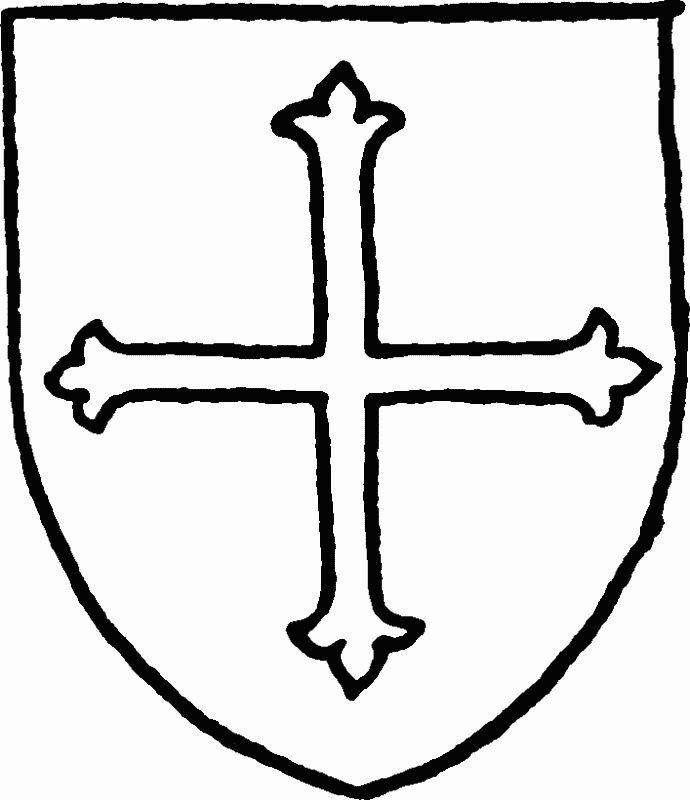 A square tablet of white veined marble sunk in a deep moulding and surmounted by a shield, is that of Hugo James. His arms—Arg., a cross patonce gu.
NO. 31. NICHOLAS DIXON, 1818.
A plain white marble tablet, recording the above, and his wife Elizabeth Ann, d. 1823.
NO. 32. JOHN CHARRINGTON, 1815.
A white marble tablet, recording the above, who died Dec. 9th, and his wife Katherine, who died on the 13th of the same month. "They were interred the same day in the family vault at their native place, Aldenham, Herts."
NO. 33. LIEUTENANT HAROLD CHARRINGTON, R.N., 1882.
A white marble tablet, in a frame of serpentine, to the memory of Lieut. Charrington, of H.M.S. Euryalus, and great-grandson of the above John; who, together with Professor Edward Palmer, of Cambridge, and Capt. W.J. Gill, R.E., was killed by Arabs in the Desert of Sinai. The inscription further records the interment of their remains in the crypt of St. Paul's Cathedral, and the erection, by the Admiral and officers of the 'Euryalus,' of a tablet in Hunsdon Church, Herts., to the memory of Lieut. Charrington.
NO. 34. ELIZABETH STARTUTE, 1620.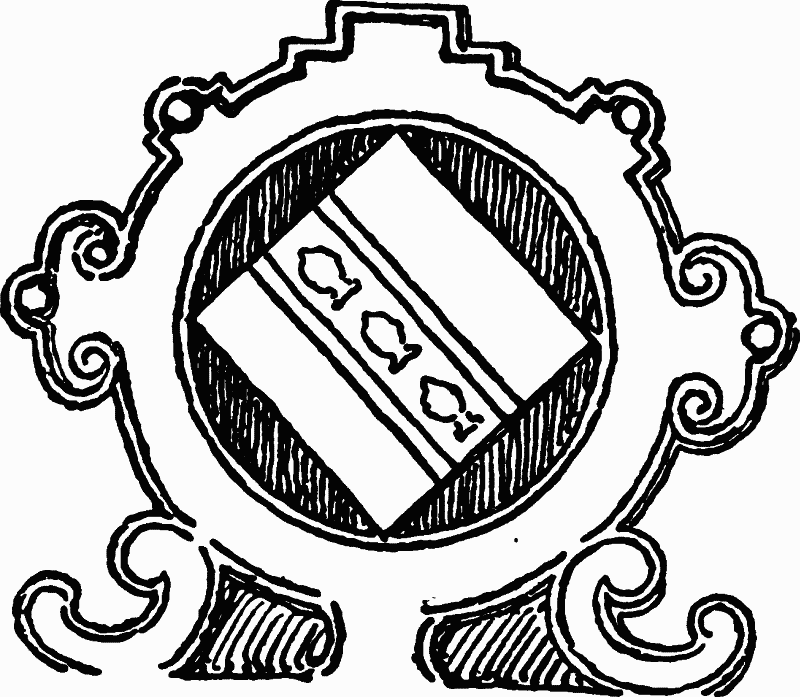 Two recesses, one above the other, enclose figures of the deceased lady and the erectors of the monument. Dame Elizabeth Startute is above kneeling; two detached Corinthian columns support the frieze, upon which is an inscription, and under the soffit of the cornice are three gilded roses. The lower recess is the larger and holds the figures of Capt. Michael Merriall and Clare his wife, who was eldest daughter to Elizabeth Startute. They kneel opposite one another, an altar between.
The chief inscription lies in a space between the two recesses and below the two figures another inscription tells of the gift. Two roses finish the corbels to the columns and a winged skull is beneath the centre. The figures and ornaments are painted and gilded as is usual in the tombs of the same date. Over the top cornice stand the arms: Az., between 2 bendlets gu., 3 garbs sa. Lysons describes the field as argent.
Inscription:
TO THE MEMORY OF THEIR BELOVED MOTHER ELIZABTH THE WIDDOW OF RICHARD STARTUTE CITIZEN AND FISHMUNGER OF LONDON: WHO HAD ISSHUE BY HIM 3 SONS & 4 DAUGHTERS, AFTER 10 YERES SPENT WTH HIM REMAYNED 34 YEARS HIS WIDDOW IN LIFE AND DEATH A CONSTANT EXAMPELE OF TRUE VIRTUE AND SWEETLY FEL-ASLEEP IN THE LORD DECEMBER 5,1620. ÆTAT 74. CAPTAIN MICHAEL MERRIALL AND CLARE HIS WIFE, ELDEST DAUGHTER OF THE ABOVE NAMED ELIZABETH STARTUTE, HAVE ERECTED THIS MONUMENT AS A TESTIMONI OF HER VIRTV & THEIR LOV.
THIS LIFE IS A WARFARE. COME LORD IESUS COME QUICKLY. REV. 22
NO. 35. JOSEPH SOMES, 1845.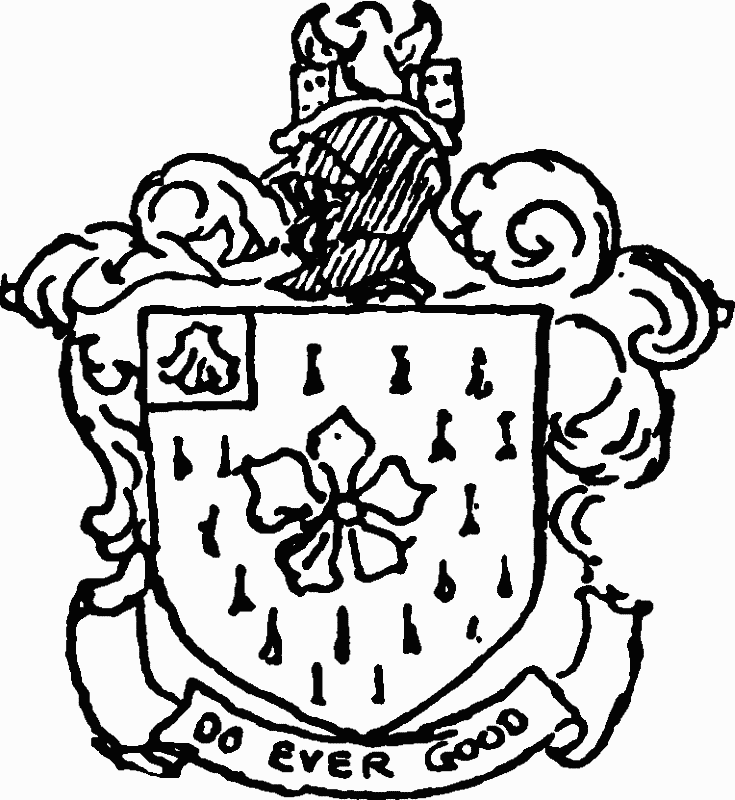 An elaborate monument, of Gothic design, in white and grey veined marbles, to J. Somes, M.P. for Dartmouth, and a prominent shipowner. The inscription is in a central arched recess, and over is a shield bearing the arms—Erm. a cinquefoil, on a canton an escallop. Below the inscription is a carving, in white marble, of "two full-rigged ships off the Port of London."
Burial Register.— July 2, 1845. Joseph Somes of M.E.O.T. Age 58.
NO. 36. ABRAHAM RALLINGS, 1644.
A square rough stone with raised margin, to the above, and also to "Abraham his sonn" who died in the same year.
NO. 37. JOSEPH JEWSON COOPER, 1874.
A white scroll upon a black marble slab, with inscription, and the remains of a carving in relief at the top.
NO. 38. Over the doorway leading from the Chancel to the Vestry is a small mutilated sculpture representing the Annunciation, enclosed in a panel having a triangular cinquefoiled head. Previous to the recent restoration it was in the wall of the north porch, & before that, in Lysons' time, on the west wall of the Church.