Pages 125-127
Survey of London: Volume 10, St. Margaret, Westminster, Part I: Queen Anne's Gate Area. Originally published by [s.n.], [s.l.], 1926.
This free content was digitised by double rekeying and sponsored by English Heritage. All rights reserved.
LVI.—No. 28 QUEEN ANNE'S GATE: (FORMERLY NO. 10 QUEEN SQUARE).
Ground Landlord, etc.
The freehold belongs to the Mountjoy Estates, Ltd. The present occupier is the Right Hon. Viscount Haldane, K.T., F.R.S., O.M.
General Description.
On 12th February, 1728–29, the South Sea Company Trustees sold (fn. n1) to John and Samuel Rush the second and third houses on the north side of Queen Square, i.e. Nos. 28 and 30 Queen Anne's Gate. They are described as in the occupation of the Earl of Derby (No. 28) and Richard Worthington (No. 30), each containing in front about 29 feet and in depth 40 feet, three storeys high, with a large hall, two parlours and two staircases on the first floor, three rooms on each of the other floors, and kitchens, washhouses and other offices underground, garrets in the roof, two vaults under the Square, a large yard "with flatts over part of the several yards from the houses to the Park wall," and iron railings in front. Two coach houses "on the north side of the stable yard in or near the said square, which coachhouses are built under the Chappell there" were included in the sale. In a later deed (fn. n2) the occupiers of the two houses are said to be "the Revd. Doctor Anthony Ellis" (No. 30) and "the Hon. Mrs. Trevanion" (No. 28).
The exterior is in brick like the other houses in the square, with carved masks to the keystones of the two principal floors (Plate 117). The third floor has had the front wall carried up, with the window-heads raised, and a tiled mansard roof with dormers substituted. The entrance doorway (fn. n3) has ¼-round fluted Doric columns and a "cobweb" fanlight over the door. Ornamental iron brackets spring from the railings on each side of the entrance and support a central lamp (Plate 118).
The most westerly keystone to the first-floor windows is worthy of note, as it exhibits workmanship different in outline and technique from the general character of those in the square.
The back has a brick exterior like the front, and the windows to the two principal floors have the carved masks to the keystones, while a lead rainwater head bears the date 1704.
The chief feature of internal interest is the oak staircase, which is similar in character to that in No. 26, and extends from ground to first floor (Plate 118). The strings are decorated with carved brackets to the return nosing of the treads, and the newels are formed by a cluster of the spiral balusters, whilst the landing has a carved foliated frieze (Plate 119). The walls are panelled and completed with a wood coved cornice. The back staircase, which extends from the basement to the attic, has turned balusters, moulded close strings and square newel posts, while the walls are faced with square panelling with a heavily moulded wood cornice. The chief rooms contain some carved wood and marble mantelpieces, which are of later date than the original premises, and were probably inserted when internal alterations were carried out and the walls were stripped.
Condition of Repair.
Very good.
Historical Notes.
The occupiers of this house before 1840, according to the ratebooks, were as follows:—
1706–14
Lord Derby.
1715
Lady Derby.
1716–24
Lord Derby.
1725–31
Bishop of Chichester.
1740
Rob. Wright.
1742–47
Mme. Trevanion.
1751–57
Fr. Barlow.
1758–60
Col. (General) Cæsar. (fn. n4)
1762–63
Hon. Ric. Ponsonby.
1764–65
Mrs. Nugent.
1766–71
Capt. Parker.
1772–93
Sir Peter Parker.
1796–98
Wm. Decy.
1800–14
Ric. Hollingworth.
1815–27
Philip Hollingworth.
1828
Miss Hollingworth.
1830–36
John Tidd Pratt.
1837–39
Edw. Rushton.
1840
Martha Chapman.
James, 10th Earl of Derby, was born in 1664 and succeeded his brother in the earldom in 1702. He died in 1736. From 1718 to 1721 he appears to have rented No. 30 in addition to No. 28. (fn. n5) He was succeeded in the occupancy of the latter house by Edward Waddington, Bishop of Chichester.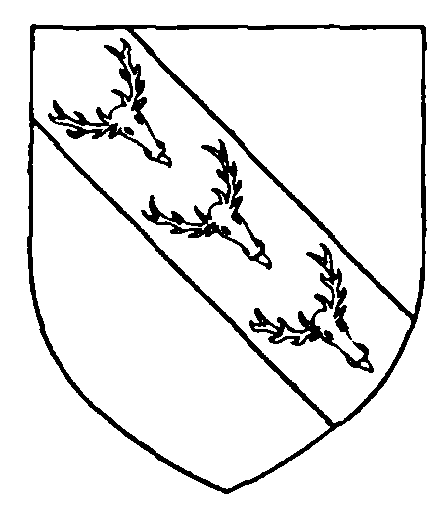 Waddington was born in London in 1670–71 and was educated at Eton and King's College, Cambridge, of which he became a Fellow. In 1698 he inherited an estate of £500 a year and thereupon resigned his Fellowship. In 1702 he obtained the living of Wexham and ten years later that of Allhallows the Great, London. He was appointed Chaplain-inOrdinary to George I. in 1716. In 1724 he was made Bishop of Chichester and died in 1731. No. 28 Queen Anne's Gate served as his town house during his episcopate.
Sir Peter Parker, son of Rear-Admiral Christopher Parker, was born in 1721. He followed his father's profession and was made a captain in 1747. At the conclusion of peace (1763), after the Seven Years' War, he was put on half-pay. In 1772 he was knighted. In 1775 he was given the command of a small squadron to attack Charlestown, but after stubborn fighting was repulsed. He then joined Lord Howe at New York, and took part in the reduc tion of Long Island and Rhode Island. In 1777 he became Rear-Admiral and Commander-inChief at Jamaica, and in 1779 Vice-Admiral. He returned to England in 1782 and received a baronetcy. He was promoted Admiral in 1787, was appointed Commander-in-Chief at Portsmouth in 1793, and in 1799 became Admiral of the Fleet. He died in 1811. He is best remembered as the early patron of Nelson. The ratebooks show him as resident at No. 28 Queen Anne's Gate from 1766 to 1793, the date of his Portsmouth appointment. The Dictionary of National Biography, however, states that his residence in Queen Square began in 1763. If so, he lived with his wife's mother. His wife was Margaret, daughter of Walter Nugent, and the ratebooks show that "Mrs. Nugent" lived at one of the two houses occupying the site of No. 34 Queen Anne's Gate from 1761 to 1763, and in the latter year removed to what is now No. 28. (fn. n6)
John Tidd Pratt, the son of a surgeon in Kennington, was born in 1797, and was called to the Bar in 1824. From 1828 he was counsel to certify the rules of savings banks and friendly societies, and in 1846 became Registrar of Friendly Societies. He died in 1870. He wrote a History of the Savings Banks in England and Wales (published in 1830, the year in which the ratebooks first show him in residence in Queen Square) and brought out many editions of legal books.
In the Council's Collection are:—
(fn. n7) General exterior of premises (photograph).
(fn. n7) Entrance doorway (photograph).
(fn. n7) Entrance hall and staircase (photograph).
General view of first-floor landing (photograph).
(fn. n7) Detail of carved frieze to first-floor landing (photograph).
General view of back stairs (photograph).
Marble mantelpiece, ground-floor back room (photograph).
Wood mantelpiece, first-floor front room (photograph).
Wood mantelpiece, first-floor back room (photograph).
Marble mantelpiece, second-floor back room (photograph).