Pages 2-5
Survey of London: Volume 10, St. Margaret, Westminster, Part I: Queen Anne's Gate Area. Originally published by [s.n.], [s.l.], 1926.
This free content was digitised by double rekeying and sponsored by English Heritage. All rights reserved.
I.—No. 43 PARLIAMENT STREET.
Ground Landlord.
The freehold is the property of the Crown, and the premises are in the occupation of the Ministry of Agriculture and Fisheries.
General Description and Date of Structure.
On 3rd February, 1753, the Westminster Bridge Commissioners covenanted (fn. n1) with James Mallors that "as soon as he or they should have completely repaired and made fit for habitation the four messuages standing [in Cannon Row] on part of the ground aftermentioned, and should also have built and finished the several other new brick buildings or houses aftermentioned," they would demise to him for 72 years "all that peice or parcell of ground with the four several messuages or tenements, and all other erections and buildings standing and being on part thereof, situate and being between a new street called Parliament Street and Cannon Row … abutting west on Parliament Street, east on Cannon Row, north on another parcel of ground lately sold to John Vardy, gent., south on ground and houses lately leased to Richard Hughes, slater, with frontage north to south on the west side towards Parliament Street 81 feet 6 inches, and the same in rear to Cannon Row, east to west on the north side 77 feet and on the south 77 feet." The plot sold to Vardy extended southward along Parliament Street 69 feet from a "new-street called Derby Street," (fn. n2) and the plot leased to Mallors, being south of this, must have included the sites of Nos. 43 to 45 Parliament Street. Exactly how far advanced in building these houses were is difficult to say, but they do not appear to have been occupied until 1758.
The exterior of No. 43 consists of a plain brick front of three storeys over a basement, and an attic storey with a mansard roof. A plain band denotes the level of the first floor, and a modillion cornice with a plain blocking course forms a parapet to the eaves (Plate 1). The entrance door has a wood case decorated with ¾-diameter Doric columns, which support a moulded pediment over the keyed elliptical head (Plate 3). The back of the house, which overlooks Cannon Row, has a red-brick front with gauged arches to the windows, the sashes of which are divided into small squares by substantial sash bars, and appears to be of an earlier date than the front portion of the house. This supposition is confirmed by the provision in the deed of 1753 concerning the repair of the houses already existing in Cannon Row.
The interior is full of interest, and contains some excellent examples of the craftsmanship of the latter half of the 18th century. The main staircase, which is executed in wood, has an interlaced balustrading, divided into panels by intermediate balusters decorated with a sunk ornament, while the mahogany handrail has a perforated rail below enriched with a wave ornament (Plates 4 and 5). The design is based upon the characteristic features of the Chinese Chippendale period, and, although effective for the purpose, does not convey the feeling of sufficient rigidity. The small staircase on the second floor which leads to the attic has also an interlaced balustrading. (fn. n3) The doors to the rooms leading off the stair-landing have carved architraves and moulded overdoors. The back staircase to the Cannon Row portion has turned balusters, with shaped brackets to the strings, and turned newel posts with moulded pendants. The staircase walls have moulded panels in wood, with a moulded dado rail and cornice.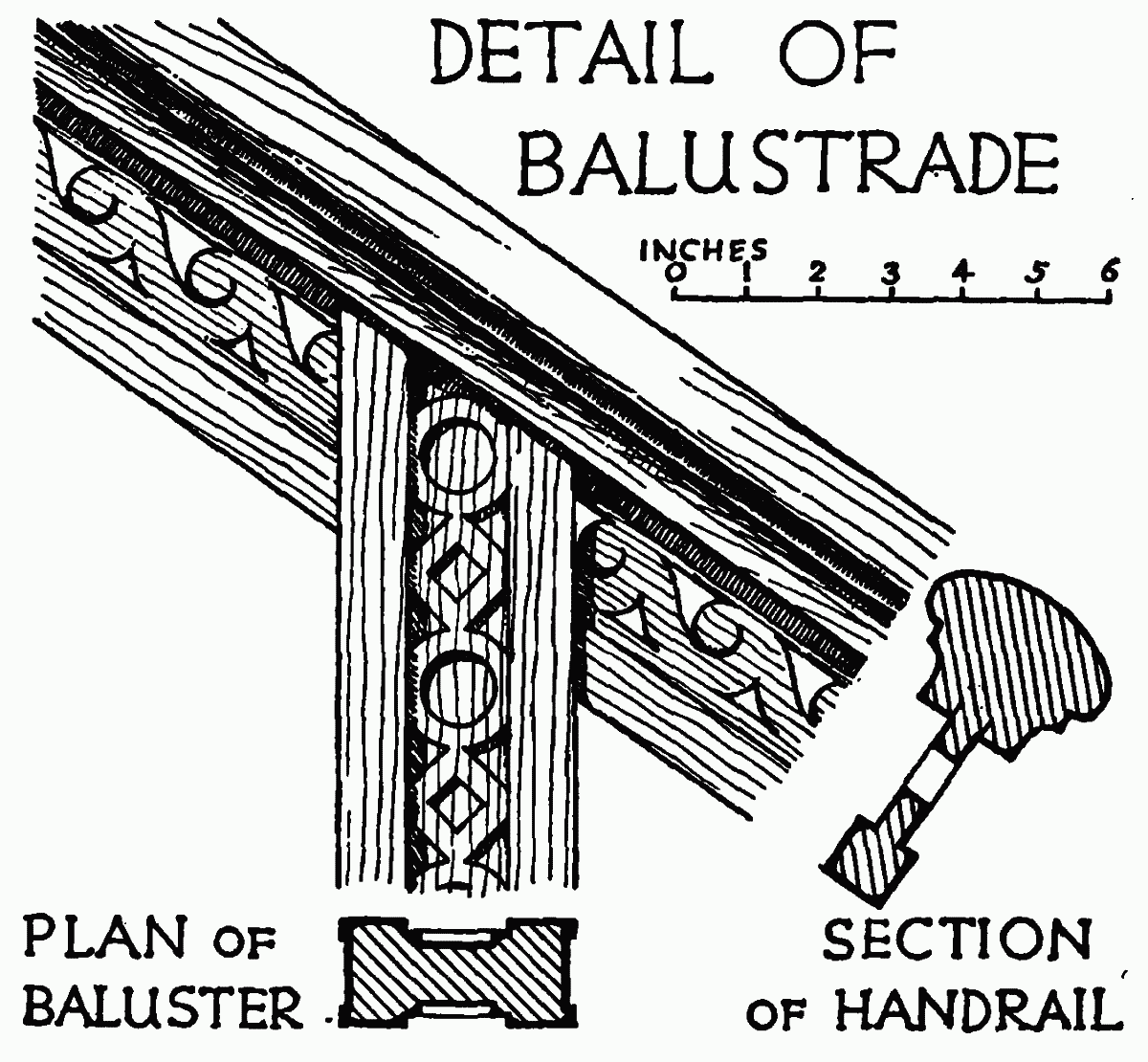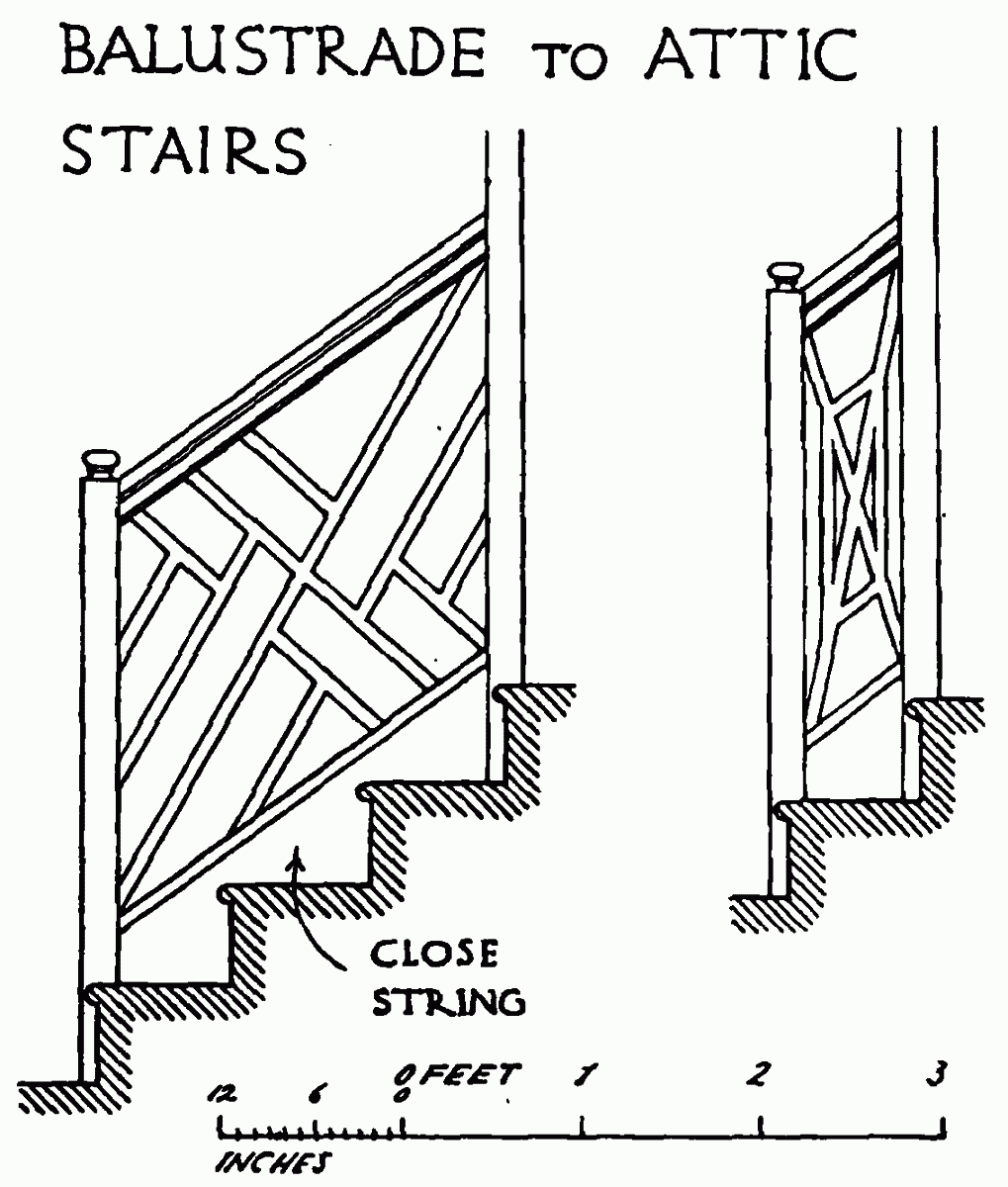 In the front room on the ground floor is a plaster ceiling, with a floral border and an enriched modillion cornice. The mantelpiece, with enriched mouldings in white marble, and the frieze and jambs in Sicilian jasper, has a central tablet containing a sculptured pastoral subject (Plates 6 and 9). The chair-rail and skirtings are carved in wood, while the door has a moulded overdoor and a carved frieze of vine leaves. In the back room is a decorated coved ceiling supporting a lantern light. The other rooms have carved wood mantelpieces, with plaster ornamentation to the frieze, and carved chair-rails and skirtings to the walls (Plates 8 and 11).
In the front room, on the first floor, is a white marble mantelpiece, with the frieze and jambs in Sicilian jasper, and a sculptured central tablet containing a representation of an infant Bacchus (Plates 7 and 10.) The rooms generally have carved wood chair-rails and skirtings, whilst the other mantelpieces have moulded wood shelves and jamb linings, with their friezes decorated in plaster, and the central tablets enriched with a rustic subject or a representation of one of Æsop's Fables. Francis Barlow's designs for Æsop's Fables published in 1665–66 and 1687 form the basis of many of the subjects for these central tablets, which were very fashionable during this period. (fn. n4)
Condition of Repair.
The premises have been recently re-decorated.
Historical Notes.
The ratebooks give the following names in connection with the house up to 1840:—
1758–66
John Calcraft.
1766–92
Jas. Meyrick.
1794–95
Geo. Stubbs.
1797–98
Rt. Hon. Henry Dundas.
1800–13
Thos. Sterling.
1814–17
Transport Office.
1818–28
Office for British Claims.
1829–30
John Rose.
1831–
William John Rose.
John Calcraft the elder, born in 1726, was the son of the Duke of Rutland's election agent at Grantham. By the Rutland influence he obtained a small clerkship in the pay office. Henry Fox, 1st Lord Holland, who is said to have been a relation, when he became paymastergeneral, shewed Calcraft extraordinary favour and appointed him deputy commissary-general. He made a huge fortune as army contractor. In 1763 he deserted the cause of Fox for that of Pitt, and was dismissed from his position. In 1765 he contested Rochester against Grey Cooper (see p. 6) but was defeated. He was M.P. for Calne from 1766 to 1768, and from the latter year until his death represented Rochester. He gradually acquired considerable political influence, which he used to further parliamentary reform. He died in 1772.
James Meyrick was agent to Colonel Legge, Governor of Nova Scotia, and several of his letters, addressed from "Parliament Street," are preserved. (fn. n5)
Henry Dundas, afterwards 1st Viscount Melville, a son of Robert Dundas of Arniston the elder, was born in 1742. In 1763 he was admitted a member of the Faculty of Advocates and rapidly obtained a large practice. In 1766 he became Solicitor-General for Scotland, and in 1775 Lord Advocate. In 1774 he entered Parliament for the first time, and at once adopted an attitude of strong opposition to the claims of the American colonists. For the next thirty years he took a prominent part in politics, serving the offices of, inter alia, Treasurer of the Navy, Home Secretary, President of the Board of Control, Secretary of War, and First Lord of the Admiralty. Indian affairs engaged a good deal of his attention. He interposed at different times both against and in favour of Warren Hastings, and it was owing to his support that the East India Company obtained the renewal of its monopoly. One of the chief items to his credit during these years was the planning and carrying out of the Egyptian Campaign of 1801 against the opinions of Pitt and the King. In 1802 he was created Viscount Melville of Melville and Baron Dunira. In 1805, as a result of a report by the commissioners appointed to enquire into irregularities connected with the navy, Whitbread accused Melville of malversation, and the motion was carried by the casting vote of the Speaker. His name was erased from the roll of the Privy Council, and in the following year he was impeached before the Lords but was acquitted. In 1807 he was restored to the Privy Council, but never again took office. He died in 1811.
In the Council's Collection are:—
(fn. n6) General exterior of premises (photograph).
(fn. n6) View of entrance doorway (photograph).
General view of rear to Cannon Row (photograph).
View of main staircase balustrading at ground-floor landing (photograph).
(fn. n6) Views (2) of main staircase balustrading at first-floor landing (photograph).
(fn. n6) Details of staircase balustrading (measured drawing).
General view of rear staircase to Cannon Row (photograph).
Ceiling to front room on ground floor (photograph).
(fn. n6) Marble mantelpiece to front room on ground floor (photograph).
(fn. n6) Marble mantelpiece to front room on ground floor (measured drawing).
(fn. n6) Central tablet to do. to front room on ground floor (photograph).
Deal doorcase to front room on ground floor (photograph).
Coved ceiling to rear room on ground floor (photograph).
Wood mantelpiece to front room on ground floor to Cannon Row (photograph).
(fn. n6) Wood mantelpiece to rear room on ground floor to Cannon Row (photograph).
(fn. n6) Marble mantelpiece to front room on first floor (measured drawing).
(fn. n6) General view of mantelpiece to front room on first floor (photograph).
(fn. n6) Details of central tablet to front room on first floor (photograph).
(fn. n6) Wood mantelpiece to rear room on first floor to Cannon Row (photograph).
(fn. n6) Wood mantelpiece to front room on first floor to Cannon Row (photograph).
(fn. n6) Ground and first-floor plans (measured drawing).
Wood mantelpiece to front room on second floor (photograph).