Pages 97-100
Survey of London: Volume 10, St. Margaret, Westminster, Part I: Queen Anne's Gate Area. Originally published by [s.n.], [s.l.], 1926.
This free content was digitised by double rekeying and sponsored by English Heritage. All rights reserved.
XLI—XLV.—Nos. 5 To 13 (Odd) QUEEN ANNE'S GATE (Formerly Nos. 14 To 18 Park Street).
Ground Landlord.
The property is the freehold of Christ's Hospital.
General Description and Date of Erection
These premises extend from Carteret Street to the old boundary of Queen Square, and comprise a terrace of four-storey houses above a basement (Plate 96). They were erected probably in 1773–74, the dates of the commencement of the original leases ranging from Lady Day, 1773, to Christmas, 1774. Their exterior is in plain brickwork, with a moulded band of brickwork at the third-floor level acting as a cornice. The window openings have gauged arches and cemented reveals, while some of the sashes are divided into small squares. The entrance doorways are approached by stone steps, and their wood doorcases are formed of pilasters supporting a pediment. The entrance to No. 5 was originally in Carteret Street (fn. n1) and the present doorcase is stated to be a copy. The front areas afford access and light to the basement storey, and have wrought-iron railings.
Each of the houses follows the same plan, and scarcely warrants detailed description. The premises retain their restful atmosphere, the decorations are plain, while the staircases have turned balusters and a top light. The main rooms have a plain wood dado finished with moulded rail and skirting, and plaster modillion cornices, while some of the mantelpieces have moulded wood architraves and marble surrounds containing cast-iron basket grates. The fireplaces in No. 7 alone call for any special mention, and the best example is illustrated (Plate 97). It is of wood, the frieze and pilasters being fluted, and decorated with carved urns. The cast-iron grate is a good example of the period.
The plans of the two chief floors of No. 11 are illustrated on the next page and are typical of the adjoining houses.
An interesting cast-lead cistern in the basement kitchen of the same house has its main front decorated with moulded ribbed panels containing various devices and the date "1689." One of its sides has similar decoration (Plate 98). This cistern was probably refixed from the former premises on the site.
The original wood doorcase of No. 13 has been removed, and a new doorway inserted with cement dressings. The basement contains an ornamental lead cistern with a "bow"-shaped front bearing the date "1774."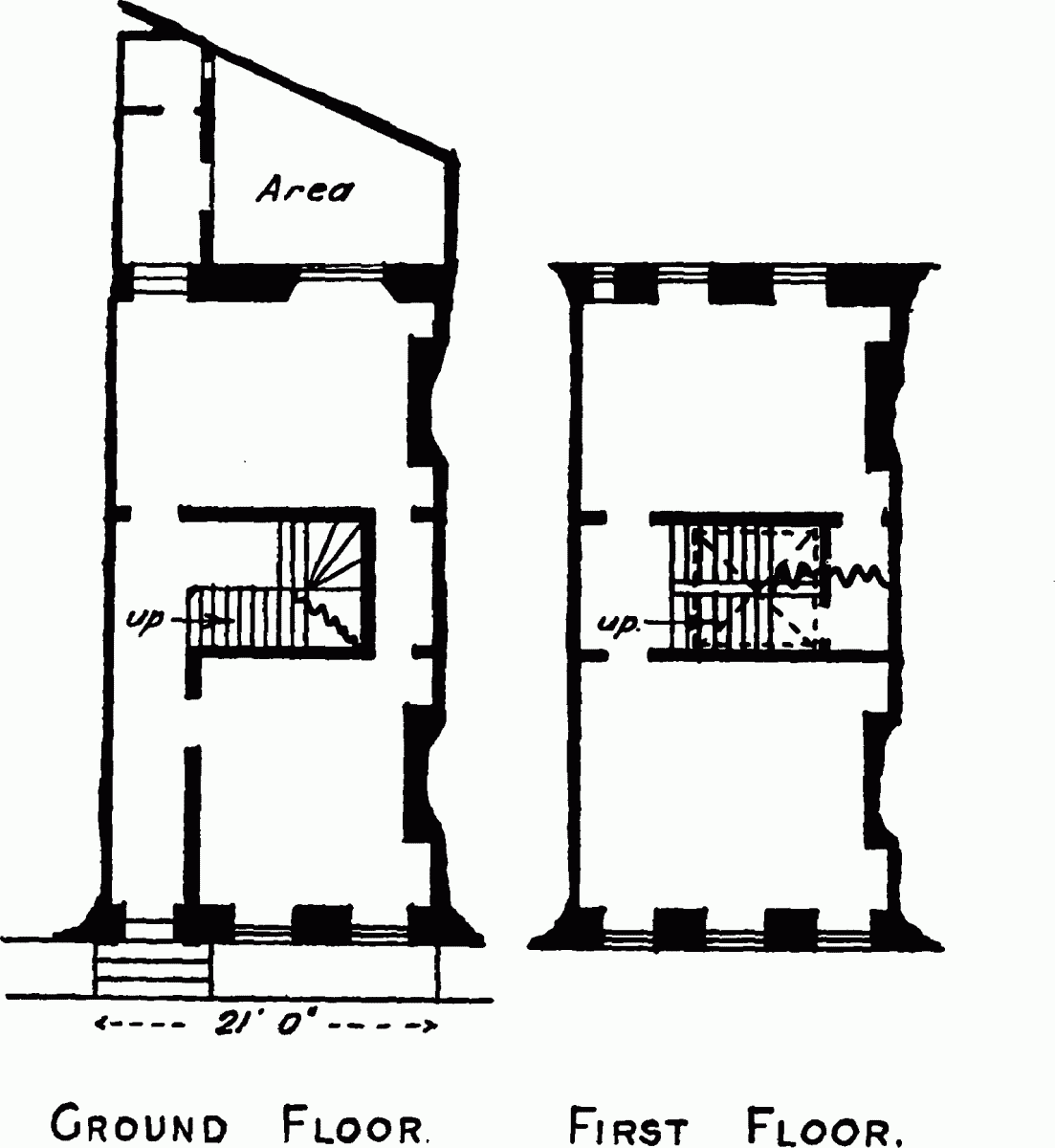 Condition of Repair.
All are in good state of repair.
Historical Notes.
The names of the occupiers of the houses up to 1840, according to the ratebooks, were as follows:—
No. 5 (formerly 14 (fn. n2) ).
1773–76
Thos. Scott.
1776–81
Ben. De la Fontaine.
1781–86
Jane Hughes.
1786–91
Geo. Hallam.
1791–97
John Sargent.
1797–99
Geo. Arnold.
1799–1824
Rev. John Hallam.
1825–32
H. W. Meale.
1833–35
Geo. Bramwell.
1837–
Thos. Chas. Geldart.
No. 7 (formerly 15 (fn. n2) ).
1772–75
Thos. Gilbert.
1776–78
Lord Thos. Pelham.
1779–82
Lord Pelham.
1783
Jas. Fallowfield.
1783–87
Geo. White.
1788–92
Mrs. White.
1793–1800
Geo. White.
1803–04
Col. Porter.
1807–17
Geo. Gordon.
1818–27
John Finnimore.
1828–35
Edw. V. Williams.
1836–37
Rob. Frankland.
1838–
Rev. H. F. Carey.
No. 9 (formerly 16 (fn. n3) ).
1773–92
Thos. Jones.
1795–96
Mary Beech.
1797
J. Baley.
1798
Mrs. Isaacs.
1799–1801
Charlotte Jackson.
1803–04
Major McBean.
1805–07
Alex. McBean.
1808–20
Wm. Glasier.
1821–22
Wm. Ric. Glasier.
1823–36
John Barrett Lennard.
1838–
Arch. Richie.
No. 11 (formerly 17 (fn. n3) ).
1773–75
Thos. Watson Ward.
1776
Lady Lucy Merrick.
1776–1800
Thos. Dyer.
1801–02
John Astle.
1803–25
Mrs. Dyer.
1826
Mrs. Frances Dyer.
1827
Mrs. Dyer.
1828–
Mrs. M. L. Dyer.
No. 13 (formerly 18 (fn. n3) ).
1774–76
Jas. Tracey.
1777
Mich. Barrett.
1778–79
B.Thomas.
1780–95
Mary Strutt.
1796
—Drury.
1798–1805
Miss Newcombe. (fn. n4)
1807–11
Abraham Banes.
1812–25
John Robinson.
1826–28
FredWalley.
1829–36
Mary Brown.
1837–
John Archbold.
Thomas Gilbert, the first occupant of No. 7, was, no doubt, the Poor Law reformer of that name who was born in 1720. He was called to the Bar in 1744. In 1763 he entered parliament, and in 1784 became Chairman of Committees of Ways and Means. His chief interest was in the reform of the Poor Laws, and his publications on the subject were many. In 1782 he carried two Bills, one dealing with the laws relating to houses of correction and the other enabling two or more parishes to unite. In 1777 he had procured the passing of the first of the "Gilbert's Acts" for facilitating the erection of houses for the clergy by means of loans from the governors of Queen Anne's Bounty. He also interested himself in the improvement of highways and the construction of canals. He retired from parliament in 1795, and died in 1798.
Thomas Pelham, Earl of Chichester, was born in 1728. In 1749 he was elected M.P. for Rye, a seat which he exchanged for Sussex in 1754. On the death of the Duke of Newcastle in 1768, he succeeded to the barony of Pelham, and in 1801 was created Earl of Chichester. He held several sinecures, including that of Master of the Great Wardrobe. His tenure of this office, lasting from 1775 to 1782, corresponds with the date of his residence in Park Street.
Henry Francis Cary was born at Gibraltar in 1772. His father shortly afterwards settled at Cannock, Staffs, and Cary received his education at the local grammar school.
When 15 years old he began his literary career by the publication of an ode to Lord Heathfield on his defence of Gibraltar. In 1796 he took orders and was presented to the vicarage of Abbot's Bromley, removing in 1800 to Kingsbury, Warwickshire. In 1805 he published his translation of Dante's Inferno, but the Purgatorio and Paradiso did not appear until 1812. In the meantime he had removed to London, where he at first was reader at Berkeley Chapel and afterwards afternoon lecturer at Chiswick and curate of the Savoy. He became acquainted with Coleridge and Charles Lamb, and wrote for the magazines. In 1824 his translation of The Birds of Aristophanes appeared, and two years later he was appointed assistant-keeper of printed books at the British Museum. In 1832 he published his translation of Pindar. In 1837 he resigned his position in chagrin at not having received promotion to which he considered he was entitled. He died in 1844. His residence at 15 (at that time 14) Park Street, began in 1837 when he left the British Museum, and according to the directories lasted until 1843.
In the Council's Collection are:—
No. 5.— (fn. n5) General exterior of premises (photograph).
View of entrance doorway (photograph).
No. 7.— (fn. n5) General exterior of premises (photograph).
(fn. n5) Mantelpiece, front room on ground floor (photograph).
Mantelpiece, front room on second floor (photograph).
Mantelpiece, back room on second floor (photograph).
No. 9.—Mantelpiece to back room on ground floor (photograph).
General view of staircase balustrading (photograph).
No. 11.— (fn. n5) Detail of ornamental lead cistern (measured drawing).
(fn. n5) Ground and first-floor plans (measured drawing).