Pages 204-207
Survey of London: Volume 13, St Margaret, Westminster, Part II: Whitehall I. Originally published by London County Council, London, 1930.
This free content was digitised by double rekeying and sponsored by English Heritage. All rights reserved.
CHAPTER 16: LXXIII—NO. 3, WHITEHALL GARDENS
Ground Landlords.
The property is the freehold of the Crown, and is used for the purposes of the offices of the Cabinet and the Committee of Imperial Defence.
General Description.
In 1810 a lease was granted (fn. n1) to Richard Henry Alexander Bennet of Nos. 2 and 3 Whitehall Gardens for 99 years as from 5th July, 1805. The property is described (see plan on opposite page) as abutting south on ground or buildings in the occupation of Archibald, Earl of Cassilis, containing in breadth 47 feet both towards the river and towards Privy Garden, and in length 239 feet 5 inches and 241 feet 7 inches on the north and south sides respectively "on part of which … have been lately erected … two capital messuages now or late in the several occupations of Richd Henry Alexander Bennettesq and … Bennett Esqr, his son, a captain in His Majesty's Navy, containing in front towards Privy Garden 47 feet … & in depth from east to west 56 feet 2 inches." The lease contained power to the lessee to build within the ground next adjoining the east front of the houses, for the space of 22½ feet west to east and 47 feet north to south, "such proper & substantial subterraneous offices, with a terrace over the same" as he should think fit.
In 1837 a separate lease (fn. n2) of No. 3 for the remainder of the 99 years' term was granted to Sir John Edward Swinburne, Bt. In this the property is described as bounded north on certain premises leased to and in the occupation of the Rt. Hon. Sir Robert Peel, Bt., and south on ground or buildings in the occupation of Algernon, Lord Prudhoe, containing in breadth 24 feet, and in length 239 feet 5 inches and 242 feet on the north and south sides respectively.
The lease of 1810 also included (but only during pleasure) (i) a portion of the Privy Garden running the whole width of the premises, and varying in breadth from 15¼ feet at the south end to 22 feet 2 inches at the north, and (ii) the ground lying between the premises and the ground of the Marchioness of Exeter (see p. 183).
From the date for the commencement of the lease, it would seem that the houses were built about a year earlier than No. 1, but, as in the case of the latter, their first appearance in Boyle's Court Guide is for the year 1808, implying a residence begun in 1807.
As has already been pointed out, No. 3, though built in conjunction with No. 2, and having originally the rear terrace and garden in common with the latter, has since been altered and is now joined to No. 4.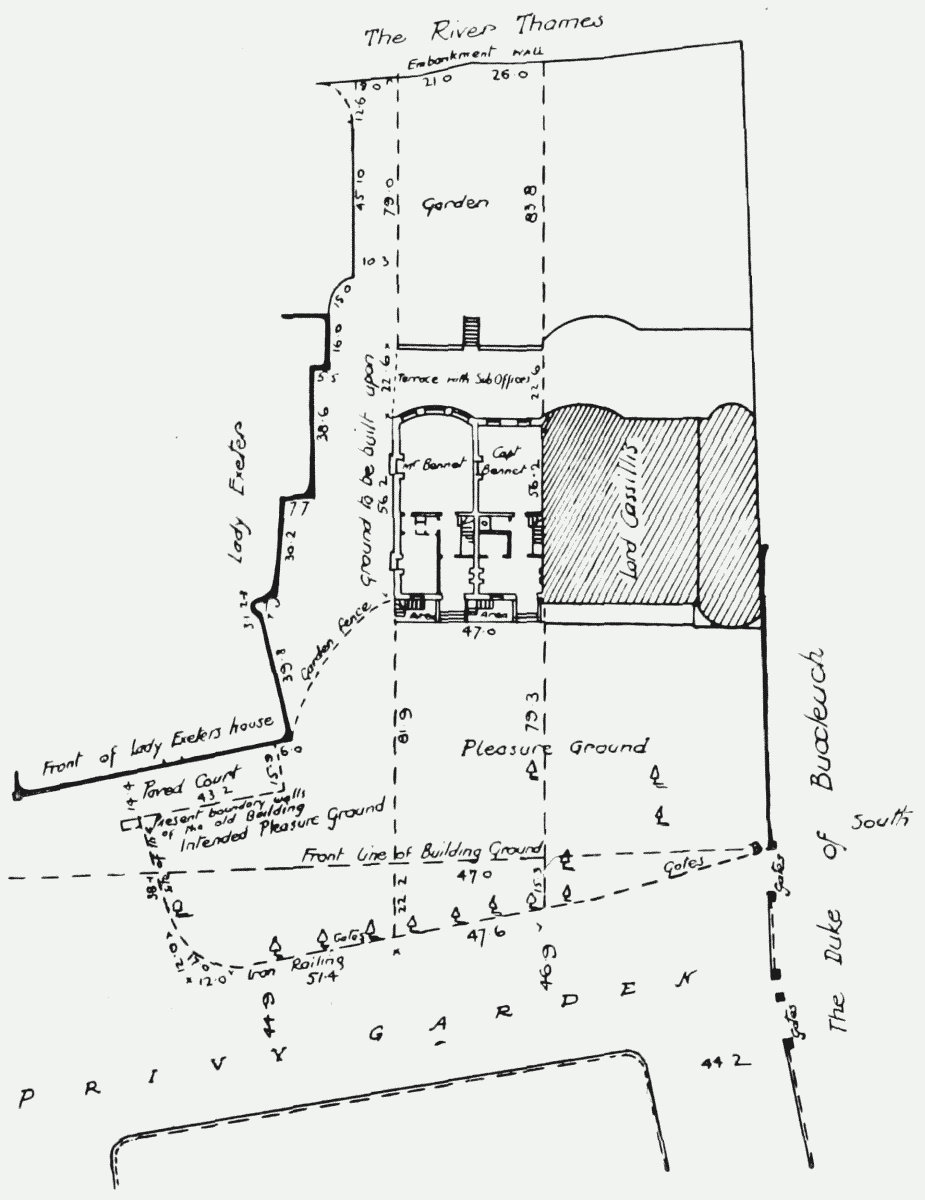 The exterior is faced with stone and with No. 4 is now designed as one composition. All other features of interest have been dealt with in the account of No. 4.
Historical Notes.
The occupiers of No. 3 as given by directories, etc., until the time when the house was utilised for official purposes were:
1808–10
Richard Alexander Bennet
1811–12
Fred. Walley
1814–37
Mrs. Bennet
1837–39
Captain Charles Henry Swinburne and Lady Jane Swinburne
1840–41
Lady Glenlyon
1842–45
Rt. Hon. Major-General Sir Henry and Lady Emily Hardinge
1846–55
Edward Cardwell
1857–64
Countess of Falmouth
1866–67
Francis Fuller
Faithfull, Son & Coode
1868
Francis Fuller
Faithfull, Son & Coode
Chas. Constable
1869–76
Fuller & Marr
Geo. Faithfull
Chas. Constable
1878–81
Capt. Walter Wood
1884–93
Northbrook Indian Club
Richard Henry Alexander Bennet married Elizabeth Amelia, eldest daughter of Peter Burrell. Thus it happened that three sisters were in 1820 simultaneously living in Whitehall Gardens (Mrs. Bennet, the Dowager Duchess of Northumberland, and the Dowager Marchioness of Exeter). Mrs. Bennet died "in Whitehall Gardens" on 27th January, 1837, aged 92. (fn. n3)
On her death her son-in-law, Sir John Edward Swinburne, obtained a lease of the house, which (on 2nd August, 1837) was said to be at the time in the occupation of Charles Henry Swinburne. (fn. n4) This was Sir John's second son, one of the executors under Mrs. Bennet's will, captain and afterwards admiral in the navy, and father of Algernon Charles Swinburne, the poet. (fn. n5)
The next occupant was Emily, Lady Glenlyon, daughter of the 2nd Duke of Northumberland and of the dowager duchess who had in 1820 been resident next door. In 1810 she married James, 1st Lord Glenlyon, who died in 1837. She died in 1844.
Sir Henry Hardinge, 1st Viscount Hardinge of Lahore, was born in 1785. He entered the army at an early age and his first experience of active service came with the Peninsular War. He was with Moore in the retreat from Corunna, and was afterwards on the staff of the Portuguese army, in which capacity he won the commendation of Wellington. In the campaign of 1815 he was in attendance on Blũcher, and lost his left hand at Quatre-Bras. In 1820 he entered Parliament as member for the City of Durham. From 1828 to 1830 and again from 1841 to 1844 he was Secretary at War; and in 1830 and again in 1834–5 was Irish Secretary. In 1841 he became lieutenant-general and in 1844 was created G.C.B. In the latter year he went to India as GovernorGeneral. The three years of his government were marked by much useful work, but the outstanding event in this period was the first Sikh War, in which, at his own suggestion, he served as second-in-command under Gough, though he might well have claimed the supreme command. At the end of the war he was raised to the peerage as Viscount Hardinge of Lahore and of Durham. Though not a full general until 1854, he was Commander-in-Chief from 1852 to 1855. In the latter year he was made field marshal, and died in 1856.
His residence in Whitehall Gardens corresponded more or less with his second tenure of office as Secretary at War, and lasted until his departure to India in the summer of 1844.
Edward Cardwell (afterwards Viscount Cardwell) was born in 1813. He was educated at Winchester and Oxford, and was called to the Bar in 1838. In 1842 he entered Parliament as member for Clitheroe and attached himself very closely to Sir Robert Peel, whose neighbour he became in 1844. In 1852 he was made President of the Board of Trade, in which capacity he drew up and carried the Merchant Shipping Act of 1854. From 1859 to 1861 he was Secretary for Ireland, and from 1864 to 1866 Colonial Secretary. In the latter capacity he put an end to transportation. From 1868 to 1874 he was Secretary for War. During this period he reorganised the British army, abolishing the system of purchase and introducing a short term of service and the formation of a veteran reserve. In 1874 he was created a viscount. ] ed in 1886.
His residence at No. 3 Whitehall Gardens lasted until 1855, and in the following year he was succeeded by the Countess of Falmouth. Anne Frances, daughter of Henry Bankes of Kingston House, Dorset, married in 1810 Edward, 4th Viscount Falmouth, created earl in 1821. He died in 1841, and his widow on 1st May, 1864, at "her residence in Whitehall Gardens." (fn. n6)