Pages 160-164
Survey of London: Volume 14, St Margaret, Westminster, Part III: Whitehall II. Originally published by London County Council, London, 1931.
This free content was digitised by double rekeying and sponsored by English Heritage. All rights reserved.
CHAPTER 13: XCII—NO. 14 DOWNING STREET (DEMOLISHED)
History of the Building.
Among the premises leased to James Steadman by Charles Downing on 17th April, 1723, (fn. n1) was "All that Messuage … Scituate … in a place heretofore called Hampden Garden … at the West end of a Street there now called Downing Street … containeing in length on the North part thereof Fifty Foot, on the South part thereof Fifty Foot, and in breadth from North to South on the West part thereof Forty six Foot and on the East East part thereof, and upon a Terras adjoyneing to Saint James's Park Wall on the West, and upon the Garden of the Dwelling house of—Bushverighet (fn. n2) on the South, and upon one other house of the said Charles Downings, late in the Tenure of Thomas Fredrick Esquire Deceased on the North." The premises are obviously those marked 1 on the plan of 1749 (Plate 106). Whatever was the case with Nos. 2 to 4 on that plan, it would seem that No. 1 was not entirely rebuilt in 1722–3, for it is referred to in the latter year as "now under repair and lett to the Lord Harcourt" (see p. 154). This house was also included in the sale on 24th November, 1772, by the Downing Trustees to William Maseres (see p. 142), who, on 29th October, 1774, leased (fn. n3) the premises for 31 years from the following Christmas to Henry Hunt, when they are described as "late in the Tenure … of the Right Honble Richard, Earl of Scarborough." On 23rd May, 1782, Hunt's lease, which had come into the hands of Walter Scot, (fn. n4) was purchased by Sir John Eden, (fn. n5) who, six years later (3rd May, 1788), also acquired the Downing lease. (fn. n6) On 10th September, 1798, Eden sold the premises to the Crown, (fn. n7) and they were henceforth until their demolition used for the purposes of the Colonial Office.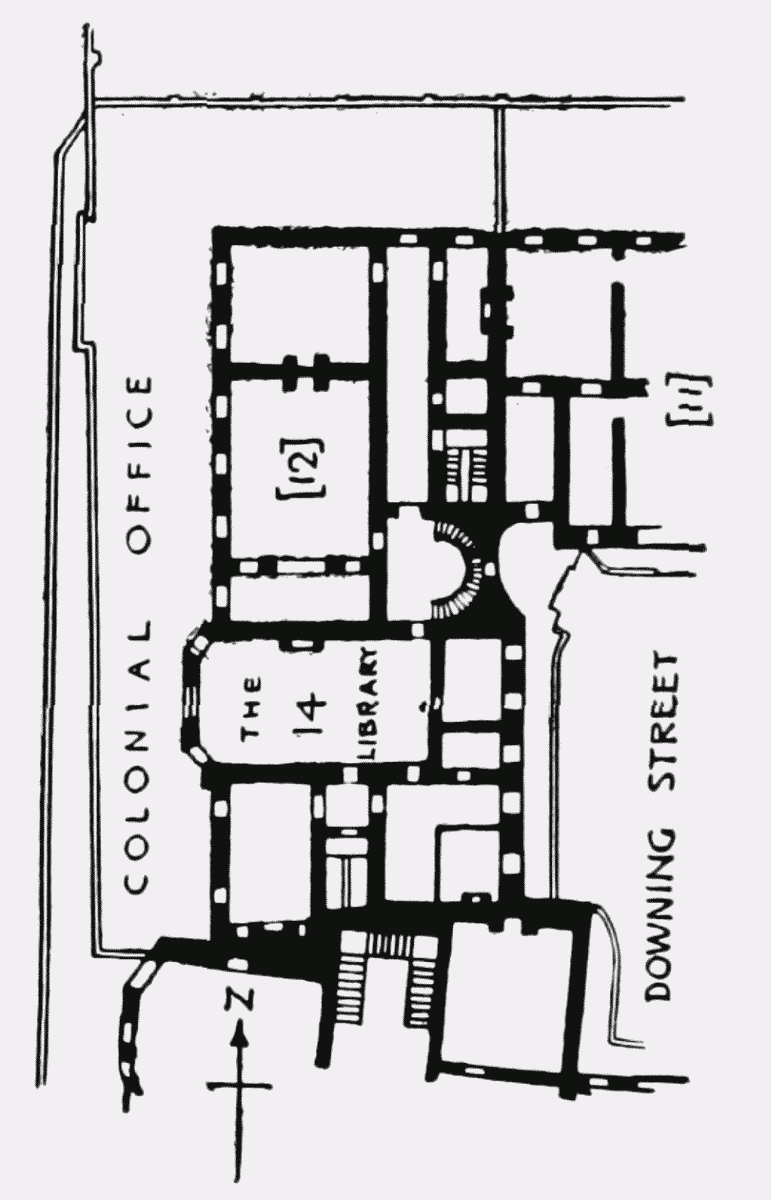 A view of the house in 1827 is contained in Plate 142, and a ground plan of Nos. 12 and 14 (taken from a plan made about 1857) is given on the opposite page.
When, in 1856, Parliamentary sanction was obtained for the erection of new Government offices on the south side of Downing Street, it was felt that the demolition of the adjoining buildings would jeopardise the Colonial Office. In 1861–2 the house had been so weakened by the adjacent excavations that its demolition became imperative. Some portions were accordingly taken down, but the remainder of the house was not demolished until the spring of 1876, (fn. n8) certain chimneypieces of architectural merit being retained for incorporation in the new building (see Plates 143, 144, 145).
Historical Notes.
The following is a list of occupants of No 14, Downing Street, from 1723 until it was taken over for official purposes in 1798.
1723–25
Lord Harcourt
1726–30
Marquess of Blandford
1731–49
(Sir) Watkin Williams Wynn
1749–51
Lady Wynn
1752–54
Duchess Dowager Junr. of Somerset
1754
Earl Kildare
1755–56
Henry Fox
1756–57
Lord Anson
1757–62
Nathaniel Ryder
1763
Lady Ryder
1763–66
Earl of Scarbrough
1767–70
Wm. Belchior
1775–97
Sir John Eden
The ratebooks for the year 1723–5 show Lord Harcourt at what was afterwards No. 14, Downing Street, and his residence is confirmed by the description of No. 12 in 1723 (see p. 154) as bounded on the south by "a messuage … now under repair and lett to the Lord Harcourt." Simon Harcourt, 1st Viscount Harcourt, son of Sir Philip Harcourt, of Stanton Harcourt, Oxfordshire, was born about 1661. He was called to the Bar in 1683, and was appointed Recorder of Abingdon. He entered Parliament in 1690 as M.P. for that borough, which he represented for the next 15 years. In 1702 he became Solicitor-General and was knighted. Five years later he was made Attorney-General. He resigned in less than a year, but was again appointed in 1710. A few months before, being without a seat in Parliament, he defended Sacheverell in an eloquent speech before the bar of the House of Lords, but was prevented from taking further part in the proceedings by his election for Cardigan. In the same year he was appointed Lord Keeper, and in 1711 was raised to the peerage as Baron Harcourt. In 1713 he was made Lord Chancellor. On the death of Anne he was immediately reappointed, but on the arrival of George I in London, was deprived of the great seal. In 1721 he was created Viscount Harcourt. In 1727 he was stricken with paralysis when on a visit to Walpole at Chelsea, and died a few days later at Harcourt House, Cavendish Square.
In 1722 Harcourt was readmitted to the Privy Council (from which he had been excluded in 1714). In order to be near at hand, he, a few months later, rented No. 14, Downing Street. (fn. n9) His residence there lasted about three years, and the ratebook for 1726 shows that he was succeeded in the occupancy of the house by the Marquess of Blandford. (fn. n10)
William, Marquess of Blandford, was son of Henrietta, Duchess of Marlborough, and grandson of the great Duke. He died at Oxford of an apoplectic fit in August, 1731, but had apparently left No. 14, Downing Street, before this, for the ratebook for that year shows "Watkin Wynn Williams" at the house.
Sir Watkin Williams Wynn, born in 1692, was the son of Sir William Williams, of Llanforda, near Oswestry. On succeeding to the estates of his kinsman, Sir John Wynn, in 1719, he assumed the arms and the additional name of Wynn. In 1716 he entered Parliament as member for Denbighshire, a seat which he retained until his death. He was one of the most influential and active Jacobites in the House, and became involved in the rebellion of 1745. He escaped punishment, however, and afterwards took a much less active part in politics. He died on 26th September, 1749, from the effects of a fall from his horse. He had incurred much odium among Welshmen for his activities in connection with the persecution of the North Wales Methodists, and his death was by some regarded as a righteous retribution. His widow (fn. n11) continued to reside for a time at the house in Downing Street, (fn. n12) and according to the ratebooks was succeeded in 1752 by the "Dutches Dowager Junr of Somerset."
This was Frances, eldest daughter and co-heiress of Henry Thynne. In 1713 she had married Algernon, 7th Duke of Somerset, who died in 1750. The duchess died on 7th July, 1754, at No. 14, Downing Street. (fn. n13) The house was taken in the same year by the Earl of Kildare.
James Fitzgerald, afterwards 1st Duke of Leinster, son of Robert, 19th Earl of Kildare, was born in 1722. In 1744 he succeeded his father in the earldom, and in the headship of the great family of the Geraldines. In the rebellion of 1745 he offered to raise a regiment at his own expense to fight the Pretender. In 1747 he married Lady Emily Lennox, second daughter of the Duke of Richmond, and was created Viscount Leinster in the English peerage. He now began to take a prominent part in Irish politics, and his strong action in 1754 against Stone, the Archbishop of Dublin, gained him immense popularity. In 1761 he was created Earl of Offaly and Marquess of Kildare, and in 1766 attained the summit of his ambition as Duke of Leinster. He died in Dublin on 19th November, 1773.
Kildare's residence at No. 14, Downing Street, was very brief, apparently a matter of only a few months, (fn. n14) and the ratebook for 1755 contains the names of the Duchess of Somerset (which must be a mistake) and the "Right Honble. Hen. Fox Esqr—Xmas." Thus Kildare was succeeded in the occupation of the house by his brother-in-law.
Henry Fox, afterwards 1st Baron Holland, younger son of Sir Stephen Fox, statesman, was born in 1705. After squandering the greater part of his private fortune, he retired for a time to the Continent, and on his return was elected M.P. for Hindon in 1735. He attached himself to Sir Robert Walpole, by whom he was presented with the office of Surveyor-General of Works. In 1742, on Walpole's fall, he resigned, but a year later was made a lord of the Treasury. In 1746 he became Secretary at War. By scheming, at one time with, and at another against, Pitt he became leader of the House in 1755 and Secretary of State. He resigned in the following year. In 1757 negotiations were almost concluded for his appointment as Chancellor of the Exchequer, but at the last moment they fell through, and he accepted the less distinguished, but more lucrative post of Paymaster-General, which he retained for eight years, amassing a large fortune. In 1762 he deserted his party to become once more leader of the House, and his unscrupulous conduct during the few months that he held the position made him the most hated minister in the country. In 1763 he retired and was created Baron Holland. In 1765 he was compelled to resign the office of Paymaster-General. Out of favour with all parties, he endeavoured in vain to obtain an earldom, and broken in health, with his ambitions unrealised, he died at Holland House on 1st July, 1774. In 1744 he had secretly married Lady Georgiana Caroline Lennox, eldest daughter of the Duke of Richmond.
According to the ratebook Fox was succeeded at No. 14, Downing Street, in the course of 1756, by Lord Anson.
George Anson, Baron Anson, second son of William Anson, of Shugborough, in Staffordshire, was born in 1697. His mother was sister of Janet, wife of Thomas Parker, afterwards Earl of Macclesfield and Lord Chancellor. From boyhood he followed a seaman's career, and in 1716 obtained a commission in the navy. For the next 24 years his career presents no striking incident. In 1740 he was sent out, with the nominal rank of commodore, in command of a squadron consisting of the Centurion and five other ships for service in the Pacific. The voyage which followed, and which lasted for nearly four years, was marked by heroism and resource in the face of sickness and disaster, and by many stirring incidents, which culminated in the capture by the Centurion (then the only ship left, and that with a greatly depleted crew) of the Spanish treasure galleon from Manila for Acapulco. The treasure amounted to half a million sterling, and was brought home safely, reaching Spithead on 15th June, 1744. The story of this voyage round the world has always been popular. Anson was at once promoted to the rank of rear-admiral. In 1746, now a vice-admiral, he crushed the French fleet off Cape Finisterre, and was raised to the peerage as Baron Anson. In 1748, in the absence of Lord Sandwich, he became virtual First Lord of the Admiralty, and in 1755 was actually appointed to that office. He again became First Lord in 1757. In 1761 he was made Admiral of the Fleet, and on 6th June, 1762, died suddenly at his seat at Moor Park. Anson's residence at No. 14 seems to have practically coincided with the interval between his two terms of office as First Lord of the Admiralty. The ratebook for 1757 shows him succeeded at the house by "—Ryder, Esq."
Nathaniel Ryder, afterwards 1st Baron Harrowby, son of Sir Dudley Ryder, Lord Chief Justice of the King's Bench, was born in 1735. He entered Parliament in 1756 as member for Tiverton, and retained his seat until 1776, when he was created Baron Harrowby. He died in 1803.
Ryder's residence at No. 14 lasted, according to the ratebooks, from 1757 to 1762. The entry in the book for 1763 is "E[mpty] Lady Ryder." This is crossed through and "Ld Scarberrer" written in. Again, this is superseded by "Countess of Scarbrough." "Lady Ryder" was Ryder's mother, (fn. n15) whose residence can only have been for a short period. Why the "Countess" of Scarbrough instead of the earl is mentioned in 1763 is a puzzle. The ratebooks for the succeeding two years give the earl's name.
Richard Lumley, 4th Earl of Scarbrough, was born in 1725 and succeeded to the title in 1752. In 1756 and again in 1765–6 he was Cofferer to the Household, and from 1765 to 1767 was Deputy Earl Marshal of England. He died in 1782.
According to the ratebooks the earl's residence lasted until 1765, and in 1767 he was succeeded by William "Belcher" or "Belchier," (fn. n16) whose residence lasted until 1770. For some years the house was then empty, but the ratebook for 1775 shows Sir John Eden removed thither from the next-door house (the present No. 12). (fn. n17) Sir John Eden, born in 1740, was the eldest son of Sir Robert Eden, 3rd Baronet, and father of Lords Auckland and Henley. He succeeded his father in the baronetcy in 1755, and from 1774 to 1790 represented the county of Durham in Parliament. He died on 22nd August, 1812, at the family seat at Windlestone, Durham.
His residence at No. 14, Downing Street lasted until 1797, and the ratebook for the following year shows the "Rt Honble Hy Dundas" in occupation. Dundas was Secretary of State for War, an office which at the time included the charge of colonial affairs. He resigned in 1801, and was succeeded by Lord Hobart. The ratebooks contain no hint that Dundas and, for the years 1801 and 1802, Lord Hobart, were not residents at the house, but that for 1803 shows the house as "Lord Hobart—Office," and it seems probable that the premises had been used from 1798 simply as the Colonial Office. (fn. n18)
In the Council's Collection Are:—
(fn. n19) Downing Street in 1827 (photograph of water-colour drawing in the Crace Collection, British Museum).
(fn. n19) Mantelpieces (5) formerly at No. 14, Downing Street, preserved in the Colonial Office (photographs).