Pages 44-49
Survey of London: Volume 15, All Hallows, Barking-By-The-Tower, Pt II. Originally published by London County Council, London, 1934.
This free content was digitised by double rekeying and sponsored by English Heritage. All rights reserved.
X.—GALLEY QUAY
(A) BAYNING'S QUAY
In 1338 Robert, son of Walter le Meleward, conveyed to Robert Flambard and Cristina, his wife, two tenements with a solar, for letting, and a quay beyond (ultra) "le Watergate," in "Petywales" opposite his chief tenement (north of the street), together with the reversion of the latter, and an adjacent garden, after the death of Agnes, his mother. (fn. 1) In 1341 William de Briklesworth and John his son acquired the property abovementioned, including the reversion of the "chief tenement" from Flambard, (fn. 2) and in 1351 they further obtained from Hugh de Wymbourne, clerk, and William de Lubenham, the tenements and wharves which they had in Petty Wales in All Hallows parish, of the gift and feoffment of John de Stratton and John Beaufrount. (fn. 3) After William de Briklesworth's death, his son John (1355) conveyed to John Maykyn and Joan his wife all his property in All Hallows parish, the bounds being given as Petty Wales, north; Thames, south; Watergate, west; and a tenement of John Smart, east. (fn. 4) This related only to the property south of Petty Wales, free access to the river being reserved for the large house to the north of the street. Joan, relict of John Maykyn, died in 1400, and we find John Gold, rector of St. Botolph's by Billingsgate, granting the wharf, in 1401, to William Reynwell and Cristina his wife, who in the same year sold it for 200 marks to John Beyning (Bayning), merchant of London, and his wife Agnes. (fn. 5) Here the western and eastern boundaries are given respectively as "Watergate" and a "tenement once of William de Halden." In 1405 John Bayning, described later as "woolman," also acquired the great house and adjacent garden on the north of Petty Wales. The house had passed from John Briklesworth to Bartholomew Stygeyn, mariner, and his wife Alice, who sold it in 1365 to Robert Hull, mariner, and his wife Joan. (fn. 6) Robert Hull evidently married again, for his widow Maud became the wife of John Stodeye, and they were invested in the property by John Hull, grocer, Ralph Oudeby, clerk, Sir Nicholas Bremesgrove, clerk, Elias Averey, William Clerk and John Elmesle, and in 1403 granted the same to others (no doubt trustees), namely, Thomas Lyes, Rector of Stifford, Sir Nicholas Bremesgrove, Vicar of All Hallows Barking church, Edmund Fitz Simond, William Kylet and William Ardale. (fn. 7) They sold the house to Bayning in 1405. (fn. 8) The adjoining garden, "formerly belonging to Margery Swynford," lying in Bereward Lane, had passed to William Wytham, brewer, and his wife Alice; thence to Robert and Maud Hull, and then to "John Hull, grocer, kinsman of Robert Hull, mariner," who granted it (1405) to John Baynyng, John Shordych, Edmund Salo, John Stapulford, Thomas Denton and Henry Aleyn. (fn. 9) Bayning left the house and garden to his wife Alice for her life, and in 1428 his executor, John Pyken, brewer, sold them to William Chyld, Thomas Badby, Richard Banastre, Robert Cawode and Robert Rotsey for the purposes of his will. The garden is again described as formerly of Margery Swynford (daughter of Richard Swynford), and a further reference to John Hull, grocer (from whom Bayning purchased), tells us that he was kinsman and heir to Robert Hull, mariner. (fn. 10) In 1456 the garden next "Berelane on the west" and the tenement east of it passed from John, son of William Child, fishmonger, to William Marwe, Thomas Ursewyk, Wm. Huelyn, Richard Ryche and John Steward, through the intermediary of William Beaufitz, fishmonger, Richard Chokke, Thomas Shipton and others. (fn. 11) The northern boundary is given as a tenement of John Erethe, and to the east another tenement of William Marwe. The latter can be traced back to 1354, when the heirs of Walter le Meleward were in possession of the house opposite Galley Quay. At that date Elena, the wife of John Page, relinquished the half share in it which she had inherited at the death of Alice atte Ramme, to Salaman Brounyng, shipwright, and Nicholas his son. (fn. 12) The north and east boundaries give us another property which eventually came to Marowe, namely the house of Goscelin Osbern de Clive or Clyf of Woolwich. The latter probably had the property through his wife Margaret, daughter of William Box (see infra), and he granted it to his daughter Joan, who married Henry Irton, co. Derby. (fn. 13) From another grant we learn that his son was Thomas Gosselyn de Clyf, (fn. 14) brother of Joan. Going still further east we find a tenement that in 1348 was granted by John le Clerk, son of Peter de Shordich, to Robert le Ros and Alice his wife, the boundary west being Goscelin Osbern and east, John Smart. (fn. 15) It was next in the possession of Denise, widow of Ralph Francis, then of Nicholas le Sporiere, Thomas atte Crouche and Nicholas le Peautrer, who granted it in 1355 to William Roolf, shipman. (fn. 16) In 1377 the executors of Roolf's daughter Alice granted it to John Waleys and Edith his wife, (fn. 17) who later married Thomas Palmer of Winchester. They sold it in 1391 to John Normanton, brewer, whose daughter and heiress Emmote married John Russell, founder. Their son, Richard Russell of Colchester, in 1465 sold the house to Dame Katherine Marowe, widow, Edward Story, clerk, Thos. Urswyk, recorder, and John Marchall. (fn. 18) Adjoining the last property on the east were three shops and a garden, which in 1386 were held on lease by John Stokflete, (fn. 19) who with Joan his wife owned a tenement on their eastern boundary. It would seem that in 1348 these shops were one house owned by John Smart, (fn. 20) and in 1374 Katherine Smart (with John and Alice Ede and Walter Shank) granted it to John Acres and Osbert Warde. (fn. 21) From a deed of 1386 (fn. 22) it would appear that William Box must have had a claim on the property, for his daughters Margaret (wife of Goscelin Osbern) and Joan (wife of William Ward) quitclaimed to John Acres and Osbert Warde. The latter, in 1386, made a grant of the shops to Stephen, son of Thomas de Bettenham, and Henry Perot (with Thomas Cook, chaplain) who immediately made them over to Thomas Renham, goldsmith.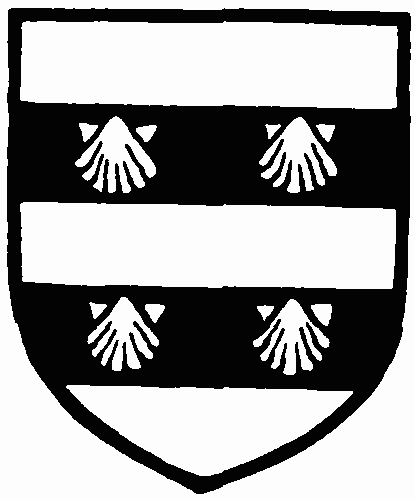 It is worth noting that the northern boundary is given in 1374 as a garden of Ellen Pylk, (fn. 23) and in 1386 as land of the perpetual charity for Thomas Pyke [?Pilkes]. Another tenement in Petty Wales on the north side, having a garden of Richard Pylk on the north, was granted in 1383 by John Stokflete, shipwright, and Joan his wife, to Nicholas Brounyng, shipwright, John Normantion, brewer, and John Hay, pie-baker. The western and eastern bounds are given as William Halden and Richard Ballard respectively. (fn. 24)
Returning now to the south of Petty Wales, we can resume the story of the quays. Bayning's Quay adjoined, as has been shown, the east side of the dock called Watergate, and was in the hands of John and Agnes Bayning in 1401. Under John Bayning's will (1418) the property was sold to William Sevenoke and others, who granted it in 1422 to Margery, widow of Robert Welton, (fn. 25) but eventually it reverted to Sevenoke's estate and was left by him as an endowment of the school at Sevenoaks, Kent. (fn. 26) This was the property absorbed by the Custom House (see ante, p. 41). We have no certain knowledge of the exact situation of Galley Quay in ancient times, but it would seem probable that it originally included not only Bayning's Quay, but also part of the river shore eastward which went by this name from the 17th century. Watergate may have been filled up when Bayning's Quay was added to the Custom House. For the use of the name in 1488 see p. 49.
(B) KNOVILLE'S WHARF (MAROWE'S QUAY)
In 1319 John Smart, "shypwryghte, of Petit Wales, senior," granted to John Smart, moneyer, his son, a messuage with quay, which he had from Simon de Orpington, lying between the tenement of Nicholas Palmer (east) and Walter Miller (west). (fn. 27) In 1401 William de Halden was in possession. (fn. 28) In 1376 John Ede, tapicer, and Alice his wife, Walter Shank, tapicer, and Katherine Smart granted the wharf to John Acres, Rector of All Hallows Staining, and Osbert Warde, who sold it to Stephen, son of Thomas de Bettenham, and Henry Perot. They, ten years later (1386), sold it to Thomas Renham, goldsmith, (fn. 29) and it was described as a quay with houses over the gate leading thereto with a cellar and two shops on the east side, between a tenement of John Sely on the west and the tenement of William de Taleworth on the east, Petty Wales on the north and the Thames on the south. Sely may have been a tenant of Maykyn (vide supra). In 1418 John Polhill of Gillingham, co. Kent, granted the tenement and wharf formerly belonging to Thomas Renham alias de Reynham to Richard Osborn and John Warde, goldsmiths, the bounds being now given as John Boys (east) and John Bayning (west). (fn. 30) The next owner was Thomas Knovile, "fuystour," (fn. 31) who with John Joce, goldsmith, had acquired it by way of reversion from Richard Osborn and John Clarke, goldsmiths, and in 1440 he granted it to William Marowe, grocer, William Aston and John Stiward, chandler. (fn. 32)
Two separate quays east of Knovile's Quay became the property of William Capelyn de Taleworth, shipwright, and Gunnora his wife in 1353. That to the west had passed from Robert le French, shipwright, to his daughter Agnes, wife of Nicholas le Palmer, shipwright, who had granted it in 1323 to Roger de Stone, of the same craft, son of Stephen and Emma de Stone. (fn. 33) That to the east had belonged to Beatrice Hercelyn, daughter and heiress of Simon Hercelyn, and in 1316 passed from Geoffery de Lure (?Luce) and Joan his wife (widow of Robert Smart of Petty Wales) to Richard de Taleworth, shipwright. (fn. 34) In 1353 it was in the hands of Adam Gylle, butcher, and Emma his wife, who had it from Joan, (fn. 35) widow of William atte Stone, shipwright. In that year they granted it to William Capelyn de Taleworth and Gunnora, and it is described as between the tenement of John Potyn on the east and the tenement of the grantee on the west. (fn. 36) It appears therefore that the two properties were in one ownership, and this is confirmed by a grant in 1391 from "William Capelyn called Taleworthe," to Hugh Sprot, senior, and William Palmer, of the two tenements, that to the east with its quay, and that to the west "in which the grantor dwells." (fn. 37) After their death the houses and quay went to Robert Palmer, of Ashwell, co. Rutland (to whom William was great-uncle), who granted them to John Bardolf, lighterman, John Bacoun, woolman, and John Rolf, shipwright, this information being contained in a quitclaim, in 1425, on the part of Thomas Boys. (fn. 38) Thomas was son and heir of Hugh Boys, late citizen and merchant of London. We have seen that John Boys was given as the eastern neighbour of Knovile's Wharf, and it was probably as lessee of the property that Thomas, in 1397, granted to John Haddele, shipwright, the "house or mansion situated to the eastward of the said Thomas's wharf in Petit Wales … to hold the same with the eastward half of the said wharf pertaining to the said house," for a term of ten years. (fn. 39) In 1442 the two properties were granted by John Bardolf to Stephen Broun, Nicholas Wyfold, John Maldon, grocers, and William Holt of Petty Wales, (fn. 40) and by 1446 they appear to have been acquired by William Marowe, who will be seen later as the western neighbour of the next wharf eastwards.
(C) COLYN'S QUAY
The third property to be merged in the Marowe holding was, as we have seen, in 1353 (vide supra, p. 47) in the possession of John [? Joan] Potyn. The next year (1354) William de Spalding, poulterer, and his wife Joan, granted it to Thomas Broun, woolman, and Margery his wife. (fn. 41) Joan was the daughter of Martin Palmer, shipwright, and the property came to her after the death of her uncle, Philip Palmer, son of Alan Palmer. With the wharf and tenement went also a quitrent of 4s. on the adjoining property to the west, and since this quitrent was part of the inheritance of Amy, widow of John Palmer, shipwright, in 1348, (fn. 42) it would seem that several members of the Palmer family had an interest in it. (fn. 43) The year before the grant by William de Spalding, that is in 1353, Joan Potyn, widow of Gilbert Potyn, granted her tenements and quay to Thomas Broun, upon the determination of a term of four years granted to Thomas Cloville, citizen and chandler. (fn. 44) This is no doubt the same property, and Joan seems to have married William de Spalding.
In 1357 Thomas Broun left the wharf by will to his wife Margery, with remainder to his son Thomas. (fn. 45) The bounds of the property on the west for 1391 give "late of Matthew Broun," (fn. 46) who in 1368 had left the wharf to Joan his daughter. In 1424 a similar reference gives Robert Broun, (fn. 47) whose widow Margery (married to Walter Bartlot, fishmonger) was in receipt of an annual charge of five marks, from William Colyn and Alice his wife, the then owners. (fn. 48) The last-named, who had bought from John Ulston, chaplain, and others (probably executors of Robert Broun), granted the premises to William Marowe, and with him William Aston, John Walton and John Stiward, in 1449. (fn. 49)
In a grant of 1465 John Stiward, chandler, made over the three properties (a) Knoville's Quay, (b) the two parts of the Taleworth premises, and (c) Colyn's Quay, to Edward Story, clerk, and John Colyns, chaplain, (fn. 50) no doubt in trust for William, Marowe's eldest son, for three years later (1468) they handed the property over to Katherine, his mother, in accordance with his father's will, (fn. 51) proved at Lambeth 15th May, 1465.
A very full and interesting account of the Marowe family at this time is given by Miss B. H. Putnam in her introduction to the important treatise De Pace Terre et Ecclesie et Conseruacione Eiusdem (fn. 52) of Thomas Marowe, serjeant-at-law. William Marowe (Mayor, 1455–6) married, as his second wife, Katherine, daughter of Richard Ryche, mercer, and died possessed of much property in 1465. His children were William, who married Joan, daughter of Alderman William Chedworth; Thomas, the lawyer; Johanna, who married William Clopton of Kentwell Hall, Long Melford; Katherine, wife of Sir Robert Throckmorton; and John and Agnes, who died early.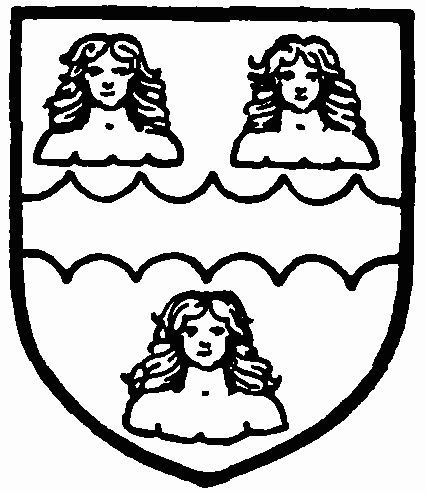 William Marowe, the son, was in possession of the "Great Place and a wharf called Galley Key" and "the Maydenhede" in 1488, (fn. 53) and at his death in 1499 bequeathed them to his wife Joan for life, and left Marowe New Quay to his brother Thomas, the lawyer, (fn. 54) whom he made guardian of his son, also named Thomas. The latter married successively daughters of Baldwin Douse of Balsall and Robert Wigston of Wolston, and died in 1538. In the Inquisitio Post Mortem on the property of the latter, in 1539, his son and heir is named Thomas, (fn. 55) who died in 1561 and left a son Samuel, the progenitor of the Warwickshire Marowes.