Pages 63-76
Survey of London: Volume 18, St Martin-in-The-Fields II: the Strand. Originally published by London County Council, London, 1937.
This free content was digitised by double rekeying and sponsored by English Heritage. All rights reserved.
CHAPTER 8: BUCKINGHAM STREET
Date and Description of the Buildings.
The records show that all the original houses in Buckingham Street were erected before 1680. As will be seen from the descriptions of individual houses given below a large amount of seventeenth-century work still remains, a fact which is especially surprising when it is considered that for well over a century, and in some cases for nearly two centuries, the premises have been used for commercial purposes. As was the case with the greater part of the houses on the York House estate, most of the houses in Buckingham Street had different builders and seem to have been designed to suit the convenience of their owners. There were therefore considerable variations in their original planning, and the differences have been increased by later alterations. All the older houses are of brick (Nos. 8–12 have a cemented front) and mostly comprise four storeys and basement. Nos. 8–12, 17, 18, 20 and 21 all appear to be of late seventeenth- or early eighteenth-century date. There is some good contemporary ironwork to the front area railings including standards.
No. 8.— The entrance passage is lined with bolection moulded panelling in two heights and has also a keyed arched screen with panelled pilasters dividing the staircase from the hall. The staircase is mostly original with variations in the balustrading, three types being used. The lower flights have cut strings and turned balusters two to a tread, the lowest flight having one to a tread. The upper flights have turned and spiral balusters, all of which are of a substantial character. The strings are straight and the newels square with turned pendants. The doorways on the second floor have original architraves and there is also some bolection moulded panelling. The front room on the first floor has similar panelling, but the other rooms generally have square panelling.
No. 9.— This house, like No. 11, has key blocks to the window openings. The only internal features of architectural interest are the two top flights to the staircase, which have spiral balusters, square newels with turned pendants and close moulded strings, all being in oak and of very substantial construction, the whole balustrading being similar to that in No. 12.
No. 10.—The front doorcase is flanked by rusticated Doric pilasters supporting an entablature with triglyphs forming a hood, which has been reduced by the projection of the bay window addition. The hall has bolection moulded panelling and a good moulded cornice. The front room was probably originally included in the hall, as it will be seen by referring to the plan that the fluted column at the end of the room is now buried in the screen wall. The staircase from ground to first floor is interesting. It consists of spiral balusters, three to a tread, carved foliated brackets to the return of the treads on the cut string and newels formed by a cluster of four balusters (Plate 40). The handrail which continues over the newels has carved leafage ornament. The stairs to the basement are original and have substantial turned balusters (Plate 40a.) The upper rooms are panelled and divided into two heights by the chair rail. The fireplaces on the first floor have a carved egg-and-tongue architrave to the marble jambs and good cast-iron grates (Plate 41).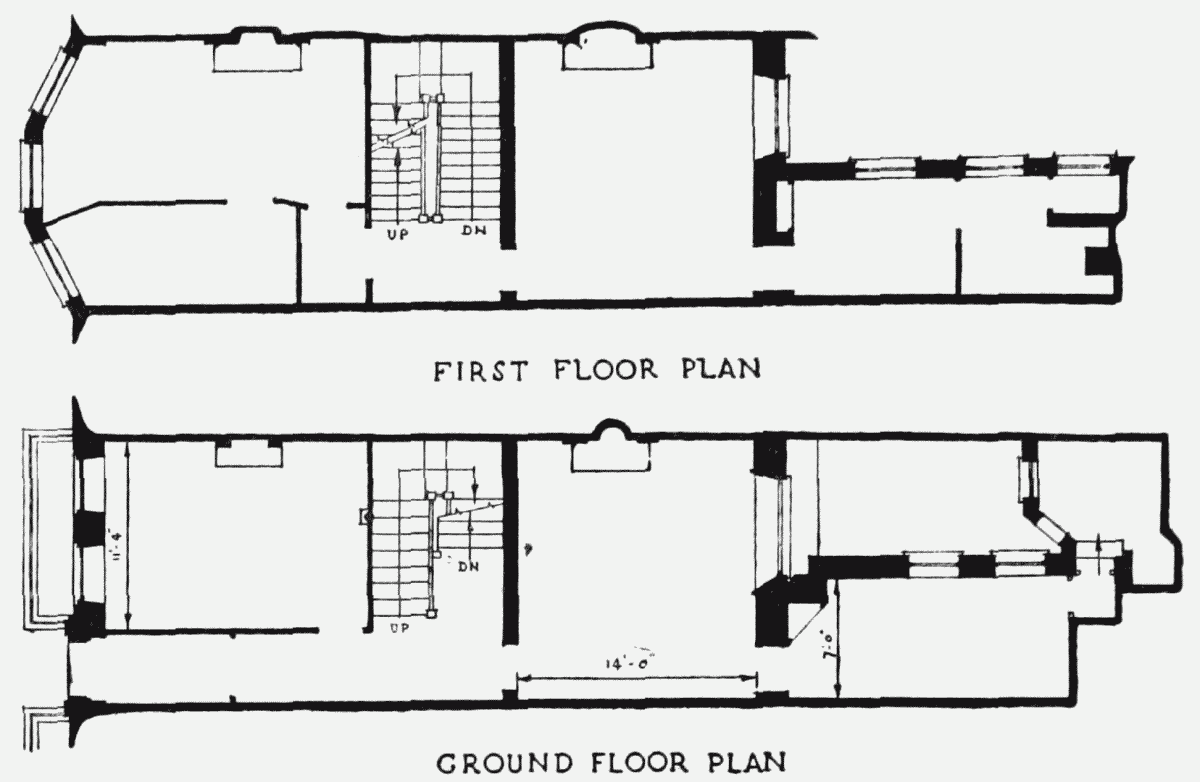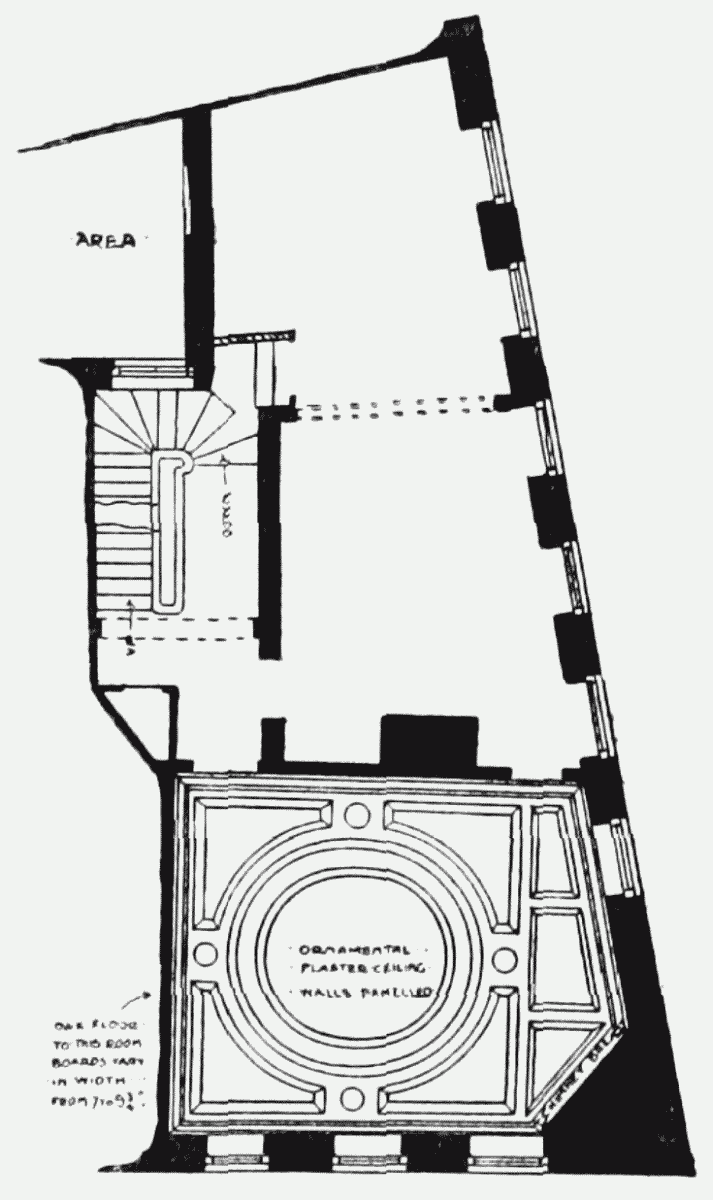 No. 11.— The window openings have their key blocks carved with human and lions' masks. The parapet has recessed panels corresponding to the window openings, while quoins define the flanks of the front. The back has a contemporary brick exterior with gauged brick arches. The north front room on the ground floor has a small wood mantelpiece with a carved central tablet of late eighteenth-century date. On the first floor, the ceilings of the front rooms are designed in geometrical pattern in low relief and with an ornamental frieze typical of the Adam period (Plate 37). The south room has a wood chimneypiece with consoles. The north back room has a carved wood mantelpiece with flat twin consoles set in a coved recess between a small staircase and cupboard. The south back room has an overmantel in carved light relief. The main stairs have turned balusters and a panelled dado. There is also some original bolection moulded panelling.
No. 12. — With the exception of the staircase and a small wood chimneypiece in the north back room on the first floor, which has a carved fret frieze, the premises retain little of interest. The staircase, which is constructed in oak in a substantial manner, has spiral balusters and solid square newels with turned pendants (Plate38). There is also some bolection moulded panelling to the inner hall.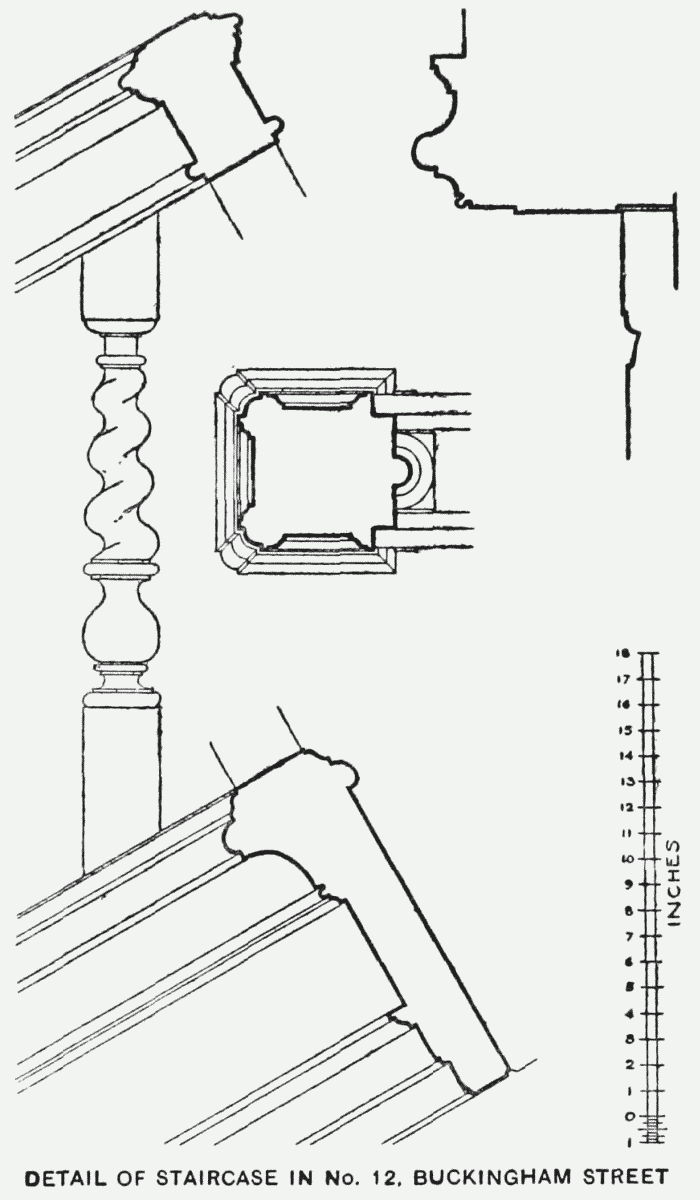 No. 13.—The front is in plain brick and dates from the end of the eighteenth century. The entrance has a wood doorcase flanked by Doric fluted pilasters supporting an entablature of the order, and a semicircular fanlight with radiating bars (Plate42).
No. 14.— Has a plain brick front of four storeys over a basement with a wide return front to York Terrace (Plate 36b ). The interior is plain. The stone staircase is semicircular on plan with a plain iron balustrading. Light is conveyed from the skylight by means of small wells formed in the landing on each floor.
Nos. 15 and 16. —The former premises, which probably dated from the end of the seventeenth century, were demolished and rebuilt during 1906 as one building. Some of the decorative details from No. 15, including two painted ceilings, were preserved and re-used in the new building, which was designed by Mr. Paul Waterhouse. The former premises comprised four storeys and basement, the main front to No. 15 overlooking the Embankment Gardens (Plate 46a). The peculiar acute angle of the site of this house, as shown on the plan, was cleverly treated in the design of the ceiling to the front room, which has been re-fixed in the new board room. In the centre is an oval painting on plaster representing "Summer" personified, set in a floral border in high relief work. A small room adjoining the board room has been lined with old bolection panelling and carved cornice, while the old eight-panelled doors retain their brass furniture and have carved architraves. The other decorative ceiling has been re-erected in the general office. One of the balusters to the basement staircase in the former premises is illustrated here.

No. 17.—This house has a band of gauged brickwork between the ground and the first streys and a moulded brick cornice between the second and third storeys (Plate 47a). The window openings have segmental arches with the frames practically flush and the sashes divided into small squares. The entrance doorcase is flanked by fluted Corinthian pilasters supporting a segmental pedimented head (Plates 42, 47). The hall has bolection moulded panelling finished with a deep cornice. An elliptical arch, springing above shallow panelled pilasters and containing a fanlight, screens the stairs and back passage. The stair walls have panelling similar to that in the hall, while the stairs, which have turned balusters, two to a tread, and shaped brakets, appear to date from about the middle of the eighteenth century. Unfortunately, many of the rooms have been stripped of their panelling. The back rooms, however, on the ground and first floors still retain bolection moulded panelling and deep cornices and have the wall surface further divided by shallow pilasters, as shown in Plate 45. The front room on the first floor has a panelled ceiling with the ribs decorated with acanthus leaf, but as this room has been divided by a partition the effect of the ceiling design is spoilt. This room also contains a carved mantelpiece with marble lining to the fire opening (Plate 48), while the back room has some carved festoons to the chimneypiece representing fruit and foliage (Plate 46b).
No. 18.—The front of this house is similar to that of No. 17. It has in addition a brick pilaster treatment to each flank. The doorcase contains fluted Corinthian pilasters with carved consoles above supporting a projecting panelled hood (Plate 42). The jambs of the doors are similarly panelled and there is also a good iron fanlight. The ironwork to the front area is interesting. It includes ramps of scroll-work to the sides of the door. The hall has a screen of fluted Doric pilasters and the floor paved with large black and white marble diamonds. The ground and first floor walls and the stair walls are panelled and fielded in two heights and finished with a deep moulded cornice. The second-floor has square panelling. The stairs have spiral balusters three to a tread, carved brackets to the cut strings and the soffit panelled. The newels represent Corinthian columns and have the moulded handrail carried over (Plate 49b). The top flight has turned balusters.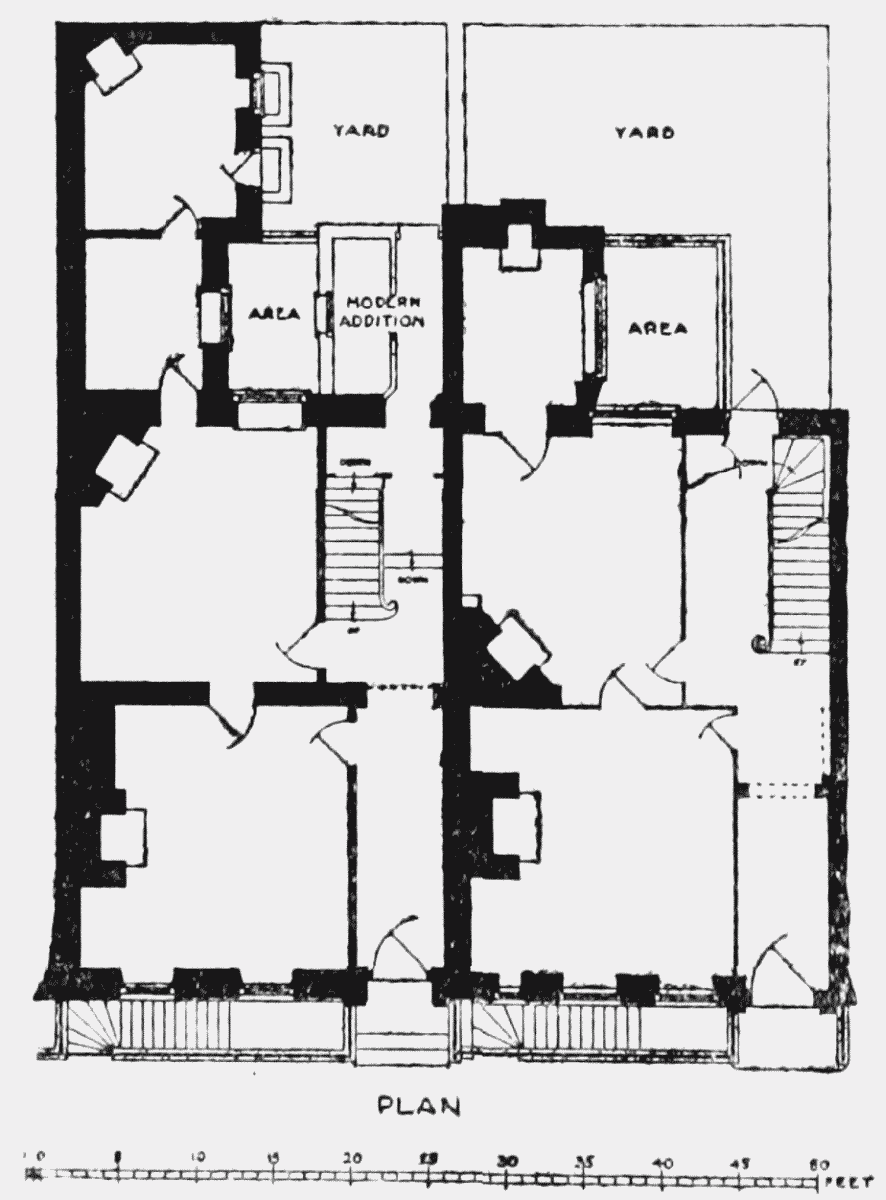 No. 19. —These premises comprise a wide front four storeys in height over a basement. Relief is afforded to an otherwise plain stock brick exterior by the windows to the flanks being grouped on each floor by means of an iron balcony and the major portion in the middle being slightly recessed. The central entrance doorway is set in a semicircular opening with a large radiating fanlight. The staircase is in stone with a semicircular end to the wall on plan, and has a continuous plain iron bar balustrading and mahogany handrail, with the well top-lit by a circular skylight. The rooms are plain.
No. 20.— The front of these premises is relieved with gauged arches to the openings and flat bandings at the floor levels. The window frames are practically flush with the face of the wall and the sashes are divided into small squares. The windows to the top floor are set in a reveal. They appear to have been put in at the time when the lower part of the front was given a coat of cement. The entrance doorway has a delicate radiating lead and iron semicircular fanlight. The north wall of the entrance hall is panelled, the other walls having a dedo, which continues up the stair. The staircase is of plain bar balustrading terminating at the second floor, and has an open well with an elliptical skylight. A small subsidiry stair continues to the top floor. Most of the rooms are lined with plain panelling in two heights, and the chimney breasts, as will be seen by referring to the plan, project well into the rooms. The mantelpieces are of later date. The back projection appears to be of early date though it now has a cement exterior. The back wall of the main building has been rebuilt.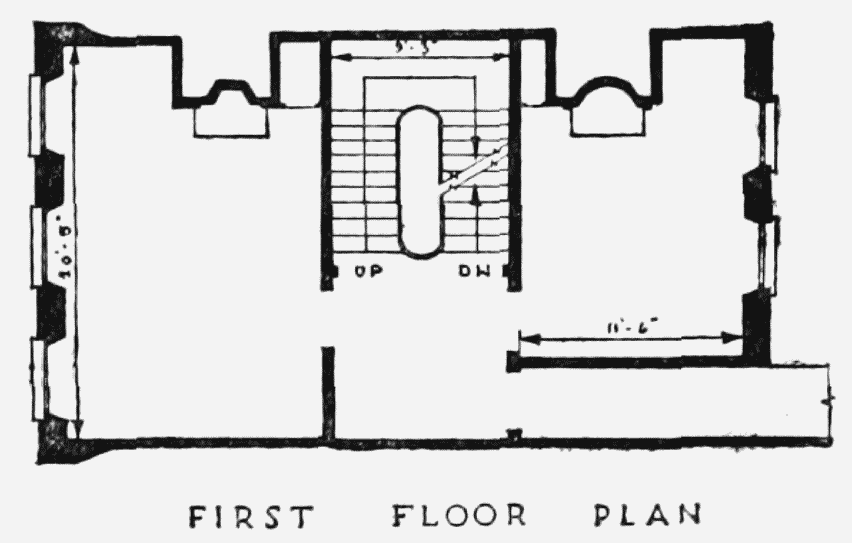 No. 21. —These premises have probably been refronted. The stairs to the lower flights have slight spiral balusters and a close moulded and pulvinated string with the newels grouped in pairs, each consisting of twin balusters with the handrail carried over. The top flight has also a close string and turned balusters. The rooms have square panelling divided into two heights by the chair rail and finished with a good moulded cornice. The mantelpieces are of later date. In the front room on the first floor there is an interesting corner china cupboard in two heights which has shaped shelves to the upper half following the semicircular lining.
Condition of Repair.
All the houses described here are in a very good state of repair.
Ground Landlords.
No. 8—A. Rubens; No. 9—Southern Railway Co.; No. 10—Mrs. Mary Olver;
No. 11—W. Leonard Grant; No. 12—C. M. Trehern; No. 13—Church Association; No.14—Trustees of C. E. Trimmer; Nos. 15 and 16—Royal National Pension Fund for Nurses; No.17—J. K. Mannoch; No. 18—Robert Schwend; No. 19—Garrard, Wolfe, Wolfe & Co; No.20—Josiah Oddy; No. 21—A. G. Towell.
Historical Notes
The houses at the northern end of Buckingham Street were smaller than those nearer the river and they succumbed earlier to the commercialising influence of the Strand. The ratebook entries for these houses contain few noteworthy names, but mention must be made of Leonard Knyff, who occupied a house on the east side of Buckingham Street just north of Duke Street in 1683–98. Knyff made many drawings of Westminster which are of great topographical value. Several of them were engraved by Johannes Kip. Knyff died in 1721. (fn. 119)
No. 8.— None of the occupants of this house seem to have been of outstanding importance.
No. 9—This house was built by John Coombes, citizen and "plaisterer" of London (fn. 225) and was first occupied by Anne, Countess of Newburgh, widow of the 1st Earl of Newburgh. Garrick's "Pretty Peggy" (Margaret Woffington), who wore the breeches so successfully as Sir Harry Wildair in Farquhar's Constant Couple, lived here during the last two years of her stage career. She was immensely popular both on and off the stage, but during her last season her health declined rapidly, and on 3rd May, 1757, she was taken ill during a performance of As You Like it, in which she was playing Rosalind. She lived on for three more years, but was unable to act again. She died on 28th March, 1760, in Queen Square, Westminster, and was buried at Teddington (fn. 119)
Laurence Holker Potts, physician and inventor, used No. 9 as his town house from 1844 until 1850 and carried out experiments in his workshop there. His best knwon inventions was that for sinking foundations by the force of air pressure on hollow iron piles, an invention to the perfecting of which he devoted the last years of his life and a considerable part of his fortune. It proved incapable of wide application, but its use gave rise to the system of sinking foundations by compressed air, an invention of great importance. Potts died here on 23rd March, 1850. (fn. 120)
The Society for the Protection of Ancient Buildings had its offices herre in 1883-5, and the Workmen's Peace Association, with its secretary, William (afterwards Sir William)Randal Cremer, had rooms here in 1872–88.
No. 10.—This house was built by James Richards, citizen and ironmonger of London, in 1675–6. (fn. 225) On 25th January, 1766, a certain William Rouet informed a correspondent that "David Hume and J. J. Rousseau are in Buckingham Street, next door to J. Stuarts[No.11], where many go from civility to see him; and our friend David is made the shower of the lion. He is Confoundedly weary of his pupil, as he calls him; he is full of oddities and even absurdities (fn. 226) aAbout this time therefore that the two philosophers lodged with Mrs. Charlotte Adams at No.10 during the two weeks that Rousseau remained in London. Rousseau was already harbouring jealous suspicions of Hume, but the emotional scene between the two men, of which the Frechman made so much in his letters, did not take place until some weeks later when Rousseau came up from Chiswick and lodged for two days "chez M. Hume," (fn. 228) probably at the latter's usual London lodging in lisle street. Street.
Thomas Russell Crampton, who lived here in 1849–50, was a railway engineer, though his most distinguished work was the laying in 1851 of the first practical submarine cable between Dover and Calais. He was responsible for many improvements to locomotives and for other inventions. (fn. 119)
James Dredge, civil engineer and journalist, was here in 1871–6 soon after he had become joint editor and proprietor with W. H. Maw of Engineering. Dredge published several books on engineering subjects, including one on The Thames Bridges. (fn. 119)
No. 11.—This house, one of several in York Buildings erected by Robert Campion,was sold in 1676 to Robert Clarkson, (fn. 229) who in the following year resold it to Robert Nott, (fn. 229) an officer of the Wardrobe. It had, however, from the time of its erection, been let to the keeper of the Wardrobe, Ralph Montagu, afterwards Duke of Montagu, and the Wardobe officials actually took possession in October, 1676. (fn. n1) As was the case with several of the houses at the lower end of Buckingham Street, the corresponding house in Villiers Street was let with it, and the two continued to be used for the Wardrobe until 1724.
Thomas Bruce, 2nd Earl of Ailesbury, appears to have been in occupation of part at least of the Wardrobe premises in 1685–9, during which period he held the office of Groom of the Bedchamber to James II. (fn. n2) From 1690 until 1723 a series of Wardrobe officials are entered in the ratebooks as the occupants of the house, including Charles Bland, the storekeeper, and Thomas Dummer, the deputy keeper.
Baron Hoppeman (or Hopman), who occupied the house in 1731, was an envoy from the Duke of Mecklenburg. (fn. 231)
From 1743 until 1787 No. 11 was in the occupation of Archibald and John Stewart. Archibald Stewart was a successful wine merchant of Edinburgh who became Lord Provost in 1744–5. He was brought to trial in 1747 for allowing the Young Pretender to take possession of Edinburgh, and in 1748 David Hume wrote a pamphlet in his defence entitled A True Account of the Behaviour and Conduct of Archibald Stewart, Esq. A lifelong friendship was formed between Hume and the Stewarts. The latter frequently received and forwarded letters for Hume and transacted business for him during his absences from London. (fn. 232) Several writers have assumed that when, in January, 1766, Hume brought Jean Jacques Rousseau to England they both lodged with the Stewarts in Buckingham Street. In actual fact they lodged at No. 10 (see above), though No. 11, Buckingham Street seems to have been used as a poste restante both by Hume and Rousseau. (fn. 228)
Samuel Clegg is shown in the P.O. Directory at No. 11 in 1853. This was probably Samuel Clegg, junior, the author of a treatise on coal-gas and the only son of Samuel Clegg, the inventor and gas engineer. (fn. 119)
John Greville Fennell, artist and angler, had rooms here in 1862–5, while more recently (in 1895–7) the house has been the residence of an artist of a very different type, namely Arthur Rackham.
No. 12.—Though it has long been known that William Hewer and Samuel Pepys lived at No. 14, Buckingham Street, it is only in the course of preparing this volume that the fact has come to light that they lived at No. 12 for nine years before removing to No. 14. In 1676 the Wardrobe (No. 11) was the last house shown in the ratebook on the west side of the street. In 1677 "William Ewer" and "Thomas Dearham" appear below the Wardrobe, while No. 14 is not entered until 1680, when Lady Kilmorey was in occupation. We know that Hewer was living next door to the Wardrobe in 1680, for on 2nd November of that year he excused himself to Pepys for his delay in sending a letter by "the disorder that I am put in by an unlucky accident that was (very happily) discovered by our next neighbour at the Wardrope of a fire that had been kindling all day under a fire hearth next your Clossett and broake out about tenn at anight." (fn. 233) Hewer is entered as the ratepayer for No. 12 until 1684, but Pepys lived with him after being liberated from the Tower in July, 1679. On the 14th of that month he wrote, "I am now with Will Hewer at his house, and have received from him all the care, kindness and faithfulness of a son on this occasion, for which God reward him if I cannot," (fn. 234) and in November, 1680, when Pepys was staying at Brampton with his sister, Paulina, Hewer wrote to him, "I know nothing can make my life more eneasie to me than your making any other place your home while I have one." (fn. 233) In 1684 Nos. 13 and 14 were burnt down, and in the confusion caused by the fire a number of goods were stolen from Hewer's house. (fn. 235)
Pepys was appointed Secretary to the Admiralty in June, 1684. He was entered as the householder of No. 12 from 1685 until 1687.
Pepys' move to No. 14 is clearly shown in the Poor Rate books for 1688 to 1690, the relevant entries in which are as follows:
June 1688
Eyours Esq
Samuell [struck out] Peypes
Esqr Peypes
Earle of Ailesbury
4. 10. 0
Samuel Peypes Esqr [struck out]
4. 10. 0
Sr Robt Redding
2. 10. 0
6. 0. 0
June 1689
Earle of Ailesbury
4. 10.0
Wm Hewers Esqr
4. 10. 0
Thoroton
1. 5. 0
Samuel Pepys Esqr
6. 0. 0
June 1690
Nott Esq.
Montague
Earl of Aylesbury [struck out]
4. 10. 0
Wm Hewers Esq. [struck out]
4. 10. 0
Thoroton Esq
1. 8. 0
Samuel Pepys Esqr
6. 5. 0
With his return to office Pepys found himself a comparatively wealthy man, and it was perhaps because he wished to live in somewhat greater style, but found himself staritened for room by the use of part of his house for official purposes, that he decided to move to the newly rebuilt house facing the river at the bottom of Buckingham Street. On 12th March, 1687–8, Pepys' faithful friend, James Houblon, wrote to him, "I know that next to the King's business you have full employment in furnishing your new house." (fn. n3) (fn. 233) Hewer retained possession of No. 12 for another year, but he retired to Clapham about this time, and if he visited town again probably made use of Pepys' new residence, No. 14 (see p. 72). (fn. n4)
Mary, Countess of Fauconberg, the third daughter of Oliver Cromwell, lived at No. 12 after the death of her husband, Thomas, the 2nd Viscount. Burnet described her as "a wise and worthy woman, more likely to have maintained the post [of protector] than either of her brothers; according to a saying that went of her, that those who wore breeches deserved petticoats better; but if those in petticoats had been in breeches, they would have held faster."
Sir Thomas Pelham, afterwards 1st Baron Pelham, though he took some part in politics never attained any great importance. He was sworn in as vice-admiral of the coast of Sussex in 1705, (fn. 119) the year in which he moved to No. 12. His more famous sons, Thomas, afterwards Duke of Newcastle, and Henry, probably lived there as children.
The Salt Office is entered in the ratebooks as occupying No. 12 from 1723 until 1731. The salt tax, which was unknown in England until 1694, was enforced during the greater part of the eighteenth century. The tax was repealed in 1730, but was reimposed at the suggestion of Sir Robert Walpole in 1732. (fn. n5) In that year the office was moved to No. 14, where it remained until 1788.
Alderman Henry Winchester occupied No. 12 in 1826–36. He was Lord Mayor of London in 1834–5, but the Common Council declined to give him the customary vote of thanks at the end of his term of office because he had refused to allow any political meetings in Common Hall. He died in 1838. (fn. 236)
Thomas Allom, architect and a well-known topographical artist in his day, had chambers in No. 12 in 1859, as did Benjamin Leopold Farjeon, a popular and prolific novelist of the late nineteenth century, in 1873–85.
No. 13.—The plot of ground on which No. 13, Buckingham Street, stands, was sold on 20th August, 1675, to John Gregory of Westminster, gentleman. (fn. 237) Building operations must have been begun immediately, for in July, 1676, the house on the site was leased to Sir Thomas Dearham. (fn. 238) The "Lady Kilmurray" shown in the ratebooks of 1680–1 must have been an undertenant of Dearham's. She was probably the daughter of Sir William Drury of Beesthorpe, Norfolk, and the widow of Charles Needham, 4th Viscount Kilmorey, who had died in prison in 1660. Her second husband, Sir John Shaw, baronet, died in March, 1679–80, so that she was a widow for the second time. (fn. 140) She soon afterwards married Sir John Barber, M.D. The latter was living at No. 9, Buckingham Street, in 1699–1716.
Dr. William Coward and Dr. James Wellwood, who successively occupied this house from 1697 until 1727, seem both to have been more concerned with philosophical matters than with the care of the human body, though Wellwood served as physician to King William and Queen Mary. (fn. 119) Dr. Coward wrote several works on the soul, which were ordered in 1704 to be burnt by the Common Hangman, since the House of Commons considered they contained offensive doctrines. Dr. Wellwood is best known from his Memoirs of the most Material Transactions in England for the last Hundred Years preceding the Revolution in 1688, and for his other pamphlets in support of the Whig party. He died at No. 13 on 2nd April, 1727. (fn. 119)
William Jones, mathematician, who lived here in 1731–9, was a friend and fellow worker of Sir Isaac Newton and Edmund Halley. Oldys recorded that on 1st September, 1737, he visited Jones's "curious library and fine collection of shells, fossils (etc.), at his house next the Salt Office in York Buildings." (fn. 239) Jones died in 1749.
No. 14.—In November, 1674, Sir Thomas Estcourt bought (fn. 240) the ground facing the Terrace Walk at the southern end of Buckingham and Villiers Streets. The indenture stated that foundations for buildings thereon had already been laid, but some delay must have occurred in their completion, for the bottom house in Buckingham Street is not shown in the ratebooks until 1680, when the Earl of Dorset is given as the occupant. This was Charles Sackville, the 6th Earl, the writer of "To all you ladies now at land," and the patron of many poorer followers of the muse.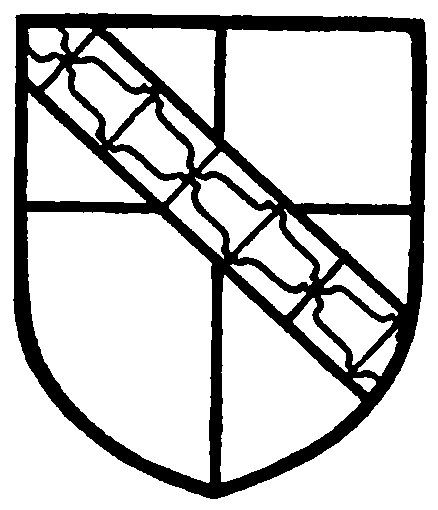 In July, 1684, when the house was in the occupation of Thomas, Baron Willoughby of Parham, it was burnt down by the fire which consumed the York Buildings Waterworks (see p. 49). A newsletter states (fn. 98) that the guards were called to help to extinguish the flames, and that one of them was killed "by a piece of timber falling from one of the houses." Several years elapsed before the house (or houses, for the building fronting Villiers Street was afterwards separated from No. 14, Buckingham Street) was rebuilt. No. 14 next appears in the ratebooks in 1688, when Samuel Pepys is shown in occupation. He probably took possession in March of that year (see p. 70).
His residence there seems at first to have been semi-official, in connection with his position as Secretary to the Admiralty, for among the Rawlinson Manuscripts is an account of a payment of £103 15s. to "Mr. Matthias Fletcher, of Greenwich, for carving the Anchor Shield and King's Arms for the Admiralty Office in York Buildings." The Shield was "for the middle of the front of the said office towards the Thames," and contained "the Anchor of the Lord High Admiral of England with the Imperial Crown over it, and cyphers, being 8 ft. deep and 6 ft. broad." The royal arms were "designed for the pediment of the said front." The warrant (fn. 241) for payment for this work, among the Admiralty records, is dated 27th April, 1689, but in the previous month Pepys had been forced to resign his office and had been ordered to hand over to his successor, Phineas Bowles, "all Books, Papers and things belonging to the Affaires of the Admiralty." (fn. 242) Bowles cast covetous eyes on No. 14, Buckingham Street, but Pepys referred him to William Hewer, whom he stated to be the owner of the house. (fn. n6) (fn. 243)
On 12th April, 1689, Sir John Lowther wrote saying that "The Committee, finding affairs could not bear the want of a house for so long a time as you required to remove, have agreed for a house elsewhere." (fn. 244) This was No. 3, Duke Street, where the ratebooks show the Admiralty office in possession from about May, 1689, until June, 1690 (see p. 79). Sir John Lowther did not for a time abandon hope of obtaining No. 14, Buckingham Street. Among the Rawlinson MSS. is a letter written to him by Pepys on 20th February, 1689–90, which runs: "My Brother St. Michel has given me occasion of troubling you with this upon a fresh Enquiry of yours touching ye House I am now in. Concerning which give me leave (as heretofore) to observe to you, that besides ye considerations ariseing from my having accommodated it in every Circumstance to my particular Occasions and Method of Living (not easily to be had againe elsewhere) I have this further disswasive from quitting it, that my Charges in doing this and in ye finishg and furnishing it for Ornamt as well as for Use have been such and must in some degree be againe (wherever I goe) that I cannot conveniently beare. … But it is not impossible but I may at ye same time propose to you what may answer yor occasion every whit as well wth lesse Charge and much soonr than it were possible to be done were I to remove; namely by telling you that I have lately heard Mr. Hewer say something of his being likely to have that House of his at his disposal at Lady day next in this very Streete, wherein Mr. Mountague now lives [i.e. No. 12] and wherein I before held ye Office of ye Admty several years wt knowne Satisfaction in every sorte of accommodation requisite thereto. If you Judge it may be soe to you and shall command me, I will prevent Mr. Hewer's making any othr disposal of it till you have refused it …" Pepys' suggestion was not, however, adopted for in June, 1690, the Lords of the Admiralty removed from Duke Street, York Buildings, to Duke Street, Westminster. Pepys and Hewer were in the Gate House from 4th May until 15th June, 1689, but both before and after his imprisonment Pepys' correspondents continued from force of habit to address letters to him at "the Admiralty Office, York Buildings." On 7th March, 1689–90, John Evelyn "dined with Mr. Pepys, late Secretary to the Admiralty, where was that excellent shipwright and seaman Sir Anthony Deane." (fn. 223) During dinner Pepys deplored "the sad condition of our navy, as now governed by inexperienced men since this Revolution." On 24th June Evelyn again dined with Pepys, who the next day was sent to the Gate House for the second time, "on suspicion of being affected to King James." Pepys was allowed out on bail at the end of July "on account of indisposition," but it was not until 15th October that he was able to rejoice in being once again "a freeman." He sent an invitation to his sureties to share "a piece of mutton" with him to celebrate the occasion, and noted on his own copy of the letter that Mr. Hewer was at home with him. (fn. 245) Thenceforth Pepys settled down into the quietude of retirement. He spent much of his time in adding to and arranging his library, which he afterwards bequeathed to Magdalene College, Cambridge. Among his possessions was a large collection of drawings and prints of London, two of which, showing the interior of his library in No. 14, Buckingham Street, are reproduced on Plate 39.
His material comforts were looked after by "the excellent Lady Mrs. Mary Skyner," as Pepys called her in his will, who seems to have been in charge of his household after the dismissal, in July, 1689, of Mrs. Fane, whose "devil of a tongue" had proved insupportable. In spite of Pepys' increasing infirmity of body his mind remained as active as ever. He corresponded on a great variety of subjects with John Evelyn, Dr. Gale, James Houblon, Sir Isaac Newton and others. For several years the more distinguished members of the Royal Society dined with him on Saturday nights, a weekly event to which both he and they looked back with great regret when it had to be abandoned on account of his ill health. (fn. n7) Pepys had a serious illness in 1697 and again during the winter of 1699–1700. He spent the summer of 1700 at Clapham, and during his absence extensive repairs were carried out at No. 14, Buckingham Street. In September, Mrs. Skinner was busy "in getting our quarters in York Buildings in a condition of receiving us again, after its having been for these two months past in all the dirt and dust that a whole host of tylers, bricklayers, plaisterers, joiners, glasiers and masons could put it into." (fn. 245) This was the last winter that Pepys spent there. Letters were addressed to him at York Buildings until September, 1701, but he had removed to Clapham a month or so previously and thenceforward he remained with Hewer until his death on 26th May, 1703. His best epitaph is perhaps the entry in Evelyn's diary for that day: "He was unusually beloved, hospitable, generous, learned in many things, skilled in music, a very great cherisher of learned men. … Mr. Pepys had been for near forty years … my particular friend." It was not until more than a century later, namely in 1825, that a transcription appeared in print of the diary which has made the name of Pepys immortal.
Robert Harley, afterwards Earl of Oxford, succeeded Pepys in his occupation of No. 14 almost immediately. (fn. n8) Harley was at that time Speaker of the House of Commons, a position which he retained until 1703. He became Chancellor of the Exchequer in 1710 and Lord Treasurer in 1711. He remained in Buckingham Street until his dismissal from office in July, 1714. (fn. n9)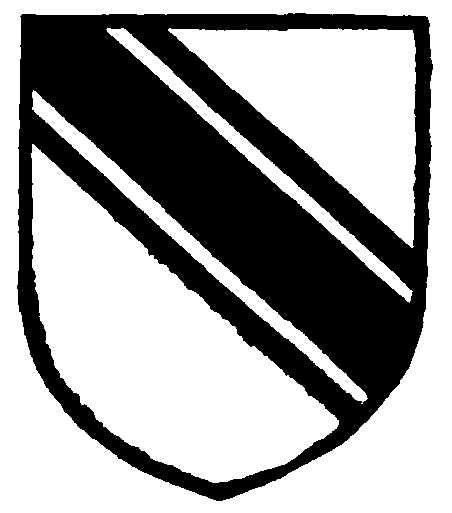 In 1705 Harley made his first considerable purchase of books, thus forming the nucleus of his famous library. From about 1707 onwards he employed Humfrey Wanley as his librarian. (fn. n10) The Harleian MSS. were bought by the nation in 1753, at a cost of £10,000, and are now in the British Museum.
It was during Harley's residence in Buckingham Street that he formed his lifelong friendship with Swift. The latter in his Journal to Stella described his first long conversation with Harley. "Mr. Harley came out to me, brought me in, and presented me to his son-in-law and his own son, and, among others, Will Penn, the Quaker, we sat two hours, drinking as good wine as you do, and two hours more he and I alone, when he heard me tell my business, entered into it with all kindness." (fn. 246)
Arthur Herbert, Earl of Torrington, took possession of No. 14 after the Earl of Oxford's removal. Torrington had held important naval commands under Charles II and James II, but was cashiered by the latter for refusing to vote for the repeal of the Test Act. He was the commander of the fleet which brought William III to England, and was by him appointed First Lord of the Admiralty. He was dismissed in 1690 and tried for his supposed misconduct in not attacking the French off Beachy Head, and though he was acquitted he never afterwards held office. (fn. 119) He died in April, 1716, during his tenancy of No. 14, and there is a note among the MSS. of the Marquess of Downshire dated 10th May, 1716, that "Lord Torrington has left a large house empty, held for three years certain or 15 at his pleasure, at 200L. per annum. It stands by the waterside in York buildings." (fn. 247)
On 19th January, 1716–7, Archdeacon Samuel Edgley, Vicar of Wandsworth, and William Hewer's cousin by marriage, wrote to his son, Hewer Edgley, who was Hewer's heir; "The Earle of Litchfield, of whom Mr. Bowdler (fn. n11) gives a very good character, is like to be your tenant in York Buildings in the room of Lord Torrington." (fn. 245) This was George Henry Lee, 2nd Earl of Lichfield, the son of the 1st Earl by Charlotte, the natural daughter of King Charles II.
Edward Harrison, who succeeded Lord Lichfield at No. 14, had been the Governor of Fort St. George. He was afterwards appointed Postmaster-General. He died in 1732. (fn. 248)
For upwards of fifty years the Salt Office, which like Mr. Pepys had removed thither from No. 12, occupied No. 14. In 1688 the entry "Salt Office 94l" in the ratebooks is cancelled. In the following year the name "Jos. Skidmore" is entered and erased, and a note added, "House that was Salt Office empty." For the years 1791 and 1792 no entry in respect of the premises occurs in the ratebooks, and there is little doubt that the house was rebuilt during that time.
From 1793 onwards No. 14 was let in chambers, and, probably on account of its position facing the river and the good light provided by its windows, it became a favourite residence for artists. Charles Calvert, the landscape painter, was there for a short time in 1801, when the river perhaps compensated him a little for his exile from the Lake District. Prince Hoare, who was an artist as well as, in his day, a popular dramatist, was living at No. 14 in 1801–24, From 1824 to 1826 Sir Humphry Davy rented the basement of No. 14, presumably as a workshop in which to carry out his experiments on the prevention of the corrosion of the copper sheathing on the bottoms of sea-going vessels. He was living at No. 23, Grosvenor Street in 1824, but moved to No. 44 (formerly 26) Park Street, Grosvenor Square, early in 1825.
In 1826 William Etty took possession of the top floor of the house. (fn. n12) J. T. Smith in his Book for a Rainy Day, published in 1829, requested his readers "to look up at the three upper balconied Windows of that mass of building on the south west corner of Buckingham Street. Those and the two adjoining Westminster, give light to chambers occupied by that truly epic historical painter, and most excellent man, Etty, the Royal Academician, who has fitted up the balconied room with engravings after pictures of the three great masters; Raphael, Nicholas Poussin, and Rubens. The other two windows illumine his painting room, in which his mind and colours resplendently shine. … The rooms immediately below Mr. Etty's are occupied by Mr. Lloyd, a gentleman whose general knowledge in the graphic art, I and many more look up to with the profoundest respect. The chambers beneath Mr. Lloyd's are inhabited by Mr. Stanfield, the Landscape painter, whose clear representations of nature's tones have raised the scenic decorations of Drury Lane Theatre to that pinnacle of excellence never until his time attained." Etty acontinued in possession of his chambers at No. 14 until his death on 13th November, 1849, at York, though during his latter years he was only in London occasionally.
Clarkson Stanfield lived at No. 14 from 1826–7 until 1831. He had already acquired a reputation as a painter of easel pictures, and after this time he seldom painted theatre scenery except to oblige a friend. He afterwards lived for many years in Hampstead, where he died on 18th March, 1867. His second son, George Clarkson Stanfield, who was also a painter of some repute, was born in London in 1828, (fn. 119) and therefore in all probability in the chambers in Buckingham Street. (fn. n13)
Henry Sampson, well known as a journalist under his pseudonym "Pendragon," lived at No. 14 in 1880–1, while David James, the actor, lived there in 1884–7.
Sir Thomas Graham Jackson, who designed many scholastic buildings and wrote extensively on architectural subjects, lived there in 1892–1916, and Joseph Pennell, artist and author, also occupied rooms here during the earlier part of that time.
Nos. 15 and 16.—The ground on which these two houses were erected was demised in March, 1675–6, to Philip Doughty of Westminster. (fn. 249) It had a frontage of 50 feet to Buckingham Street and 60 feet to the Terrace Walk. In April, 1677, Doughtly sold the "northernmost" of the two houses to William Bridgeman for £1,100, (fn. 250) but, with the exception of one or two short periods, Doughty himself occupied the house facing the terrace until 1700. He seems, however, to have sublet part of it, for the entries "John Blunt for ye Wardrobe," and "Widow Blunt for ye Wardrobe," occur in several ratebooks, and on more than one occasion between 1694 and 1699 "Lady Hacker" paid the rates on this house. This was probably the "Lady Elizabeth Hatcher" who in 1689 was arrested with Lord Griffin on a charge of high treason. (fn. 23)
Many writers have stated that Peter the Great of Russia was lodged at No. 15, Buckingham Street during his visit to England in 1698, but there does not seem to be a shred of contemporary evidence to substantiate this claim. On 21st December, 1697, the Lord Chamberlain ordered the harbinger, Sir Lambert Blackwell, "to take a Convenient House upon the River for the reception of the Czar of Moscovy and to give an Accott thereof to the Lords of the Treasury." (fn. 251) Among the State Papers is a newsletter dated 11th January, 1697–8, which says, "The Czar arrived here last night. The King's barges were sent to Gravesend to bring him up, but he chose to come in a private barge … and went to the house provided for him in Norfolk Street, which stands very conveniently because he can go privately by water." In February a correspondent informed the Ambassador, Williamson, that the Czar "intends to remove out of Norfolk Buildings, and has hired Mr. Evelyn's house at Deptford." (fn. 93) The Czar left England on 29th April, 1698. (fn. 93) At that time all the houses on the York House Estate were usually referred to collectively as York Buildings, and it is probable that some searcher misread an abbreviation of "Norfolk" as "York" and then decided that No. 15, Buckingham Street, a large house facing the river, most nearly coincided with the description given (No. 14 being ruled out as in the occupation of Pepys), and so a misstatement arose which has been copied by later writers.
No. 15 was used as the Prize Office in 1704–10, but afterwards was again in private occupation. Sir John Colbatch, the physician, who was knighted by George I in 1716, lived here from 1717 until his death in 1729, and his widow continued to reside here for a further 10 years.
The Institute of Civil Engineers occupied this house in 1821–33, and in 1857–81 the second floor formed the residence of William Burges, the architect. Burges was responsible for a number of public buildings, Cork Cathedral and Brisbane Cathedral being perhaps the most notable, but he also designed a quantity of jewellery and furniture, some of which, painted by Rossetti, Burne-Jones and other artists of the pre-Raphaelite school, decorated his own rooms. (fn. 119)
From 1878 to 1898 William Black, the novelist, had rooms at No. 15, Buckingham Street, though his home during this period was at Brighton.
The Henry Martin who was at No. 16, Buckingham Street in 1690–4 was perhaps the essayist of whom Steele wrote that his name "could hardly be mentioned in a list in which it would not deserve precedence." (fn. 119)
Dr. John Bevis, or Bevans, M.D., was at No. 16 in 1733–5 before he removed to Stoke Newington. Though he was successful as a physician his main interest was in astronomy, to which he devoted the best years of his life. He was a friend of both Halley and Bradley, but never attained their eminence. He died in 1771. (fn. 119)
Nos. 17 and 18.—These houses were built in 1675–6, for Richard Wheeler, citizen and haberdasher of London, and Walter Brydall, "gouldsmith," of the parish of St. Martin-in-theFields. (fn. 225) None of their inhabitants has achieved any great fame. Samuel Howard, who was at No. 17 in 1742, was organist at St. Clement Danes, Starand, and St. Bride's, Fleet Street. He is still remembered for his "musettes." (fn. 119)
No. 19.—There were originally two houses on the site of No. 19, Buckingham Street, both of which were burnt down in 1794. (fn. n14)
The southern house was first occupied by Henry, Lord O'Brien, who married Katharine, the sister and heiress of Charles, 6th Duke of Lennox and Richmond, and who died in 1678. (fn. 140) The most famous occupant of this house was Lord Drumlanrig, afterwards 2nd Duke of Queensberry, who was there in 1690–3. According to Lockhart, "he was the first Scotsman that deserted over to the Prince of Orange." He was a faithful servant both to William III and to Queen Anne, and was the main instrument in bringing about the union of Scotland and England in 1707. He died in 1711. (fn. 140) In 1695 the occupant of the southern house was Lady Middleton, the wife of Charles, Earl of Middleton, who was attainted in 1695 and deprived of all his honours for his adherence to James II. Lady Middleton afterwards followed her husband to the court of St. Germain. (fn. 140)
The northern house was the residence of the Portuguese Ambassador from 1686 until 1693, and it was used as the Salt Office in 1706–22. (fn. n15) Lord James Cavendish, brother of William, Duke of Devonshire, succeeded the Salt Office in the occupation of the house and continued to reside there until 1751. After the fire the present building was erected and let in chambers by Peter Bogue. W. H. W. Betty, the actor, who afterwards had chambers in the Adelphi, lived here in 1817–20, and John Finlaison, the statistician, who by his life tables saved the Government many thousands of pounds a year, (fn. 119) was here in 1826–7. The Trades Union Congress Parliamentary Committee met in rooms here from 1880 until 1892, during the greater part of which time Henry Broadhurst acted as its secretary.
Nos. 20 and 21.—Henry Trimen, botanist, who published the Flora of Middlesex in 1866 and who, at the time of his death, was compiling a bulky Handbook to the Flora of Ceylon, (fn. 119) lived at No. 20 in 1874–6, during which period he was engaged in conjunction with Professor Robert Bentley on a work, Medicinal Plants.
Samuel Taylor Coleridge, the poet and philosopher, lodged at No. 21 for a short time during the winter of 1799–1800. His translation of Schiller's Wallenstein was probably written there.