Pages 100-115
Survey of London: Volume 19, the Parish of St Pancras Part 2: Old St Pancras and Kentish Town. Originally published by London County Council, London, 1938.
This free content was digitised by double rekeying and sponsored by English Heritage. All rights reserved.
XXXII—THE ROYAL CHAPEL OF ST. KATHARINE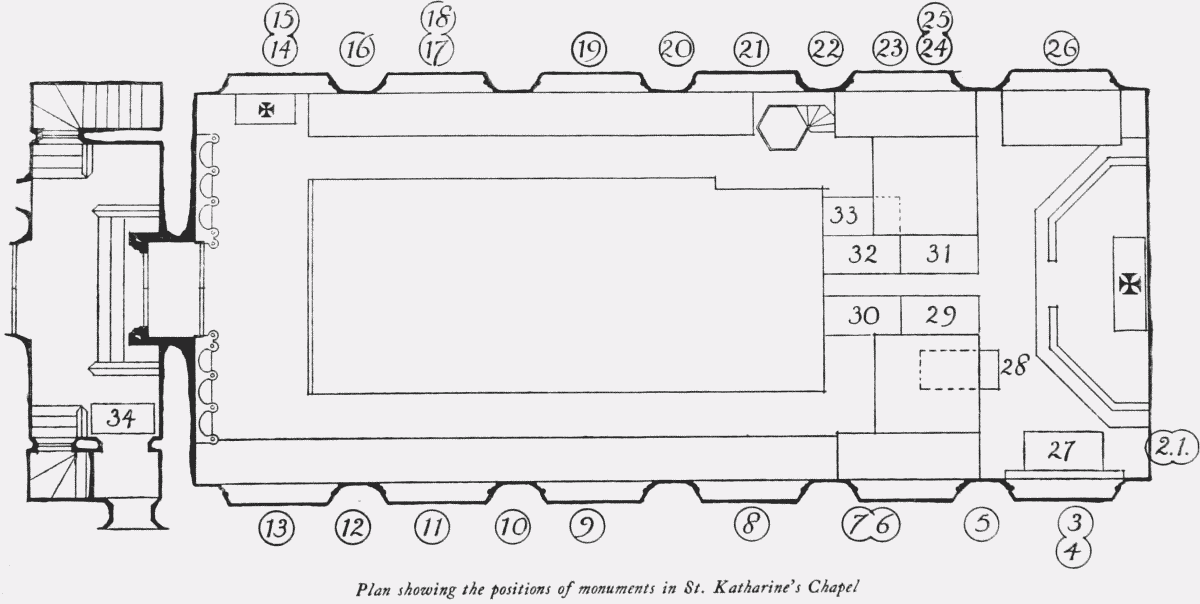 The Hospital of St. Katharine by the Tower was founded by Queen Matilda, wife of Stephen, about 1148, and was re-endowed and enlarged by Queen Eleanor, widow of Henry III, in 1273. Under the patronage of the Queens of England it grew to be a large and important corporation which survived the changes in the reigns of Henry VIII, who had founded a guild of St. Barbara there, and Edward VI. Its charter was revised in 1566 and in 1698 new rules for its management were made. The precinct was a large one, eleven acres in extent, and included an important collection of buildings, the chief of which was the Hospital Church. In 1825 the whole area was sold to a company who constructed St. Katherine's Dock. The hospital was then rebuilt in Regent's Park, from the designs of Ambrose Poynter, to whose energies we owe the safety and preservation of so many of the fittings and monuments from the old church (Plates 55 and 56). The Master's Lodge is now the West End Hospital for Nervous Diseases. In 1914 the Hospital was reorganised. It is now represented by the Royal College of S. Katharine in Poplar and this chapel.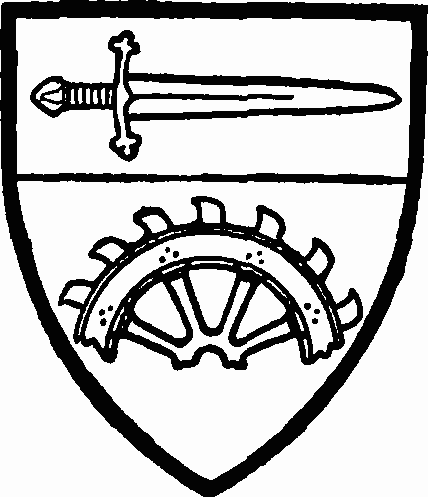 Fittings. Among the medieval fittings preserved from the old church are a number of the fine 14th-century stalls which used to back on to the chancel screen and return each side on the chancel walls. They are now grouped, four on either side of the Sanctuary, and two sets of three flanking the west door beneath the organ gallery. They have elaborate canopies with ogee crocketed gables within which are pierced cinqfoil arches. Those at the west end retain their richly carved misericorde seats, and there are seven similar seats in the Chapter Room. The subjects of the carving are as follows: (west end of chapel), hawk striking a duck, flanked by leaves; elephant and castle between beasts with men's heads; lion subduing dragon between reptiles; wyvern between leaves; bearded head turning left between winged man-headed monsters; woman riding on a man-headed beast between grotesques; (chapter room), bearded head between leaves; mask and foliage between leaves; pelican in her piety between swans; winged devil above two women's busts flanked on one side by demon with a parchment deed and on the other by an armed centaur; angel with bagpipes between lion's faces; bearded head between roses; foliage. The elbows of the stall divisions are vigorously carved with beasts, mitred heads, foliage, etc., and those in the chapter room include the two elbows between adjacent angle stalls carved respectively with the heads of a king and queen, with elaborate crowns. The stall fronts have blind tracery with twin cinqfoil arches below a quatrefoil, and grotesque figures carved in the spandrels above. See Plates 69, 70, 71, 72, 73, 74, 75, 76, 77.
Set in the modern fronts of the choir stalls are eight richly carved early renaissance panels, with busts within a circular plate with foliage rims, and raised carving filling the space above and below, the whole in an enriched and moulded rectangular frame. Three similar panels are set in the altar. The hexagonal pulpit, the gift of Sir Julius Caesar, Master of the Hospital (1596–1636), is a most interesting example of contemporary woodcarving. On each face is a semi-circular headed panel carved in relief with fanciful buildings in perspective, contained within an arch on pilasters formed of a band of strapwork. These arches are again contained within pilasters at the angles of the pulpit, carved with flowing ornament and having Ionic capitals. The spandrels have winged angel heads. Above is a bold quadrant-shaped cornice traversed in front by two carved and pierced scroll brackets with eagle-heads supporting the book rest. Below is a panelled pedestal, each side having four triangular raised panels, between carved brackets beneath the pilasters above, and on a band between the upper and lower stages is the quotation from Nehemiah (viii, 4): Ezra The Scribe Stood Vpon A Pvlpit Of Wood Which He Had Made For The Preachin. The base is modern (Plates 85 and 86).
There are several other pieces of carved woodwork, the original use of which is not known: a carved group, in the round, of five angels (Plate 79) playing musical instruments, late 15th- or early 16th-century; four small figures in the round (Faith, Hope, Charity, and a man with a scroll), fixed on the stalls (Plate 78); a spiral column (Plate 80) with vine enrichment and a drum carved with foliage and figures of St. Blaise and St. Katharine (17thcentury); three elaborate panels (Plate 82) of foliage surrounding figures of children, now fixed to the organ gallery (late 17th-century); in the chapter room a cupboard (Plate 74) made up of raised panels and long pendants of fruit and foliage and a cartouche with a shield of arms; a series of richly carved chairs of the time of Charles II, comprising one arm chair, two with high backs and four with dwarf backs (Plate 81). The font is a composition of old carved woodwork (Plate 80).
The communion plate includes two cups of 1652 and two patens and a salver (1707) given by Louis de Duras, Earl of Feversham (1677–1709), who was appointed master of the Hospital in 1698. A fine 15th-century bronze hexagonal hanging lamp (Plate 79) (probably from the Holland Chantry), to which has been added 17th-century branches for candles, is fixed to the organ-case.
Wall monuments
On the east wall.
1. LT.-GEN. SIR HERBERT TAYLOR, 1839
2. CHARLOTTE MARY LOUISA TAYLOR, 1845
On the south wall at the east end above Montagu.
3. CAROLINE LILIAN MARY OAKLEY, 1889
4. HON. GEORGE MONTAGU, 1681
At the east end on the south wall in the Sanctuary. A large monument comprising an inscription tablet in a moulded frame with indented head flanked by a pair of Corinthian columns and a full entablature, the architrave mouldings of which stop against the back of the moulded frame. The cornice carries a curved pediment broken to receive a cartouche of arms. Quarterly: 1 and 4, Argent a fesse indented of three points gules in a border sable; 2 and 3, Or an eagle vert, and crest. The columns are supported upon a slight moulded shelf, beneath which is a plain oblong tablet with a shaped and enriched bracket at either end. The whole resting on a moulded plinth and a plain block of black marble with moulded base of white marble. The tablet and frame are of white marble, the column, frieze and tympanum are of black (Plates 57 and 58).
The arms occur again on a cartouche upon the panelling on the north wall of the chapel.
HIC REQUIESCIT
Honorabilis Georgius Montacutius
Henrici MancestriÆ Comitis ex antiquis Salifburiæ
Comitibus Oriundi
Filius
Antiqua morum gravitate, et Candore, jisq animi dotibus quæ
Virum vere nobilem deceant, Ornatisimus. Qui etiam adolesscens
In maximo totius Angliæ Concessu acerrimi in rebus agendis
Iudicji, illibatæq erga Regem fidei, clara dedit indicia, Neq
Honores ambiebat, aut Publica munera, Tranquillitati serviens,
Eoq magis ut Amicorum inserviret commodis quorum Negotia
Pari semper fide procurabat ac sua, Unum solummodo munus Libenter
Suscepit Hujus scilicet Hospitji Præfectinam in eo nempe.
Benefaciendi sibi locum datum existimans Hic enim Templum vetustate
Et squalore obrutum (immenso pœne sumptu) ab interitu ruinisq
Vindicavit: neq hic metam posuit Majora tamen meditantem
Et tam pio opere occupatum, ad præmium Benefactorum
Deus Evocavit
Uxorem duxit Elizabetham Antonii Irbi
Equitis Filiam, quorum sælices nuptias, numerosa
Proles Prædicat
Quinq enim filjis et quatuor filiabus moriturus
Benedixit
objit 19 Iulji, 1681
Aetatis suæ 59 (fn. n1)
5. James St. John Blunt, 1889
A modern brass on the pier adjoining No. 4.
6. Arthur Lewis Babington Peile, 1911
7. Severne Andrew Ashhurst Majendie, 1927
6 and 7 are two small modern brasses on the back of the stalls.
8. Elizabeth Grigg, 1760
A tablet of white marble with moulded capping and base (three feet three inches in width and two feet four inches deep) and an inscription in capital letters surmounted by the figure of a cherub seated upon a rock, weeping, extinguishing the torch of life, against a background of black marble. Beneath the base two shell ornaments each eleven inches by eight inches in depth as corbels. No arms. The monument is signed on the base, Nollekens Ft. The pyramidal background, nearly four feet six inches in height, the large shell supports and a certain academic coldness, make this a typical example of the sculptor's minor work. It is not noted in J. T. Smith's list of his monuments (Plate 61).
Near This Place Lies Interred The Remains Of
Mrs Elizabeth Grigg, Formerly Of This Parish:
Who Died The 16TH. Of September 1760:
And Of Her Two Daughters,
Anne Winne, Widow, Who Died 27, Dec, 1786, Aged 66 Years.
And Mary Grigg, Spinster,
Who Died The 16TH. Of January 1792, Aged 65 Years:
In Conformity To Whose Last Will
This Monument Is Erected.
After Giving Divers Legacies, She Bequeathed
The Residue Of Her Personal Estate, To Be Applied For The Benefit Of Poor Women, In The Same Manner
As They Are Provided For By The Trinity House.
9. ANDREW COLTEE DUCAREL, 1785
An oval tablet of white marble (two feet six inches in length and two feet in width), with a moulded border and a small moulded corbel. Above the inscription is a shield of arms, Argent three lozenges gules; the crest is a cock gules (Plate 59).
To the Memory
of ANDREW COLTEE DUCAREL
LL.D. Commiffary of ST. CATHARINES
and of the Diocefs of CANTERBURY
who died May the 29th: 1785 Aged 72
Also of
SARAH DUCAREL, Relict of
the above DR. DUCAREL,
who died Octr. 6th. 1791,
Aged 95 Years.
The famous Antiquary and author of the standard history of S. Katharine's Hospital, published 1782.
10. MRS PEARCE, 1777
A curtain tablet two feet seven inches deep and two feet four inches in width held by a cherub whose head and shoulders alone are shown, all in white statuary marble. A very late survival of a rare 17th-century type executed by a good hand. On a shield below are arms Vert a bend cottised or [with a ring sable on the bend]. This would be the coat of arms of Pearce of Parsons Green in Fulham co. Middx. This coat impales a quartered coat which is unusual as the Mrs. Pearce commemorated was a spinster. The impaled shield seems to be a quartered coat of ?Peart (Plate 62). Motto Ad Mortem Fidelis.
Here is interr'd MRS Pearce Daughter of Lieut. Genl. Pearce
she died May 24th., 1777 aged 84.
Who was for more than thirty Years
A much respected Member of this Collegiate Church
And, besides other Charitable Benefactions,
Presented in her Life Time,
A handsome Service of Plate
For the Use of the Communion Table.
The Chapter, as a genuine Testimony of her great Merit
erected this Monument
To preserve the Memory of this excellent Woman;
Whose Charity and Universal Benevolence
Demanded the Love of all who knew her;
Whose Virtue, Piety, and most accomplished Understanding
Made her an Ornament to the human Nature.
11. LUCY NORTHEY, 1874
12. WILLIAM CUTTINGE, 1590
A brass (said to be gilded copper) four feet six inches by two feet four inches over all having the kneeling effigies of a man and a woman at a prayerdesk. This is set on a Purbeck marble tablet with a semi-circular arch of guilloche ornament in relief supported by two semi-hexagonal pillars with caps and bases. There are shields of arms of the City of London and of the Merchant Taylors' Company in the spandrils of the arch and above it are a dentilled cornice and pediment. In the tympanum is a shield of these arms: Argent a saltire raguly voided gules in a border sable charged with ten roundels argent. The crest is a hart's head gules with a small inscription on either side of it. A shaped apron consisting of a roundel has a bracket on either side (Plate 63).
In the tympanum:
on the left—
This Was Done
Att YE Charge
Of WM Berblok
on the right—
Govldsmithe
One Of His
Execvtors
Between the figures on a piece of drapery hanging on the side of the prayer-desk an inscription,
He Deceased
ye 4th Daye of
March 1599.
Ætatis SuÆ L
and between the heads of the kneeling figures are these arms: Sable a cheveron between three roundels argent each charged with a martlet sable with three voided lozenges sable on the cheveron.
Beneath the kneeling figures is the inscription—
Here Dead In Part Whoes Best Part Never Dieth
A Benefactor William Cuttinge Lyeth
Not Deade If Good Deedes Covld Keepe Men Alive
Nor all Dead Since Good Deedes Doe Men Revive
Gonvile And Kaies His Good Deedes Maie Record
And will No Dovbte Him Praise Therefore Afford
Saincte Katrins Eke Neer London Can It Tell
Goldsmythes And Marchant Taylers Knowe It Well
Two Covntry Townes His Civill Bovnty Blest
East Derham And Nortonfitzwarren West
More Did He Then This Table Can Vnfold
The Worlde His Fame This Earth His Earth Doe Hold
13. WILLIAM WATERSON, 1710
EDMUND WATERSON, 1713
An inscription in gilt lettering on a black marble tablet five feet deep and two feet three inches in width with a moulded border, cornice and a swag of drapery also in white marble drawn aside to reveal the lettering. On a shaped apron a shield of arms Sable a fesse between three rings or impaling Argent a cheveron between three boars sable (Plate 63).
In steadfast hopes of a joyful Resurrection. Near this place ly's interred the body of William Waterson Esqr. Surveyer of the ports of England and Wales (except London) & Depty. Collr. inwards of ye Port of London: who departed this life Ianuary ye 6th, 1710 in the 74 year of his Age
He executed these, as well as several other important Trusts with great fide lity; from the Year 1660 when he first en ter'd upon publick Buissness he did ever reconcile ye faithfull difcharge of his duty to ye Crown: with just regard to ye Subjects ease and conveniency: and has left an ever lasting Character for his Integrity Industry probity
In his private Relations he was a most dutyfull Son loveing
and tender Husband & Parent most affectionate Brother:
generous Freind: & greatly charitable to all.
Here also lies inter'd his only Son Edmund Waterson
Esq who departed this life the 16th. of Ianuary Anno Domi.
1713 Æta. 42. Whose . . . y Learning and other Great Ac
quirements have left a lasting memorial of Him
He was a Good Christian a true Patriot a Faithfull
Freind & an accomplish'd gentleman, His Kindness to his
Relations & his Love to mankind were above Comparison
Quis Desiderio [sit pudor et] modus Tam chari capitis ?
On the north wall near the gallery at the west end.
14. EMILY ELIZABETH WYNYARD, 1832
15. MARIANNE ELIZABETH GREEN, 1924
A small modern brass on the panelling.
On the pier between the 2nd and 3rd recesses on the north wall.
16. FREDERIC BECKER, 1663
An inscription in Latin in gilt lettering on an oblong tablet of black marble, four feet six inches deep and two feet six inches wide, within a white marble moulded frame. Above it a cartouche of arms, Argent a cheveron azure with five molets thereon between two trefoils in chief and a chaplet in base vert for Becker, impaling Or three trees on a mount vert and a chief azure with one molet or therein for Vernatty (Plate 60).
Hoc tumulo conditur corpus frederici Becker, Hollandia oriundi generosi Vir prœstanti virtute et eximia probitate clarus negotiorum causàe patria in Angliam nauigans prospero cursu Grauesand superata, interiora Tamisis penetrauerat, inopinato casu, juxta diluculum e naui prolapsus, trepidantibus omnibus. et ad opem imploranti ferendam armamenta expedientibus veste madente, & Labore natandi confectus unda absorbitur Cui charæ quondam conjugis soror Adriana Vernatty Filiberti Vernatty Militis, & Baronetti filia Monumentũ posteris symbolum Charitatis Extremae erga dilectum affimem extorrem hoc insigne hœredum sumptibus instituit Obijt Maij die 30 Ætatis Anno 40 Salutis 1663
17. REV. R. W. BAXTER, 1850
18. SIR HENRY OAKLEY, 1912
A small modern brass on the panelling.
19. REV. GEORGE BAXTER, 1801
JANE BAXTER, 1769
An inscription tablet of white marble upon a shaped background of black marble, two feet ten inches in width and two feet five inches in depth at the centre, bearing a plain shield of arms (upon which there are three bats) above the inscription (Plate 59). A similar coat appears on No. 17.
This Tribute of Filial Reverence is Placed Sacred to the dear Memory of the Revd. George Baxter M.A. who was for many Years a Diligent Minister of this Precinct and a Valuable Member of this Ecclesiastical Society.
But with me it is a small thing that I should be judged of you or of Mans judgement — He that judgeth me is the Lord Who both will bring to Light the hidden Things of Darkness, and will make manifest the Counsels of the Hearts, and then shall every Man have Praise of God. He died 19th. December 1801 Aged 80. And also
to the Memory of Jane Baxter, the greatly & deservedly beloved Wife of the above who died 10th. February 1769. Aged 32 Blessed are They whose Hope is in the Lord their God
20. REV. SAMUEL PRICE DAVIES, 1855
21. JOANNA RAMPAYNE, 1694
A small raised oval inscription tablet of white marble with a moulded edge, two feet four inches deep and two feet in width, enriched and surmounted by a cartouche of arms bordered with flowers in relief and a shell ornament below. The arms shown are Gules a lion ermine impaling Gules a chief argent with six roses countercoloured for Caesar (Plate 64).
THE MONUMENT
of
Joanna ye wife to John Rampayne Gent. & Daughter to Robert Cæsar Esqt. she Dyd in Childbed December ye 15 1694
Pasenger stay this richest Grave A small Delay may justly Crave Virtue adorned with Wit & Beauty Religious Love Conjugall Duty In this small Cabinet lys Enshrind While Glory guilds her purer Mind both her Parents near her ly: & bear her Reliques Company Kind Death which used srend to pte Joyn'd these who Liveing had one heart Renown'd Sr Julius Cæsar lent Unto them all Noble Descent: Dying she did a Son bequeath Inn whom she lives in Spite of death thus when ye old Phœnix Sweetly dyes She new does from her Ashes Ries.
Her Husbands love this Monument rears
Her Sister writes these lines with Tears
Dna Anna Poyntz scripsit
22. ANN POYNTZ, 1729
A plain oblong inscription tablet four feet six inches in depth and two feet six inches in width, of white marble between a pair of fluted pilasters of the Roman Doric Order with entablature complete, the cornice surmounted by a shield of arms, Barry of eight or and gules, for Poyntz, impaling Cæsar as in the preceding monument. Beneath a slightly projecting shelf a pair of simply moulded corbels (Plate 64).
Near her Sister Mrs Johanna Rampayne lyeth the Lady Ann Widow of SR. John Poyntz of Iron Acton in Gloucestershire who dyed June the 23, 1729
Her great Grandfather was Sr Charles Cæsar of Bennington Place in Hertfordshire Knt. Master of the Rolls to King Charles the first. Whose Father Sr. Julius Cæsar was Master of Requests & Judge of the Admiralty to Queen Elizabeth Chancellor and Under Treasurer of the Exchequer and Master likewise of the Rolls, & One of the Privy Council to King James & King Charles the first: Of which Ancestors She was truly worthy
The Table next adjoyning shews
How much her Sisters Death she mournd
And this how faithfully her love
Is by that Sisters Son return'd.
On the back of the stalls on the north wall, three small modern brasses.
23. HORATIA CHARLOTTE FRANCES STOPFORD, 1920
24. GEORGE BRETT PRIEST, 1906
25. JOHN HULBERT GLOVER, 1912
26. JOHN HOLAND, K.G. DUKE OF EXETER, 1447
ANNE (STAFFORD) his first wife
ANNE (MONTAGU) his third wife
An elaborate canopied altar tomb of stone with three alabaster effigies. The recumbent figures are original, with repairs, but the tomb and canopy have been reconstructed. Some of the original work has been replaced by facsimiles and some omitted. In the original chapel the tomb occupied an opening in the north wall in the second bay from the east, its principal face being towards the chancel and the northern front towards a chantry chapel built outside the main fabric. West of the tomb was a doorway into the chapel over which were niches similar to those over the tomb and both doors and tomb were contained within traceried upright borders with a succession of quatrefoil panels. The tomb had twelve niches for weepers on the south front below the recumbent effigies. The tomb itself has now a plain front with a modern inscription upon it (given below). The moulding is enriched with a series of carved male heads showing a variety of headdresses. The effigy of John Holand is in civil costume with a long cloak and coronet, at his head is a crowned helm, at his feet a lion. His two wives both wear horned head-dresses and coronets, their head-cushions being supported by angels and their feet in one case by a hound and in the other by a pair of small dogs.
The canopy is carried on lateral walls, that to the west pierced by an arch. The front of the canopy has a four-centred arch with small shoulders and the main curves almost straight. It is elaborately cusped in the form of a trefoil, the centre lobe being cinqfoil with trefoil sub-cusping, the side ones trefoil, sub-cusped like the centre.
In the main spandrels above the arch are angels blowing trumpets and in the lesser spandrels beneath are angels with censers, foliage and doves. The two points of the major cusps terminate in figures of angels carrying shields bearing the arms of Stafford and of Montagu quartering Monthermer. The lesser points terminate alternately in leaf-ornaments and heads. The arched opening of the canopy stands between a framework, the principal members of which are continuous moulded angle shafts, marked by an intermediate boss of foliage at the springing and a deep hollow filled with carving, flanked by a buttress with crocketed finials. To the east the carvings in the hollow moulding are of foliage, swans, birds, monkeys, foxes, etc., while upon the opposite side appear a stag-hunt, hare-coursing and four groups of foxes and geese, the latter including a scene of a fox hanging a goose. Over the arch is a cornice containing six figures of crouching angels between which project centrally and over the responds shields (three in number) and crested helms bearing the arms of Holand—England in a border argent—with a leopard crowned upon a hat of estate upon each helm.
The upper part of the monument above the main cornice is entirely covered with a series of niches, the front having six each side of a large central niche (fn. n2) the canopy of which rises above the top cornice. In each is a pedestal for a statue and a boveare crocketed canopies, some of which are broken away. On the west side are six similar niches.
The back of the canopy to the tomb (now close to the wall) has an arch in every respect similar to that at the front, and the soffit between is panelled with two rows of sub-cusped quatrefoils, their foliated points enclosing leaf-ornaments, and octofoils between. On the west face of the eastern return of the canopy are three niches with panelled and foliated bases and vaulted canopies of tabernacle work. Above them is a boldly curved and coloured achievement of arms similar to those on the front cornice and on either side of the helm is a shield of arms, France and England quarterly with a label and Holand impaling Stafford. These appear to be of original workmanship (Plates 65 to 68.
The inscription on the monument runs—
This monument was erected in the collegiate church of St Katharine near the Tower to the memory of John Holland Duke of Exeter: Earl of Huntingdon & Ivry=Lord of Sparr=Admiral of England Ireland and Aquitaine = Knight of the most noble Order of the Garter and Constable of the Tower = he died the V of August MCCCCLVII + Also to the memory of his two wives = viz=Anne daughter of Edmund Earl of Stafford by whom he had issue Henry Holland the last Duke of Exeter of that surname who married Anne sister of King Edward the fourth and died without issue = Anne daughter of John Montacute Earl of Salisbury by whom he had issue his only daughter Anne mother to Roland Nevil third Earl of Westmoreland.
Their remains having been carefully removed from the original place of interment were deposited in this chapel as are those of the other persons whose monuments and gravestones were transferred to it from the Collegiate Church of St Katharine aforesaid.
An inscription brass adjoining the Holand monument to the east records how in the Year of Jubilee, 1935, Queen Mary, Patron of the Royal Hospital of St. Katharine, restored this monument. This restoration (see Frontispiece and Plate 65) consisted in replacing the missing canopies to the niches and a number of minor repairs. (fn. n3)
Floor Slabs
27. GEORGE MONTAGU, 1681
Before the Montagu monument a black stone with a very fine achievement of arms carved in relief and occupying nearly half the surface of the stone.
Honorabilis Georgius Montagu
Nuper Magister
Hujus Hospitalis
Hic situs est
Sepultus Iulij 23 AD 1681
28. Nearly entirely hidden by the south block of stalls—only half the achievement of arms being visible.
29. Mrs Christian Gapper
In a space between the choir stalls, on the south side—a black slab with an achievement of arms rather worn in parts, showing a saltire and a chief charged with three lions (like the arms of Cupper of Somerset, no doubt intended) for Gapper impaling [Ermine] on a cheveron between two couplecloses [sable] three scallops [argent] for Brownell. A diamond of stone let in below the arms conceals a small portion of the inscription. A few words are hidden by the stalls.
Here lies [the] Body of MRS. CHRI[STIAN] GAPPER who departed this [li]fe April 23D Aged 23 Years. Also the Body of Captn. JOHN BROWNELL (Father [of] the above MRS. GAPPER) who died the 19th. of June, 1767 Aged 73 Yea [rs] Likewise MRS. MORRIS SETTON BROWN[ELL] who died March 8th. 1786 Aged 77 Years Also MRSLUCY HUET, late wife o[f] Doctr HUET of GOWER STREET Daughter of the above Captn. JOHN BROW[NELL] who died the 1st. of Feby. 1807 Aged 61 Y[ears]
30. CHARLOTTA PATTERSON, 1741
EDWARD PATTERSON, 1750
A black stone with achievement of arms and a Latin inscription in slightly sloping italic. The first part of it is defaced and partly hidden by stalls but enough is visible to record that Charlotte, wife of Edward Patterson, died 28th November, 1741. The remainder of the inscription reads—
Juxta Charlottam Sua [m d]ilectam depositum est, quicquid mortale fuit Edw Ardi Patterson, hujus Collegii Senioris Fratris. Dotes animi quas natura ei non parca manu dedit, studio ac litteris in Acadēmia Edinburgensi non minus diligenter quam feliciter coluit. Mariti, Patris, Civis, ac Pastoris officia fideliter executus est, Morum suavitas dum vixit, amicis gratissimum, ac jam post mortem memoriam ejus caram reddidit Objit XI Kal. Maji ann. Dom. MDCCL Aetatis suœ XLIV.
The arms are [Argent] three pelicans [gules] on a chief embattled [azure] three molets [argent] for Patterson of Bannockburn impaling, a fesse [ ] between three leopards' heads [ ].
The crest is a dexter hand holding a feather.
31. JOHN HICKOX, 1706
On the north side of the space between the choir-stalls, a black stone with large incised achievement of arms—some words obliterated by the stalls.
. . . Lyeth the Body of JOHN HICKOX (fn. n4)
. . . Citizen of LONDON who departed
. . . Life the 27th: day of NOVEMBER 1706:
. . . d 41 years who Married ELIZABth;
. . .d: daughter of SR: WM: HOLFORD
. . . ELHAM in the County of LEICESTER
. . . om he left three daughters ANN
. . . LIZABETH and BRIDGETT.

. . . net tam Domo quam Funebri (Sine pompâ) Solamen Omnibus Amicus Inimicus Nulli Ingenuis;
. . . gerus parenti Conjux fidelis; Sobolique vero
. . . is amore mortuus, ab. Bonorum Amorem
Laudemq meruit et invenit.
The arms shewn are, [Argent] a cross [azure] charged with five fleurs de lis [or] with a lion [gules] in the quarter, which are those of Hitchcock of Preshute, co. Wilts., impaling [Argent] a greyhound passant [sable] and a chief [azure] with three fleurs de lis [or] therein, for Holford of Wistow.
32. THOMAS LEY
WILLIAM B. LEY, 1712
MARY DUMMER, 171.
A white stone very much worn and partly illegible. An achievement of arms very much worn in which traces of the armorials of Dummer of Swaythling and Ley of Kenn are barely visible.
. . . . . . . . . Of MR. THO
. . . . . . . . . . SS. and
Mary . . . . Grandson of Captn.
M . . . . . . . . . . DUMMER
. . . . . . . . . . . . . the 27th
the 31.st. . . . . . . S
lyeth interr'd the Body of WILLIAM B. LEY Grandson of ye above Capt the ss and MARY LEY who departed this life the d of July 1712 Aged . . Years and . . men the . . . . . . . . such is the Kingdom of God Also here lieth the Body of M . . MARY DUMMER wife of Capt. DUMMER who was interred under the next Grave stone She departed this life the . . of March 171. in the . . Year
The remainder nearly worn away, but the missing portions in this inscription and in Nos. 31 and 34 can be seen in Ducarel's History.
33. MRS SUSANNA DVDSON, 1690
The lower portion of a white stone.
Here lyeth interred ye Body of MRS: Svsanna former Wife of MR: Emmanvel Dvdson of this Precinct who departed this life ye 25th: of IULY 1690 aged 27 years
34. In the vestibule just in front of the south door—much defaced with a coat of arms of which the arms are worn away, but sufficient left to identify the name DUDSON.