Pages 106-108
Survey of London: Volume 20, St Martin-in-The-Fields, Pt III: Trafalgar Square and Neighbourhood. Originally published by London County Council, London, 1940.
This free content was digitised by double rekeying and sponsored by English Heritage. All rights reserved.
CHAPTER 15: ST. MARTIN'S STREET
Early History
St. Martin's Street was developed circa 1692–3 by Hugh Marchant, Huntley Bigg (fn. n1) and others on ground previously known as the Blue Mews (see Morden and Lea's Map, Plate 1). This was the northern part of the 2ac. 8p. close shown on the plan of 1585 north of the Mews and east of Hedge Lane and marked W. Its early history from the time of its purchase from the Mercers' Company by Henry VIII coincides with that of Scavengers Close (see p. 101) and in 1623 it was bequeathed by Robert Baker to his son Samuel as a close of ground "now divided into several parcels and in part built upon, containing in the whole about two acres more or less, situate behind the mews, which I have lately enclosed with a brick wall," (fn. 166) The Parliament Survey (fn. 167) of this plot, dated June, 1651, mentiuons 13 tenements there and several stables and coachouse including "the blew yard consisting of two coachhouse and 12 stables built part with Bricke and part with Timber and Flemish wall all lofted over, together with a Leastall and a Deale yard contayning by estimacion 5 Roods." The southern part of the close was sold by John Baker to Edward Proger in 1664 (fn. 170) while James Baker, son of John, pursuant to a pervious agreement, sold the Blue Mews in 1671 to the Nicholas Cookes, father and son, in trust for William Marchant. (fn. 171) The price, including that of a messuage at the north-east corner acquired from the Earl of Leicester, was £6, 350. St. Martin's Street first appears in the ratebooks for 1693 when 7 houses are shown, while Blue Cross Street, Cutting it at right angles and now part of Orange Street, also makes its first apperance in that year.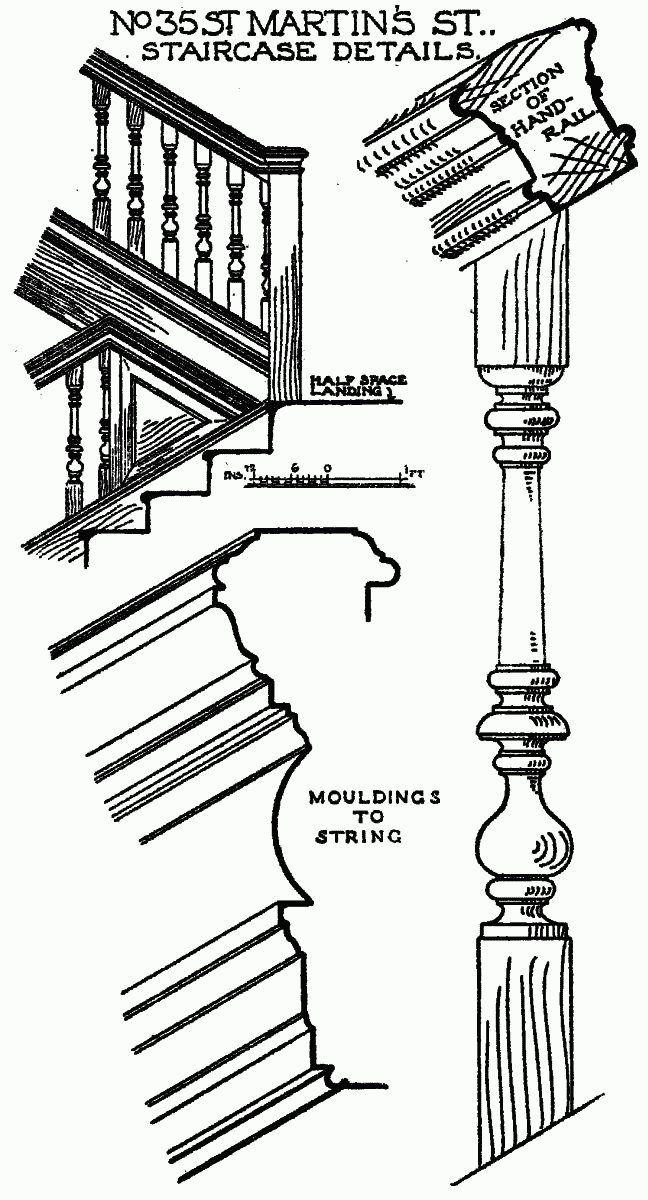 In 1720 Strype was able to describe St. Martin's Street as " a handsome open Place, with very good Buildings for the Generality, and well inhabited." None of the original houses now remain, and Lord Macaulay's prophecy that No. 35, the home of Sir Isaac Newton would be "well known as long as our island retains any trace of civilisation" has not been fulfilled.
No. 35, St. Martin's Street.— This house, which appears to have been typical of the street, consisted of three storys and basement with a tilked roof. The exterior was, in 1906 (Plate 98), covered with stucco through originally, the front, like that of the adjoining house, was in brick. The entrance doorway had projected hood supported on carved brackets.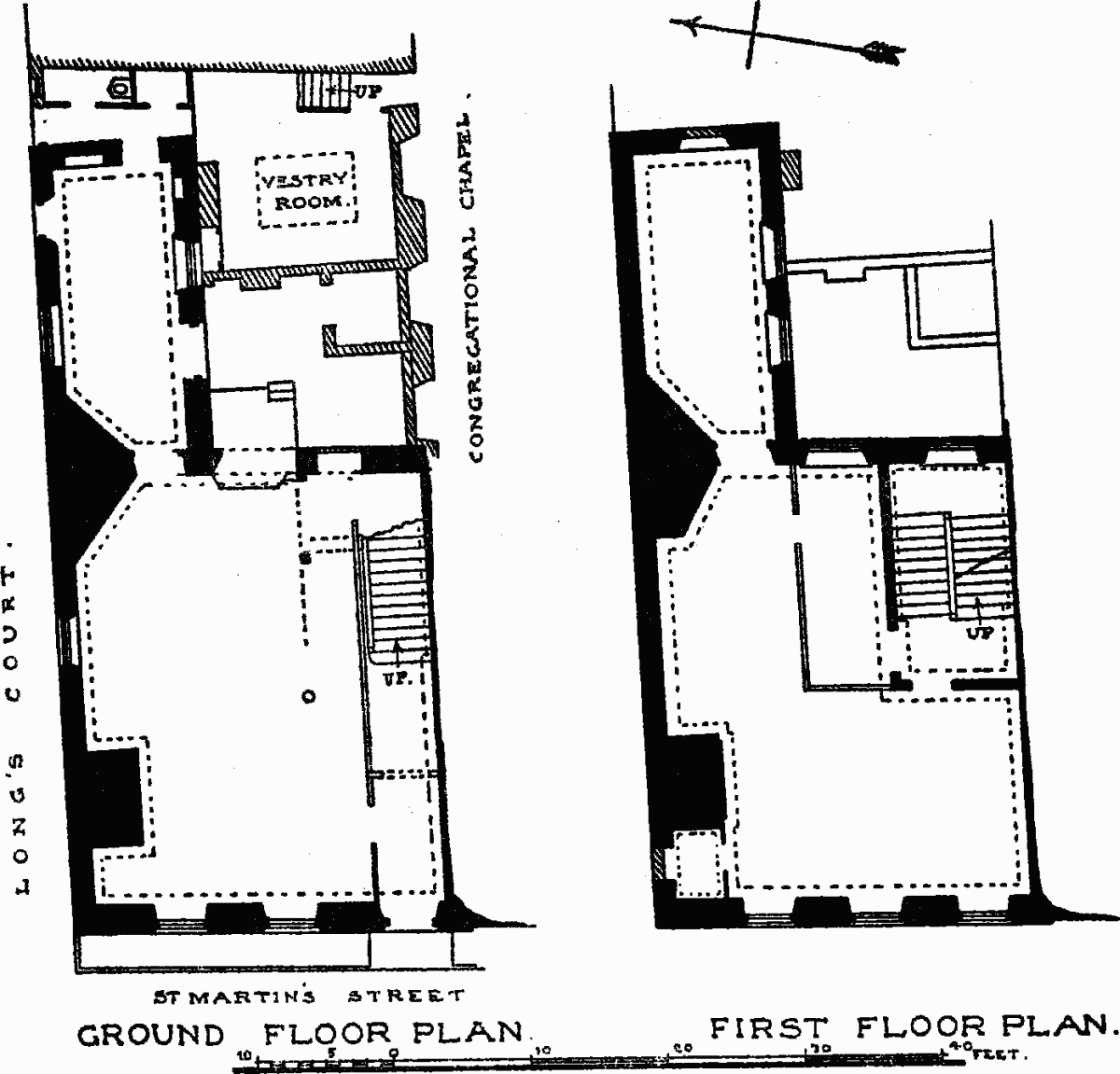 The interior comprised front and back room with a projection wing in the rear to each floor. The mantelpiece in the front room on the ground floor had a marble bolection mounding suround (Plate 96c) and the walls had bolection moulded panelling divided in two heights by a chair rail and finished with a deep moulded cornice.
The front room on the first floor had a wood mantelpiece and decorative frieze with a carved central tablet representing a quiver of arrows and ribboned sprays of laurel leaves (Plate96b).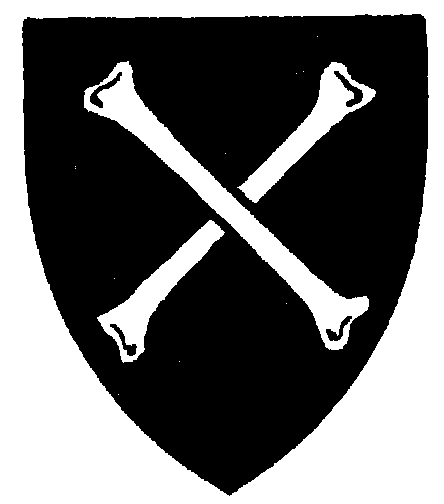 The staircase had moulded close string, turned balusters and square newels, all in keeping with the date of its erection.
The most famous resident, Sir Isaac Newton, occupied the house from 1711 until 1727, the year of his death. During this time he was chiefly engaged on revising the Principia. He was still active enough to make use of a small observatory which he had built at the top of the house and to attend meetings of the Royal Society, though his period of greatest productivity was at an end. A tablet recording was erected on No. 35 by the Society of Arts in 1881.
Dr. Burney took the house in 1774 and the greater part of his History of Music was written there. Madame D'Arblay (Fanny Burney) in her Diary has the entry for 18th October, 1774; "We Came immediately to this house, which we propose calling Newton House, or The Observatory, or something that sounds grand. By the way, Sir Isaac's identical observatory is still subsisting, and we show it, to all our visitors, as our principal Lyon. I am very much pleased with the mansion." The Diary contains notes of the literary and artistic celebrities, Dr. Johnson, Sir Joshua Reynolds, David Garrick and many others who were frequent visitors. The house had yet a further claim to be remembered for it was there that the inimitable Evelina first saw the light. The public library now covers the site of No. 35, which was pulled down in 1913.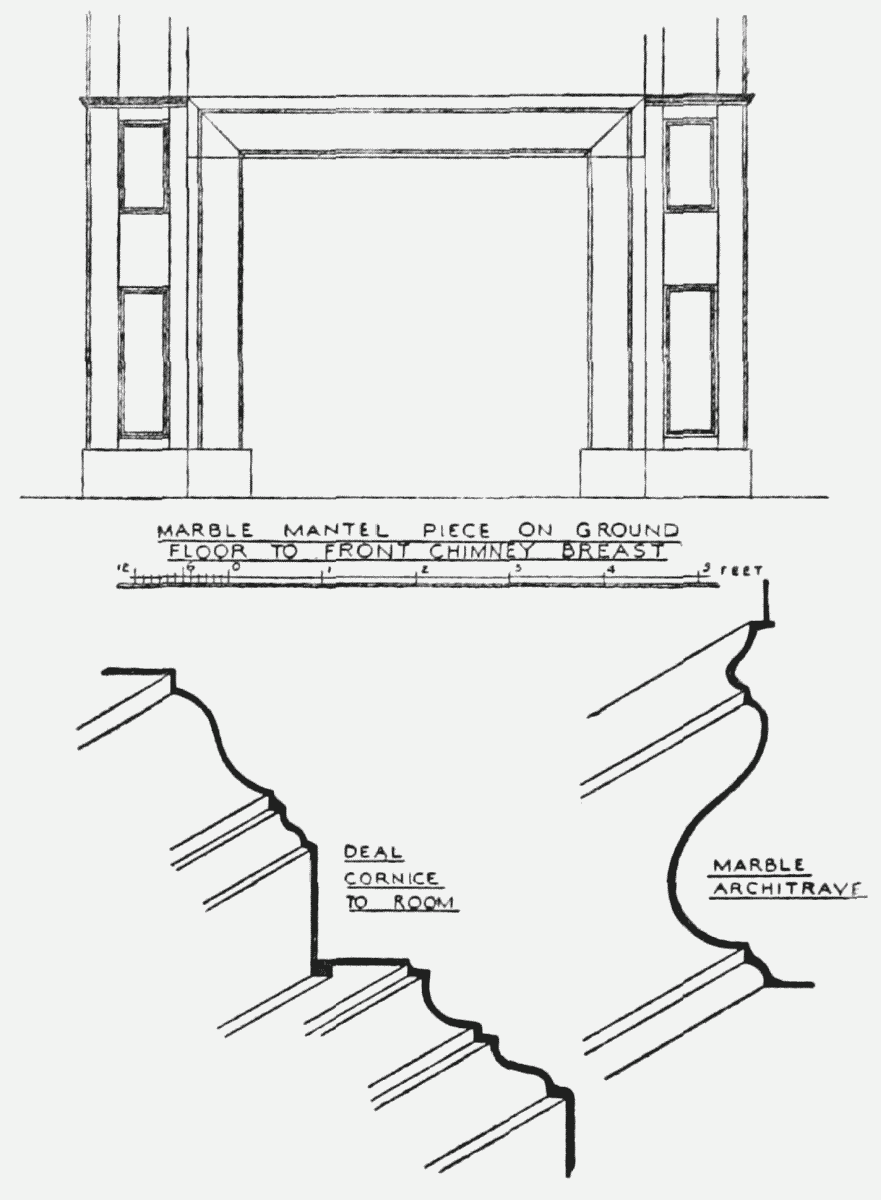 List of resident (according to the ratebooks):

1694–1705 Mauginet Lasso (Laswals); 1706 Stephen Lassall; 1707–10 Envoy of Denmark; 1711–27 Sir Isaac Newton; 1728–35 Paul Docmenique, Esq.; 1736–59 Robert Crosby; 1760–74 Archibale Murray; 1774–89 Dr. Charles Burnel; 1790 empty; 1791–1800 Peter Leclerc.