Pages 31-54
Survey of London: Volume 20, St Martin-in-The-Fields, Pt III: Trafalgar Square and Neighbourhood. Originally published by London County Council, London, 1940.
This free content was digitised by double rekeying and sponsored by English Heritage. All rights reserved.
MONUMENTS AND WALL TABLETS IN THE CRYPT OF ST. MARTIN-IN-THE-FIELDS
1. NATHANAEL HARDY
On a tablet within a carved border—
Heïc, Lector,
quicquid mortale habuit Depofuit.
NATHANAEL HARDY, S.T.D.
Ecclesiae Roffensis Decanus,
Verbi Divini Fidus & Strenuus Administer,
Primum ad Sti Dionysij apud Ciues Londinenses,
Deinde ad Divi Martini apud Visimonasterienses;
Vtriusq3 Vrbis Populo Charus pariter ac Verendus.
Talem nim praestabant
Solidum Judicium, exprompta Memoria,
Animus Indefefsus, Assidua Exercitatio,
Methodus Facilis, Sensus Accommodus,
Verborum Copia, Vox Canora:
Omnes eae Dotes, quibus Instructus
Operam Suam & Deo & Gregi Egregie probavit.
Quum per Annos XXXII sacram Provinciam
Concionibus, Curis, Vigilijs,
Quibus semet Exhausit, Implesset;
In Caelos praematur. Accitus,
(Quo Tot Animas suo Ductu Praeijsse Viderat,
Tot Vidit Secuturas,)
Civicam Coronam Indeptus est,
Anno Salutis MDCLXX Ætatis LII Die.
2. CATHERINE WINGFIELD
A tablet with scroll work surround—
Viator
Saxa loqui, mœstas hac fundere marmora guttas
Non mirum facet hoc fœmina quanta loco
Sedula quæ vixit mundanis Martha marito
Chasta Sarah Cristo fida Maria fuit
Talis Erat
Catherina filia Thoma Wingfeild de
Letheringham in Comitatv Svffolciae
Eqvitis avrati e familia Eqvestri
gloria et Antiqva nobilitate admo
Dvm insigni, Vxor Francisci Bacon
Armigeri Filij Edoardi Bacon De
Strvbland in dicto comitata Armigeri
obijt 23 die Octobris
Anno Domini Mdclx.
3. FRANCES JONES

Here lyes buried the body of
Mtris FRANCES IONES daughter of ARTHVR
Lord vicecount of Ranelagh, by his wife ye
Lady KATHERINE BOYLE, who was daughter
to RICHARD BOYLE Earl of Corke, and Lord high Tresuror of Ireland.
She dyed in the prime of her Age, haueing neuer been marryed, the XXVIII of
March in the yeare MDCLXXII.
Enough; and leaue the rest to Fame;
'Tis to Commend her but to name.
Courtship, which Liueing she declin'd,
When dead to offer; were unkind.
Where neuer any could speake ill,
Who would officious Praises spill?
Nor can the truest Wit or Friend
Without Detracting her Commend.
To say she liu'd A Virgin Chast.
In this Age loose and all unlac'd;
Nor was, where vice is so allow'd,
Of virtue or Asham'd or Proud;
That her Soule was on heau'n so bent,
No minute but it Came and Went;
That, ready her last debt to pay,
She summ'd her life vp euery day;
Modest, as Morne, as Midday, Bright;
Gentle, as Euening, Coole, as Night;
'Tis true, but all so weakly said,
'Twere more Significant: She's Dead.
4. EDITH BILSON
An oval inscription tablet, with a shield of arms on each side. Reclining on the upper edge of the oval tablet are two sleeping cherubim. The top is defaced. The flanks of the lower portion are draped. A segmental tablet at the base flanked with consoles forms an apron (Plate 28a).
Here
lyes the body of
Edith Bilson
Daughter & Heire to
Peter Bettesworth
of Fining In y/e Covnt: of Svss/x: Esq
who finishing her short covrs
in A Virtvovs & pious life,
with great indearments of
conivgall affection: was taken
ovt of this world by a death,
(Alas to early to all bvt to her selfe,) to rest in
The Lord. Aged 28.
March 14: 1651.

(The following inscription occurs below)
to Whose most beloved
& ever dearest memory
Her Saddest hvsband
T: B:
Er: s/y Mont:
5. [Charlotte Ann Broome, wife of Clement Francis Esq., and of Ralph Broome Esq. 12th September, 1838.]
6. [Richard Harris Esq., of Bedford Place, Kensington, and late of Stangate Street, Lambeth. 16th May, 1835. Aged 72.
Ann Harris, wife of the above. 10th January, 1841. Aged 75.]
7. [George Fox Esq., of 28, King Street, Covent Garden. 19th March, 1832. Aged 67.]
8. [Susanna Harvey. 18th January, 1837. Aged 68. Mr. James Harvey, husband of the above. 22nd August, 1847. Aged 74.]
9. [Sarah Ann Bell, wife of Joseph Taylor. 11th October, 1835. Aged 34.]
10. JOHN STEWARD (broken stone)
vivo resvrgam
Longaevae Memoriae
Patrvi Svi Viri Optimi Iohannis Steward
Armigeri, Acadmica Et Castrensi Disciplina
Edvcati Serenissimis Reginis, Annae Et Mariae
Per Longam Annorvm Seriem A Nobiliore
Anteambvlonvm Ordine.
Haecce Marmora Candoris Eivs Et Gravitatis
Symbola, Sacrabat Lacrymans Richardvs
Steward LL:D:or Decan: Cicestrensis
Obijt 14 Novemb: Anõ Dnĩ: 1633, Aetatis Svae 71.
11. [Elizabeth Leycester, widow of the Rev. Oswald Leycester. 3rd November, 1848. Aged 79.]
12. [Charles James Payne and his wife, Elizabeth Shutter Payne.]
13. ELIZABETH MACDOWALL
A tablet flanked by standing cherubim holding above a bust of the deceased. Below the inscription is a shield of arms and leafage. Arms: Macdowall—(Azure) a lion (argent) collared with an antique crown (or) impaling Jolly—(Argent) a molet (gules) between three broad-arrow heads (sable). (Plate 28b.)

Sacred to the surviving vertues,
of ye Pious Prudent and euery way deserv'
Mt ELIZabeth Macdowall
Daughter of David jolly Gent. wife of Andrew Macdowall
of this parish, who as ye last Testimoniall
of his sincere affection. Recomends this
marble to her memory and her example to all worthy weomen
died ye 28 of sept 1670 aged 30,
Neere this marble shrine doth lie,
the summe of, Faith, Hope, Charity,
the well coucht, abstract of her creed,
a soule syncere in word and Deed,
in life soe kinde, in Death soe Calme,
Her whole composure seemd one Psame,
Thund to Heaven where now shee sings,
New Anthems to the King of Kings
14. [Mr. Richard Armistead of Salisbury Street. 26th July, 1840. Aged 68.]
15. [Julia Watts, wife of Mr. Francis Watts of New Street and Vincent Square, Westminster. 13th June, 1837. Aged 39. And her children, Richard Harris Watts. 15th April, 1837. Aged 5. Charlotte Victoria Watts. 28th June, 1837. Aged 6 weeks.
Mrs. Louisa Watts, mother of Francis Watts. 15th December, 1838. Aged 75.]
16. JOHN BLACKMAN
John Lucie Blackman
Esqr.
Obijt 10th. Jany.
1797.
Aetat 62.
17. [Mr. Robert Stone of Panton Street. 1st November, 1832. Aged 70.
Mr. James Stone, youngest son of the above. 21st December, 1836. Aged 28.
Robert Stone, son of William and Mary Ann Stone. 21st July, 1837. Aged 1 year 9 months.
Mrs. Mary Ann Stone, wife of Mr. William Stone. 9th February, 1838. Aged 24.
Mr. Robert Stone, eldest son of the above-named Mr. Robert Stone of Panton Street. 9th February, 1842. Aged 49.
Mrs. Nancy Stone, widow of the first named Mr. Robert Stone. 29th October, 1846. Aged 78.
Frances, second daughter of the above. 13th January, 1848. Aged 58.
Robert Stone, second son of William and Mary Ann Stone. 16th November, 1852. Aged 14.]
18. [Ellen Prothero, wife of David Prothero, clerk, of Llwynhelig, Carmarthen. 31st May, 1834. Aged 55.]
19. MOSES HART
This is erected
In Memory of MOSES HART
Churchwarden of this Parish
(for that Year) who departed
this Life April 15.th, 1771 Aged 59.
20. [Mary Clarke. 8th July, 1837. Aged 71.
Robert George Clarke Esq. of Parliament Street, husband of the above. 5th October, 1839. Aged 68.]
21. JANE JACKSON
A draped tablet surmounted by a winged cherub-head and foliage; below the inscription a skull flanked by foliage. (Plate 29a.)

Here lyeth the body
of Mrs lane Iackson, formerly Servant to the Countes
Dowager, of the Right Honor:ble Robert Earle of Lindsey
Generall of his Ma:ties forces at Edgehill, by the space
of 30 yeares, who departed this life the 26 of May
Anno Dom[in]i: 1670.
Aged 70 odd yeares.
22. [William Slaughter Esq. 1st November, 1831. Aged 48.]
23. JOHANNA MILLER
A tablet surmounted by a cartouche containing a lozenge and foliated scroll work, flanked by decorative consoles and swags of fruit, and below a winged cherub's head. (Plate 29b.)

Near this place lyeth
the body of Iohanna
eldest Daughter of Iohn
Miller: late of Nether-Wallop: in ye County
of Southhamton, Esq: dece-sed & of Esther his
Wife: since Wife & now
relict of ye Rit, Honerbl
Lord Henry Powlet
Decesed: who depar-ted this life ye 13th, daye
of February: 1673
24. [William Randall. 7th January, 1813. Aged 29.
William Bright Randall, son of the above. 1st December, 1840. Aged 29.]
25. [Maria Augusta Murray. 26th March, 1840. Aged 29.]
26. [Mr. Andrew Hunter of the Haymarket. 14th May, 1837. Aged 64.]
27. ROBERT CLAYTON
Hic juxta situs est
ROBERTVS CLAYTON ARMIGR
Qui
Literis ad quas natus assuetus
Olim Scholae Regiae Westmonast.
Alumnus;
Hinc Trin. Coll Cantabr.
Discipulus;
Templi demum Interioris
Socius;
Vbiq' loci deficiae, et decus,
Ingenio pariter praecoci, acfato
Quo functus est
Decemb: 13: Anno Dom:
1676
Aetat. suae: 28.
28. GEORGE WILSON
George Wilson
Died January 22D 1788.
Aged 35 Years.
29. MARGARET WHITE
A tablet flanked with consoles and surmounted by a skull between scrolls. The tablet stands on a moulded shelf with a shaped apron below (Plate 30).
Nere This Place Lyeth
ye Body of Margaret,
Late Wife of Ioseph˜
White, who dyed ye 7th
of Iuly 1687,
Aged 31 years
A Friendly Naighbour & A Virtious Wife
Doubtlesse She's Bless'd wth Everlasting Life
30. [Mrs. Elizabeth Brooke, wife of Henry Vaughan Brooke Esq. of Co. Donegal, Ireland. 27th November, 1803. Aged 34.]
31. JOHN VILETT

HERE
lies deposited
The Remains of
Mr. JOHN VILETT
Son of the Late
JOHN VILETT
of S…
MDCCLXXIX
32. [Mrs. Mary Downing, 12th January, 1802. Aged ? Mr. George Downing, husband of the above. 12th January, 1823. Aged 84.]
33. CHARLES SLIPPER

Sacred to the Memory
OF
Mr. CHARLES SLIPPER,
Who died at the Age of 50 Years;
The 16. DAY of March, 1798.
34. [Mrs. Ann Tayler of this parish. 13th November, 1817. Aged 60.
Mr. William Tayler, husband of the above. 14th December, 1803. Aged 49.
Jane Tayler, daughter of the above. 12th July, 1806. Aged 9 years 10 months.
Mrs. Ann Tayler, daughter of the first-named Mrs. Ann Tayler. 30th June, 1817. Aged 34.]
35. [Mr. George Galley. 6th August, 1806. Aged 72.]
36. SARAH REEVES

In Memory of
Mrs. SARAH REEVES
who died 28.th of October 1786
Aged 74 Years.
Also Mr. WILLIAM REEVES,
who died 27.th of December 1789.
Aged 64 Years.
37. [Mrs. Mary Molteno, wife of Mr. Anthony Molteno of Pall Mall. 12th February, 1810. Aged 52.]
38. [Mary Yerbury, wife of Mr. Richard Yerbury of this parish. 5th September, 1816. Aged 67.]
39. JOHN MONEY

Here lieth
The Body of
JOHN MONEY,
late of this Parish; died
18th. Janry 1796, Aged 48 years.
SUSANNA MONEY
Daughter of the above, died
26.th Nov.r 1796, Aged 5 Months.
40.MARGARET KNIGHT
MARGARET KNIGHT, widow, Buryed in ye middle Ile, Mar. ye 3d 1677 in ye 81st year of her age Daughter & Heir of IOHN FALDO of Bedforshire Esq & ANN GRAVELY of Gravely in Hartford-shire first marryed to IOHN BERKEHEAD Gent & afterwards to STEPHEN KNIGHT Esq was a most exemplary Wife Mother & Friend & so generally obliging as if born for any rather than herself of her eleven Children HENRY BERKEHEAD survives, & MARY KNIGHT which last erected this Moniment.
41. ROBERT HASTINGS and DAVID WILLIAMS
Near this Place lie the Remains of
Mr. ROBERT HASTINGS.
Late of the Parish of St. Mary le Strand
who died the 16.th day of February 1789,
Aged 40 Years.

Also lies interred the Body of
Mr. DAVID WILLIAMS,
Late of the above named Parish.
who died the 31st. day of May 1792,
Aged 39 Years.
42. [Mr. John Willson, senior, of Bear Street. 28th December, 1809. Aged 87. Mrs. Elizabeth Willson, wife of the above. 27th November, 1803. Aged 77.]
43. COLONEL THOMAS FRASER
Tablet surmounted by an oval cartouche containing a shield and a trophy of Roman arms. (Plate 31a.)

Near this Place lie the Remains of
COLONEL THOMAS FRASER,
Lieut. Colonel of the first, or
Royal Regiment of Foot:
and
Lieut. Governor of Chester:
He also served as Brigadier General
in course of the late War
in America.
In his early Days he entered
into The Profession of ARMS;
and,
after serving his King and Country
55 Years with Zeal and Honour, from the rank of a private soldier arrived at
the above-mentioned, during which period he
often distinguished himself upon service, and
in his singular Probity and Benevolence was
dear to his friends. Esteemed and beloved by
all who knew him.
Novr. 5, 1756.
Copied from previous record.
44. [Mr. Alexander Christopher Haliday. 21st September, 1826. Aged 34. (Family grave.)]
45. [John Irwin Esq. of Sligo, Ireland. Surgeon to H.M. Forces on the expedition to the Scheldt. 22nd April, 1810. Aged 38.]
46. THOMAS EVANS
This Monvment Is Made For Thomas Evans Gentleman Borne
At Henllan In ye covn
Of Denbigh: Who Served Abovt xxx Years As
Ordinarie Messenger Atendinge ye
Great Seale Of England: Viz. In ye Tymes or Sr. Tho:
Bromley & Sr Chrisr. Hatton
Lo: Chauncelors. Sr. Iohn Pvckeringe Lo: Keeper:
& Sr. Tho: Egerton Lo: Ellesmere
& Lo: Chavncelor: he was also abovt xiii years
Last Before His Death One Of ye
Fovre Ordinarie Messengers of ye Receipt
Of ye Excheqver: He Gave By His Last
Will Divers Good & Charitable Legacies: Viz.
Fystye Povnd For A Stock To Con
Tynew For Ever, That ye Yearlie Profit Thereof
Raysed Might Be Imployed To
ye Repayre of ye Chvrch Where His Bodye Should
Be Interred: Also Fyste Povnd
For A Stock To Be In Lyke Manner Imployed For
ye Repayre Of Chelsey Chvrch
& Other Fystye Povnd To Be Imployed For ye
Releefe Of ye Propre Wothn ye
Parish Of Chelsey: Also Fystie Povnd For ye
Lyke Releefe Of ye Poore Wthin This
Parish St Martins In ye Fields & One Hvndreth
Povnds Towards ye Bvyldinge
Of Howses On ye New Chvrch Yard In This Said
Parish Of St Martins To Be
For ye Benefitt Of ye Poore Of This Sayd Parish:
He Gave Also Divers Good
Legacies To Sondrye Of His Kinred & Frends
& Havinge Accomplished
ye Age Of 78 Yeares Iam coelo fruitur terra
curifque relictis
47. [Miss Martha Oliphant, daughter of Mr. James Oliphant. 5th January, 1822. Aged 50. Miss Susannah Oliphant, sister of the above. 29th March, 1830. Aged 65.]
48. [John Tindall of this parish. 26th December, 1818. Aged 69.
Jane Tindall, wife of the above and seven of their children.]
49. MARY AUSTIN

In Memory of
Mrs. MARY AUSTIN
who died December the 28th 1787
Aged 26 Years.
50. [Elizabeth Henvill, daughter of Edward and Jane Henvill of Charminster, Dorset. 17th August, 180–. Aged 16.]
51. [— Warner, of Leicester Fields. November, 1813. Aged 40.]
52. ANN RAMUS

Near this spot lies the
Body of Mrs ANN RAMUS
who died Nov.r 5.th 1777
Aged 43 Years.
Also two of her children
ANN & LOUSIA (?)
Who Died in their Infancy.
Also
MR. LOUIS RAMUS.
Who died Jany. 30.th 1789
Aged 63 Years.
53. [George, son of Joseph and Mary Arundell of this parish. 9th December, 1801. Aged 2. Richard, son of the same. 1st March, 1802. Aged 13 months. Mary, daughter of the same. 2nd April, 1807 ?. Aged 13 months.]
54. ELIZABETH SHAW

Here
Lieth the Body of
ELIZABETH SHAW
Wife of GEO. SHAW & Daughter of
— THOMAS & ELIZ. BRUSHFIELD
who departed this life April 3.d 1786
In the 79th. Year of her Age
Also GEORGE SHAW (Husband of
the above) died Augst the 2nd 1791
In — Year — his Age
55. [Benjamin Field ?. 18th March, 1803. Aged 47.]
56. [Mary Laing, wife of Charles Laing of this parish. 4th December, 1810. Aged 56.]
57. ELIZABETH HOLROYD

Near
This Stone Lyeth the
Body of Mrs ELIZABETH
HOLROYD Wife of
JOSEPH HOLROYD
of this Parish who Died
Decr. 26th 1770 Aged 34 Years
Also the Daughter of the Said
ELIZABETH HOLROYD
Aged 12 Days
LOUISA HOLROYD.
Dyed Jany. the 9.th 1780
Aged Five Months.
58. SARAH AYRES

In Memory of
SARAH ELIZA AYRES
Daughter of
— & ANN AYRES
who departed this Life the 17th of [?] 1796
MR JAMES AYRES
who departed this Life the 12th of Jany. 1789
Aged 46 Years.
59. MARY WHITWORTH

… MARY WHITWORTH
Died 180–
Aged —
Also Jos" Whitworth
Died March 16.TH 1812
Aged 46 Years
He Was A Dutiful Son
And An Affectionate Brother.
60. SARAH BROWN

Near this Place
lies SARAH Wife of
ISAAC BROWN of this Parish
A Woman of uncommon Merit
exemplary in every State of Life
habitually good & virtuous:
to whose Memory, her afflicted
Husband, as a Tribute of Gratitude,
has plac'd this Stone, She died in
Child Bed, resigning Herself entirely
to the Will of God on the 4.th May 1770.
Aged 26 Year.
In the same Grave, are interr'd the
Bodies of GEORGE & LOUISA,
Son, & Daughter, of the above,
ISAAC & SARAH BROWN,
who both dy'd in their Infancy.
also Mr ISAAC BROWN
Died Dec.r 17th 1801 Aged 59.
61. JOSEPH TOMLINSON

Sacred
To the Memory of
Mr. Joseph Tomlinson
Late of Scotland Yard
who departed this life January 5th. 1822
in the 78th. Year of his age.
Also of Mrs Ann Tomlinson
Wife of the above
who departed this Life Dec. 19th. 1817
in the 58th Year of her age.
62. MARY BLOMFIELD

Sacred
To the Memory of
MARY, the Wife of SAM.L. BLOMFIELD
who departed this Life the 11th of
November 1776 Aged 61 Years.
Also of
JOANNA the Wife of THOs. SIMPSON
and Neece of the aforesaid
who departed this Life the 7th. of
June 1787, Aged 28th Years.
And also of the above mentioned
Mr SAMUEL BLOMFIELD
whose Remains are deposited in the
adjoining Grave on the Left of his Wife
He departed this Life the 22d Day of
February 1792, Aged near —
A Loving Husband, a tender Father,
and a sincere Friend.
63. GEORGE DALSTON

SACRED
To the Memory of
Mr. George Dalston.
of OULTON in the Parish of
WIGTON Cumberland.
who departed this Life on
the 18.th. of June 1791 Aged 47 Years
Also Mrs. Hannah Dalston.
Wife of the above
Mr. George Dalston.
who departed this Life on
the 12th. of June 1795. Aged 66 Years.
64. MARTHA MANSFIELD

Here lies
the Body of
Mrs. Martha Mansfield
in the Parish of St Martin's
who died the 19th. —
1767 Aged 38 Years
Likewise the Body of
Mrs. Rebecca Cross of
the Aforesaid Parish and Sister of
the above Mrs Mansfield who
died — of March 1772
Aged 35 Years.
65. THOMAS ORPIN

In Memory of
Mr Thomas Orpin
who departed this Life
December — 1768 Aged 45 Years
Also Mr James Orpin
Son of the above nam'd
who Departed this Life
— Aged 25 Years
66. EDWARD—DIC—

To The
Memory Of
Mr Edward—Dic—
who died March—1780
Aged 67 Years
Also near this Place lieth
Nine Children
67. [Samuel Sutton. 4th October, ? Aged 65.
Samuel Sutton, son of the above. 4th June, 1806. Aged 26.]
68. MARY DIMOND

In Memory of
Mrs. MARY DIMOND
Wife of Mr THOMAS DIMOND
who died February the— 1798
Aged 21 Years
Also of WILLIAM DIMOND
Son of the above
who died June the 25th. 1798
Aged 5 Months
——
Also THOMAS DIMOND. Husband
of the above MARY DIMOND
died July the 8th 1799 aged 24 Years.
69. THOMAS SEARLE

Mr. THOMAS SEARLE,
died February 16th. 1791,
Aged 76 Years.
Mr. THOMAS BELCHER SEARLE,
died February 15th. 1803, aged 32.
Miss JULIANA SEARLE,
died September 7th. 1806, aged 31.
Mrs. ANN SEARLE,
Wife of the above-named
Mr. THOMAS SEARLE:
died April 7th. 1823, Aged 100 Years.
70. SAMUEL WATKINS

SACRED
TO THE MEMORY OF
Mr SAMUEL WATKINS
Of this Parish
Surgeon,
Who departed this Life Jan 29th.
1795 Aged 34 Years.
71. [Mrs. Mary Spice. 26th January, 1828. Aged 42.]
72. [Mrs. Edith Murray of this parish. 29th March, 1813. Aged 74.]
73. REVD CHARLES BATE

Here lieth
the Remains of the
Revd. Mr. CHARLES
BATE Who departed this
Life the 5th. of Novr. 1770.
Aged 49 Years.
He was the Best of Husbands
& Fathers. And tho' most un-fortunate thro' Life; he ne-ver failed in his Duty to
God, and died as he lived
in every Respect a good
Christian.
74. MARTHA STUBBS

— Memory of
— MARTHA STUBBS
who departed this Life
the 2nd. of October 1791
Aged 81 Years.
75. [Elizabeth, wife of Daniel Sutherland. 21st February, 1800, Aged 39.
Mrs. Sarah Sutherland, also wife of Daniel Sutherland. 7th October, 1814. Aged 34.]
76. [Alexander Grant. 14th June, 1805. Aged 20 days.
Isabella Grant. 25th December, 1809. Aged 5 months 8 days. Children of John and Louisa Grant.]
77. [Susannah Morris, wife of Joseph Morris. 12th January, 1802. Aged 35.]
78. [William Leigh. 20th October, 1824. Aged 70. Remains of Richard Leigh and Mary his wife, parents of the above interred nearby. 1782.]
79. [George West, son of Samuel and Mary West late of St. Martin's Lane. 13th June, 1818. Aged 13 months.]
80. [Mr. Alexander Stark of this parish. 14th October, 1818. Aged 50.
Mrs. Mary Stark, wife of the above. 19th March, 1812. Aged 52.
Alfred Jno. Shepley Stark, son of Alexander Stark and Frances, his wife. 30th December, 1818. Aged 2.
An infant daughter of the same. 26th December, 1813.]
81. ANNE BRADBURY

Here lie the Remains of
ANNE BRADBURY
Daughter of SILAS & ANNE BRADBURY
of this Parish
who Died February 20th. 1774.
Aged 6 Years and 5 Months.
Here also Lie the Remains of
the said ANNE BRADBURY
who Departed this Life
on the 24th. September 1774.
Aged 35 Years.
Remember, Man as thou goest by
As thou are Now, so Once was I
As I am Now, so must thou be
Prepare thyself to follow Me
Also the Remains of
Mr RICHARD BRADBURY, Who
Died September — Aged — Years
82. [Mrs. Jane Todd of this parish. 12th May, 1805. Aged 35. Charlotte, daughter of the above and an infant, Edward, son of the above. 17th May, 1811. Aged 7 years 8 months.]
83. [Mr. George Veale of this parish, 27th, 1790. Aged 63. Mrs. Ann Veale. 30th April, 1812. Aged 80.]
84. [Mr. Charles Adlard. 9th February, 1825. Aged 48.]
85. [Mary, daughter of William and Ann Stone. 29th May, 1806. Aged 1 year 5 months.]
86. [Mrs. Mary Ann Lloyd of this parish. 27th January, 1824. Aged 56. George Frederick Lloyd, son of John and Sarah Lloyd. 22nd April, 1826. Aged 15 months.]
87. [Eliza Frances Carey, daughter of John and Frances Carey of this parish. 28th June, 1763. Aged 2 years 5 months.
Honour Pitt Carey, sister of the above. 10th July, 1805. Aged 9 years 9 months.]
88. [Daniel Spilman Todd, son of George Todd of Aukborough near Brigg, Lincs. 22nd September, 1806. Aged 20.]
89. [Thomas Morgan Varnham, gent. of this parish. 26th March, 1809. Aged 56.]
90. JOSEPH AND MARGARET CHRISTIAN'S THREE SONS
Near this place lies buried
the bodies of three Sons of
JOSEPH and MARGARET CHRISTIAN
of this Parish,
THOMAS the — Son died 14th Feb. 1783
Aged 3 Months
THOMAS the — Son died 14th May 1788
Aged 11 Months
IOHN the — Son died 9th May 1790
Aged 11 Years and 10 Months.
91. [Mr. John Taylor, clerk of this church. 23rd February, —. Aged 77. Mrs. Mary Taylor, wife of the above. 20th March, 1828. Aged 72. Jane Taylor, granddaughter of the above. 6th February, 182–.]
92. ROBERT CLEGHORN

In memory of
MR ROBERT CLEGHORN
who died Decem the 1. 1785
in the 50. Year of his Age.
Also MARGARET CLEGHORN
Wife of the above ROBERT
who died November 5th. 1805
Aged 81 Years.
93. [Mrs. Ann Mackcallah. 4th February, 1819. Aged 55. And her children who died in infancy.
Mr. James Donaldson. 19th November, 1816. Aged 25.
Mr. Thomas Dulin, 22nd March, 1819. Aged 61.
Mr. Alen Breckenridge, engineer, "who was killed by accident in Greenwich while engaged in making the First Gun that was invented to fire Cannon balls by steam." 21st September, —. Aged 26.
Mrs. Frances Breckenridge, wife of the above. 28th October, 1828. Aged 32.]
94. [George Wheeler, son of Samuel and Sarah Wheeler of this parish. 16th February, 1824. Aged 2 years 10 months 24 days.]
95. JOHN PRESTON

In Memory
of JOHN PRESTON
who died 30th. Decr. 1797
Aged 70 Years.
96. SOLOMON MOXEY

To the Memory of
MR SOLOMON MOXEY
of this Parish, who departed
this Life. March ye 25th. 1775
Aged 53.
A Tender Father, a loving Husband
And Sincere Friend.
Also near this Place
Lieth six Children
who died in their Infancy
—MARY BA—
Wife of MR. MOXEY
who died the 24th. Jany. 1780
Aged 57 Years.
97. WALTER VINEY

Sacred
to the Memory of
MR. WALTER VINEY
who departed this Life the 28 Jan
1795. Aged 75 Years
And to perpetuate whose Memory this
— and
Sincere Friend —
98. M. CAMPBELL

M. CAMPBELL
died December the 10th. 1791
Aged 19 Years
K. CAMPBELL.
died February the 23rd 1801
Aged 35 Years
FRANCES CAMPBELL
died April the 29th 1801
Aged 41 Years.
99. [Richard James Said, a native of Africa. 5th November, 1810. Aged 19.]
100. MARY BARRY

Here lies the Body of
MARY BARRY who Departed
this life the 10th of March 1–
Aged 38 Years also two of her Children.
Here also lies the Body of
IOHN COSGRAUE her
Brother who Departed this
Life the 19th April 1764 Aged
44(?) Years Requiescat in pace
101. ANDRIES BACON
A tombstone surmounted by a carved skull and cross bones in low relief.

Near this Place Lye
Interred the Remains
of Mr. ANDRIES BACON
Who departed this Life
Sepbr. 19th. 1777
Aged 37 Years.
102. [Capt. Francis Symes, late of the 65th Regiment. 26th January, 1810. Aged 35.]
103. [Mr. Isaac Warner, of Castle Street, Leicester Fields. 21st November, 1813. Aged 40. Sophia Warner, wife of the above. 23rd November, 1823. Aged 46. Five of their children who died in infancy.]
104. FRANCIS LYON

In Memory of
MR. Francis Lyon
Formerly of this Parish
who died Septemr. 27th. 1788
Aged 55 Years.
105. [Joseph Taylor, late of St. Martin's Lane. 19th October, 1811. Aged —.]
106. [Mr. John Corderoy, of the Strand. 24th December, 18—. Aged 54.]
107. SAMUEL HOBSON

In Memory of
Mr. Samuel Hobson
Carver
Late of this Parish
who departed this Life
January 1st 1790 in the
70th Year of his Age
108. HENRY WARD

In Memory of
Henry Ward, Gent.
who died 11th. October 1798
Aged 52 Years.
109. [James Richardson. 13th March, 1814. Aged 7 months 10 days.
Charles James Richardson. 21st December, 1816. Aged 13 months 14 days. Both infant sons of James and Jane Richardson.]
110. [Elizabeth Judith Gates, daughter of James and Elizabeth Gates. 6th March, 1819. Aged 5 years 9 months.]
111. ELIZABETH SKEEN

Here lieth
the Remains
of
Mrs. ELIZABETH SKEEN
Wife of
Mr. John Skeen.
of this Parish:
who departed this Life the
26th. of March 1769
Aged 56 Years.
Also the Remains of
the above
Mr. John Skeen.
who departed this Life the
28th. of May 1772
112. WILLIAM BURN

In Memory
of
Mastr. William Burn
Son of John & Mary Burn
of this Parish;
who departed this life Novr. 27th. 1782,
aged 2 Years, and 7 Months.
Also Miss Mary Burn,
Daughter of the above John &
Mary Burn; who departed
this life the 27th. of May 1783,
aged 1 Year, and 3 Months.
Also Miss Frances Burn,
Daughter of the above,
who departed this life the 30th. of
Octr. 1785, aged 13 Months
Here also
are deposited the remains of
Mr. John Burn, Father of the
above, who departed this life
the 26th. of January 1803.
113. MARTHA BAYTHORN

Here Lyeth The Remains
Of
Martha Baythorn.
Wife Of Edward Baythorn.
Of This Parish:
Who Died The 3rd. Of December 1795
Aged 67 Years
Also 3 Grand-Children Of The Above
Who Died In Their Infancy.
Also
Mary Baythorn.
His Second Wife
Who Died 25th. Of june 18–(?)
Aged 57 Years.
Also
John Baythorn,
Son Of Edward And Martha
Who Died The 2nd. Of August 18–(?)
Aged 51 Years
Also
Lucy Baythorn,
Daughter Of
Edward And Martha Baythorn
Who Died The 7th. Of January 1822
Aged 51 Years
Also
Edward Baythorn.
114. HENRY RYMER

To the Memory
of HENRY RYMER,
who died Dec. 10, 1784.
Aged 17 Months.
SARAH FRANCES RYMER
died — 11, 1792
Aged — Years.
115. [Paul Gledstanes, son of George Gledstanes of this parish. 25th June, 1802. Aged 17 years 3 months.]
116. [Mr. Charles Taylor, 28th April, 1808. Aged —.
Elizabeth Taylor, sister of the above. 16th November, 1786. Aged 27.]
117. SARAH STAUNTON

Sarah Staunton Wife
of Sandys Staunton
of this Parish
who departed this Life 29th Octr. 1806
In the 47th. Year of her Age.
Also Sons & Daughters of the above
Elizabeth Staunton
Born 1785 Died 1786
Sandys Staunton,
Born 1784 Died 1786
George Staunton
Born 1792 Died 1793
Sarah Staunton
Born 1794 Died 1799
Thomas Staunton
Born 1790 Died 1800
Mrs. Elizabeth Wall.
Sister of the above Mr. S. STAUNTON
118. MARTHA FATT

MRS Martha Fatt
Died December ye 22d.
1770 Aged 42
Mr. William Fatt
Died April ye 9th
1776 Aged 48
Also Thomas Angell
Son in Law to the above
William & Martha Fatt
died May the 5th 1780
Aged 24 Years
Also Thomas Freeman
Son in Law to the above
WILLIAM & MARTHA FATT
who died Augst. the 22nd. 17–
119. [William Portal, of Castle Street, Holborn, gent. 7th March, 1815. Aged 80. Elizabeth Portal, wife of the above.
Rev. William Benjamin Portal, son of the above. 27th June, 1812.
— Portal. 29th February, 1816. Aged 36.
Mary Portal, second wife of Mr. William Portal. 18th August, 1815. Aged 68.]
120. EDMUND MARNELL

Near this Place lies Interred,
the Body of Edmund Walter Marnell
Son of Richard, & Louisa Marnell
who died the 19th of February 1785
Aged 5 Months
121. —ERCE SINNOTT

In Memory of
—ERCE SINNOTT Esq.
formerly Lieutenant Governor
in Virginia in North America
who departed this Life
the 30th. of April 1794
Aged 64 Years
122. SUSANNA BARNES

A ledger stone—
Mrs. Susanna Barnes
Wife of Mr: Robert
Barnes. of this Parish
Died the 10th: of March
1743 Aged 51. years.
And Also the Said
Mr. Robert Barnes
Died the 19th: of April.
1745. Aged 61 years.
123. [Mrs. Lucy Brown. 1811.
Christopher Brown. 1822.]
124. [Mr. Evan Davis, of this parish. 3rd January, 1809.]
125. CAPT DAVID LYON

In Memory of
DAVID LYON Capt: of
Marrines, died 2d: of Decr: 1781.
Aged 67 Years.
Greive not for me my Children dear
Nor yet for my—
For I am gone in hopes to dwell
With our Saviour on his Throne
126. [Frederick Colnaghi, son of Paul and Elizabeth Colnaghi of Cockspur Street. 15th July, 1800. Aged 1 month.
William Colnaghi, son of the same.]
127. [Miss Ann Stuart. 5th September, 1812. Aged 10.]
128. [Mr. Thomas Jenkin, gentleman. 22nd February, 1803. Aged 77.]
129. [Edward Michael Price, son of Edward and Army Price. January, 1804. Aged 15 months.]
130. BENJAMIN WALMSLEY

In the Choir Vestries.
Here lies the Body of
Mr Benjamin Walmsley
who departed this Life Jany. 7th. 1788.
Aged 71 Years
Also the Reamins of
Mrs. Mary Warberton
Daughter of the above named
Mr Benjamin Walmsley
and Wife of Mr. William Warberton
of this Parish
who departed this Life 4th April 1792
Aged 30 Years
Also two of her Children,
who both died in their Infancy.
131. [Hon. Sir John Cross Knt, judge of the Court of Review. 5th November, 1842. Aged 74.]
132. [Sarah Jane Townsend Rayner. 18th May, 1821. Aged 3 years 5 months.]
133. [William Key Esq., of James Street, Haymarket. 10th August, 1840.]
134. THEODORE MAYERNE
This monument shows a stone half-length effigy resting on a square pedestal with moulded capping and base inscribed as below. On each side is a panel with a shield-of-arms. (Plate Plate 32a.)
Ita Semper Valeas Lector.
Elvs Venerare Monvmentvm Per Qvem Tam Mvlti
Recte Valvervnt.
Qvi Nvnc Cinis Est Hoc Marmore Conditvs.
Nvper Fvit Ingens Ille
Theodorvs Mayernivs.
Magnvm Nomen.
Alter Hippocrates Orbi Salvtifer.
Sæcvli Svi Decvs Anteactorvm Pvdor
Fvtvrorvm Exemplar.
Peritiæ in Te Medica Incomparabili Scientiæqve Natvræ
Arcanorvm Profvndissimae, Accesserat Incredibilis
Politicarvm Rervm Vsvs, Prvdentia, Facvndia, Ingenii.
Lepos Vsqve Ad
Miracvlvm.
Erant Viri Sermones Merae Gratiae, Sententiae Gemmae,
Concilia Oracvla Eminebat Verotenax Sanioris Pietatis
Professio Et Vindicatio
Mon Alivs Apvd Reges Ingenva [parrieia] Felicior Avt Proceribvs
Merito Acceptior, Avt Tenvibvs Opem Ferre Paratior Inter
Diversos Personarvm Gradvs, Et Varias Temporvm Vices Vbiqve
Idem Sviqve Similis, Sapiens, Commodvs, Fortis Inconcvssvs, Vt
Qvi Genio Svo Tvmres Tvm Homines, Ipsamqve a Seo Fortvnam
Svbiecisse Videretvr.
Qvid De Mayernio Plvra Mayernivm Dixeris
Omnia Dixeris Anima Coelo, Ossa Hvic Tvmvlo
Nomen Immortale Famæ
Relinqvvtor
Lector Vive Ac Vale
Qvi Sæpe in Mortem Solers Sva Tela Retor Si,
Morborvm Ad, Cvras Ipsa Venena Trahens;
Velmoriens Similem Per Christvm Exerc[eo Pra]axim,
Qvæqve Est Mors Aliis Est Medicina [Mihi]

Sir Theodore Mayerne, Physician to James I and Charles I, had a house in St. Martin's Lane (see p. 116). He retired to Lindsey House, Chelsea, in 1649 and died there on 22nd March, 1655 (see Survey of London, IV). His wife, mother, and five children are buried with him in the church of St. Martin-in-the-Fields.
135. [Edmund Antrobus Esq., of this parish. 20th April, 1827. Aged 64.]
Ann Antrobus, widow of the above. 18th November, 1835. Aged 58.]
136. UTRECIA TOMPSON
The inscription below is surmounted by a low relief circular emblem, of a wreath of laurels encircling a lozenge, bearing a lion and tortoise impaled—

Near this place doth ly ye
Bodies of Vtrecia Tompson
who died ye th/9 of December
1684 being one Month old &
Frances Vtrecia Tompson
who died July 10th 1686 being
three years & 4 Months old
both Davghters to Iohn Tompson
& Vtrecia his wife. & Neeces,
to Dr Iohn Trovtbeck & Frances.
his wife. In memory of whom
the monument above is
—(?) (missing)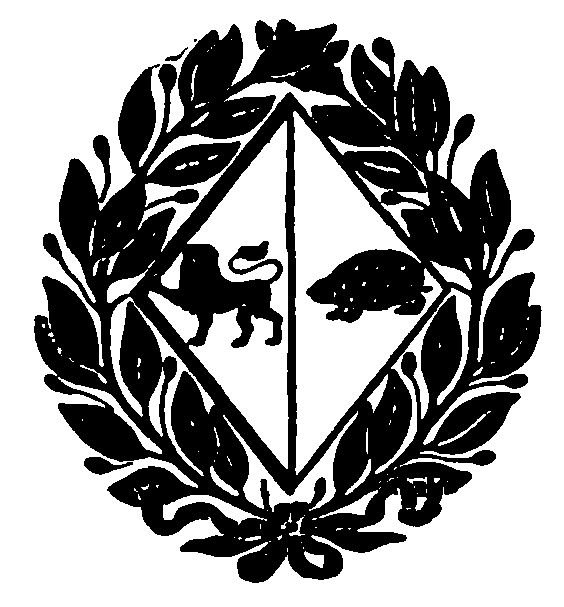 137. HONBLE ALE REVD. DR. HENRY MOORE
Close to this Pillar
Lyes Interred the Bodies of the
Honble. & Revd. Dr. HENRY MOORE
& Lady ROOKE his Wife
The Former Buried 1770
The Latter 1755.
138. BENJAMIN COLINGE
A wall monument with a moulded cornice and plinth, surmounted by a cartouche and palm leaves, and flanked by consoles. A winged cherub's head below forms a corbelled apron. (Plate 31b.)
To the pious memory of
BENJAMIN COLINGE ESQr:
underneath Inter'd. Son of WM: & Mary
Colinge of Coreley in ye Coun: of Salop.
Born ye 15th of March 1634, & Departed
this life ye 2D of Dec: br 1700.
Married to KatherN: descended of ye Loyall
Family of ye Ollivers of ye Count: of Darby;
by whom he had Issue 11 Sons & 3 Daughtrs:
Only 5 Son's & ye 3 Daught:RS surviv'd him.
He was assistant Secretary to his Bror: to all
the Ld: Chamberlns: of ye Royall Household
from ye Reftauration to y year 1697.
Yeoman Usher of his Majts: house of Peers,
& Keeper of his Councill Chamber.
Also near this place lies CATHRINE
Wife of the late BENIAMIN COLINGE ESQr:
who Departed this Life Auguft ye 21: 1719
Aged 77 years.
139. [Robert Finnie, "merchant Rio de Janeiro." 16th November, 1831.]
140. [Mr. John Willson, junior, of Kentish Town, late of Bear Street in this parish. 1st March, 1808. Aged 56.
Mrs. Ann Willson, wife of the above. 18th April, 1811. Aged 60.]
141. ELIZABETH WILLIAM

Here lies the Body of
Mrs. Elizabeth Williams,
Wife of Mr. Edward Williams,
of St. James
who departed this Life Augt. 13th. 1782
aged 53 Years
Also of Robert Williams,
Infant Son of Edward Williams Efqr.
Captain of the Danish Royal Navy,
who departed this Life
February 3d. 1820.
142. JOHN THROCKMORTON

Infra Dormit Iohannes Throckmorton
Lavor in Com. Essex Arm Abhinc Decessit 16
Anno Dom. 1664 to æTatis Svæ 64
Reliquit unicum Filium Georgium et Janam
Filiam per Dorotheam Hardy
De Com. Southton dilectissimam
Suam Uxorem quæ obijt Anno Dom. 1647.
143. [Mrs. Frances Hammond, wife of Mr. James Hammond, late of this parish. 1st August, 1804. Aged 57.
Two children of the above, Frances and —, who died in infancy.]
144. [Rev. George Richards, D.D., late Vicar of this parish. 27th March, 1837. Aged 69. Hannah Maria Richards, wife of the above. 16th November, 1844. Aged 72.