Pages 77-87
Survey of London: Volume 20, St Martin-in-The-Fields, Pt III: Trafalgar Square and Neighbourhood. Originally published by London County Council, London, 1940.
This free content was digitised by double rekeying and sponsored by English Heritage. All rights reserved.
CHAPTER 9: CARLTON HOUSE TERRACE AND CARLTON GARDENS
Architectural Description.
When Carlton House was pulled down the development of the site was considered in conjunction with a scheme for the improvement of St. James's Park. For this John Nash prepared a plan showing three terraces of houses along the north of the Park and three of unequal size along the south where the Wellington Barracks now stand. Two of the northern terraces were erected, being the Carlton House Terrace East and West of to-day, but those on the southern portion were not proceeded with and the proposals for forming a quadruple avenue in The Mall were modified, though improvements of a similar character were subsequently carried out for the Victoria Memorial. The Park itself Nash laid out in the Repton manner breaking up the straight lines of the canal into the present lake with islands.
The two blocks of terrace houses were designed by Nash and their erection superintended by James Pennethorne. Nash intended to link these two blocks by building a large domed fountain between them which would close the vista looking down Regent Street towards the Park. He intended making use of the old columns of Carlton House for this fountain, but the project was not approved, and a flight of steps alone was introduced.
Later a Tuscan granite column designed by Benjamin Wyatt and surmounted by a bronze statue of the Duke of York was erected. The statue, which is 13½ ft. in height, was designed by Sir Richard Westmacott and placed in position in 1834. The total height to the top of the statue is 137¾ ft. (Plate 70a and 70b).
The houses, which are four storeys in height above a basement, are faced in stucco and form a double group each side of the Duke of York's Column. Designed as an architectural entity, facing the Park, they represent with their range of detached Corinthian columns, a pleasing example of comprehensive street architecture; an effect greatly enhanced by the freshness of their façades, which are maintained at a uniform stone colour by periodical paintings. The end house to each block is carried up above the roof of the main façade, thereby effecting a successful pavilion treatment. The return fronts of the houses facing the steps are also effectively treated in a complementary manner. The fronts to the Park, owing to the drop in the level, are set back behind a terrace formed by the basement rooms being extended out to The Mall. This lower stage is treated as an advanced podium, having a range of Grecian Doric columns supporting a balustraded parapet. The northern façades are plainer and rely on their projecting wings and porches for their architectural effect.
Nos. 18–24, were built circa 1866–68, on the site of the riding stables of Carlton House, which were not pulled down until 1858. At least four of the houses in Carlton Gardens can be credited to Nash while Decimus Burton built No. 3 and possibly others. A handsome marble mantelpiece from No. 4 is now preserved, with its fire-grate, in the Victoria and Albert Museum (Plate 76). No. 4 was demolished in 1929 and has been rebuilt to a greater height than its neighbours and faced with stone. Its increased height led to questions being raised in Parliament.
Most of the houses have undergone alterations in their interior decorations and have had features introduced according to the tastes of their respective tenants. The planning of some of the houses is rather interesting, but calls for no special comment. The illustrations (Plates 71, 72, 73, 74, 70, 75, 76, 77) selected for this volume can be considered as generally typical.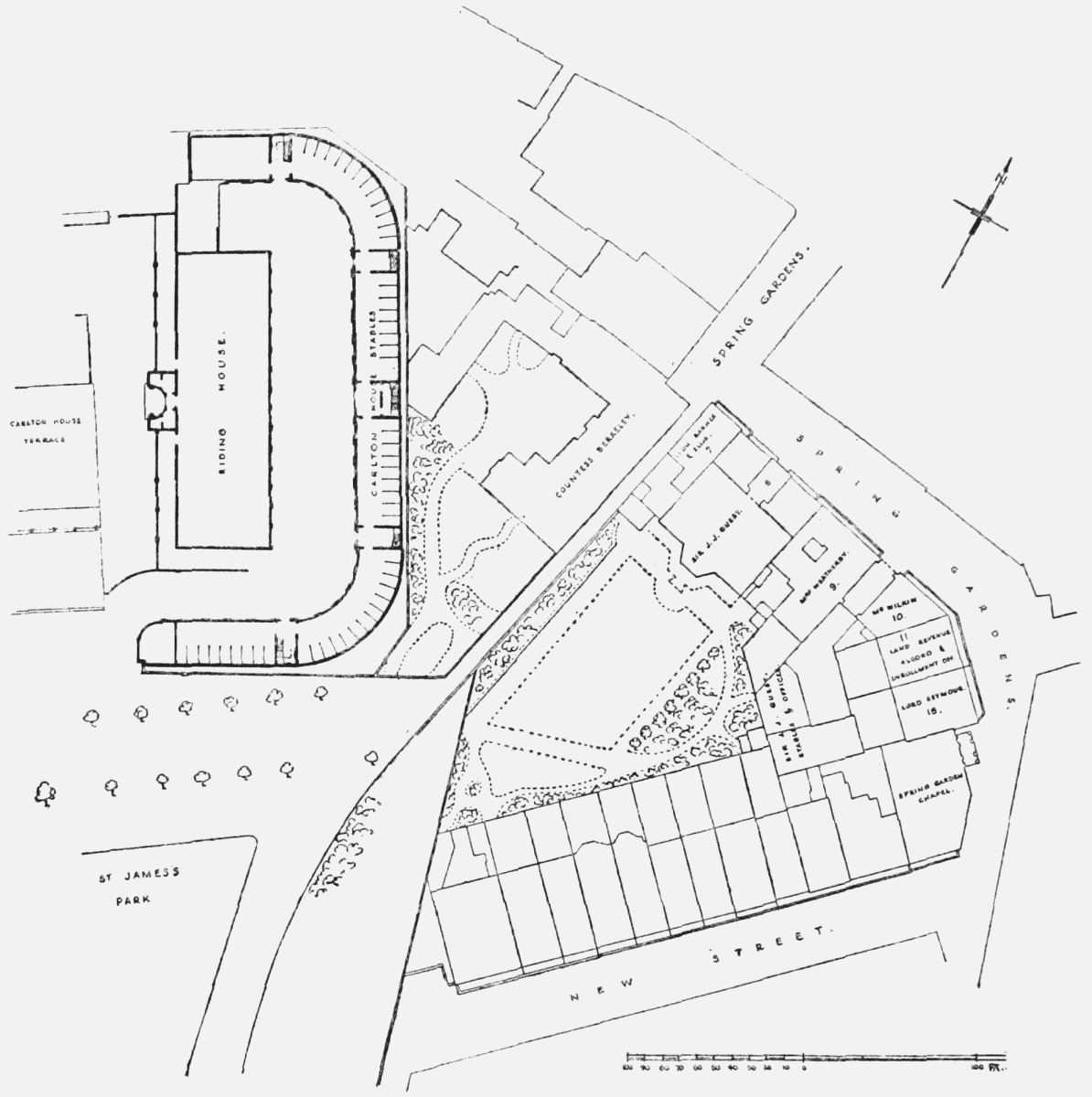 Historical Notes
Carlton Gardens
No. 1.—List of Residents (fn. n1) : Sir Alexander Cray Grant (1830–31), Lord Goderich afterwards 1st Earl of Ripon (1832–39 and 1845–59), Prince Louis Napoleon Bonaparte (1840–41), Viscount Alford (1842–44), Viscount Goderich afterwards Earl de Grey and 2nd Earl and Marquess of Ripon (1847–89), Stuart Rendel (1890–97), James Walker Larnach (1898–1911), Lord Inchcape (1912), Eugene Pinto (1913–19), Viscount Northcliffe (1920–22), Lt.-Col. Sir Walter Gibbons (1925–27), Viscount Bearsted (1928–).
Sir Alexander Cray Grant moved to this house from No. 6, Whitehall Gardens. He was for many years a prominent member of the House of Commons, though he never held any high office.
In 1832 the house was taken by Frederick John Robinson, Viscount Goderich, who two years later was created Earl of Ripon. Nicknamed "Prosperity Robinson" for his optimism when Chancellor of the Exchequer (1823–27) he lacked the firmness and decision of character necessary for a great statesman, though he was a member of the government during the greater part of the 40 years of his parliamentary career. He died at Putney Heath in 1859. (fn. 28)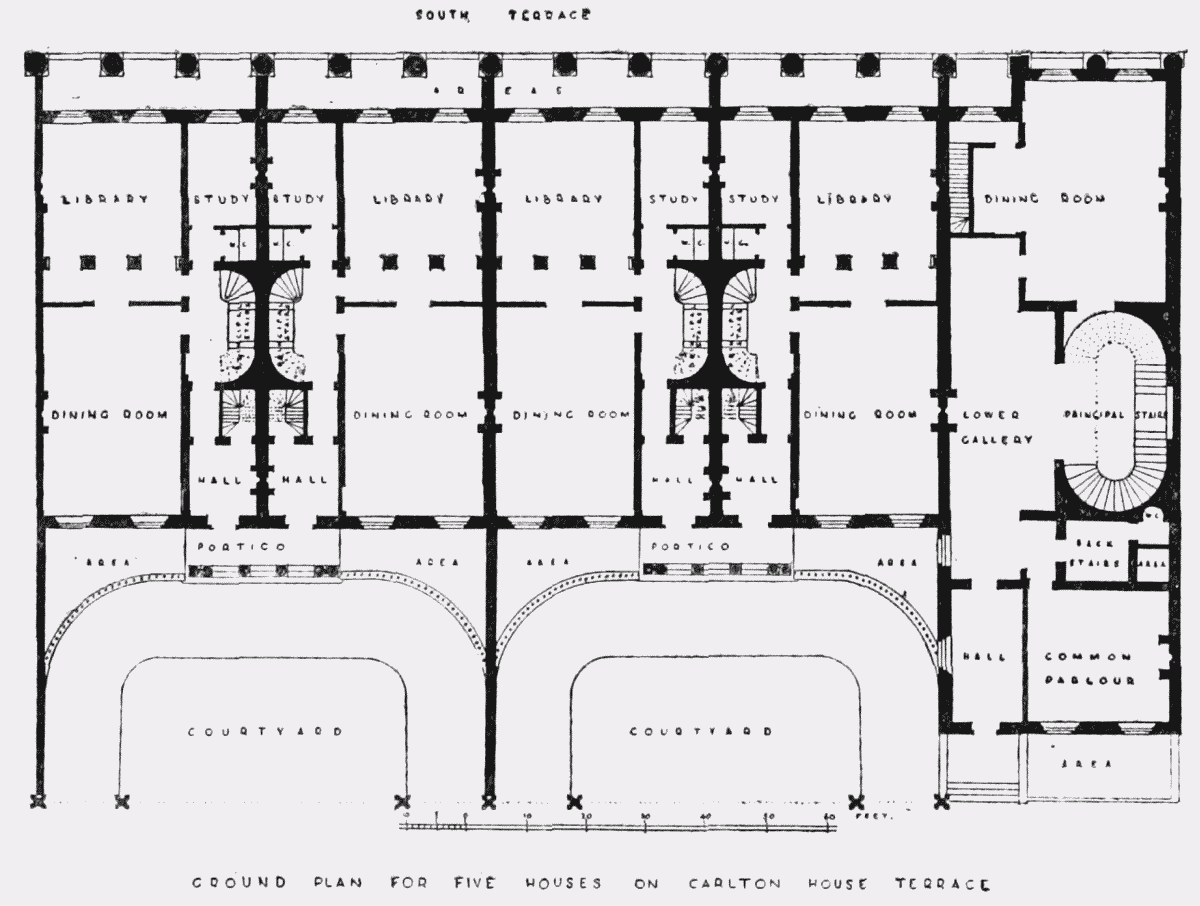 In December, 1839, Ripon let the house to Prince Louis Napoleon Bonaparte, who left England in August, 1840, when he made his second premature attempt to gain power in France by landing at Boulogne from an English steamer, the City of Edinburgh. (fn. 65) During his stay in London Napoleon led the life of a young man of fashion. "His establishment consisted of seventeen persons. He had a pair of carriage horses, a horse for his cab, and two saddle horses. He rode and drove out daily; and … the Prince's little tiger behind his cabriolet afforded infinite amusement to his French household." (fn. 126)
From 1841 until 1844 the house was occupied by John Hume Cust, Viscount Alford, eldest son of the first Earl Brownlow, but in 1845 the Earl of Ripon resumed possession and he and his son, the second Earl, retained it as the family town house until 1885. The second Earl became third Earl de Grey in 1859 and was created Marquess of Ripon in 1871. He held many high political offices, including the governor-generalship of India.
Stuart Rendel, who was created Baron Rendel in 1894, was a son of James Meadows Rendel, the engineer, and was President of University College, Wales, from 1895 until his death in 1913. (fn. 28)
From 1920 until his death there on 14th August, 1922, the house was tenanted by Alfred C. W. Harmsworth, Lord Northcliffe, the founder of modern English journalism.
No. 2.—List of Residents: Mrs. Huskisson (1831–50), Lord Overstone (1854–84), Lt.-Col. Lloyd Lindsay, later Lord Wantage of Lockinge (1862-1901),, Lady Wantage (1902–20), Royal Engineers Office (1919–20), Duke of Devonshire (1921– ).
For the first twenty years of its existence this house was occupied by Elizabeth Mary Huskisson, daughter of Admiral Mark Milbanke, and widow of William Huskisson, statesman, who was killed at the opening of the Manchester and Liverpool railway in 1830.
In 1854 the house was taken by Samuel Jones Loyd, who was created Baron Overstone in 1860. His father, a Welsh dissenting minister, was one of the founders of the London and Westminster Bank (in 1834) and Overstone so improved on his inheritance that he died one of the richest men in England. (fn. 28) He was a recognised authority on banking and currency. At his death, which took place at No. 2, Carlton Gardens, on 17th November, 1883, he left the greater part of his fortune to his only surviving child, Harriet Sarah, the wife of Colonel Loyd-Lindsay, who was created Baron Wantage in 1885. Lord and Lady Wantage were associated in organising the British Red Cross Society. The former died in 1901 and the latter in 1920. (fn. 65) In 1921 the house was taken by the Duke of Devonshire.
No. 3.—List of Residents: Chas. Arbuthnot (1831–35), Lord Southampton (1836–39), F. Hodgson (1840–50), J. A. S. Wortley (1851–58), Hon. Mrs. Dyce Sombre (1859–63), Maj.Gen. George C. W. Forrester (1864–87), Lady Forrester (1888–93), Hon. Philip Stanhope (1894–1906), Countess of Tolstoy (1898–1906), Lord Weardale (1908–23), Lady Weardale (1924), Mrs. Gladys C. Stewart (1925–26), Viscount Tredegar (1927–31), Albert E. Worswick (1933– ).
The first occupant of this house was Charles Arbuthnot, diplomatist and politician, and confidential friend of the Duke of Wellington, with whom he afterwards lived. He was succeeded at No. 3, Carlton Gardens, by Charles, third Baron Southampton.
From 1851 to 1858 the house was occupied by James Archibald Stuart-Wortley, recorder of London, who held the office of solicitor-general under Lord Palmerston in 1856–57.
Philip James Stanhope was a younger son of the fifth Earl of Stanhope. In 1877 he had married Countess Tolstoy, the widow of a relative of Count Leo Tolstoy. Stanhope was created Baron Weardale in 1905. After the war of 1914–1918 he became president of the "Save the Children Fund" which was started to relieve the distress caused by war conditions. He died in 1923.
No. 4.—List of Residents: W. G. Coesvelt (1831–36), Adrian Hope (1837–46), Viscount Palmerston (1847–55), Sir James Weir Hogg (1856–69), Quintin Hogg (1867–69), Stapleton Hogg (1868–69), A. J. Balfour (1874–97), Lord Rayleigh (1878–97), Rt.-Hon. G. N. Curzon (1898), Henry Charles Stephens (1901–03), A. J. Balfour (1908–29), Major Edward C. Lascelles (1922–29).
Henry James Temple, third Viscount Palmerston, who had previously been living at No. 5, Carlton House Terrace, moved to No. 4, Carlton Gardens, late in 1846, this removal almost synchronising with his appointment for the second time as Secretary of State for Foreign Affairs. The strained relations which at that time existed between England and France, the French Revolution of 1848, the Italian Revolution, and the civil war in Hungary, all combined to make his position one of exceptional anxiety and difficulty. In 1851 on Louis Napoleon accomplishing the coup d'état which made him master of France, Palmerston, without consulting his colleagues, expressed to the French Ambassador his approval of Napoleon's action and as a result he was dismissed from office by Lord John Russell. He remained in opposition until the end of 1852, when, on the formation of a new Cabinet, he accepted the post of Secretary of State for Home Affairs. He removed from Carlton Gardens (fn. n2) to Piccadilly in the winter of 1854–55, a month or two before he became Prime Minister for the first time.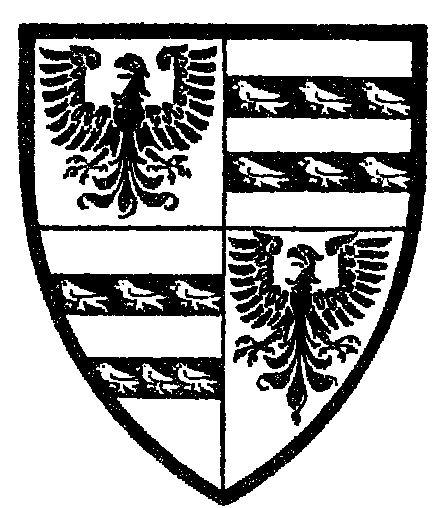 Sir James Weir Hogg was a director of the East India Company and upon the passing of the Government of India Act in 1858 was nominated as one of the seven directors to sit on the new Indian Council. His son, Quintin Hogg, who is shown in the directories for 1867 to 1869 as resident at the house, had already started the "Youths' Christian Institute" which was the nucleus from which the Regent Street Polytechnic Institute afterwards developed.
In 1874, when Arthur James Balfour took possession of No. 4, he was on the threshold of his political career; in 1897 when his first period of residence there came to an end he was Leader of the Commons and First Lord of the Treasury, while his position in the intellectual and social life of the time had shown a corresponding increase in importance. From 1902 to 1906 Balfour was at the head of the government and therefore in occupation of No. 10, Downing Street, but after the Conservative defeat in the general election of 1906 he returned to Carlton Gardens, which he retained as his London residence until his death on 19th March, 1930. The story of Balfour's political career and philosophic interests must be sought elsewhere, but it may be mentioned that his best-known books—A Defence of Philosophic Doubt (1879); Foundations of Belief (1895), and his Gifford lectures on Theism (1915 and 1922–23) were written during his occupation of No. 4.
From 1878 to 1897, Balfour's brother-in-law, John William Strutt, 3rd Baron Rayleigh, well-known as a mathematician and physicist, shared the house. He was then engaged in experiments on densities of gases, which resulted, in 1894, in the discovery of argon, a hitherto unknown constituent of the atmosphere.
George N. Curzon is given as the occupier of No. 4 in the directory for 1898, the year in which he was appointed Viceroy of India. He was later at No. 1 Carlton House Terrace (see p. 82).
In 1933 the premises were rebuilt as offices.
No. 5.—List of Residents: Count and Countess de Salis (1831–32), Lord Stanley (1833–35 and 1837–38), Count de Salis (1836), Countess de Salis (1839–41 and 1844–45), Sir Edward Knatchbull (1842), Sidney Herbert (1846–51), Col. Francis Vernon Harcourt (1853–78), Lord Muncaster (1880–1906), Chas. S. Henry (1908–20), Lady Henry (1921–27), A. C. Bossom (1928– ).
The first resident at this house, Jerome, 4th Count de Salis of the Holy Roman Empire, died in 1836. In 1833–35 and again in 1837–38, Lord Stanley, afterwards 14th Earl of Derby, is given as the occupant. It was in 1833 that, as colonial secretary, Lord Stanley carried the act for the abolition of slavery. He played an important part in political affairs during the middle decades of the 19th century and held the premiership for two short periods, in 1852 and 1858–9.
Sir Edward Knatchbull, 9th Baron Knatchbull, paymaster of the forces and privy councillor, occupied No. 5 in 1842.
In 1846, Sidney Herbert, afterwards 1st Baron Herbert of Lea, and then secretary at war in Peel's administration, moved to No. 5, where he remained until 1851. It was largely through his good offices that Florence Nightingale was allowed to go to the Crimea.
No. 6.—List of Residents: Henry Baring (1831–35), Thos. Gladstone (1836), John Gladstone (1837–47), W. E. Gladstone (1838–41 and 1848–54), Lieut. J. N. Gladstone (1838–41), Lord Vernon (1854), James Whatman (1856–82), Henry Matthews (1883–95), Viscount Llandaff (1896–1913), Miss de la Chere (1909–14), James Hugh Welsford (1915–17), Sir Richard Ashmole Cooper (1918–31), Anglo-German Club (1934), D'Abernon Club (1935–36), Athenæum Club (1938–39).
From 1837 to 1847 this house was occupied by John (afterwards Sir John) Gladstone and three of his sons, Thomas Gladstone (who afterwards succeeded his father in the baronetcy), Lieutenant (afterwards Captain) John Neilson Gladstone, and William Ewart Gladstone who was just beginning to make a name for himself in the world of politics. The last is given as the sole occupant for the years 1849–54. It was in 1853 that Gladstone introduced his first and, in the opinion of many, his greatest budget.
George John Warren Vernon, 5th Baron Vernon, the Dante scholar, was at No. 6 for a short time in 1854.
No. 7.—List of Residents: Chas. Henries (1831), Earl of Warwick (1832–35 and 1837–54), J. Abercromby, Speaker of the House of Commons (1836), Lord Monson (1838–41), Lord Brooke (1842–53), G. G. Vernon Harcourt (1854–62), Frances, Countess Waldegrave (1854–79), Chichester S. Fortescue (1864–74), Charles B. Braham (1869–80), Lord Carlingford (1875–80), Earl of Rosslyn (1881–82), Lord Brooke (1883–85), Rt. Hon. Henry Chaplin (1889–90), Viscount Clifden (1891–95), Earl of Dudley (1896–1924), John H. Ward (1909–11), Sir Alfred Butt (1937– ).
From 1832 until his death in 1853, Henry Richard, 3rd Earl of Warwick, used this house as his London residence. His stepson, Frederick John, 5th Baron Monson, and his son, George Guy, Lord Brooke, also lived there during part of that period.
In 1846 Lord Waldegrave died leaving the whole of his estates to his wife, Frances Elizabeth Anne, the daughter of John Braham, the singer, who found herself a widow for the second time at the early age of 25. In the following year she married her third husband, George Granville Harcourt of Nuneham, the eldest son of Edward Harcourt, Archbishop of York. In 1850–52 G. G. Harcourt and his wife were living at No. 5, Carlton House Terrace but in 1854 they took over No. 7 Carlton Gardens where Lady Waldegrave "first exhibited her rare capacity as a leader and hostess of society." (fn. 28) Harcourt died in 1861 and two years later Lady Waldegrave married Chichester Samuel Parkinson Fortescue and henceforth devoted her talents and her fortune to the success of his political career and of the Liberal Party with which he was associated, her salon at Strawberry Hill and in Carlton Gardens becoming a frequent meeting-place of the Liberal leaders. Lady Waldegrave died at No. 7 on 5th July, 1879.
In 1889–90 the house was the London residence of Henry Chaplin, Viscount Chaplin, who in the following year moved to No. 1, Carlton House Terrace (see below). Chaplin was wellknown as a politician and as a sportsman. It was said of him that "No one was half such a country gentleman as Henry Chaplin looked."
Carlton House Terrace
No. 1.—List of Residents: Wm. Edward Tomline (1831–33), Marquess of Abercorn (1834–39), George Tomline (1840–89), Rt. Hon. Henry Chaplin (1891), Charles Seely (1892–99), Joseph H. Choate (1900–05), Lord Curzon (1906–25), Indian Soldiers Fund (1916), Savage Club (1936– ).
William Edward Tomline was the son of the Right Reverend Sir George Pretyman Tomline, Bt., Bishop of Winchester. He declined the title on the death of his father in 1827. He was M.P. for Minehead in 1830 and in 1835 became Colonel of the North Lincs. Militia. He died in Great Stanhope Street in 1836 when his son, George Tomline, an occupant of No. 1 from 1840 until 1889, became Lieutenant Colonel of the same troop. (fn. 127)
Henry Chaplin, 1st Viscount Chaplin, succeeded Tomline at No. 1, though he only occupied the house for a short period. He had previously occupied No. 7, Carlton Gardens (see above).
Joseph Choate was "Ambassador of the United States to the Court of St. James'," or, as he preferred to call himself, "Ambassador from the people of the United States to the people of Great Britain." (fn. 128) He was to a large extent responsible for the successful conclusion of the Panama Canal Treaty in 1901.
The most eminent resident was undoubtedly George Nathaniel, Marquess Curzon of Kedleston, who took this house on this return from India in the winter of 1905–06 and retained it until his death here on 20th March, 1925. During the first 11 years of this period Curzon took little part in public life. He was embittered by the lack of recognition accorded to his services in India and sorely missed the companionship of his wife who died in 1906. It was not until the formation of the Coalition Cabinet in 1915 that Curzon again held political office. In 1917 he married for the second time and No. 1 became once more a social centre. The period 1916–24 was for Curzon one of great activity but his position was often rendered difficult, especially after his transfer to the Foreign Office in 1919, by the conflict between his rigid conservatism and the policies forced upon him by his political colleagues. It was a sore disappointment to him when, on the resignation of Mr. Bonar Law in 1923, he was not offered the premiership, yet he generously gave his support to Mr. Stanley Baldwin. The statue erected in Carlton Gardens in 1931 bears little resemblance to Curzon as remembered by his contemporaries. (fn. 28)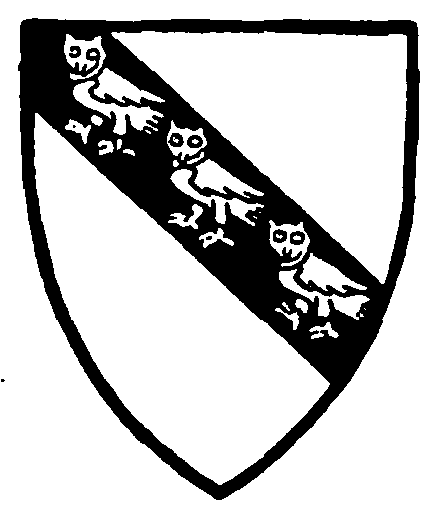 Since the demolition of Adelphi Terrace in 1936 the house has been in the occupation of the Savage Club.
No. 2—List of Residents: Lord Kensington (1831–32 and 1837–41), Marquess of Clanricarde (1842–61), Lord Dunkelline (1858–61), George S. Foljambe (1862–70), Viscountess Milton (1862–83), Cecil Foljambe (1880–93), Lord Hawkesbury (1894–1906), Mrs. Maldwin Drummond (1910), R. H. Maldwin Drummond (1911–13). James Horlick (1914–21), Duke of Roxburghe (1923–32 and 1935– ), Duchess of Roxburghe (1933).
This was the first of the houses in Carlton House Terrace and Carlton Gardens to be let, the lease being dated 6th October, 1829, and the lessee being William Edwards, second Baron Kensington. From 1842 to 1846 the house was occupied by the third Marquess of Clanricarde, then recently returned from the post of ambassador at St. Petersburg. He was described by Edmond Yates as a "tall, thin, aristocratic man, bald and bland, wearing … tight pantaloons, striped silk socks and pumps." His son was styled Lord Dunkelline.
In 1862 George Savile Foljambe and his wife, widow of Viscount Milton, moved to No. 2. Foljambe died in 1869 and his widow continued to occupy the house until her death there on 24th September, 1883. Her son, Cecil George Savile Foljambe, was created Baron Hawkesbury in 1893 and Earl of Liverpool in 1905.
No. 3.—List of Residents: Lord de Clifford (1830–33), Dowager Lady de Clifford (1834–45), Baroness de Clifford (1848–74), Hon. E. Russell (1849–74), Miss Russell (1855–56), Mrs. Russell (1860–74), Wm. E. Oakley (1861–62), Lord and Lady de Clifford (1875–81), Earl Brownlow (1882–88), Duke of Marlborough (1889–93), Duchess of Marlborough (1894–1903), Lord Beresford (1898–1901), Lord Revelstoke (1904–29).
This house was leased on 24th November, 1829, to Edward, 21st Baron de Clifford, who died without issue in 1832. His widow continued to live here until her death in 1845, when she was succeeded by Sophia, Baroness de Clifford, the niece of the 21st Baron. Her son and grandson, the 23rd and 24th barons, occupied the house in turn, but in 1881 it was sold to Adelbert Wellington Brownlow, 3rd Earl Brownlow, who lived here until 1888. During this period Earl Brownlow was Parliamentary Secretary to the Local Government Board (1885–86) and Paymaster-General (1887–89). He died in 1921.
George Charles, 8th Duke of Marlborough, used No. 3 as his town house from 1889 until his death in 1892. His widow, who in 1895 married Lord William de la Poer Beresford, continued to occupy the house until 1903.
John, 2nd Baron Revelstoke, partner in the banking firm of Baring Bros. & Co., Ltd., occupied No. 3 from 1904 until his death in 1929.
No. 4.—List of Residents: Sir Michael Shaw Stewart (1831–33), Lord Stuart de Rothesay (1834–41), Chevalier Bunsen (1842–49), Baron Thile (1844–46), Prince Lowenstein (1847–1849), Baron de Langen (1847–49), Earl of Mount Edgcumbe (1851), Lady Stuart de Rothsay (1852), Sir W. G. H. Joliffe (1853), W. E. Gladstone (1856), Viscount de Vesci (1857–87), Mariano de Murrieta (1888–92), Edward David Stern (1893–1933), Lady Stern (1934–37).
From 1834 until 1841, when he was appointed ambassador to St. Petersburg, Sir Charles Stuart, Baron Stuart de Rothesay, occupied No. 4. He had previously served as ambassador to Paris. At the beginning of 1842 he let the house to Chevalier Bunsen, the Prussian Ambassador. "On the morning of March 27, (1848) at eight o'clock, his Royal Highness the Prince of Prussia arrived at No. 4 Carlton Terrace, unannounced, and was pleased to accept the proposal to make a speedy arrangement of rooms for his residence in the abode of the Prussian Legation." (fn. 129) He seems to have taken pains to disturb the household as little as possible putting aside ceremony with the remark "One ought to be humble now, for thrones are shaking." He left England at the end of May.
In March, 1849, the Prussian Legation moved to No. 9 (see p. 84) "when within two days all our possessions were cleared out of one house into the other, passing over the terrace so as to be as little as possible within public observation … the gain in acquiring the house of Mr. Alexander was incontestable, both as to space, and amount of light, and also in the better arrangement of rooms."
The house was occupied for a short period in 1856 by William Ewart Gladstone.
No. 5.—List of Residents: Earl of Caledon (1831–39), Viscount Palmerston (1840–46), Earl of Caledon (1847–49), George Granville Vernon Harcourt (1850–52), Dowager Countess Waldegrave (1850–52), Earl of Caledon (1853–55), Countess Caledon (1856–63), Marquess Camden (1858), Ladies F. and C. Pratt (1858), Rev. Jermyn and Mrs. Pratt (1858), Marquess of Bath (1864–66), Countess of Caledon (1867–87), Earl of Caledon (1878–87), R. C. Naylor (1888–90), Gordon Panmure (1891–93), Henry John Hay (1898), Lord Mount Stephen (1900–1901), Countess of Caledon (1903), Anthony John Drescel (1904), Mrs. Potter Palmer (1910), Earl of Caledon (1912), Mrs. Shaw (1913–15), Countess of Caledon (1917–20), Lady Cunard (1921–24), Countess of Caledon (1925–29), Harry Gordon Selfridge (1930–34), Earl of Caledon (1937– ).
No. 5 was granted to Du Pre Alexander, 2nd Earl of Caledon, on 14th July, 1830, and the lease appears to have remained in the possession of his descendants until its expiration in 1929. His wife, Catherine Freeman, daughter of the 3rd Earl of Hardwicke, was the sister of her next door neighbour (at No. 4), Lady Stuart de Rothesay. The 2nd Earl of Caledon died in 1839 and his house was for a time let to Viscount Palmerston, then out of office. In the August of 1845 Palmerston wrote, "Lord Caledon (James Du Pre, 3rd Earl) is going to marry Lady Jane Grimstone; but he has not yet decided whether he will turn us out of our house or not." (fn. 130) Later correspondence shows that in December, 1846, Palmerston moved to No. 4, Carlton Gardens (see p. 80), and the 3rd Earl of Caledon is shown in possession in 1847. (fn. n3) Later temporary tenants of the house were George Granville Vernon Harcourt and his wife, the Dowager Countess Waldegrave (subsequently at No. 7, Carlton Gardens), in 1850–52, and Henry John Hay, while American Ambassador, in 1897–98. The latter, though he held the office for so short a period, did much to cement Anglo American friendship. "In the long list of famous American Ministers in London," wrote a contemporary, "none could have given the work quite the completeness, the harmony, the perfect ease of Hay."
No. 6.—List of Residents: Dukes of Leinster (1831–89), Marquess of Tavistock (1831–1832), Lord Alexander (1839), Marquess of Kildare (1850), George Wm. and Lady J. Repton (1856–58), Lords Otho and Gerald Fitzgerald (1859–62), Marquess of Kildare (1861–74 and 1880–88), Charles Henry Sanford (1890–91), Mrs. Mackay (1892–1920), Sir John Leigh (1921– ).
This house was leased to Augustus Frederick, 3rd Duke of Leinster on 25th December, 1829, and it remained in the occupation of his family until 1889.
No. 7.—List of Residents: Wm. Hanning (1831–32), I. Lee Lee (1832), Thos. Clifton (1833–36 and 1840–41), J. Abercromby (1837–39), Earl of Pembroke (1846–51), Earl Somers (1854–55), J. Evelyn Denison (1856–60), Lady Charlotte Denison (1856–57), John Hardy, M.P. (1861–80), Earl of Pembroke and Montgomery (1881–1904), Countess Dowager of Pembroke and Montgomery (1906), Hon. Lady Herbert (1908–24), Capt. S. Herbert (1924–26), Duke of Marlborough (1927–34), Major Horst Kitschmann (1938).
William Hanning was granted a lease of this house on 11th June, 1830, but lived there only until 1832. The house was occupied in 1846–51 by the 12th Earl of Pembroke and in 1881–1904 by his nephew, the 14th Earl.
No. 8.—List of Residents: Sir Robert Lawley (1831), Lord Wenlock (1832–36), Lady Wenlock (1837–50), Lord Londesborough (1854–62), Lord and Lady Otho Fitzgerald (1863–88), Earl Brownlow (1889–1923), Henry John C. Cust (1893–96), Count Albrecht Bernstorff (1932–33), Baron Leopold von Plessen (1934), Baron Adolf Marschall von Bieberstein (1935), Werner von Fries (1936– ), Major Horst Kitschmann (1937).
This house was leased on 22nd July, 1831, to Sir Robert Lawley, who was in that year created 1st Baron Wenlock. He died in 1836 but his widow continued to occupy the house until 1850. From 1854 until 1862 it was tenanted by Albert Denison, 1st Baron Londesborough, an amateur archæologist who in 1855 was president of the London and Middlesex Archæological Society.
No. 9.—List of Residents: James Alexander (1831–48), C. Dashwood Bruce (1832–41), Robert Alexander (1846–49), Chevalier Bunsen (1850–54), Count Perponcher (1850–53), Baron de Langen (1850–54), M. de Stockmar (1850–51), Baron Bethman Holweg (1853), Count Bernstorff (1855–73), Count Henkel (1854–55), M. Albert (1855–59), — De Katte (1856), Count Brandenburg (1856–63), Frederick von Katte (1864–70), Count Munster (1874–86), Count Hatzfeldt Wildenburg (1887–1902), Count Paul Wolff-Metternich (1903–11), Prince Lichnowsky (1912–14), American Embassy, German Division (1916–17), Swiss Legation, German Division (1918–20), German Embassy (1921– ).
From 1849, when Christian Charles Josias, Baron von Bunsen, moved thither from No. 4, until the present day, with one break during the war of 1914–18, this house has been the home of the Prussian Embassy and its successor the German Embassy. Bunsen married an English woman, Frances Waddington, and during his long residence in England he made himself very popular among all classes of society. He worked hard to bring about a rapprochement between England and Prussia and to influence King Frederick William in the direction of liberalism. Several of Bunsen's books, notably his Hippolytus and his Age (1852) and his Outlines of the Philosophy of Universal History as applied to Language and Religion (1854) were published during his residence at No. 9. The Memoir of Bunsen, by his wife, gives a vivid picture of their very happy family life at Carlton House Terrace and of the many visitors to the household. Most of Bunsen's writing seems to have been done early in the morning, though he was by no means always early to bed as the following extract from a letter to his son shows: "Here all are tired from yesterday's dancing at our house; it was daylight when I conducted the last lady to the door: nothing could be more successful. T. was lovely; F., queenly. Beauties only were invited."
In 1879 when Count Munster was German Ambassador, Bismarck tried to get England to form a triple alliance with Austria and Germany against Russia. That the project fell through was probably the fault not of Munster but of a cooling off on the part of Bismarck and the German Emperor.
The renewed friction with France from 1895 onwards, again turned the thoughts of some British statesmen to Germany. Early in 1898 Joseph Chamberlain, the Colonial Secretary, discussed with Count Hatzfeldt, then German Ambassador, the possibility of close co-operation between the two powers, Once more, however, the scheme proved abortive owing to lack of support from Berlin.
During the period 1903–11 when Count Paul Wolff-Metternich was German Ambassador in England, the tension between the two countries was increasing owing to the provocative methods by which the German Fleet was boomed. Metternich endeavoured to get the Kaiser and the German Foreign Office to adopt a more pacific attitude and it was probably on this account that Metternich was, in 1911, given the hint to go. (fn. 131)
Metternich's successor, Baron Adolf Marschall von Bieberstein, had a great reputation as a diplomatist, but, in the words of Prince Lichnowsky "he was already too old and too tired to adjust himself to the Anglo-Saxon world." (fn. 132) His active support of German naval expansion also rendered him suspect. At his death in September, 1912, Prince Lichnowsky was appointed ambassador to London. The prince, during a very difficult two years, tried hard to keep Germany from embroiling herself in the Balkans and to improve her relations with England and France. He was on very friendly terms both with Mr. Asquith and Sir Edward Grey whom he liked and trusted. The outbreak of war in August, 1914, was for him both a national and a personal tragedy.
No. 10.—List of Residents: Sir Matthew White Ridley (3rd, 4th, and 5th baronets) (1831–1901), Edward Ridley (1870–78), Matthew Ridley (1870–74), Viscount Ridley (1902–16), Viscountess Ridley (1917–1923), Union Club (1924– ).
This house was continuously in the occupation of the Ridley family from the time of its erection in 1831 until it was taken over by the Union Club in 1924. Sir Matthew White Ridley the 5th baronet, and third of that name to reside at the house, was home secretary in 1895–1900 and was raised to the peerage as Viscount Ridley in December, 1900. He died in 1904.
No. 11.—List of Residents: Lord Monson (1831–34), Wm. Crockford (1842–44), Mrs. Crockford (1845), Earl of Arundel and Surrey (1846–55), Duke of Norfolk (1856), W. E. Gladstone (1857–75), Wm. H. Gladstone (1866–75), Sir A. E. Guinness (1876–80), Lord Ardilaun (1881–1915), London District Headquarters (1919–20), Benjamin Guinness (1924–29), Francis Howard (1932–34), Miss Sylvester (1932–34), Loel Guinness (1933–37), Benjamin Guinness (1938– ).
The first resident here was Frederick John, 5th Baron Monson. The house appears to have remained empty from 1834 until 1842 when it was taken by William Crockford, who had retired from business two years previously and was engaged in spending the large fortune he had amassed from his famous gaming club in St. James's Street. He died at No. 11 on 24th May, 1844. (fn. 65)
In 1846 the house was taken by the Earl of Arundel and Surrey then M.P. for the family borough of Arundel. He became 14th Duke of Norfolk at the death of his father in 1856 and in that year he sold No. 11 to William Ewart Gladstone, who had previously occupied No. 4 in the terrace. For the first four years of his residence here Gladstone was out of office, but in 1859 he became Chancellor of the Exchequer, and, after Lord Palmerston's death six years later, he added to this the leadership of the House of Commons. In 1866, after the defeat of the Government on the Reform Bill, a crowd thronged to Carlton House Terrace shouting for Gladstone and liberty. Gladstone was absent at the time and the crowd was only dispersed by the appearance of Mrs. Gladstone on the balcony. In 1868 Gladstone became Prime Minister for the first time, and continued in power until 1874. During this period he carried his measures for the disestablishment of the Irish Church and the reform of the Irish system of land tenure. He also entirely changed the nature of English elections by the introduction of ballot voting. Occasionally the Cabinet seems to have met at No. 11 as for instance after the defeat of the Irish University Bill in 1873.
In 1875 Gladstone resigned his office and sold his town house (fn. 133) to Sir Arthur Edward Guinness, who in 1880 became 1st Baron Ardilaun. Prior to his elevation to the peerage Lord Ardilaun had been M.P. for Dublin and throughout his life he devoted much time and money to the improvement of that city. His principal seat was at St. Anne's Clontarf, where he died, without issue, on 20th January, 1915. No. 11, Carlton House Terrace, though it has been variously tenanted since his death, has remained in the hands of his family.
No. 12.—List of Residents: Marquess of Cholmondeley (1831–70), Miss Bentinck (1845–50), John Hales Calcroft (1860), Hon. George Glyn (1872–73), Lord Wolverton (1874–1885), James T. Mackenzie (1886–90), Sir Savile Brinton Crossley (1891–1916), Lord Somerleyton (1917), London District Headquarters (1919–20), Hon. Wm. Drogo Sturges Montagu (1932–35), Hon. Mrs. Montagu (1936).
On 17th May, 1831, No. 12 was leased to George Horatio, 2nd Marquess of Cholmondeley, joint hereditary great chamberlain of England in succession to his mother (q.v. at No. 13 below), and he continued to occupy it until his death in 1870.
In 1872 the house was taken by George Grenfell Glyn, partner in the banking firm of Glyn, Mills, Currie & Co., and M.P. for Shaftesbury. He succeeded his father as Lord Wolverton in 1873. He was a personal friend and warm supporter of Mr. Gladstone and served as paymastergeneral in the Liberal ministry of 1880–85.
No. 13.—List of Residents: Dowager Marchioness of Cholmondeley (1831–38), Miss Bentinck (1833–35 and 1838), Lord Henry Cholmondeley (1838), Lady Glynne (1840–44), W. E. Gladstone (1840–47), Sir S. R. Glynne (1847), Earl Grey (1851–57), Lady Sykes (1858), Earl Grey (1859–80 ), Grant Heatly Tod Heatly (1883–84), Lord and Lady Delamere (1885–96), Sir Edwin Durning Lawrence (1898–1916), Miss J. D. Smith (1898–1901), Lady D. Lawrence (1917), London District Headquarters (1919–20), Lady Lawrence (1922–30), Miss Durning Lawrence (1931–34).
This house was leased on 7th May, 1831, to the Dowager Marchioness of Cholmondeley, daughter of Peregrine, 3rd Duke of Ancaster, and joint hereditary great chamberlain of England with her nephew Peter Robert, Lord Willoughby de Eresby. She died in Carlton House Terrace in 1838.
In 1840 No. 13 was taken by Lady Glynne, daughter of Richard Neville, 2nd Lord Braybrooke, and widow of Sir Stephen Richard Glynne. Her daughter, Catherine, had on 25th July, 1839 married W. E. Gladstone and they and Lady Glynne's son Sir Stephen Richard Glynne, M.P. for Flintshire and one of Gladstone's political supporters, seem all to have resided at the house until 1847.
From 1851 until 1880 the house was occupied by Henry, 3rd Earl Grey. At the commencement of this period Earl Grey was Colonial Secretary but he was not included in Lord Aberdeen's coalition ministry of 1852 and he did not again hold office though his interest in politics never flagged.
Nos. 14 and 15.—List of Residents: No. 14. Gen. Balfour (1831–36), Hon. Edward Ellice (1837), John Balfour (1840–44), Earl of Lincoln (1843), Earl of Lonsdale (1845– ); No. 15. Henry Broadwood (1837–39), Viscount Lowther (1840–43), Earl of Lonsdale (1844– ).
The first occupant of No. 14 was Lieutenant-General Robert Balfour of Balbirnie, Fifeshire, of the 2nd Dragoons. He died in 1837 and his son, John Balfour, remained at the house until1844. It was occupied for a short time in 1837 by Edward Ellice, the elder, politician, and deputy governor of the Hudson's Bay Company.
In 1845 the 3rd Earl of Lonsdale (previously Viscount Lowther), who had been living at No. 15 (fn. n4) since 1840, took over No. 14 and continued to occupy both houses until his death here on 4th March, 1872. Prior to his succession to the earldom Viscount Lowther had at different times held the offices of 1st Commissioner of Woods and Forests, President of the Board of Trade, and Postmaster General. "His great wealth … and the influence of his family gave him importance in his party, and extra-parliamentary meetings of the Tories were frequently held at his house in Carlton Terrace." He was succeeded at both houses by his son, the 4th Earl.
No. 16.—List of Residents: George Harrison (1833–62), W. S. Poyntz (1837–38), R. Howard (1838), Major Edward Macarthur (1839–45), H. C. Compton (1839 and 1841–42), D. Callaghan (1840), I. G. Perry (1844–45) John Irby (1846), Lt.-Col. Edward Taylor (1848–1862), Capt. R. H. R. H. Vyse (1848), Earl of Lincoln (1850), Ralph Wm. Grey (1851–56), Rear Admiral Sir H. B. Martin (1857–62), Alfred Morrison (1871–98), Sir Weetman Dickinson Pearson (1900–10), Lord Denman (1908–09), Lord Cowdray (1911–27), Viscountess Cowdray (1928–32), Rt. Hon. Brampton Gurdon (1933–34), Anthony Acton (1933–34), Crockford's Club (1935– ).
Major Edward Macarthur appears to have occupied part of the house only. In 1841 he was appointed deputy adjutant-general in the Australian colonies. He was acting-governor of Victoria in 1856. He was made K.C.B. in 1862 and became a lieutenant-general in 1866.
From 1900 until his death in 1927 No. 16 was the London residence of Sir Weetman Dickinson Pearson, who was created Lord Cowdray in 1910. Cowdray's firm was responsible for many important works in different parts of the world among which may be mentioned the Blackwall Tunnel (1894), the extension of Dover Harbour, the tunnels under the East River for the Pennsylvania railway, and the dam across the Blue Nile above Khartoum (1926).
No. 17.—List of Residents: Lord Brudenell (1832–36), Countess of Sandwich (1837), Andrew Spottiswoode (1840–47), R. B. and G. A. Crowder (1848–55), Sir R. B. Crowder (1856–1860), Countess of Dunmore and Lord Dunmore (1861–63), Russell Sturgis (1867–89), Duke of Grafton (1891–1901), Earl of Euston (1891–1901), Lord Mount Stephen (1902–22), Lady Mount Stephen (1923–33), Royal Empire Society (1935–36).
This house was occupied from 1832 until 1836 by James Thomas Brudenell, Lord Brudenell, who succeeded his father as Earl of Cardigan in 1837. He is notorious as the leader of the "charge of the light brigade" at Balaclava. Posterity has been content with Tennyson to say "someone had blunder'd" and not to pin the responsibility on Cardigan.
Andrew Spottiswoode, the publisher, lived here in 1840–47 while his son, William, the mathematician and physicist, was growing to manhood.
The house was the residence of Sir Richard Budden Crowder, puisne justice in the court of Common pleas, from 1856 until his death here on 5th December, 1859.