Pages 101-102
Survey of London: Volume 21, the Parish of St Pancras Part 3: Tottenham Court Road and Neighbourhood. Originally published by London County Council, London, 1949.
This free content was digitised by double rekeying and sponsored by English Heritage. All rights reserved.
LXX—UNIVERSITY MEMORIAL HALL, GORDON STREET
(formerly All Saints Church)
All Saints Church, Consecrated on 19th December, 1842, was designed by Thomas Leverton Donaldson, Professor of Architecture at University College. It was closed in 1909 and was converted into a memorial hall in connection with the same college by Professor A. E. Richardson, R.A. in 1928.
The building was a plain parallelogram with galleries and its eastern elevation to Gordon Street was of brick, designed in a pseudo-Greek manner. The front was crowned by a pediment and entablature with four brick pilasters with stone capitals. A subsidiary frieze was introduced between the capitals. The central two-light window was framed between the middle pair of pilasters and there were two entrance doorways with semicircular carved overdoors. A brick cupola surmounted the pediment. The accompanying drawing gives the elevation as modified by Professor Richardson to meet conditions imposed by ecclesiastical authority.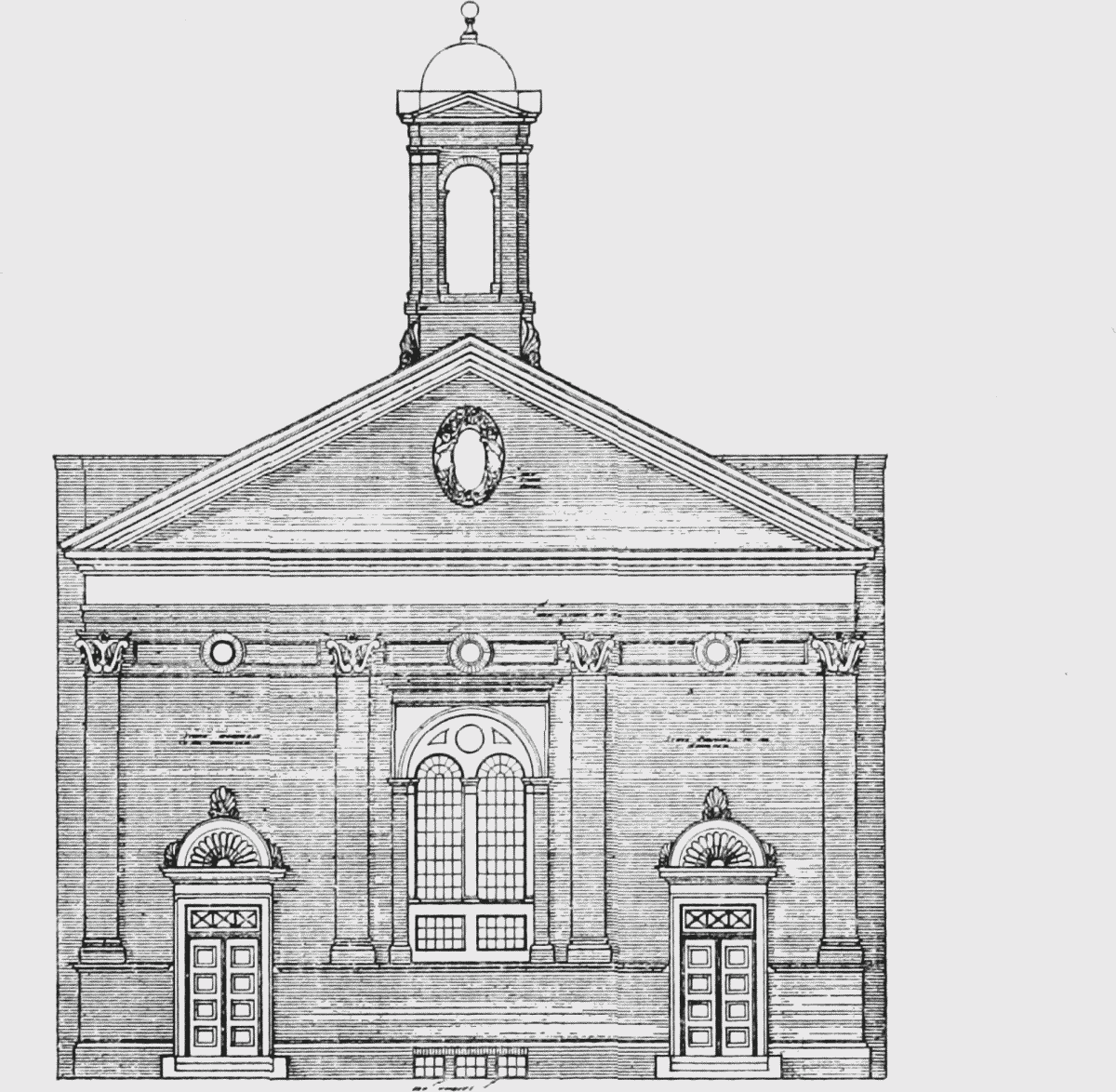 While the general lines of the original church determined the scope of the remodelling, spacious galleries were introduced, the walls were panelled and external staircases were added. The dominant feature of the interior was the coffered cedar wood ceiling. The building was totally destroyed by a high explosive bomb in 1940.
The list of incumbents of All Saints Church is as follows—
1842
Henry Hughes
1852
William Gleed Armstrong
1854
Robert William Burton
1855
Theophilus Bennett
1857
Annesley Paul Hughes
1860
Henry Thomas Rees
1862
Arthur Richard Godson
1905
John Arthur Garton (to 1909)
Gordon Street inhabitants