Pages 123-136
Survey of London: Volume 21, the Parish of St Pancras Part 3: Tottenham Court Road and Neighbourhood. Originally published by London County Council, London, 1949.
This free content was digitised by double rekeying and sponsored by English Heritage. All rights reserved.
LXXX—THE CHURCH OF ST. JAMES, HAMPSTEAD ROAD
This Church was built from the designs of Thomas Hardwick, a pupil of Sir William Chambers, and was consecrated in 1791. The burial ground in which it stands belonged to the parish of St. James, Piccadilly, which obtained an Act of Parliament in 1788 (fn. 116) for its formation, and the Act provided for the erection of a chapel. From 1793 it has served a separate ecclesiastical parish.
The design was carried out mainly in brick, with a stone centrepiece at the west end. (fn. n1) The latter is of two storeys, the lower of three equal arches in rusticated masonry. Above this are three arched recesses in ashlar, the centre pierced by a window, with four intermediate pilasters carrying a pediment which encloses a clock. Above the pediment is a lantern with clustered shafts at the angles surmounted by a lead-covered dome and weather-vane. The windows flanking the central feature and continued along the north and south walls are circular-headed above and segmental-arched below, the entire construction being of brick with the exception of a plinth, plain string-course and moulded cornice of stone. The east end was lit by a large Venetian window, now closed. (See plans on Plate 72.)
The interior is of simple rectangular form with a gallery on the north, south and west. The gallery supports are circular columns with plain fluted capitals. The eastern section of the north gallery has been removed to form a side chapel. At the east end is an arched recess for the altar, set back behind coved reveals and having an arched coffered ceiling. The ceiling of the nave is flat with large elliptical and rectangular panels, coloured blue and cream, following the original design. There is a plain dentil cornice to the walls. The galleries are approached by two plain staircases, one in the S.W. and one in the N.W. angles of the building. There is also a vestibule (now the vestry) in the S.E. angle, which gave access to the churchyard by an external flight of stone steps with a wrought-iron balustrade. The original vestry is in the N.E. angle and has a curved south wall adjoining the sanctuary.
The fittings have been much altered. The reredos is a modern inser ⃛ion, blocking the east window and the altar has been raised on several steps. Behind it, now covered, are the original tables of the Commandments. The font is modern, of Gothic design. The pulpit is hexagonal and of oak, earlier in date than the church. To one of the panels is affixed a carved cherub's head, and that below the bookrest has received modern decoration. The seating is in the main original. The only piece of old church plate surviving is a silver paten inscribed: "For the use of St. James's Chapel, erected on the new burial ground belonging to St. James's Westminster, 1793." There is a service book, dated 1795, which has been in use since that date.
Memorials in the Church
The following memorial tablets are on the walls of the church—
West Wall, on Right, on entering the Church
1. ANNA FLOYD, 1844
IN THE SAME VAULT
LIE THE MORTAL REMAINS OF
ANNA FLOYD
WIDOW OF THE ABOVE
DAUGHTER OF CROBIE MORGELL ESQ.
OF TULLILEASE
IN THE COUNTY OF CORK
IRELAND
SHE DIED IN PARIS 4th. OF DECEMBER 1844
HER SISTER MARY PLACES THIS TABLET
TO HER MEMORY
This tablet fell from the wall through a nearby explosion during the air-raids on London, but was not damaged. The references in the inscription are to Tablet No. 2.
2. SIR JOHN FLOYD BT., 1818
IN A VAULT IN THIS CHAPEL
ARE DEPOSITED THE REMAINS OF
GENERAL SIR JOHN FLOYD BART.
LATE COLONEL OF THE 8Th. DRAGOONS
AND GOVERNOR OF GRAVESEND AND THE TILBURY FORTS
WHOSE MILITARY CAREER IN GERMANY AND IN INDIA
OBTAINED THE PRAISES OF HIS SOVEREIGN
AND THE ADMIRATION OF HIS BRETHREN IN ARMS
AND WHOSE PRIVATE VIRTUES ENDEARED HIM
TO HIS FAMILY AND FRIENDS
DIED 10TH. JANUARY 1818 AGED 70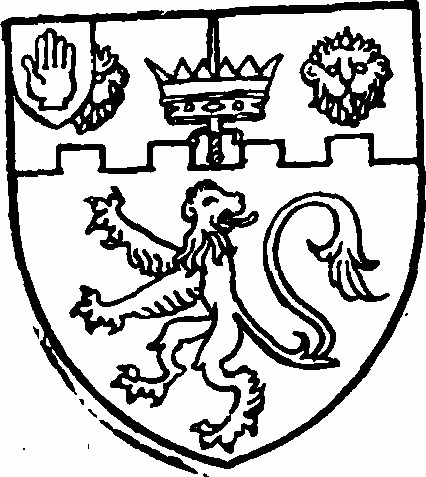 The tablet is carved with a sarcophagus in relief, bearing the inscription. The lid has gadroon ornament and supports a helmet, sword and standards. Below is an apron with swags each side of an animal mask. The tablet bears the signature of Joseph Carew.
South Wall
3. GEORGE FERDINAND FITZROY, LORD SOUTHAMPTON, 1810
To the Memory of
GEORGE FERDINAND FITZROY
LORD SOUTHAMPTON
Who died June the 24th. 1810
this Monument was erected by his truly mourning Widow as a small Testimony of her tender and grateful Affection for a most beloved Husband and deep Affliction for his Loss
This simple tablet of white marble consists of a rectangular slab bearing the inscription in the upper half, flanked by Pilaster strips, each with an elongated urn, above which is a moulded cap and collar with a fluted section between. The moulding of the cap is continued under a plain cornice stone, which supports a central ornamental urn. The tablet rests on a ledge with corbels beneath the pilasters, the right-hand one being inscribed: Nollekens Ft. (See Plate 73.)
4. PAUL BARBOT, 1811 and ELIZABETH BARBOT, 1826
IN A VAULT UNDERNEATH THIS CHAPEL
ARE DEPOSITED THE REMAINS OF
PAUL BARBOT ESQRE.
WHO DIED THE 1ST. FEBRUARY 1811 AGED 78 YEARS
AND OF ELIZABETH HIS WIFE
WHO DEPARTED THIS LIFE ON THE 2ND. JANUARY 1826
AGED 89 YEARS.
THEY WERE MANY YEARS INHABITANTS OF THIS PARISH
AND LEFT AN ONLY DAUGHTER
ELIZABETH (MARRIED TO DANIEL BEALE ESQRE. OF FITZROY SQUARE)
WHO IN MEMORY OF HER BELOVED PARENTS
DIRECTED THIS TABLET TO BE PLACED HERE.
A plain inscription tablet with pedimental top and acroteria carved with anthemion ornament, on a background of dark marble.
5. FREDERICK AUGUSTUS PITCHER, 1816
SACRED TO THE MEMORY OF
FREDERICK AUGUSTUS PITCHER
WHO DIED THE 22ND. OF JULY 1816
IN THE 20TH. YEAR OF HIS AGE
Inscription tablet within plain architectural frame, the side pilasters surmounted by carved flowering plants, the whole carrying a large draped urn.
6. JOHN MUNRO, 1812
In a Vault Of this Church
are deposited the remains of
JOHN MUNRO Esqr.
of Keppel Street, Russell Square
Merchant in the City of LONDON and at
Kingston in Jamaica
He died the 3rd. Day of January 1812
Aged 73 Years
He was a man of inflexible Probity and Honour and of a most benevolent heart
Inscription tablet within plain architectural frame with pilasters.
7. WILLIAM PARKE, 1813
SACRED
To the Memory of
WILLIAM PARKE
late of the Hermitage St. Ann's in the
Island of JAMAICA ESQre.
born the 5th. of November 1752
died the 27th. of April 1813
in the 61st. Year of his Age
Shaped inscription tablet on sarcophagus with pedimental head. (Its position on the wall is below No. 6.)
8. CATHERINE MURRAY, 1818
IN A VAULT OF THIS CHURCH
ARE DEPOSITED THE REMAINS OF
CATHERINE MURRAY
OF UPPER HARLEY STREET
THE WIDOW OF THE LATE
HONOURABLE GEORGE MURRAY
OF THE ISLAND of JAMAICA
SHE DIED THE 14th. OF AUGUST 1818
AGED 80 YEARS.
THIS MONUMENT IS ERECTED
AS A TRIBUTE OF GRATITUDE AND ESTEEM
BY HER NEPHEW
WILLIAM MURRAY
Inscription tablet within an architectural frame with fluted pilasters and acroteria each side of a pedimental head. Below, a shaped apron with the dedicatory inscription.
9. SAMUEL VIRGIN, 1815, AND SARAH VIRGIN, 1822
IN A VAULT OF THIS CHAPEL
ARE DEPOSITED THE REMAINS OF
SAMUEL VIRGIN ESQUIRE
OF WEYMOUTH STREET PORTLAND PLACE
AND THE ISLAND OF JAMAICA
WHO DEPARTED THIS LIFE
THE 22ND. FEBRUARY 1815
AGED 77 YEARS
ALSO OF SARAH THE WIFE OF
THE ABOVE SAMUEL VIRGIN
WHO DEPARTED THIS LIFE 8TH. MAY 1822
AGED 80 YEARS AND 3 MONTHS
A plain rectangular tablet with shaped apron on which is inscribed—
THIS MONUMENT IS ERECTED TO HIS MEMORY
AS A TRIBUTE OF DUTY AND AFFECTION BY
THEIR ONLY DAUGHTER
ELIZABETH MURRAY
10. CHARLES HILL, 1832
IN A VAULT
OF THIS CHAPEL
ARE DEPOSITED THE REMAINS OF
CHARLES HILL (CK)
OF MORNINGTON PLACE PANCRAS
WHO DIED MARCH THE 5TH. 1832 AGED 68 YEARS
THIS TABLET IS ERECTED TO HIS MEMORY
AS A SMALL TRIBUTE OF DUTY AND AFFECTION
BY HIS ONLY DAUGHTER
SARAH JERMYN
Plain tablet with anthemion ornament.
11. JOHN DOBBELL, 1832
SACRED
TO THE MEMORY OF
JOHN DOBBELL ESQRE.
LATE OF HIS MAJESTRY'S
4TH. REGIMENT OF DRAGOONS
WHO DIED ON THE 2ND. OF JANUARY 1832
AGED 39 YEARS
Plain tablet with anthemion ornament fixed below No. 10.
East Wall (South of Altar)
12. ANNA CECILIA RHODES, 1796
Erected by a Sister in Memory of her beloved ANNA CECILIA
Daughter of Christopher Rhodes Esq of Chatham in the County of Kent. She departed
this life June 2nd. 1796 aged 32. Her Remains were deposited in the 42 Vault of this Chapel
Distinguis hed by a fine Understanding and a most aimiable Disposition of Heart
She was the Delight of her Parents and the Admiration of all who knew her
At the age of 17 the Small-pox stripped off all the Bloom of youthful Beauty
And being followed by a dreadful Nervous disorder withered those fair Prospects of earthly Happiness
Which were expected from her uncommon Affection Sensibility and Tenderness
After enduring this afflictive Dispensation many years
When it was difficult to say which exceeded, her Sufferings or her Submission
Her Friends Concern for her Sorrows or their Admiration of her Patience
She was released by Death and received into that World where there shall be no more Pain
But God himself shall wipe away tears from every Eye.
Alas! how vain are feeble Words to tell
What once the was, and why I lov'd so well
None else but He who form'd the Heart can know
How great her Worth or how extreme my Woe!
Blest Calv'ry, on thy crimson Top I see
Sufferings and Death with Life and Love agree
Justice severe and smiling Mercy join
And thro' the Gloom we see the Glory Shine.
An elaborate composition in marble. The inscription fills the lower half of the tablet, of segmental outline below, beneath a roundel carved with a kneeling figure personifying grief. A festoon of fruit and flower follows the upper outline of the roundel and is linked on each side to floral pendants carved on pilasters resting on terminals half way down the tablet. Beneath the tablet is another festoon which finishes in knots of foliage carved on the background. Above the tablet is a long panel, shaped like a truncated obelisk, with two female figures embracing, with a cross and banner and a pair of scales. The background of the tablet is cone-shaped enclosing the sculptured panel. (Plate 74.) The above monument was erected, as stated, by the sister of the deceased. Another tablet, giving the same information but in different terms, was erected to her memory by her mother in Whitfield's Chapel. The full inscription is given in F. T. Cansick's Epitaphs . . . in . . . St. Pancras (1869), Vol. I, p. 199. Her burial took place at St. James's as stated in the above inscription.
13. THOMAS BENNETT, 1795
IN MEMORY OF
THOMAS BENNETT
WHOSE REMAINS ARE DEPOSITED
IN THE VAULT OF THIS CHURCH
HE DIED THE 22ND. OF FEBRUARY 1875
AGED 60 YEARS
THE WELL MERITED AFFECTION OF HIS SISTER
HAS CAUSED THIS MONUMENT TO BE ERECTED
A MOURNFUL TRIBUTE
TO THE MEMORY AND WORTH
OF A LOVING BROTHER.
Inscription within a shaped frame on a plain tablet with pedimental top and acroteria, the whole on a shaped background. This tablet is fixed below No. 12.
East Wall (North of Altar)
14. ANN NEWTON, 1811 (AND MICHAEL NEWTON)
SACRED TO THE MEMORY OF
MRS. ANN NEWTON
WHO DEPARTED THIS LIFE THE 19Th. DAY OF JUNE 1811 AGED 50 YEARS
RELICT OF MICHAEL NEWTON ESQ.
OF CALVERTHORPE IN THE COUNTY OF LINCOLN
WHOSE REMAINS ARE BOTH DEPOSITED
IN A VAULT UNDER THIS CHAPEL
THE DECEASED WAS A LADY POSSESSED OF HIGH TALENTS
AND ACCOMPLISHMENTS
UNITED WITH EXALTED PIETY AND BENEVOLENCE
IN ADDITION TO BEQUESTS TO SEVERAL CHARITABLE INSTITUTIONS
SHE ALSO LEFT A MUNIFICENT LEGACY
FOR THE PURPOSE OF APPRENTICING THE BOYS
SUPPORTED BY THE PARISH OF ST. JAMES WESTMINSTER
Shaped tablet with pedimental head and urn on similarly shaped dark background.
15. SIR WILLIAM HILLMAN KT., 1793
Near this place rests the body of
SIR WILLIAM HILLMAN KNT.
of His Majesty's Board
of Green Cloth
Late of New Cavendish Street
Portland Place
His Heart was benevolent
His Charities liberal
And his Virtues without ostetation
He died the 7th. of February 1793
Aged 53 Years
This Monument is erected
Pursuant to the Will of
His only sister Elizth. Walter
Relict of Captn. James Walter
of Andover, Hants
Son of John Walter Esqre. M.P.
Late of Busbridge House
In the County of Surrey
The inscription is on a classical altar supporting an enriched urn with the standing figure of a mourner beside it, sculptured in the round. The group stands on a moulded and curved corbel, segmental in plan with gadroon ornament surrounding its cornice. On the corbel is a shield with three bends within a border and with palm branches on each side. The arms granted to the family of Hilman, alias Uphill, of Atterhill, Devon, in 1620, were argent, three bends azure, a border engrailed gules (Plate 74). This tablet is fixed beneath No. 14.
North Wall
16. ROBERT PRICE, 1841
IN
AFFECTIONATE REMEMBRANCE
OF
ROBERT PRICE
WHO DEPARTED THIS LIFE
17TH. APRIL 1841
AGED 50 YEARS
A marble inscription tablet with paterae at angles.
North Wall (from the East)
17. HENRY FRANCIS EVELYN, 1809
In a Vault near this Place
are deposited the Remains of
HENRY FRANCIS EVELYN
eldest son of Lyndon and Elizabeth
who died of Consumption April 26th. 1809
aged 18 Years and 6 Months
The opening Virtues of his mind
consiliated the Esteem of all who knew him
while the enduring Course of his filial Duty
caused his Parents but one Pain
the Pain of losing him
Simple shaped tablet on a pedimental background.
18. ELIZABETH, COUNTESS WINTERTON, 1841
BLESSED ARE THE PURE IN HEART FOR THEY SHALL SEE GOD
ST MATTHEW CHAP. 3. VERSE 8
SACRED TO THE MEMORY OF
ELIZABETH COUNTESS DOWR. WINTERTON
DIED DECEMBER IST. 1841 AGED 83
DAUGHTER OF JOHN ARMSTRONG ESQRE. AND MARY HIS WIFE
OF GODALMING SURREY
(NEAR TO WHOM SHE IS LAID IN THE VAULT BENEATH)
BORN FEBRUARY THE 18TH. 1758 MARRIED FEBRUARY THE 18TH. 1778 TO
EDWARD GARTH FIRST EARL WINTERTON
(WHO DIED THE 11TH. AUGUST 1788)
AND SECONDLY MARCH THE 31ST. 1791 TO WILLIAM RICHARDSON ESQRE.
ACCOUNTANT GENERAL TO THE HONBLE. EAST INDIA COMPY (WHO DIED OCTOBER THE 23RD. 1798)
VERILY THERE IS A REWARD FOR THE RIGHTEOUS
PSALM 58 VERSE 11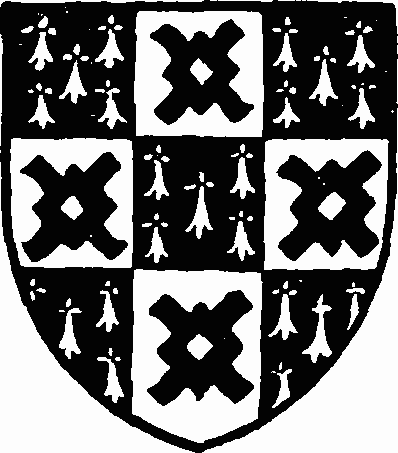 Plain tablet with cornice and anthemion acroteria at angles. In the centre a draped urn, the upper part of which is shaped like a coronet, with the initials E W on the urn. The whole on a shaped pedimental background.
19. JOHN HARRIS CRUGER, 1807
TO THE MEMORY OF
LEUTENANT COLONEL JOHN HARRIS CRUGER
late of Russel Place FITZROY SQUARE
who departed this Life June 3rd. 1807 aged 60 years and is interred in the Vault under this Building He had been an Inhabitant of the City of New York in North America and at the commencement of the Rebellion (disregarding all personal Considerations) he took up Arms in support of the Rights of this country. In the course of that War he distinguished himself in the Defence of the important Post of ninety six in SOUTH CAROLINA which he maintained with about 300 Provincial Forces without Cannon against a Force of 7000 Men with a numerous Train of Artillery
He also distinguished himself most brilliantly in the Action of the Eutwas where he rallied a portion of the Troops that had left the Field, attacked the Enemy, recovered from them the Artillery they had taken and persued them until recalled by superior Orders.
By a rapid and unexampled March he relieved the Garrison of Fort Augusta which at the time was besieged and in most imminent Danger. And on every Occasion where he could exert himself he displayed a Zeal, Intrepidity and good Conduct which procured him the Approbation and Friendship of his Commander in Chief, the late MARQUIS CORNWALLIS and all the officers of Distinction with whom he served
To his Gallantry and good Conduct as a Soldier were added every Virtue that could adorn a Christian and a Gentleman in social Life, which has been fully testified by the Feelings expressed at his Death by all those to whom he was known
This short Memorial is placed here by his truly disconsolate Widow
A plain stone tablet (5 ft. by 3 ft.).
20. GEORGE SMART, 1818
IN THE VAULT BENEATH LIE THE REMAINS OF
MR. GEORGE SMART
LATE TREASURER, ONE OF THE FOUNDERS
AND THE UNCEASING FRIEND OF THE
NEW MUSICAL FUND
ESTABLISHED 16TH. April 1786 FOR THE RELIEF OF
DECAYED MUSICIANS, THEIR WIDOWS AND ORPHANS
THE SOCIETY LAMENTING THEIR IRREPARABLE LOSS
HAVE IN GRATITUDE ERECTED THIS TABLET
DIED AT EDINBURGH 4TH. SEPTEMBER 1818 AGED 67 YEARS
A simple rectangular tablet with cornice, on a shaped pedimental background on which stands an urn (above) and plain branches (below).
21. ANNE SMART, 1818
IN AFFECTIONATE REMEMBRANCE OF
A MOST EXCELLENT AND BELOVED MOTHER
THIS TABLET IS ERECTED BY HER CHILDREN TO
MRS. ANNE SMART
WHO DIED ON THE 19TH. OF OCTOBER 1818
AGED 72 YEARS
AND RESTS IN THE VAULT BENEATH
WITH HER HUSBAND
WHOM SHE SURVIVED BUT SIX WEEKS
Tablet with shaped corners on background with paterae at the four angles. This tablet is fixed below No. 20.
22. GEORGE SQUIBB, 1831, AND MARY ANNE SQUIBB, 1833
IN A VAULT BENEATH
ARE DEPOSITED THE REMAINS OF
GEORGE SQUIBB ESQRE.
LATE OF SAVILLE ROW WHO DIED DECEMBER THE 1ST. 1831 AGED 61 YEARS.
ALSO OF
MARY ANNE SQUIBB
RELICT OF THE ABOVE
WHO DIED MARCH THE 14TH. 1833 AGED 72 YEARS.
In Affectionate Remembrance
of a most excellent Father and beloved Mother
their Children have erected this Tablet
Plain tablet with an urn in low relief.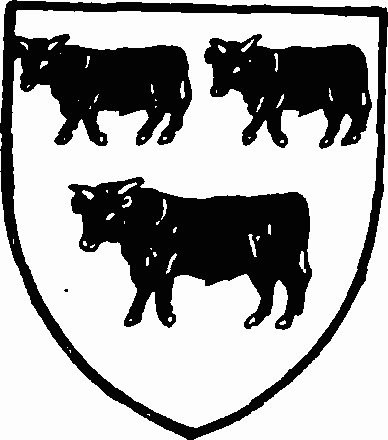 23. GENERAL JAMES STUART, 1815, AND ADMIRAL HENRY STUART, 1840
IN A VAULT NEAR THIS SPOT
ARE DEPOSITED THE REMAINS OF
GENL. JAMES STUART
FORMERLY COMMANDER IN CHIEF AT MADRAS
AND LATE COLL. OF THE 72ND. REGT. OF FOOT
DIED 29TH. APRIL 1815 AGED 75
ALSO OF
REAR ADMIRAL HENRY STUART
WHO DIED 9TH. APRIL 1840 AGED 72
Plain stone tablet.
24. REV. HENRY (1883) and MARY STEBBING (1882) and their children
SACRED TO THE MEMORY OF
MARY STEBBING
WIFE OF THE REV. HENRY STEBBING, D.D. F.R.S. RECTOR OF ST NICHOLAS COLE-ABBEY, E.C.
SHE RESIDED FOR FORTY SIX YEARS IN THE PARSONAGE HOUSE ADJACENT TO THIS CHURCH DIED THERE FEBRUARY 3RD. 1882 AGED 72 YEARS, AND WAS INTERRED IN KENSAL GREEN CEMETRY
ALSO OF JOANNA MARY ELDEST DAUGHTER
AND JANET MARY SECOND DAUGHTER OF THE ABOVE HENRY AND MARY STEBBING
WHO DIED IN INFANCY AND WERE INTERRED AT ST JAMES PENTONVILLE
OF CHRISTOPHER THEIR TWELFTH CHILD WHO DIED AGED 3 YEARS
AND WAS PLACED IN THE VAULT-BENEATH THIS CHURCH
AND OF HENRY THEOPHILUS THEIR ELDEST SON. HE DIED MARCH 19TH. AGED 37 YEARS
AND WAS INTERRED IN KENSAL GREEN CEMETRY
SAVE US O GOD OF OUR SALVATION
AND GATHER US TOGETHER. 1. CHRON. XVI. 35
ALSO TO THE MEMORY OF THE ABOVE NAMED HENRY STEBBING, D.D. F.R.S.
BORN AT YARMOUTH AUGUST 26TH. 1799. DIED AT. ST. JAMES PARSONAGE SEPTEMBER 22ND. 1883
AND WAS INTERRED IN KENSAL GREEN CEMETRY
THIS TABLET IS PLACED BY FELICIA ANN ELIZABETH STEBBING
WITH THE FERVENT LOVE OF A DAUGHTER AND SISTER
For Henry Stebbing (Vicar 1836–1857) see p. 135.
F. T. Cansick, in his published Epitaphs in St. Pancras, gives additional memorial inscriptions to the following: The Revd. William Parker, D.D. for 39 years rector of St. James, Westminster (d. 1802) and his wife Mary, sister of John Griffin (formerly Whitwell), 4th Baron Howard de Walden (d. 1799); another brother-in-law of Lord Howard de Walden, the Count of Walderen, Ambassador from the States General to Great Britain (1762–1780) who married Anne Whitwell, (d. 1807); B. B. Lelyveld, friend of Count de Walderen, (d. 1824); William Gray, organ builder, of New Road, Fitzroy Square (d. 1821) and Mary, his wife (d. 1842); Henry O'Hara of Pimlico (d. 1804) and Eulielia, his wife (d. 1833); Rev. John Armstrong, vicar of this church (d. 1835).
The Churchyard. The Churchyard at first contained four acres, but it is now three-quarters of its original size since the London and North Western Railway, by their Act of Parliament of 1883, took over an acre for their own use. The St. Pancras Vestry thereafter obtained the necessary powers to acquire the burial ground and to lay it out as a public garden. This was done at a cost of £2,907 7s. 1d. and the gardens were formally opened on 17th August, 1887, by Olive, wife of Harry Lawson, M.P.
Some of the table-tombs remain in position but the headstones have been ranged round the boundaries of the ground. A large proportion of the inscriptions is now illegible, but records of some of them are preserved at St. Pancras Public Library in two manuscript volumes. There are numerous discrepancies between the rendering of the inscriptions in the two volumes. It has been officially estimated that 50,000 interments have taken place in this ground (fn. 117).
Among the more notable persons buried here are George Morland, who was interred with his wife in 1804, and John Hoppner, in 1810. Lord George Gordon is also said to have been buried here on his death in Newgate Prison in 1793. F. T. Cansick (fn. 118) gives the inscriptions on the following tombs: 1802, Ann, wife of Francis George Applebee, and her husband (1837); 1802, Catherine Armstrong, and her son, the Revd. John Armstrong (vicar, 1793–1835); 1804, Mary, wife of Charles Rossi, R.A., and her husband (1839); 1807, Lawrence Harman (Parsons), Earl of Rosse; 1817, G. S. Complin, artist; 1823, . . . Culla, Minister of the Gospel and his wife E. . . . (1830); 1826, John Stebbing and his wife Mary (1843), parents of Rev. Henry Stebbing (vicar, 1836–1858); 1836, Sarah, wife of George Butler; 1851, Mary, widow of Rev. William Moore Johnson, rector of St. Perran, Uthnoe, Cornwall.
There is a water-colour drawing of the tomb of Dr. William Dickson, Bishop of Downe, in the Ambrose Heal Collections, St. Pancras Public Library.
LIST OF INCUMBENTS
1793
John Armstrong, D.D.
1836
Henry Stebbing, D.D.
1858
Joseph Peter Waldo
1863
Charles William Hodson
1892
Vincent Hawain Borradaile
1914
Edgar S. Sheppard
1928
Cuthbert C. Keet
1941
J. A. Collinson (priest in charge)
The Rev. John Armstrong was buried in the churchyard, in the grave of his mother, Catherine Armstrong (see churchyard burials). On the tombstone he is described as resident Minister of this chapel from the time of its consecration, 10th January, 1793, the year that the chapel became parochial. In the memorial tablet within the Church (now missing) it was stated that he was more than 50 years one of the clergy of the Parish of St. James Westminster, during 42 years of which period he was resident minister of this chapel. (fn. 119)
The Rev. Henry Stebbing, poet, preacher and historian, came to London from Norfolk in 1827, and from 1829 was alternate morning preacher at St. James, becoming perpetual curate in 1836. He was part founder and editor of the Athenaeum and his literary output was immense. His chief works include his History of Chivalry and of the Crusades, and Lives of the Italian Poets, and books on many aspects of ecclesiastical history. His father, John Stebbing, and his mother, Mary (Rede), are buried in the churchyard here (see churchyard burials). He was appointed to a combination of City livings in 1857. From 1834 to 1879 he acted as chaplain to University College Hospital. He died in 1883 at St. James's Parsonage, Hampstead Road, and he and his wife, Mary (Griffin), were buried in Kensal Green Cemetery. (fn. 120) (See Church Memorials, No. 24.)
Samuel Sebastian Wesley, composer and organist (1810–1876), natural son of Samuel Wesley and grandson of Charles Wesley, was appointed organist to St. James's Church in March, 1826, when he was aged 15. (fn. 121)
The Crown Estate
When in 1538 Henry VIII emparked Marylebone Park, which was developed in the early 19th-century into Regent's Park, he took in part of the prebendal manors of Rugmere and Tottenhall. (fn. 122) The area acquired in Tottenhall was 55 acres 1 rood, and its boundary is shown by a dotted line in the plan opposite page 1, in Part II of this Survey. Nash's terraces (Cumberland, Chester, and Cambridge Terraces) stand on the western part of the area and have already been described in Part 2. The development of the eastern part is summarized by Mr. John Summerson (fn. 123) as follows—
"Eastwards of the Park is the area of the Crown's Marylebone Estate reserved by Nash for three purposes: first, for a working-class quarter with markets and shops, second, for a large barracks, and third (this was an afterthought), for a miniature 'garden suburb.' The area is divided from the Park by Albany Street. The working-class district comprises Cumberland Market, Clarence Market (now Gardens), York Square (now Munster Square) and the rather depressing brown brick streets adjoining them. Directly north of Cumberland Market is the canal basin, served by a branch (now filled up) from the Regent's Canal and designed to facilitate the daily supply of fresh vegetables from the Middlesex market gardens to the shopping centre of Regent's Park. The barracks lie north of this, between Albany Street and the branch canal, and have been rebuilt. Northward again are the Park Villages, east and west." Osnaburgh Street runs northwards through Munster Square and Clarence Gardens, and seems to have been laid out on the site of an old lane leading from Euston Road, which accounts for its deviation from a straight line.