Pages 150-152
Survey of London: Volume 21, the Parish of St Pancras Part 3: Tottenham Court Road and Neighbourhood. Originally published by London County Council, London, 1949.
This free content was digitised by double rekeying and sponsored by English Heritage. All rights reserved.
LXXXVIII—CHRISTCHURCH, ALBANY STREET
This church, consecrated on 13th July, 1837, was the first to be built under Bishop Blomfield's church extension scheme. It was designed by James Pennethorne but altered and decorated, in 1867, by William Butterfield. It stands at the north corner of Redhill Street (formerly Edward Street) where its southern arm enters Albany Street from the east, the ceremonial east being slightly west of north.
The church is built of yellow brick into which is introduced a considerable amount of stucco and some stone. Its treatment is classical, in one order, the four angles being marked by massive tower-like features, with a slight projection from the main face. A deep stucco entablature surrounds the whole, with moulded cornice (the soffit furnished with mutules or shallow blocks), frieze studded with large paterae and a central projecting entrance of stucco flanked by large pilasters carrying the projecting entablature, crowned by a low pediment. Within the pilasters is a lofty door recessed and enclosed by a moulded architrave with slightly marked ears. Three small rectangular lights are pierced in the wall immediately below the entablature and beneath them is a length of horizontal moulding. Between the porch and the angle towers are two arched windows, one each side, with stuccoed heads, moulded imposts and moulded sills separating them from a rectangular opening below. The whole stands on a double-moulded plinth. Over the entablature is a high brick parapet, above which the towers rise some eight or nine courses, both being furnished with a moulded stucco coping. In the centre is a brick tower of three stages covered by a steeple. The first stage is of brick with projections on each face; the next has twelve columns and entablature following the plan below with two columns to each face and one at each angle; the third stage is octagonal with a clock face towards the cardinal points beneath an arched opening flanked by pilasters that by their projection leave the diagonal faces recessed. The cornice to this stage provides a shaped base to the octagonal steeple which was furnished with a ball and cross, but is now truncated owing to war damage. (Plate 86.)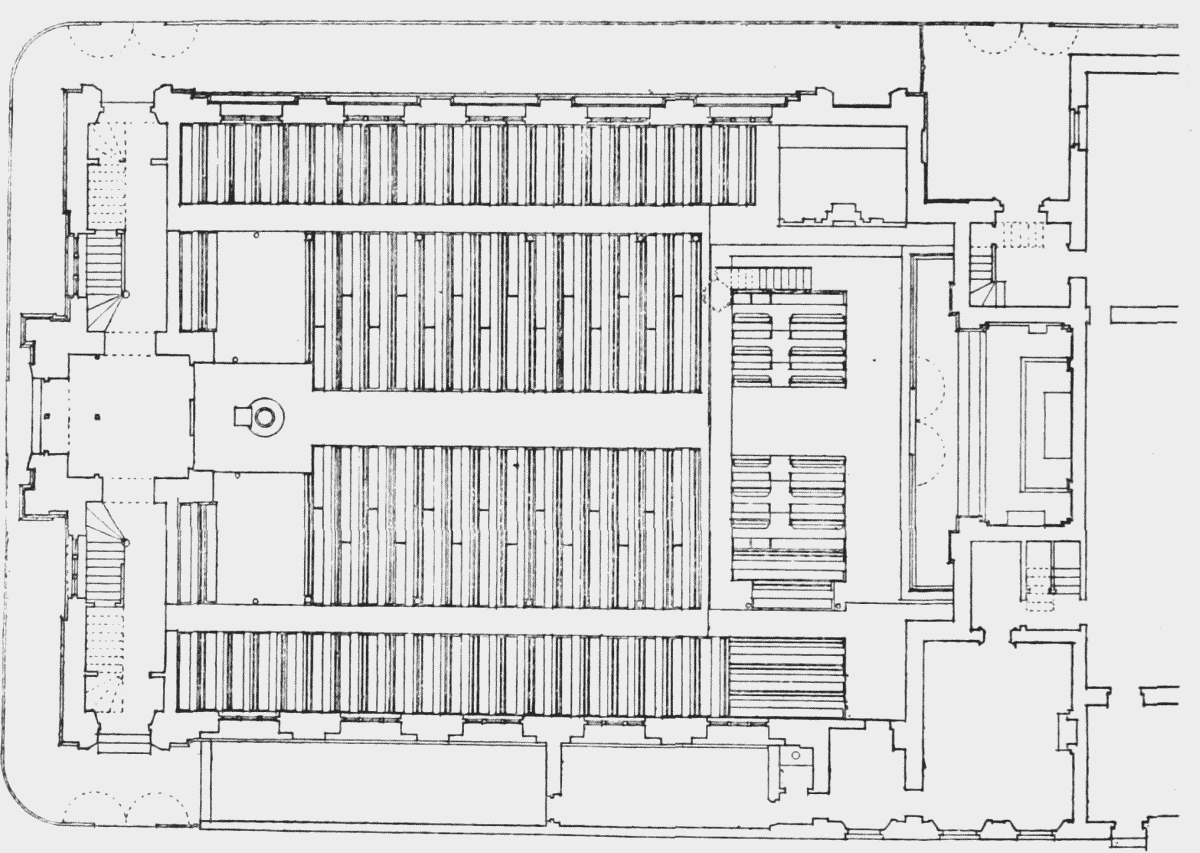 The west elevation along Albany Street has five windows, with semicircular arched heads, similar to those on the south, separated from one another by brick pilasters which stand on the plinth and have stucco caps and bases. On this face, each angle tower has a doorway of commanding height surrounded by a heavy architrave and surmounted by a pedimental over-door carried on side consoles.
The interior is a simple parallelogram with galleries and a recess for the altar, lined with marble and mosaic. The church has an elaborate inlaid marble floor, laid at the time of Butterfield's alterations. The stained glass windows include one from the design of Dante Gabriel Rossetti. It is the second window in the east wall (ritual south) from the entrance and comprises three panels illustrating the Sermon on the Mount. The window was made in memory of Miss M. M. Polidori, who died 8th February, 1867. Rossetti's mother's name before her marriage was Frances Mary Lavinia Polidori. Her brother was John William Polidori (1795–1821). The following memorial tablets are in the church—
Memorials
Sanctuary
Rev. James Duncan, Curate, 1895.
Rev. Henry William Burrows, perpetual curate, 1878.
Rev. Fielding Fielding-Ould, Vicar, 1930 (shield of arms).
War Memorial (1914–18).
Rev. John Wogan Festing, Vicar and Bishop of St. Albans, 1902.
George Elliott Vinicombe Elsworthy, 1899.
North Aisle
Walter Batteshall Gill, M.D., 1900.
Frederick William Leman, 1865.
Mary Ann Wildey, 1884.
South Aisle
Auguste Vaughan, 1880.
Arthur Webb, 1908.
Alice Louise Beattie, 1906.
Alexander Colpoys Beattie, 1918.
Frank Sticklen, 1929.
South Aisle
Maud Emmeline Barnett, 1920.
Nora Gladstone Fielding-Ould, 1923.
Flora McDonald Hawkins, 1920.
Sir Richard Whielden Barnett, Kt., 1930.
Amelia Bridget Peachey, 1887.
The incumbents were—
Perpetual Curates
1837
William Dodsworth
1850
Henry William Burrows
Vicars
1878
John Wogan Festing, D.D.
1890
Frederick Thomas Hetling
1900
Francis William Dehane Small
1905
Bernard Day Douglas Shaw
1908
John Brian Booth
1915
Fielding Fielding-Ould
1930
Richard Swann Swan-Mason, O.B.E.
1942
William Valentine Croot Rose
William Dodsworth (1798–1861) was educated at Trinity College, Cambridge, was in 1829 minister of the Margaret Street Chapel, Cavendish Square, and in 1837 became perpetual curate of Christchurch. He resigned in 1851 to join the Roman Catholic Church and wrote a number of books in support of its doctrine.