Pages 78-84
Survey of London: Volume 21, the Parish of St Pancras Part 3: Tottenham Court Road and Neighbourhood. Originally published by London County Council, London, 1949.
This free content was digitised by double rekeying and sponsored by English Heritage. All rights reserved.
LXI—GOWER STREET
The portion of Gower Street that lies in the parish is that north of Francis Street. It was earlier known as Upper Gower Street. The whole street is now numbered consecutively from south to north, the odd numbers being on the west and the even numbers on the east.
The first six houses on each side, Nos. 87–97 (west), and Nos. 88–98 (east), are on the site of Cantlowes Close and building leases were granted for their erection by Francis, Duke of Bedford, in 1789. (fn. 74) There is a break of 4½ inches at the north end of each block of six, which, apart from the difference in architectural character, marks the boundary of the site.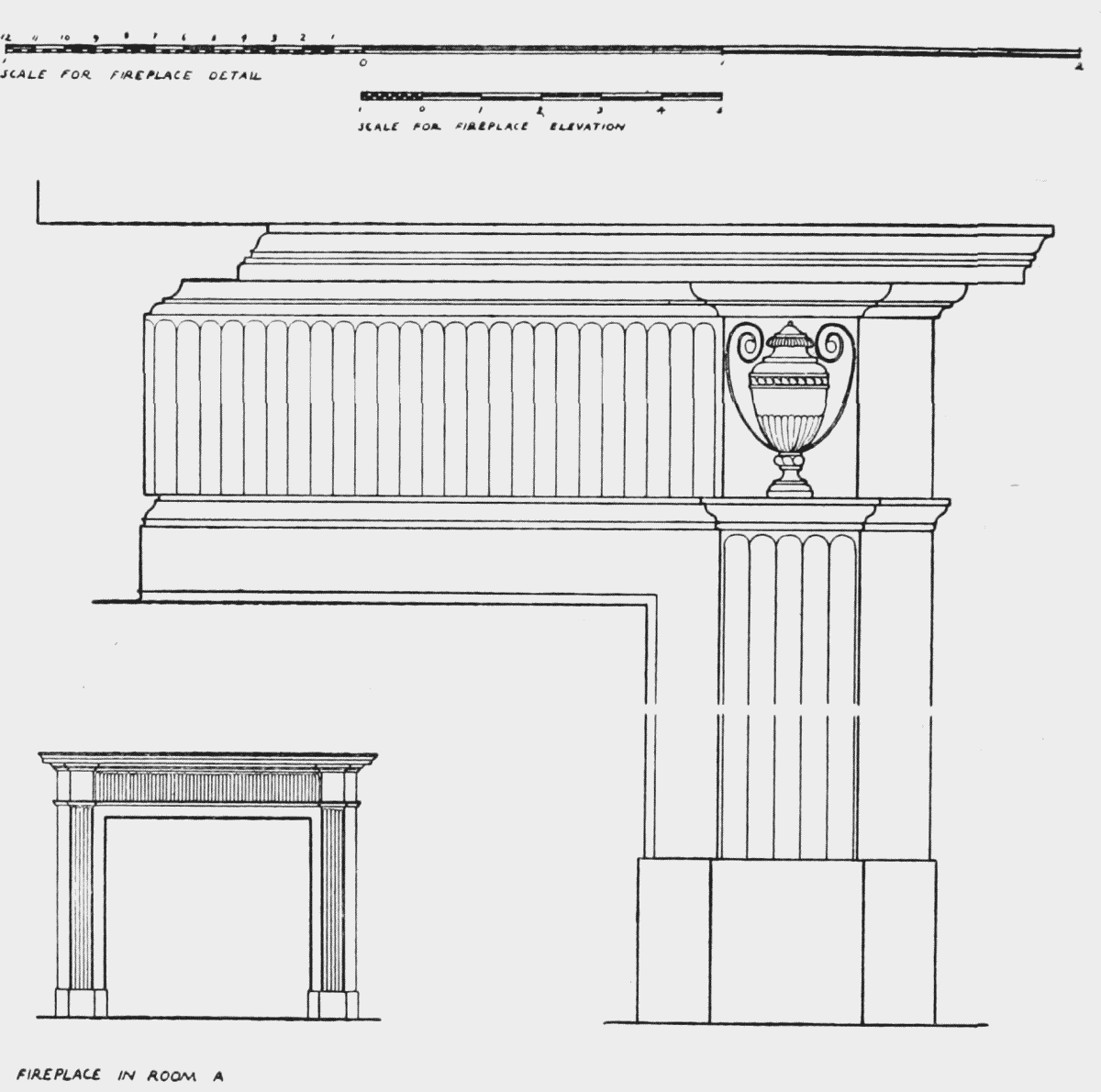 Each of these houses is three storeys in height above a basement, with stock brick facings, plain papapet and slate-covered mansard roofs with dormer windows lighting the attics. No. 91 has had its front wall raised to convert the attic into an additional storey. The first and second floors have each three sash windows and a stone string-course runs at first-floor sill level. In place of the northern window on the ground floor is the entrance beneath a semicircular brick arch. The moulded head of the door frame, which breaks forward over side pilasters, is set above springing level, making the fanlight contained in the arch segmental in shape. The entrances are wide, with generous stone thresholds and steps, the impression of width being increased by the skilful treatment of the wrought-iron railings. No. 90 retains its tall curved lamp standard with an interlacing pattern of wrought iron. The ground floors of Nos. 95 and 97 have been rendered in cement and jointed to resemble masonry. The fanlights on the east side of the street are more elaborate than those on the west. The interiors of these houses have contemporary fireplaces one of which, with fluted frieze and pilasters, at No. 98, is illustrated here (page 78). There is much well wrought enrichment as shown in the arch and cornice to the hall of the same house (see above). Measured drawings of the exterior are given on Plate 29.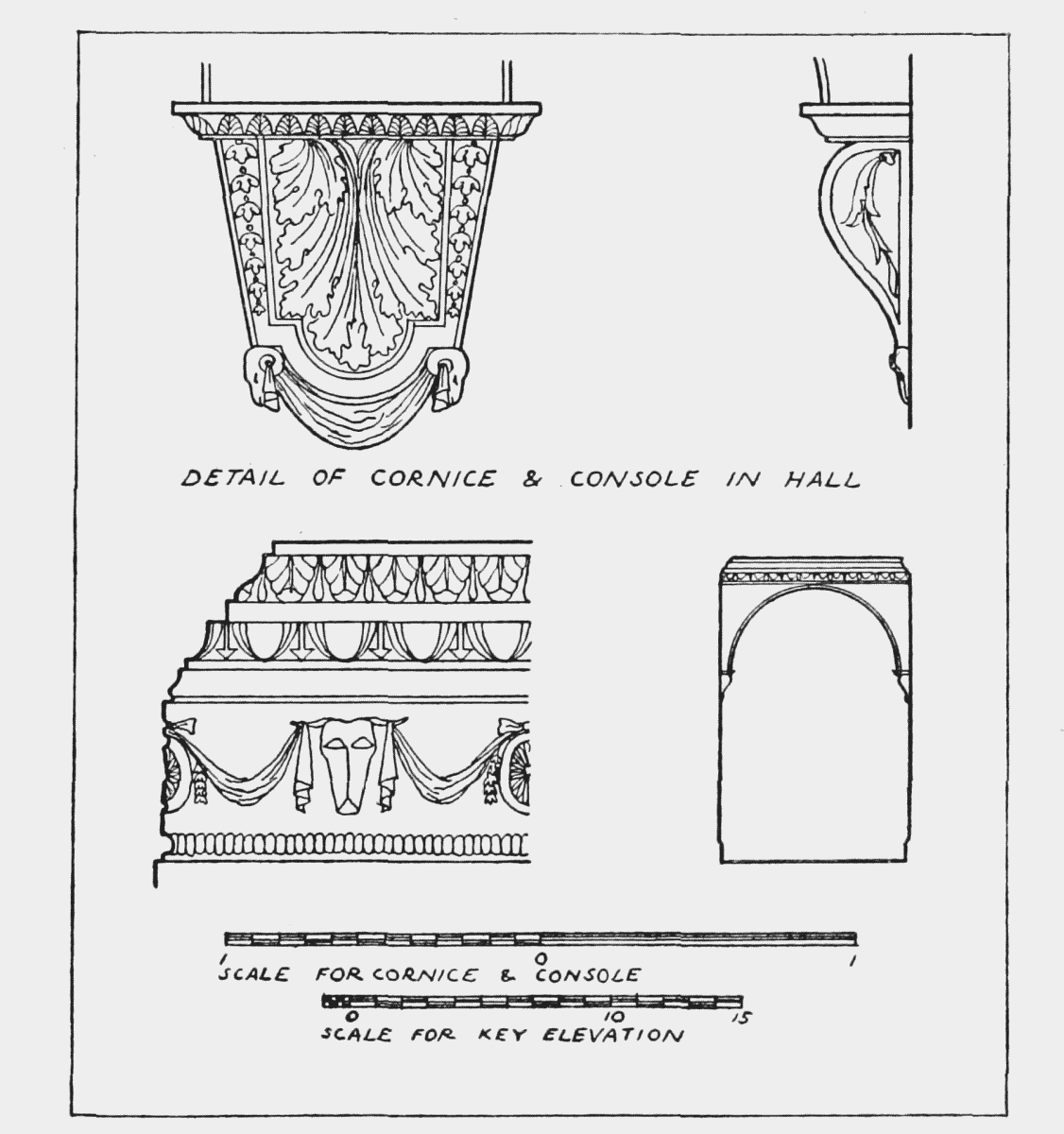 The next ten houses (Nos. 99 to 117) on the west, (fn. 75) and nine houses (Nos. 100 to 116) on the east, (fn. 76) were built on the six-acre field belonging to the Southampton estate. Those on the west were leased in February, 1790, and those on the east (excepting Nos. 114 and 116), in March of the same year, by Lord Southampton to Alexander Hendy, or to the carpenters and others who were apparently Hendy's nominees. No. 102 was an exception and was leased to Thomas Newte, Esq.
The houses are of the same size as those to the south, each of the upper storeys being three windows wide. There are, however, variations in their elevations. On the west side Nos. 99, 101 and 103, have an arcaded front to the ground floor, with three arches each. Their doorways are flanked by small Doric columns which are oval on plan. No. 105 has been rebuilt or re-faced. Nos. 107, 109, 111 and 113 have all been rendered in cement and otherwise altered, the doorways to the first and last being bricked up. The other entrances have small panelled pilasters to the doorcases. No. 115 retains its brick front and has balconies to the three first-floor windows and No. 101 its tall lamp standard.
On the opposite side of the street, Nos. 100 to 116 were built uniformly but Nos. 102, 108 and 110 have been badly damaged in the airraids. Nos. 114 and 116 have had a good deal of alteration, with new stone doorways and railings of a modern pattern. The old doorways were particularly well designed. Under a semicircular arch, and an inner arch within this, is a fanlight with nine radiating divisions and a concentric band with lozenge pattern. Each doorhead has a cornice and fluted frieze, broken by a central panel and two rams' heads which are directly over pilasters which separate the door from narrow side lights. Beneath the rams' heads are carved festoons reaching halfway down the pilasters. The doors are sixpanelled, the four above being fielded and the lower flush. Each door has a broad stone threshold in front, approached by three steps, and the railings are of good standard design. The lamp standards remain at Nos. 100 and 102.
North of No. 117 on the west comes the Mortimer estate (see p. 76). The original leases range from 1811 to 1819, (fn. 77) but all the houses seem to have been uniform in design and erected together. Nos. 119, 121, 123 and 125 on the west side remain largely as built. Nos. 127, 129 and 131 have had certain alterations to make them into one building and the remainder (Nos. 133 to 137) have been entirely reconstructed. The original houses are four storeys in height over a basement, and two windows wide on the upper floors. The ground floors are rendered and cement-jointed to imitate masonry, each doorway having a wide semicircular arch and two-light window alongside, under the latter segmental arch at Nos. 119 and 121, but square-headed for the remainder. The doors are six-panelled with a bead down the centre and those of Nos. 119 and 121 are flanked by fluted columns, supporting a moulded head set above springing level with a fanlight filling the tympanum; the others, which are later, have a lion's head over panelled pilasters. There is a plain cement string at first-floor level with balconies, which have a good continuous interlacing pattern of ironwork. (The balcony has been removed from No. 121.) Each of the upper floors has two rectangular window openings with a moulded string under the sills of the third-floor windows. The parapet has a plain coping. The entrance is approached by a threshold raised on four steps flanked by the railings that guard the areas. The doorways of Nos. 127 and 131 have been converted into windows, the original windows being here square-headed. The houses on the Mortimer estate on the opposite side of the road have been removed and their site absorbed in University College, which is described separately.
The only house of interest north of University College on the east side is No. 140, the shop of Messrs. H. K. Lewis & Co., Ltd., booksellers (Plates 31 and 32). This is an excellent design in stucco, the first-floor windows being contained within an arcade of three arches. Above these are the three windows of the second storey, the whole being surmounted by a deep cornice and parapet with three panelled blocks, the central one being the width of the middle window. The shop front is particularly good, and is designed in four divisions (central door, a window each side and house door on the right) contained by pilasters with palmette capitals. An unbroken entablature forms the fascia, with ornamental architrave and a good balcony balustrade above. The house door has a large circular panel in the centre.
Opposite, on the west side of the road, are Nos. 169–173, three houses with stucco fronts. The doors and windows on the ground floor are arched. No. 169 has a continuous balcony at the first floor, while the remainder has sections of railings to each window. Between the first and second floors is a panelled string, and above the second floor is a moulded cornice and parapet. The mansard roof has attic dormers. The iron railings at street level are of good design and an arched lamp-bracket survives at No. 169.
Gower Street Chapel. Just north of Grafton Way on the west side of the street, between Nos. 141 and 143, stood Gower Street Chapel, erected in 1820 (fn. 78) by seceding members from William Huntingdon's Providence Chapel, which was originally in Titchfield Street but was rebuilt in 1811 in Gray's Inn Road. The first minister was the Rev. Henry Fowler, of Birmingham, and he was succeeded by a Mr. Blackstock in 1848. He resigned shortly after and the chapel was bought by the Rev. Arthur Triggs, of Plymouth. (fn. n1)
Inhabitants
No. 88.
1808–1816, Captain Thomas Murray. 1829–1841, Richard Young Vance, surgeon. 1842–1843, Arthur Woodhouse, surgeon. 1864–1882, Bartholomew Archdekin Duncan, M.D.
No. 89.
1827–1832, The Rev. William Agutter, (1758–1835) Chaplain and Secretary to the Asylum for Female Orphans in London. He was famous for his sermons.
No. 90.
1790–1791, Colonel Lewis Mestayer (d. 1791). 1856–1857, Edmund Humphrey Woolrych, metropolitan police court magistrate (d. 1883).
No. 91.
1790–1825, George Dance (1741–1825), architect and surveyor to the City of London. Designed Newgate Prison. He was a foundation member of the Royal Academy and elected F.S.A. (1794). He was professor of architecture at the Royal Academy 1798–1805. He died at his house in (Upper) Gower Street and was buried in St. Paul's Cathedral. 1840–1871, John Patch, barrister.
No. 92.
1789–1792, William Dickinson Rastell (1756–1822), topographer and legal writer, son of Dr. William Rastell, vicar general of Southwell. He wrote histories of Southwell and Newark beside legal treatises. In 1795 he dropped his surname of Rastell, using his second name Dickinson instead. 1847–1851, William Ballantine (1812–1887) sergeant-at-law, born in Howland Street (q.v.). Admitted to the Inner Temple and called to the bar, 1834. Serjeant-at-law, 1856. He had a great reputation as counsel owing to his brilliant powers of cross-examination. He was well known in literary and theatrical circles and published volumes of his reminiscences. 1861–1876, John Robson, barrister.
No. 93.
1801–1804, Captain James Monro of Hadley. 1841, Alexander Delisser, surgeon. 1842–1843, John Smith, surgeon. 1876–1879, Alfred Peart Gould, surgeon.
No. 94.
For nearly 70 years the home of the Seaman family: 1792–1825, Richard Seaman. 1826–1831, Samuel Seaman. 1833–1849, Benjamin Pierce Seaman. 1846–1858, Benjamin Cruttall Pierce Seaman, F.L.S. 1859–1861, Mrs. Seaman. 1862–1870, Josiah Webber, architect.
No. 95.
1790–1795, Major George Drummond. 1795–1827, Mrs. Ann Drummond. 1851–1853, Klein Grant, physician. 1856–1862, The Rev. Aaron Levy Green. 1865–1868, Samuel Hare, consulting surgeon.
No. 96.
1818–1830, Sir James Parke, afterwards Baron Wensleydale, (1782–1868, judge, was son of Thomas Parke, merchant of Liverpool. He was called to the bar at the Inner Temple (1813). He took the house in Gower Street after his marriage in 1817 and is entered on the rate-books as barrister. In 1828 he was raised to the King's Bench and knighted. In 1834 he was transferred to the Court of Exchequer and in 1856 was raised to the peerage. He died at Ampthill, Beds. 1847–1858, Dr. Nathaniel Wallich F.R.S., physician. 1859–1876, Mrs. Wallich.
No. 97.
1824–1841, The Rev. Thomas Rackett (1757–1841), antiquary. He graduated M.A. at University College, Oxford in 1780 and was presented to the rectory of Spetisbury with Charlton-Mushell, Dorset, which he held for more than 60 years. He was F.S.A., F.R.S. and Fellow of the Linnæan Society. He was a good draughtsman and musician and studied conchology and astronomy besides writing papers on archaeological subjects. 1842, John Royle, M.D. (1799–1858), surgeon and naturalist. Entered service of East India Company as assistant surgeon and became superintendent of the garden at Saharunpore and made an important collection of plants. Returned to England (1831), appointed professor of materia medica King's College and elected F.R.S. (1837). Commissioner for the 1851 Exhibition. Numerous publications.
No. 98.
1789–1836, William Bentham, barrister. 1840–1851, Mrs. Bentham. 1873, Bruce James Talbot, architect. 1873–1875, George Cook, artist in stained glass.
No. 99.
1856–1863, Captain Vernon Abbott and Vernon Montagu Abbott, solicitor. 1873–1876, William Lomas, physician.
No. 100.
1838–1843, Dr. Frederick Leighton. 1849–1868, George Pycock Green, artist. 1872–1885, George Pycock Everett Green.
No. 101.
1791–1795, William Marsden (1754–1836), orientalist and numismatist. Was with the East India Company at Sumatra (1771–9). Established an East India agency with his brother in Gower Street. First Secretary of the Admiralty, 1804–7. Treasurer and Vice-president of the Royal Society. D.C.L. (Oxon.). Lived latterly at Edge Grove, Aldenham, Herts. Wrote History of Sumatra, Dictionary and Grammar of the Malayan Language, and Numismata Orientalia. 1839–1846, Dr. George Man Burrows (1771–1846), physician. Founder of the association of Surgeon Apothecaries and was instrumental in passing the Apothecaries Act, 1815. In 1816 he retired from general practice and studied and wrote on insanity, establishing asylums at Chelsea and Clapham.
No. 102.
1790–1806, Captain Thomas Newte, of Sutton, Surrey. 1807–1812, Serjeant Clayton. 1848–1868, W. Balkeley Glass, Q.C. 1869–1885, William John Belt, F.S.A.
No. 103.
1824–1849(?), Jonathan Birch. The dates do not entirely tally but this may be Jonathan Buil (1783–1847) the translator of Faust, who went to Germany in 1847 and died there. 1861–1885, Alexander Davis Cooper, landscape painter.
No. 104.
1836–1866, Thomas Chitty (1802–1878), special pleader and legal writer, second son of Joseph Chitty (1776–1841), legal writer who lived and died in Southampton Street (now Conway Street). He edited standard law books and wrote Forms of Practical Proceedings (Chitty's Forms). He died at Lancaster Gate. 1874–1875, John Rylands (1801–1888), merchant and manufacturer of St. Helens, Lancs. His philanthropic works are well known and his widow built the John Rylands Library at Manchester as a memorial to her husband, with the valuable collections it contains. 1877, Edwin Clarke (1814–1894), appointed by Robert Stephenson as Superintending Engineer of the Menai Straits Bridge and published The Britannia and Conway Tubular Bridge. Took out a patent for electric telegraphs (1850). Awarded Telford and Watts medals. He died at Cromwell House, Marlow.
No. 105.
1803–1853, Captain John Crichton. 1853–1859, The Rev. William Crichton. 1862, Charles H. Beazley, artist.
No. 106.
1866–1867, Simeon Solomon (1840–1905), painter. He worked in the Gower Street studio of his brother, Abraham Solomon (1823–1862), painter. Entered Royal Academy Schools and painted scriptural subjects in the pre-raphaelite manner. Friend of Rossetti, Burne Jones and Swinburne. His later life was a tragic decline and he died in St. Giles' workhouse; 1868–1870, Sir Edward John Poynter, (1836–1919), first baronet, painter and president of the Royal Academy. Was first Slade Professor at University College (1871). Director of Art, South Kensington (1875). Director of the National Gallery (1894). President R.A. (1896–1918).
No. 107.
1856–1861, Alexander Johnston (1815–1891), painter, born at Edinburgh, entered Royal Academy Schools (1836). He painted portraits at first and later historical pictures. Exhibited at the R.A. from 1836. He died at 21 Carlingford Road, Hampstead.
No. 108.
1845–1869, Henry Baker, architect. 1869–1874, William Arthur Baker, and William Baker, architects. 1875–1878, Henry Baker, architect. 1880, Charles Baker, 1881, Mrs. Baker.
No. 110.
1801–1804, Captain Allen Cooper. 1829–1831, Leonard Horner, geologist and warden of University College. 1840–1842, Charles Robert Darwin (1809–1882), the famous naturalist and author of The Origin of Species. Took No. 12 (now 110) Gower Street on his marriage to his cousin Emma Wedgwood, the daughter of his uncle Josiah Wedgwood and the granddaughter of the founder of the Etruria works. In 1842 he moved to the village of Down in Kent. 1848–1859, Christopher Temple, Q.C. 1871–1878, Rev. Emeric Podolski (Polish Catholic Chapel).
No. 111.
1875–1877, John Surtees, artist.
No. 112.
1830–1864, Lancelot Hare, surgeon. 1844–1858, Robert Hare, solicitor.
No. 113.
1791–1825, Captain William Smith. 1827–1849, Peter De Wint (1784–1849), landscape-painter. (See No. 10 Percy Street.) His wife Harriett, sister of William Hilton, R.A. remained here till 1867. According to Beresford Chancellor (London Old Latin Quarter, p. 250) Hilton died at this house in 1839.
No. 114.
1830–1858, John Pritt Harley (1786–1858) actor and singer, succeeded John Bannister at Drury Lane and played at Covent Garden with Macready and Madame Vestris. He excelled in Shakespearean clowns. He died at 14 Upper Gower Street (now No. 114) and was buried at Kensal Green. 1823–1829, James Heywood Markland (1788–1864), antiquary. Trained as solicitor but entered his father's manufacturing business. Retired to Malvern in 1839 and to Bath in 1841. F.S.A. (1809), Director of the Society (1827–29), Member of the Roxburgh Club and made D.C.L. (Oxon.). Wrote numerous archaeological papers. 1875, Charles Mileham and John Levock, architects.
No. 115.
1827–1832, Captain George Saltwell. 1836, Mrs. Saltwell.
No. 116.
1827–1832, Francis Douce (1757–1834), antiquary. Keeper of Manuscripts. British Museum. Published Illustrations of Shakespeare (1807) and contributed to Archaeologia. Bequeathed his MSS. prints and coins to the Bodleian and his unpublished essays to the British Museum. 1848–1868, Stephen Temple, barrister. 1869, Edmund Temple.
No. 117.
1829–1832, Edward Turner (1798–1837), chemist. Born in Jamaica, educated at Edinburgh. First professor of chemistry, University College, London (1828–37). M.D. and F.R.S. Wrote Elements of Chemistry. He died at Hampstead and was buried at Kensal Green.
No. 119.
1871–1882, Dr. Robert Coales, M.A., LL.D., university tutor.
No. 125.
1821–1822, Archdeacon of Lincoln. 1823–1827, Archdeacon Goddard.
No. 126.
1856–1862, Lewis Pocock (1808–1882), art amateur. One of the founders of the Art Union of London. Published a work on Life Assurance. F.S.A. Collaborated with George Godwin. He died at No. 20 (later No. 126) Gower Street and was buried at Highgate. This house is now destroyed. (The D.N.B. gives No. 70 for No. 20.)
No. 127.
1842, J. B. Thompson, surgeon.
No. 128.
1836–1840, Michael Joseph Quin (1796–1843,) traveller and political writer. He was called to the bar at Lincoln's Inn and wrote for the Morning Chronicle. He edited The Monthly Review (1825–30) and was first writer of the Dublin Review. He died at Boulogne. This house is now destroyed.
No. 129.
1844–1846, Henry Wylde (1822–1890), Gresham Professor of Music, was son of Henry Wylde, senior, and was born at Bushey, Herts. The tenant of No. 129 may have been the father. 1858–59, Louis Kossuth, (1802–1894) the Hungarian patriot, lived in England from 1852 to 1859, after the collapse of his attempt to make Hungary independent of the Austrian Emperor. While here he was in close touch with Mazzini, also a refugee in London.
No. 131.
1824–1831, James Maurice Davis, miniature painter.
No. 133.
1823–1826, Sir Edward Ryan (1793–1875), called to the bar at Lincoln's Inn, 1817. In 1826 he was appointed puisne judge of the Supreme Court of Calcutta and was knighted. He returned to England in 1843 and became a privy councillor, a railway commissioner and a commissioner of the Civil Service, where he did valuable work. He was a member of the Senate of London University and Vice-chancellor, 1871–4. He was F.G.S. (1846) and F.R.S. (1860).
No. 135.
1829–1836, Kenyon S. Parker, barrister. 1838–1845, Samuel Bush Toller, barrister. 1856–1859, Frederic Ouvry (1814–1881), antiquary, son of Peter Aimé Ouvry and nephew of John Payne Collier, the Shakespearean critic. He was a solicitor, partner of Farrers of Lincoln's Inn Fields and was elected F.S.A. in 1848. From 1854–74 he was treasurer of the Society and president, 1876–8. He was a close friend of Charles Dickens and collected a very fine library. He died at 12 Queen Anne Street. 1869, Lady Creasy, the wife of Sir Edward Shepherd Creasy (1812–1878), author of Fifteen Decisive Battles of the World. From 1860 to 1869 Creasy was chief justice in Ceylon and returned to England through ill health.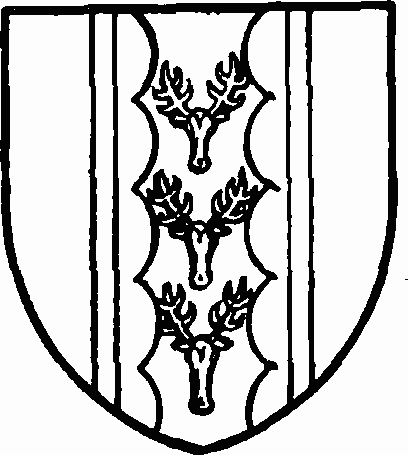 Note: In the neighbouring Upper Thornhaugh Street (now Huntley Street), lived Mary Moser (d. 1819), flower painter, only child of George Michael Moser (1704–1783), chaser and enameller. Her flower painting won her fame and she decorated a room at Frogmore for Queen Charlotte. She was a foundation member of the Royal Academy and married (1793) Captain Hugh Lloyd of Chelsea. Mrs. Lloyd died at Upper Thornhaugh Street and was buried at Kensington.