Pages 58-61
Survey of London: Volume 23, Lambeth: South Bank and Vauxhall. Originally published by London County Council, London, 1951.
This free content was digitised by double rekeying and sponsored by English Heritage. All rights reserved.
CHAPTER 15
COADE'S ARTIFICIAL STONE WORKS
[See plates 37, 38 and 39.]
It is beyond the normal scope of this survey to give a detailed account of an industry which has long since ceased to function and whose buildings have disappeared, but Coade stone was so extensively used on buildings and for statuary during the 70 years that the factory flourished, in the immediate neighbourhood, in London generally, and throughout the country, that it seems a pity not to put on record the information about Coade's Artificial Stone Manufactory which has come to light during the preparation of the volume.
Coade's Stone Works were not the first of their kind in the area. In 1722 Richard Holt took out 2 patents, (fn. 127) one, in conjunction with Thomas Ripley, for a "compound liquid metal, by which artificial stone and marble is made, by casting the same into moulds," and the other, in conjunction with Samuel London, for a composition (without clay) for making whiteware, "formed and moulded in a new method". In a pamphlet about his work, published in 1730 (fn. 128) and dedicated to the Earl of Burlington, Holt advertised that his wares were on show in a building by the river stairs at Cuper's Bridge and warned intending customers against a " certain pretending Architect," who was trying to steal his secret. Holt seems to have gone out of business soon after. In 1770, Daniel Pincot, who described himself as an "Artificial Stone Manufacturer," published an essay on the "Origin, Nature, Uses, and Properties of Artificial Stone" (fn. 129) and stated that he had recently opened a factory " by King's Arms Stairs, Narrow Wall, Lambeth, opposite Whitehall Stairs." A plan of the Jesus College property made in 1770 (fn. 60) shows Daniel Pincot as tenant of a piece of ground north of College Street and fronting on Narrow Wall. Pincot did not claim to have invented the process and he took out no patent. He claimed superiority over Holt solely in the design of his products, and it would appear that he either sold his factory to Eleanor Coade within a year or two of its opening, though no record of such a transaction has come to light, or he was acting as her agent, for it was her name and not his which became attached both to the factory and its products. (fn. n1)
Mrs. Eleanor Coade must have been a remarkable woman for her period, for she ran the factory for about 25 years. Her husband, George Coade, died in 1769, (fn. 131) the year the factory was opened, and it seems improbable that he had any hand in it. The couple came from Dorset, and it is possible that their families had been connected with the pottery industry there. When she took a partner it was her nephew, John Sealy. (fn. n2)
The composition and method of manufacture of Coade stone are not fully known, but the finds on the site during excavations for the Festival of Britain show that the materials were finely ground and after mixing were either modelled or cast in moulds or cast and then finished by a modeller. They were fired in a muffle furnace. The grindstone, of granite, has been placed outside the Royal Festival Hall and a number of the moulds, casts and specimens of the finished product have been preserved.
A descriptive catalogue of "Coade's Artificial Manufactory, At King's Arms Stairs, Narrow Wall," was published in 1784. (fn. 134) It refers to the "period of fifteen years, since this burnt Artificial Stone Manufactory" had been erected and to the " several other Manufactories passing under the same denomination" which had been extinct for some years and whose productions had been ascribed to the Coade Works, and gives as an example the gateway to Syon House, Isleworth. The picture on Plate 48 of old Westminster Bridge, shows King's Arms Stairs in the foreground with a sign advertising Coade's factory.
In 1800 Mrs. Eleanor Coade, junior, opened and exhibition gallery for her wares at the north-east corner of Narrow Wall and Westminster Bridge Road (see p. 69). (fn. 45) A Catalogue of ornamental stone in the "Gallery of Coade and Sealy" published about 1799 lists a large number of stock statues, busts and architectural ornaments designed by John Bacon, Benjamin West, James Wyatt and others which could be bought. The engraving facing the title page depicts "Fire defending Sculpture and Architecture against Time." (fn. 135)
Eleanor Coade, senior, died in 1796 at the age of 88 and was buried in Bunhill Fields. (fn. 131) Her daughter, also Eleanor, had taken her place in the business some years previously, and John Sealy continued in partnership until his death in 1813. He was buried in the churchyard of St. Mary's, Lambeth, and his tomb, of Coade stone, records also the names of his wife, Elizabeth, and his brother and sister-in-law, William and Harriet (see p. 117). John Sealy left no children and his estate of £7,500 passed to his spinster sister Maria Sealy. (fn. 136) Eleanor Coade also remained unmarried and there was no one of the younger generation either in her branch of the family or Sealy's to learn the business. Eleanor therefore took as her successor a cousin by marriage, William Croggon, (fn. n3) and from 1814 onwards Croggon paid rates for the factory, though until 1823 it is entered in the directories as Coade & Co.
In 1811, Eleanor Coade was living in Great Surrey Street (later Blackfriars Road), Southwark, (fn. 138) but at the time of her death in 1821 she was described as "of Camberwell Grove." (fn. 138) She was then in her 89th year. (fn. 65) She also was buried in Bunhill Fields and left legacies to a number of her relatives, the Sealys and Enchmarchs, and to charities both in London and at Lyme Regis, Dorset. (fn. 138)
In 1828 William Croggon obtained from the authorities of Jesus College a new lease of his premises in Belvedere Road for 9½ years at a rent of £140 a year. The ground is described as approximately 195 feet from east to west and 85 feet from north to south. (fn. 60) The plan on this page shows the site in 1804 before the formation of Belvedere Road, and on Plate 38a is a view of the Narrow Wall and frontage at about the same date on which the curved line of Narrow Wall and of the path running towards the river by the side of the factory, can be clearly seen. Considerable alterations took place, just before Croggon got his lease, to improve the new frontage to Belvedere Road. At the Duchy of Cornwall office is a water colour drawing by Buckler made after the alteration. It shows that the old house was altered and adapted, but not entirely rebuilt.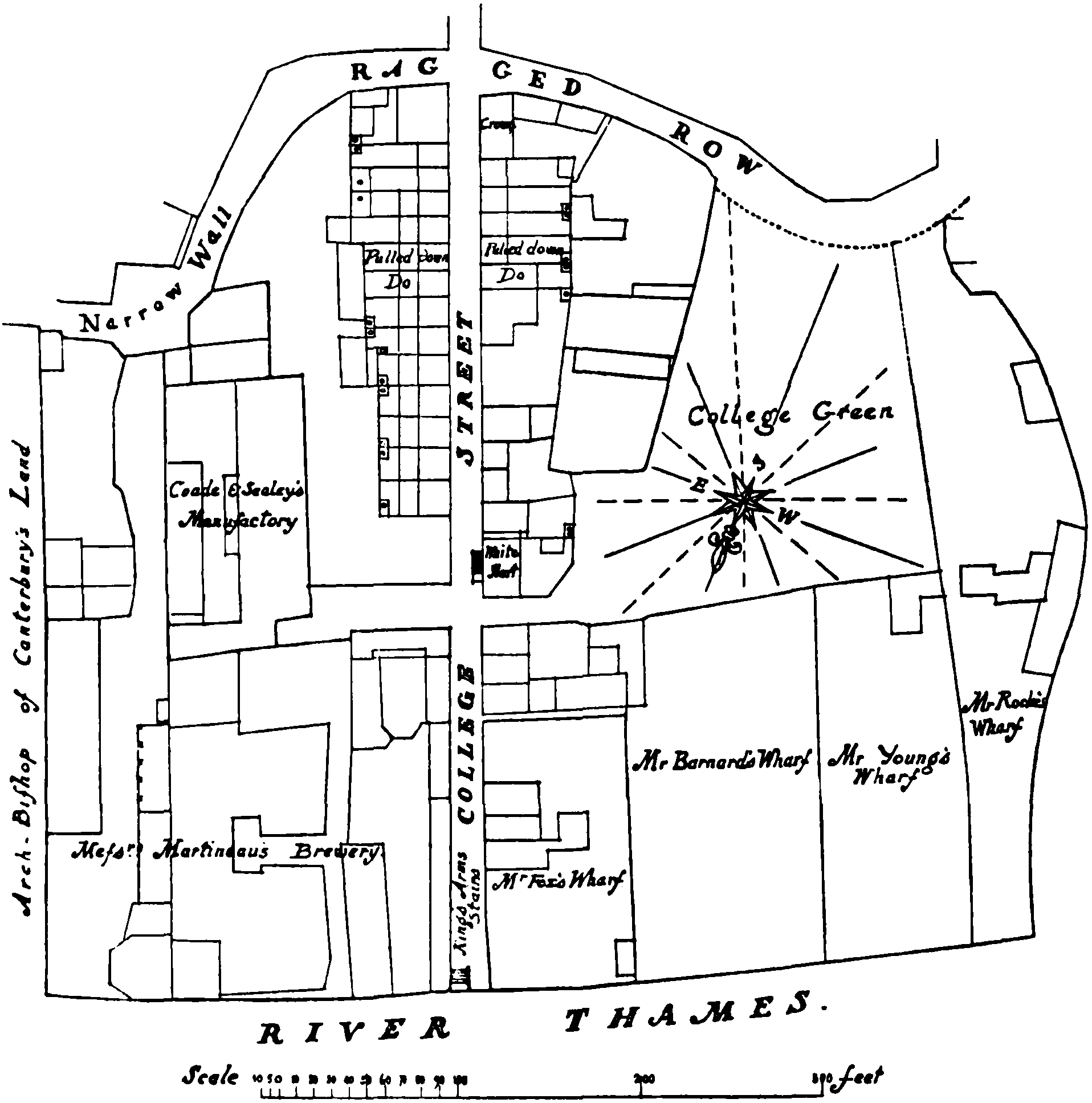 William Croggon was succeeded by his son Thomas John Croggon in 1836, (fn. 48) but the days of the artificial stone factory were numbered. The last dated pieces of Coade stone which have been found are the large lion from the Lion Brewery which, as shown on the inset drawing, has the date May 24th, 1837, and the initials W.F.W. (the sculptor Woodington) on its paw, (fn. n4) and the coat of arms of Queen Victoria outside No. 6 Suffolk Street, Westminster, the business premises of the Queen's tailors, which has the inscription"T.C[r]og[gon, Lam]beth" and which must have been made after June, 1837. The younger Croggon gave up the factory in Belvedere Road in 1837, (fn. 60) and although he was subsequently in business in the north of London, it was as a factor or agent for various materials, and not as an artificial stone manufacturer. (fn. 48)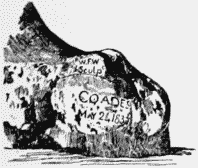 The premises in Belvedere Road were let in 1837 to Thomas Routledge and John Danforth Greenwood. (fn. 60) Routledge & Co. carried on a terracotta and scaglioli works there for a number of years, but Coade stone was made no more.
It seems remarkable that a product with so many useful qualities as Coade stone should have gone out of use. The claim that it would resist the weathering of frost, rain, heat, and smoke has been amply proved. On many buildings, as for example the Royal Society of Arts building in the Adelphi, it has been subjected to more than 150 years of the London atmosphere without deterioration. It was cheaper than stone and in some cases cheaper than wood.
The most probable explanation seems to be that the composition of the stone was a family secret which the last survivor did not fully share or which, perhaps, he had not sufficient nous to exploit. Perhaps in time modern chemists may rediscover the formula, but it seems likely that the original inventor will remain a mystery. One thing is certain and that is that the work of the Eleanor Coades, mother and daughter, will survive to intrigue many future generations. A few examples are illustrated in this volume. The large lion from the Lion Brewery (Plate 31) which is 13 feet long and 12 feet high was made in separate parts and cramped together. The charity school boy from the Lambeth Ragged School, which stands now in the hall of Archbishop Temple's School, Lambeth Road, is also of Coade stone. He was probably one of the stock patterns advertised in the 1784 catalogue as on sale for £16 10s. the pair (boy and girl). (fn. 134)