Pages 91-94
Survey of London: Volume 25, St George's Fields (The Parishes of St. George the Martyr Southwark and St. Mary Newington). Originally published by London County Council, London, 1955.
This free content was digitised by double rekeying and sponsored by English Heritage. All rights reserved.
CHAPTER 11: THE CHURCH OF ST. MARY NEWINGTON
The church of the parish of St. Mary, Newington, has had many vicissitudes, and at the present time only the shell of a building remains, and that not on the old site. Little is known about the mediaeval church, which stood on the west side of Newington Butts, and we cannot even be sure if it can be equated with the church in Walworth which is mentioned in Domesday Book (see p. 81). The list of rectors is, however, almost complete from 1212 onward. (fn. n1) Presentations to the rectory were usually made by the Archbishop of Canterbury, and it was Cranmer who in 1546 (fn. 266) granted the advowson to the king, so that the Prior of Christ Church was probably technically correct when he replied to Thomas Cromwell's request for the advowson that it was not his to give (adding unctuously that "were it ours and worth 100l. a year you should have it"). (fn. 81) Nevertheless during the 50 years before 1539 presentations were often made by the priory. In 1536 the rectory was valued at £16 a year. (fn. 267) In 1547 the King granted it to the Bishop of Worcester as one item in quite an extensive exchange of properties. (fn. 268)
John Aubrey's History of Surrey, (fn. 108) published in 1719, states that the church then standing was, except for the north aisle, which had been built by Sir Hugh Brawne in 1600, (fn. 269) about 150 years old, and describes it thus: "very small, built of Brick and Boulder, … a double Roof covered with Tile, and the Walls with a rough Cast; the Windows are of a modern Gothick; the Floor is paved with Stone, the Body being one Step lower than the Chancel. Here are three Iles, and the Roof is supported with wooden Pillars, partly of the Tuscan Order, formed octogonally… . This Church contains 43 Foot in Length, 54 in Breadth, 22 in Heighth, and the Tower (wherein are five Bells) 44 Foot, but to the Top of the Turret near 60 Foot."
In 1704 the parishioners at their own charge put in new pews and "beautified" the chancel (fn. 270) with a "small and neat" altar-piece hung with a crimson velvet curtain edged with gold fringe. Two new galleries were also erected at this time. (fn. 108) The building proved to be only a whited sepulchre, for ten years later during Sunday service "there happened a sudden Rupture in the Wall" which caused the congregation to run out in confusion so that many were bruised and trodden under foot. Upon examination, the structure was found "so much decayed in the Pillars, Walls and Beams, and in the Roof and Foundation: That notwithstanding the Sum of 850l. laid out in Repairs by the Parish, the same could not any longer be supported." (fn. 20) The church was entirely rebuilt, part of the cost being defrayed out of a brief granted for the purpose. Seventy-five years later complaints were again being made about the defective state of the walls and tower and practically the whole building had to be demolished. (fn. 135) When the church was again rebuilt it was extended 25 feet further west and the floor was raised 2 feet. The building was awkwardly sited (see Plate 52a) being, in the words of an early 19th century writer "a protuberance obtruding on the highway," and in 1876 it was pulled down so that a much-needed widening of Newington Butts could be made. (fn. 271) The old burial ground still remains and in 1877, a clock tower, the gift of a churchwarden, R. S. Faulconer, was built there to mark the site of the old church.
The new church, erected on the east side of Kennington Park Road from the designs of James Fowler, (fn. 272) was consecrated in May, 1876. It was built of Kentish rag with Bath stone dressings in the Early English style, but the spire which formed part of the design was never erected. The roofs of the nave and chancel were of hammer beam construction, the height of the nave from floor to ridge being 70 feet, and its length 100 feet.
The church was burnt out in an air raid on 10th May, 1941, and has not yet been rebuilt.
Plate. The church has several pieces of 17th and 18th century plate (Plate 70a). (fn. n2) These include two silver cups and a paten each dated 1675, a silver flagon inscribed "Newington Butts Nov. 2 1681. Deo datum By the Gentlemen of ye Vestry …"; two silver covers, the gift of Elizabeth Yallop circa 1727, and two silver salvers with Paris hall-marks of 1783.
Monuments
The most notable monument in the old church was that erected in 1614 to the memory of Sir Hugh Brawne, his two wives, four sons, and five daughters (Plate 55). It stood at the east end of the north aisle which was built at Brawne's expense. (fn. n3) References to other monuments are made by Aubrey, Manning and Bray, etc. In the several rebuildings which the parish church has undergone most of the older monuments have been lost, though some were removed into the churchyard. Many of the memorial stones there are now almost illegible, but a record of the memorials with the initial letters A—I has been preserved in Part I of The monumental inscriptions in the Old Churchyard of St. Mary, Newington privately printed in 1880. (fn. n4)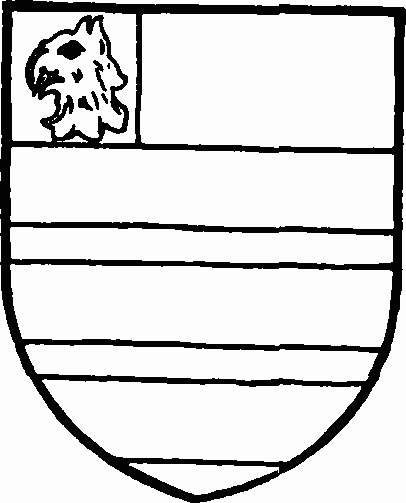 The altar tomb, of which a drawing is reproduced on Plate 82a, bears the inscription (now almost illegible) on the east side—

"In this vault/are deposited the remains/of Miss LOUISA
BANNISTER daughter of/RICHARD and AMELIA
BANNISTER/who departed this life Nov. 22 1786/aged
2 years and 9 months/Also the remains of Master RICHD.
THO. BANNISTER/son of the said RICHARD &
Amelia BANNISTER/who departed this life January 3
1790/aged 10 years and 4 months."
One of the more interesting of those which have now disappeared was an altar tomb within iron rails with the inscription on the north side—

"Sacred/to the memory of/WILLIAM ALLEN/An Englishman of unspotted Life and amiable/Disposition/who was inhumanly murdered near St. Georges/Fields on the 10th Day of May 1768 by Scottish/Detachments from the ARMY/ His disconsolate Parents Inhabitants of this/Parish caused this Tomb to be erected to an only Son/Lost to them and to the World in his Twentieth Year/as a Monument of his Virtues and their Affection." (fn. n5)
The Rectory and Glebe
The old rectory (Plate 52b) stood near the church and churchyard on the west side of Newington Butts. The Rectory garden and the glebe were surrounded and intersected by ditches or "moats" (fn. 273) which in wet seasons extended across St. George's Fields to the Dog and Duck (see Plate 53). Early in the 19th century the moats were filled up and the rectory was altered and enlarged, the weather-boarding being replaced by stucco. (fn. 274) It remained in use until the removal of the church. St. Mary Newington Schools, St. Gabriel Street, Parsonage Walk, Churchyard Row, with the Rowton House there, and Dante Road, the latter built up about 1870 by Messrs. Sutton & Dudley, (fn. 275) now cover the glebe.
St. Mary, Newington, Schools, Newington Butts
A charity school for boys was established in Newington in 1710–11, when Richard Cambridge and others subscribed for 20 boys to be taught reading, writing and arithmetic and to be provided with clothing. The school was managed by a committee of the subscribers and the number of boys was subsequently raised to 40. In 1775 the Dean and Chapter of Canterbury gave a piece of copyhold ground at the corner of Cross Street and Walworth Road for the erection of a schoolroom and master's house. A girls' school was added some years later, and in 1816 the schools were united with the Sunday Schools of the parish under the title of "The United Parochial National Charity and Sunday Schools of St. Mary Newington." (fn. 136)
In 1820 the committee acquired an underlease of part of the glebe of the parish just west of Newington Butts and new school buildings, and residences for master and mistress were provided there out of voluntary contributions, a fact which is recorded on a wall tablet. The premises were almost completely rebuilt in 1932, but the schoolkeeper's cottage dates back to 1820.
Rectors of St. Mary, Newington (fn. n6)
Before 1212
Roger de Susexx'. (fn. 226)
Before 1270
Roger de Sancto Albano. (fn. 276)
Before 1276
Peter de Wyntreshull. (fn. 277)
William de Ludeham. (fn. 278)
Before 1307
John Here. (fn. 279)
Thomas de London.
1313
John de Wyndesore.
Before 1320
William de Alingeio (Halingio). (fn. 280)
1324
John de Northampton.
1324
William de Useflete.
1349–50
John Louechild de Stokebruerne.
Thomas de Langeton.
1360
Thomas Meynot.
William de Brynkhill.
1369
John Grymeston.
1370
Richard Kenddle.
William Hauley.
1374
John Wengrave.
John Aston.
1384
William Warwyk.
1397
John Chiselden.
Richard Layty.
1458
William Cornyssh.
1461
Robert Cade.
1462
John Chaumbre.
1476
David William.
1477
William Pope.
Nicholas Morton.
1487
Robert Harsett.
1498
Thomas Rilyng.
1506
John Thorneton, Bishop of Syrynensis.
1507
Thomas Baschurche.
1515
Edward Higyns.
1537–38
John Skippe.
1539
John Morley.
1543
Edmund Weston.
1554
John Grene. (fn. 281)
1558
Griffin Morgan.
1559
Henry Prescote (Prescott).
1568
William Clerke (Clarke).
1569–70
Stephen Bateman, translator, and author of Christiall glass for christian reformation, 1569, and other works. (fn. 25)
1584
Thomas Gatacre.
1593–94.
Thomas Puckering.
1619
James Fludd (Lloyd).
1626
George Durant.
1627
Tobias Crispe, antinomian. He was removed within the year because his presentation was simoniacal.
1628
Thomas Stevens.
1634
John Bludworth (Bloudworth).
1640
James Meggs. Meggs was deprived in 1643 and Henry Langley and later Thomas Wadsworth officiated during the Commonwealth. Meggs was restored in 1660.
1673
Nicholas Lloyd, author of the Dictionarium historicum. Wood described him as "an harmless, quiet man" and "an excellent philologist." (fn. 282)
1681
Edward Webster.
1689
Stephen Bordley.
1695
John Wotton (Whooton).
1698
William Taswell.
1731
Nathaniel Hough.
1737
Stephen Light Mott.
1752
John Dubordieu.
1754
John Horsley.
1759
Samuel Horsley (son of his predecessor), Bishop of St. Asaph and author of a number of theological and other works.
1794
Charles de Guiffardiere.
1810
Samuel Picart.
1812
Arthur Cyril Onslow.
1869
William Dalrymple Maclagan, Archbishop of York, 1891–1909.
1875
George Thomas Palmer.
1908
William James Conybeare.
1916
Charles Coleridge Harper.
1922
William James Margetson.
1925
William Houghton Hacksley.
1939–45
Forrest Saxon Lloyd Fitz-George.
1946
Herbert Frank Runacres.