Pages 155-166
Survey of London: Volume 26, Lambeth: Southern Area. Originally published by London County Council, London, 1956.
This free content was digitised by double rekeying and sponsored by English Heritage. All rights reserved.
CHAPTER VI - Tulse Hill and Brockwell Park
The areas now known as Tulse Hill and Brockwell Park correspond roughly with the Manor or Manors of Bodley, Upgrove, and Scarlettes, (fn. 1) the boundaries of which cannot be established with any precision. (fn. 2) A family called de Bodyleys held lands in Lambeth in the 13th century, and in the first half of the 14th century lands at "Bodele" in Lambeth were held by a family called Hardel. (fn. 3) In 1352 the Crown granted a licence to the hospital of St. Thomas the Martyr in Southwark to receive 130 acres of land and the reversion of another 67 acres, (fn. 4) all of which had belonged to the Hardel family, for the health of the souls of the grantors and the "sustentation of the poor sick". (fn. 3) In 1379 the hospital also acquired 20 acres of land in Lambeth from Nicholas de Carreu. (fn. 5) Five years later the latter was granted lands in Lambeth which had previously belonged to Stephen Skarlet. (fn. 3) In 1456 a lease of the Manor of Bodley was granted to Ralph Leigh and in 1537 a lease of the Manors of Bodley and Up grove with all the lands called Scarlettes was granted to William Peter of London. (fn. 6) The property was surrendered to the Crown in the following year and passed with the hospital's other lands rapidly through various private hands, until in 1545 it again entered the possession of the Leigh family. (fn. 7) In 1634 the property was described as "All those the mannors called or knowne by the names of Bodyleyes Upgroves and Scarlettes", containing about 250 acres. (fn. 8)
During the Commonwealth, Bodley, Upgrove and Scarlettes were held by the Tulse family, (fn. 1) from whom Tulse Hill gets its name. Sir Henry Tulse's daughter, Elizabeth, married Richard (the first Lord) Onslow, Speaker of the House of Commons from 1708 to 1710. (fn. 9) After his death in 1717 the lands in Lambeth passed to his son Thomas Onslow, (fn. 10) who died in 1740, and then to his grandson, Richard Onslow, (fn. 11) who died in 1766 without issue. (fn. 9) The property was then shared between the descendants of two of the first Lord Onslow's daughters, (fn. 12) and in 1789 the greater part of it was sold to William Cole; (fn. 13) the rest, comprising the northern and western parts of what is now Brockwell Park, was apparently sold at about the same time to William Winter. (fn. 14) In 1766 and 1769 William Cole had been admitted to two moieties of 16 acres of adjoining copyhold land, part of Lambeth Manor, which were known as Page's Fields. (fn. 15) By his will dated June 5, 1807, Cole divided his property; the western portion, comprising Tulse Hill and his copyhold in Page's Fields were left to Mercy Cressingham, spinster, while the eastern half comprising his capital messuage known as Brockwell Hall, with its lands and appurtenances were left to Richard Ogbourne of Bishopsgate Street, stationer. (fn. 16) In 1809 Richard Ogbourne sold Brockwell Hall and 60 acres of land to John Blades, (fn. 17) a glass manufacturer who later also bought part of Winter's land. (fn. 18) The western or Tulse Hill part of the estate was developed for residential purposes by Mercy Cressingham's husband, Dr. Thomas Edwards, while most of the eastern half remained the private grounds of the Blades-Blackburn family until it was eventually bought for a public park.
But before the two estates assumed their very different characters there seems to have been a short-lived attempt by Blades and Edwards to co-operate in developing the whole area as a less grandiose version of John Nash's schemes in Regent's Park. Amongst the Papworth Collection of drawings in the library of the Royal Institute of British Architects is a plan (Plate 64) drawn in 1823 and marked with the name of Chandler and Buckingham, a firm of nurserymen in Vauxhall, (fn. 19) in which a few well-sited roads covering both estates were to provide access to large detached houses with ample gardens. The roads now known as Tulse Hill and Upper Tulse Hill (marked on the plan as Lower Tulse Hill Road and Upper Tulse Hill Road) had already been built by Dr. Edwards before 1821. (fn. 20) and the subsequent development on his estates followed the lines shown in the plan. But Blades was evidently not attracted by the scheme, and the history of the two estates diverged.
TULSE HILL ESTATE
The development of Tulse Hill was largely the work of Dr. Thomas Edwards (1775?–1845), a legal writer who married Mercy Cressingham, probably in 1811. Edwards studied at Trinity Hall, Cambridge, and took the degrees of LL.B. and LL.D. in 1800 and 1805 respectively. He later became a Fellow of his College and was admitted advocate at Doctors' Commons. He was a member of the Lambeth Church Building Committee which supervised the erection of the four "Waterloo" churches in the parish, and as a Justice of the Peace for Surrey he interested himself in social questions. He died at The Grove, Carshalton, on October 29, 1845. (fn. 21)
In 1810 there was only one house on the Edwards' land, Tulse Hill Farm, and there were only very short frontages to the existing roads. At first sight, therefore, it might have seemed likely that no successful development would take place so far south in the parish for some decades. But in fact its pleasant situation on high ground, combined with the enterprise of Dr. Edwards, soon made Tulse Hill a flourishing residential suburb.
Who designed the layout of the estate for Dr. Edwards is not known. Chandler and Buckingham, the nurserymen whose plan of the Brockwell and Tulse Hill estates has been mentioned above, may have been responsible, but Daniel Gould was employed by Dr. Edwards as a surveyor from 1813 until at least 1842; Tulse Hill was "parcelled out… for building ground" (fn. 22) by Gould, and it is therefore more likely that he suggested how the roads should run.
Dr. Edwards' first step was taken in 1814 when he paid £500 for a thin strip of ground connecting Brixton Hill with his land on Tulse Hill. (fn. 23) Before 1821 he laid out two private roads, now Tulse Hill and Upper Tulse Hill, which provided access to a large part of his estate. They evidently fulfilled a need, for they were both taken over by the parish as early as 1822, and the tolls were abolished. (fn. 20) At the north-west end of Upper Tulse Hill the land alongside the road did not belong to Dr. Edwards, and here a number of small terrace-houses were erected on the western side, mostly between 1843 and 1850. The Edwards' estate was, however, exclusively for the well-to-do. The land fronting the roads was divided up into plots of varying sizes, and was let on long leases of up to 99 years. Some of the lessees took several adjacent plots and assigned their interest immediately after the houses were completed; but the plots were more often leased singly, most of the houses on the estate being detached. All the leases contained safeguards for the preservation of the exclusive character which the estate was intended to provide. No house costing less than a certain figure (usually £700) was to be built, a minimum distance from the road was prescribed for each house, and no school, shop, trade or manufactory was to be established without permission; in some cases the lessee had to undertake to pay a reasonable share of the cost of making such drains and sewers as might be needed in the future. (fn. 24)
In Upper Tulse Hill most of the early houses were on the west side of the road and building progressed southwards. In Tulse Hill building began at the Brixton end of the road and progressed southwards, chiefly on the west side, where by 1843 there was a continuous line of houses, nearly all detached and many with coachhouses at the side, stretching up to the top of the hill; all of these have now been demolished. By 1843, or just over 20 years after the development of the estate began, there were some 125 houses on the Edwards' property. (fn. 25) The success in the 19th century of this type of suburban development, catering for large families with ample domestic service, was as striking as the rapidity of its disappearance in favour of flats in the 20th century.
After the death of Dr. Edwards in 1845 and of his wife in 1851, most of the estate passed to Mercy Edwards' brother, Jonah Cressingham. The most important part of the estate still to be developed was Page's Fields, comprising some 16 acres between Tulse Hill and Norwood Road. This land was former copyhold land, part of Lambeth Manor, which had been enfranchised in 1844. (fn. 26) A road (now called Trinity Rise) was built shortly afterwards connecting Tulse Hill with Norwood Road.
Upper Tulse Hill
The houses on the Edwards' property on the west side of this road and north of Roupell Road were formerly in the parish of Lambeth but are now in the borough of Wandsworth; they are included in this volume because they have no historical connection with Wandsworth. In 1829 Thomas and Mercy Edwards leased a plot of land on the west side of the road to Sophia Pearce, widow, together with a house lately erected thereon. This house has since been demolished, but in 1840 and 1841 Mrs. Pearce mortgaged her property and Nos. 54 and 56, formerly Elm Cottage and Scotia Cottage, were probably erected shortly afterwards; (fn. 27) they were certainly standing in 1843. (fn. 28) They are an undistinguished pair of two-storey brick houses finished with a cornice and blocking course. In 1820 the site of Nos. 58 and 60 was leased by Michael Gamon of Somerset Street, St. Marylebone (who already had a head lease of a larger area from Dr. and Mrs. Edwards) to John Hebbes of Brixton Hill, builder, together with the two cottages then in course of erection; Hebbes was subsequently ejected and in 1824 the two houses were leased to John Tame, yeoman. (fn. 27) They are a stucco fronted two-storey pair sharing a pediment. In 1823 Thomas and Mercy Edwards granted a 99 year lease dating from March 25, 1822, to Michael Gamon of land and three houses "now erected and built or partly erected and built thereon". (fn. 29) Of these three houses the sole survivor is No. 66, a two-storey villa with wings which project forward at each side of the central entrance; the stucco-faced front is finished with a cornice and blocking course. In 1822 Simon Dodd Guthrie was granted a 96 year lease of land together with two houses, Nos. 92 and 94 (Plate 59b, fig. 50) "then erecting and building thereon". (fn. 30) These are semi-detached houses of three storeys above semibasements, with stucco-faced fronts unified by a first-floor balcony and finished with a cornice and blocking course. No. 92 was formerly known as Eldon House; No. 94 is derelict. In the 1820s houses of this type were being put up in large numbers along Clapham and Brixton Roads, but in the more prosperous neighbourhood of Tulse Hill they were quickly superseded by detached villas, mostly of two storeys. No. 100 Upper Tulse Hill, formerly Laurel Bank (Plate 61b), was erected under a 99 year lease granted to William Andrews in 1824; (fn. 31) it is a two-storey villa with a stucco front and a central porch with Roman Doric columns; at the side is a coach house with an arched entrance. Nos. 102 and 104, formerly Leckhampton Villa and Percy Cottage, were built under a lease granted to John Gamon in 1820, when they were described as "lately erected". (fn. 32) No. 102, which has been altered, retains an Ionic columned porch; engaged columns of the same order flank the service entrance. No. 104 has wreaths on the frieze beneath its eaves and a porch with coarse Greek Doric columns. The land on which No. 106 stands was leased in 1826 to George Simson, upholsterer, together with the house "erected and built or now erecting and building thereon". (fn. 32) It has a stock brick front with canted bays at each side of a simply pilastered entrance. The cast-iron gate standards have anthemion and acanthus ornament. No. 108, formerly Mountfield and now Kingsdown Cottage (Plate 60b), was built under a lease of 1830 granted to Daniel Wilson Davidson, (fn. 32) a solicitor of Clement's Inn who also occupied the house. (fn. 33) It has a neat stock brick front with round-headed openings on the ground floor; the entrance is in the centre and is flanked by Greek Doric columns. Nos. 110, 112, and 114 (No. 112 formerly Fitzroy Villa, No. 114 formerly Leiston House) were built under one lease granted in 1843 to Daniel Chambers of Brighton Terrace, Brixton; (fn. 34) they were then described as lately erected. Nos. 112 and 114 have recently been demolished, but they were very similar to No. 110, which is a three-storey house having a central porch with coarsely detailed Tuscan columns. No. 116, formerly Parel Lodge, was built under a lease of 1826 granted to John Gubbs, an insurance broker of Lloyds; (fn. 35) it is a two-storey house with a semibasement, stucco-fronted and having a central porch with Greek Doric columns. No. 118, formerly St. James Villa, is Identical in appearance and was built under a lease of 1826 granted to William Macfarland, who may perhaps be identified with "Wm. M'Farland", an umbrella manu facturer in the Strand. (fn. 36) Nos. 120 and 122 (Plate 61a, fig. 51), formerly Ormesby Cottage and Nottingham Cottage (now Hollyhurst) respectively, were both built under leases granted to William White, who is variously described as of "Tulse Hill, gentleman", and of Cheapside, hat manufacturer. The lease of No. 122 was granted in 1841. (fn. 37) It is a double-fronted house of two storeys and a semi-basement, exceptionally well maintained and very free from alteration. The brick front is a simple and elegant composition, the designer's care for detail being evident in such things as the marginal panes of the groundfloor windows, which flank the Greek Doric porch. A continued sill underlines the three firstfloor windows, and the low-pitched slated roof has wide overhanging eaves. All the remaining houses on this side of Upper Tulse Hill were built shortly before 1843 and are not of much interest; Nos. 134 and 136 are a pair of detached two-storey villas raised above semi-basements; both have Greek Doric porches placed centrally, and the ground-floor windows have marginal panes.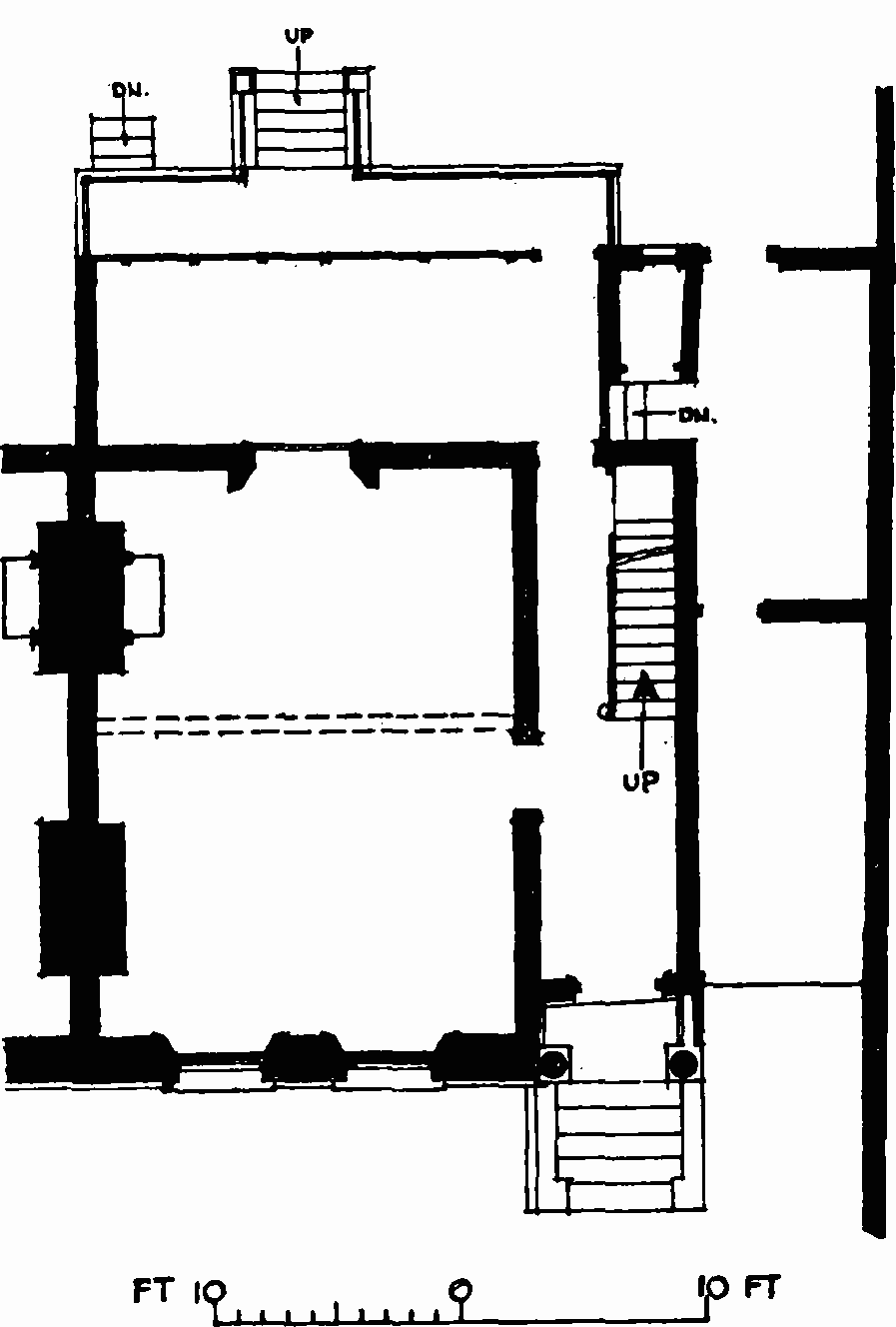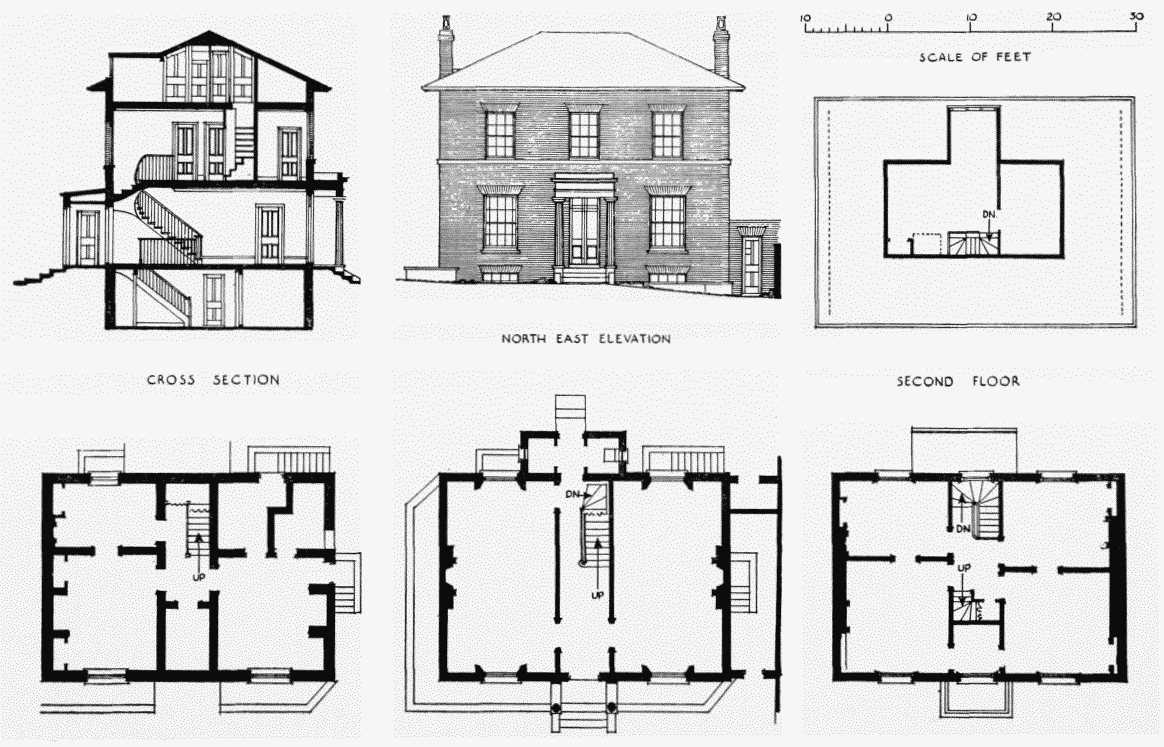 On the east side of Upper Tulse Hill there was no building until the 1840s, when Nos. 55, 57, 61, 67–75 (odd), formerly Nos. 41–55 (odd), were erected. The standard of building was much lower than on the west side, and the houses erected are uninteresting; most of them have two storeys with semi-basements and central entrance porches carried on debased Tuscan columns.
Tulse Hill
On the east side of the road the only surviving example of early building is No. 47, formerly No. 13 and known as Adelaide Lodge, now occupied by Sir Henry Tate's Nurses' Home, which was probably erected about 1824. It is a two-storey stock brick building with a semibasement, and has been much altered and enlarged. Its central porch has key-ornamented pilasters, and the windows have moulded architraves; the ground-floor windows also have bracketed hoods with paterae in their friezes. For the next quarter of a mile there are no 19th century houses left on this side; higher up the hill where the original houses survive, the development was later, most of Nos. 107–147 (odd), formerly Nos. 73–113 (odd), being built between 1850 and 1870. No. 107 (Plate 63a), formerly No. 73 and called St. David's, was designed by Charles Hambridge of Guilford Street, Russell Square, for Thomas Cree, a solicitor in the firm of Cree and Last, of Gray's Inn Square. The house was erected in 1865, and the lowest tender, which was submitted by Messrs. Brown and Robinson, was for £4,223; (fn. 38) it is now used by the London County Council as a Day Nursery. The house has three storeys and a semi-basement and is built of stock brick and stone. Its full-blooded Victorian Gothic appearance is further enlivened by red and yellow bricks used in the first-floor window arches, and by vigorous foliated carving. Nos. 109–129 are large three-storey houses of unostentatious design with central porches carried on columns. Nos. 131–141, The Lawn, three identical pairs of houses, have grey brick fronts of austere design with narrow windows; there are Greek Doric porches at the end of each pair. Nos. 143–147 are similar to Nos. 109–129 though No. 145 has been much mutilated.
On the southern side of the hill sloping down towards Norwood, most of the houses are of late date and larger than the earlier ones. No. 153, formerly No. 119 and called Egremont House, was designed by Charles Gray for Mr. R. Griffiths, publican of the Duke of Sussex, Gibson Street, Waterloo Road, (fn. 39) and was built in 1853. The lowest tender, submitted by Rowland and Evans, was for £2,101. (fn. 40) It formerly exhibited the mixture of styles characteristic of mid 19th century architecture, but after being severely damaged by enemy action in the war of 1939–45 it was refronted and now has a Neo-Georgian porch; the architect was Alister G. MacDonald. (fn. 41) No. 155 (Plate 62b), formerly No. 121, originally called Berry House and later known as Silwood Hall, is now occupied by the St. Martin-in-the-Fields High School for Girls. It was built in 1856–7 and its first occupier was Edward Groves. Although much altered and enlarged, it is still the most imposing house in the road. It has a white stucco front of Italianate Classical design, with three-storey pavilions at each side of the two-storey entrance; the return elevations are plain and faced with stock brick. No. 157, called Kenilworth (Plate 63b), was built in 1888 and was the last large house to be erected in this once favoured area; the builder was W. Rowe of Lansdowne Road, S.W., (fn. 42) and its occupier in 1892 was Miles Simpson. Its red brick exterior illustrates the rising influence of Norman Shaw's "Queen Anne" revival. Lower down the hill stand two pleasant two-storey detached houses with semi-basements. Nos. 181 and 183, formerly Nos. 145 and 147 and known as Osborne Lodge and Woodlands respectively, were built shortly before 1843. Both have central porches, with Tuscan columns at No. 181.
Of the surviving houses on the west side of Tulse Hill, No. 122, formerly No. 128 and known as Fairfield or Fairfield House, is the earliest. In 1825 Thomas and Mercy Edwards granted a 99-year lease to William Macfarland (see page 159) of land at Tulse Hill on which already stood three houses. (fn. 43) The much-mutilated survivor is of two storeys with semi-basement and an attic. The stucco-faced front has shallow projecting bays flanking a central porch supported by Greek Doric columns.
Lower down the hill there formerly stood a house built in 1847 by John Deane, a member of the firm of G. and J. Deane, wholesale and retail hardwaremen, cutlers and jewellers, of King William Street; John Deane had ten shares in the Independent Benefit Building Association, and the cost of the house was partly met by an advance of £750 from the Association. (fn. 44) Nos. 144–154 (even), two-storey houses with semibasements and attics (Plate 62a), were built in 1843, and were originally known as Prince of Wales Crescent; No. 144 has lately been demolished, and No. 150 was totally destroyed in the war of 1939–45. This group of houses was probably an unsuccessful speculation; the Tithe map marks them all as empty, and they were still being disposed of in 1847, when James Bailey, silk mercer, and Charles Hodgson, printer, were granted a joint lease for 92½ years of No. 152 (formerly Guildford Lodge) and No. 158 (formerly Selwood Lodge); the latter is now demolished. (fn. 45) In 1827 No. 166 (formerly Silverdale Lodge) was leased by Dr. and Mrs. Edwards to Robert Wiss of Fleet Street, engineer; the house was enlarged in 1866. (fn. 46) It is a detached house of two storeys and a semi-basement, with a stucco front. No. 168, formerly Woodbine Cottage, is similar, and was probably erected shortly before 1824; it has later enlargements.
Owing to the depleted state of the Rate Books it has not been possible to plot the position of a few houses whose origins have been discovered from other sources. Two prosperous publicans speculated on the Tulse Hill estate. In 1841 William Crow of the Prince of Wales, Brixton, was granted a lease of a plot, (fn. 47) and in 1865 Ezekiel James Bailey of the George Canning, Grove Lane, Camberwell, and the Lord Palmerston, Lordship Lane, Dulwich, erected an unspecified number of houses. The latter commissioned an architect, Frederick Chadwick of 71 High Street, Croydon, and Westminster Chambers, Victoria Street, to design the houses, which were built by Walker and Co. at an estimated cost of £10,500. (fn. 48) In 1867 Mr. O. Mullett, who lived at No. 108 Upper Tulse Hill, commissioned J. D. Hayton, architect, to design a house whose estimated cost was £1,115. John Daniel Hayton of 5 Whitehall, was probably a relation of Daniel Hayton, builder, of Effra Road. (fn. 49)
Holy Trinity Church, Trinity Rise
A church was needed to complete the development of the estate, and in 1855 Jonah Cressingham freely gave to the Church Building Commissioners the sites of what are now Holy Trinity and the adjoining parsonage house. The church accommodated 1,000 people and cost about £6,000, Cressingham contributing over two-thirds of the money. It was consecrated on February 5, 1856, (fn. 50) and the architect was T. D. Barry (fn. 51) (Plate 14c, fig. 52).
The proposal to build this church and to assign a Particular District to it evoked the vigorous opposition of the incumbents of St. Matthew's Brixton, and St. Luke's, Norwood. The former protested that he had already lost the eastern part of his District to St. Matthew's, Denmark Hill, and Angell Town to St. John's, leaving his large church with the poor area of Brixton and the well-to-do area of Tulse Hill, now to be removed. He alleged that Cressingham desired a church merely as an adjunct of the development of his estate. The incumbent of St. Luke's, Norwood, petitioned the Church Building Commissioners three times, protesting that there was no need for the church (the population of the proposed district being only 1,500 in 1853), that there were no poor people in the proposed district, and that the pew-lettings of his church would be greatly diminished. But the Church Building Commissioners overruled all these objections, and a Particular District was assigned in 1856. The unfortunate incumbent of St. Luke's could only protest again at what he termed "so unjustified a concession to private individual interest". (fn. 50)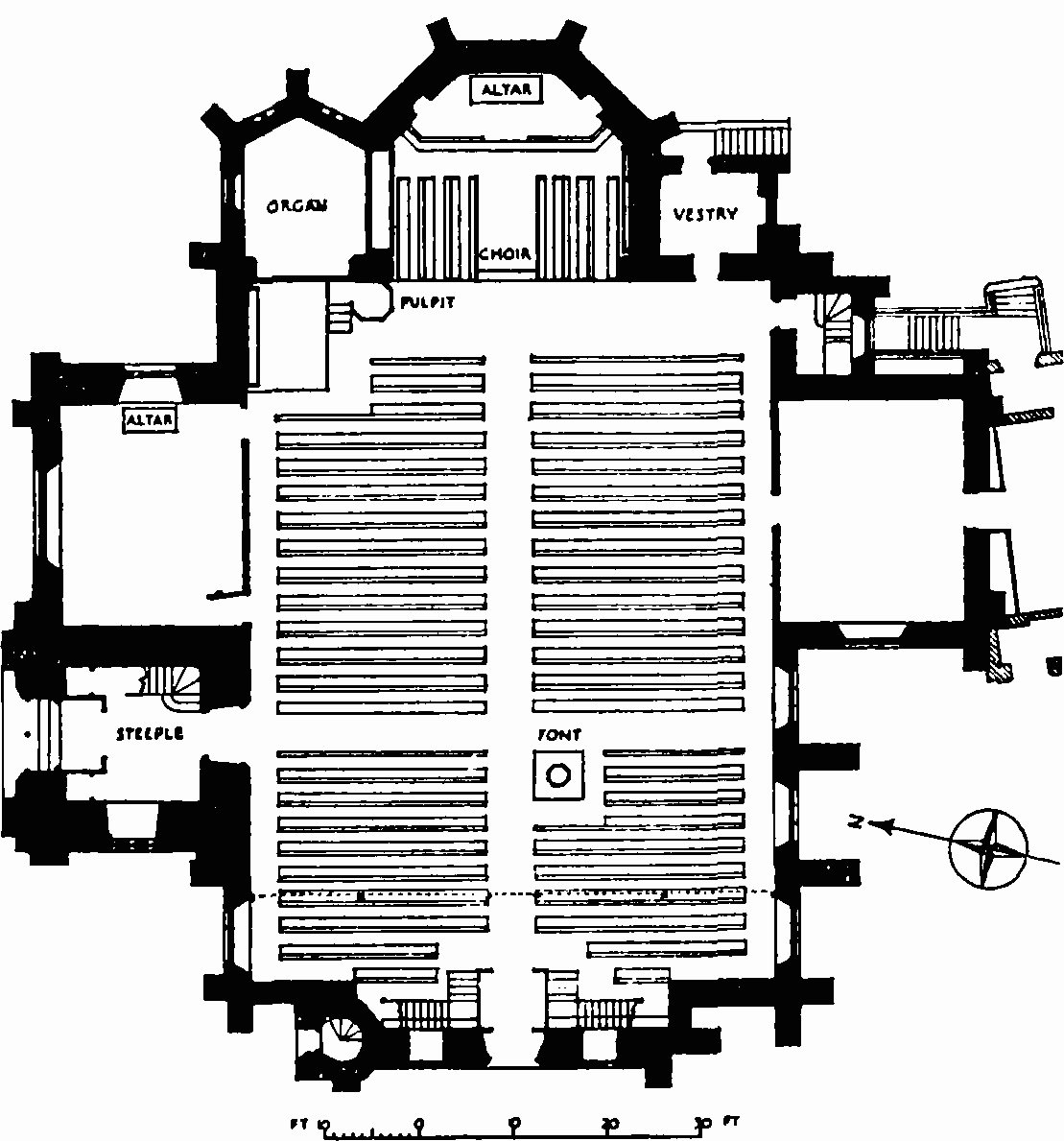 The church is in the Early Geometric Decorated style, with nave, transepts and a shallow chancel with an apsidal east end. The nave is spanned without intermediate supports. At the west end there is a small organ gallery. The tower, surmounted by a stone broach spire, stands at the north-west angle of the north transept, with the entrance lobby to the church at its base. The church has a brick carcase faced with Kentish ragstone; the dressings are of Corsham Down Bath stone, and the steeply-pitched roofs are slated. In 1951 three stained glass windows representing the Creation, Redemption and Sanctification were put in the three-light windows of the apse, to replace those destroyed in the war of 1939–45. The artist was Miss Clare Dawson.
The adjoining parsonage was built at the same time and in the same style as the church.
BROCKWELL ESTATE
John Blades (c. 1751–1829), who in 1809 purchased 60 acres of land in Brixton from Richard ogbourne (see page 155), was a wealthy glassmanufacturer with premises at Ludgate Hill. (fn. 52) His business was founded in 1780–2 and, after his death, was carried on under the name of Crook and Jones, and later of Jones and Sons. (fn. 53) Blades was Sheriff of London and Middlesex in 1812–13. At his death in 1829 he left personal property valued at about £140,000, as well as Severndroog Castle near Shooter's Hill, premises in St. Bride's Avenue, Fleet Street, and the estate at Brixton. (fn. 52)
Brockwell Hall
The Lambeth Manor Inclosure map of 1810 shows that the only building standing on Blades' estate at Brixton was Brockwell Hall, which stood near the present Norwood Road. Shortly afterwards Blades demolished this house, (fn. 54) and the Rate Books show that between 1811 and 1813 he erected the present house (Plates 66, 67, figs. 53, 54) on top of the hill to the north-west. The design of this house has been attributed to J. B. Papworth, but there seems no reason to doubt that D. R. Roper was the architect. In the Dictionary of Architecture Papworth's son, Wyatt Papworth, stated that between 1825 and 1832 his father "designed and superintended Brockwell hall", (fn. 55) but as the house was undoubtedly built before 1825 this statement cannot be correct; moreover in a later memoir Wyatt Papworth stated that between 1824 and 1829 his father only "directed repairs at Brockwell Hall, with some furniture". (fn. 56) Amongst the extensive collection of J. B. Papworth's drawings in the library of the Royal Institute of British Architects there is only one of Brockwell Hall—a copy of an original drainage plan made in 1813. In Topographical Surveys through Surrey, Sussex and Kent (1818) by James Edwards, it is stated that Roper designed the house; (fn. 54) Blades was a subscriber to this work and paid for an engraving of Brockwell Hall to appear in the book. The attribution to Roper must therefore be regarded as reliable.
Brockwell Hall is prominently sited on the highest ground in the south part of Brockwell Park. The main building consists of a residential block, a deep oblong in plan with its entrance front facing north-west, and a service wing forming a narrower oblong extending centrally from the southwest side. The small stable range, lying parallel to the south-west face, is linked with the wing by the walls enclosing the service court (fig. 53). The residential block is compactly planned, the accommodation being contained in two lofty storeys raised on a basement and having a small top-lit attic in the roof. The service wing is also of two storeys and a basement, but here the floor heights are less.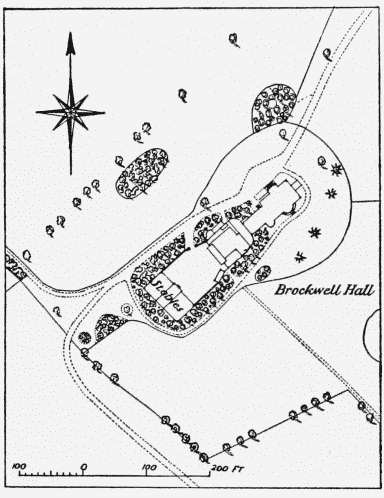 Within the centrally placed portico on the north-west front is a doorway opening into a square vestibule, on the right side of which are two doors, the first leading to the staircase hall, and the second to a large room. The corresponding doors on the left side open to the large and small drawing-rooms, these being linked by sliding doors. The door facing the entrance opens to the segmental-ended room that is expressed by the central bow on the south-east front. The bedand dressing-rooms on the first floor follow an arrangement similar to that of the ground floor.
The exterior of the house is a slightly meretricious design in the free Grecian manner of the early 1800s. Generally, the walls are of "white" brick, stone being used for the deep plinth, the window-sills, the portico and balustrades, and the main cornice with its blocking course. The north-west, or entrance front is a symmetrical composition of three wide bays, the main wall of the middle one being slightly recessed. Centrally, on the ground storey, projects the portico, raised on steps and having two pairs of Ionic plain-shafted columns supporting the entablature and surmounting balustrade. The inside wall contains the segmental-headed entrance, set in a rusticated stone face. The ground storey of each flanking bay has a large rectangular window of three lights, one wide between two narrow. Below the delicately detailed wood frame is a stone panel adorned with a fret, and above is a segmental lunette of stucco modelled with scroll ornaments, the whole being enclosed by a segmental-headed opening in the brick face. Above is centred a single rectangular window without any adornment. The middle bay has a similar window above the portico, but this is set in a segmental-headed shallow recess. The simply moulded main cornice is surmounted by a blocking course.
The north-east elevation contains two tiers of three equally-spaced rectangular windows, those to the ground storey having the simple dressing of a cornice supported on scroll-brackets. The south-east elevation is similar to the north-west, described above, except that instead of the portico there is a segmental bow containing three tall and narrow rectangular windows. The bow is finished with a simple cornice and surmounted by a balustrade. At the junction of the residential and service blocks is a two-storeyed bay surrounded by a cast-iron verandah of Victorian design. The service wing elevations are extremely plain, with two tiers of segmental-headed windows and a brick cornice. The strange howdah-like turret on the roof ridge is probably a Victorian addition.
Without the brilliance of Papworth's original furnishings, the interior is disappointing. The rooms generally have plaster cornices and ceiling borders of stock Grecian pattern, common to many houses of the period. The doors, of painted deal, are more interesting in their detail and have moulded architraves with ornamented stops. By far the most charming feature is the square vestibule, with its shallow domed ceiling rising from pendentives. (fn. n1)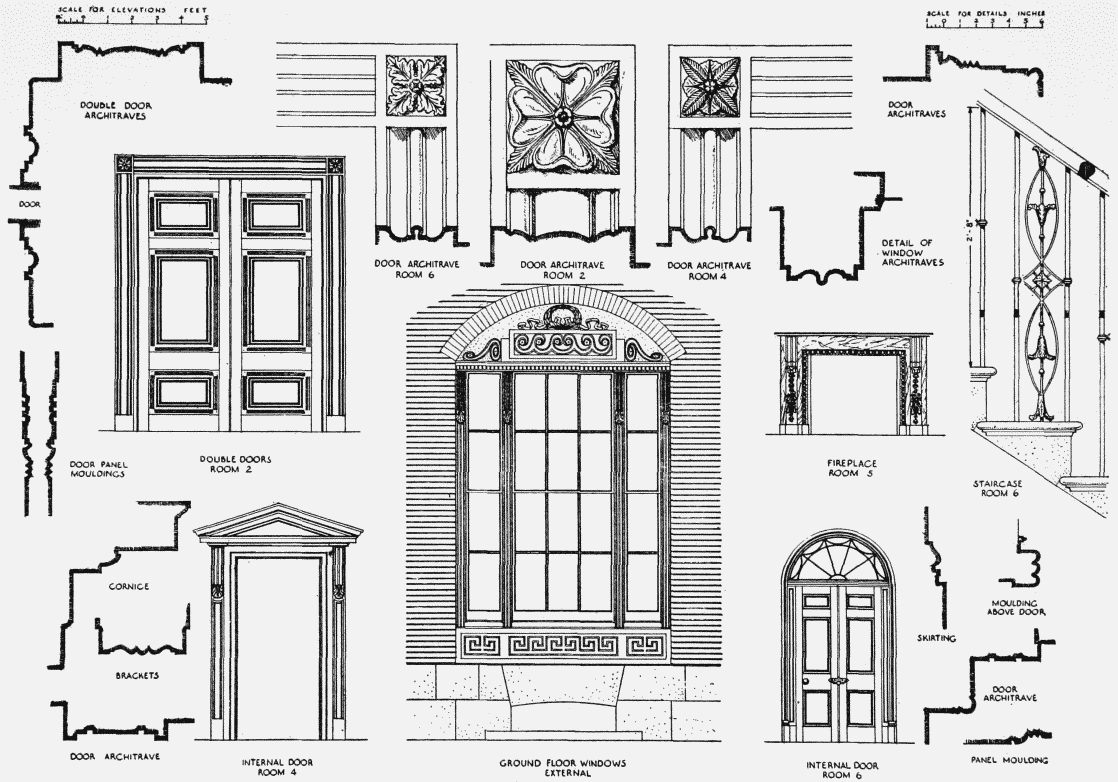 The stable range, a balanced composition with a narrow two-storeyed centre flanked by three-bay wings, has segmental-headed windows similar to those of the service wing. The courtyard front, now altered, had two-bay loggias flanking the central feature. At a short distance from the house, near the lake, is a garden shelter consisting of a four-bay portico with offices behind, a simple and attractive design combining Classical and Gothic motifs.
In the 1820s J. B. Papworth did a great deal of work for Blades. He designed some elaborate glassware which the latter was making for the Shah of Persia, and in 1825 he designed a new front for Blades' shop at Ludgate Hill. At the Brockwell estate he directed the formation of roads, drains and fences in preparation for the development of the estate for building purposes. [262] Brockwell (later Clarence) Lodge (Plate 65a) was erected to his designs in 1825–6 (fn. 57) for the occupation of Mrs. Emma Murray at a cost of £5,000; (fn. 56) after Blades' death in 1829 the house was left to his daughter Caroline Prodgers, wife of the Rev. Edwin Prodgers, (fn. 58) first vicar of St. Matthew's, Brixton. In 1828 Papworth designed and superintended the erection of a pair of semidetached houses (Plate 65b) in an intended row running parallel with Dulwich Road and called Brockwell Terrace; the builder of this pair, which was demolished in 1908, (fn. 59) was Thomas Burton of Crispin Street, Spitalfields. (fn. 57) The death of John Blades in 1829 put an end to further development.
By his will Blades left Brockwell Hall to his daughter Elizabeth Blackburn, wife of Joshua Blackburn, of Russia-mat warehouse, Wormwood Street, Bishopsgate, for their lives, and Clarence Lodge to his daughter Caroline Prodgers and her husband for their lives. Subject to these provisions the whole Brockwell estate was left to Blades' grandson, Joshua Blackburn. (fn. 58)
Brockwell Park
Towards the close of the 19th century large numbers of houses were being erected in the Brixton and Herne Hill area, and the population was increasing by leaps and bounds. In 1888 the Lambeth Vestry and the Metropolitan Board of Works obtained statutory powers to buy land and form a small park to be known as Raleigh Park on the east side of Brixton Hill. (fn. 60) This scheme was abandoned, however, in favour of acquiring part of the very much larger Blackburn estate. The property was now being administered by Trustees on behalf of Joshua Blackburn. After protracted negotiations the London County Council bought 78 acres of the estate in 1891 for £117,000. (fn. 61) of this sum, the London County Council contributed £61,000, Lambeth Vestry £20,000, Camberwell Vestry £5,000, Newington Vestry £6,000, the Charity Commissioners £25,000, and the Ecclesiastical Commissioners £500; the rest was provided by private subscription. The land, which was opened to the public on Whit Monday, 1892, lay between Tulse Hill and Norwood Road and included the mansion built by John Blades which had hitherto been known as Brockwell Hall. (fn. 62)
There was at first no entrance to the park from the Brixton direction. The problem of improving the access was complicated by the fact that the large gardens of Clarence Lodge and Brockwell House (erected between 1860 and 1870) which barred the way to Brixton and Herne Hill were still in private hands. In 1895 the tenant of Clarence Lodge agreed with the Trustees to exchange three much-needed acres of his garden for three acres elsewhere on the estate. The London County Council then bought this and a very small piece of land on the Herne Hill side and made a new entrance from Arlingford Road. (fn. 61) The formation of the park was completed in 1901 when the London County Council bought the remaining 43 acres of the Blackburn estate for £64,500. (fn. 61) Of this sum the Council contributed £32,250, the Camberwell Borough Council £8,000, the Lambeth Borough Council £20,000, Southwark Borough Council £2,500 and the Brockwell Park Extension Committee £1,750. This extension to the park was opened on February 28, 1903. (fn. 63)
This handsome addition comprised the northern part of the present park. Unfortunately nearly half of the 43 acres was still subject to leases granted by the Blackburn Trustees. The lease of Clarence Lodge expired in 1907 and some 13¼ acres were then added to the park. (fn. 64) The undistinguished buildings 100 yards south-east of the southern end of Brailsford Road are all that now remain of Clarence Lodge and its appurtenances. The lease of Brockwell House expired in 1919 but owing to exceptional circumstances created by the war it was renewed until 1922. Upon the expiry of this new lease the house (which was of no architectural interest) and most of its outbuildings were demolished; the lodge a few yards south of the swimming pool is the sole survivor. (fn. 65)
Nos. 46, 48, and 56–66 (even) Brixton Water Lane
The Lambeth Manor Inclosure map of 1810 shows William Winter as the owner of the land on which these houses stand. The Land Tax Assessment books suggest that about 1787–8 he purchased what is now the north-west section of Brockwell Park and the site of these houses from the descendants of the first Lord Onslow's daughters. John Blades bought the site of Nos. [264] 56–66 (Plate 60a) in 1819–20. These houses were erected between 1816 and 1823. (fn. 66) They are small two-storey terrace houses with stuccoed fronts. No. 58, formerly Sussex Cottage, has a porch with Tuscan-type columns; No. 56, formerly Kent Lodge, had a similar porch but it is now mutilated. No. 60, formerly Olive Lodge, has a valanced verandah borne on slender cast-iron columns extending across its ground storey. No. 62 (fig. 55) has an entrance porch with Roman Doric columns supporting an entablature adorned with triglyphs. No 64, formerly Norwood Cottage, has a ground storey trelliswork verandah with wreaths in the panels of its frieze. No. 66 is somewhat coarsely detailed and has canted bays at each side of its porch.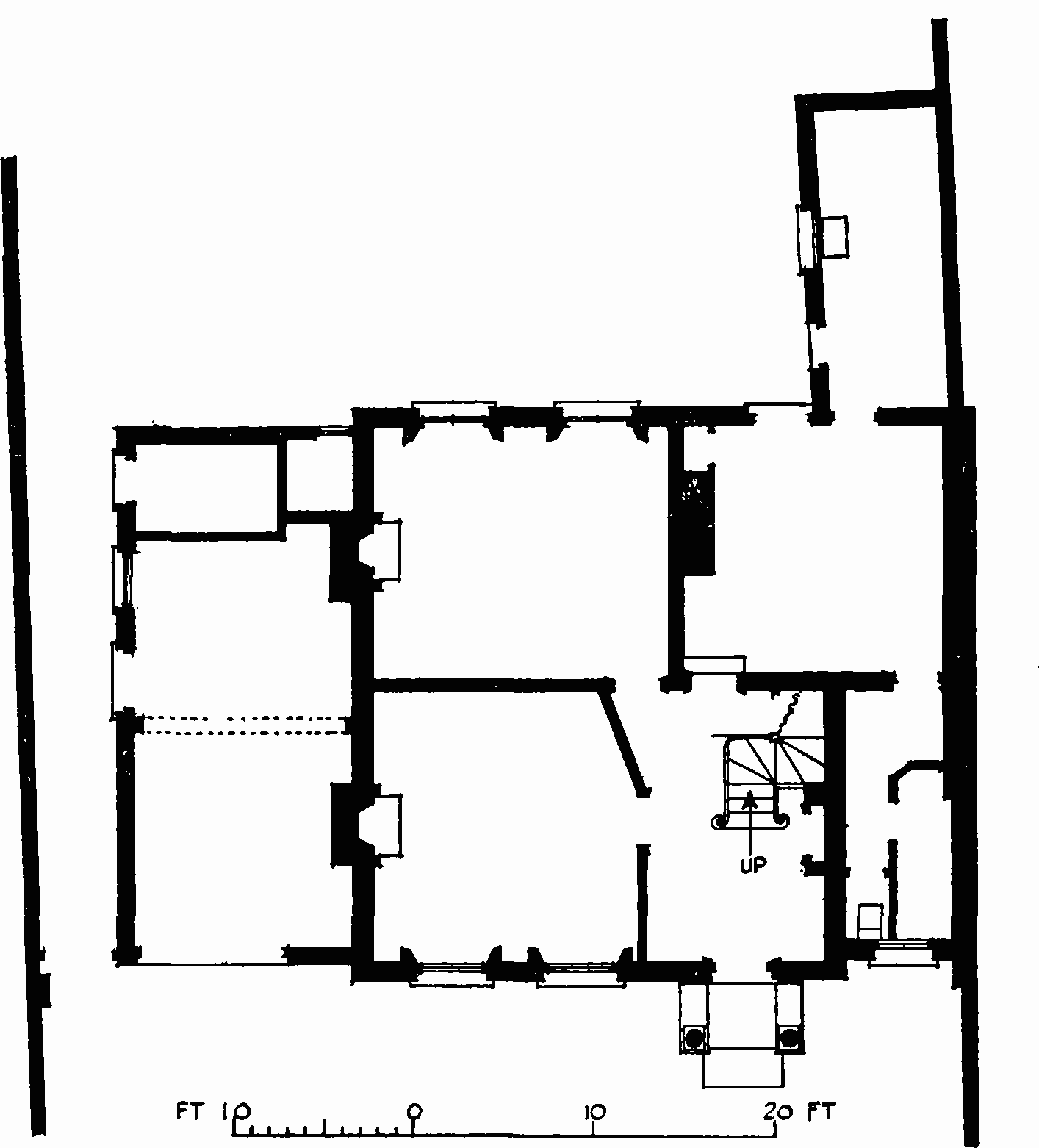 Nos. 46 and 48 Brixton Water Lane, formerly [265] Bayham Cottage and Meadow View respectively, stand on an adjoining piece of Winter's land which was not bought by Blades; they were erected between 1830 and 1839. (fn. 66) This semidetached pair of two-storeyed cottages is chiefly remarkable in having a front elevation that must be related to Papworth's design for the larger pair of houses of Brockwell Terrace (Plate 65b). The composition is similar although the expression is much simpler. Plain pilasters divide the central feature into two wide bays, each containing a ground- and first-floor window. These rectangular openings are set without architraves in a plain stucco face, horizontally divided by narrow channellings, a sill-band, and the simple cornice below the eaves. On each side, slightly recessed from the central feature, is a lower two-storeyed wing containing the doorway, with a rusticated surround, and one ground-storey window.
St. Jude's Church, Dulwich Road
In 1867 Joseph Moore and Herbert Dalton bought the land on which this church and parsonage house now stand from Joshua Blackburn for £736, and in the following year they freely conveyed it to the Ecclesiastical Commissioners. (fn. 67) On August 3, 1867, the foundation stone of the church was laid by Joshua Blackburn, (fn. 68) who made a generous contribution towards its cost. (fn. 69) The architect was E.C. Robins, whose plans were chosen after a competition in which twelve designs were submitted. (fn. 70) The contractor was John Kirk, (fn. 68) and the cost of the church, which accommodated over 1,000 people, was £7,300. (fn. 71) Mr. Plows carved the pulpit, reading-desk, and font from designs by Robins. (fn. 72) The church was opened for Divine Service on October 28, 1868, (fn. 71) and a District Chapelry was assigned in 1869. (fn. 73) The building was severely damaged by fire in 1923, and was restored by G. H. Fellowes Prynne. (fn. 74)
Despite the fact that the design was chosen in preference to eleven others, it is disappointing to find that St. Jude's is a nondescript Victorian Gothic church of conventional plan, having its major axis running south-east to north-west in alignment with Dulwich Road. The nave of five bays is flanked by aisles ending in shallow transeptal projections, and the aisleless chancel is at the north-west end. The exterior is of Kentish ragstone with Bath stone dressings, the roofs of slate having cast-iron crestings. The walls are buttressed and finished with corbel-tables, while the windows generally are filled with Geometrical tracery. In the north angle formed by the chancel and transept rises a squat two-stage tower, surmounted by an ashlar-faced broach spire. The arches of the nave arcades have voussoirs alternately of red brick and stone, rising from columns with foliated capitals. Three bays of the east aisle were enclosed in 1952 to form a chapel. The rest of the church is still disused while extensive war damage repairs are being completed.