Pages 82-88
Survey of London: Volume 26, Lambeth: Southern Area. Originally published by London County Council, London, 1956.
This free content was digitised by double rekeying and sponsored by English Heritage. All rights reserved.
LANSDOWNE WAY AREA
Nos. 339–343 (odd) Wandsworth Road and Nos. 141–149 (odd) Lansdowne Way
Formerly Nos. 1, 2 and 3 The Priory
This building originally comprised three houses and was built around 1843 (fn. 28) in the Gothic taste of that time. The three-storeyed fronts towards Wandsworth Road and Lansdowne Way are faced with coursed stucco and form a balanced composition centred on the octagonal battlementcrowned bay at the corner, to which the threesided bays terminating each front form responds. The windows have "Gothic" casements and over those to the first floor are moulded labels. Modern shop-fronts have obscured most of the ground storey, but No. 141 retains its original archheaded doorway, framed by a moulded arch and rising from clustered and banded shafts. The property was owned in 1850 by John Cooke; it was purchased in 1866 by John Diplock of Walworth, tea-dealer, whose descendants still retain a partial interest. (fn. 29)
Priory Primary and Secondary Schools, Priory Grove
This school was built for the London School Board; the contractor was W. Tongue of Plum-stead, and his tender for a school for 1,200 children was for £11,675. (fn. 30) The architect was E. R. Robson (fn. 31) and the date of opening was January 11, 1886. (fn. 32) The school is a plain three storey stock brick building with red brick and stone dressings.
Stockwell Garage, London Transport Executive, Lansdowne Way
This garage was erected in 1950–4, and was designed by Adie, Button and Partners, in association with Thomas Bilbow, architect to London Transport Executive. An illustrated article appeared in the Architectural Review for March 1954.
St. Francis of Sales and St. Gertrude Roman Catholic Church, Larkhall Lane
This church was erected in 1902 (fn. 33) and is a plain stock brick slate-roofed building. It has stone lintels over the windows and over the two front entrances, the latter bearing carved crosses. The east elevation, with a corbelled gable and containing a large circular window, is surmounted by a tall metal cross. The architect was probably F. W. Tasker.
CLAPHAM ROAD WEST SIDE
St. Augustine's Church
This church stands on the site of a congregational chapel, an iron building erected in 1875 and called the Augustine Independent Church. (fn. 28) The latter was founded by Dr. Urijah Thomas (fn. 34), who was helped by his father, Dr. David Thomas, minister of Stockwell New Chapel. (fn. 35) The venture did not prosper, however, and in 1882 the building was purchased for a chapel of ease for the parish of All Saints, and dedicated to St. Augustine. A new building was erected on the site and opened on March 2, 1899. (fn. 34) The architect was Sir Arthur Blomfield, who had recently restored Southwark Cathedral. The church was not consecrated until January 1, 1915. (fn. 34) On the alteration of parish boundaries in 1950 St. Augustine's was transferred to St. John's, Clapham, and now serves as a parish hall.
St. Augustine's is a Perpendicular Gothic building finished with red brick and stone dressings of plain and rather unimaginative design. It has a clerestoried nave and lean-to aisles with a lean-to entrance lobby across the Clapham Road front, the chancel being situated at the west end, all roofed with red tiles. On the flanking elevation a somewhat arbitrarily-placed gable is grouped with an awkwardly shaped bellcote. The interior, finished with red and stock brick, is architecturally very dull. The nave clerestory is carried on four-bay arcades which rest on circular columns.
Trinity Presbyterian Church
The foundation stone of this church (Plate 26b) was laid by John Henderson of Park Glasgow on February 13, 1862. The architects were W. G. Habershon and A. R. Pite. (fn. 33) A Bath stone portico of coarse Roman Corinthian columns crowned by a massive pediment, forms the frontispiece to a plain stock brick building with tall arch-headed windows in its side elevations. At the time of writing the church is disused.
CLAPHAM ROAD, EAST SIDE
The plan of Stockwell Manor on Plates 74 and 75 shows an estate on the east side of Clapham Road marked "Mrs. Lads Ld." In 1736 Sir John Lade, baronet, purchased from Dennis Roundell 20 acres of land in Stockwell which abutted west on Martin Lane (fn. 36) (Clapham Road). Probably the property was originally part of Stockwell Manor. In 1782 Sir John Lade sold the estate to William Malcolm, nurseryman, (fn. 37) and for a time it was known as Malcolm's Nursery Grounds. William Malcolm also had a lease of land near the Oval.
Nos. 159 and 161 Clapham Road
Formerly Nos. 9 and 10 Montague Place
This pair of houses appears to have been erected shortly before 1809. (fn. 38) The houses contain three storeys over a semi-basement, and exhibit an interesting variation from the normal plan in that the coach-houses are incorporated in the main structure. The front of each house, therefore, presents an unusual appearance, the dominant feature being the large arch-headed doorway to the coach-house. This is flanked by three smaller arched openings—the entrance doorway and two windows—all being set in a face of coursed stucco. Above the first-floor bandcourse the wall face is of stock brick and contains two tiers of four evenly spaced windows of rectangular form, those to the first floor being surmounted by stucco cornices and frieze panels with Soanic frets. A simple entablature and blocking-course completes the front.
Nos. 163–169 (odd) Clapham Road
Formerly Nos. 11–14 (consec.) Montague Place
The site of these houses was conveyed by William Malcolm's son James to trustees in 1799. In 1807 the trustees sold it to Thomas Corpe of Kennington, builder, (fn. 39) and these houses were erected within the next few years. (fn. 38) They are grouped in pairs, originally uniform in appearance, and are nearly identical with several other contemporaneous houses in Clapham Road, all being probably the work of one builder. Each house has a semi-basement, three storeys, and a mansard attic. On the ground and first floors are two rooms, the back projecting in a segmental bow, and alongside is a coach-house wing, now generally altered. The exterior is of stock brick, the front being three windows wide. The ground-storey windows and doorway are set in recesses with arched heads rising from moulded imposts. The door is framed by elegant Doric columns supporting key-ornamented entablatures, and the arched head contains a fanlight of circular motifs (Plate 68b). The tall first-floor windows open to a balcony with a cast-iron railing of conventional fret pattern. The interior of No. 165 is probably typical and contains a cross-vaulted hall leading to the staircase which has a balustrade incorporating cast-iron standards of Classical and Gothic design used alternately. The doors and windows have reeded architraves with lion-head stops, and there are good Regency chimneypieces of grey marble.
Nos. 171 and 173 Clapham Road
Formerly Nos. 15 and 16 Montague Place
These were originally built as one house (Plate 55a), which was erected in 1802–3 and first occupied by Edward Shewell (fn. 38) who moved here from No. 179 Clapham Road. Shewell purchased an estate to the east of Clapham Road in 1806 (see page 88) but by 1832 had moved to Notting Hill. (fn. 40) The division of the house into two separate dwellings dates from about this time. At the end of the 19th and beginning of the 20th century the house was occupied by an Anglo-French college for ladies; (fn. 28) it is now used by the Transport and General Workers' Union. When first built it was a large double-fronted house containing a basement and three storeys, spaciously planned with, on the ground floor, a large entrance hall leading to an oval staircase hall, flanked on either side by two reception rooms (fig. 28). Stock brick was used for the exterior facings except for the front which is of "white" brick, and the design has the spare elegance typical of its period. The entrance front is a symmetrical composition with a slightly recessed centre, three windows wide, flanked by narrow wings, each one window wide, that to the ground storey being set in a recess with a segmental-arched head rising from moulded imposts. Before the centrally placed doorway is an imposing porch, finished in stucco, with paired Doric columns supporting a pedimented entablature. The shafts of these columns, and the respondent antae, have channels instead of the customary flutes. The wide caves of the low-pitched slate roof are supported, at wide intervals, by plain mutules. From the east flank of the house projects a small two-storeyed extension, probably built when the property was subdivided, having a shallow porch of Ionic columns paired with antae and framing an arch-headed doorway.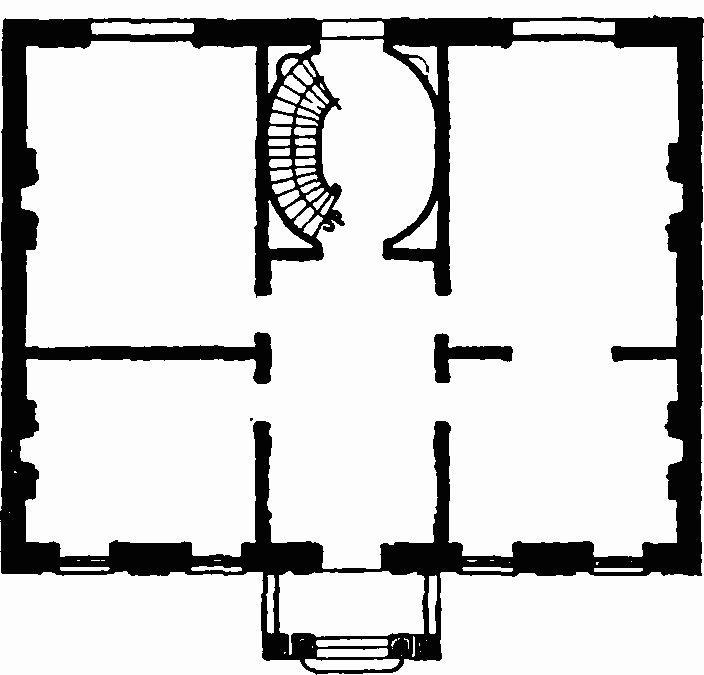 Nos. 175 and 177 Clapham Road
Formerly Nos. 19 and 18 Stockwell Common
These houses were erected between 1831 and 1840. (fn. 38) They are three-storeyed terrace houses of stock brick, with a coursed stucco facing to the ground storey which contains the arched doorway and two rectangular windows. There are two widely spaced windows in each upper storey and the fronts are finished with a simple entablature.
Nos. 179–185 (odd) Clapham Road
Formerly Nos. 17–14 (consec.) Stockwell Common
About four acres of Malcolm's nursery grounds were bought in 1792 by Christopher Fall of St. Mary, Newington. (fn. 36) He had four houses, Nos. 179–185, erected in 1792–4. (fn. 38) The land in the rear containing about three acres was used as paddocks and was occupied together with No. 185. Christopher Fall died in 1811 and left his property in trust for members of his family. The three acres of land in the rear were purchased in 1867 from Henry Cheswright by the Trustees of Stockwell Orphanage. (fn. 36) These houses are in many respects similar to Nos. 163–169 described above, being grouped in pairs linked by coach-houses. Each house front is three storeys high and three windows wide, and built of stock brick with an arcaded ground storey containing two arch-headed windows and the doorway. This last has an ornamental radial-patterned fanlight over a door flanked by Ionic columns. The fronts finish with a mutule cornice and the mansard attic is lit by two lunette windows. A narrow recession marks the party wall between the paired fronts. Nos. 183 and 185 are now derelict.
Spurgeon's Homes
Formerly Stockwell Orphanage
In 1866 Mrs. Hillyard, a clergyman's widow living in Islington, (fn. 41) gave C. H. Spurgeon £20,000 for the foundation of a home for fatherless boys. (fn. 42) Twelve Trustees were appointed to administer the fund. (fn. 43) In 1867 and 1879 land between Clapham Road and Stockwell Park Road was purchased by the Trustees for the site of the Orphanage. (fn. 44) Their plan was to accommodate the children in "family" houses, (fn. 42) which when completed were arranged in a quadrangle around a garden, approached by a narrow way from Clapham Road (fig. 29). The Trustees were successful in 1867 in their appeal for subscriptions to augment Mrs. Hillyard's gift, (fn. 45) and they immediately started building on the north-east side of the quadrangle (fn. 46) (Plate 32b). The date of the foundation of each house is marked on fig. 29.
In the north-east block the houses were all designed by James Cubitt. (fn. 47) Those founded in 1867 were named the Silver Wedding House, to commemorate the gift of £500 by Mr. and Mrs. Tyson on the occasion of their silver wedding anniversary; (fn. 48) the Merchant's House, in honour of a benefaction from a London business man; the Workmen's House, after William Higgs, the builder, and his employees, who provided the materials and labour respectively; (fn. 49) and Unity House, which was paid for by Thomas Olney and his sons in memory of Mrs. Unity Olney.
Those houses founded in 1868 were called Wigner House, named after Pastor J. T. Wigner, secretary of the Orphanage, and erected by the Baptist brethren as a token of regard for C. H. Spurgeon; the two Testimonial Houses, presented as a testimonial of esteem for C. H. Spurgeon by the Baptist churches; (fn. 50) College House, built by the subscriptions of gentlemen educated at the Pastor's College; and Sunday School House, subscribed for by teachers and children of Sabbath schools. A building including a lecture-and dining-hall was also erected in 1868 at the north end of the north-west block. (fn. 50)
The acquisition of additional land in 1879 made expansion possible, and in 1880 the south-west block was founded for the accommodation of orphaned girls. The houses in this block were designed by Alfred Wright and called the Reading House in recognition of the liberality of friends in Reading; the Trustees' House, erected by the Trustees of the Orphanage; the Limes, given in memory of the five children of W. R. Rickett; Bray's Bricks, in memory of E. E. Bray; the Sermon House, given by C. H. Spurgeon and Messrs. Passmore and Alabaster; the Olives, given by Samuel Barrow and his friends; and the Liverpool House, named in remembrance of the help given to the Orphanage by friends in Liverpool.
The buildings in the south-east block were also designed by Alfred Wright. (fn. 47) They consisted of a girls' infirmary, given by Mr. and Mrs. H. Wood, and baths and play halls for the girls, and were opened on June 21, 1882. The block was completed by the addition of a library at the east end in 1911.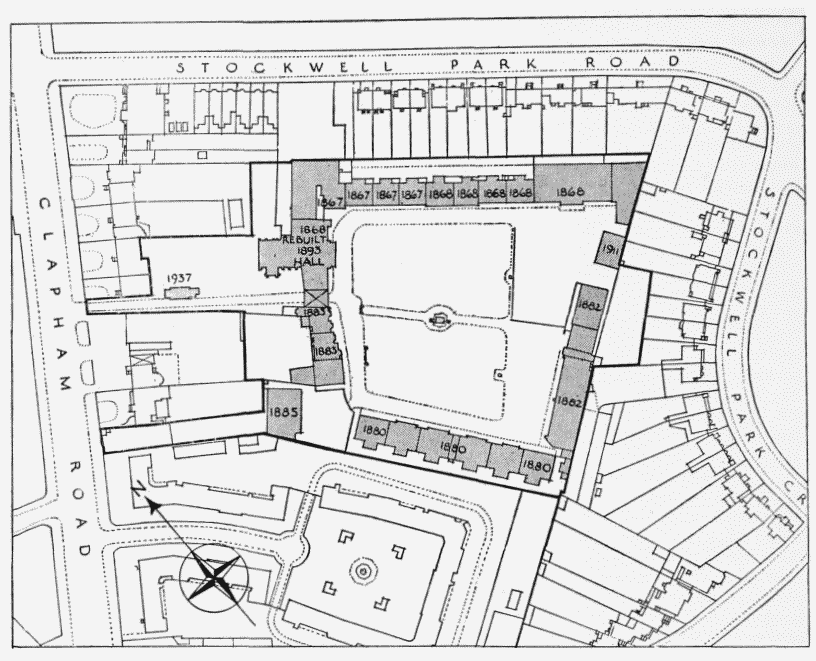 The north-west block, which had been started in 1868, with the dining-hall and gateway, was completed in 1883 by the addition of a Master's House; the architect was Alfred Wright and the builder W. Johnson. In the west corner of the quadrangle a laundry was opened in 1885. In 1893–4 the dining-hall was enlarged and renamed the Memorial Hall after C. H. Spurgeon. When finished the hall was cruciform, the transepts being formed by the ends of the old hall. At one end stood a large statue of C. H. Spurgeon, flanked by reliefs in terracotta; the group was modelled by George Tinworth and produced by Messrs. Doulton. (fn. 51) The architects of the new hall were James Cubitt and G. F. Collinson, and the builders were Chessum and Sons. The cost was nearly £5,000. (fn. 52)
When completed the orphanage accommodated some five hundred children between the ages of six and ten. A country home for younger children was opened at Birchington, Kent, in 1923. (fn. 51) On September 1,1939, the children were evacuated from Stockwell to Reigate, and in 1953 they were all moved from Reigate to Birchington. The buildings at Stockwell were used by the secretary and office staff until April 30, 1953; (fn. 47) they are shortly to be demolished and replaced by a comprehensive high school.
The buildings of the orphanage are grouped about a large open garden; they have two and three storeys and are built in red brick with stone dressings and are liberally banded and diapered in blue and yellow brick. The entrance archway and the houses on the north-west side of the square show northern Italian Gothic influence in their design while the Memorial Hall, which is surmounted by a galleried lantern and has a large oriel balcony at the south-east end, and the library, have simple English Gothic detail.
No. 209 Clapham Road
Formerly The Bays or No. 2 Stockwell Common
This is probably the oldest surviving house in Clapham Road, but unfortunately nothing has been discovered about its origin. It is a double- fronted house of three storeys, its painted stucco face clothing a front of mid or late 18th century date. The central doorway is surmounted by two windows and flanked on each side by a splay sided bay rising through the three storeys. The wood doorcase is of charming design, the arched opening being framed by panelled pilasters with consoles supporting an open triangular pediment. The front finishes with a cornice and blocking course.
Nos. 355–363; 369–385; and 391–393 (odd) Clapham Road
Nos. 355–363, formerly Nos. 317–325 (odd) Clapham Road, previously Nos. 21–25 (consec.), originally Nos. 22–26 (consec.) Clapham Rise; Nos. 369–385, formerly Nos. 329–345 (odd) Clapham Road, previously Nos. 27–35 (consec.), originally Nos. 28–36 (consec.) Clapham Rise; Nos. 391–393, formerly Nos. 347–353 (odd) Clapham Road, originally Nos. 1–4 (consec.) Bedford Terrace
These houses were erected on that part of Stockwell Manor which came into the possession of the Dukes of Bedford at the beginning of the 18th century. Most of them, if not all, seem to have been built under an agreement made on December 31, 1791, between the then Duke of Bedford and Archer Willson, a Fulham builder. (fn. 53) The evidence suggests that Willson erected some of the houses (Nos. 391 and 393 were not built till after his death), and that they were then let by the Duke of Bedford to Willson's nominees. These nominees were undoubtedly Willson's financial backers, and in some cases they actually lived in the houses built with their money. This would account for the different tastes shown in the designs of the houses. Willson also had two mortgagees, Thomas Holloway of Chancery Lane, and Christian Kidd, widow, of Marylebone.
No. 357 was first occupied in 1792, and Nos. 359 and 361 in 1794; No. 355 does not appear in the rate books until 1806. The land on which Nos. 359 and 361 stand was let to Robert Robeson by the Duke of Bedford and Robson himself occupied No. 359 between 1797 and 1808.
Nos. 355–361 are stylistically linked with Nos. 179–185, though they are not uniform in size. No. 355 alone retains intact the doorway with Ionic columns and elaborate fanlight that was probably common to all these houses. No. 359 has a wing with a segmental bow and an added entrance porch with anthemion-ornamented pilasters, while No. 361 has a five windows wide frontage with a central doorway from which the decorative fanlight is missing.
No. 363 was built in 1802. It is a much mutilated house, three storeys high and three windows wide, probably the survivor of a pair originally similar in style to Nos. 371–377. The site of No. 365 is now occupied by a garage.
No. 369 is the largest and finest of this group of houses. It was also built on Robert Robson's land and was first occupied by John Poynder, who lived there from 1815 until 1825, when he moved to No. 274 South Lambeth Road (see page 73). It is a detached house, spaciously planned and containing a semi-basement and three storeys. The exterior is faced with yellow stock brick dressed with painted stone or stucco. The unusual composition of the road frontage suggests that the original plans underwent enlargement at an early stage of the building's history, the first design probably being for a symmetrical composition with a wide central bay rising above and projecting from narrow wings, a further bay being added on the right. Each wing has one window to each storey, those of the ground and first floors being rectangular while that of the second floor is segmental-headed. There is a frieze-band and cornice above the first-floor window as well as at the parapet level, both being at lower levels than those ornamenting the two bays. From the ground storey of the first bay projects a segmental bow, containing two windows and surmounted by a cast-iron railing of lattice pattern. The flat wall face above contains two windows, that of the first floor being set within a segmental-headed recess, while that to the second floor is segmental headed. Below the second-floor window runs a plain bandcourse, and the crowning cornice is surmounted by a pedimental blocking-course adorned with Soanic frets. The bay on the right of the recessed wing has the same projection but is slightly wider than that just described. It is also generally similar in design, except that the first-and second-floor windows are both rectangular and set within a round-headed recess. The house is entered on the north side, through a recessed porch of Regency Greek design, with unfluted Doric columns supporting a simple entablature having a frieze decoration of wreaths and key frets. The premises are now occupied by Messrs. Ashton Brothers and a garden with seats extends from the pavement edge back to the house.
Nos. 371–373 and 375–377 were let to John Burrup, stationer, as Archer Willson's nominee in 1802 and 1804 respectively. They are paired houses, originally similar in design. The front of No. 371 has been faced with stucco and a porch added to No. 373, but Nos. 375–377 are reasonably free from alteration. The stock brick front is of simple design, each house having three storeys with two windows, those to the ground floor being set in round-arched recesses. The entrances are contained in side annexes, and a porch has been added to No. 375.
Nos. 379 and 381 were also let at Willson's direction, to William Mitchell in 1803. Mitchell lived in one of them. They are a plain stock brick pair, each two windows wide, with narrow wings. The first-floor windows are set in round-arched recesses, and an attic storey surmounts the main cornice.
Nos. 383 and 385 were erected in 1806; they were let by the devisees of Willson to Thomas Rippon, who also occupied one of them. They are another plain pair with stock brick fronts.
Nos. 391 and 393 are a range of four terrace houses erected by William Novell of Clapham, builder, and let to him by Willson's devisees in 1825. They have been converted into two blocks of flats. They are four storeys high and each three windows wide. The houses are uniform and share a stock brick front of austere expression. Before conversion, the ground storey probably presented a range of round-headed door and window openings slightly recessed within an arcade, but the rhythm has been ruined by the replacement of each pair of doorways by a single entrance having a pedimented surround in stucco of coarse Victorian design. Each upper storey contains a range of twelve closely spaced rectangular windows, those of the first floor also being set within an arcade.