Pages 95-100
Survey of London: Volume 26, Lambeth: Southern Area. Originally published by London County Council, London, 1956.
This free content was digitised by double rekeying and sponsored by English Heritage. All rights reserved.
FERNDALE ROAD AREA
City of London Almshouses, Ferndale Road
After the passing of the Reform Bill of 1832 large sums of money were subscribed to celebrate the event by an illumination. A group of gentlemen in the City decided that the foundation of almshouses would provide a more useful and permanent memorial. They therefore determined "to induce the people in general to subscribe the money which they would have wasted in the glittering follies of a night to the establishment of a humane Institution, which reason could approve, and charity consecrate, as a lasting memorial of their united triumph over an absurd and dangerous custom". (fn. 105) The almshouses were intended "to afford a permanent asylum to aged and decayed freemen and householders of London, and their wives or widows, of good character and repute, …". (fn. 105) Subscriptions were received, including a gift of £1,500 from the Corporation of London, (fn. 105) and in 1834 the Trustees of the almshouses bought two plots of land in Brixton for £300 from John Alliston, and a third contiguous plot for £150 from Richard Boyman Boyman. Two years later they bought from Alexander Ross a much larger piece of adjoining land with a frontage of over 800 feet along what is now Ferndale Road for £1,200, and 16 houses accommodating 31 residents were erected on the west side of the land at a cost of £3,000. (fn. 106)
This total outlay seems to have exhausted the Trustees' financial resources. They were unable to build any more houses, and had to resort to borrowing money; after 1841 they were unable even to pay the interest on the loans. At last in 1848 they handed over all the land and the 16 houses to Trustees acting on behalf of the City Corporation. (fn. 106)
In the reign of James I Robert Rogers had bequeathed £600 to the Corporation for the erection of almshouses. In 1856 the Court of Common Council decided to pull down the almshouses which had been built in Hart Street, Cripplegate, and erect others on part of the unused land in Brixton. This was done shortly afterwards. (fn. 107)
In 1882 the Corporation also removed to Brixton the almshouses founded by Sir Thomas Gresham in Whitecross Street; George Barnes Williams was the architect of this block of houses (fn. 33) (Plate 31b).
In 1884 the 16 houses built before the Corporation acquired the land in Brixton were pulled down and rebuilt, the foundation stone being laid on December 17, 1884, by the Chairman of the City of London Freemen's Orphan School Committee. The architects were Messrs. Davis and Emanuel, and the contractor Mark Gentry. (fn. 33) This group is now known as the Freemen's Houses.
The three sets of almshouses are grouped about an open quadrangle facing Ferndale Road. Rogers' Almshouses, which stand at the north end of the east side, are plain two-storey stock brick buildings gabled in pairs and of Gothic design. The Gresham Almshouses, at the south end of the east side, are built of red brick with stone dressings and form a single-storey terrace designed in quasi-Jacobean style. The entrances are grouped in pairs in recessed arcaded porches, and each house has a slightly projecting bay window. The Freemen's Houses are grouped in four blocks on the west and south sides. They also are built of red brick with stone dressings, but they have two storeys, the upper being galleried; there are pavilions flanked by short towers at each end of each block.
City of London Freemen's Orphan School, and Ferndale Court
Before the removal of Rogers' and Gresham's Almshouses to Brixton the Corporation erected a school on part of the land which they acquired in 1848. An Act of 1829 (fn. 108) had enabled the President and Governors of the redundant London Workhouse (a home for neglected and vagrant children) to dispose of their property and apply the proceeds towards the education and apprenticing of poor children. An Act of 1850 (fn. 109) transferred the property of the President and Governors to the Corporation, and directed the latter to establish a school "for the maintenance and the religious and virtuous education of Orphans of Freemen of the City of London". That part of the land now occupied by Ferndale Court was appropriated for this purpose, and the first stone was laid on April 27, 1852. The school was designed by J. B. Bunning, the City Architect, and the contractors were Piper and Son; the initial cost was about £20,000. (fn. 110) The City of London Freemen's Orphan School, as it was then called, was opened on March 28, 1854, and accommodated 65 boys and 35 girls; the building was enlarged in 1863. (fn. 111)
In 1926 the school was removed to Ashtead Park, Surrey, and its name was changed to The City of London Freemen's School. (fn. 111) The school buildings at Brixton were demolished and the site was used for the erection of Ferndale Court, blocks of flats for members of the City of London Police Force. The foundation stone was laid by the Lord Mayor on December 16, 1927, and the buildings were opened on October 11, 1929. The architect was Sydney Perks and the contractors were Cropley Bros. To the east of Ferndale Court is the City of London Police Sports Club ground.
St. Paul's Church, Santley Street
The site of this church formed part of an estate of some sixteen acres which was bought about 1865 by George Peabody, the philanthropist. (fn. 112) After his death in 1869 (fn. 113) his Trustees decided to dispose of the property, and in the course of the next few years a large number of small houses was erected in the area between Ferndale Road and Acre Lane. (fn. 114) In 1874 a temporary iron church was erected on the site of the present parochial hall in Allardyce Street, and four years later a site for a permanent church was acquired. (fn. 115) St. Paul's was designed by W. G. Habershon, (fn. 116) of the firm of Habershon and Fawckner, of Bloomsbury Square, (fn. 116) and was consecrated by the Bishop of Rochester on July 29, 1881. (fn. 115) The builder of the church, which accommodates 1,500 people, was Mr. Jones of Gloucester. (fn. 116) A District Chapelry was assigned in 1882. (fn. 115)
The church is plainly designed in Decorated Gothic style and faced with yellow brick banded by courses of red brick. The clerestoried nave and the aisles each have separately gabled roofs, that covering the nave being of hammer-beam construction. The original design included a tower at the west end, but it has not been completed. The galleries in the aisles were removed during the war of 1939–45.
Santley Primary and Secondary Schools, Santley Road
This school was built for the London School Board. A temporary iron building accommodating 450 children was opened on the site in April 1898. (fn. 117) The permanent school, which included a Special School for 40 children and a Manual Training Centre for 20 boys, and in all accommodated 1,082 children, was built by Holliday and Greenwood of Brixton for £28,230. (fn. 118) The architect was T. J. Bailey, (fn. 31) and the date of opening was January 6, 1902. (fn. 119) The school is a three-storey red brick building with ogeecapped towers defining the staircases, and a small centrally-placed cupola rising from the roof.
Kenyon Baptist Church, Solon Road
This chapel was erected by the Higgs family in memory of William Higgs, (fn. 33) builder (1825–83), whose son was one of the original partners in the firm of builders, Hill, Higgs and Hill (later Higgs and Hill). (fn. 120) Shortly before his death William Higgs senior presented the site to the London Baptist Association, of which he was Treasurer, and drew up plans for the chapel. (fn. 121) The foundation stone was laid by C. H. Spurgeon, who was a friend of William Higgs, on November 7, 1884. The building, designed in Decorated Gothic style, is faced with brown stone and cream-coloured terracotta dressings, the latter produced by J. Stiff and Sons, of Lambeth. The front has a central triple entrance over which is set a large five-light window.
Epiphany Social Centre, Bedford Road
Formerly Church of the Epiphany
The Mission of the Epiphany was established in the western part of the parish of St. Andrew's in 1887, and a temporary church was erected in 1891. (fn. 122) The present church, which was intended for parochial activities as well as services, (fn. 123) was opened by the Bishop of Southwark in 1911; (fn. 122) it was designed in the Gothic style by F. H. Greenaway and J. E. Newberry. (fn. 124) The church is a plain building of multi-coloured brick with stone dressings. Its asymmetrical gabled front contains a seven-light traceried window. A staircase extends across the front and leads to the entrance, which is set to one side in a recessed porch.
ACRE LANE
Although Acre Lane was an old parish highway the only old houses still standing along it were erected after the auction of Stockwell Manor in 1802. George Wheeler purchased the Hither Six Acres Field (No. 54 on the plan on Plates 74 and 75), on which Nos. 24 and 26 and the Eighth Church of Christ, Scientist, stand, and the Further Six Acres Field (No. 49 on the plan on Plates 74 and 75), on which Trinity Homes and No. 46 stand. (fn. 125) Thomas Bailey purchased the Eight Acres Field (No. 48 on the plan on Plates 74 and 75), on which Nos. 48–50 and 86–92 stand. (fn. 126)
Nos. 24 and 26 Acre Lane
Formerly Nos. 5 and 6 George Place
In 1802 George Wheeler sold a piece of the land which he had recently acquired to William Coward of Brixton Causeway, who became responsible for its development. (fn. 125) In 1822 Coward granted a lease of No. 24, then recently erected, to Samuel Clement of Great Suffolk Street, builder. Clement probably erected No. 26 as well, which was let in the same year to Richard Strong, who occupied it for several years. (fn. 125) They area plain pair of three-storey stock brick houses, with entrances in narrow side wings. No. 24 has pilasters with festooned heads and a later semicircular hood at its entrance. No. 26 has an identical hood and door pilasters of Corinthian type.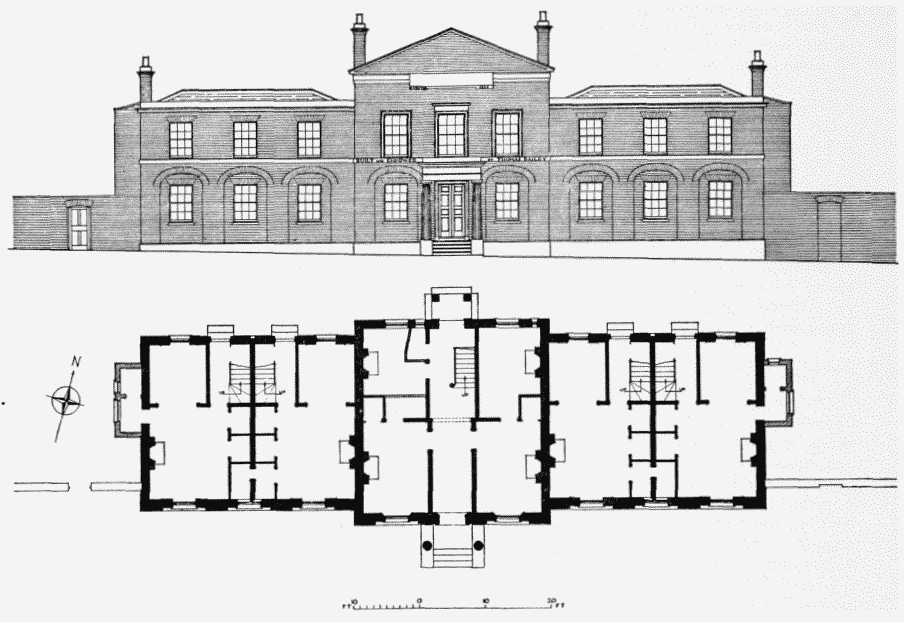 The Eighth Church of Christ, Scientist, London
A temporary church was erected at the rear of No. 20 Acre Lane in 1921 and extended in 1924. (fn. 127) The foundation stone of the permanent church, designed by T. E. Davidson, Son and Sherwood of Newcastle-upon-Tyne, (fn. 127) was laid in 1930, and the building completed in 1931. (fn. 128) It is a plain stock brick building with a three-storey front of red brick dressed with stone, gabled and of unostentatious design. The church was damaged in June 1944 by a flying bomb, and was restored in 1947–53 to the designs of Oswald P. Milne who made considerable modifications and also designed the reading room on the east side. (fn. 129)
Trinity Homes
Formerly Trinity Asylum
George Wheeler sold another piece of land to Thomas Bailey (fn. 130) of St. Paul's Churchyard (fn. 131) and Bethel House, Brixton, (fn. 132) on which Trinity Asylum was built in 1822 (Plate 31a, fig. 32). Bailey, "being desirous of establishing an asylum for pious aged women, whose lives and conversations give evidence that they have passed from death into life by faith in Jesus Christ", (fn. 132) had two blocks of houses built parallel with Acre Lane. The front block contained eight apartments and the rear block four. Each apartment consisted of two rooms fitted with a stove and an iron bedstead. (fn. 132) The work of erecting the two blocks was carried out under the supervision of Messrs. Bailey and Willshire, surveyors. (fn. 133) In 1824 Bailey appointed seven Trustees to manage the asylum and endowed it with £2,000. Until his death in 1828, (fn. 134) however, he retained full control of the institution, for the subsequent management of which he provided a number of rules. Candidates for admission had to be members of the Church of England and be between 57 and 67 years of age. They had to have an income of their own of at least £20 per annum, in addition to which all inmates were to receive an annuity of £10 and twelve sacks of coal. They had to provide their own furniture and cooking utensils, and on Sundays they were required to go to church twice in summer and once in winter. They were not allowed to keep fowls or rabbits, and probably because there was a garden in the centre of the site, the rules also provided that "No flower pots or any thing whatever shall be allowed on the outside of any of the windows". (fn. 132)
Bailey bequeathed a further £500 (fn. 134) to the asylum, whose management was taken over by the Trustees in 1828; another legacy was received from his widow a few years later. (fn. 135) In 1860 a third block containing four sets of rooms was erected on the east side of the plot. The architect was Samuel Field, (fn. 136) and Skinner Brothers, whose tender was for £575, were the builders. (fn. 137)
The block of almshouses fronting Acre Lane is an elegant two-storey building in yellow stock brick. The central feature, which is three windows wide, rises slightly higher and is pedimented. It has a central Greek Doric columned porch and bears the inscription "ERECTED 1822" beneath the plain panel under the pediment, and "BUILT AND ENDOWED BY THOMAS BAILEY" along the first floor sill-band. The side wings are set back slightly and the sill-band of the centre part continues beneath their three first-floor windows. All the ground-floor windows are set in shallow elliptical-headed recesses. The cornices of the wings have been marred by injudicious repairs.
The blocks at the rear are similar to the alms-houses fronting Acre Lane, but plainer. The range on the north side of the garden has porches with unfluted Greek Doric columns sheltering each pair of entrances. The other range on the east side bears a tablet dated 1860.
No. 46 Acre Lane
Formerly Hambly House
No. 46 was erected about 1808 (fn. 38) by Richard Curtis on a piece of land probably purchased from Thomas Bailey. Curtis occupied it until his death in 1843, when it passed to Elizabeth Hambly (fn. 138) who gave it the name of Hambly House. Since 1906 it has been used as a Church Army hostel for disabled men. (fn. 138) It is a plain three-storey stock brick building. On the road frontage pilasters rise through the full height to a cornice, and on the otherwise uninteresting side elevation there is a chaste porch with coupled Ionic columns.
Nos. 48 and 50 Acre Lane (The Cedars)
In 1819 Thomas Bailey sold these two houses, which had been recently erected, together with about an acre of land, to John Illidge, stockbroker; (fn. 131) Illidge himself occupied No. 48. (fn. 38) In 1899 both houses were purchased by the School Board for London from John Betts Illidge (fn. 131) and a school for mentally defective children was established in them. They are also stock brick houses, three storeys high and have recessed porches in their wings framed by Ionic columns and flanking antae. The ground-floor windows are set in shallow segmental-headed recesses linked by unmoulded impost bands.
Nos. 86–92 (even) Acre Lane
Formerly Nos. 4–1 (consec.) Melbourne Place
The land on which these houses stand was also part of the Eight Acres Field. The site was purchased by John Illidge from Thomas Bailey in 1825, (fn. 139) and the houses appear to have been erected between 1831 and 1839. (fn. 38) Nos. 86 and 88 are also three-storey stock brick houses, linked by a continuous sill-band below the first floor windows. Their entrances, in narrow side wings which are set back slightly, have simple pilasters on each side. Nos. 90 and 92 were similar until shops were built across their front gardens in 1884.
Nos. 47–53 (odd) Acre Lane
Formerly Nos. 24–27 (consec.) Acre Lane
These houses are on the south side of Acre Lane. They are small two-storey brick villas erected between 1816 and 1824, (fn. 38) but are so marred by modern alterations that few of their original features remain intact. No. 49, Lynton House, still has an Ionic columned porch and area railings of cast-iron with quatrefoil ornament.