Pages 194-200
Survey of London: Volume 37, Northern Kensington. Originally published by London County Council, London, 1973.
This free content was digitised by double rekeying and sponsored by English Heritage. All rights reserved.
CHAPTER IX - The Ladbroke Estate
The estate of the Ladbroke family in Kensington was one of the largest holdings in the whole parish. It consisted of three separate parcels of land, all on the north side of the Uxbridge road (now Notting Hill Gate and Holland Park Avenue): the two smaller parcels, consisting of five acres now occupied by Linden Gardens, Notting Hill Gate, and of twenty-eight acres centred around Pembridge Villas, are described in Chapter X. The third and largest parcel, consisting of some 170 acres bounded on the cast by Portobello Lane (now Road), on the west by Portland Road and Pottery Lane, and on the north extending almost as far as Lancaster Road, is the subject of the present chapter (fig. 45).
Large parts of this area became the scene of a layout quite unlike anything previously, or indeed subsequently, to be found in London. Building development was spread over some fifty years, between 1821 and the mid 1870's, but the most intense activity took place between 1840 and c. 1868. Half-a-dozen architects and a rather larger number of major speculators were all involved in the evolution of the layout, and despite exhaustive study of the available evidence, the precise extent of their individual contributions is still not entirely clear.
The estate had probably been acquired in the middle of the eighteenth century by Richard Ladbroke esquire, of Tadworth Court, Surrey, (fn. 4) who was a brother of Sir Robert Ladbroke. Sir Robert was a banker in the firm of Ladbroke, Son, Rawlinson and Porker of Lombard Street, and had served as Lord Mayor in 1744–5 and as one of the Members of Parliament for the City from 1754 until his death in 1773. Both he and his brother were extremely wealthy. After Richard Ladbroke's death the estate passed to his son, another Richard, who at the time of his death in 1793 owned four houses, in the City, at Chelsea, at Tadworth and in Reigate, as well as estates in Middlesex, Surrey and Essex. But he had no children, and he therefore bequeathed life interests in his lands to his mother and his four sisters, with remainder successively to his nephews, and ultimately, in default of issue, to a distant cousin, Robert Ladbroke. By 1819 Richard Ladbroke's mother, sisters and two of his nephews had all died, and the Kensington estates passed to the last surving nephew, James Weller, who in accordance with the requirements of his uncle's will assumed the name of Ladbroke. (fn. 5)
James Weller Ladbroke held the estate until his death without issue in 1847. During his twenty-eight-year ownership a considerable amount of building development took place, and the layout and character of the estate were largely determined. But there is little evidence that he ever took much active part in these processes, beyond the routine signature of leases. He lived at a succession of country houses in West Sussex, the management of the estate at Notting Hill being left to a firm of City solicitors, Smith, Bayley (Bayley and Janson after 1836), (fn. 6) acting in conjunction with a 'surveyor', Thomas Allason, who was a distinguished architect. Nor is there anything to suggest that he was personally concerned in the family banking business, which was taken over by Messrs. Glyn and Company in 1842. (fn. 7)
Building development in the 1820's and 1830's
Under the terms of his uncle's will James Weller Ladbroke could only grant leases of up to twenty-one years' duration. Encouraged, no doubt, by the tremendous building boom of the early 1820's Ladbroke and his advisers obtained power by a private Act of Parliament of 1821 to grant ninety-nine-year leases, (fn. 8) and within a year the first articles of agreement for building had been signed. (fn. 1) This was for the site of Linden Gardens (formerly Linden Grove, see page 268) where Ladbroke's own surveyor, Allason, was granted a number of leases in 1824 and 1827. (fn. 9)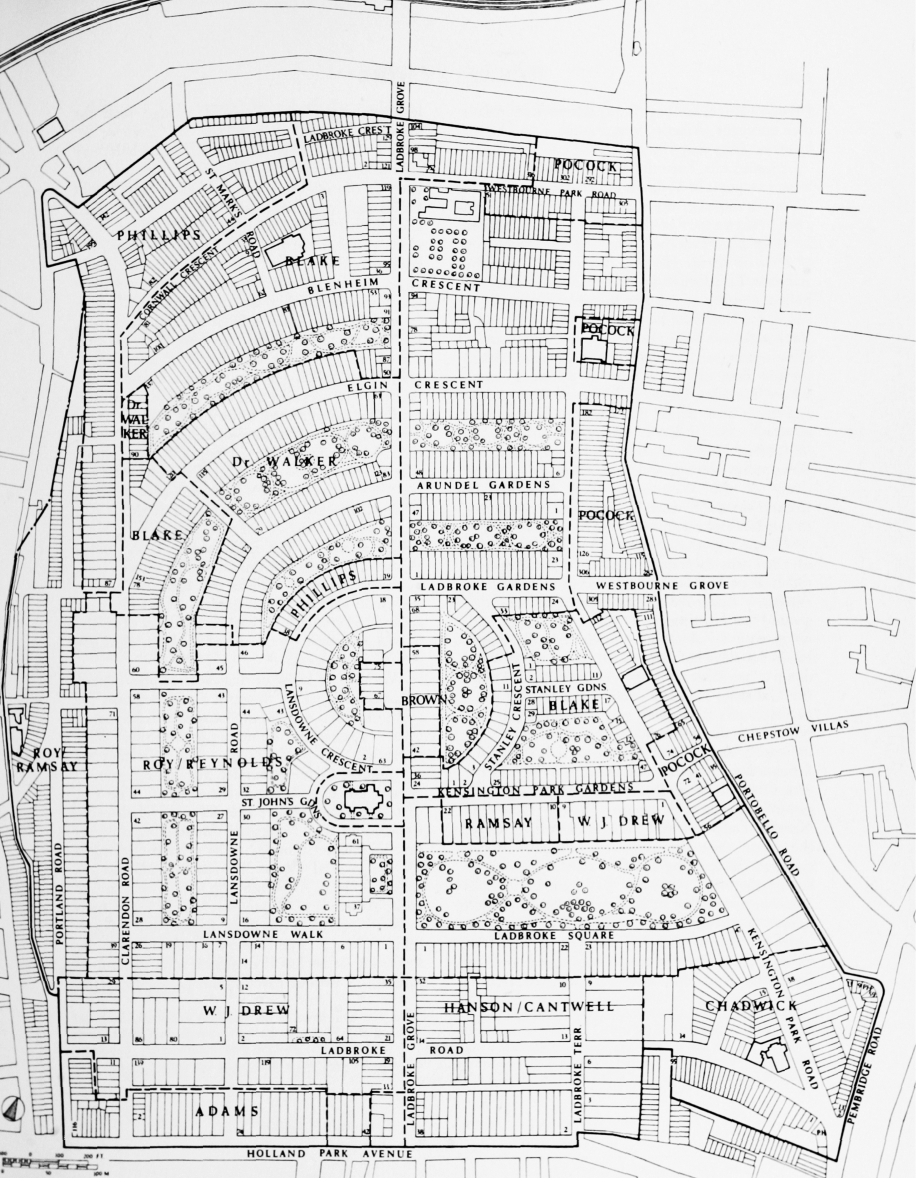 Allason was born in London in 1790. He became a pupil of William Atkinson, and he won the silver medal of the Royal Academy School in 1809. After a tour of the Continent he published in 1817 his Picturesque Views of the Antiquities of Pola in Istria. He was the architect for the Alliance Fire Office in Bartholomew Lane and built a number of country houses. In addition to acting for Ladbroke he was surveyor to the Stock Exchange, the Pollen estate and the Pitt estate in Kensington (see Chapter III), and he also worked for the Earl of Shrewsbury at Alton Towers, where 'He was engaged in laying out the gardens and from this period he was much employed as a landscape gardener.' He lived for some years in Linden Grove, attended the meetings of the Kensington Vestry, and was a member successively of the Westminster and Metropolitan Commissions of Sewers. He remained the surveyor to the Ladbroke family until his death in 1852. (fn. 10)
Allason's first task after the passing of the Act of 1821 was to prepare a plan for the layout of the main portion of the estate. At its south-eastern extremity Ladbroke's property occupied the high ground at Notting Hill Gate, which extends north-west for about five hundred yards along a broad flat ridge before the land begins to fall away down a long slope. Due west of Notting Hill Gate the Uxbridge road led down another long slope to Shepherd's Bush. Half way down this slope the ground on the north side of the road rises with increasing steepness to the top of a knoll which forms a level extension of the broad ridge to the east. On the west and north sides of this knoll the ground falls steeply towards Pottery Lane and Notting Dale. As well as being unusually large, the estate thus also possessed unusually varied contours (at least by London standards), and its layout therefore presented an architect such as Allason, a specialist in landscape design, with an unique opportunity.
In his plan of 1823 (fn. 2) (Plate 52) Allason provided a broad straight road (originally known as Ladbroke Place and now as Ladbroke Grove) leading northward off the Uxbridge road for some 700 yards, up over the knoll where St. John's Church now stands and about half way down the further side. Not far from its southern end this thoroughfare was crossed at right angles by an east-west road called Weller Street East and West (now Ladbroke Road). The most striking feature of the design was, however, the enormous circus, some 560 yards in diameter and about one mile in circumference, which was to be laid out to the north of this intersection. All of the ground on the inner side of the circular road, and that on either side of Ladbroke Grove within the circus, extending to a depth of 200 feet, is marked as 'building ground', and a clause in the Act of 1821 provided that up to five acres of land might be appropriated to any one house. Large detached, or possibly semi-detached, houses were therefore evidently envisaged, and the whole scheme must have been heavily influenced by Nash's work at Regent's Park, and also, perhaps, by an unexecuted design exhibited at the Royal Academy in 1802–3 for the layout of a large double circus on the Eyre estate at St. John's Wood. The design for this circus has not survived, but a description of it states that detached houses, each with over an acre of garden, were to be built around the circus, and that the residents of all the houses were to share the use of the large pleasureground in the centre. (fn. 12)
Whether he knew of this abortive plan or not, Allason made use of this idea for his scheme, for within the two segmentally-shaped areas enclosed by the broad strips of building ground there were to be two large paddocks, plus a third (triangular, and again entirely surrounded by building ground) outside the eastern edge of the circus. The fact that all three of these paddocks were wholly surrounded by land designated for building suggests that they were intended to be private enclosures for the general use of the residents of the adjacent houses. Although the circus was never built, Allason's plan therefore marks the genesis in Notting Hill of this most original and successful idea, which in years to come was to lead to the formation of no less than fifteen such communal gardens on various parts of the Ladbroke estate.
Allason's plan remained the basis for building throughout the first stage of the development of the Ladbroke estate, which lasted until about 1833. At least the southern part of the circus was actually staked out, (fn. 13) but no houses were built there, and the whole speculation must have suffered a severe set-back through the financial crisis of 1825. Such building as did take place in this period was restricted to the frontage of the Uxbridge road and the land adjacent to it.
In the autumn of 1823 Ladbroke signed two agreements (fn. 14) for the disposal of almost all of his land between Ladbroke Terrace on the east and Portland Road on the west, and extending northward from the Uxbridge road to include the southern part of the great circus (fig. 45). The undertaker for the eastern portion, between Ladbroke Terrace and Ladbroke Grove, was Joshua Flesher Hanson, gentleman, the builder of Regency Square, Brighton, and of a number of houses in Hyde Park Gate, who at about this time was also beginning to build Campden Hill Square on the opposite side of the Uxbridge road (see Chapter VI). To the west of Ladbroke Grove the undertaker was Ralph Adams of Gray's Inn Road, brick-and tile-maker, who at about this time established a pottery manufacture in the neighbouring district soon to be known as 'the Potteries'. He took all of the land as far as Portland Road except for an acre and a half on the west corner of Ladbroke Grove, where stood a farmhouse and ancilary buildings. Neither of these agreements has survived, but other sources show that Ladbroke undertook to grant ninety-nine-year leases as houses were completed, and that Hanson convenanted to build twenty houses 'according to such ranges and levels' as Ladbroke's surveyor should approve. The houses along the Uxbridge road were to be ranged at an uniform distance of at least twenty feet from the roadway, while those in the projected circus were to be set back at least thirty feet. (fn. 15) Adams covenanted to pay a ground rent of £25 in the first year, rising to £150 in the sixth and all subsequent years. (fn. 16)
By December 1824 Hanson had arranged for the erection of eight houses along the Uxbridge road (now Nos. 8–22 even Holland Park Avenue), (fn. 17) Thomas Allason having acted on Hanson's behalf in an application to lay a sewer there. (fn. 18) But in this same month Hanson agreed to lease all the remainder of his land to Robert Cantwell, who convenanted to build the remaining twelve houses required by Hanson's contract with Ladbroke. (fn. 15)
Cantwell is variously described as an architect, a surveyor or a builder, and he was later to act as surveyor for the adjacent Norland estate, where he designed Royal Crescent and a number of other houses. On the Ladbroke estate his financial backer was Major-General Laurence Bradshaw of Harley Street, from whom he was soon obtaining mortgages of over £6,000. (fn. 19) At Hanson's nomination Cantwell was in 1826 granted a ninety-seven-year lease from Ladbroke of Nos. 1–4 (consec.) Ladbroke Terrace (Nos. 1 and 2 demolished), and in 1833 a ninety-two-year lease of Nos. 5 and 6. (fn. 20) In the Uxbridge road he was the lessee of No. 38 Holland Park Avenue in 1826, (fn. 21) and he was also involved in the building of several other houses between Ladbroke Terrace and Ladbroke Grove (fn. 22) (Plate 58c). The cost of building varied between £600 and £800 per house. (fn. 17)
Almost all of these houses are stucco fronted, and have two or three storeys above basements. In Holland Park Avenue Cantwell was almost certainly the architect for the two identical trios, Nos. 2–6 and 24–28 even (Plate 58a, 58b). Here each of the central houses has a giant unfluted Doric order of engaged columns, tetrastyle in antis, with pediment above the attic storey. Nos. 24–28 were placed so as to close the vista down the east side of Hanson's Campden Hill Square on the south side of Holland Park Avenue, a little further down which, on the south side, stands a third very similar group, Nos. 23–27 (odd) Holland Park Avenue (Plate 43a), also probably by Cantwell, and dated 1829. By comparison with other houses in Holland Park Avenue, which are relatively unremarkable, all three groups belong clearly to Nash's age of Metropolitan Improvements.
Cantwell's houses in Ladbroke Terrace were more modest. Nos. 1–4 (consec.) were formerly one continuous stucco-faced two-storey range with semi-basements, (fn. 23) but (as previously mentioned) Nos. 1 and 2 have been demolished. Nos. 3 and 4 (Plate 58d) each have a centrally placed doorway flanked on either side by a wide and slightly projecting wing containing one window on each floor. The doorways have shallow projecting porches supported on Ionic columns, and the wings have plain pilasters supporting a simple horizontal band of stucco which performs the function of an entablature. A low-pitched slate roof rises above wide eaves carried on brackets set above the pilasters. The entrance to No. 3 is now by way of the semi-basement instead of at the level of the principal floor.
Two drawings in the J. B. Papworth collection in the library of the Royal Institute of British Architects evidently relate to these houses (Plate 59). One of them is inscribed in a later hand 'Villas at Notting Hill. R. Cantwell', and there is no reason to doubt this ascription. They show that as originally conceived these houses were to have formed semi-detached pairs, each house having a width of only two openings including the doorway, which was placed at the outer end. They are indeed shown in this manner on the ground plan attached to Cantwell's lease of 1826, but their alteration to form one continuous range must have taken place either during the course of building or very soon afterwards, for the Kensington tithe map of 1844 shows them all joined together. The drawings are nevertheless of considerable interest for their contemporary evidence about the internal dispositions of houses of this general type.
Each house was originally to be twenty-four feet wide and thirty-two feet deep. The basement contained a front and back kitchen equipped with a stone sink, a copper, a dresser and plate-rack, and a closet-cupboard. The front kitchen, which had a boarded floor, gave access to a covered area off which were a small pantry, a cistern, and a groined coal cellar. The letter was paved with bricks, and the pantry, cistern space and covered area were paved with York stone slabs. The back kitchen, also paved with York stone slabs, had a small area at the rear from which access was gained to a privy and to the steps leading up to the back garden. At the side there were two more cellars, both paved with bricks, one for wine, and the other for beer. On the ground floor, the entrance hall gave access to a stair well, off which were the dining-room, rear drawing-room (smaller than the dining-room), and a small study. On the first floor there were four bedrooms and a watercloset. All rooms except one bedroom had a fireplace, those in the kitchens being presumably furnished with ranges. There was no bathroom. In conclusion it may here be noted that at least two houses were evidently built in accordance with these plans, at Cheltenham, where they may still be seen at Nos. 27 and 29 Tivoli Road. Cantwell is not known to have worked at Cheltenham, but Papworth did so very extensively, and his influence on the Ladbroke estate will be discussed later.
The houses on the east side of Ladbroke Grove to the north of Ladbroke Road, now numbered 14–32 (even) Ladbroke Grove, also stand on part of the land leased by Hanson to Cantwell. Their site was within the area originally intended for the 'great circus', and it was probably for this reason that building did not begin here until the latter part of the 1830's (fn. 25)
To the west of Ladbroke Grove the brickmaker Ralph Adams became the lessee between 1826 and 1831 of the eleven houses now numbered 54–74 (even) Holland Park Avenue (Nos. 62–66 recently rebuilt). (fn. 25) These houses, mostly of two or three storeys with stucco fronts, are of less interest than those built under the aegis of Hanson and Cantwell east of Ladbroke Grove, and Adams may therefore have supplied his own designs. (fn. 3) Between Lansdowne Road and Portland Road, where all the first houses have either been demolished or converted into shops with singlestorey projections over the original front gardens, Adams was between 1827 and 1831 either the lessee or a party to the lease for most of the houses. (fn. 27)
The last portion of the Ladbroke estate fronting the Uxbridge road to be developed was the curtilage of the farmhouse on the west corner of Ladbroke Grove, now partly occupied by the Mitre public house. Here leases of the present Nos. 42–52 (even) Holland Park Avenue were granted in 1833 to John Drew of Pimlico, builder, (fn. 28) whose kinsman William John Drew was soon to be active for some years on the Ladbroke estate. John Drew's houses in Holland Park Avenue form a routine range, all stucco fronted except at Nos. 42 and 44, where the stucco is restricted to the ground storey, and all with light iron guard-rails to the first-floor windows. But around the corner, on the west side of Ladbroke Grove and also within the curtilage of the old farmhouse, he and W. J. Drew, beginning in 1833, jointly built the agreeable two-storey stucco-fronted range numbered 11–19 (odd) Ladbroke Grove, the moulded parapet of which is surmounted by a central pediment and flanking ornamentation with Greek Revival motifs. (fn. 29)
At this point development stopped, and in the five years 1834–8 Ladbroke granted no building leases at all. The Act of 1821 had been badly drawn and doubts had arisen about the validity of Cantwell's title, so in 1832 Ladbroke had had to meet the expense of another Act to put matters right. (fn. 15). At about this time the grandiose scheme for a great circus was abandoned. (fn. 13). The building boom of the early 1820's had collapsed, and Notting Hill had proved to be still too far west for successful large-scale speculation. Among the very few houses known to have been built in the years 1834–8 were Nos. 12 and 13 Ladbroke Terrace, which at Cantwell's direction were leased in 1838 by the mortgagee, General Bradshaw, respectively to W. J. Drew, variously described as builder or architect, and William Liddard, gentleman, both of Notting Hill. (fn. 30)
The Hippodrome racecourse
During the interim before the revival of building activity the Ladbroke estate was used as a racecourse, a purpose for which it was in some ways very well suited. There was no course close to London, Epsom Downs being the nearest, and the configuration of the ground, dominated by the hill now surmounted by St. John's Church, enabled spectators to view the races from start to finish as the competitors galloped around the circular course. In August 1836 a Mr. John Whyte took a twenty-one-year lease of 140 acres of ground from Ladbroke. (fn. 31) During the winter he laid out courses for steeplechasing and flat racing, the principal entrance being at the modern junction of Kensington Park Road and Pembridge Road (Plate 53a). He secured the fashionable patronage of Count D'Orsay and the Earl of Chesterfield as stewards and the first meeting at the new Hippodrome took place on 3 June 1837. (fn. 32)
By this time considerable local opposition had already been raised against the whole project. A public footpath extended across the course, providing the shortest route from Kensington village to Kensal Green and Willesden. The fence with which Whyte had enclosed the course obstructed this path, and in April 1837 over a hundred people had crowded into a meeting of the Kensington Vestry to discuss the matter. The Vestry instructed the parish surveyors of the highways to keep the path open, and in May legal proceedings were started against Whyte. (fn. 33). When the Hippodrome opened in June large crowds successfully claimed a right of free entry along the path. The Sunday Times recorded that 'A more filthy or disgusting crew than that which entered, we have seldom had the misfortune to encounter.' The invaders had not kept to the path, 'but, relying upon their numbers, they spread themselves over the whole of the ground, defiling the atmosphere as they go, and carrying into the neighbourhood of the stands and carriages, where the ladies are most assembled, a coarseness and obscenity of language as repulsive to every feeling of manhood as to every sense of common decency'. Even the racing had not been a success, for the stakes were low and the quality of the horses poor. 'Save Hokey Pokey, there was nothing that could climb, or hobble, much more leap over a hedge, and as to a hurdle, it was absurd to attempt one.' After such an inauspicious start it was perhaps fortunate that the death of King William IV on 20 June put an end to further meetings for some while. (fn. 34)
In the two cases heard at Kensington Petty Sessions the magistrates found against Whyte, despite the eloquent pleas of his solicitor, John Duncan, who was later to be involved in the development of the estate. But Whyte was evidently not a man to give up easily. There were counter summonses and an appeal to a higher court, and in January 1838 he was promoting a Bill in Parliament to divert the path. Despite several hostile petitions, including one from the Kensington Vestry, the Bill passed through the Commons, but for Some unknown reason was never presented to the House of Lords. (fn. 35)
In 1839 the Hippodrome was being directed by a committee of management and a council of titled aristocrats whose avowed intention was to raise a capital sum of £50,000 by dividing the property into five thousand 'proprietorships' of £10 each. The course itself was altered so that it no longer obstructed the footpath. It was extended north-westwards to the neighbourhood of the modern St. Quintin Avenue (far beyond the Ladbroke estate), both the starting and finishing posts being to the west of the hill (Plates 5b, 53b). Besides the raching there were to be livery-stables where horses might be hired for hack riding in the vicinity, and there were also to be facilities for cricket, archery, 'revels, fetes, balloon ascents, fancy fairs etc. etc.' Perhaps most important of all, the whole park was enclosed by a high wooden fence, thus excluding the rude and licentious populace of the neighbouring Potteries and elsewhere. The opening meeting in May 1839 was attended by a 'brilliant and immense assemblage of the nobility and gentry', and 'not a gamblingbooth or table, not a single drunken, riotous, disorderly, or ill-behaved person, or mendicant was to be seen on the grounds'. (fn. 34)