Pages 49-57
Survey of London: Volume 37, Northern Kensington. Originally published by London County Council, London, 1973.
This free content was digitised by double rekeying and sponsored by English Heritage. All rights reserved.
CHAPTER III - The Pitt Estate
When first covered with speculative housing on a large scale in the mid nineteenth century, the Pitt estate (fig. 7) consisted of approximately sixteen acres of land surrounding Campden House. Most of this property had formed part of the large estate attached to Campden House in the seventeenth century and had been purchased by Stephen Pitt in 1751, but a small piece of copyhold land (the site of Bullingham Mansions) had been acquired by the Pitt family through marriage.
In 1609 Sir Baptist Hicks, a wealthy mercer much favoured by the King, was admitted as a tenant of the manor of Abbots Kensington to a capital messuage and two closes of land called The Racks and King's Mead. (fn. 10) This holding formed the heart of the Campden House estate (the relationship between the 'capital messuage' and Campden House itself is discussed on page 55) and it appears that a substantial part of the estate was originally copyhold land, although it must have been enfranchised at an early date. In 1616 Hicks purchased some seventy acres to the south and west of his original holding from Robert Horseman for £2,679, (fn. 11) (fn. 1) and at its greatest extent in the first half of the seventeenth century the Campden House estate must have consisted of over one hundred acres.
In 1628 Hicks was created Viscount Campden, deriving his title from the manor in Gloucestershire which he also owned. As he had no male heirs the title was granted with specific remainder to his son-in-law Edward, Lord Noel. (fn. 12) His estates also passed to the Noel family, but the Dowager Viscountess Campden lived at Campden House for several years after his death in 1629. Both the second Viscount, who died in 1643, and the third were active Royalists and the Campden estates were confiscated during the Civil War. They were restored to the third Viscount in 1647 on payment of a composition of £9,000. (fn. 13) At this time the property in Kensington formed only a small part of Viscount Campden's total holdings, most of his estates being in Gloucestershire and Rutland. (fn. 14)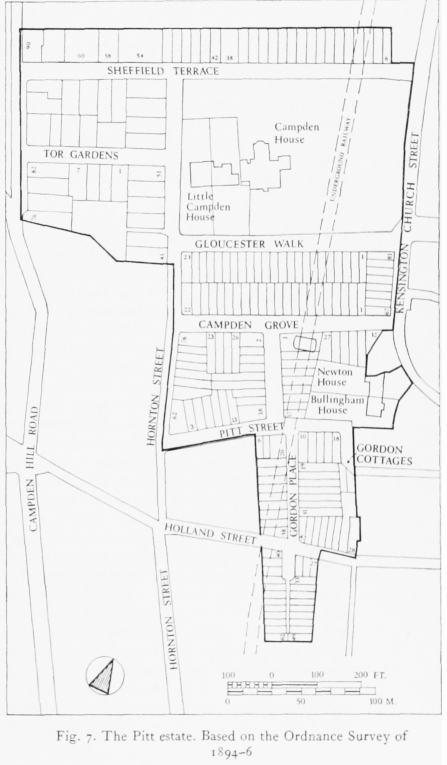 In 1662 an Act of Parliament was passed settling the Campden House estate on Viscount Campden and his heirs, (fn. 15) but in 1708 the third Earl of Gainsborough (fn. 2) sold the estate, a further Act having been obtained some time previously to enable the property to be sold. The purchaser, who paid £6,800, was Laud D'Oyley of St. Mary le Savoy, a merchant. (fn. 16) D'Oyley, who died shortly afterwards, left his property to his son Robert, and in March 1709/10 Robert D'Oyley broke up the estate when he sold Campden House and about thirteen acres around the mansion to Robert Balle, a merchant, for £2,550. In subsequent transactions D'Oyley sold two more pieces of land to make Balle's total holding some sixteen and a half acres. (fn. 17) The remainder of the estate afterwards descended to the Phillimore family (see page 58).
Robert Balle did not retain the now much truncated Campden House estate for long, for in 1719 he sold it for £4,000 to Nicholas Lechmere, the attorney-general, who was later created Baron Lechmere. In 1751 Edmund Lechmere, the nephew and heir of Lord Lechmere, sold the estate to Stephen Pitt for £2,800, and, with the exception of some parts sold since, it has remained in the ownership of the Pitt family. (fn. 18)
Stephen Pitt was the son of Samuel Pitt, a merchant, whose family owned house property in the City of London. His mother, Catherine, was the daughter of Robert Orbell and had inherited some copyhold land near Church Lane (now Kensington Church Street) from her father, who had erected five houses on the land at the end of the seventeenth century. (fn. 19) These houses, which were called Orbell's Buildings and later Pitt's Buildings, were approached from a courtyard off Church Lane and appear to have been ranged in a north-south line. In later manorial documents they number only four and by the mid nineteenth century only two houses and their accompanying buildings occupied the site. Even these two houses were sometimes joined together to form one. (fn. 20) The names given to these houses at this time were Bullingham House (most confusingly, for a house which had at one time borne that name was then still standing on a nearby site in Kensington Church Street) and Newton House (see fig. 7). Bullingham House had its main front facing west and from surviving illustrations of the façade appears to have dated from the early to mid eighteenth century, although only a refronting may have taken place at this time. Newton House appears to have been slightly older and it is possible that it basically consisted of two or more of Orbell's five houses joined together. It was named after Sir Isaac Newton, who had lived at Orbell's Buildings for the last two years of his life. Traditionally, however, the claims of Bullingham House as his place of residence and death in 1727 have been more strongly advanced, (fn. 21) but all that can be stated with certainty is that Newton lived in one of the houses on Robert Orbell's copyhold land. In 1894 the copyhold was enfranchised and Bullingham House and Newton House were demolished for the building of Bullingham Mansions.
Stephen Pitt died in 1793 and the estate was inherited by his son, also named Stephen. In 1814 this Stephen Pitt sold a narrow piece of land with a short frontage to Kensington High Street to the Vestry in order to provide additional burial ground for St. Mary Abbots Church. This land, which had formerly been occupied by the long carriage-drive to Campden House from Kensington High Street, was part of a field called Paramour's Pingle—a name which might seem to imply that it was a favourite place for clandestine frolics in the hay, but was in fact more prosaically derived from the name of a tenant, Lawrence Paramour. The Vestry paid £2,100 for the land, which is now occupied by the former Vestry Hall and the garden and playground to the north of it (see page 37). (fn. 22)
There is evidence that Pitt contemplated some building developments in the 1820's, for the minutes of the Kensington Turnpike Trust for 1826 indicate that Joseph Kay, who was Pitt's surveyor at the time, had entered into an agreement with one Samuel Bickford for building along part of the Kensington Church Street frontage. No houses appear to have been built, however, and it may be that the difficulties which beset the building industry after 1825 prevented the completion of the undertaking. (fn. 23)
From 1844 to 1864
The 1840's witnessed a general resurgence in building activity in northern Kensington and the Pitt estate was only one of several areas where large-scale undertakings were begun in that decade. In November 1844 Stephen Pitt entered into an agreement with William Eales, a timber merchant, and Jeremiah Little, a builder, both of St. Marylebone, to develop practically the whole of his estate. Only Newton House and Bullingham House with their large gardens extending to the west were excluded. Campden House and the smaller mansion on its west side, Little Campden House, were included in the area covered by the agreement, and at one time their demolition was contemplated. In the event they were left standing, although with considerably reduced grounds.
The total area involved was approximately fourteen and a half acres, which Eales and Little agreed to take for a ninety-nine-year term at an annual rent of £500 for the first four years and £900 for the remainder. Over a six-year period they were required to build houses to the value of £10,000 (evidently calculated as a multiple of the rack-rental values) and to spend £2,500 in making roads, sewers and pavements. The building materials to be used were specified and the builders were enjoined to observe the provisions of the 1844 Building Act. All houses were to be erected 'under the inspection and to the satisfaction' of Pitt's surveyor, and none were to be of less than £30 annual value. Pitt agreed to grant leases of the houses as soon as they had been covered-in to the developers or their nominees, and undertook that as soon as £900 had been secured in ground rents (equivalent to approximately £63 per acre) any further leases would be granted at ground rents not exceeding five shillings. (fn. 19)
The surveyor to the Pitt estate was Thomas Allason, and there is reason to believe that he had a considerable influence on the type of development undertaken by Eales and Little. The layout adopted has no outstanding features but the area was small and of awkward shape, while the street pattern was largely suggested by the presence of already existing roads on the estate, like Pitt Street and Holland Street, and by other roads around its edges. There was certainly no opportunity for the kind of spacious planning with which Allason was associated on the Ladbroke estate. The houses erected on the Pitt estate during the initial years of Eales's and Little's development, however, seem to bear the mark of a supervising architect's influence even though several different builders were involved. They are in the main relatively modest terrace houses consisting of three storeys, usually with basements, and except in the extreme south of the estate in Holland Street and the southern end of Gordon Place—they are stuccoed. The windows have plain openings, although those on the first floor are surmounted by cornices carried on consoles, and the entrances have simple doorcases with Doric pilasters but are without porches. A continuous balcony with iron railings at first-floor level and a plain or modillioned cornice at roof level and a plain or remaining decorative features (Plates 40d, 41b). There are variations, for example at Nos. 10–13 (consec.) Campden Grove, where bay windows rising from the basement through all three main storeys are used to accentuate the centre of the terrace, and subsequent rebuildings coupled with the erosion of many of the mouldings make it difficult to appreciate the original homogeneity. The scale of the houses, however, was well chosen for the somewhat constricted layout and was not disproportionate to already existing buildings around the estate.
While this uniformity could have been imposed by Eales or Little, the fact that it is more likely to have been the result of Allason's influence is suggested by the adoption of the name Allason Terrace for the first houses to be built as part of the development. This terrace, now Nos. 67–81 (odd) Kensington Church Street, consists of four storeys, the ground floor containing shops. The upper storeys are stuccoed and display the architectural features seen elsewhere, although here used in a more elaborate manner. Two houses at each end of the terrace are brought forward and have pedimented cornices above the first-floor windows, while originally a continuous modillioned cornice extended the length of the terrace above the third storey.
Another factor which points to Allason's responsibility for general architectural control is that towards the end of the development the uniformity tends to become less marked. Allason died in 1852 (fn. 24) and was succeeded as surveyor by John Shaw, architect to Christ's Hospital. (fn. 25) Houses completed after this date show far greater variations, although Eales and Little were more directly involved in the building operations than earlier, when they had chiefly relied on other builders. The south side of Gloucester Walk, where building was still in progress in 1855, is less homogeneous than other terraces, and to the west of Hornton Street, where terraces give way to detached and semi-detached villas, the houses reflect the various stylistic predilections of their builders. Nos. 3–9 (odd) Pitt Street provide an instructive example, for these houses, which were first leased in 1853, (fn. 26) were built by Jeremiah Little but are more wilful in decorative treatment than his earlier houses in Sheffield Terrace.
All of the leases granted under the agreement of 1844 were calculated to expire in 1943. The device of a short period at a peppercorn rent was not used, but the beginning of the term for each lease was generally fixed at the nearest quarter day to the date on which it was granted. Individual ground rents ranged from £20 per annum for No. 60 Sheffield Terrace, a substantial detached house, to five shillings per annum for houses built towards the end of the speculation when the £900 guaranteed under the agreement had been secured. (fn. 27) Although some leases were granted to builders, many lessees were not connected with the building trades. The principal speculators who obtained leases of several houses were John Simpson of St. George's, Hanover Square, and Thomas Simpson of Paddington, licensed victuallers, John Brannan Quick of St. Marylebone, a paper stainer, (fn. 3) Edgar Wright of St. Marylebone, an ironmonger, Thomas Rogers of St. Marylebone, a modeller, and William Philip Beech of Rotherhithe, a ship breaker. (fn. 28) (fn. 4) Stephen Pitt died in 1848 and after that date leases were granted by his widow and the trustees appointed under his will.
Several builders did not receive direct leases from the estate and presumably built under contract. Among these was John Salmon of Wiple Place, Kensington Church Street, who was the first to commence building operations in 1845 with the erection of Nos. 67–81 (odd) Kensington Church Street (Allason Terrace). The lessees of this terrace were John and Thomas Simpson. (fn. 30) Salmon also appears to have built all the houses erected in Campden Grove as part of Eales's and Little's development, namely Nos. 1–26 (consec.), as well as Nos. 2–18 (even) Gordon Place, Nos. 70–76 (even) Hornton Street (originally known as Campden House Road north of Holland Street) and Nos. 1, 2, 12, and 13 Gloucester Walk (formerly Gloucester Terrace). (fn. 31) Of these houses, Nos. 5–8 Campden Grove have been rebuilt as a result of the construction of the Metropolitan Railway in 1865–8, while No. 22 Campden Grove and No. 76 Hornton Street have been substantially altered.
Another builder employed extensively during the early stages of the development was Thomas Casey of Kensington. He was principally responsible for Nos. 30–42 (even) Holland Street (originally part of a range called Hornton Terrace), Nos. 19–31 (odd) Gordon Place (originally called Vicarage Street at this point) and Gordon Cottages. In Holland Street he was assisted by another local builder, William Potter, who signed documents with a mark. (fn. 32)
The attractive cul-de-sac, formerly called Orchard Street, which now forms the south end of Gordon Place, was begun in 1846 (Plate 40c). The main builders were Charles and Frederick Sewell of Paddington, although others were involved, for the lease of No. 46 Gordon Place was granted to Frederick Blucher Dowland of Kensington, builder, and the lessee of No. 39 was George Edward Sewell of Camden Town, builder. The first inhabitants of these houses were generally artisans and there were several instances of multi-occupancy. (fn. 33)
The houses on the south side of Pitt Street were also erected during the 1840's, those to the west of Gordon Place originally having ground-floor shops. The builders were Gatehouse and Company of St. Marylebone and a Mr. Watts of Gracechurch Street. Watts built the pleasant terrace formerly called Vassall Terrace, now Nos. 10–18 (even) Pitt Street. (fn. 31)
Eales and Little did not apparently take a direct part in the building operations until 1848, the year in which Sheffield Terrace was begun, but notices of the commencement of building for all of the houses in that street erected under their agreement were given to the district surveyor by one or other of the partners, principally Little. Of these Nos. 8–14 (even) were rebuilt in 1871 as a result of the construction of the Metropolitan Railway, and the semi-detached villas to the west of Hornton Street, originally called Percy Villas and later Nos. 31–39 (odd) Sheffield Terrace, were demolished after the war of 1939–45. Other surviving houses built by Little are No. 90 Campden Hill Road, Nos. 41, 43, 62 and 64 Hornton Street and Nos. 3–9 (odd) Pitt Street. (fn. 5) Eales gave notice for the building of Nos. 49 and 51 Hornton Street and Nos. 80 and 82 Campden Hill Road. (fn. 6)
Another builder who figured prominently in the later stages of the development was Thomas Bridgewater Richardson of Paddington, who took building leases of Nos. 3–11 and 14–21 (consec.) Gloucester Walk in 1853–5. (fn. 36) Four of these houses, Nos. 8–11, were built for him by William Yeo of Paddington. (fn. 37) Of the original houses Nos. 5–8 were rebuilt as a consequence of the construction of the Metropolitan Railway. Richardson also built Nos. 66 and 68 Hornton Street. (fn. 38)
In Tor Gardens (formerly York Villas) only four houses on the south side, Nos. 1–7 (odd), have survived. The builder of this attractive group of two linked pairs was Thomas Bridges of St. Marylebone in 1851. (fn. 39) Bridges also built Nos. 76 and 78 Campden Hill Road. (fn. 40)
The last houses to be built under the agreement with Eales and Little were begun in 1855, and with the erection of 185 houses in slightly over a decade the development can be said to have reached a successful conclusion. The houses appear to have been taken as soon as they were finished, generally by people who could afford one or two servants; many of the occupants were annuitants or otherwise living on unearned incomes. (fn. 41) For Jeremiah Little this enterprise marked the beginning of a most successful building career in Kensington. He lived at No. 54 Sheffield Terrace (Wilton Villa), a house built by himself (Plate 40a), and conducted building operations on the Sheffield House, Glebe and Phillimore estates as well as elsewhere in Kensington. In 1861 he employed fifty men and ten boys. At the time of his death in 1873 he owned, leasehold or freehold, over one hundred houses in Kensington and his estate was valued at over £120,000, even after mortgage debts of £50,000 had been taken into account. His property was divided between six of his children, two of whom, Henry Little and Alfred James Little, followed their father's trade. Another son, William, was also a builder, but as he was not included in the settlement he may have died before his father. (fn. 42)
Since 1864
The extension of the Metropolitan Railway to Kensington, sanctioned by Act of Parliament in 1864, had an unfortunate effect on the appearance of the Pitt estate. The course chosen for the railway cut across the estate from north to south, and although the line was carried in a tunnel several houses had to be demolished for its construction. When rebuilding took place after the tunnel was completed, the new houses erected were often disproportionate in scale to their neighbours. As compensation for the loss of land which had to be sold to the railway company the trustees of the estate received £6,700. (fn. 43)
Perhaps the most glaring example of this unsympathetic rebuilding occurred in Sheffield Terrace, where in 1871 Jeremiah Little erected four new houses, Nos. 8–14 (even), in place of four which he had himself built about twenty years previously and which had had to be demolished. Little in fact purchased the fee simple of the new houses from the Metropolitan Railway Company. (fn. 44) They are of three storeys over a semi-basement and are of greater height than the terrace houses on each side, with bay windows and a considerably more lavish use of ornamentation. No doubt they reflect a change over two decades in the type of house which the builder knew would satisfy the needs of middle-class tenants.
Nos. 5–8 (consec.) Campden Grove and Nos. 5–8 (consec.) Gloucester Walk were also rebuilt in 1871 under ninety-year leases granted by the Metropolitan Railway Company. The builders in each case were Igglesden and Myers of Paddington. (fn. 45)
The most extensive rebuilding took place in Gordon Place. The houses on the west side of the street between Pitt Street and Holland Street were demolished, and in 1872 the railway company sold the vacant land to Charles Hall of Lincoln's Inn, a barrister. In the following year Hall engaged the local builder Thomas Hussey to build a new terrace of nine houses, now Nos. 20–38 (even) Gordon Place, under ninety-nine-year leases. (fn. 46) Also on the west side of the street, Nos. 40–44 (even) were erected in 1871 by William Cooke of Paddington under eighty-five-year leases granted by the company; (fn. 47) these houses replaced a Baptist chapel (see below) and a house on the south-west corner of Holland Street and Gordon Place.
Before the construction of the railway the gardens of Newton House and Bullingham House had extended to the east side of Gordon Place, but the ends of these gardens had to be given up and Nos. 1–17 (odd) Gordon Place were erected in 1872–3 under eighty-five-year leases granted by the company. No. 1, a substantial stuccoed double-fronted house was built by William Cooke; its rear elevation is shaped in a concave curve to accommodate a ventilating shaft for the railway at the rear of the house. Nos. 3–17 were built by Samuel Sawyer of Paddington. (fn. 48) Nos. 7, 9 and 11 were rebuilt after the war of 1939–45.
The completion of building on the land taken from the estate for the railway no doubt prompted the trustees to develop the remaining frontage on the south side of Campden Grove. Six houses were erected there in 1877 under an agreement with Thomas Thompson and Thomas Smith of Paddington, builders and contractors, who offered twenty shillings per foot frontage in ground rents. (fn. 19) The actual builder was William Ford of Pimlico, who obtained leases of five of the houses, that for the remaining one (No. 27) being granted to Thompson and Smith. An interesting feature of these houses is that while Nos. 27–31 (consec.) Campden Grove are of a typical debased classical variety, faced with white brick and stucco dressings, No. 32 was conceived as a studio-house and is of stock brick with red brick dressings. The same builder was responsible for all six houses and No. 32 appears to have been built as a speculation in the manner of its neighbouring terraced dwellings—perhaps an indication of the catholicity of the work the speculative builder was prepared to undertake at this time of fluctuations in house styles. (fn. 49)
The last major building operations to be undertaken under the control of the estate date from 1894. In that year the copyhold of Newton House and Bullingham House was enfranchised and the two houses were demolished. Notice of the intention to build six blocks of flats on the site was given in November 1894 by Joseph Mears of Earl's Court, but he died shortly afterwards and the work was undertaken by Joseph T. Mears, probably his son. Ninety-nine-year leases of Bullingham Mansions, as the flats are called, were granted to Charlotte Mears, the widow of Joseph Mears, senior, at a total ground rent of £220. (fn. 50)
Also in 1894, William Adams Daw of the building firm of C. A. Daw and Son of Palace Gate, Kensington, and Percy Frederick Tarbutt of Evelyn Gardens, an engineer, undertook to build on the curtilage of Campden House along the frontages to Gloucester Walk, Kensington Church Street and Sheffield Terrace. Daw and Tarbutt had obtained an assignment of the lease of Campden House from the lessee, Mary Eliza Elder, and surrendered the lease to Thomas Morton Stanhope Pitt, who became tenant-for-life of the estate under Stephen Pitt's will, in order to secure a building agreement. At the same time the strip of land above the Metropolitan Railway, which ran under the grounds of Campden House, was re-purchased by Pitt after having been sold to the railway company which had in turn sold it to Alexander Lang Elder, the late husband of Mary Eliza Elder. (fn. 51)
The buildings erected in the former grounds of Campden House are a mixture of blocks of flats and large terraced houses, consisting of at least four main storeys with basements and attics and built predominantly of red brick. Some of the building work was contracted out so that most of the houses and flats on the south side of Sheffield Terrace were built by Hawkins and Company of St. Marylebone, and most of those on the north side of Gloucester Walk by Hailey and Company of Chelsea. (fn. 31) Daw and Son built the attractive terrace of studio-houses in Kensington Church Street called Campden House Terrace (Plate 40f). Originally this consisted of six houses, the present No. 7 forming part of No. 1 Sheffield Terrace. Although several builders were involved in the development the head leases were granted to Daw and Tarbutt until June 1897, and after that date to Daw alone. They were for ninety-nine years from 1894 at a total ground rent of £300. (fn. 19)
The building which attracted most contemporary notice was the block of flats at the corner of Sheffield Terrace and Hornton Street called Campden House Chambers. The architects were Thackeray Turner and Eustace Balfour, (fn. c2) A. E. Street commented that 'Campden House Chambers . . . studiously simple in mass and detail, is, in spite of some obvious affinities with that of Mr. Philip Webb, an original and characteristic work'. Originally the flats had a common dining-room—a large, vaulted room in the basement—in which tenants were served at separate tables. (fn. 52)
Little further change took place on the estate until several buildings were destroyed or badly damaged during the war of 1939–45. The most severely affected area was at the northern end of Hornton Street and in 1948 the London County Council decided to acquire two sites with a total area of two and a half acres, one on each side of the street, by compulsory purchase for housing purposes. Building of the housing estate, which was given the name Tor Gardens estate, began in 1953. (fn. 53)
Campden House
Plate 39. Demolished
The entry in the court roll of the manor of Abbots Kensington in 1609 admitting Sir Baptist Hicks to a capital messuage and some surrounding land contains a recital of the abuttals of the property and seems to show beyond reasonable doubt that the 'capital messuage' was on the site of Campden House. (fn. 10) Moreover, this was almost certainly the house in which (Sir) Walter Cope was living in 1598, at the time of his quarrel with Robert Horseman (fn. 54) (see page 25). (fn. 7) The date usually assigned to the building of Campden House is 1612 on the evidence given in Lysons' Environs that a window contained the arms of Sir Baptist Hicks and his sons-in-law with that date. In his analysis of the volume of drawings by John Thorpe in Sir John Soane's Museum, however, Sir John Summerson identified two drawings—an elevation and a ground plan of a timber-framed house—with Campden House, but maintained that they were much earlier than 1612. (fn. 56) It now appears likely that these drawings (numbers 95 and 96 in Thorpe's book) were of the house which preceded Campden House and which may have been built for Cope towards the end of the sixteenth century. A comparison of Thorpe's drawings with a painting showing Campden House shortly after the Restoration suggests that what took place in c. 1612 was perhaps an enlargement and refronting in brick and stone of the earlier house rather than a complete rebuilding (Plate 39). (fn. 8)
The later history of the house can only be recounted briefly here. For a short time during the Civil War it was used by the Committee of Sequestrations for Middlesex, (fn. 27) and in the last decade of the seventeenth century it was the residence of Princess Anne of Denmark (later Queen Anne) and her ill-fated son, styled the Duke of Gloucester. (fn. 58) Early in the eighteenth century the Countess of Burlington and her son, the third Earl, who became an architect and patron of the arts, lived there. (fn. 59) For almost a century after Stephen Pitt purchased the Campden House estate in 1751 the mansion was used as a boarding school, and during this period it underwent considerable alterations including the removal of most of the decorative features from the south front, which was rendered. In 1847 it was rented by William Frederick Wolley, a landowner, who spent considerable sums of money in restoring the house. In 1854 he paid £6,225 for a new ninety-year lease at a nominal annual rent of five shillings. (fn. 60) Among the additions made to the house by Wolley was a theatre in which Charles Dickens acted with Wilkie collins in Collins's play The Lighthouse in July 1855. (fn. 61)
In March 1862 Campden House was almost totally destroyed by fire. Wolley had insured the house and its contents for nearly £30,000, but the insurance companies refused to pay, alleging that he had started the fire deliberately. He brought an action against one of the companies and won his case. (fn. 62) The mansion was rebuilt, prsumably out of the insureance money that Wolley was then able to recover, as a reasonable facsimile of the original, although with a somewhat fanciful arragement of five gables on the south front. In 1872 Wolley sold his lease to the Metroplolitan Railway Company, which had taken a strip of land in the middle of the grounds for the construction of its railway. The company in turn assigned the lease to Alexander Lang Elder of the City, esquire. (fn. 63)
In 1893 Elder's widow pur Campden house up for auction but it failed to fetch the reserve price of £25,000. (fn. 64) In the following year two developers, william Adams Daw, builder, and Percy Frederick Tarbutt, engineer, took an assignment of the lease and surrendered it to the freeholder, Thomas Morton Stanhope Pitt, in exchange for an agreement to build in the grounds of the house. (fn. 51) At first it was intended to preserve the mansion while building around the periphery of its grounds, and in 1897 Daw asserted that he had no plans to demolish a house which had cost about £25,000 to build. (fn. 65) Preseumably he also found it imposlsible tosecure a remunerative price, however, and in c 19000 the rebuilt house was demolished and its site added to the communal garden of the new development.
Little Campden House
Also known as The Elms and Laneaster Lodge.
Plate 41a. Demolished
Little Campden House was a long, two-storey building on the west side of Campden House. Lysons thought that it had been built in the 1690's during the residence of Princess Anne of Denmark (later Queen Anne) at Campden House in order to provide accommodation for her household. (fn. 66) A photograph of the building could well date from the end of the seventeenthe century; the modillioned cornice, the roof, the keystones with masks above the first-floor windows, and the narrow windows on each side of the centre are all suggestive of this period, although the building had undergone considerable alterations and was probably originally brick-fronted. The earliest map showing Kensington on a large scale, dated 1717, (fn. 67) shows the building, but it is strange that if it was built for the purpose suggested by Lysons no record of its construction has been discovered.
In 1850 the house was divided and two leases for ninety-three and a quarter years were granted to Jeremiah Little and William Eales respectively. (fn. 68) Little's lease was of the eastern part, which was sometimes given the name of The Elms but usually referred to as Little Campden House East or simply Little Campden House. The western part, leased to Eales, acquired the name of Lancaster Lodge and had its main entrance in Campden House Road (now Hornton Street). They were later designated No. 30 Gloucester Walk and No. 80 Hornton Street respectively. Both houses became very popular residences for artists and several alterations and additions were made. In 1944 they were badly damaged by a bomb and were demolished shortly afterwards, their sites now being incorporated in the Tor Gardens housing estate.
In 1869 the Metropolitan Board of Works gave consent for the erection of a studio to the designs of Philip Webb in the garden of Lancaster Lodge, then occupied by Robert Braithwaite Martincau. A studio was built at the north corner of Hornton Street and Gloucester Walk in that year, and presumably this was the building designed by Webb. (fn. 69) It was later designated No. 78 Hornton Street but was demolished with Lancaster Lodge and no graphic record has been found.
Bethel Baptist Chapel, Holland Street
Demolished
This short-lived Baptist chapel on the south side of Holland Street, near the south-western corner with Gordon Place, was built in 1847 by Frederick Blucher Dowland of Kensington under a lease granted to Joseph Trigg of Chelsea, a coal merchant, and John Doncaster of Kensington, a builder. (fn. 70) It was demolished c. 1865 for the building of the Metropolitan Railway.
No. 38 Sheffield Terrace
Plate 40b.
This house, which was known as No. 18 Sheffield Terrace until it was renumbered in 1927, was designed in 1876 by Alfred Waterhouse for Edward Coningham Sterling. The builder was W.H. Lascelles and the cost was about £5,500. (fn. 71)
The ground on which the house was built had been leased to William Eales in 1850 together with the plot for No.42 Sheffield Terrace. Eales then sub-let the ground for ninety-nine years from 1844 to Henry Stock, the occupant of the house in Bedford Gardens (now demolished) which stood immediately to the north. (fn. 19) Stock used the site for an extension to his garden but the sub-lease contained there if they ranged in line with, and were similar in elevation to, the houses on each side in Sheffield Terrace. When Sterling, who had acquired the house in Bedford Gardens, wanted to have a new one built on the Sheffield Terrace frontage, he ignored this provision and the building which Waterhouse designed for him contrasts very sharply in height, materials and style with its neighbours.
It is a tall house of dark brick with some stone dressings, and consists of a basement, three main storeys and a large attic containing a lofty studio with north light. Although the exterior has a marked Gothic appearance, there is little evidence of the Gothic style inside. The rooms are well lit by the large windows, and are generously proportioned, their chief decorative features being arched alcoves, and simple cornices sparingly enriched with paterae, rosettes and dentils. The house is well built and functional, the fenestration providing an accurate reflection of the internal arrangements. The wooden balustrade of the imposing open-well staircase owes little to architectural precedent. Dividied into sections by large newels, it consists of widely spaced balusters which are turned in their upper parts, but which are linked in their lower parts by struts and ties producing an effect similar to the iron girders of a bridge. (fn. 9)