Pages 8-11
Survey of London: Volume 38, South Kensington Museums Area. Originally published by London County Council, London, 1975.
This free content was digitised by double rekeying and sponsored by English Heritage. All rights reserved.
The Alexander Estate
During the first half of the nineteenth century the Alexander estate in South Kensington consisted of six separate plots of land having a total area of some fifty-four acres. Only three of these six plots, containing about twenty acres, are within the area described in this volume, and their location is shown on fig. 1. The other parts of the estate, whose development will be discussed in detail in a future volume, consisted of a plot of about fourteen acres which included the sites of Alexander and Thurloe Squares, another of about twenty acres on the west side of Gloucester Road, and a tiny piece (less than a quarter of an acre) now within the site of Barker's store in Kensington High Street. (fn. 1) The following brief account, however, describes the descent of the ownership of the whole estate.
Although the estate is here called after its nineteenth-century owners, the Alexanders, it has been traditionally known as the Thurloe estate, after the Puritan statesman John Thurloe. His association with the estate is supposed to derive from a present of some land in Brompton which he is said to have received from Cromwell himself. (fn. 2) However, no documentary proof that either Cromwell or Thurloe ever owned land in this area has been found: on the contrary the surviving evidence suggests that Thurloe could never have been the owner of this estate. The tradition of his ownership no doubt developed because in the eighteenth century some of his descendants acquired an interest in the property through marriage.
During the early part of the seventeenth century most of the lands which were later to make up the Alexander estate were owned by Sir William Blake as part of the very extensive freehold and copyhold estate which he had assembled around Hale House. (fn. 3) After Sir William's death in 1630 this large holding was broken up by his son, also William. He seems nevertheless to have retained some land, bequeathing it to his own son, Christopher, who in 1664 owned about fifty acres of his grandfather's former estate. (fn. 4) Christopher Blake left the property to his sister, Maria Dorney and the heirs of her first marriage, and eventually it descended to her grand-daughter, Anna Maria Harris. (fn. 5) Like her grandmother, Anna Maria Harris was married twice, her second husband, in 1713, being John Thurloe Brace, a grandson of John Thurloe. His mother was Thurloe's daughter Ann, who had been born in Kensington, at Sheffield House. (fn. 6) Under the terms of the marriage settlement John Thurloe Brace gained a life interest in the property. (fn. 7)
The total area of Anna Maria's estate at the time of her second marriage was about sixty-five acres. This included eleven acres in Knightsbridge (most of it copyhold) which was alienated from the rest of the estate before the end of the eighteenth century. (fn. 8) The remaining fifty-four acres was made up of the fifty acres Anna Maria had inherited from her grandmother and four acres of copyhold land on the west side of Gloucester Road. (fn. 9) Most of the copyhold parts of the property were enfranchised before 1800, but a couple of tiny pieces remained in copyhold tenure until the 1830's. (fn. 10)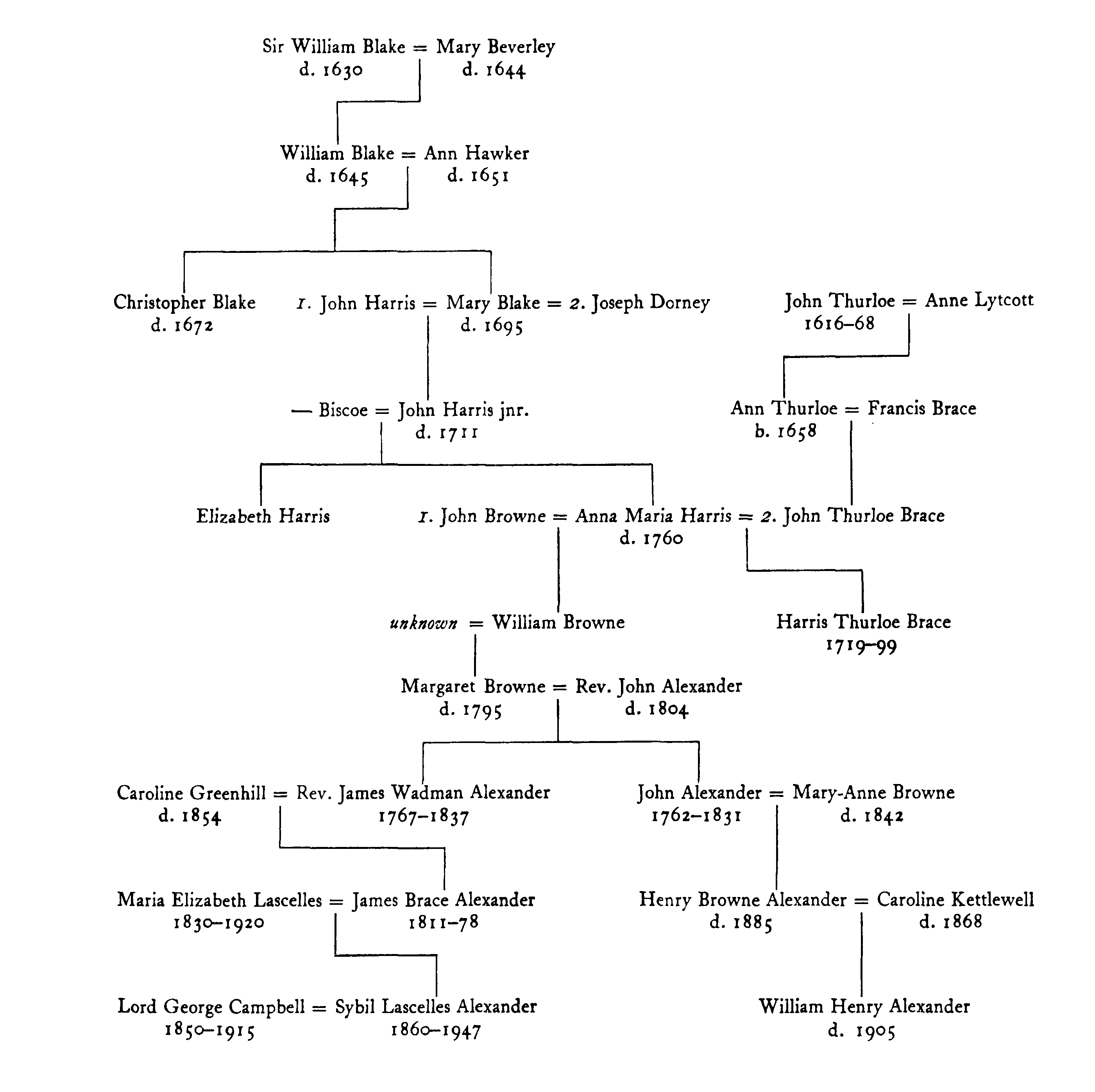 Anna Maria Brace outlived her second husband and on her death in 1760 she left her Brompton estate to the only son of the marriage, Harris Thurloe Brace, a captain in the first regiment of Dragoon Guards. (fn. 11) He never married and on his death in 1799 he bequeathed the Kensington estate to his godson, John Alexander junior, whose mother, Margaret, was Anna Maria Brace's grand-daughter. His father, John Alexander senior, was a Hertfordshire clergyman. (fn. 12)
John Alexander junior was a lawyer. At the time of his godfather's death he was about thirtyseven years old and still a bachelor. Within a few months of inheriting the estate, however, he married Mary-Anne Browne of Weymouth. (fn. 13) He was then living in Bedford Row, Holborn, which was also his professional address, but in 1808 he moved to Kensington, firstly to Upper Phillimore Place, on the north side of the High Street, and then, in the following year, across the road to a house in The Terrace, where he spent the rest of his life. (fn. 14) By 1817 his professional office was in Carey Street, Lincoln's Inn. (fn. 15)
The estate which he had inherited was primarily an agricultural one and most of it was let out to market gardeners. The only large building was Grove House (see below), which was situated in its own grounds on the north side of Old Brompton Road, opposite to the site where South Kensington Station was later built. Other buildings on the estate included two public houses, a terrace of eight late eighteenth-century houses known as King's Head Row, situated on the north side of Old Brompton Road to the west of Gore Lane, and several houses in Market Court and Gardener's Buildings, off Kensington High Street, erected under a long lease granted by Harris Thurloe Brace in 1773. (fn. 16) Market Court and Gardener's Buildings were later to become a notorious slum and in 1867 this part of the estate was sold by John Alexander's son to the Metropolitan Board of Works. (fn. 17) The site is now occupied by Barker's store. One of the public houses, the Hoop and Toy, is outside the area of this volume: the other, called the Swan (formerly the Ship), was in Old Brompton Road at the spot where it is now joined by Queen's Gate. (fn. 18)
John Alexander did not begin to develop his property until 1826, when he contracted with a local builder for the laying out of Alexander Square on the easternmost part of the estate, (fn. 19) and work was still in progress here when John Alexander died in 1831. (fn. 20) He was succeeded by his only surviving son Henry Browne Alexander, a lawyer like his father, with whom he had shared the practice in Carey Street. (fn. 21) After his father's death H. B. Alexander entered into partnership with two other solicitors, Harvey Gem, and one of his father's former clerks, James Pooley. (fn. 22)
It was under his ownership of the estate, which lasted for more than fifty years, that most of the building development took place. This was in three distinct phases. During the first, covering the period from 1831 until about the mid-forties, H. B. Alexander continued the development started by his father and extended it by laying out Thurloe Square and adjoining streets. (fn. 23) The second phase was begun some ten years later, in 1857, when he agreed to let the two larger of the three areas shown on fig. 1 to two different builders. (fn. 24) It is chiefly this second phase that is described in the present volume. In the third and final stage, which lasted from 1870 until the 1880's, all the remaining parts of the estate (mostly west of Gloucester Road) were let to various builders. (fn. 25)
For several years H. B. Alexander presided over the development of his Kensington property from a newly built house at No. 15 Campden Hill Square which he first occupied in 1838. (fn. 26) But in 1851 he moved away from Kensington and subsequently he lived at Barnes, and also at Brighton where he died in 1885 leaving a personal estate valued at over half a million pounds. (fn. 27)
In his will H. B. Alexander left the Kensington estate to his only son, William Henry Alexander, who was then aged fifty-two. (fn. 28) A lawyer by profession, W. H. Alexander became well known not only for his wealth and his collections of oriental jewels and curios, but also for his 'boundless liberality', demonstrated most notably when he gave £80,000 to pay for the National Portrait Gallery's present building. (fn. 29) He also left the gallery the portrait of John Thurloe which he had inherited from his father with other family portraits including a picture of one of his Blake ancestors. (fn. 30) W. H. Alexander remained a bachelor and on his death in 1905 his estates passed to his cousin, Sybil. She had married Lord George Campbell, fourth son of the eighth Duke of Argyll, in 1879, (fn. 31) and it is to their descendants that what now remains of the Alexander estate still belongs.
Grove House, Brompton
Demolished
This house, which is not to be confused with another of the same name in Kensington Road (see below), was situated in grounds on the north side of Old Brompton Road, a little east of the junction with Cromwell Lane. It was certainly in existence by 1760 and had probably been built some time between 1720 and 1740. Watercolour views made in the mid nineteenth century show a rather undistinguished three-storey house, clearly of eighteenth-century origins but altered and enlarged with a long single-storey extension on one side. (fn. 32)
The most famous occupant of the house was the blind Bow Street magistrate Sir John Fielding, who thought that all magistrates should 'each have a little country house at some small distance out of town'. Fielding lived at Grove House, which he sometimes called Brompton Place, from 1768 until his death there in September 1780. (fn. 33) Other occupants have included Joseph George Brett, father of the first Viscount Esher, from 1806 to 1840, and Anne, Lady Tichborne. (fn. 34) The house was demolished and the grounds laid out for building in 1857 (see page 286). Its site is now partially covered by the roadway of Cromwell Place.