Pages 43-44
Survey of London: Volume 4, Chelsea, Pt II. Originally published by London County Council, London, 1913.
This free content was digitised by double rekeying and sponsored by English Heritage. All rights reserved.
LXXII.—STANLEY HOUSE, KING'S ROAD. (St. MARK'S COLLEGE).
Ground landlord.
The National Society for Promoting Education of the Poor, etc.
General description and date of structure.
Faulkner tells us (fn. 1) that Stanley House was rebuilt about 1691, but that the new building was left in an unfinished state, and was not inhabited for some years. Beaver corroborates (fn. 2) the re-building by stating that in 1887 the foundations of the first house were partially exposed a few yards to the south of the present structure. It would seem from the character of the architecture that the house in its present form was not erected until the reign of George I., although we find tenants as early as 1701. It is an excellent example of a Georgian house of two storeys, with blocked cornice and slate hipped roof. There are three dormer windows on both the south and north fronts, with pedimental heads, the centre one in each case being circular. The interior has good, plain panelling, and a staircase of rather poor detail. The only remarkable feature is an elaborate doorway leading from the Hall to the principal room on the ground floor. It is circular-headed with carved key block, and is supported by fluted Ionic columns, carrying a broken pediment with medallions. In a sketch by Mr. Beaver an urn is shown over the keyblock, but that is now missing. The whole design seems somewhat earlier than the house and might conceivably have been made for the work as begun in 1691.
Historical notes.
Sir Robert Stanley, second son of William, sixth Earl of Derby, married Elizabeth, daughter of Sir Arthur Gorges, who possessed large portions of the Sir Thomas More estate in Chelsea, and who lived at Gorges House, which had been built for his father, just north of Lindsey House. Upon his marriage, Sir Robert Stanley seems to have taken up his residence in Chelsea at Stanley House, then called "Brickills," a part of the Gorges property. Faulkner quotes (fn. 3) a lease of the house and five acres from Lady Elizabeth Gorges to her daughter, Lady Elizabeth Stanley, in 1637, and by the former's will dated 1643, it appears that Lady Stanley bought the property from her mother. Stanley House is shown with seven acres of land in Hamilton's map (Plate 1). Two children of Sir Robert Stanley were baptised at Chelsea Church in 1629 and 1631 respectively, and on his death in 1632, he was buried there, and an important monument erected to his memory bearing his own bust and those of his two infant children.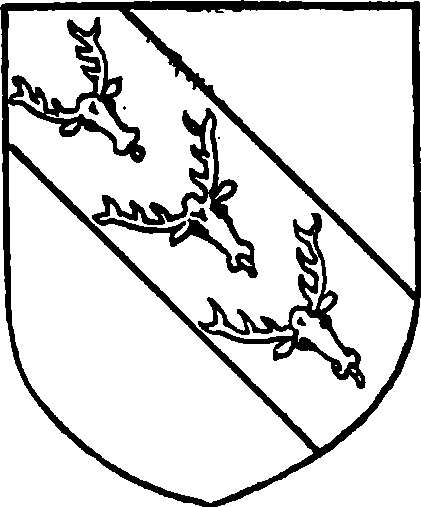 After her husband's death, Lady Stanley married her cousin, Theophilus, fourth Earl of Lincoln. There are two baptisms recorded in the parish registers, referring to his children by a former wife, so that he seems to have been already resident in Chelsea. Lady Elizabeth, then Countess of Lincoln, died in 1675, and was buried at the old church.
The Stanley family, of whom Mr. Randall Davies gives a pedigree in his Chelsea Old Church, (fn. 4) remained in possession of the house until the death of William Stanley, Sir Robert's grandson, in 1691. The return for the Hearth Tax (1662) gives the name of Sir Charles Stanley for 11 hearths. (fn. 5) There are numerous entries in the parish register concerning the various members of the family, all of whom were buried at Chelsea. William Stanley was the last of his line, and after his death Faulkner tells us that the house was rebuilt, "and being left in an unfinished state was for several years unoccupied."
The first occupant of the new building—which is the present house—whose name we find is Thomas White, who is entered in the rate–books for 1701. He is followed by Joseph Collins from 1703 to 1726. From 1728 until 1751 (with some interruptions) we find the name of Thomas Arundell, son of Henry, the fifth Lord Arundell. His name appears in the Monthly Chronicle, May 20, 1729, as living here and Faulkner says the house belonged to him in 1724. From the latter we learn that in 1743 Admiral Sir Charles Wager died here. He had captured a Spanish treasure fleet in 1708 off Cartagena. He was created rear-admiral 1707, was knighted 1709, and became admiral in 1731, being First Lord of the Admiralty from 1733–1742. He was buried in Westminster Abbey. Lady Wager resided here until 1748. The name of John Jackson occurs from 1754 to 1772, to be followed by Mrs. Frances Southwell (1773 to 1775) and Mary Southwell in 1777.
The following is taken from Mr. Beaver's summary (fn. 6) of Faulkner's account of subsequent residents:—"Miss Southwell, who married Lord Chief Justice Eyre, sold the place in 1777 to the Countess of Strathmore, an enthusiastic botanist. The Countess built extensive conservatories and hot–houses and stored them with a valuable collection of exotics. The miserable story of the lady's sorrows, after her unfortunate marriage with a rascal named Bowes, is related by Jesse Foot and also at some length by Faulkner. The Countess sold Stanley House to Mr. Lochee [1780], of the military academy at Little Chelsea; and among its subsequent occupants we find Richard Warren, M.D., [entered in the rate–books from 1780 to 1794] who died in 1797, Mr. Leonard Morse, of the War Office, (died about 1815), and William Hamilton, British Envoy at the Court of Naples, and a famous virtuoso." He was Secretary to Lord Elgin and superintended the transportation of the marbles of the Parthenon from Athens. He built the large Hall on the east side of Stanley House, and inserted some casts of the Elgin marbles, which are still in their place in the walls. From a letter of Miss Burney's we read that Hamilton let his house to a Mrs. Gregor in 1821. In Theodore Hook's journal is a note of his attendance at "W. Hamilton's party, Stanley Grove," on July 5th, 1826. To quote from Beaver again: "About 1828 this house was occupied by the Marquis of Queensberry and in 1830–1 by Colonel Grant (at a rental of £1,000 a year). Finally, in 1840, Mr. Hamilton sold the house and grounds to the National Society (for £9,000) who built there after the designs of Mr. Blore, a training school for teachers known as St. Mark's College. The first principal was the Rev. Derwent Coleridge, son of Samuel Taylor Coleridge and brother of Hartley Coleridge."
Stanley House is now the residence of the principal of the College, the Rev. Robt. Hudson, M.A.