Pages 61-68
Survey of London: Volume 4, Chelsea, Pt II. Originally published by London County Council, London, 1913.
This free content was digitised by double rekeying and sponsored by English Heritage. All rights reserved.
CII.—CXII.—Nos. 14 to 34, CHEYNE ROW.
Ground landlord, leaseholders, etc.
Nos. 14, 16, 18, 20, 22 and 26 are the property of Mrs. Barker; No. 28 of Mrs. J. Brown; No. 30 of Mrs. Emma Lockhart; and No. 34 of J. W. Sugg, Esq.
The houses are tenanted as follows: No. 14 (Cheyne Cottage), Miss Heyman; No. 16, Mrs. Hamilton Fyfe; No. 18, St. John Hutchinson, Esq.; No. 20, C. A. Allen, Esq.; No. 22, W. L. Barker, Esq.; No. 24, Carlyle's House Memorial Trust; No. 26, W. F. Fox, Esq.; No. 28, Mrs. A. J. Broom; No. 30, E. S. Grew, Esq.; No. 32, Mrs. Leche; No. 34, Cyril Rhodes, Esq.
General description and date of structure.
The ten houses, numbered 16 to 34, were built on property leased from Lord Cheyne, the lord of the manor, in 1708, the date being marked on a tablet on No. 16. They occupy the site of the bowling green, shown on Dr. King's map, which was a continuation northwards of the garden of the "Three Tuns" in Cheyne Walk. Their eastern boundary (as far as No. 26) is the old Tudor wall of Shrewsbury House, (fn. 1) and north of this they adjoin the glebe. Cheyne Cottage (No. 14) is a later building, by some fifty years or more.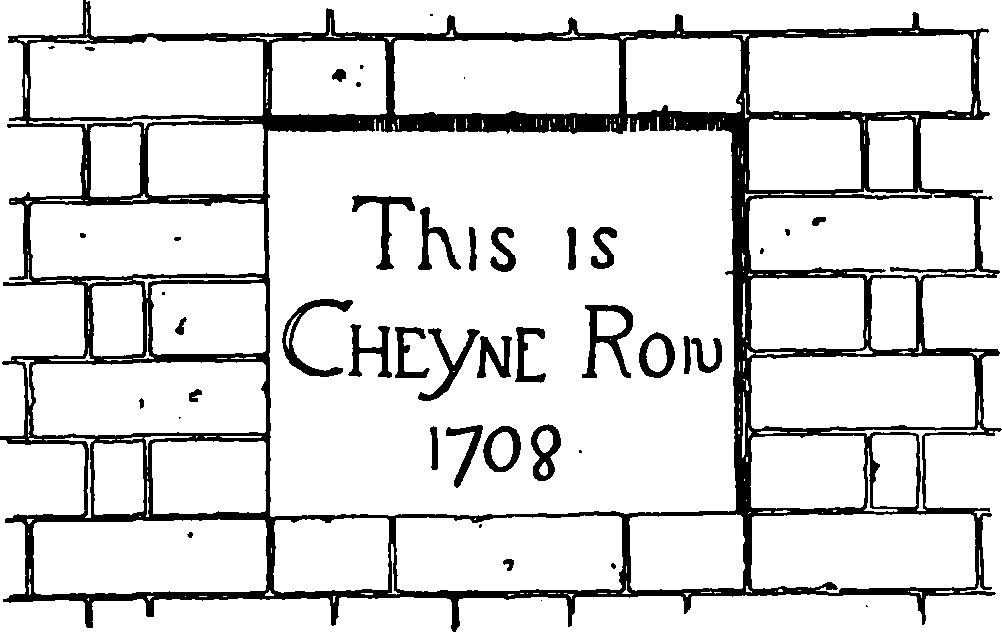 Each of the houses from 16 to 34 follows the same plan in its internal arrangement. There was originally one more house, on the site of the present Roman Catholic Church of the Most Holy Redeemer (built in 1894). It was called Orange House and Mr. William de Morgan had his well-known pottery here from 1876 to 1882. There were, therefore eleven houses of practically identical design, and since the larger part of them has escaped serious alteration, and remains as built in the reign of Queen Anne, the Row takes a very important place among the architectural monuments of Chelsea.
No. 28 is the only house that has been re-built, but Nos. 18, 20 and 22 have been refronted. Nos. 16, 18 and 34, have kept their original roofs with a blocked cornice at the eaves. All the other roofs have been raised, No. 26 alone retaining the old cornice. Early 19th-century balconies have been added to the first floor windows of No. 16, and to those on the first and second floors of No. 20, and there is a well designed and roofed balcony to the first floor of No. 28, of the same period. The external walls of the lowest storey of Nos. 16, 18, 26, 28, and 32, have been cemented, with false joints to imitate masonry. Several of the houses retain the original sashes to their windows, and No. 32 has a delightful shell-hood over its front door. There was a similar one at Orange House and it may be that all the houses possessed them at one time. Nos. 18 and 30 have small hoods with carved brackets. The larger part of the iron railings is contemporary with the buildings.
Cheyne Cottage (No. 14), which is of only one storey, towards the west, has a good doorway with carved mouldings of late 18th-century date.
Since the houses were all built on one pattern, it may be as well to describe one of the most complete, No. 32. The house is divided by a partition wall into two portions, comprising a front room and passage; and a back room and staircase respectively, with an archway between the passage and the stair. The front room on the ground floor is panelled throughout with raised panels, and each side of the fireplace is an arched recess, that on the right being formed into a cupboard, semi-circular on plan, with shaped shelves and half-domed ceiling. The back room and the projecting " Powder Closet " are both panelled with plain panels. The rooms are connected by a six-panelled door, and both have fine moulded cornices to the ceiling. The chimney-pieces have, however, been replaced by 19th century examples.
The hall and stair are panelled throughout and the detail of the stair is similar to that shown on plate 63, with the exception of the square blocks over newels. The baluster is of a spiral form and each tread finishes with a carved bracket.
The first floor is also entirely panelled,—the front room having raised panels,—and is provided with a fine cornice. The back room has its original fireplace,—a bold, moulded surround of brown marble, surmounted by a frieze and heavy cornice of wood. A good early Victorian chimney-piece of white marble is in the front room. with large panel above, and arched recesses at each side. The second floor is a repetition of the one below, except that all the panelling is. square framed, that is, without mouldings. The back room has a fine fireplace with grey marble moulded surround and two long bolection moulded panels above. The door to the Powder Room has a square moulded opening, now glazed. The fireplace in the front room has a stone surround with bead and hollow on either edge, and a cornice and shaped frieze in wood.
From the second floor the stair goes up another half flight and gives access to a little room or cupboard, formed over the half landing. This room seems to have existed in all the houses at the top of the stairs, and since it is provided with a window, and a bench, it seems probable that it was intended to accommodate a page boy.
The fact that these 18th-century houses scarcely ever show any proper accommodation for servants, is often puzzling, but if the page slept in a small room, some 7 ft. 6 in. by 3 ft., such as is described above, it may well be that the maidservants slept in recesses in the kitchen. There are two such large recesses in the basement of No. 32, partitioned off from the kitchen and having openings above with a filling of shaped laths for ventilation.
There are four moulded batten-doors in the basement besides several others, with raised panels, which were once in the upper part of the house, but have been replaced by doors of mahogany.
The other houses follow the one we have described in most particulars. The staircases vary a little in design, as at No. 30 (see plate 65). No. 16 has lost most of its panelling, etc., but its stair remains intact (plate 63). Carlyle's house, No. 24 has also had some of its panelling removed, or covered with canvas for wall paper. The semi-circular planned cupboards in No. 30 are specially worthy of notice, and No. 34 is also very complete in its original internal features.
Condition of repair.
The houses are all in excellent condition.
Historical notes.
From the rate-books we find that the following persons resided in these houses:—
No. 16.
1711–1712.
—Boulter.
1713–1734.
Margaret Goodall.
1735–1736.
Elizabeth Wynn.
1737–1738.
Mary Lyon.
1739–1741.
Mrs. Morgan.
—
1748–1779.
Lady Ann Rous.
1780–1783.
Thomas Stephens.
—
1790–1795.
William Jones.
1796–1797.
[Unoccupied.]
1798.
Nicholas Adams.
No. 18.
1711–1721.
Mrs. Lowfield.
1722.
Mrs. Marshal.
1723–1741.
William Coates.
—
1748.
Mrs. Isabella Coates.
1749.
Mrs. Mary Broughton.
1750–1759.
Lady Hare.
1761–1765.
John Dolignon.
1766–1767.
John Hawkins.
1768–1769.
Edward Clark.
1770–1776.
Moses Wallach.
1777–1778.
Mrs. Cuell.
1779.
Henry Soley.
1780.
Lady Baird.
1781–1783.
Catherine Fraigneau.
—
1790–1793.
Elizabeth Loftus [1793 her Executors.]
1794–1796.
Naphtali Hart.
1797.
[Unoccupied.]
1798–1800.
Frederick Daley.
1711.
—Bigger.
1711–1725.
—Guiger.
1726–1741.
John Welden.
—
1748–1754.
Peter Charron.
1755–1756.
Mrs. Charron.
1757–1770.
Mary Lefevre [1770 her Executors].
1771–1774.
Capt. Charles Wray.
1775–1777.
Lettice Humphries.
1778–1779.
Mrs. Withers.
1780–1781.
Mrs. Cock.
1782–1783.
Thomas Milward.
—
1790.
[Unoccupied.]
1791–1792.
William Holding.
1793–1795.
Sarah Chalmers.
1796.
Sophia Storey.
1797.
[Unoccupied.]
1798.
David Innis.
1799–1800.
Elizabeth Stiles.
No. 22.
1711–1712.
Capt. Larogne [1712 with Mr. Noads].
1713–1714.
Doctor Mead.
1714.
Mrs. Matthews.
1715.
Mrs. Compton.
1716–1718.
Duke of Kent.
1719–1720.
—Laws.
1723–1728.
George Trimm.
1729–1743.
Alexander Reid.
1743–1751.
Alexander Reid, Surgeon.
—
1754–1771.
Henry Hewitt.
1772–1780.
Margaret Alderton.
1781–1782.
Charles Mears.
1783.
Mary Jordon.
—
1790–1800.
Rev. Erasmus Middleton.
No. 24.
1713–1715.
Col. Gibbens.
1716–1719.
—Ellers [given also as Ellis and Ellison].
1720.
—Kirbye.
1721–1723.
Thomas Hall.
1724.
Mary Hall.
1725–1736.
Ann Skinner.
1737–1738.
—Shaw.
1739.
Samuel Trafford.
1740–1741.
—Broughton.
1748–1750.
Harriet Predreau [? Prideaux].
1751.
Mrs. Wright.
—
1754–1782.
James Innes.
1783.
Mary Sherwell.
—
1790–1791.
Martha Bowles.
1792–1798.
Tobias Bowles.
1799–1800.
George Braghall. Thomas Carlyle lived here from 1834 to 1881.
No. 26.
1711.
? Mrs. Starsey.
1711–1720.
—Collins.
1721–1725.
Capt. Charles Letouche.
1726–1733.
Capt. Alex. Letouche.
1734–1736.
Mrs. Marshall.
1737–1741.
—Neal.
1748–1750.
Mary Tregany.
1751.
Rev.—Hinton.
1754–1755.
Alexander Reid [See also No. 22.
1756–1757.
Joshua Clarkson.
1758–1759.
Rev.—Gardiner.
1760.
Mrs. Ashfordby.
1762.
Stephen Fox.
1763–1771.
Mary Merrick.
1772–1780.
Frances Guichenett.
1781–1783.
Elliott Brittain.
—
1790–1799.
Ann Murth [1796 John Murth].
1800.
Barnes Tovey.
No. 28.
1711–1718.
Captain Owen.
1719–1725.
Lady Anne Lutwych.
1726–1741.
Sarah Lutwych.
1748–1766.
Hele Dyer.
1767–1777.
John Little.
1778–1783.
Ann Little.
—
1790–1793.
Edward Henry Howarth.
1794.
[Unoccupied.]
1795–1798.
Robert Browning.
1799.
Nathaniel Lucas.
1800.
Ann Hulme.
No. 30.
1711–1714.
—Turner.
1715–1718
—Sharp.
1718.
Worshipful Richard Woodward.
1719–1722.
John Sharp. [See also No. 32.]
1723–1725.
Stephen Canzler.
1726.
Mrs. Hephin Canzler.
1727–1741.
Ann Wood.
1748–1749.
Mary le Bruine.
1750.
Mrs. Boyer.
1751–1763.
Clement Hoy.
1764–1771.
Sarah Fuller.
1772–1773.
James Collier.
1774–1775.
Rev.—Miller.
1776.
Augustine Cole.
1777.
Mrs. Cole.
1778–1779.
Mary Tomlinson.
1780–1781.
Andrew Walker.
1782–1783.
Capt. Charles Mears [See also No. 22].
1790–1796.
Maurice Hyatt
1797–1799.
Mary Brooks.
1800.
Hannah Barker.
No. 32.
1711–1712.
John Mackie.
1713–1717.
Doctor Welstead.
1718–1722.
Thomas Stewart.
1723–1725.
John Sharp [See also No. 30].
1726–1729.
Thomas Sharp.
1730–1731.
Thomasin Sharp.
1732–1751.
Colonel Peter Damarr.
1752–1757.
Mrs. Damarr.
1758.
Sarah Sharp.
1759.
Thomasin Damarr.
1761.
Captain Walker.
1762–1771.
Jane Bentley.
1772–1774.
Captain Francis Lynn.
1775–1783.
Henry Raper.
—
1790–1800.
John Denyer.
No. 34.
1711.
Lady Hatton.
1712–1722.
Richard Noy, or Noyes.
1723–1733.
Robert Rodes.
1724–1750.
Rev. Sloane Elsmere (Rector)
1751–1771.
Mrs. Chauvine [Mrs. Hinton and Mrs. Holloway occur also with Mrs. Chauvine].
1772–1783.
Margaret Leslie.
1790–1798.
Thomas Haddock.
1799–1800.
Martha Haddock.
No. 16. Elizabeth Wynn. Captain Reginald and Captain Leonard Wynn lived at 15, Cheyne Walk from 1724–28. (fn. 2)
Lady Ann Rous. Faulkner mentions a tomb-stone in the old burial ground to the memory of "Lady Ann Rous, aged 90, relict of Sir William Rous, Alderman of London; 1777."
No. 18. Mrs. Lowfield. On the south wall of the church is a tablet to "Mrs.Ann Lowfield, daughter of Thomas Lowfield, Esq., late of this parish, she departed this life the 5th of December, 1720, and according to her own desire lies buried close on the outside of this wall." (Arms on a lozenge: Per fess vert and or, a pale countercharged. In chief a bull's head sable, and in base 2 garbs gules [rightly sable] (Davies). That Mrs. Lowfield's name was not removed from the rate-books for 1721, the year after her death, merely indicated that there was no new tenant. For other members of the family, see Survey of London, Vol. II., p. 26.
William and Isabella Coates. During the period of their residence here the Rector, the Rev. Sloane Elsmere, lived at 34, Cheyne Row. We are told that in 1752 he married (Hist. Regist. Gent. Magazine) a "Miss Cotes," and if she were a daughter of this family, it was probably in Cheyne Row that he made her acquaintance.
Lady Hare. There is an entry in the parish registers, under date 1776, of the burial of Dame Elizabeth Hare, June 13 (Faulkner).
No. 20. Peter Charron. Faulkner gives a monument in the old burial ground 10 "P. Charron, Esq., 1754."
No. 22. Doctor Mead. Richard Mead (1673–1754) was one of the most eminent physicians of his day, and the author of numerous works. He was called into consultation during the last illness of Queen Anne and attended among others, Sir Isaac Newton, Bishop Burnet, George I. and Sir Robert Walpole. Appointed Physician to George II. He added a gallery to his house in Great Ormond Street and was wellknown as a collector and a patron of literature. Faulkner (fn. 3) includes him among the residents in Paradise Row, about the year 1714, but this seems to be an error. He moved from Cheyne Row to Gorges House, where he remained from 1715 to 1718.
Duke of Kent. Henry Grey, Duke of Kent, and eleventh Earl of Kent (?1664–1740) is also placed by Faulkner in Paradise Row, but it is clear that he lived at No. 22 Cheyne Row. Faulkner says: "he was created Duke of Kent in 1710, being then Lord Chamberlain, and 1713 was installed a knight of the garter. In the reign of George I. he was successively appointed Lord Steward of the Household, Lord Privy Seal and one of the Lords Justices during the King's Stay in Hanover." Swift said of him: "He seems a good natured man but of very little consequence." His daughter, Lady Elizabeth Grey, married Bannaster, Lord Maynard, who seems to have resided in Chelsea in 1682, as there is an entry in the parish registers of the birth of his son Anthony, in that year.
Alexander Reid. Alexander Reid the elder and father of the surgeon, died in 1743 and a monument is mentioned by Lyons and Faulkner, as having been on the north side of the churchyard. The parish registers contain entries of the burial of a son, Emmanuel, in 1722, and of his wife Frances, in 1735. Alexander Reid the younger was a versatile surgeon, whose birth Faulkner places in Cheyne Row in 1719. The family, however, did not reside here until 1729, having been, according to the rate-books, in Lawrence Street from 1718 to 1729, where they were next door but one to the Duchess of Monmouth, in the west wing of what was afterwards called Monmouth House. Dr. Reid remained in No. 22, Cheyne Walk after his father's death until some date between 1751 and 1754, when we find him at No. 26. He was employed for 48 years as Assistant Surgeon at the Chelsea Hospital, and then appears to have specialised in inoculation for small-pox, which he carried on at his two houses in Pall Mall and Paradise Row, Chelsea, and also at that of his assistant, Mr. Perke, in Danvers Street. Faulkner gives an interesting account of his friends, his convivial tastes (he was member of the "Sublime Society of Beef Steaks," the (Chelsea) Bowling Green Society and originator of "the Ladies' Morning Musical Meeting") and his propensity for humour, for political satire and for song-writing. He also publishes a letter from Smollett to Dr. Reid, written from France, in which he hopes "all your Chelsea Societies will continue to flourish." He was buried in the Royal Hospital burial ground.
Henry Hewitt. He died on May 27th, 1771, aged 75, and bequeathed by will, to each of the Charity Schools, £25. There is a marble tablet in the Lawrence Chapel of the old church to the memory of Margaret his wife, who died January 7th, 1762.
Rev. Erasmus Middleton (1739–1805). Curate of Chelsea parish from 1786 to 1797. The rector, the Hon. William Bromley Cadogan, held the vicarage of St. Giles, Reading, and left the parish to the charge of his curate. He was Editor of the Biographia Evangelica, "the style of which," says the Gentleman's Magazine, " is particularly disagreeable." He became rector of Turvey, Bedfordshire, and died in 1805.
No. 24.—Ellers. This name is variously spelt in the rate-books, and suggests that it may have been a foreign name, about which the clerk was uncertain. If this is so, it may well refer to one of the brothers Elers (fl. 1690–1730), who are credited with the beginning of the Chelsea china manufactory. (See Survey of London, Vol. II, p. 59).
Ann Skinner. On an important marble monument to Maria Buckby on the north wall of the chancel in the old church is an inscription stating it was erected by Ann Skinner, the niece of the deceased. Mr. Randall Davies notes that (fn. 4) " Mrs. Skinner a widow" is mentioned in Robert Woodcock's will (1710) as being in possession of his house in Church Lane. He further quotes from the Sexton's Book that she was buried on 10th June, 1756, "under Mr. Warner's pew, her feet close to the steps of the communion table."
Thomas Carlyle. Of Thomas Carlyle's residences in London, by far the most important was the house in Cheyne Row, which was his home for nearly fifty years. It was in 1834 that he came to live at No. 24 (then No. 5). He was at first in serious financial straits, but a course of lectures on German literature in May, 1837, lifted him above want, and the publication in the same year of the French Revolution brought him fame. In 1845 the Life and Letters of Oliver Cromwell established his position as a leader of literature. Frederick the Great occupied him from 1851 to 1865, and in the year following he met his greatest misfortune in the death of his much-loved wife at Chelsea. From that time "work became impossible." (fn. 5) In 1881 he died.
In 1895 the house was purchased by the Carlyle's House Memorial Trust and converted into a Carlyle Museum. A detailed description of the house is given in Blunt's Historical Handbook to Chelsea. The house bears a tablet of white marble (with medallion portrait) commemorative of Carlyle's residence. The tablet was at first (February 6th, 1886) fixed on No. 49, Cheyne Walk, owing to circumstances preventing its erection on the proper house at the time of delivery, and was not until 1889 removed to its present position.
No. 26. Rev. —Hinton. Faulkner gives the Rev. Thomas Hinton as curate from 1748 to 1751.
Rev.—Gardiner. The Rev. W. Gardner was curate from 1755 to 1764.(Faulkner.)
Stephen Fox left £100 by will to each of the Charity Schools, 1772. (Faulkner.)
No. 28. Lady Ann Lutwych. Sir Edward Lutwyche, judge of the Common Pleas, died 1709.
Hele Dyer. Faulkner mentions his residence in Cheyne Row in 1766.
No. 30. Mrs. Boyer. " 1729, November 16th. Died at his house at Chelsea, Mr. Abel Boyer, author of the French Dictionary and the Life of Queen Anne and the Political State of Great Britain "(Monthly Chronicle).
No. 32. Thomas Stewart and Colonel Peter Damarr. Mr. Randall Davies tells us that Stewart bought the freehold of his house in Cheyne Row in 1719 from John Mackie. (Mddx. Registry 1719. Bk. 4, 277–9). On his monument, on the south wall of the chancel in the old church, he is described as " of Barbadoes, Merchant." He died in 1722, his wife Elizabeth, who is also commemorated, having predeceased him in the year 1717. Stewart left by will £100 "towards making a handsome altar piece in the parish church" and also £50 to be invested in freeholds, the interest of which was to be paid to the Rector for an annual sermon on January 5th upon the text:—Ps. L., 14, 15, in commemoration of a great deliverance he had on this day. The monument mentioned above bears also an inscription to the memory of Thomasin Damarr, "daughter of the above Elizabeth Stewart." It is not stated whether she was wife or sister to Colonel Damarr, so it is possible both were children of Elizabeth by a former marriage. Thomasin Damarr died in 1758, her name remaining in the rate-books for 1759. The arms on the monument are: or, a fesse checky arg. and az. within a double tresure counterflory gu. for Stewart, impaling sa. on a cross between 4 fleur de lis. arg. 5 pheons az. Motto, Nobilis ira. (Randall Davies.) The various members of the Sharp family were probably related to the Damarrs, if the order preserved in the rate-books is correct, which shows them at No. 30 and also at No. 32, between the tenancies. The inference is strengthened by the fact that the Christian name Thomasin occurs with both surnames.
Doctor Welstead. Robert Welstead (1671–1735), physician, practised medicine in Bristol and London. Fellow of the Royal Society in 1718. He published Latin medical pieces and with Richard West edited Pindar 1692. (Dict. of Nat. Biog.)
Henry Raper. The break in the rate-books makes it uncertain how long Henry Raper lived at No. 32, but it is probable that it was here that his death occurred in 1789, as we find Catherine Raper his wife at No. 25, Cheyne Walk from 1790–1802. (fn. 6) A tablet on the north wall of the nave commemorates him and his wife. Beaver mentions a memorial to Henry Raper (died 1823) in the churchyard, while Faulkner includes C. C. Raper and M. Raper among those who attended Dr.Burney's funeral in 1814. Both Henry Raper the admiral (died 1845) and his son Henry, the author of The Practice of Navigation (died 1859), were distinguished men. (Dict. of Nat. Biog.)
John Denyer. On the east wall of the chancel of the old church are memorial tablets to Martha Denyer (died 1795), John Denyer (died 1806) and Elizabeth Dennis Denyer (died 1824), their only daughter. Faulkner tells us, in a quaint little panegyric, of Mr. Denyer's industry in forming his great collection of printed Bibles, manuscripts and missals and also of his daughter's talents in illumination, miniatures and repairing old MSS. John Denyer was chairman of the " Chelsea Armed Association" (Royal Volunteers). Miss Denyer left by will money for the support of eight poor spinsters, four of whom were to receive £11 2s. 6d. per annum and four £7 per annum.
No. 34. Lady Hatton. Christopher, first Viscount Hatton, Governor of Guernsey, died 1706. Beaver quotes from a letter which Lord Hatton received from Charles Hatton in reference to the choice of some Passion flowers from The Botanic Gardens, Chelsea.
Rev. Sloane Elsmere. Dr. Sloane Elsmere succeeded Dr. King as Rector of Chelsea in 1732 and remained here until his death in 1766. He was related to and acted as executor of Sir Hans Sloane, whose sister was a Mrs. Elsmere. He founded the Charity Girls' School, and was buried in the old burial ground.
In the Council's ms. collection are:—
(fn. 7) No. 14–34. Ground floor plan (measured drawing).
(fn. 7) Nos. 14–34. West elevation (measured drawing).
No. 14. Front view (photograph).
No. 14. Another view of the same (photograph).
(fn. 7) No. 14. Doorway (photograph).
(fn. 7) Nos. 14 and 16. View from south-west (photograph).
Nos. 16–34. View of from south-west (photograph).
No. 16–34. Another view of the same (photograph).
(fn. 7) No. 16. Staircase (measured drawing).
(fn. 7) No. 24 and 26. Front view (photograph).
No. 24. Front view (photograph).
No. 24. Arch and Window (measured drawing).
(fn. 7) No. 30. Staircase (measured drawing).
No. 30. Cupboards (measured drawing).
(fn. 7) No. 32. Doorway (photograph).
(fn. 7) Nos. 16–34. View from north-west (photograph).