Pages 144-148
Survey of London: Volume 41, Brompton. Originally published by London County Council, London, 1983.
This free content was digitised by double rekeying and sponsored by English Heritage. All rights reserved.
CHAPTER VIII - The Ware Estate
This estate, which is slightly under four acres in extent, comprises Selwood Terrace, Selwood Place. Elm Place, Lecky Street (formerly Elm Mews), Regency Terrace and Nos. 110–132 (even) Fulham Road (formerly Elm Terrace). Apart from some recent rebuilding in its southern part, it forms an enclave of small-scale late-Georgian houses amidst the predominant Italianate and Queen Anne of this area of South Kensington. As a compact and separate unit of land-ownership. which actually remained in copyhold tenure of the manor of Earl's Court until after building had commenced, it was ideally suited for suburban development during the last great Georgian building boom of the 1820's.
The copyhold ownership of the estate had passed through various hands in the seventeenth and eighteenth centuries, but for much of that period the land appears to have been farmed by tenants in conjunction with the neighbouring Brompton Heath on the Smith's Charity estate. (fn. 1) From 1802 to 1823, however, it was held separately by Francis Shailer, a market gardener, whose neat smallholding, surrounded by hedges, is clearly delineated on the map of Kensington published by Thomas Starling in 1822 (Plate 70a). (fn. 2) In 1823, perhaps at the termination of a twenty-one-year lease to Shailer, the copyhold ownership was put up for sale. (fn. 3)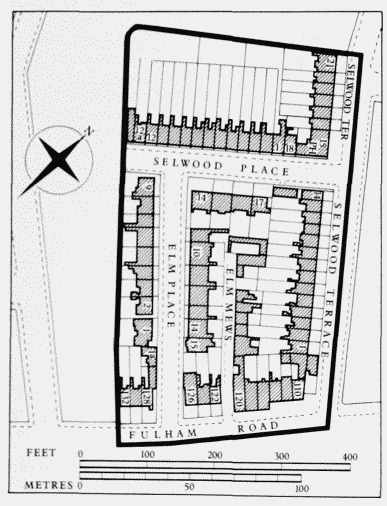 The purchaser was Samuel Ware, a successful and by then prosperous architect whose best-known works in London are the Burlington Arcade and the remodelling of Burlington House in Piccadilly. (fn. 4) On entering into possession of the land Ware informed the Kensington Turnpike Trust of his intention to build there and suggested that the trustees might like to take the opportunity to widen Fulham Road and Selwood Lane, both of which came under their jurisdiction. (fn. 5) Selwood Lane, which formed the eastern boundary of Ware's holding, linked Fulham Road with Old Brompton Road and was named after Richard Sel(l)wood, the former owner of a nursery which had been established on the eastern side of the lane at the end of the seventeenth century. It was also sometimes known as Sallad Lane, which was no doubt a corruption of Selwood Lane, or Swan Lane after the Swan tavern which stood on the north side of Old Brompton Road immediately opposite to the entrance to the lane. As well as purchasing land from Ware, the turnpike trustees decided to straighten the lane by buying further land on the east side, then in the joint ownership of John Lewis Fleming and the fourth Earl of Harrington and in the occupation of William Salisbury, nurseryman. (fn. 6) The straightened road was called Selwood Lane on the large-scale Ordnance Survey map published in 1867, but when shortly afterwards houses were built along the portion north of the Ware estate they were numbered in the complex of streets named Onslow Gardens and the name Selwood Lane dropped out of use. In the southern part of the street the terraces of houses on each side have retained their original names of Selwood Terrace and Neville Terrace, and thus this section of the street has two official names.
Ware must have quickly obtained a promise from the lord of the manor, Lord Kensington, to enfranchise the copyhold, for by 1825 he was granting long leases of building plots. The actual enfranchisement of all the land except, for some unknown reason, the site of No. 21 Selwood Terrace, took place in November 1827 and cost him £1,000; (fn. 7) the plot on which No. 21 stands was enfranchised in 1861 for £53. (fn. 8)
Building appears to have begun simultaneously in Selwood Terrace, on the north side of Selwood Place, and in Fulham Road where the houses stood opposite to Queen's Elm and were given the name of Elm Terrace. Three builders were involved, Samuel Archbutt of Coleshill Street (now Eaton Terrace) on the boundary of Chelsea and Belgravia, Christopher Surrey of Pond Place, Chelsea, and James Ardin of Caroline (now Donne) Place, Chelsea. Archbutt and Surrey worked in partnership and were granted the southern of two large plots, while Ardin had that to the north, the boundary between their respective ' takes' being between Nos. 9 and 10 Selwood Terrace, the differences in the fronts of which are still very noticeable.
With one exception, Ware proceeded in the normal manner at this early stage of the speculation, granting leases of individual houses to the builders or their nominees, or entering into agreements to grant such leases. The leases were usually for eighty-one years from midsummer 1824, or for equivalent shorter terms if they began at a later date, but there were several variations and not all the leases expired at the same time. The exception to this pattern was the south-eastern corner house, No. 1 Elm Terrace, which was renumbered as 110 Fulham Road in 1866 and has now been demolished. Here Ware paid £50 to the turnpike trustees for the toll house which had previously stood upon the site, and after taking it down he let the new house (the building costs of which he probably paid himself) to its first occupant, a baker, for twenty-one years at a rack rent. (fn. 9)
Apart from Surrey and Ardin, only two of the lessees are known to have been builders. They were William Huckel the elder and younger of Duke Street, St. James's, who were granted leases of Nos. 19 and 20 Selwood Terrace in 1825. (fn. 10) Most of the remaining lessees were the first occupants of the houses, but some also had wider interests in the estate. Stephen Harrison, originally of Walham Green, esquire, was granted leases of five houses in Selwood Terrace including No. 14, where he lived briefly in 1826–7, and No. 8, to which he then moved, (fn. 11) and William Barber of Chelsea, gentleman, who was the lessee of three houses, lived at No. 2 Selwood Terrace. (fn. 12)
By the end of 1825 Nos. 1 and 2 Elm Terrace, Nos. 12, 13 and 16 Selwood Terrace and No. 1 Selwood Place had been completed and occupied, the last by James Ardin himself. In the following year the remaining four houses in the eastern part of Elm Terrace up to Elm Mews and all of Selwood Terrace with the exception of the Anglesea public house and No. 21 were completed. The Anglesea was leased in 1827 but does not seem to have opened until 1829, while No. 21 was not built until 1829 on the piece of ground which then still remained copyhold. (fn. 13)
Building along the north side of Selwood Place proceeded more slowly. Nos. 2–6 were occupied by the end of 1826, No. 7 in 1827, Nos. 8, 9 and 10 in 1828, No. 11 in 1829 and Nos. 12 and 12A (originally numbered 13) by 1831. No. 18, which was added to the eastern end of the terrace, was built by 1831 on ground originally leased with the Anglesea. (fn. 14)
On the south side of Selwood Place, the site of Nos. 14 and 15 was not part of Ardin's 'take' and these houses belong chronologically and stylistically to the later development of Elm Place which will be described below. Nos. 16 and 17 were built on a plot which was leased to Ardin in 1829 but the houses themselves were not erected until 1834. (fn. 15)
The houses in Selwood Terrace have two storeys above a semi-basement and are standard examples of late-Georgian speculative housing (Plate 65c). Nos. 1–9 (consec), for which Archbutt and Surrey were responsible, have channelled stucco at ground-storey level, uncomfortably narrow arched doorcases, and sunk brick panels above the first-floor windows, while Ardin's houses have plain brick façades. Inevitably several have been altered, especially by the addition of an extra storey, and Nos. 4, 6 and 21 have been more thoroughly Victorianised. The Anglesea public house has an attractive stuccoed facade (Plate 66a) but has been so extensively altered inside that few original features survive.
The terraced houses on the north side of Selwood Place built by Ardin have three storeys without basements, their stock-brick façades, well-proportioned window-openings with slightly curved heads and honeysuckle-patterned iron window guards providing a handsome though conventional appearance (Plate 65a). The distinguishing features of these houses, however, are the stuccoed doorcases, which have shouldered architraves and prominent hood-moulds. Similar doorcases are found in E1m Place (fig. 42), where Ardin was not apparently involved, and their use may indicate a more direct contribution by Ware to the design of these houses than in Selwood Terrace. All of the houses except Nos. 18, 1–3 and 8 now have channelled stucco on the ground floor, but at No. 4 the stucco was added during recent restoration. Other alterations include the addition of extra storeys to Nos. 7 and 10.
Nos. 16 and 17 on the south side of Selwood Place, which were also built by Ardin, form a pair of two-storey 'cottages' with an overhanging eaves cornice. Both houses have been extended at the sides 'The Studio, which is situated to the east of No. 17 and has a large bracketed doorcase, a tall studio window and an asymmetrically placed gable, was originally built as a stable and coach house behind No. 14 Selwood Terrace in 1829. It was later converted into a workshop and was probably given its present form in c. 1909, when William Bateman Fagan, a sculptor, took up residence. (fn. 16)
In Elm Mews (now Lecky Street) some five small cottages were interspersed with stables and workshops, one of the latter being a carpenter's shop belonging to Christopher Surrey. (fn. 17)
All have now been demolished. Archbutt and Surrey having quickly finished their part of the initial development, Archbutt retired from the scene. He had not been granted any leases of the completed houses and was apparently left with no interest in the estate. Ardin was still engaged in building Selwood Place, and so Ware seems to have relied entirely on Christopher Surrey for the development of the remaining vacant rectangular plot in the south-western corner of his estate.
A new road, Elm Place, was laid out alone the middle of the plot to link Fulham Road with Selwood Place, leaving room for two groups of three houses to lace Fulham Road on each side of its entrance. In May 1827 Ware entered into a conventional building agreement with Surrey for the construction of the western group, originally Nos. 10–12 Elm Terrace and later Nos. 128–132 (even) Fulham Road, (fn. n1) and for the granting of eighty-one-year leases to Surrey or his nominees (fn. 18) Four months later, on Surrey's direction. Ware granted such a lease of the central house and the site of No. 1 Elm Place, which was included in Surrey's ground, to William Bushell, a pianoforte-maker, who eventually took up residence at No. 1 Elm Place. (fn. 19)
In June 1828, however. Ware and Surrey sold their respective freehold and leasehold interests in Surrey's plot, subject to the lease already granted and to an agreement to let No. 12 Elm Terrace for three years The purchaser was William Bristow of Fulham Road, Chelsea, gentleman, perhaps the nurseryman who was a partner with Samuel Harrison (see page 60). (fn. 18) The eastern trio of houses, formerly Nos. 7–9 Elm Terrace and later Nos. 122–126 (even) Fulham Road, now demolished, were also sold freehold by Ware in August 1828 to Richard Foster of Limehouse, a schoolmaster. (fn. 20)
Of these six houses in Fulham Road, the surviving group at Nos. 128–132. which was completed in 1828–9, is a good example of the kind of terraced housing which was springing up in the late-Georgian period along the major thoroughfares leading out of London. The houses have three full storeys above basements, with channelled stucco at ground-floor level and exposed stock brickwork above, round-headed doorcases, wrought-iron window guards of the same pattern as those in Selwood Place, and a bold stringcourse below the third-storey windows.
The freehold sales of the two plots in Fulham Road occurred at about the same time as Ware was mortgaging the whole estate in July 1828 to Robert Langford of Covent Garden, a solicitor, for £3,000 with an option to borrow further sums up to £10,000. (fn. 21) In March 1829 he also sold the freehold of another plot, this time on the north side of Selwood Place and comprising the sites of Nos. 9–12A, to James Ardin the builder. (fn. 22) The desire to obtain a large amount of capital, which is implied by these transactions, may have been the result of a wish on Ware's part to take a more direct financial involvement in the speculation than hitherto. In this context the absence of any record of building leases of all but four of the houses in Elm Place (and two of those were granted ten years after building) may be an indication that the houses there were built directly for Ware by Surrey at the former's expense. Of the four exceptions, the site on which No. 1 was erected had already been leased in 1827, Nos. 2 and 3 were belatedly leased to Surrey in 1843 for eighty-one years from 1834, and only at No. 10 was a similar lease granted, to Surrey's nominee, at the time of building in 1836. (fn. 23)
The original houses in Elm Place were completed between 1830 and 1836 (fn. 14) and, apart from No. 1, form a homogeneous group. They are two-storeyed houses, faced with channelled stucco at ground-floor level and stock brick above, and have a continuous moulded stucco parapet. Nos. 2–9 (consec.) on the west side form a symmetrical terrace of three-bay double-fronted houses interspersed at Nos. 4 and 7 with two-bay houses which project slightly from the general building line (fig. 42). A similar pattern is followed on the cast side, where Nos. 10 and 13 are the projecting, narrower houses, but here the shortness of the range does not allow for strict symmetry (Plate 65b). The appearance of these neat, small houses is given added character by the use of doorcases with shouldered architraves similar to those in Selwood Place. Here each door has a small rectangular fanlight above it, the transom between them being sometimes embellished with egg-and-dart moulding (fig. 42). In contrast to the other houses, No. 1 has an arched doorcase, a smoothly rendered façade and projecting eaves.
Nos. 14 and 15 Selwood Place, which were built by Surrey in 1834–5 but not leased to him until 1843, (fn. 24) are virtually identical to the houses in Elm Place, apart from the addition of a bay window to No. 15.
Selwood Lodge, a two-storey stucco-fronted house to the north of No. 10 Elm Place, was built by Christopher Surrey in 1842–3 as his own residence. It was leased to him together with Nos. 14 and 15 Selwood Place in 1843 and he lived there until his death in 1865. (fn. 25) The site of No. 15 Elm Place was originally occupied by a two-storey shed which Surrey used as a carpenter's shop, and the present house was built in 1886 by his son, Christopher Richard Surrey. (fn. 26) Formerly a dour, brick-faced house with two tall storeys and a mansard-roofed attic, typical of the 1880's, it was substantially altered in c. 1962, when a new entrance to Lecky Street was made on its south side, and is now stuccoed and white-painted.
On the west side of Elm Place, No. 1a (originally called Alpha Cottage), which is of a similar, though not identical, appearance to the main group of houses in the street, was built in c. 1860 on the curtilage of No. 128 Fulham Road and first occupied, from 1860 to 1865, by John Liddell, an architect who was employed by the Science and Art Department on the design of several of its monumental buildings in South Kensington. (fn. 27) No. 1b, to the south of No. 1a, was formerly an outbuilding of No. 128 Fulham Road and has recently been converted into a separate house; it differs from No. 1a in that its upper storey is rendered.
Samuel Ware maintained a close control over the estate, applying in 1839, for instance, to the Westminster Commissioners of Sewers for the construction of sewers in place of the cesspools with which the houses were originally provided. (fn. 28) He died in 1860 with effects of 'under £60,000' and by his will the estate was entailed on his nephew, Charles Nathaniel Cumberlege, and his descendants on condition that they adopted the surname and arms of ware. (fn. 29)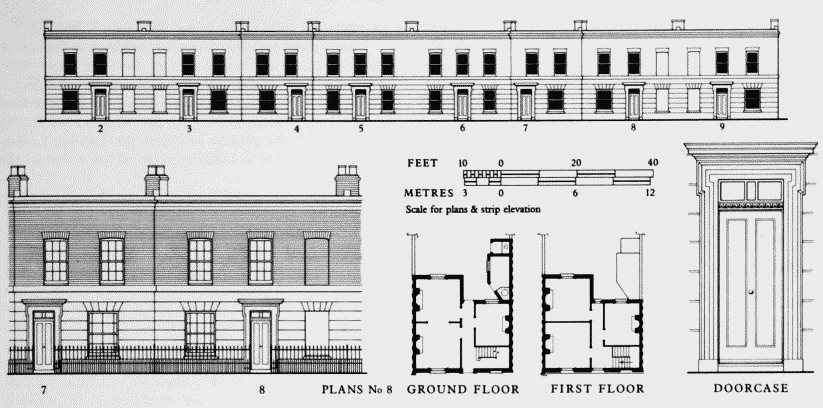 From the evidence of the census, enumerators' books the houses were respectably tenanted in the nineteenth century despite their small size and, to Victorian eyes, un appearance. In 1871, for instance, only three of the sixty-six inhabited houses were occupied by more than one family, although at seven others there were lodgers or boarders, Excluding visitors, there were 291 occupants in the sixty-six houses (an average of 4.4 per house). At forty-two of the houses there was one servant living-in and at five more there were two servants; in Elm Place only two of the houses were without at least one servant in residence on the night of the census. The householders' occupations ranged from the building trades to marshal and chief constable of the City of London. A number lived on private incomes, while others were clerks, tradesmen, commercial travellers or small-scale manufacturers, such as bootmaker, harness-maker and pianoforte-maker. Persons who belonged to the professions included three music teachers, two doctors, a naval lieutenant, a journalist, an auctioneer, a surveyor and an architect (Zephaniah King at No. 3 Selwood Terrace). (fn. 30)
Although it cannot boast of many famous inhabitants, this small area does have associations with two outstanding English novelists. Charles Dickens lodged here in the summer of 1835 in order to be near his future wife, Catherine Hogarth, who lived in York Place on the south side of Fulham Road. In a letter written in June of that year he gives his address as 11 Selwood Terrace, but, confusingly, some other letters of about that time are headed simply ' Selwood Place' (fn. 31) D.H. Lawrence stayed at No. 9 Selwood Terrace for about six weeks in the summer of 1914 and it was while he was living here that he married Frieda von Richthofen at South Kensington Register Office in July. (fn. 32) (fn. c1)
The estate remained in the ownership of the Cumberlege-Ware family until after the war of 1939–45. At that time it included all of the houses which had been built under Ware's auspices with the exception of Nos. 128–132 Fulham Road and the adjoining buildings on the west side of Elm Place up to and including No. 1, which had been sold to William Bristow in 1828, and Nos. 9–12A Selwood Place, which had been sold to James Ardin in 1829. The freehold of the ground (in which Nos. 122–126 Fulham Road stood, which had also been sold in 1828, must have been re-purchased in the meantime.
In 1949 a small company, Ware Estates (Kensington) Limited, was formed to take over the management of the estate, but shareholding was restricted largely, or perhaps wholly, to members of the family. In 1960, however, the company went into voluntary liquidation after having sold the estate to Shop Investments Limited for £394,862 net, the proceeds from the sale being distributed among the shareholders. (fn. 33)
The new owners decided to carry out some redevelopment and began in Lecky Street where in 1960–2 the existing dilapidated and war-damaged buildings were demolished and five two-storey neo-Georgian houses were built in their place. (fn. 34) A new entrance was made into Lecky Street from Elm Place, and this made possible the rebuilding of the frontage to Fulham Road between Selwood Terrace and Elm Place as one composition. Plans for this were drawn up in 1963 and the resulting neo-Georgian terrace was built in 1964–6. It consists of ground-floor shops with three-storey houses above, which are entered from an upper level at the rear and have been given the separate name of Regency Terrace. The company's architect for these schemes was Raymond J. Sargent. (fn. 35)
Plans for the erection of further buildings at the rear of the houses on the north side of Selwood Place were thwarted in 1964 when the demolition of No. 4 Selwood Place, which was necessary to provide access to the ground at the rear, was prevented by the vigilance of nearby residents and the prompt action of the London County Council in serving a building preservation order on the owners. (fn. 36)