Pages 156-161
Survey of London: Volume 41, Brompton. Originally published by London County Council, London, 1983.
This free content was digitised by double rekeying and sponsored by English Heritage. All rights reserved.
CHAPTER X - The Day Estate in Drayton Gardens
For more than two hundred years the Day family has owned land in Old Brompton on both sides of Old Brompton Road, but only the southern portion of the estate is described here. This area, formerly a three-acre field called Rosehall or Rose Hawe, is now occupied by Nos. 1–39 (odd) and 4–56 (even) Drayton Gardens, Nos. 135–157 (odd) Old Brompton Road, Nos. 10–13 Thistle Grove and a few properties on the east side of Cresswell Place (fig. 45). The history of the other part of the Day family's land, on the north side of Old Brompton Road, which was customarily known as the 'six acres', and which now comprises Hereford Square, Brechin Place, Rosary Gardens and Wetherby Place, will be described in volume XLII of the Survey of London
The two parts of the estate have been in common ownership since at least the seventeenth century, when the land was (and remained until 1835) copyhold of the manor of Earl's Court In the 1530's Rosehall had been in the tenure of one Thomas Thatcher and subsequently of his son, John (d. 1558), who owned a substantial copyhold estate in the vicinity but not, it seems, the piece known as the 'six acres'. (fn. 1) By 1661, however, both Rosehall and the 'six acres' were among a small group of copyhold properties held by James Dyson, and by 1666 these two alone had descended to his son Francis. (fn. 2) Thereafter they remained in the ownership of the Dysons until the early eighteenth century, when they passed into other hands. (fn. 3)
The Day family first secured an interest in the property in 1743. This was through the marriage of Benjamin Day, the son of a successful worsted weaver in Norwich, to Ann Dodemead, daughter and co-heir of Walter Dodemead, esquire, of St. Paul's Covent Garden, (fn. 4) who had acquired the property in 1735 by foreclosing on a mortgage. (fn. 5) A fellow-parishioner of the Dodemeads in Covent Garden, Day was a mercer by trade, with a shop or warehouse at the north corner of Tavistock Street and Charles (now Wellington) Street, which doubtless afforded a London outlet for the family business in Norwich. (fn. 6)
On the death of Walter Dodemead in 1744 Ann Day and her two sisters, Elizabeth Brent and Susanna Vincent, became the joint owners of their father's lands. (fn. 7) But in 1753 Ann and Susanna surrendered their share to Elizabeth, who died in 1755 leaving the property to her husband. Thomas Brent, with the proviso that if he died childless it should pass to her nephew, James Frapwell Day, the second son of Benjamin and Ann Day. (fn. 8) And this is what eventually happened, though it was not until 1772 that James Frapwell Day came into his inheritance following the death of his uncle's brother, the Reverend William Brent, who had been left a life-interest by Thomas Brent's will. (fn. 9)
From James Frapwell Day, who died unmarried in 1819, (fn. n1) the estate passed to a nephew. He was James Day of Horsford near Norwich, (fn. 10) who in 1835 purchased the enfranchisement of the copyhold tenure from Lord Kensington, the lord of the manor of Earl's Court. (fn. 11)
The present proprietors of the estate (now by a number of sales considerably reduced in size) are the direct descendants of James Day (see fig. 46). He died in 1875, and by his will placed the estate in the hands of trustees until all the children of his son, Gerard, should come of age. It then passed to his eldest grandson, Herbert Allen Day, who later achieved local fame as a socialist and philanthropist in Norwich, (fn. 12) and it is now owned by two of the latter's grandchildren.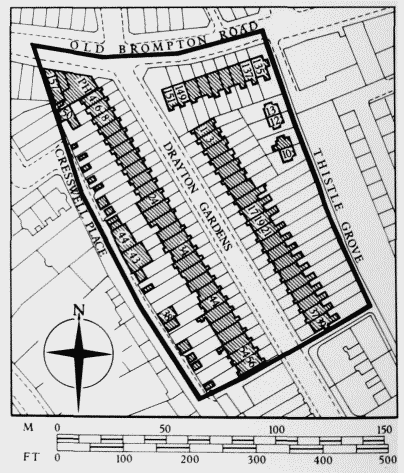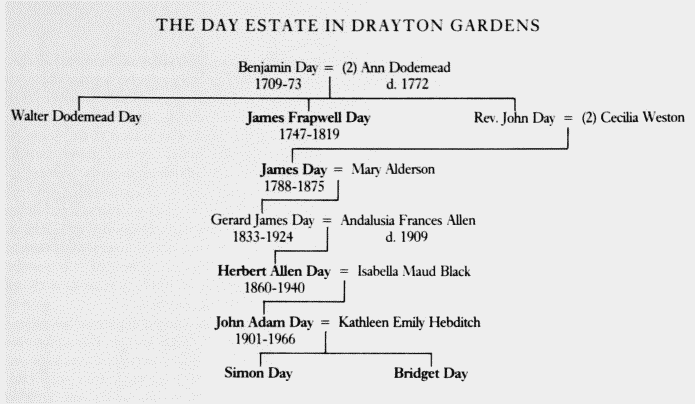 In the 1820's and '30's Rosehall, the three-acre field on the south side of Old Brompton Road, was used as a market garden, Henry Kennett, William and William Thomas At(t)wood being successive tenants of it. (fn. 13) After a period of relative quiescence in building activity in London, there were signs in the early 1840's of a revival, and this evidently encouraged James Day to think about developing his property. By the summer of 1843 Rosehall, though still under cultivation as a market garden, was already being classified by the Tithe Commissioners as 'Building Ground', (fn. 14) and in January 1845 Day concluded an agreement to let the ground to two speculators. These were Joseph Dunning of York Street, Foley Place, St. Marylebone, and William Ward of Northampton Road, Clerkenwell. (fn. 15) In the agreement they are both described as builders, but it is as architects, with an address in Hanover Chambers, Buckingham Street, Adelphi, that they appear both in directories and in the early leases soon to be granted.
Dunning, who was then aged about thirty-one, had been involved professionally in the development of the Norland estate in northern Kensington since 1841. There he had at first worked as an assistant to the architect Robert Cantwell, before assuming an independent role as survey to several of the principal developers—a function he continued to perform until at least 1851. As a speculator he built more than twenty houses on part of the estate in Portland Road in the mid 1850's. (fn. 16) In 1861 he was practising his profession from lodgings at No. 7 Barkham Terrace, Southwark; ten years later he was still at the same address, having in the meanwhile (it seems) married his landlady. (fn. 17) Of Ward's career, either before of after his involvement with the Day estate, nothing is known.
Under the terms of their agreement with Day, Dunning and Ward were required to construct a new road down the middle of the site, from north to south, build fifty-seven houses and complete the whole development within seven years. (fn. 15)
At its southern end the new road was to link up with an existing road, then called Thistle Grove, which extended northward from the Fulham Road as far as the southern boundary of Day's property (see page 166). In this way a new thoroughfare was to be opened between Old Brompton Road and the Fulham Road. But instead of a single name being adopted for the whole street, as is now the case, the longer, southern section continued to be known as Thistle Grove while Day's portion was originally called Drayton Grove. (fn. n2) This dual nomenclature survived until 1865, when the Metropolitan Board of Works abolished the name Drayton Grove, and for nearly twenty years the entire road, newly renumbered from south to north, was called Thistle Grove. It was renamed Drayton Gardens in 1884 and given its present sequence of house numbers in 1894. In 1907 the name Thistle Grove was revived, being applied (very confusingly) to the old pathway formerly called Thistle Grove Lane which runs parallel to and cast of Drayton Gardens.
The development of Rosehall took place under the overall supervision of Day's surveyor, the local architect John Blore (1812–82), of Michael's Place, Brompton, who provided the layout plan and designed all the houses. These he grouped into three terraces of unequal length, one facing Old Brompton Road, and two in Drayton Grove. Each terrace is basically symmetrical, consisting mainly of three-storey houses over basements with one or more four-storey houses as a centrepiece (Plate 67, fig. 47). Executed in stock brick with copious stucco dressings, Blore's designs are in an orthodox late-Georgian manner, showing little to justify the later assertion of The Building News (echoed by the architect himself) that 'the style adopted is Italian'. The dressings of the doorcases, however, seem distinctively Victorian, those in Old Brompton Road by reason of the console brackets supporting the straight hood-moulds, and those in Drayton Grove by reason of the Doric pillared porches. (fn. 19)
Blore's authorship of the design is avowed by an inscription incised into the front of No. 151 Old Brompton Road which reads J. BLORE ARCH 1846.
For supervising the construction of the houses Blore was to be paid a fee of £3 per house by the developers. (fn. 15)
As soon as the houses were covered-in Dunning and Ward could apply to Day for a grant of a ninety-nine-year lease for each house or group of houses. The individual ground rents were not specified in the agreement but they were to be apportioned in such a way as to produce after five years a total annual ground rent for the whole site of £110 (equivalent to just over £36 an acre). The houses were to be occupied only as private dwellings, and the leases granted by Day contained restrictive covenants forbidding the premises to be used for any trade, sale or exhibition, manufactory, lunatic asylum or any other business 'except surgeon, apothecary, sculptor, artist or seminary for young ladies'. (fn. 20)
Road-building and sewer-laying occupied the developers during the spring and summer months of 1845, and house-building did not begin until September. (fn. 21) The first to be completed were the nine houses fronting Old Brompton Road between Thistle Grove Lane and Drayton Grove (Plate 67b, fig. 47). Now numbered 135–151 (odd) Old Brompton Road, they were originally known as Drayton Terrace, a name that can still be seen cut into the stucco of the pedestal-course below the first-floor windows of Nos. 135 and 151. All nine houses were leased in February 1846 to Dunning and Ward, who immediately mortgaged them for £1,000. (fn. 22) Apart from what is now No. 135 they were all occupied by the end of 1848. (fn. 23)
At the time of the census of 1851, when six of these nine houses were still in the hands of their first occupants, the heads of household included a professor of music, a solicitor, an upholsterer, a lodging-house keeper and two clerks, one of them the chief clerk in the office of Cox and Company, the bankers. The total number of people then living in Drayton Terrace was fifty-three, of whom twelve were servants. In 1861 the number of resident servants was still twelve and the total number of inhabitants forty-six. The heads of household then included a sculptor, Felix Miller, at what is now No. 147 Old Brompton Road, and a market gardener, Henry Atwood, at No. 149. (fn. 24)
In Drayton Grove (fn. n3) (Plate 67b, 67c) building started at the north end of both sides of the street in the summer of 1846, and by December twelve houses there were ready to be leased to Dunning and Ward. (fn. 25) These are now Nos. 1 and 3 Drayton Gardens, on the east side, and Nos. 4–22 (even) on the west. Also leased at the same time was the Drayton public house at the west corner with Old Brompton Road. This had been the subject of a separate agreement with Day in August 1846, whereby Dunning and Ward were allowed to substitute a public house for the dwelling house originally intended here. The building had to be erected in accordance with plans prepared by Blore, and the ground rent was to be £10. (fn. 26) It was first occupied in the second half of 1847, at least as early as any of the houses in Drayton Terrace. (fn. 23)
The original Drayton public house has been demolished and no illustration of it is known. But a plan shows a rather narrow building with a porticoed entrance on the north side opening on to a carriage drive into Old Brompton Road. On the western side of the site a private roadway gave access to a coach-house and stables behind Nos. 4 and 6 Drayton Gardens. (fn. 27)
All the leases granted by Day in 1846 had been made direct to Dunning and Ward, and the houses had evidently been built under their auspices by building contractors employed by them. This method of working came to an end, however, in the spring of 1847, when building operations all over the country were badly disrupted by a short but very severe financial crisis. In Drayton Grove work on three houses which Dunning and Ward had started in September 1846 was suspended, (fn. 28) and for several years building here was at a complete standstill. Unlike many of their contemporaries, however, (including the developer of Hereford Square on Day's other Brompton property) they avoided bankruptcy, but only by mortgaging most of their interests in the development to provide security for their creditors. (fn. 29) One of these mortgages was to a builder, William Thomas of Princes Street, Lambeth, (fn. 30) who had probably built the houses concerned—Nos. 1 and 3 and 4–22 Drayton Gardens— but had not yet been paid.
After the crisis of 1847 Dunning and Ward took no more leases, which were thereafter granted (sometimes at their nomination) to the individual builders. As owners of the building agreement of 1845 they were still involved in the development, but they ceased to employ building contractors on their own behalf.
In 1849, when the worst effects of the crisis had passed, building work was resumed in Drayton Grove. But only five houses were erected (now Nos. 5–13), and they probably included one or more of the three previously suspended. All five were either built or completed by William Thomas, to whom the leases were granted, at Dunning and Ward's request, in November 1849. (fn. 31)
Only twenty-seven houses, including the Drayton public house, had so far been completed on the estate. But Dunning and Ward's agreement with Day of 1845 required the erection of fifty-seven houses by January 1852, and in March 1851, when fulfilment of this condition was clearly proving impossible (no building having taken place since 1849), Day granted them a three-year extension. Dunning and Ward agreed to a small increase in the total ground rent. Most of this increase was appropriated to four additional houses, to be built at the north end of Thistle Grove Lane on a vacant site at the back of some of the houses at the north end of Drayton Grove.
Originally called Drayton Villas and now numbered 10–13 Thistle Grove, these four additional houses were erected in 1852–3 by Frederick Detheridge Davies of Schofield Place, Brompton, builder, and leased, in December 1852, to John Carter of King's Road, Chelsea, grocer. (fn. 33) Designed by Blore, (fn. 34) they consist of two pairs of unpretentious semi-detached villas in greyish brick with stucco dressings. Each pair is two storeys high over a semi-basement, and is flanked by narrow recessed wings which contain the entrances. The latter are dressed with Roman Doric doorcases. In 1861, when only two of the four houses were still in the hands of their original occupants, none of the families living in Drayton Villas employed any servants. No. 10 was then a lodging-house, and No. 11 was shared by a joiner and a house painter and their families. (fn. 35)
Meanwhile in Drayton Grove another four houses were started in 1852, the first to be built there since 1849. These are now Nos. 24 and 26 (on the west side), and Nos. 37 and 39 (on the east). The former pair were built by Edmund Mesher of Blenheim (now Astell) Street, Chelsea, to whom they were leased in December 1852, (fn. 36) and the latter pair by Stephen Peirson of Elm Tree Cottage, Old Brompton, (fn. 37) a builder also working on the adjoining Gunter estate, where several houses on the west side of Gilston Road and the south side of Tregunter Road were built by him in the early 1850's. (fn. 38)
In the following year another builder in Tregunter Road, Henry John Clarke, erected six more houses in Drayton Grove, at the south end of the west side. These are now Nos. 46–56 (even). Clarke later had the misfortune to become bankrupt and for a few months in 1863–4 he was confined to a debtor's prison. In letters to the builder Edmund Mesher, to whom he had assigned a number of his houses in Drayton Grove in trust for his children, Clarke attributed his predicament to a breach of trust or embezzlement ('I cannot say which') by his father, 'whoom [sic] I have employed for some time past to do my business and keep my books'. He warned Mesher against allowing his father to collect any of the rents from Drayton Grove, and concluded his letter with a bitter postscript: 'See what depravity drink has brought on in him even imbecility'. (fn. 39)
Despite the efforts of Mesher, Peirson and Clarke the development was again behind schedule, and when Dunning and Ward's three-year extension expired in January 1855 twenty houses in Drayton Grove still remained to be built. Both terraces were punctuated by unsightly gaps caused by the builders having been allowed to leapfrog the intended four-storey centre houses, none of which had yet been started, and to work northwards from the south end. Surprisingly, these gaps do not seem to have deterred prospective inhabitants, the 'detached' portions being occupied just as quickly as the rest of the terraces. (fn. 23)
Having again failed to complete the development on time. Dunning and Ward applied to Day for another extension, pointing out, no doubt, that the building industry was once more going through a period of difficulty; and in November 1855 Day granted them a further three and a half years, again in exchange for a small rise in the ground rent to take account of the increased value of the plots still to be built. (fn. 40) When this second extension expired in January 1858, however, not a single new house had been erected; and thereafter Dunning and Ward do not appear to have taken any further part in the development.
The two terraces in Drayton Grove were eventually completed between 1858 and 1863 by one of the original builders engaged on them, William Thomas, then operating from York Road, Lambeth, (fn. 41) and by another builder not previously involved in this development, Evan Evans of Stanley (now Alderney) Street, Pimlico. Thomas was responsible for the west side, where the houses were leased in 1859 and 1862 (Nos. 28–36 and 38–44 even respectively), (fn. 42) while Evans took the east side, the houses here being leased in 1861 (Nos. 31–35), 1862 (Nos. 27 and 29) and 1863 (Nos. 15–25). (fn. 43) Most of these houses were occupied within a year or two of the lease being granted. (fn. 23)
The long time over which the terraces were built, and the difficulties under which the builders had laboured, seem not to have caused any major disruption of Blore's intended scheme, and the last houses to be erected are accordingly in a belated style for their date. In 1858 The Building News carried a short article about the development in Drayton Grove drawing attention to the central block of three four-storey houses in the western terrace (then being completed internally) which it thought 'renders the range more effective'. (fn. 44) It did not, however, comment on the disturbing effect of the off-centre portico at No. 30, the central house, which is otherwise distinguished from the rest of the terrace by its completely stuccoed facade and three tiers of triple windows (Plate 67a). Here, as elsewhere, Blore was prepared to sacrifice strict symmetry to the needs of a conventional terraced-house plan with a hallway and staircase on one side. According to the same article the living-rooms in each house were on the ground floor while the floors above were occupied by bedrooms, an arrangement, which, if accurately reported, was highly unusual in the 1850's in houses of this size, where the first floor was generally given over to one or more drawing-rooms.
Nothing is said about the internal finishing of the houses, but in c. 1864 a bill for redecorating the dining-room at No. 46 included painting and graining all the woodwork and wainscot and varnishing the same with a good oak varnish, and papering the walls with a satin paper and borders. (fn. 45)
The pattern of occupation in Drayton Grove as shown by the census returns of 1851 and 1861 is, not surprisingly, very similar to that already described in Drayton Terrace. In both 1851 and 1861 the average size of households was just over five and the average number of servants in each household just over one. In 1851, when all but one of the seventeen completed houses in Drayton Grove (Nos. 4–22 and 1–13) were in normal occupation, the heads of household included two naval officers, two annuitants, and one merchant, a clerk in the Foreign Office, a solicitor, a hosier and glover, a landed proprietor, a proprietor of mines and an animal painter (Edward Webb at No. 22). By 1861 the number of completed houses had risen to thirty-four, of which thirty-three were in normal occupation. The heads of household in that year included five fundholders, five clerks, three proprietors of houses and three lawyers, two clergymen and two engineers, and one accountant, annuitant, hotel keeper, lodging-house keeper and landed proprietor. The largest single household in 1861 was not at one of these houses but at the Drayton public house, where lived the publican, his wife, their seven children and five servants, making a total of fourteen. (fn. 46)
From 1873 until 1881 No. 9 Drayton Gardens (then No. 80 Thistle Grove) was the home of Alan Cole, younger son of Sir Henry and a senior official in the Science and Art Department.
Since the completion of the development in the mid 1860's only one of the original buildings has been demolished. This was the Drayton (now Drayton Arms) public house at No. 153 Old Brompton Road, which was rebuilt in 1891–2 to the designs of Messrs. Gordon, Lowther and Gunton of Finsbury Circus, surveyors, the contractor being J. Anley of Dalston Lane. (fn. 47) In sharp contrast to the grey brick and stucco of the adjoining terrace, the Drayton Arms displays chiefly a buff-coloured terracotta, flamboyantly decorated with Renaissance-style figures and motifs in high relief, interspersed with some red brickwork (Plate 68a). The adjacent building, incorporating two shops at Nos. 155 and 157 Old Brompton Road, shows the same materials, with less terracotta, and is part of the same redevelopment.
The overall appearance of the terraces remains generally good in spite of many small but often disfiguring alterations. of which the most intrusive are changes to the roof-line. As early as 1860 there was a proposal to raise the root at No. 26 Drayton Grove, which Blore at first resisted, even though the addition was to be largely hidden behind a balustrade (now removed), as it would, in his opinion, 'disturb the uniformity and symmetry of the range of buildings in its outline next the sky as seen from the opposite side.' After modifications, however, 'which will in a great measure remove my objection', he allowed it to go ahead. (fn. 48) In the 1880's and 90's W. H. Collbran, Blore's successor as surveyor to the estate, permitted a number of roofs to be raised at Drayton Terrace but insisted that the work should be carried out in a uniform manner. (fn. 49)
In more recent years the problem of car-parking in Drayton Gardens, particularly for the houses on the east side, which have no rear access for vehicles, has led to the destruction of some of the front gardens to make parking sites or ramps down to basement garages. In the early 1970's the Greater London Council attempted to stop this practice as 'detrimental to the design of the terrace as a whole', but was overruled by the Secretary of State for the Environment. (fn. 50)
In Cresswell Place a number of former stables have been turned into dwelling houses. When first built none of the houses on the west side of Drayton Grove, whose gardens extended back to Cresswell Place (then Bolton Mews), were provided with stables; but by 1894 (fn. 51) some had been erected at the back of Nos. 26–34 (even), and these were subsequently converted into two houses, numbered 43 and 44 Cresswell Place. No. 43 received its present form in 1973–4 (Nicholas Johnston, architect). (fn. 52) Further north at No. 50 a stable block rebuilt for the Drayton public house in 1891–2 was converted into a dwelling house by John G. Rutter and Company of Pall Mall, architects, in 1933. (fn. 53) No. 38 Cresswell Place was originally built in 1903 as a studio for the landscape artist Fanny S. G. Nathan. (fn. 54) The adjoining studio over a double garage at No. 37 dates from 1969–70 (W. R. Siddons and Associates, architects). (fn. 55)